Funeral Homily: Antoinette Colacino
Funeral Homily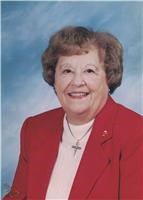 Antoinette Colacino (November 9, 1925-July 20, 2020)
Readings: Lamentations 3:17-26; 2 Corinthians 4:15-5:1; John 6:51-58
It might come as a surprise that my mother's favorite song was Sentimental Journey. Doris Day recorded it in 1944 and few songs evoke that era like Sentimental Journey. I say you might be surprised to learn it was my mother's favorite song because "sentimental" is not the first word that might come to mind when you think of her. Her painful shyness and the compete loss of hearing in one ear, not to mention a longstanding depression, could make her appear somewhat reserved.
But that wasn't really the case. So if you will indulge me, I would like to comment a bit about the song's lyrics. And like a lot of popular music, it's not hard to transpose its meaning in such a way as to be suitable for our purpose here this morning:
Gonna take a Sentimental Journey,
Gonna set my heart at ease.
Gonna make a Sentimental Journey,
to renew old memories.
Memory, of course, is central to any Christian life. We gather at this altar to do in memory of Christ what he commanded us to do. And my mother fulfilled this command every day of her life for decades until she could no longer make it to Mass – and after she could no longer get to church, she watched the Mass on TV every day and four times on Sunday -- ever mindful of Jesus' words: Whoever eats my flesh and drinks my blood has eternal life. In a time such as ours when so many have abandoned the Lord's Table, she gave witness to the central place of the Eucharist in anyone's life who still think of themselves as Catholics.
Of course, memories can also be painful. I believe my sister-in-law once caught my mother tearing up old photographs. I suppose when you outlive your husband, so many relatives and friends, and alas, one of your own children, you might like to forget. Yet, as the song says, once we take that sentimental journey from this to the next life, we will have that chance, as surely she does now, her hert at ease, to renew old memories with those who went before us. Shall we go on?
Got my bags, got my reservations,
Spent each dime I could afford.
Like a child in wild anticipation,
I Long to hear that, "All aboard!"

Without a doubt, my mother made her reservations for the life to come some time ago. As age took its toll, there was a lot of childlike anticipation to hear the Lord call, "All aboard," for the final journey. The day we decided to enter hospice she broke down and told me, "I want to see my family. I want to see Jim." To which I could only say, "Go, please God, go." For such is the Christian hope, that when our earthly dwelling, a tent, should be destroyed, we have a building from God, a dwelling not made with hands, eternal in heaven.
Seven...that's the time we leave at seven.
I'll be waitin' up at heaven,
Countin' every mile of railroad
track, that takes me back.

Why? Because this momentary light affliction is producing for us an eternal weight of glory beyond all comparison, as we look not to what is seen but to what is unseen; for what is seen is transitory, but what is unseen is eternal.
Of course, we don't always think our afflictions are light, do we? Which is why the author of Lamentations, speaking from the bitter experience of the Babylonian exile -- when all seemed lost to the Jews who saw Jerusalem and its temple destroyed – why the author cried out, My soul is deprived of peace. I have forgotten what happiness is; I tell myself my future is lost, all that I hoped for from the Lord.
Oh yes, we have the right, my mother included, to lament our life at times, in "this our exile" – words my mother prayed daily from the Salve Regina at the end of the Rosary. Lamenting when things turn out so differently from our hopes and expectations, when you forget what happiness is, your future seems lost, and your hopes dashed -- whenever we lose what's dear to us. And then, whether "at seven" or some other time, like the Jews of old taken to Babylon, the time to leave arrives, ready or not "to take us back."
But for the Christian, as for Lamentations, the favors of the Lord are not exhausted, his mercies are not spent; They are renewed each morning, so great is his faithfulness. My portion is the Lord, says my soul: therefore I will hope in him. Good is the Lord to one who waits for him, to the soul who seeks him. So yes, my mother and all our faithful departed are indeed "waitin' up at heaven" when we take that final journey.

Never thought my heart could be so yearny.
Why did I decide to roam?
Gotta take that Sentimental Journey,
Sentimental Journey home.
Archives