Fourth Sunday of Advent (C)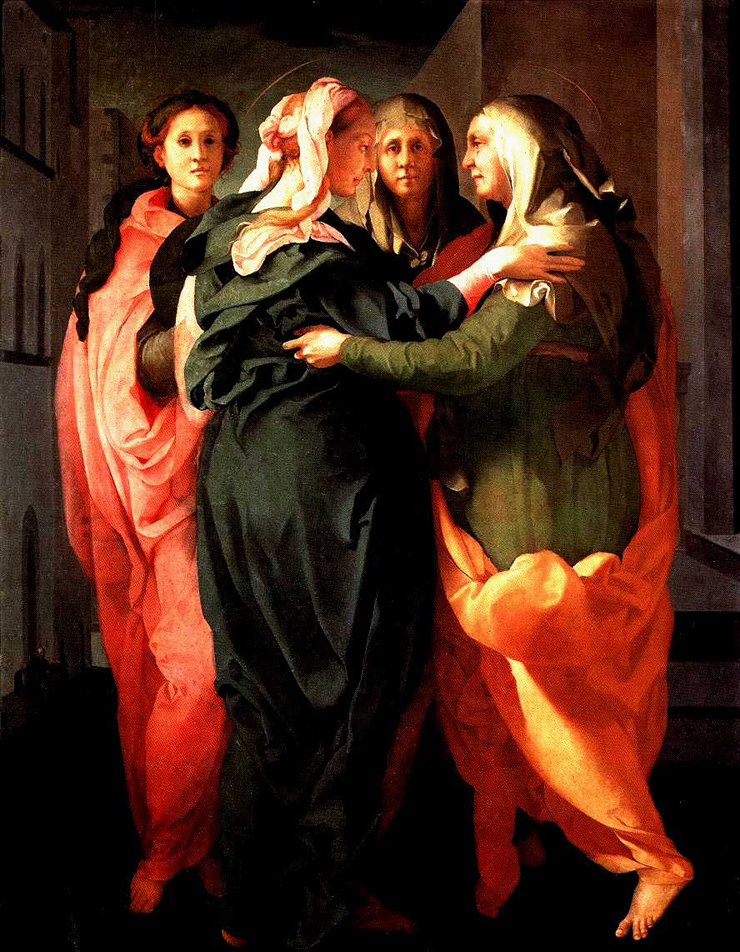 Introit
Kyrie
Collect
Pour forth, we beseech you, O Lord,
your grace into our hearts,
that we, to whom the Incarnation of Christ your Son
was made known by the message of an Angel,
may by his Passion and Cross
be brought to the glory of his Resurrection.
Who lives and reigns with you in the unity of the Holy Spirit,
God, for ever and ever. Amen.
First Reading Mi 5:1-4a
Thus says the LORD:
You, Bethlehem-Ephrathah
too small to be among the clans of Judah,
from you shall come forth for me
one who is to be ruler in Israel;
whose origin is from of old,
from ancient times.
Therefore the Lord will give them up, until the time
when she who is to give birth has borne,
and the rest of his kindred shall return
to the children of Israel.
He shall stand firm and shepherd his flock
by the strength of the LORD,
in the majestic name of the LORD, his God;
and they shall remain, for now his greatness
shall reach to the ends of the earth;
he shall be peace.
Responsorial Psalm Ps 80:2-3,15-16,18-19
R/. Lord, make us turn to you; let us see your face and we shall be saved.
O shepherd of Israel, hearken,
from your throne upon the cherubim, shine forth.
Rouse your power,
and come to save us.
Once again, O LORD of hosts,
look down from heaven, and see;
take care of this vine,
and protect what your right hand has planted
the son of man whom you yourself made strong.

May your help be with the man of your right hand,
with the son of man whom you yourself made strong.
Then we will no more withdraw from you;
give us new life, and we will call upon your name.
Second Reading Heb 10:5-10
Brothers and sisters:
When Christ came into the world, he said:
"Sacrifice and offering you did not desire,
but a body you prepared for me;
in holocausts and sin offerings you took no delight.
Then I said, 'As is written of me in the scroll,
behold, I come to do your will, O God.'"

First he says, "Sacrifices and offerings,
holocausts and sin offerings,
you neither desired nor delighted in."
These are offered according to the law.
Then he says: "Behold, I come to do your will."
He takes away the first to establish the second.
By this "will," we have been consecrated
through the offering of the body of Jesus Christ once for all.
Alleluia Lk 1:38
Gospel Lk 1:39-45
Mary set out
and traveled to the hill country in haste
to a town of Judah,
where she entered the house of Zechariah
and greeted Elizabeth.
When Elizabeth heard Mary's greeting,
the infant leaped in her womb,
and Elizabeth, filled with the Holy Spirit,
cried out in a loud voice and said,
"Blessed are you among women,
and blessed is the fruit of your womb.
And how does this happen to me,
that the mother of my Lord should come to me?
For at the moment the sound of your greeting reached my ears,
the infant in my womb leaped for joy.
Blessed are you who believed
that what was spoken to you by the Lord
would be fulfilled."
Reflection Questions

Have you ever suffered from a "Bethlehem-complex," thinking yourself "too small" for God to accomplish great things in your life?
How are you responding to the will of God these days?
How have you been blessed for believing?
Catena Nova
We are encouraged by firm faith and a pure conscience to wait patiently for the Lord to come. In the words and spirit of Elizabeth, the soul responds to the message, whether it be of Isaiah or of his fellow-prophets: "Why is this granted to me, that my Lord should come to me? For behold, when the voice of your greeting came to my ears," my spirit leapt for joy within me in eager longing to run ahead to meet my God and Savior. Let us too arise with joy and run in spirit to meet our Savior. Hailing him from afar, let us worship him, saying: "Come, Lord, save me and I shall be saved!" Come and "show us your face, and we shall all be saved. We have been waiting for you; be our help in time of trouble." This was how the prophets and saints of old ran to meet the Messiah, filled with immense desire to see with their eyes, if possible, what they already saw in spirit. We must look forward to the day, so soon to come, on which we celebrate the anniversary of Christ's birth. Scripture itself insists on the joy which must fill us—a joy which will lift our spirit out of itself in longing for his coming, impatient of delay as it strains forward to see even now what the future holds in store....Grace accompanied his first coming, glory will surround his last; [his] intermediate coming is a combination of both, enabling us to experience in the consolations of his grace a sort of foretaste of his glory. Blessed are those whose burning love has gained for them such a privilege! (Guerric of Igny)

We are all meant to be mothers of God. What good is it to me if this eternal birth of the divine Son takes place unceasingly, but does not take place within myself? And, what good is it to me if Mary is full of grace if I am not also full of grace? What good is it to me for the Creator to give birth to his Son if I do not also give birth to him in my time and my culture? This, then, is the fullness of time: When the Son of Man is begotten in us (Meister Eckhart).
It is no use saying that we are born two thousand years too late to give room to Christ. Nor will those who live at the end of the world have been born too late. Christ is always with us, always asking for room in our hearts. But now it is with the voice of our contemporaries that he speaks, with the eyes of store clerks, factory workers, and children that he gazes; with the hands of office workers, slum dwellers, and suburban housewives that he gives. It is with the feet of soldiers and tramps that he walks, and with the heart of anyone in need that he longs for shelter. And giving shelter for food to anyone who asks for it, or needs it, is giving it to Christ.…If Mary had appeared in Bethlehem clothed, as St. John says, with the sun, a crown of twelve stars on her head, and the moon under her feet, then people would have fought to make room for her. But that was not God's way for her, nor is it Christ's way for himself, now when he is disguised under every type of humanity that treads the earth (Dorothy Day).
Her salutation
Sings in the stone valley like a Charterhouse bell:
And the unborn saint John
Wakes in his mother's body,
Bounds with the echoes of discovery.

Sing in your cell, small anchorite!
How did you see her in the eyeless dark?
What secret syllable
Woke your young faith to the mad truth
That an unborn baby could be washed in the Spirit of God?
Oh burning joy!

What seas of life were planted by that voice!
With what new sense
Did your wise heart receive her Sacrament,
And know her cloistered Christ? (Thomas Merton)
How lyrical that is, the opening sentence of St. Luke's description of the Visitation. We can feel the rush of warmth and kindness, the sudden urgency of love that sent that girl hurrying over the hills. "Those days" in which she rose on that impulse were the days in which Christ was being formed in her, the impulse was His impulse. Many women, if they were expecting a child, would refuse to hurry over the hills on a visit of pure kindness. They would say they had a duty to themselves and to their unborn child which came before anything or anyone else. The Mother of God considered no such thing. Elizabeth was going to have a child, too and although Mary's own child was God, she could not forget Elizabeth's need—almost incredible to us, but characteristic of her. She greeted her cousin Elizabeth and at the sound of her voice, John quickened in his mother's womb and leapt for joy....With what piercing shoots of joy does this story of Christ unfold! First the conception of a child in a child's heart and then this first salutation, an infant leaping for joy in his mother's womb, knowing the hidden Christ and leaping into life. How did Elizabeth herself know what had happened to Our Lady? What made her realize that this little cousin who was so familiar to her was the mother of her God? She knew it by the child within herself, by the quickening into life which was a leap of joy. If we practice this contemplation taught and shown to us by Our Lady, we will find that our experience is like hers. If Christ is growing in us, if we are at peace, recollected, because we know that however insignificant our life seems to be, from it He is forming Himself; if we go with eager wills, "in haste," to wherever our circumstances compel us because we believe that He desires to be in that place, we shall find that we are driven more and more to act on the impulse of His love. And the answer we shall get from others to those impulses will be an awakening into life or the leap into joy of the already wakened life within them (Caryll Houselander).
Christmas is such a joyful time that we don't usually want to spoil it by casting aspersion on the birth of a child who was technically born out of wedlock....Mary's voluntarily entering the place of shame at the Annunciation is a foreshadowing of her son's Passion and a foretaste of her own suffering along with that of her son. Mary listened to the Holy Spirit and agreed to give her body for the birth of the Christ Child. The very act of listening put her into the place of shame. Joseph listened to what the Holy Spirit said in a dream and entered the place of shame with his betrothed. Both are honored today by the followers of their child. Mary's son also listened to the Holy Spirit and heard a voice from Heaven say that he was the Son in whom the Father was well pleased. Jesus ended up in the place of shame. What might happen to us if we listen to the Holy Spirit? None of these considerations make the place of shame attractive. Jesus and Mary and all other saints who have entered this place didn't do it for the fun of it. However, while most of us find ourselves in the place of shame because we have shamefully acted in our own interests rather than the interests of other people, Mary chose to enter that place to bear a son who would also knowingly enter that same place. In doing this, they put our interests infinitely ahead of their own. How do we react to shame, whether for ourselves or others? Usually, we react in an accusatory way, either to cover up our own shame or out of repulsion at the shame of others. Often it is a combination of both. Mary and Jesus entered this place out of compassion for us. Can we learn to have this same compassion for each other and for ourselves? (Abbot Andrew Marr)
Serving others and being full of joy, is the attitude that I would like to underline today. Mary was able to serve Elizabeth, because she reached out to her. Reaching out to others is another Christian sign. Persons who describe themselves as Christian and who are unable to reach out to others, to go and meet them, are not totally Christian. Being of service and reach out to others, both require going out from themselves – going out to serve and meet others, to embrace another person. Through Mary's service towards others, through that encounter, our Lord's promise is renewed and makes it happen now, just as it did then (Pope Francis).
Homily
"How the Church Stole Christmas"
Call me the Grinch, if you will,
but the reason I did it once upon a time was a nephew and a niece
-- Christmas shopping that is --
for I didn't want them to call me Uncle Scrooge.
So I entered the Temple of Mammon
-- otherwise known as "the Mall" –
to buy them their gifts.
Once inside, I passed a host of chapels,
enticing me to offer something to their various gods.
I resisted temptation, though, stopping at just a few shrines.
One of them was dedicated to a god that promises if you worship there
you'll be "sending the very best."
So I went in to buy a Christmas card or two.
And I spent about twenty minutes searching for one with a religious theme
-- for a greeting with more than holly, a snowman, or jingle bells on it.
Then I remembered: this is the age of "Politically Correct Christ­mases"
and some sensitive soul must have felt that religious stuff might offend someone.
I left the Temple thinking we should go all the way
and give December 25th
back to its original owner.
We Christians stole the feast from the god Saturn way back in the Fourth Century.
And the devotees of other gods have done such a good job trying to get it back,
maybe the church should admit defeat, and focus its energy elsewhere
-- like on Epiphany.
That's the day Christ's birth is celebrated by a good portion of Christians anyway.
Besides, if we switched to January 6th,
we could take advantage of all those "after Christmas sales"!
I know --
I'm beginning to sound like a Grumpy Old Man.
And my better self knows that beneath the consumer frenzy,
some glimmer of faith survives, inspiring someone, somewhere to give
-- not because they have to --
but in response to God's giving the very best
-- the offering of the body of Jesus Christ once for all (II).
Still, there's one thing I can't buy about Christmas, American-style.
It's this idea that something wonderful
-- even something as wonderful as Christmas –
has to come wrapped in tinsel or ribbon,
that God must somehow or other expect such decorations.
The prophet Micah knew better than that, though.
He tells us God doesn't much care for human displays.
Micah even foretold the Messiah
-- of all people --
would be born in a little,
out of the way place,
no one would ever expect,
miles from the glory of Jerusalem with palaces and temple.
Instead Micah says –
You, Bethlehem . . . too small to be among the clans of Judah, from you shall come forth for me one who is to be ruler in Israel,
whose origin is from of old, from ancient times (I).
And Micah knew nothing of a cold winter's night,
no room at the inn, no manger where animals lodge;
nor of uncouth shep­herds or parents from a place their Bible never mentioned
-- not Whoville but Nazareth --
strange way for a Messiah to be born.
No wonder I could find no such "Nativity scene" in the Temple of Mammon
where I once shopped,
for that would surely distract from more dazzling displays
where other gods would be more at home
-- but not this God.
Then there's the visit of Mary to Elizabeth
while carrying the Child whose greatness shall reach to the ends of the earth (I):
the visit of one obscure woman to another living in the hill country
…(in) a town of Judah,
far from the gold and the glitter of Jerusalem.
Two women, moreover, living under clouds
-- the first, a cloud of suspicion,
for her Child was conceived before she lived with her husband,
-- and the other a cloud of disgrace,
for having been barren.
No wonder the one set out and traveled…in haste to meet the other (G).
Yet it was to such women, and in such a place, that God came,
making Elizabeth wonder,
How does this happen to me,
that the mother of my Lord should come to me? :
The Lord coming unseen, unheard, in the womb of a woman who
believed the words spoken to her . . . would be fulfilled (G).
Other gods might come on a sleigh
-- but not this God.
For Jesus Christ came into the world, [saying],
'Sacrifice and offering you did not desire, but a body you prepared for me' (cf. II).
Meaning the Lord made do with flesh like ours,
with the pain and the gore of human birth,
wrapped not in paper and bows but in swaddling clothes,
that needed a change like all baby's do.
Other gods might come in a nursery and crib,
when long ago I bought things from Toys R' Us and Gap Kids
-- but not this God.
And all for the purpose of giving himself up
-- his body for us --
not as temple priests do with their impressive rites,
but in the shame of the cross,
where all could see how this God saves:
In the very same body he gives us now in the Eucharist,
where Christ's poverty and weakness
-- his commonplace form --
can still be seen, broken and shared, for the life of the world:
In a sign that contradicts every other sign of power, wealth, and excess,
such as we see in the temples we sometimes visit instead.
Where we find other gods whose Christmas "comes in a store"
-- but not this God's --
Who lives and reigns, forever and forever more. Amen.
Creed
Intercessions (cf. Archdiocese of Adelaide)
Sisters and brothers, on this Fourth Sunday of Advent the Church reflects on Mary as she prepares to give birth to her Son, Jesus with great charity toward her cousin Elizabeth.
May the people of our diocese who will gather to celebrate the approaching festival of Christmas pray with gratitude, and may those denied freedom of religion carry Christ in their hearts.
May the charity of Mary and the faith of Elizabeth, shape how we celebrate this last week of Advent.
May the people of the small rural and outback towns of the United States be proud of their communities and receive blessings as did the people of Bethlehem long ago.
May every place experiencing conflict and violence and tension, especially on the Russian/Ukraine border, in Cameroon and Yemen be changed by the desire for peace through diplomacy.
May mothers carry the child in their womb with love as did Mary and Elizabeth, and be supported by their husbands and partners.
May the many who died in the tornedos, and the asylum seekers killed in the bus crash in Mexico, find eternal peace from the Good Shepherd.
Who are we, Lord God, that you should come to us? Yet you have visited your people and redeemed us in your Son. As we prepare to celebrate his birth, make our hearts leap for joy at the sound of your Word, and move us by your Spirit to bless your wonderful works. We ask this through him whose coming is certain, whose day draws near: your Son, our Lord Jesus Christ, who lives and reigns with you in the unity of the Holy Spirit, God for ever and ever. Amen. (ICEL; 1998)
Interlude (William Byrd)
An earthly tree a heavenly fruit it bear,
A case of clay contained a crown immortal
A crown of crowns, a King whose cost and care
Redeemed poor man, whose race before was thrall
To death, to doom, to pains of everlasting,
By His sweet death, scorns, stripes, and often fasting.

A star above the stars, a sun of light,
Whose blessed beams this wretched earth bespread
With hope of heaven and of God's Son the sight,
Which in our flesh and sinful soul lay dead.
O faith, O hope, O joys renowned for ever,
O lively life that deathless shall persever.

Then let us sing the lullabys of sleep
To this sweet babe, born to awake us all
From drowsy sin that made old Adam weep,
And by his fault gave to mankind the fall.
For lo! this day, the birth day, day of days,
Summons our songs to give Him laud and praise.
Spiritual Communion
[For those still unable to attend Mass, pause in silence after the Lord's Prater to make a spiritual Communion, welcoming Christ into your heart in union with Mary].
Thanksgiving

Ave Maria, gratia plena, Dominus tecum.
Benedicta tu in mulieribus,
et benedictus fructus ventris tui, Iesus.
Sancta Maria, Mater Dei,
ora pro nobis peccatoribus,
nunc et in hora mortis nostrae. Amen.
Hail Mary, full of grace, the Lord is with thee.
Blessed art thou among women,
and blessed is the fruit of thy womb, Jesus.
Holy Mary, Mother of God,
pray for us sinners,
now and in the hour of our death. Amen.
Closing Hymn
O little town of Bethlehem,
How still we see thee lie.
Above thy deep and dreamless sleep
The silent stars go by;
Yet in thy dark streets shineth
The everlasting Light;
The hopes and fears of all the years
Are met in thee tonight.
How silently, how silently
The wondrous gift is given!
So God imparts to human hearts
The blessings of His heaven.
No ear may hear His coming;
But in this world of sin,
Where meek souls will receive Him,
still The dear Christ enters in.

O Holy Child of Bethlehem,
Descend to us, we pray;
Cast out our sin and enter in;
Be born in us today!
We hear the Christmas angels
The great glad tidings tell;
O come to us, abide with us,
Our Lord Emmanuel!
Archives