Solemnity of Mary, Mother of God (Jan 1)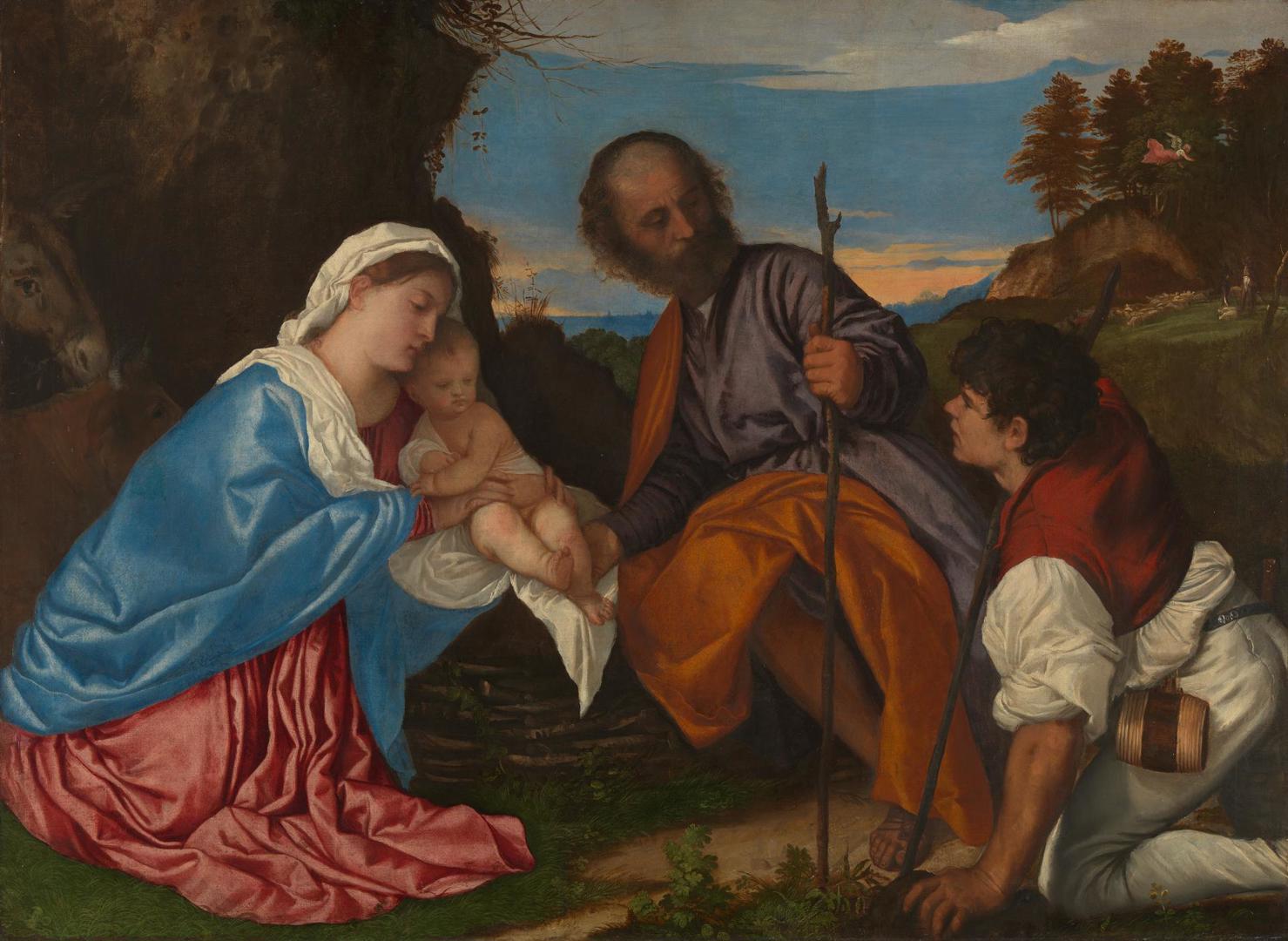 Introit
Kyrie
Gloria
Collect
O God, who through the fruitful virginity of Blessed Mary
bestowed on the human race
the grace of eternal salvation,
grant, we pray,
that we may experience the intercession of her,
through whom we were found worthy
to receive the author of life,
our Lord Jesus Christ, your Son.
Who lives and reigns with you in the unity of the Holy Spirit,
God, for ever and ever
First Reading Nm 6:22-27
The LORD said to Moses:
"Speak to Aaron and his sons and tell them:
This is how you shall bless the Israelites.
Say to them:
The LORD bless you and keep you!
The LORD let his face shine upon you, and be gracious to you!
The LORD look upon you kindly and give you peace!
So shall they invoke my name upon the Israelites,
and I will bless them."
Responsorial Psalm Ps 67:2-3, 5, 6, 8
℟. May God bless us in his mercy.

May God have pity on us and bless us;
may he let his face shine upon us.
So may your way be known upon earth;
among all nations, your salvation.

May the nations be glad and exult
because you rule the peoples in equity;
the nations on the earth you guide.

May the peoples praise you, O God;
may all the peoples praise you!
May God bless us,
and may all the ends of the earth fear him!
Second Reading Gal 4:4-7

Brothers and sisters:
When the fullness of time had come, God sent his Son,
born of a woman, born under the law,
to ransom those under the law,
so that we might receive adoption as sons.
As proof that you are sons,
God sent the Spirit of his Son into our hearts,
crying out, "Abba, Father!"
So you are no longer a slave but a son,
and if a son then also an heir, through God.
Acclamation before the Gospel Heb 1:1-2
Gospel Lk 2:16-21

The shepherds went in haste to Bethlehem and found Mary and Joseph,
and the infant lying in the manger.
When they saw this,
they made known the message
that had been told them about this child.
All who heard it were amazed
by what had been told them by the shepherds.
And Mary kept all these things,
reflecting on them in her heart.
Then the shepherds returned,
glorifying and praising God
for all they had heard and seen,
just as it had been told to them.

When eight days were completed for his circumcision,
he was named Jesus, the name given him by the angel
before he was conceived in the womb.
Catena Nova
Deep, unfathomable, and really to be marvelled at is the mystery of our religion. Even the holy angels long to comprehend it. Referring somewhere to sayings of the prophets concerning Christ our Saviour, the Saviour's disciple says that the angels long for insight into the things which the bringers of the Good News, by the power of the Holy Spirit sent from heaven, have now revealed to you. And those angels who penetrated the tremendous mystery of our faith when Christ was born in the flesh give thanks for us as they sang, Glory to God in the highest, and peace to his people on earth. True God by his very nature was the Word of God the Father, consubstantial with the Father and co-eternal, and resplendent also in his own sublime majesty. Yet although he was one in nature with his Father and his equal he did not regard equality with God as something to be clung to, but gave up everything to take from holy Mary the nature of a slave. He was born as a human being, and existing then in human condition he humbled himself even to the extent of dying, dying on a cross. He who held all things in his plenitude freely descended to our condition. Being under no compulsion but of his own free will, he who by his own nature was free lowered himself for our sake to assume the nature of a slave. He who was exalted above every creature became one of ourselves; he who gives life to all, for he is the living bread that gives life to the world, became one of those subject to death. He who, being God, was the lawgiver and himself above the law became subject to the law like us. He existed before time was and was in fact the maker of time, and yet he became one of those who must be born, who must have a beginning. How then did he become like us? By taking a body from the holy Virgin; not a body without a soul, but one possessed of a rational soul, so that he came forth from a woman as a real man, though without sin. He was a man in all reality, he did not merely appear to be one, and yet there was no belittling of his divinity or casting out of his godhead, which had always been his, is his now, and shall be his for ever. For this reason, therefore, we declare the holy Virgin to be the Mother of God. (St Cyril of Alexandria)
Ah! Ah! That wonderful Name! Ah! That delectable Name! This is the Name that is above all names, the Name that is highest of all, without which no man hopes for salvation This Name is sweet and joyful, giving veritable comfort to the heart of man. Verily the Name of Jesus is in my mind a joyous song and heavenly music in mine ear, and in my mouth a honeyed sweetness. Wherefore no wonder I love that Name which gives comfort to me in all my anguish I cannot pray, I cannot meditate, but in sounding the Name of Jesus. I savor no joy that is not mingled with Jesus. Wheresoever I be, wheresoever I sit, whatsoever I do, the thought of the savor of the Name of Jesus never leaves my mind. I have set it in my mind, I have set it as a token upon my heart. What can he lack who desires to love the Name of Jesus unceasingly? (Richard Rolle)
Born of the Virgin Mother of God, the Creator, and Lord all shared our humanity. He had a real body and soul even though he had no part in our misdeeds. He committed no sin, says Scripture, and no falsehood ever came from his mouth. O holy womb, in which God was received, through which our sin was effaced, in which God became human while remaining God! When he was received by a mother's arms, he didn't leave the bosom of his Heavenly Father.God isn't divided as he carries out his will; God saves without suffering division. There isn't a real need to enumerate the prophecies foretelling Christ. Mary brings forth the flower of Jesse and gifts no one can worthily praise. If Paul could say of the other saints that the world wasn't worthy of them, what can anyone say of the Mother who outshines all the martyrs as the sun does the stars? Let us echo Gabriel's cry of joy: "Rejoice, most highly favored one!" Immanuel has come into the world he had made. God from all eternityvis a child conceived in Mary. She was radiant with joy and amazement....What was the focus of all her thought and prayer, whether in petition for the strength to do the daily deeds of love that fell to her even while thinking constantly of the child growing within her? And the child's birth simply brought all this to fulfillment. We learn from her what the vocation to contemplation is and what wonders it can bring us, to give us joy and to give us reason to share that joy with all near us. Are we ready to contemplate seriously as Mary did? (Basil of Seleucia)
One and unique was Mary's child, the only Son of his Father in heaven and the only Son of his mother on earth. Mary alone was virgin-mother, and it is her glory to have borne the Father's only Son. But now she embraces that only Son of hers in all his members. She is not ashamed to be called the mother of all those in whom she recognizes that Christ her Son has been or is on the point of being formed. Our ancient mother Eve was more of a stepmother than a true mother, passing on to her children the sentence of death before bringing them into the light of day. Her name indeed means 'mother of all the living', but she proved more truly to be the slayer of the living or the mother of the dying, since for her to give birth was to transmit death. Eve being unable to respond faithfully to the meaning of her name, its mysterious import was fully expressed by Mary. Like the Church of which she is the model, Mary is the mother of all who are born again to new life. She is the mother of him who is the Life by which all things live; when she bore him, she gave new birth in a sense to all who were to live by his life. Recognizing that by virtue of this mystery she is the mother of all Christians, Christ's blessed mother also shows herself a mother to them by her care and loving kindness. She never grows hard toward her children, as though they were not her own. The womb that once gave birth is not dried up; it continues to bring forth the fruit of her tender compassion. Christ, the blessed fruit of that womb, left his mother still fraught with inexhaustible love, a love that once came forth from her but remains always within her, inundating her with his gifts. It can be seen that the children themselves recognize her as their mother. A natural instinct, inspired by faith, prompts them to have recourse to her in all dangers and difficulties, invoking her and taking refuge in her arms like little ones running to their mother. To this day we dwell in the shelter of the mother of the Most High, remaining under her protection as it were beneath the shadow of her wings. And in the days to come we shall share in her glory; we shall know the warmth of her loving embrace. Then there will be one joyful voice proclaiming the praise of our mother: Holy Mother of God, in you we all find our home! (Bl. Guerric of Igny)
During this new year,
I resolve to begin a new life.
I do not know,
what will happen to me, during this year.
But I abandon myself entirely to You, my God.
And my aspirations and all my affections,
will be for You.
I feel so weak, dear Jesus
but with Your help,
I hope and resolve,
to live a different life,
that is, a life closer to You. (St. Gemma Galgani)
The Blessed Virgin is Theotocus, Deipara, or Mother of God….God is her Son, as truly as anyone of us is the son of his own mother….What dignity can be too great to attribute to her who is as closely bound up, as intimately one, with the Eternal Word, as a mother is with a son? What outfit of sanctity, what fullness and redundance of grace, what exuberance of merits must have been hers, when once we admit the supposition …. that her Maker really did regard those merits and take them into account, when He condescended "not to abhor the Virgin's womb"? Is it surprising then, that on the one hand she should be immaculate in her Conception? or on the other that she should be honoured with an Assumption and exalted as a queen with a crown of twelve stars, with the rulers of day and night to do her service? Men sometimes wonder that we call her Mother of life, of mercy, of salvation – what are all these titles compared to that one name, Mother of God? (St. John Henry Newman)
Today's world needs to rediscover the face of its Savior and of his mother.The world is glutted with philosophies and ideologies that don't answer our most vital needs and fundamental questions. Mary is the vibrant and living reality realized by believing God reveals in Jesus just what we need to do, as well as know. She shows us Christ as wholly divine and totally human. Mary is the safeguard of the realism of the Incarnation. She shows us facts not theories. She shows us how to live a genuinely "divine" life because she lives it through her son. That is how she is mother
of our life in God, a life we live for one another and for the whole world of those wandering in darkness. (Leon Joseph Cardinal Suenens)
At the beginning of the year, let us implore from Mary the grace to be amazed at the God of surprises. Let us renew the amazement we felt when faith was first born in us. The Mother of God helps us – the Mother who gave birth to the Lord, now presents us, reborn, to the Lord. She is a mother who generates in her children the amazement of faith, because faith is an encounter, not a religion. Without amazement, life becomes dull and routine and so it is with faith.... From her, let us allow ourselves to be gazed upon, to be embraced, to be taken by the hand. Let us allow ourselves to be gazed upon. Especially in times of need, when we are entangled in life's knots, we rightly lift our eyes to Our Lady, to Our Mother. Yet first, we should let ourselves be gazed upon by Our Lady. When she gazes upon us, she does not see sinners but children. It is said that the eyes are the mirror of the soul, the eyes of Mary, full of grace, reflect the beauty of God, they show us a reflection of heaven. Jesus Himself said that the eye is "the lamp of the body" (Mt 6:22) – the eyes of Our Lady are able to bring light to every dark corner, everywhere they rekindle hope. As she gazes upon us, she says: "Take heart, dear children, here I am, your Mother!" (Pope Francis)
Homily
What a year it's been! As I reflect on all that's happened, I'm struck by the wonder of it all. How it started nine months ago when the angel came with that disturbing message. Here I was, ready to settle down. Happy to live a normal life with my husband. Then, things began to happen which still make me wonder. A virgin found with child! I could barely face Joseph. What would I tell him? Such a good man. Always wanting to do the right thing. What a dilemma it must have been for him. Poor Joseph! Thank God, the angel spoke to him too. Still, it wasn't easy. We both wondered: Why us?
I ran to my cousin Elizabeth looking for answers. And to escape those looks, and wagging tongues, as I began to show. They were saying such awful things about us. Now my cousins have had their own encounter with the angel. Just think, a man Zechariah's age fathering a child. No wonder he was speechless. And Elizabeth. All her life people said she was cursed by God for being barren. You should hear what they're saying now. No matter. All these things are from God. I know that, and my soul magnifies the Lord for them. The visit was wonderful.
But then came the decree of Caesar. Of all times for a census to be taken. And why make people go to their own town? Imagine the crowds in a small place like Bethlehem. Where will we stay? What if my time should come on the way? Poor Joseph!
Sure enough. I felt the stirrings of a child about to be born. What could we do? Door after door was closed in our faces. Couldn't they see we were desperate? Where was the angel when we needed him? Finally, an innkeeper took pity on us. "My stable might do," he said. "It's all I've got." At least the animals would keep us warm. Some hay might serve as bedding. Good thing I brought along the swaddling clothes. But where will we find a midwife? Poor Joseph!
Thus he came forth. The child's cry pierced the night air. What a way to be born! And here I thought things would be different. Didn't the angel say he would be given the throne of his father David? Strange palace this barn. Then the shepherds came. All out of breath. Muttering something about an angel. So he's around after all. They said, "Now we understand." So did I. David was a shepherd too. Great things from small beginnings. How like God to look with favor on his lowly servant — and upon her Son.
After the shepherds left we were alone. What to do next? Oh yes, the Law. Even this Child was born under the law. (II) He must be circumcised. And given a name. Not by Joseph, though. The angel said I must name him Jesus. Another thing taken from his hands. Poor Joseph! And so it goes, as I treasure all these things and reflect on them in my heart. (cf. G)
So passed a year in the life of Mary, the Mother of God. Other years would come and go, one thing after another stored in a mother's heart: The presentation of the Child in the temple when Simeon told her a sword would pierce that heart; the time, twelve years later, when they lost the Child for three days in Jerusalem; the day Jesus left home, and her, behind; that wedding when he asked her what business she had with him; the time he was so busy she had to fight crowds just to speak with him a moment; that day he came to Nazareth and so offended her neighbors they wanted to throw him from a cliff; and that Passover she thought him lost for good when they crucified him - when the sword finally fell. But then came the joy of seeing him alive, only to take his leave once more, entrusting her to the care of another. Years filled with wonders. Plans made and unmade; things she could never have expected, others she knew were coming. Through it all, she remained a model of reflection.
Like Mary, we too reminisce over years gone by, as one year flows into another. On things that have changed us forever. Things we may not have understood at the time they happened, but on reflection we see as part of God's design. (cf. II) There's so much to wonder about, isn't there? As there was for Mary, who teaches us to treasure life in all its mystery, through whom we were found worthy to receive the Author of life (Collect). Who lives and reigns, world without end. Amen
Intercessions (The following petitions are drawn from Pope Francis' Urbi et orbi message given on Christmas Day)
Let us look to Bethlehem and contemplate the face of the Child who is born for us! And in that small and innocent face, let us see the faces of all those children who, everywhere in the world, long for peace.
Let us see the faces of our Ukrainian brothers and sisters who are experiencing this Christmas in the dark and cold, far from their homes due to the devastation caused by ten months of war. May the Lord inspire us to offer concrete gestures of solidarity to assist all those who are suffering, and may he enlighten the minds of those who have the power to silence the thunder of weapons and put an immediate end to this senseless war!
Let us think of Syria, still scarred by a conflict that has receded into the background but has not ended. Let us think too of the Holy Land, where in recent months violence and confrontations have increased, bringing death and injury in their wake.
Let us beseech the Lord that there, in the land that witnessed his birth, dialogue and efforts to build mutual trust between Palestinians and Israelis may resume.
May the Child Jesus sustain the Christian communities living in the Middle East, so that each of those countries can experience the beauty of fraternal coexistence between individuals of different faiths.
May the Christ Child help Lebanon in particular, so that it can finally rebound with the help of the international community and with the strength born of fraternity and solidarity.
May the light of Christ illumine the region of the Sahel, where peaceful coexistence between peoples and traditions is disrupted by conflict and acts of violence.
May that light lead to a lasting truce in Yemen and to reconciliation in Myanmar and Iran, and an end to all bloodshed.
May it inspire the political authorities and all people of good will in the Americas to attempt to calm the political and social tensions experienced by various countries; I think in particular of the people of Haiti wo have been suffering for a long time.
May we not avert our gaze from Bethlehem, a town whose name means "house of bread, but think of all those, especially children, who go hungry while huge amounts of food daily go to waste and resources are being spent on weapons. The war in Ukraine has further aggravated this situation, putting entire peoples at risk of famine, especially in Afghanistan and in the countries of the Horn of Africa. Let us learn from the Prince of Peace and, starting with those who hold political responsibilities, commit ourselves to making food solely an instrument of peace.
Let us think of families that experience great hardship and those that, in this time of economic crisis, are struggling as a result of unemployment and lacking in the necessities of life.
Today may we not forget the many displaced persons and refugees who knock at our door in search of some comfort, warmth and food. Let us not forget the marginalized, those living alone, the orphans, the elderly – who are wisdom for their people – who risk being set aside, and prisoners, whom we regard solely for the mistakes they have made and not as our fellow men and women.
Most high God,
you come near to us this Christmas season
in the child born of the Virgin Mary.
In the depths of darkness, she gave birth to light;
in the depths of silence, she brought forth the Word.
Grant that we who ponder these things in our hearts
may recognise in her child
our Lord and Saviour, Jesus Christ,
who lives and reigns with you in the unity of the Holy Spirit,
in the splendour of eternal light,
God for ever and ever. Amen. (ICEL; 1998)
Offertory Chant
Offertory Hyym
Now is the old year passed away; 
Let us begin the new this day. 
Praising our God, who here on earth 
Kept us in quietness and mirth! 
Oh, like the glad New Year, may we 
Wholly renewed this day be, 
Praising our God eternally! 


Child of our love, O Jesus dear, 
Thou who art still our Savior here: 
Thee do we pray with all our heart, 
Nevermore leave us nor depart! 
Save us from war, from hate, from fear; 
Keep us in peace together here. 
Grant us a tranquil, joyous year! 
 

Gladly together then will we, 
O highest God of heaven, to Thee 
Bring through the year our songs of praise, 
And evermore through endless days 
Here while on earth our time shall be. 
And then through all eternity 
Singing with joyful hearts to Thee!
Communion Chant
Closing Hymn

Mary looks upon her Child. 
(Birth is a mystery.) 

Her thoughts are deep and undefiled. 
(Love is a mystery.) 

A candle throws its kindly beam. 
(Light is a mystery.) 

Upon a Child without a name. 
(Self is a mystery.) 
Soon a sword shall pierce her heart. 
(Pain is a mystery.) 

Love knows the end before we start. 
(Death is a mystery.) 
 

O Lamb of God, 
that takest away the sins of the world, 
have mercy upon us. 


O Lamb of God, 
that takest away the sins of the world, 
grant us Your peace.
Archives