Easter Sunday (A)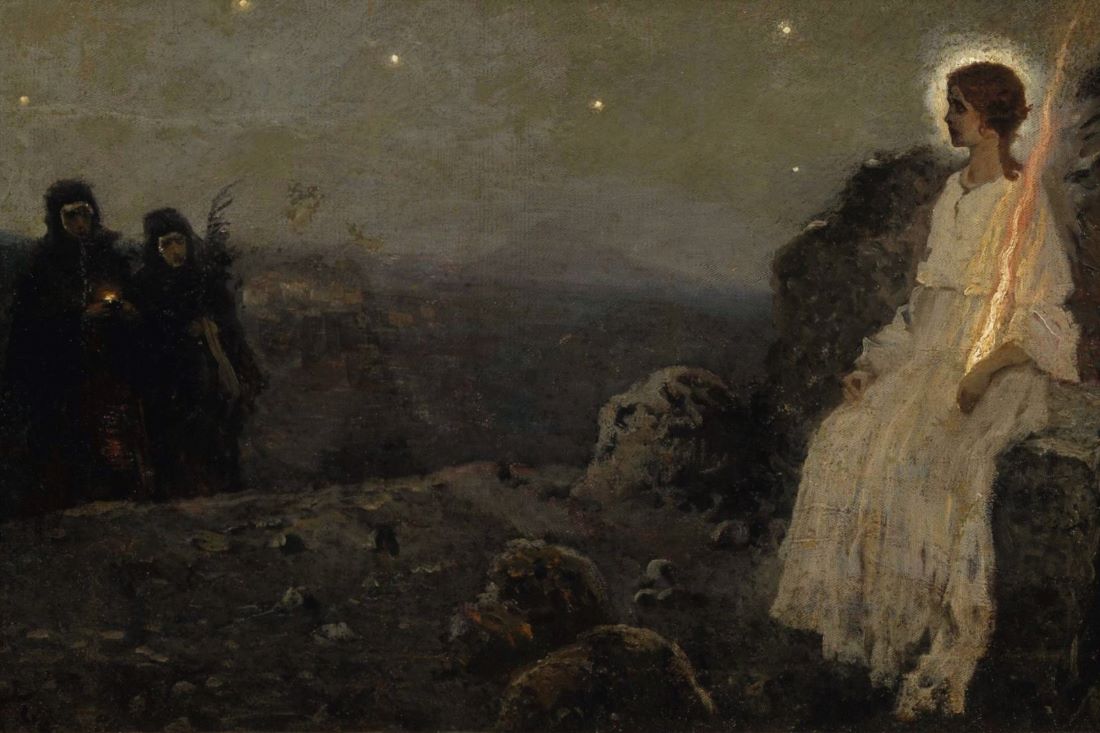 Introit
Collect
O God, who on this day,
through your Only Begotten Son,
have conquered death
and unlocked for us the path to eternity,
grant, we pray, that we who keep
the solemnity of the Lord's Resurrection
may, through the renewal brought by your Spirit,
rise up in the light of life.
Through our Lord Jesus Christ, your Son,
who lives and reigns with you in the unity of the Holy Spirit,
one God, for ever and ever.
Liturgy of the Word
First Reading Acts 10:34, 37-43
Peter opened his mouth and said: "Truly I perceive that God shows no partiality, the word which was proclaimed throughout all Judea, beginning from Galilee after the baptism which John preached: how God anointed Jesus of Nazareth with the Holy Spirit and with power; how he went about doing good and healing all that were oppressed by the devil, for God was with him. And we are witnesses to all that he did both in the country of the Jews and in Jerusalem. They put him to death by hanging him on a tree; but God raised him on the third day and made him manifest; not to all the people but to us who were chosen by God as witnesses, who ate and drank with him after he rose from the dead. And he commanded us to preach to the people, and to testify that he is the one ordained by God to be judge of the living and the dead. To him all the prophets bear witness that every one who believes in him receives forgiveness of sins through his name."
Responsorial Psalm
Second Reading (Second Option) 1 Corinthians 5:6-8
Do you not know that a little leaven leavens the whole lump? Cleanse out the old leaven that you may be a new lump, as you really are unleavened. For Christ, our paschal lamb, has been sacrificed. Let us, therefore, celebrate the festival, not with the old leaven, the leaven of malice and evil, but with the unleavened bread of sincerity and truth.
Verse before the Gospel
Gospel John 20:1-9
On the first day of the week Mary Mag'dalene came to the tomb early, while it was still dark, and saw that the stone had been taken away from the tomb. So she ran, and went to Simon Peter and the other disciple, the one whom Jesus loved, and said to them, "They have taken the Lord out of the tomb, and we do not know where they have laid him." Peter then came out with the other disciple, and they went toward the tomb. They both ran, but the other disciple outran Peter and reached the tomb first; and stooping to look in, he saw the linen cloths lying there, but he did not go in. Then Simon Peter came, following him, and went into the tomb; he saw the linen cloths lying, and the napkin, which had been on his head, not lying with the linen cloths but rolled up in a place by itself. Then the other disciple, who reached the tomb first, also went in, and he saw and believed; for as yet they did not know the scripture, that he must rise from the dead.
Reflection Questions

In this "ongoing Lent" what meaning are you finding in Easter?

Is there "old yeast" this memorable Lent has helped you expunge in favor of "a new batch of dough?"

Are you wondering with Mary Magdalen if the Lord has been "taken away?"
Catena Nova
O Death, where is your sting? O Hell, where is your victory? Christ is risen, and you are overthrown. Christ is risen, and the demons are fallen. Christ is risen, and the angels rejoice. Christ is risen, and life reigns. Christ is risen, and not one dead remains in the grave. For Christ, being risen from the dead, is become the first fruits of those who have fallen asleep. To Him be glory and dominion unto ages of ages." (St. John Chrysostom)
Let God's people then recognize that they are a new creation in Christ, and with all vigilance understand by Whom they have been adopted and Whom they have adopted. Let not the things, which have been made new, return to their ancient instability; and let not him who has 'put his hand to the plough' forsake his work, but rather attend to that which he sows than look back to that which he has left behind. Let no one fall back into that from which he has risen, but, even though from bodily weakness he still languishes under certain maladies, let him urgently desire to be healed and raised up. For this is the path of health through imitation of the Resurrection begun in Christ, whereby, notwithstanding the many accidents and falls to which in this slippery life the traveller is liable, his feet may be guided from the quagmire on to solid ground, for, as it is written, 'the steps of a man are directed by the Lord,and He will delight in his way. When the just man falls he shall not be overthrown, because the Lord will stretch out His hand'. (Pope St. Leo the Great)
Today is the feast of feasts, the solemnity of solemnities; it surpasses not only those that are secular and worldly in character, but even excels, as the sun outshines all stars, those feasts which are dedicated to and are celebrated in honor of Christ Himself. Yesterday the Lamb was immolated and the doorposts reddened with Its blood; the Egyptian sorrowed over his firstborn; but the Angel of death passed over us, for we were protected by the precious blood of the Lamb. Today in great flight have we fled from Egypt, from ill-natured Pharaohs, from harsh masters, from mud and from the baking of bricks. There is no one who can hinder us from celebrating our exodus unto our Lord and God. We shall celebrate not with the leaven of malice and wickedness, but with the unleavened bread of sincerity and of truth. We shall retain with us nothing Egyptian, nothing of the leaven of evil. Only yesterday was I in anguish with Christ on the Cross; today am I glorified with Him. Yesterday I died with Him; today I receive new life in Him. Yesterday was I buried with Him; today I arise together with Him. Nevertheless, let us bring and offer gifts to Him who for us has suffered and has risen. But do not think I have in mind gold or silver, rich damasks or glistening jewels of princely prices. No, it is ourselves that we ought to offer; such is the gift most befitting and dear to God. According to the divine image and likeness have we been made--let us humbly attribute the high dignity of our being to its model; with greatest esteem let us imitate our exemplar. Let us understand the power of this mystery, and for whom it was that Christ has suffered death. Let us be like Christ, for He was like unto us. Let us become divine because of Him, since He became man for our sake. (St. Gregory Nazianzen)
EASTER
RISE heart ; thy Lord is risen. Sing his praise
Without delayes,
Who takes thee by the hand, that thou likewise
With him mayst rise :
That, as his death calcined thee to dust,
His life may make thee gold, and much more just.

Awake, my lute, and struggle for thy part
With all thy art.
The cross taught all wood to resound his name
Who bore the same.
His stretched sinews taught all strings, what key
Is best to celebrate this most high day.

Consort both heart and lute, and twist a song
Pleasant and long :
Or since all music is but three parts vied,
And multiplied ;
O let thy blessed Spirit bear a part,
And make up our defects with his sweet art.

I got me flowers to straw thy way ;
I got me boughs off many a tree :
But thou wast up by break of day,
And brought'st thy sweets along with thee.
The Sunne arising in the East,
Though he give light, and th' East perfume ;
If they should offer to contest
With thy arising, they presume.

Can there be any day but this,
Though many sunnes to shine endeavour ?
We count three hundred, but we misse :
There is but one, and that one ever. (George Herbert)
Glorious Christ, Influence secretly diffused in the bosom of Matter and blinding center where all innumberble fibers of the Multiple are united, Power as unyielding as the World and as burning as Life […] You who are the first and the last, the living, the dead and the resurrected; You who join in your exuberant unity all attractions, all forces, all beings; it is to you that my whole being calls with a desire as great as the Universe. You are truly my Lord and my God! […]It is to your Body in all its extension, that is, to the world transformed by your power and my faith into the magnificent and living crucible furnace where all disappear to be born again, […] I consecrate myself, Jesus, to live and to die (Teilhard de Chardin).
The angel's words "Do not be afraid" are at least as earthshaking as the earthquake. These words of peace turn us upside down and around in circles. What is the man we killed to stabilize society going to do to us now that he is out and about again? Why would he tell us not to be afraid? What is this world coming to? Two women both named Mary who live on the margin of the society of their time, a society that would not let them testify in court as witnesses, are asked to be witnesses to this momentous news, to the momentous presence of life. They run off with "fear and great joy." Mary and Mary don't get far before they meet up with Jesus who greets them and repeats the angel's words: "Do not be afraid." Jesus de-centers us once again by taking us from the center of religious and political power to that backwater Galilee where he will start a new life for us. St. Paul says of the Hebrews who were delivered from Egypt that we all "passed through the sea and all were baptized into Moses in the cloud and the sea." (1 Cor. 10:2) When we renew our baptismal vows, we renewed our commitment to being overwhelmed by God's deliverance from a sacrificial culture that creates fault lines to a new culture based on the forgiving victim. These words are spoken not just to the two women but to the two guards and to each one of us. (Andrew Marr)
Mary's world is falling apart and being reconstructed because something she cannot fathom is being revealed to and in her. Jesus is not back as if the Passion had been a nightmare from which he had just awakened, as if they could embrace and wipe away their tears in the oblivion of sorrow past. Jesus is not resurrected; he is risen; not reanimated but glorified. In the Resurrection, the Jesus she lost to death is restored and not restored to her. He comes not as he was prior to his death, but as he is now and always will be, bodily and glorified, imminent and transcendent, present and ungraspable, intimate and universal. The reader who is able to really enter into this scene, no matter how tentatively, because it does burn with the incandescence of the aesthetically dangerous, understands in some way his or her own longing for life in a new world, the world in which Jesus's God and Father is finally ours in which participation in the community of faith is the locus of enduring encounter with the Risen Lover…. Mary Magdalene is not simply a figure of the past, and her encounter in the garden is not something that happened in the past. She lives. This encounter occurs every time the believer reaches toward her Lord and lover and knows herself created anew by his speaking of her name. (Sandra Schneiders)
Homily
SOLEMNITY OF EASTER (A)
Readings: Acts 10:34a,37-43; 1 Cor. 5:6-8; Jn. 20:1-9 [Shorter version]
Which Way to the Tomb?
The Lord is truly risen, alleluia! (Entrance Antiphon) With this joyful refrain, Christians today announce their belief: Christ indeed from death is risen. (Sequence) And ever since the empty tomb was discovered that first Easter morn, the word echoes forth: God raised [Jesus] on the third day and allowed him to appear, not to all the people, but to those who were chosen by God as witnesses (I). Each witness -- Mary Magdalene, Simon Peter, and the other disciple. . .whom Jesus loved (G) -- giving their testimony from a different perspective. Each one coming to the empty tomb by a different route.
Look at Mary. She comes by way of love. Weeping for her crucified savior. While others remained behind locked doors, she comes to the tomb early on the first day of the week (G). And she comes with a courage no fear could extinguish.
Yes, she did not understand what she saw at first. She thought the stone missing from the tomb meant someone had taken the Lord's body. So she ran and went to Simon Peter and the other disciple (G). Love, nevertheless, prompted her visit. And love made her run, and insist they come and see too. So doors flew open. Peter and the other disciple start running: One faster than the other.
Thus Peter comes to the tomb: by a different way -- the way of hope, hope of forgiveness. For the one who bragged he would die for Jesus has unfinished business with the Master. If only he could set things right for denying the Lord three times.
It was a hope, however, that would be delayed. For neither did he understand the scripture, that [Jesus] must rise from the dead. (G) But he would some days later, understand. And he would be forgiven, his hope realized. And one day he would preach a sermon so all peoples might know that everyone who believes in [Jesus] receives forgiveness of sins through his name (I).
But now it's the other disciple's turn. He enters the tomb after Peter. And he sees what Peter saw: just the linen wrappings lying there (G). But this time, there is understanding for he saw and believed (G). See, this disciple comes to the tomb by way of faith. After all, he did not deny Jesus like Peter did. No, he stood by the cross. And he writes of these events for one purpose: that we too may come to believe that Jesus is the Messiah, the Son of God, and that through believing [we] may have life in his name (Jn. 20:31).
Faith, hope, and love: three ways by which to come this morning to celebrate the festival. (II). The Beloved Disciple's faith, Peter's hope, and Mary's love, all enable us to see the empty tomb, hear the witness, and join the refrain: The Lord is risen, alleluia! Faith, hope, and love: three qualities of the Christian soul.
That's why on Easter Christians renew their baptismal promises. We who live in Christ through baptism stand up and witness our faith, our hope, and our love. To prove that Jesus lives -- in us! And this rite is neither a formality, nor a custom, nor least of all, an Easter "duty." Rather, it's a claim on our life. The words we're about to repeat -- "I do reject [sin, and Satan, all his empty promises]; "I do believe" [in the Christian Creed] – these words must come from hearts where faith, hope, and love reside. Else they are hypocrisy, unworthy of those who receive this day the unleavened bread of sincerity and truth (II) in the Holy Eucharist.
Oh yes, our faith may be weak, our hope diminished, and our love, cool – and perhaps never more so than this strangest of Easter Sundays when we are still in the tombs of confinement and social distancing – still waiting for the stone to be removed. So we can be forgiven if we do not all come with undoubted love as we wonder whether God has somehow forgotten about us; nor with unwavering hope as we harbor feelings that nothing will ever be the same even when we are released; nor with unshakeable faith as the present crisis sows its weeds of doubt even as we say, "I do believe." So if you haven't exactly run to celebrate this Easter Sunday, and could only manage a reluctant shuffle, you still belong, for yes, the grace of God brought us all here – however virtually.
And when these online rites are complete, like Mary, Peter, and the other disciple, we too will remain for yet more days in our homes (cf. G; longer version) – possibly renewed, definitely challenged. Challenged to believe, to hope, and to love in ways ever more like those three witnesses who first came to the empty tomb after he rose from the dead (G). Who lives and reigns, forever and ever. Amen.
Intercessions
Loving, ever-living and compassionate God, You understand the pain of loss, the heartache of bereavement, May we hold in our hearts all those whose families or friends have died.
You are a light that shines in the darkest times, Guide us and heal us in our sickness and sorrow.
You comfort us in times of fear, May we comfort each other, even as we keep apart.
You console and lead us in times of doubt and confusion, May we follow the light of your love and spread hope.
You move our hearts to acts of generosity, May we be led to share what we have with those in need.
God of life, We thank you for the signs of your light in the midst of our darkness, May we be signs of your compassion in the heart of your world. Amen.
Offertory
Lord's Prayer
Let us pray as Christ taught us to be delivered from evil…
Spiritual Communion
Lord Jesus, on this day when we celebrate your victory over the power of death, we are once again denied the opportunity to recognize you in the breaking of bread as your disciples did the first Easter on the road to Emmaus. Like them we are perplexed at recent events which have left us downcast and fearful. Come to us now in a spiritual Communion and restore our hope with your divine Presence that you may continue to walk alongside us at this painful time and sustain us with your risen life.
Communion
Closing Hymn
Archives