Feast of the Holy Family (B)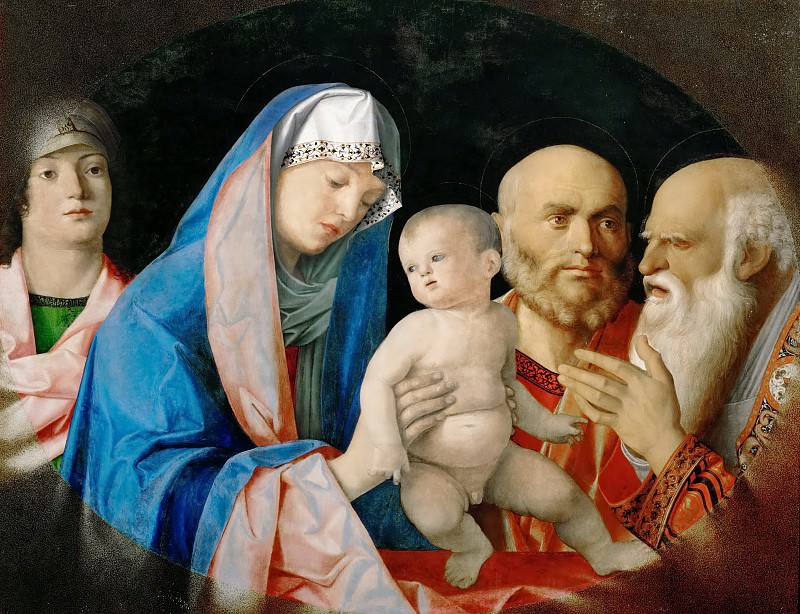 Introit
Kyrie
Gloria
Collect
O God, who were pleased to give us
the shining example of the Holy Family,
graciously grant that we may imitate them
in practicing the virtues of family life and in the bonds of charity,
and so, in the joy of your house,
delight one day in eternal rewards.
Through our Lord Jesus Christ, your Son,
who lives and reigns with you in the unity of the Holy Spirit,
God, for ever and ever. Amen.

First Reading Gn 15:1-6;21:1-3
The word of the LORD came to Abram in a vision, saying:
"Fear not, Abram!
I am your shield;
I will make your reward very great."
But Abram said,
"O Lord GOD, what good will your gifts be,
if I keep on being childless
and have as my heir the steward of my house, Eliezer?"
Abram continued,
"See, you have given me no offspring,
and so one of my servants will be my heir."
Then the word of the LORD came to him:
"No, that one shall not be your heir;
your own issue shall be your heir."
The Lord took Abram outside and said,
"Look up at the sky and count the stars, if you can.
Just so," he added, "shall your descendants be."
Abram put his faith in the LORD,
who credited it to him as an act of righteousness.

The LORD took note of Sarah as he had said he would;
he did for her as he had promised.
Sarah became pregnant and bore Abraham a son in his old age,
at the set time that God had stated.
Abraham gave the name Isaac to this son of his
whom Sarah bore him.
Responsorial Psalm Ps 105:1-2, 3-4, 5-6, 8-9
R/. The Lord remembers his covenant for ever.

Give thanks to the LORD, invoke his name;
make known among the nations his deeds.
Sing to him, sing his praise,
proclaim all his wondrous deeds. R/.

Glory in his holy name;
rejoice, O hearts that seek the LORD!
Look to the LORD in his strength;
constantly seek his face. R/.

You descendants of Abraham, his servants,
sons of Jacob, his chosen ones!
He, the LORD, is our God;
throughout the earth his judgments prevail. R/.

He remembers forever his covenant
which he made binding for a thousand generations
which he entered into with Abraham
and by his oath to Isaac. R/.
Second Reading Heb 11:8, 11-12, 17-19
Brothers and sisters:
By faith Abraham obeyed when he was called to go out to a place
that he was to receive as an inheritance;
he went out, not knowing where he was to go.
By faith he received power to generate,
even though he was past the normal age
—and Sarah herself was sterile—
for he thought that the one who had made the promise was trustworthy.
So it was that there came forth from one man,
himself as good as dead,
descendants as numerous as the stars in the sky
and as countless as the sands on the seashore.

By faith Abraham, when put to the test, offered up Isaac,
and he who had received the promises was ready to offer
his only son,
of whom it was said,
"Through Isaac descendants shall bear your name."
He reasoned that God was able to raise even from the dead,
and he received Isaac back as a symbol.
Gospel Acclamation Heb 1:1-2
Gospel Lk 2:22, 39-40
When the days were completed for their purification
according to the law of Moses,
they took him up to Jerusalem
to present him to the Lord.

When they had fulfilled all the prescriptions
of the law of the Lord,
they returned to Galilee,
to their own town of Nazareth.
The child grew and became strong, filled with wisdom;
and the favor of God was upon him.
Reflection Questions:

How have you been "credited" with righteousness on account of your faith?
How have God's promises proved trustworthy in your own life?
How has the favor of God been upon you?
Catena Nova
[On December 8, Pope Francis proclaimed a "Year of St. Joseph" in which to honor and renew devotion to the Guardian of the Redeemer and Patron of the Universal Church. He also published an apostolic letter Patris corde ("With a Father's Heart") containing a reflection on Joseph's role in the life of Christ and of the Christian people. Since St. Joseph figures prominently in the liturgy of the Christmas season, this week and next, I will be reproducing Francis' letter in lieu of the usual Catena Nova].
WITH A FATHER'S HEART: that is how Joseph loved Jesus, whom all four Gospels refer to as "the son of Joseph". Matthew and Luke, the two Evangelists who speak most of Joseph, tell us very little, yet enough for us to appreciate what sort of father he was, and the mission entrusted to him by God's providence. We know that Joseph was a lowly carpenter (cf. Mt 13:55), betrothed to Mary (cf. Mt 1:18; Lk 1:27). He was a "just man" (Mt 1:19), ever ready to carry out God's will as revealed to him in the Law (cf. Lk 2:22.27.39) and through four dreams (cf. Mt 1:20; 2:13.19.22). After a long and tiring journey from Nazareth to Bethlehem, he beheld the birth of the Messiah in a stable, since "there was no place for them" elsewhere (cf. Lk 2:7). He witnessed the adoration of the shepherds (cf. Lk 2:8-20) and the Magi (cf. Mt 2:1-12), who represented respectively the people of Israel and the pagan peoples. Joseph had the courage to become the legal father of Jesus, to whom he gave the name revealed by the angel: "You shall call his name Jesus, for he will save his people from their sins" (Mt 1:21). As we know, for ancient peoples, to give a name to a person or to a thing, as Adam did in the account in the Book of Genesis (cf. 2:19-20), was to establish a relationship. In the Temple, forty days after Jesus' birth, Joseph and Mary offered their child to the Lord and listened with amazement to Simeon's prophecy concerning Jesus and his Mother (cf. Lk 2:22-35). To protect Jesus from Herod, Joseph dwelt as a foreigner in Egypt (cf. Mt 2:13-18). After returning to his own country, he led a hidden life in the tiny and obscure village of Nazareth in Galilee, far from Bethlehem, his ancestral town, and from Jerusalem and the Temple. Of Nazareth it was said, "No prophet is to rise" (cf. Jn 7:52) and indeed, "Can anything good come out of Nazareth?" (cf. Jn 1:46). When, during a pilgrimage to Jerusalem, Joseph and Mary lost track of the twelve-year-old Jesus, they anxiously sought him out and they found him in the Temple, in discussion with the doctors of the Law (cf. Lk 2:41-50).
***
The greatness of Saint Joseph is that he was the spouse of Mary and the father of Jesus. In this way, he placed himself, in the words of Saint John Chrysostom, "at the service of the entire plan of salvation". Saint Paul VI pointed out that Joseph concretely expressed his fatherhood "by making his life a sacrificial service to the mystery of the incarnation and its redemptive purpose. He employed his legal authority over the Holy Family to devote himself completely to them in his life and work. He turned his human vocation to domestic love into a superhuman oblation of himself, his heart and all his abilities, a love placed at the service of the Messiah who was growing to maturity in his home". Thanks to his role in salvation history, Saint Joseph has always been venerated as a father by the Christian people. This is shown by the countless churches dedicated to him worldwide, the numerous religious Institutes, Confraternities and ecclesial groups inspired by his spirituality and bearing his name, and the many traditional expressions of piety in his honour. Innumerable holy men and women were passionately devoted to him. Among them was Teresa of Avila, who chose him as her advocate and intercessor, had frequent recourse to him and received whatever graces she asked of him. Encouraged by her own experience, Teresa persuaded others to cultivate devotion to Joseph. Popular trust in Saint Joseph is seen in the expression "Go to Joseph", which evokes the famine in Egypt, when the Egyptians begged Pharaoh for bread. He in turn replied: "Go to Joseph; what he says to you, do" (Gen 41:55). Pharaoh was referring to Joseph the son of Jacob, who was sold into slavery because of the jealousy of his brothers (cf. Gen 37:11-28) and who – according to the biblical account – subsequently became viceroy of Egypt (cf. Gen 41:41-44). As a descendant of David (cf. Mt 1:16-20), from whose stock Jesus was to spring according to the promise made to David by the prophet Nathan (cf. 2 Sam 7), and as the spouse of Mary of Nazareth, Saint Joseph stands at the crossroads between the Old and New Testaments.
***
Joseph saw Jesus grow daily "in wisdom and in years and in divine and human favour" (Lk 2:52). As the Lord had done with Israel, so Joseph did with Jesus: he taught him to walk, taking him by the hand; he was for him like a father who raises an infant to his cheeks, bending down to him and feeding him (cf. Hos 11:3-4). In Joseph, Jesus saw the tender love of God: "As a father has compassion for his children, so the Lord has compassion for those who fear him" (Ps 103:13). In the synagogue, during the praying of the Psalms, Joseph would surely have heard again and again that the God of Israel is a God of tender love, who is good to all, whose "compassion is over all that he has made" (Ps 145:9). The history of salvation is worked out "in hope against hope" (Rom 4:18), through our weaknesses. All too often, we think that God works only through our better parts, yet most of his plans are realized in and despite our frailty. Thus Saint Paul could say: "To keep me from being too elated, a thorn was given me in the flesh, a messenger of Satan to torment me, to keep me from being too elated. Three times I appealed to the Lord about this, that it would leave me, but he said to me: 'My grace is sufficient for you, for power is made perfect in weakness'" (2 Cor 12:7-9). Since this is part of the entire economy of salvation, we must learn to look upon our weaknesses with tender mercy.
***
The evil one makes us see and condemn our frailty, whereas the Spirit brings it to light with tender love. Tenderness is the best way to touch the frailty within us. Pointing fingers and judging others are frequently signs of an inability to accept our own weaknesses, our own frailty. Only tender love will save us from the snares of the accuser (cf. Rev 12:10). That is why it is so important to encounter God's mercy, especially in the Sacrament of Reconciliation, where we experience his truth and tenderness. Paradoxically, the evil one can also speak the truth to us, yet he does so only to condemn us. We know that God's truth does not condemn, but instead welcomes, embraces, sustains and forgives us. That truth always presents itself to us like the merciful father in Jesus' parable (cf. Lk 15:11-32). It comes out to meet us, restores our dignity, sets us back on our feet and rejoices for us, for, as the father says: "This my son was dead and is alive again; he was lost and is found" (v. 24). Even through Joseph's fears, God's will, his history and his plan were at work. Joseph, then, teaches us that faith in God includes believing that he can work even through our fears, our frailties and our weaknesses. He also teaches us that amid the tempests of life, we must never be afraid to let the Lord steer our course. At times, we want to be in complete control, yet God always sees the bigger picture.
***
As he had done with Mary, God revealed his saving plan to Joseph. He did so by using dreams, which in the Bible and among all ancient peoples, were considered a way for him to make his will known. Joseph was deeply troubled by Mary's mysterious pregnancy. He did not want to "expose her to public disgrace", so he decided to "dismiss her quietly" (Mt 1:19).In the first dream, an angel helps him resolve his grave dilemma: "Do not be afraid to take Mary as your wife, for the child conceived in her is from the Holy Spirit. She will bear a son, and you are to name him Jesus, for he will save his people from their sins" (Mt 1:20-21). Joseph's response was immediate: "When Joseph awoke from sleep, he did as the angel of the Lord commanded him" (Mt 1:24). Obedience made it possible for him to surmount his difficulties and spare Mary. In the second dream, the angel tells Joseph: "Get up, take the child and his mother, and flee to Egypt, and remain there until I tell you; for Herod is about to search for the child, to destroy him" (Mt 2:13). Joseph did not hesitate to obey, regardless of the hardship involved: "He got up, took the child and his mother by night, and went to Egypt, and remained there until the death of Herod" (Mt 2:14-15). In Egypt, Joseph awaited with patient trust the angel's notice that he could safely return home. In a third dream, the angel told him that those who sought to kill the child were dead and ordered him to rise, take the child and his mother, and return to the land of Israel (cf. Mt 2:19-20). Once again, Joseph promptly obeyed. "He got up, took the child and his mother, and went to the land of Israel" (Mt 2:21). During the return journey, "when Joseph heard that Archelaus was ruling over Judea in place of his father Herod, he was afraid to go there. After being warned in a dream" – now for the fourth time – "he went away to the district of Galilee. There he made his home in a town called Nazareth" (Mt 2:22-23). The evangelist Luke, for his part, tells us that Joseph undertook the long and difficult journey from Nazareth to Bethlehem to be registered in his family's town of origin in the census of the Emperor Caesar Augustus. There Jesus was born (cf. Lk 2:7) and his birth, like that of every other child, was recorded in the registry of the Empire. Saint Luke is especially concerned to tell us that Jesus' parents observed all the prescriptions of the Law: the rites of the circumcision of Jesus, the purification of Mary after childbirth, the offering of the firstborn to God (cf. 2:21-24). In every situation, Joseph declared his own "fiat", like those of Mary at the Annunciation and Jesus in the Garden of Gethsemane. In his role as the head of a family, Joseph taught Jesus to be obedient to his parents (cf. Lk 2:51), in accordance with God's command (cf. Ex 20:12). During the hidden years in Nazareth, Jesus learned at the school of Joseph to do the will of the Father. That will was to be his daily food (cf. Jn 4:34). Even at the most difficult moment of his life, in Gethsemane, Jesus chose to do the Father's will rather than his own, becoming "obedient unto death, even death on a cross" (Phil 2:8). The author of the Letter to the Hebrews thus concludes that Jesus "learned obedience through what he suffered" (5:8). All this makes it clear that "Saint Joseph was called by God to serve the person and mission of Jesus directly through the exercise of his fatherhood" and that in this way, "he cooperated in the fullness of time in the great mystery of salvation and is truly a minister of salvation."
***
Joseph accepted Mary unconditionally. He trusted in the angel's words. "The nobility of Joseph's heart is such that what he learned from the law he made dependent on charity. Today, in our world where psychological, verbal and physical violence towards women is so evident, Joseph appears as the figure of a respectful and sensitive man. Even though he does not understand the bigger picture, he makes a decision to protect Mary's good name, her dignity and her life. In his hesitation about how best to act, God helped him by enlightening his judgment". Often in life, things happen whose meaning we do not understand. Our first reaction is frequently one of disappointment and rebellion. Joseph set aside his own ideas in order to accept the course of events and, mysterious as they seemed, to embrace them, take responsibility for them and make them part of his own history. Unless we are reconciled with our own history, we will be unable to take a single step forward, for we will always remain hostage to our expectations and the disappointments that follow. The spiritual path that Joseph traces for us is not one that explains, but accepts. Only as a result of this acceptance, this reconciliation, can we begin to glimpse a broader history, a deeper meaning. We can almost hear an echo of the impassioned reply of Job to his wife, who had urged him to rebel against the evil he endured: "Shall we receive the good at the hand of God, and not receive the bad?" (Job 2:10). Joseph is certainly not passively resigned, but courageously and firmly proactive. In our own lives, acceptance and welcome can be an expression of the Holy Spirit's gift of fortitude. Only the Lord can give us the strength needed to accept life as it is, with all its contradictions, frustrations and disappointments. Jesus' appearance in our midst is a gift from the Father, which makes it possible for each of us to be reconciled to the flesh of our own history, even when we fail to understand it completely.
***
Just as God told Joseph: "Son of David, do not be afraid!" (Mt 1:20), so he seems to tell us: "Do not be afraid!" We need to set aside all anger and disappointment, and to embrace the way things are, even when they do not turn out as we wish. Not with mere resignation but with hope and courage. In this way, we become open to a deeper meaning. Our lives can be miraculously reborn if we find the courage to live them in accordance with the Gospel. It does not matter if everything seems to have gone wrong or some things can no longer be fixed. God can make flowers spring up from stony ground. Even if our heart condemns us, "God is greater than our hearts, and he knows everything" (1 Jn 3:20). Here, once again, we encounter that Christian realism which rejects nothing that exists. Reality, in its mysterious and irreducible complexity, is the bearer of existential meaning, with all its lights and shadows. Thus, the Apostle Paul can say: "We know that all things work together for good, for those who love God" (Rom 8:28). To which Saint Augustine adds, "even that which is called evil (etiam illud quod malum dicitur)". In this greater perspective, faith gives meaning to every event, however happy or sad. Nor should we ever think that believing means finding facile and comforting solutions. The faith Christ taught us is what we see in Saint Joseph. He did not look for shortcuts, but confronted reality with open eyes and accepted personal responsibility for it. Joseph's attitude encourages us to accept and welcome others as they are, without exception, and to show special concern for the weak, for God chooses what is weak (cf. 1 Cor 1:27). He is the "Father of orphans and protector of widows" (Ps 68:6), who commands us to love the stranger in our midst. I like to think that it was from Saint Joseph that Jesus drew inspiration for the parable of the prodigal son and the merciful father (cf. Lk 15:11-32).
Homily
Ties That Bind
I must admit the feast of the Holy Family has been something of a problem for me. I think it began at a Mass I was celebrating some years ago when a couple from Marriage Encounter gave a presentation. They began by asking everyone in the assembly to turn and look at their spouse. Everyone from the celibate priest who was presiding to the newly-widowed woman in the third pew felt awkward and embarrassed. And while the Church clearly has a vested interest in upholding the dignity and value of marriage and family life, the fact is among the people in a typical congregation will be divorced or widowed members, single parents, unmarried folk, couples unable to conceive a child, others who desperately want one or who may have suffered a miscarriage or other loss of a child; and then there are couples who are in "non-canonical" or "non-traditional" relationships.
The risk of excluding, or even alienating, a lot of people on this day is very real. On top of that, the word "family" doesn't always conjure up warm and fuzzy images for some people, perhaps at this time of year more than others. So great sensitivity is called for today; moreover, the Feast of the Holy Family is essentially the Sunday within the Octave of Christmas and I think the emphasis is best placed there -- on what turns out to be, this year, the Third Day of Christmas. (No French hens in the collection basket, please!)
Now whatever our domestic life is like, perhaps we can agree that few things herald the future like a child's birth. The arrival of a new human being in the world raises hopes in all concerned. What will become of this child? What potential lay within the child? How will the child influence the world? Yes, we take the future into our arms when we hold a new-born child. But like all things future, what we hold is more promise than fulfillment.
And so a child's birth calls for an act of faith. Children come with no guarantees. No warranty against defect, failure, or disappointment. You can't buy a service contract in case a child breaks down. A child comes home from the hospital "as is." You can't return a child for a refund, or an exchange. Parents can only hope their children will meet the promise they've placed in this new life. Which, after all, is what faith means: confident assurance of what is hoped for, but not yet realized (cf. Hb. 11:1).
The Bible extols the faith of parents whose children raised many a hope. Think of Abraham and Sarah. God promised them quite a bit: land, protection, and descendants. A lot for a man and his wife to expect in their old age. They laughed at the thought of it. Yet, God promised, so Abraham put his faith in the Lord (I). And sure enough, along came Isaac. So it was that there came forth from one man, himself as good as dead, descendants as numerous as the stars in the sky and as countless as the sands on the seashore (II). All because Abraham thought that [God] who had made the promise was trustworthy (II).
Then there's Mary and Joseph. The hope placed in their Child exceeded all others. The things said of him when the pair brought Jesus to the temple were full of promise. Simeon took the Child in his arms and held in them the salvation God prepared in the sight of all peoples, a light of revelation to the Gentiles, and glory for [God's] people Israel. Anna the prophet also gave thanks to God for the Child's promise, and spoke about [him] to all who awaited the redemption of Jerusalem. Meanwhile, his parents were amazed at what was said of him (cf. G; Long form).
But Mary and Joseph needed plenty of faith their Child's promise would be fulfilled. No sooner did Simeon sing the Child's praise, when he turned to Mary and told her, This child is destined for the fall and rise of many. . .a sign that will be contradicted (G). He told her how the Child's promise would pierce her with a sword, cutting her too with the contradiction of the cross. And he told Mary how her faith in the promise would be tested when, plunged into a night of faith, all her hope would seem lost, and all promise dashed. The same faith Mary's cousin Elizabeth praised her for, calling her blessed among women, for she believed what was spoken to [her] by the Lord would be fulfilled (cf. Lk. 1:42,45).
So if the hopes placed in us from the day of our birth onward seem far from fulfillment, like the ones placed in Isaac by his parents, or in Jesus by Simeon and Anna, we still believe God's power to make good on his promise. And we do so with the same faith that filled Abraham and Sarah, Mary and Joseph. For the Lord is able to raise even from the dead (II) those whom he calls to the joys of God's house [and to] delight one day in eternal rewards (cf. Collect). To God then be glory in the highest heaven, forever and ever. Amen.
Nicene Creed
Intercessions
That, like Abraham and Sarah, the family of the church may go wherever God calls it, fearing nothing and filled with faith.
That the multitude of nations may quickly discover their common destiny, the inheritance of peace and the covenant of God's love.
That migrants and refugees, the poor and the lowly maybe reverenced as those in whom and through whom God chooses to come among us.
That we may cherish our senior citizens who, like Simeon and Anna, enrich our communities with their faithful prayer and dedicated service.
That God may bless our families with the joy of love and laughter, strength in this time of testing and faith in God's plan for the future.
That, gathered as one family, in whatever place we find ourselves, we may welcome Christ as a light of revelation and God's promise fulfilled.
That all our family members who have died in Christ may see the salvation of God has prepared for those who trust.
O God, you cradle us at the beginning of life and embrace us at our journey's end, for you love us as your own. Bind our families together and deepen our faith, that, like the Holy Family of Nazareth, we may grow in wisdom, obedient to your word. We ask this through Christ our Lord. Amen.
Interlude (Anton Bruckner)
Virga Jesse floruit:
Virgo Deum et hominem genuit:
pacem Deus reddidit,
in se reconcilians ima summis.
Alleluja.

The rod of Jesse hath blossomed:
a Virgin hath brought forth God and man:
God hath restored peace,
reconciling in Himself the lowest with the highest.
Alleluia.
Lord's Prayer
As members of the family of God, we pray as Jesus taught us....
Spiritual Communion
Even though we are not able to join with our brothers and sisters at the altar today, we are still united with one another in the family of God through the Spirit who animates the Body of Christ. Be present to us now, Lord, and fill the hearts of your faithful with a profound sense of communion with you and each other until we have the joy once again of offering the Holy Sacrifice together.
Thanksgiving
Closing Hymn
In the bleak midwinter, frosty wind made moan,
Earth stood hard as iron, water like a stone;
Snow had fallen, snow on snow, snow on snow,
In the bleak midwinter, long ago.

Our God, heaven cannot hold Him, nor earth sustain;
Heaven and earth shall flee away when He comes to reign.
In the bleak midwinter a stable place sufficed
The Lord God Almighty, Jesus Christ.

Enough for Him, Whom cherubim, worship night and day,
Breastful of milk, and a mangerful of hay;
Enough for Him, Whom angels fall before,
The ox and ass and camel which adore.

Angels and archangels may have gathered there,
Cherubim and seraphim thronged the air;
But His mother only, in her maiden bliss,
Worshipped the beloved with a kiss.

What can I give Him, poor as I am?
If I were a shepherd, I would bring a lamb;
If I were a Wise Man, I would do my part;
Yet what I can I give Him... give my heart.
Archives