Advent with Revelation (Ch. 19)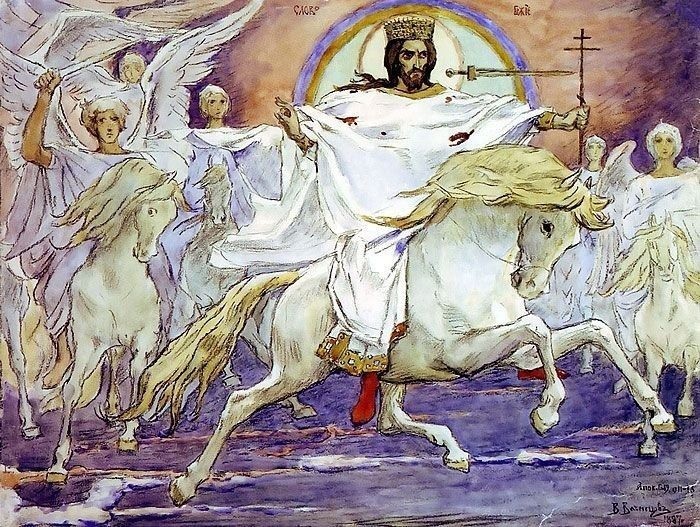 Chapter 19 (Thursday of the Third Week of Advent)
After this I heard what seemed to be the loud voice of a great multitude in heaven, saying,
'Hallelujah!
Salvation and glory and power to our God,
for his judgements are true and just;
he has judged the great whore
who corrupted the earth with her fornication,
and he has avenged on her the blood of his servants.'
Once more they said,
'Hallelujah!
The smoke goes up from her for ever and ever.'
And the twenty-four elders and the four living creatures fell down and worshipped God who is seated on the throne, saying,
'Amen. Hallelujah!'
And from the throne came a voice saying,
'Praise our God,
all you his servants,
and all who fear him,
small and great.'
Then I heard what seemed to be the voice of a great multitude, like the sound of many waters and like the sound of mighty thunder-peals, crying out,
'Hallelujah!
For the Lord our God
the Almighty reigns.
Let us rejoice and exult
and give him the glory,
for the marriage of the Lamb has come,
and his bride has made herself ready;
to her it has been granted to be clothed
with fine linen, bright and pure'—
for the fine linen is the righteous deeds of the saints.
And the angel said to me, 'Write this: Blessed are those who are invited to the marriage supper of the Lamb.' And he said to me, 'These are true words of God.' Then I fell down at his feet to worship him, but he said to me, 'You must not do that! I am a fellow-servant with you and your comrades who hold the testimony of Jesus. Worship God! For the testimony of Jesus is the spirit of prophecy.'
Then I saw heaven opened, and there was a white horse! Its rider is called Faithful and True, and in righteousness he judges and makes war. His eyes are like a flame of fire, and on his head are many diadems; and he has a name inscribed that no one knows but himself. He is clothed in a robe dipped in blood, and his name is called The Word of God. And the armies of heaven, wearing fine linen, white and pure, were following him on white horses. From his mouth comes a sharp sword with which to strike down the nations, and he will rule them with a rod of iron; he will tread the wine press of the fury of the wrath of God the Almighty. On his robe and on his thigh he has a name inscribed, 'King of kings and Lord of lords'.
Then I saw an angel standing in the sun, and with a loud voice he called to all the birds that fly in mid-heaven, 'Come, gather for the great supper of God, to eat the flesh of kings, the flesh of captains, the flesh of the mighty, the flesh of horses and their riders—flesh of all, both free and slave, both small and great.' Then I saw the beast and the kings of the earth with their armies gathered to make war against the rider on the horse and against his army. And the beast was captured, and with it the false prophet who had performed in its presence the signs by which he deceived those who had received the mark of the beast and those who worshipped its image. These two were thrown alive into the lake of fire that burns with sulphur. And the rest were killed by the sword of the rider on the horse, the sword that came from his mouth; and all the birds were gorged with their flesh.
Commentary
To advance in understanding the mat­ters pertaining to the 'Word of God', we must contemplate what is suggested by the heaven being opened, the white horse, and the fact that the one called the Word of God, who, in addition to being the Word of God, is also said to be faith­ful and true, and one who judges and fights with justice, is seated on the white horse. Now I think that heaven has been closed to those who are impious and who bear 'the image of the earthly', but opened to those who are just and who have been adorned with 'the image of the heavenly'. For the higher things have been closed to the first group, inasmuch as they are below and are still in the flesh, because they cannot understand them nor their beauty, for they do not wish to perceive them. But he opened the heavenly places with the key of David to be contemplated by the superior group, inasmuch as they have citizenship in heaven. The divine Word opens them and explains them by riding a horse. The horse is the words which proclaim the meanings. He is white because the nature of the knowledge is remarkable and white and luminous. And he who is called 'faithful' sits on the white horse, seated on words which cannot be overturned, words which run faster and swifter than any horse, and which surpass every oppo­nent in their rush, that is, every supposed word which is a dissembler of the Word. But he who is on the white horse is called 'faithful', not so much because he trusts, as because he is trustworthy, for according to Moses, the Lord is faithful and true. For he is also true in ­distinction to a shadow and a type, and he is an image since the Word in the opened heaven is an image. For the Word on earth is not like the Word in heaven, inasmuch as he has become flesh and is expressed by means of a shadow and types and images. Further, John says most admirably in his statements about the Word mounted on the white horse, His eyes were as a flame of fire. For as the flame is bright and at the same time illu­minating, and further also has a nature that is fiery and con­sumes the more material elements, so the eyes of the Word with which he sees, and everyone who participates in him, destroy and obliterate the more ma­terial and gross elements ofthoughts by grasping them by means of the spiritual powers inherent in him. He is also said to have a name written which no one knows except himself, for this living Word alone understands some things because of the natural inferiority in those who came into existence after him. None of them can contemplate all the things which he grasps. And perhaps also only those who share in the Word, in contradistinction to those who do not, know what the latter are missing. Now John does not see the Word of God mounted on a horse naked. He is clothed with a garment sprinkled with blood, since the Word who became flesh, and died because he became flesh, is invested with traces of that passion, since his blood also was poured forth upon the earth when the soldier pierced his side. For, perhaps, even if in some way we obtain the most sublime and highest contemplation of the Word and of the truth, we shall not forget completely that we were introduced to him by his coming in our body. (Origen of Alexandria)
The Church is Chrit's body, as the apostle's teaching shows us; and it is even called His spouse. His body, then, which has many members, and all performing different functions, He holds together in the bond of unity and love, which is its true health. Moreover He exercises it in the present time, and purges it with many wholesome afflictions, that when He has transplanted it from this world to the eternal world, He may take it to Himself as His bride, without spot or wrinkle, or any such thing. (St. Augustine of Hippo)
To the saints honour must be paid as friends of Christ, as children and heirs of God: in the words of John the theologian and evangelist, As many as received Him, to them gave He power to became children of God. So that they are no longer servants, but children: and if children, also heirs, heirs of God and joint heirs with Christ: and the Lord in the holy Gospels says to His apostles, You are My friends. Henceforth I do not call you servants, for the servant does not know what his lord does. And further, if the Creator and Lord of all things is called also King of Kings and Lord of Lordsand God of Gods, surely also the saints are gods and lords and kings. For of these God is and is called God and Lord and King.... Now I mean gods and kings and lords not in nature, but as rulers and masters of their passions, and as preserving a truthful likeness to the divine image according to which they were made (for the image of a king is also called king), and as being united to God of their own free-will and receiving Him as an indweller and becoming by grace through participation with Him what He is Himself by nature. Surely, then, the worshippers and friends and children of God are to be held in honour? For the honour shown to the most thoughtful of fellow-servants is a proof of good feeling towards the common Master. These are made treasuries and pure habitations of God: For I will dwell in them, said God, and walk in them, and I will be their God. The divine Scripture likewise says that the souls of the just are in God's handand death cannot lay hold of them. For death is rather the sleep of the saints than their death. For they travailed in this life and shall to the end, and Precious in the sight of the Lord is the death of His saints. What then, is more precious than to be in the hand of God? For God is Life and Light, and those who are in God's hand are in life and light. (St. John of Damascus)
Musical Selections
Praise God, all you who serve him both great and small, alleluia.



Salvation, glory, and power to our God:




Alleluia.




his judgments are honest and true.




Alleluia alleluia.




Sing praise to our God, all you his servants,




Alleluia.




all who worship him reverently, great and small.




Alleluia alleluia.




The Lord our all-powerful God is King;




Alleluia.




Let us rejoice, sing praise, and give him glory.




Alleluia alleluia.




The wedding feast of the Lamb has begun,




Alleluia.




and his bride is prepared to welcome him.




Alleluia alleluia. Glory...
Praise God, all you who serve him both great and small, alleluia.
Mirabilis Deus in sanctis suis Deus Israel ipse dabit virtutem et fortitudinem plebis suae benedictus Deus.
Laudem dicite Deo nostro omnes servi eius: et qui timetis eum pusilli, et magni. quoniam regnavit Dominus Deus noster omnipotens. Gaudeamus, et exultemus: et demus gloriam ei, alleluia.
God is terrible out of his holy place: the God of Israel is he that giveth strength and power unto his people. Blessed be God. Express praise to our God, all you his servants, and you who fear him, small and great. For the Lord our God, the Almighty, has reigned, Let us be glad and exult. And let us give glory to him, alleluia.
Ecce apparébit Dóminus super nubem cándidam,
* Et cum eo Sanctórum míllia: et habébit in vestiménto, et in fémore suo scriptum: Rex regum, et Dóminus dominántium.
Apparébit in finem, et non mentiétur; si moram fécerit, exspécta eum, quia véniens véniet.
Et cum eo Sanctórum míllia: et habébit in vestiménto, et in fémore suo scriptum: Rex regum, et Dóminus dominántium.
Behold, the Lord shall appear upon a white cloud,
* And ten thousand of His saints with Him; and He shall have on His vesture, and on His thigh a name written King of kings, and Lord of lords.
He shall appear and not lie; though He tarry, wait for Him, because He will surely come.
And ten thousand of His saints with Him; and He shall have on His vesture, and on His thigh a name written King of kings, and Lord of lords.
COLLECT

Unworthy servants that we are, O Lord,
grieved by the guilt of our deeds,
we pray that you may gladden us
by the saving advent of your Only Begotten Son.
Who lives and reigns with you in the unity of the Holy Spirit,
God, for ever and ever. Amen.

Archives