Thirty-second Sunday in Ordinary Time (A)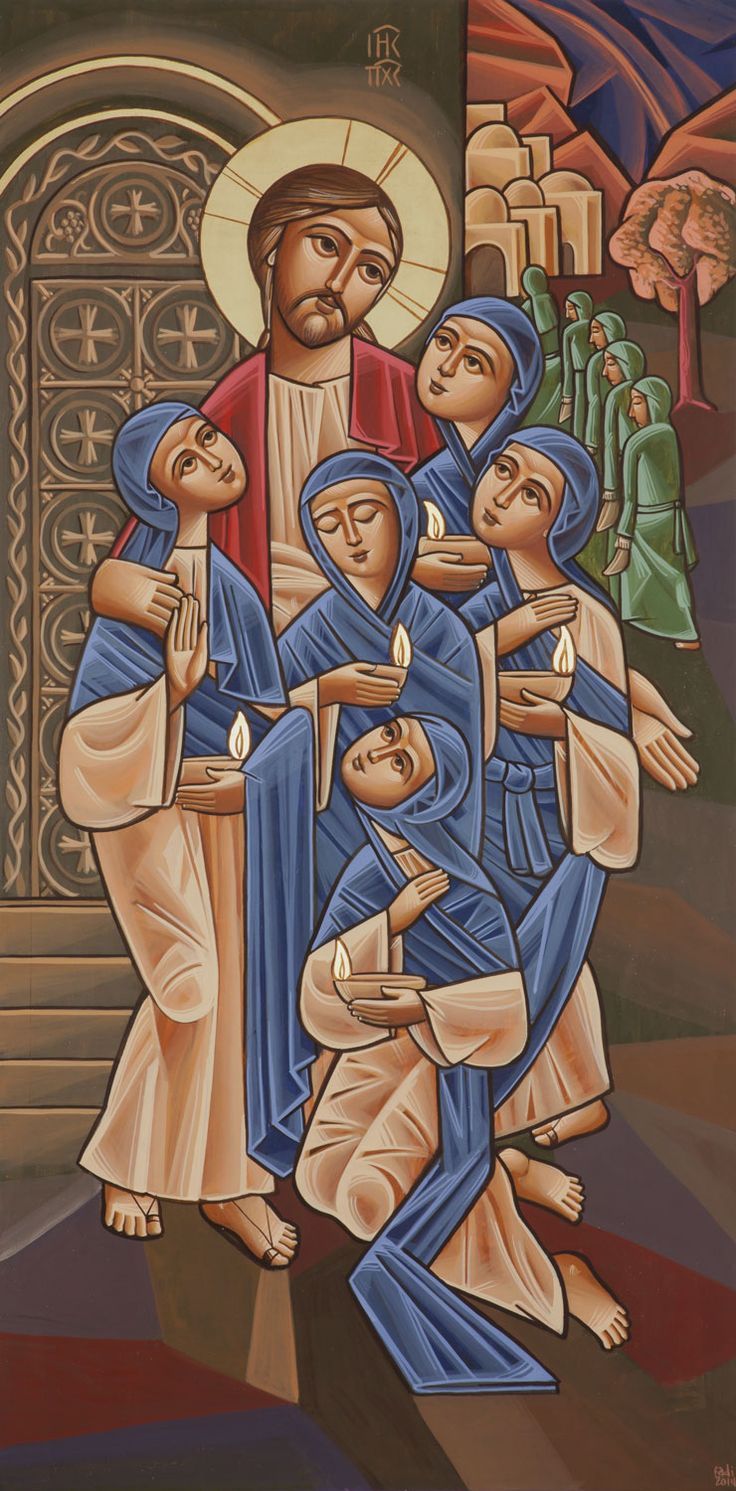 Introit
Kyrie
Gloria
Collect
Almighty and merciful God,
graciously keep from us all adversity,
so that, unhindered in mind and body alike,
we may pursue in freedom of heart
the things that are yours.
Through our Lord Jesus Christ, your Son,
who lives and reigns with you in the unity of the Holy Spirit,
God, for ever and ever. Amen.
First Reading Wis 6:12-16 1
Resplendent and unfading is wisdom, and she is readily perceived by those who love her, and found by those who seek her. She hastens to make herself known in anticipation of their desire; Whoever watches for her at dawn shall not be disappointed, for he shall find her sitting by his gate. For, and whoever for her sake keeps vigil shall quickly be free from care; because she makes her own rounds, seeking those worthy of her, and graciously appears to them in the ways, and meets them with all solicitude.
Responsorial Psalm Ps 63:2,3-4,5-6,7-8
R/. My soul is thirsting for you, O Lord my God.

O God, you are my God whom I seek;
for you my flesh pines and my soul thirsts
like the earth, parched, lifeless and without water. R/.

Thus have I gazed toward you in the sanctuary
to see your power and your glory,
For your kindness is a greater good than life;
my lips shall glorify you. R/.

Thus will I bless you while I live;
lifting up my hands, I will call upon your name.
As with the riches of a banquet shall my soul be satisfied,
and with exultant lips my mouth shall praise you. R/.

I will remember you upon my couch,
and through the night-watches I will meditate on you:
You are my help,
and in the shadow of your wings I shout for joy. R/.
Second Reading 1 Thess 4:13-14
We do not want you to be unaware, brothers and sisters, about those who have fallen asleep, so that you may not grieve like the rest, who have no hope. For if we believe that Jesus died and rose, so too will God, through Jesus, bring with him those who have fallen asleep.
Alleluia Mt 24:42,44
Gospel Mt 25:1-13
Jesus told his disciples this parable: "The kingdom of heaven will be like ten virgins who took their lamps and went out to meet the bridegroom. Five of them were foolish and five were wise. The foolish ones, when taking their lamps, brought no oil with them, but the wise brought flasks of oil with their lamps. Since the bridegroom was long delayed, they all became drowsy and fell asleep. At midnight, there was a cry, 'Behold, the bridegroom! Come out to meet him!' Then all those virgins got up and trimmed their lamps. The foolish ones said to the wise, 'Give us some of your oil, for our lamps are going out.' But the wise ones replied, 'No, for there may not be enough for us and you. Go instead to the merchants and buy some for yourselves.' While they went off to buy it, the bridegroom came and those who were ready went into the wedding feast with him. Then the door was locked. Afterwards the other virgins came and said, 'Lord, Lord, open the door for us!' But he said in reply, 'Amen, I say to you, I do not know you.' Therefore, stay awake, for you know neither the day nor the hour."
Catena Nova
The five wise virgins, watchful and alert, had taken oil in the vessels of their heart. That oil, not part of their own nature, means the grace of the Spirit. They were enabled to enter with the Bridegroom into the heavenly bridal chamber. The other five virgins, however, were content with their own nature. They neither watched nor busied themselves to receive the oil of gladness [Psalm 44:6] in their vessels, while they were yet in the flesh. Instead, they sank into sleep through carelessness, slackness, idleness, and ignorance, or even fancied righteousness. Hence, they were shut out of the bridal chamber of the Kingdom, unable to give satisfaction to the heavenly Bridegroom. Held fast by their tie to the world, and by some earthly affection, they did not give their whole love or passionate devotion to the Heavenly Bridegroom; thus they were not provided with oil.
Souls that seek the sanctification of the Spirit, which is outside of nature, fasten all their affection upon the Lord. It is in the Lord that they walk, pray, and employ their thoughts, turning away from all else. For this cause, they are privileged to receive the oil of heavenly grace. This enables them to succeed in coming through without falling, giving perfect satisfaction to the spiritual Bridegroom. Those souls, however, content with what belongs to their own nature, creep upon the earth in their thoughts. Not only do they employ their thoughts upon earth, but their minds have their whole existence upon earth. In their own estimation, they appear to belong to the Bridegroom, and to be adorned with the ordinances of the flesh. Nonetheless, they have not been born of the Spirit; and they have not received the oil of gladness (St. Macarios the Great).
It is some great thing, some exceedingly great thing, that this oil signifies. Do you think it might be charity? If we try out this hypothesis, we hazard no precipitate judgement. I will tell you why charity seems to be signified by the oil. The apostle says, "I will show you a still more excellent way.""If I speak with the tongue of mortals and of angels but do not have love, I am a noisy gong or a clanging cymbal." This is charity. It is "that way above the rest," which is, with good reason, signified by the oil. For oil swims above all liquids. Pour in water and pour in oil upon it, the oil will swim above. If you keep the usual order, it will be uppermost, if you change the order, it will be uppermost. "Charity never fails" (St Augustine).
I could not perceive the exact moment of his arrival. He did not enter by the senses, but whence did he come? Perhaps he did not enter at all.... But I found him closer to me that I to myself. How can I perceive his presence within me? It is full of life and efficacy and no sooner has he entered than my sluggish soul is awakened. He moves, and warms, and wounds my heart, hard and stony and sick though it be. It is solely by the movement of my heart that I understand that he is there and I realize the power of his action (St. Bernard of Clairvaux).
Divine Wisdom watches over all people and all things in heaven and on earth, being of such radiance and brightness that, for the measureless splendor that shines in Her, you cannot gaze on Her face or on the garments She wears. For She is awesome in terror as the Thunderer's lightening, and gentle in goodness as the sunshine. Hence, in Her terror and Her gentleness, She is incomprehensible to mortals, because of the dread radiance of divinity in Her face and the brightness that dwells in Her as the robe of Her beauty. She is like the Sun, which none can contemplate in its blazing face or in the glorious garment of its rays. For She is with all and in all, and of beauty so great in Her mystery that no one could know how sweetly She bears with people, and with what unfathomable mercy She spares them (St. Hildegard of Bingen).
O Lord,
I have heard that you want to give yourself to me
like the real Spouse of my heart and of my life.
I have not experienced it yet,
but if you want to do so with me,
I leave the door of my heart ajar (St. Teresa of Avila).
When the emperor visited a colony or province, the citizens of the country would go to meet him at some distance from the city. It would be disrespectful to have him actually arrive at the gates as though his subjects couldn't be bothered to greet him properly. When they met him, they wouldn't then stay out in the open country; they would escort him royally into the city itself. When Paul speaks of meeting the Lord "in the air," the point is precisely not as in the popular rapture theology that the saved believers would then stay up in the air somewhere, away from earth. The point is that, having gone out to meet their returning Lord, they will escort him royally into his domain, that is, back to the place they have come from....The reality to which it refers is this: Jesus will be personally present, the dead will be raised, and the living Christians will be transformed. That, as we shall now see, is pretty much what the rest of the New Testament says as well…. There will come a time, which might indeed come at any time, when, in the great renewal of the world that Easter itself foreshadowed, Jesus himself will be personally present and will be the agent and model of the transformation that will happen both to the whole world and also to believers (N.T. Wright).
When the Wise Maidens say there is not enough oil to share when the Bridegroom comes, they are wrong in one respect. The strengthening of ardor among themselves could easily catch the foolish Maidens into its burning. The problem is that it is very difficult to extricate oneself from a group whose process has a strong grip on us and it is even much more difficult yet to change a whole group around all at once. Not even with the best will in the world could the Wise Maidens have enough oil burning to do that. The Foolish Maidens are like the drunkards in the previous parable who let the wicked servant beat the other servants and then drink with him. The Wise Maidens have the strength to stand up to the violence and witness to a nonviolent way of living. The Foolish Maidens may not be violent themselves, but they will be swept away by violence when it comes. We really do have to pay attention to the company we keep and how we keep it. The Wise Maidens do need to find ways to reach out to their Foolish sisters without getting caught in their apathy.
As with the wicked servant who thought the Master was delayed, the Maidens think the Bridegroom is delayed. The truth is that the Bridegroom is always already HERE. We can turn to the Bridegroom in love at any time and we can respond to the least of those the Bridegroom identifies with at any time they show up. THIS is what we have to be alert to and prepared for. There is lasting damage to being unprepared through apathy for the Bridegroom's presence. I'm sure all of us can think of opportunities that we squandered and there is now no way to go back and make them good. The Forgiving Victim will still redeem all of us, but the diminishment and needless pain we have allowed always remains. Let these memories that we regret motivate us to stay close to the Bridegroom who lights our lamps in the company of others who will encourage us to keep our lamps lit (Andrew Marr).
Homily
Check Your Oil

Anyone who knows me knows I always come prepared and I always arrive early. So I have little sympathy with those bridesmaids who were caught unprepared – and I'm not too keen on the Bridegroom's late arrival either! And it's a good thing I wasn't the manager of the oil lamp store if those five slackers came knocking on my door after midnight.

Of course, in recent weeks and months admonitions to be prepared have been everywhere. "Plan Your Vote" ads warned us to know well in advance how you were going to make your vote count. And with the rise in Covid cases sweeping the country grocery stores have been doing their best to keep shelves stocked to avoid the shortages we faced when the pandemic first struck. And wise shoppers have been stocking up on essentials just in case we have another lockdown.
But can you ever be prepared enough? And for every possible event? Even I know curve balls can come from nowhere and foil the best-laid plans. I'm writing these lines a few days before Election Day knowing darn well by the time Sunday rolls around, I might need to write a whole new homily!
And yet, all of Christian life is one long preparation, isn't it? Whether we happen to be the generation alive when the Lord comes again at the long delayed midnight hour of human history, or among those who have fallen asleep while awaiting his arrival (II), the moment comes when the fateful cry is heard by all, Behold, the Bridegroom! (G) And ready or not, we are summoned to go out and meet him from whatever place we breathe our last.
Which is one reason we observed All Souls Day this week and why the whole month of November is dedicated to remembrance of the dead. As nature begins its somber divestment of the blazing colors of autumn, leaving us with barren trees, leaden skies, and shortened days, so the church draws our attention to the grave and those who lie therein as they await the last day when unhindered in mind and body alike they, and we with them, will come to the fullness of eternal life in the resurrection of the dead (cf. Collect).
And unlike our culture's antiseptic approach to death, verging on denial, the church would have us employ a much wiser attitude. Indeed, beyond the suffrages of All Souls Day when requiem Masses are offered for the repose of the faithful departed – where such things still motivate people to attend them – you might also consider visiting a cemetery where one's loved ones are interred or, better yet, your own grave yet to be occupied. (As I recall, it was the Ghost of Christmas Future's visit that cemented Ebenezer Scrooge's conversion when he was forced to look upon his final resting place). The Book of Blessings contains just such an order of prayer for visiting a cemetery this time of year; it can be found, among other websites, at https://www.google.com/search?client=firefox-b-1-d&q=order+for+visiting+a+cemetery.
The month of November is also a good time to check your "oil levels" when it comes to preparation for the midnight hour when you must "shuffle off this mortal coil," to quote Shakespeare. Not to minimize the spiritual readiness we should maintain for that moment when the Bridegroom comes for us, preparation for a "good death" should also take into account the life and loves we leave behind. So things like:
having an up-to-date last will and testament;
appointing a power of attorney and executor of your estate;
leaving instructions on how to dispose of your personal effects and to whom they should be given;
appointing a health care proxy and making known advance directives;
designating beneficiaries on financial accounts, including charitable bequests;
making sure life insurance policies are adequate to provide for survivors'
giving thought to long-term care insurance and pre-paying final expenses;
making your funeral and burial wishes known.
Losing my mother this past year who, by the way, fulfilled almost every one of the above items, has made me realize their importance and, indeed how, taken together, they represent the perfection of prudence in such matters (I).
In any case, living with the perspective of eternity always in mind might come a bit easier than usual in this time of pandemic. As the virus surges here and elsewhere with the prospect of overwhelmed hospitals, vulnerable people more likely than others to succumb to infection, and perhaps half the population holding to the belief that simple measures of protection are an infringement on their "rights," the specter of death looms large. So more than ever the month of November -- the month of the "Holy Souls" -- draws our attention to the "Last Things" and reminds us all to keep those oil levels up.
Creed
Intercessions
For the church, that she may be ready to go into the wedding feast at any time, with her lamp shining and glowing before the Bridegroom.
That those who rule the nations may learn to seek Wisdom, keeping vigil in their desire for prudent understanding, rejoicing in her resplendent and unfading light.
That we may not be foolish in our preparations to meet our Savior but have our supply of faith and love ready to withstand the long vigil of waiting for His joyful appearance.
For all who have become confused and disoriented in the changing currents of life, that the trumpet of God may resound in their ears, calling them from death to the unchanging and eternal life of heaven.
For all whose lives have become parched, lifeless and without water, that God may cover them with the shadow of His wings and satisfy them with the riches of His grace and healing.
For those who have fallen asleep and those who grieve them, that the Word of the Lord may be their hope and the promise of the risen Christ be their joy.
Brighten your Church, O God, with the promise of your kingdom and waken our hearts to its light. Bid us hasten with faith undimmed to greet the bridegroom's return and to enter the wedding feast. We ask this through Christ our Lord. Amen.
Offertory Hymn
Wisdom comes from God and with God it shall remain
Like the sand of the seashore or the drops of the rain
Or the days of eternity
Who can number these, who can explore
Heaven's height or the depths of the sea
Before all things were created
Wisdom came to be
The beginning of Wisdom is the awesome fear of God
Which is formed in the faithful in their mother's womb
With devotion from of old
She inebriates with her finest fruit
And fills our house with food
Her garland is the fear of God
Her blossoms peace and good
Lord's Prayer
With hearts prepared for the coming of God's Kingdom, we pray as Jesus taught....
Spiritual Communion (Byzantine Catholic Eparchy of Phoenix)
O Lord, I believe and profess that you are truly Christ, the Son of the living God, who came into the world to save sinners of whom I am the first.
Although I cannot now be a partaker of your mystical supper,
O Son of God,
Come at least spiritually into my heart by your Divine Grace for the healing of my soul and body.
For I will not reveal your mystery to your enemies,
Nor will I give you a kiss as did Judas,
But like the thief I profess to you:
+ Remember me, O Lord, when you come in your kingdom.
+ Remember me, O Master, when you come in your kingdom.
+ Remember me, O Holy One, when you come in your kingdom.
O Lord, I also believe and profess, that this, which I would receive, and which is present with us in Mystery,
Is truly your most precious Body, and your life-giving Blood.
May I one day partake of your mystical supper again
For the remission of all my sins and
For life everlasting. Amen.
+ O God, be merciful to me, a sinner.
+ O God, cleanse me of my sins and have mercy on me.
+ O Lord, forgive me for I have sinned without number.
Communion Antiphon
Behold, the Bridegroom comes in the middle of the night,
and blessed is the servant whom He shall find watching;
but unworthy is (s)he whom He shall find in slothfulness.
Beware then, O my soul, and be not overcome by sleep,
Lest you be given over to death and shut out of the Kingdom.
But return to soberness and cry aloud:
Holy, holy, holy are You, O God:
through the Birthgiver of God, have mercy upon us.
Closing Hymn
The bridegroom will be coming
in the middle of the night,
And happy will those virgins be
whose lamps are burning bright;
But woe to those dull servants,
whom the Master will surprise
With lamps undimmed, unburning,
and with slumber in their eyes.
Beware, my soul, be watchful,
lest slumber bring you down
And in the sleep of death you fall,
to lose the golden crown.
But stay awake, be sober,
with a watchful eye; and thus
Cry "Holy, holy, holy God!
Have mercy upon us!"
That day, the day of fear, will come;
my soul, persist in toil,
So light your lamp and feed it well
and make it bright with oil.
For no one knows how soon may sound
the cry at eventide:
"Behold, the Bridegroom comes! Arise!
Go out to meet the bride!"
Beware, my soul, beware, beware,
lest deep in sleep you lie
And, like the Five, remain outside,
and knock and vainly cry.
But watch and keep your lamp undimmed,
and so with Christ put on
The glorious wedding robe of light,
the glory of the Son!
Archives