Thirty-third Sunday in Ordinary Time (A)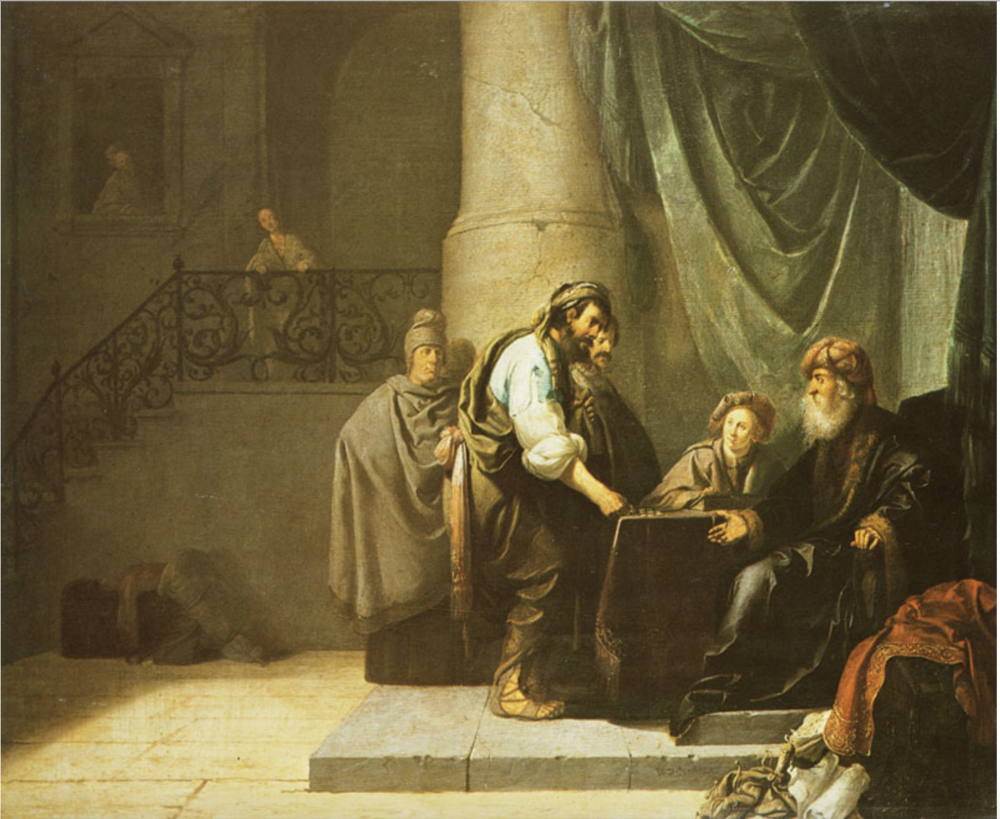 Introit
Kyrie
Gloria
Collect
Grant us, we pray, O Lord our God,
the constant gladness of being devoted to you,
for it is full and lasting happiness
to serve with constancy
the author of all that is good.
Through our Lord Jesus Christ, your Son,
who lives and reigns with you in the unity of the Holy Spirit,
God, for ever and ever. Amen.
First Reading Prv 31:10-13, 19-20, 30-31
When one finds a worthy wife, her value is far beyond pearls. Her husband, entrusting his heart to her, has an unfailing prize. She brings him good, and not evil, all the days of her life. She obtains wool and flax and works with loving hands. She puts her hands to the distaff, and her fingers ply the spindle. She reaches out her hands to the poor, and extends her arms to the needy. Charm is deceptive and beauty fleeting; the woman who fears the LORD is to be praised. Give her a reward for her labors, and let her works praise her at the city gates.
Responsorial Psalm Ps 128:1-2,3,4-5
R/. Blessed are those who fear the Lord.
Blessed are you who fear the LORD,
who walk in his ways!
For you shall eat the fruit of your handiwork;
blessed shall you be, and favored. R/.
Your wife shall be like a fruitful vine
in the recesses of your home;
Your children like olive plants
around your table. R/.
Behold, thus is the man blessed
who fears the LORD.
The LORD bless you from Zion:
may you see the prosperity of Jerusalem
all the days of your life. R/.
Second Reading 1 Thess 5:1-6
Concerning times and seasons, brothers and sisters, you have no need for anything to be written to you. For you yourselves know very well that the day of the Lord will come like a thief at night. When people are saying, "Peace and security, " then sudden disaster comes upon them, like labor pains upon a pregnant woman, and they will not escape. But you, brothers and sisters, are not in darkness, for that day to overtake you like a thief. For all of you are children of the light and children of the day. We are not of the night or of darkness. Therefore, let us not sleep as the rest do, but let us stay alert and sober.
Alleluia Jn 15:4a,5b
Gospel Mt 25:14-15,19-21
Jesus told his disciples this parable: "A man going on a journey called in his servants and entrusted his possessions to them. To one he gave five talents; to another, two; to a third, one--to each according to his ability. Then he went away. After a long time the master of those servants came back and settled accounts with them. The one who had received five talents came forward bringing the additional five. He said, 'Master, you gave me five talents. See, I have made five more.' His master said to him, 'Well done, my good and faithful servant. Since you were faithful in small matters, I will give you great responsibilities. Come, share your master's joy.'"
Catena Nova
In the parable of the talents the Master entrusted money to his servants and then set out on a journey. This was to help us understand how patient he is, though in my view this story also refers to the resurrection. Here it is a question not of a vineyard and vine dressers, but of all workers....One says: "Sir, you gave me five talents; another says; You gave me two," recognizing that they had received from him the means of making a profit. They are extremely grateful, and attribute to him all their success....What does the Master say then? "Well done, good and faithful servant" (for goodness shows itself in concern for one's neighbor). "Because you have proved trustworthy in managing a small amount, I will give you charge of a greater sum: come and share your Master's joy."But one servant has a different answer. He says: "I knew you were a hard man, reaping where you have not sown and gathering where you have not winnowed; and I was afraid, and hid your talent." "Here it is—you have back what belongs to you." What does the Master say to that? "You wicked servant! You should have put my money in the bank," that is, "You should have spoken out and given encouragement and advice." "But no one will pay attention." "That is not your concern. You should have deposited the money" he says, "and left me to reclaim it, which I should have done with interest," meaning by interest the good works that are seen to follow the hearing of the word. "The easier part is all you were expected to do, leaving the harder part to me" (St. John Chrysostom).
No one who has received life from the Lord can say that they do not have a single talent—everyone has something, and not just one thing; everyone, therefore, has something with which to trade and make a profit.Do not look around and calculate what others have received, but take a good look at yourself and determine more precisely what lies in you and what you can gain for that which you have, and then act according to this plan without laziness.At the Judgment you will not be asked why you did not gain ten talents if you had only one, and you will not even be asked why you gained only one talent on your one, but you will be told that you gained a talent, half a talent or a tenth of its worth.And the reward will not be because you received the talents, but because you gained.There will be nothing with which to justify yourself—not with nobleness, nor poverty, nor lack of education. When this is not given, there will be no question about it.But you had hands and feet. You will be asked, what did you gain with them?You had a tongue, what did you gain with it?In this way will the inequalities of earthly states be leveled out at God's judgment (St. Theophan the Recluse).
When I consider how my light is spent,
Ere half my days, in this dark world and wide,
And that one Talent which is death to hide
Lodged with me useless, though my Soul more bent
To serve therewith my Maker, and present
My true account, lest he returning chide;
"Doth God exact day-labour, light denied?"
I fondly ask. But patience, to prevent
That murmur, soon replies, "God doth not need
Either man's work or his own gifts; who best
Bear his mild yoke, they serve him best. His state
Is Kingly. Thousands at his bidding speed
And post o'er Land and Ocean without rest:
They also serve who only stand and wait" (John Milton).
Do what comes to hand. Whatsoever your hand finds to do, do it with all your might. After all, God is with us. It shows too much conceit to trust to ourselves, to be discouraged at what we ourselves can accomplish. It is lacking in faith in God to be discouraged. After all, we are going to proceed with his help. We offer him what we are going to do. If he wishes it to prosper, it will. We must depend solely on him. Work as though everything depended on ourselves, and pray as though everything depended on God, as Saint Ignatius says…. Perhaps I deceive myself here, too, and excuse my lack of recollection. But I do know how small I am and how little I can do and I beg you, Lord, to help me, for I cannot help myself…. But we are sowing the seed and it is up to him to bring the increase. It is all in his hands, and we must keep ourselves in peace, first of all. That is where peace begins. He is our peace (Dorothy Day).
The problem of the servant who received one talent and went and buried it is not its lack of yield, but how he imagined that his master would treat him: 'Lord, I knew thee that thou art a hard man, reaping where thou hast not sown, and gathering where thou hast not strewed: and I was afraid, and went and hid thy talent in the earth: lo there thou hast that is thine.' In this case it is Luke who makes the situation more explicit; this, I think, because the manoeuver is less common in his Gospel, while for Matthew it is typical of his way of speaking. In Luke the master says: ' Out of thine own mouth will I judge thee, thou wicked servant…' And that is exactly what happens. Once again it is the subject's imagination of his master that is absolutely determinant of his behavior. One who imagines his master as free, audacious, generous, and so on, takes risks, and himself enters into a fruitfulness that is ever richer and more effervescently creative; while one whose imagination is bound by the supposed hardness of the master lives in function of that binding of the imagination, and remains tied, hand and foot, in a continuous, and may be even an eternal, frustration (James Alison).
Our greatest talent and treasure is our ability to love, and in this enterprise the champion is the greatest risk taker, which means the one most willing to invest himself where the odds appear most against him. The absolute victor is Jesus Crucified. Love, the overflow of goodness, is, as Thomas Aquinas tells us, "diffusive of itself." It belongs to the very nature of love to flow outward, to gravitate like water to those empty, low, dry places. If a characteristic of cosmic nature is horror vacui an "abhorrence of the [physical] void," the divine nature abhors the void of love and runs to remedy it ... To be "in heaven," to have one's dwelling in the heavens, far from connoting a spiritualistic fleeing from the earth, means rather to reside in the fullness of love and to be always engaged in bestowing the benefits of love on others — to pour out one's being into the void in others as if one were sunlight and rain (Erasmo Leiva-Merikakis).
Before all else, let us realize this: we do have talents; in God's eyes, we are "talented". Consequently, no one can think that he or she is useless, so poor as to be incapable of giving something to others. We are chosen and blessed by God, who wants to fill us with his gifts, more than any father or mother does with their own children. And God, in whose eyes no child can be neglected, entrusts to each of us a mission....God is not an inspector looking for unstamped tickets; he is a Father looking for children to whom he can entrust his property and his plans (cf. v. 14). It is sad when the Father of love does not receive a generous response of love from his children, who do no more than keep the rules and follow the commandments, like hired hands in the house of the Father (cf. Lk 15:17). The unworthy servant, despite receiving a talent from the Master who loves to share and multiply his gifts, guarded it jealously; he was content to keep it safe. But someone concerned only to preserve and maintain the treasures of the past is not being faithful to God. Instead, the parable tells us, the one who adds new talents is truly "faithful" (vv. 21 and 23), because he sees things as God does; he does not stand still, but instead, out of love, takes risks. He puts his life on the line for others; he is not content to keep things as they are. One thing alone does he overlook: his own interest (Pope Francis).
Homily
Talent Show
I recall his obituary. I was both saddened and relieved to learn Joe had died. I knew him and his wife, Virginia, from a parish where I used to assist: they were pillars of that community, always ready to help their pastor in a quiet, unassuming way, never looking for recognition or applause. Joe had been sick for some time and was confined to home. After Mass one Sunday I asked Virginia if I might visit him.
When I arrived and entered Joe's bedroom, I couldn't believe it was him. He was in the advanced stages of Parkinson's Disease. Joe was stricken before new treatments were developed that might have limited the effects of the illness. We tried to communicate, but he could no longer speak. I brought Holy Communion with me, but he couldn't receive it, as he was fed only through a tube in the stomach. We did pray together, however, asking God's strength in such trying circumstances.
Later, I spent some time with Virginia in the kitchen. She told me of the care she had given her husband over the years, with minimum assistance. What struck me most was her matter-of-fact approach to the situation, how she took everything in stride, without complaint, even telling me, "Oh Father, it's not so bad." I left their home marveling at the faith, the patience, the acceptance, and the love, I had just witnessed.
The memory of that visit came back as I read Joe's death notice, as it did again when I read the words of Proverbs from our first reading: When one finds a worthy wife, her value is far beyond pearls. Her husband, entrusting his heart to her, has an unfailing prize. . . . Give her a reward of her labors, and let her works praise her at the city gate (I). I also thought of both husbands and wives whom I have known with similar examples of devotion -- people caring for each other with little thought of self, faithful to their vows, "for better or for worse, in sickness and in health."
Now I realize not everyone has the resources to render such care -- I certainly wonder if I could. Nor am I telling this story to make anyone feel guilty for seeking suitable assistance to deal with difficult challenges whether at home or in a care facility. Rather, I extol these models of charity for the same reasons the Scriptures do: to encourage the use of whatever gifts or talents, strengths and abilities, God has given us for the service of others insofar as we are able.
For the parable Jesus tells reminds us we all have different capaci­ties for service: for to one [God] has given five talents; to another two; to a third one--to each according to his [or her] ability (cf. G). At the same time, the parable reminds us how our talents can be increased -- how we must not only use our gifts, but develop them as well. What we must guard against is burying our talents, failing to trade with them, being negligent in living up to the full potential lying within each of us, resting on our laurels, saying, "Peace and security" (II).
The Parable of the Talents is a call, then, to stewardship. What Cardinal Newman called our "destiny of account­ability, the fate of being free, the unalienable prerogative of choosing between life and death, the inevitable prospect of heaven and hell." For a day is coming, like a thief in the night (II), when we shall appear before God, with empty hands or full, with proof of our industry, or else of a wasted, idle life.
And we needn't go any farther than our daily lives to work out our salvation. Our homes, our jobs, our neighborhoods, our churches: these are the places God calls us to invest our talent; these are the appointed fields of endeavor on behalf of God's reign. Indeed, the most ordinary things are often the most necessary for progress toward heaven, while more glamorous pursuits can be little more than distractions, if not downright detours.
For the Bible never confuses "ordinary" with "unimpor­tant". Come to think of it, that might have been the problem with the lazy servant. Remember, he was the one who received the least. Maybe he resented the others who were given more. Maybe he felt his lesser amount didn't count for much. Perhaps he thought his talent too small for the Master to care what he did with it. After all, why bother with something so "ordinary"? And yet, even a single talent in the ancient world was a large sum of money--a thousand silver pieces. So the Lord had considerable interest in that servant, as with us. There's plenty of equity built up in us, and every reason for a good return on God's investment.
For all of [us] are children of the light and children of the day. We are not of the night or of darkness. Therefore, let us not sleep as the rest do, but let us stay alert and sober (II), as we await the coming of our Lord Jesus Christ, who lives and reigns, forever and ever. Amen.
Creed
Intercessions
For the church, that she may be like the worthy wife of today's reading, active and watchful, diligent and compassionate, fruitful in every good work.
For world leaders, that they may not count on the appearance of peace and security, but build their nations on the rock foundation of a culture of life, morality, and justice.
For all of us, the children of the light and of the day, that we may be alert and sober, ready for the day of the Lord which, we know, will come unexpectedly, like a thief in the night.
For those who have received only one talent, who are tempted to bury the Master's money and coast through life without effort, that they may realize that their modest gifts are not their own, and that God expects them to work their resources with diligence and care.
For all who are in need of compassionate intercession and loving care, especially the sick, those in financial difficulty, the oppressed and imprisoned, the lonely and grief-stricken.
For our faithful departed ones, who were trustworthy with the talents they had received in this life, that they may now share the Master's joy in heaven.
O God, from whose own abundance all gifts and skills are lavishly bestowed, encourage us to use our talents as generously as you have allotted them, so that, being faithful to your purpose, we may become sharers in your glory. We ask this through Christ our Lord. Amen.
Offertory Hymn
The goodness of our God bestows
On each, though great or small,
A gift entrusted to our care
To foster, one and all;
And each will one day give report
To God, from whom we came,
On how we have, for good or ill,
Made use or waste of same.
Like a worthy wife whose working makes
A home where families live,
Or enterprising folk who coax
Small sums their fruits to give,
We too, with talents come from God
Should in their use be bold.
Not hiding them as of no use,
But valued more than gold.
The day of Christ's return will come
As thieves come in the night,
When least expected; therefore watch
And work with all your might!
Awake and sober let us be,
The children of the day,
That when Christ comes, we all may go
To meet him in his way!
Lord's Prayer
With faith we pray as Jesus taught us....
Spiritual Communion
Soul of Christ, sanctify me. Body of Christ, save me. Blood of Christ, embolden me. Water from the side of Christ, wash me. Passion of Christ, strengthen me. O good Jesus, hear me. Within Thy wounds hide me. Never permit me to be parted from You. From the evil Enemy defend me. In the hour of my death call me. and bid me come to thee, that with Your saints I may praise thee for age upon age. Amen.
Communion Antiphon
Closing Hymn (Kathleen Thomerson)
I want to walk as a child of the Light.
I want to follow Jesus.
God set the stars to give light to the world;
The star of my life is Jesus.
In him there is no darkness at all;
The night and the day are both alike;
The lamb is the Light of the city of God;
Shine in my heart Lord Jesus.
I want to see the Brightness of God;
I want to look at Jesus.
Clear Son of righteousness shine on my path,
And show me the way to the Father.

I'm looking for the coming of Christ,
I want to be with Jesus;
When we have run, with patience, the race,
We shall know the joy of Jesus.
Archives