Twenty-seventh Sunday in Ordinary Time (A)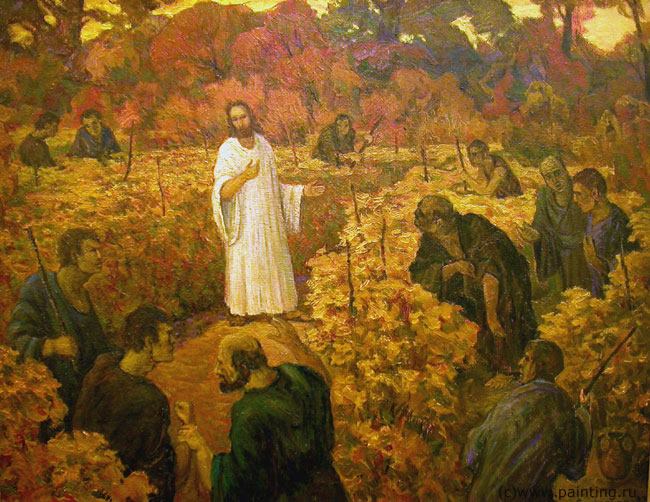 Introit
Kyrie
Gloria
Collect
Almighty ever-living God,
who in the abundance of your kindness
surpass the merits and the desires of those who entreat you,
pour out your mercy upon us
to pardon what conscience dreads
and to give what prayer does not dare to ask.
Through our Lord Jesus Christ, your Son,
who lives and reigns with you in the unity of the Holy Spirit,
God, for ever and ever. Amen.
First Reading Is 5:1-7
Let me now sing of my friend, my friend's song concerning his vineyard. My friend had a vineyard on a fertile hillside; he spaded it, cleared it of stones, and planted the choicest vines; within it he built a watchtower, and hewed out a wine press. Then he looked for the crop of grapes, but what it yielded was wild grapes. Now, inhabitants of Jerusalem and people of Judah, judge between me and my vineyard: What more was there to do for my vineyard that I had not done? Why, when I looked for the crop of grapes, did it bring forth wild grapes? Now, I will let you know what I mean to do with my vineyard: take away its hedge, give it to grazing, break through its wall, let it be trampled! Yes, I will make it a ruin: it shall not be pruned or hoed, but overgrown with thorns and briers; I will command the clouds not to send rain upon it. The vineyard of the LORD of hosts is the house of Israel, and the people of Judah are his cherished plant; he looked for judgment, but see, bloodshed! for justice, but hark, the outcry!
Responsorial Psalm Ps 80:9,12,13-14,15-16,19-20
R/. The vineyard of the Lord is the house of Israel.
A vine from Egypt you transplanted;
you drove away the nations and planted it.
It put forth its foliage to the Sea,
its shoots as far as the River. R/.
Why have you broken down its walls,
so that every passer-by plucks its fruit,
The boar from the forest lays it waste,
and the beasts of the field feed upon it? R/.
Once again, O LORD of hosts,
look down from heaven, and see;
take care of this vine,
and protect what your right hand has planted
the son of man whom you yourself made strong. R/.
Then we will no more withdraw from you;
give us new life, and we will call upon your name.
O LORD, God of hosts, restore us;
if your face shine upon us, then we shall be saved. R/.
Second Reading Phil 4:6-9 2
Brothers and sisters: Have no anxiety at all, but in everything, by prayer and petition, with thanksgiving, make your requests known to God. Then the peace of God that surpasses all understanding will guard your hearts and minds in Christ Jesus. Finally, brothers and sisters, whatever is true, whatever is honorable, whatever is just, whatever is pure, whatever is lovely, whatever is gracious, if there is any excellence and if there is anything worthy of praise, think about these things. Keep on doing what you have learned and received and heard and seen in me. Then the God of peace will be with you.
Alleluia Cf. Jn. 15:16
Gospel Mt 21:33-43
Jesus said to the chief priests and the elders of the people: "Hear another parable. There was a landowner who planted a vineyard, put a hedge around it, dug a wine press in it, and built a tower. Then he leased it to tenants and went on a journey. When vintage time drew near, he sent his servants to the tenants to obtain his produce. But the tenants seized the servants and one they beat, another they killed, and a third they stoned. Again he sent other servants, more numerous than the first ones, but they treated them in the same way. Finally, he sent his son to them, thinking, 'They will respect my son.' But when the tenants saw the son, they said to one another, 'This is the heir. Come, let us kill him and acquire his inheritance.' They seized him, threw him out of the vineyard, and killed him. What will the owner of the vineyard do to those tenants when he comes?" They answered him, "He will put those wretched men to a wretched death and lease his vineyard to other tenants who will give him the produce at the proper times." Jesus said to them, "Did you never read in the Scriptures: The stone that the builders rejected has become the cornerstone; by the Lord has this been done, and it is wonderful in our eyes? Therefore, I say to you, the kingdom of God will be taken away from you and given to a people that will produce its fruit."
Catena Nova
What pertained to the husbandmen, God Himself did, the hedging it round about, the planting the vineyard, and all the rest, and He left little for them to do; to take care of what was there, and to preserve what was given to them. For nothing was left undone, but all accomplished; and not even so did they gain, and this, when they had enjoyed such great blessings from Him. (St. John Chrysostom)
Throughout the Scriptures the Lord continually likens human souls to vines….It is human souls that he calls his vineyard, and the hedge he has put round them is the security of his commandments. In addition, the Lord has raised our thoughts to heaven by the examples of saints of past ages. He has kept them from sinking to the earth where they would deserve to be trampled on, and he wills that the bonds of love, like the tendrils of a vine, should attach us to our neighbors and make us rest on them, so that always climbing upward like vines growing on trees, we may reach the loftiest heights (St. Basil the Great).
Take care that your vineyard does not bring forth thorns instead of grapes and your vintage produce vinegar instead of wine. Anyone who gathers in the grapes, without sharing them with the poor, is collecting vinegar instead of wine and anyone who stores his harvests, without sharing them with the needy, is not setting aside the fruit of almsgiving but the briars of greed (St. Maximus of Turin).
I view my whole self, soul and body both and, not just my soul, as the one vine that I may not neglect but must dig about it and cultivate it, to prevent it being overrun by unwelcome weeds and by the roots of other plants, or be smothered by its own offshoots. Pruned, it must be or it will grow wild: trimmed so that it may yield more fruit. It must be altogether enclosed. fenced-in, or every passer-by will freely plunder it; the greatest danger of all, being that the wild boar from the thickets. … may ravage it (cf. Ps 79:14). …It must be cultivated with the greatest care, otherwise the noble shoots of this choice vine, will go to seed, will turn into a worthless vine and, far from delighting both God and man (cf. Ps 103:15), may only succeed in saddening both of them. It must also be guarded with the utmost watchfulness that all the exertion spent on it and hopes placed in it, may not be extinguished, either by stealthy stealing, of those who devour the poor in secret (Hab 3:14) or by sudden and unprepared disasters, It was in this sense, as though referring to a vine in his keeping that the First Man was given Paradise that, as Scripture says, "he should cultivate it and keep it" (Gn 2:15). (Bl. Isaac of Stella)
The divine Husbandman is Jesus. It is left to us to allow him to nourish us, while we cooperate with the designs of divine Providence....For this reason, it is also necessary to keep the protective hedge well- trimmed so that, while helping others, our mystical vineyard is not trampled under foot and its produce destroyed. My beloved in Jesus Christ, it is time for us to submit the vineyard of our souls to cultivation, to toil willingly under the pressure of present trials. The love of Jesus, represented by the wine, will take away our lethargy, will provide against our dejection, and will give us strength and comfort for the journey to our dear home in heaven, where we shall rejoice triumphantly without end (St. Gaspar del Bufalo).
Cultivate your vineyard together with Jesus. To you the task of removing stones and pulling up brambles. To Jesus, that of sowing, planting, cultivating and watering. But even in your work, it is still He who acts. Because, without Christ, you could do nothing at all. (St. Pio of Pietrelcina)
Each time the owner sends a messenger to the vine-growers, this message sets in motion a crisis among them, which they resolve by ganging up against the messenger and expelling him…. The last messenger is the Son, expelled just like all the preceding messengers and finally murdered. This parable confirms my definition of the Crucifixion. Jesus' death is one example among many others of the single victim mechanism. What makes the mimetic cycle of Jesus' suffering unique is, not the violence, but the fact that the victim is the Son of God, which is certainly the main thing from the standpoint of our redemption. (René Girard).
Homily
We've been in that vineyard now for three weeks.

Remember those hired hands who got paid the same no matter when they began to work?

Maybe their job was planting the vines.

And those two sons who were asked by their father to work in the vineyard?

Maybe they were supposed to tend the vines.

Today it's tenant farmers.

The grapes are ready for harvest and they'll do the picking.

It's a great time, really, for these parables to appear, especially if you live where I do.

An Upstate New York autumn with choice vines set on fertile hillsides, a Grape Festival to celebrate their yield, and Finger Lakes wineries with presses in full swing, all serve as a perfect setting to hear these stories of God's vineyard.
But no matter where you live, a vineyard is a good metaphor for how God regards us.

Like a careful vine­dresser, the Lord has tended us, tenderly, and from a tender age: spading and clearing away stones, building watchtowers and hedges to protect us, doing everything possible to prepare us for a bounteous yield, and a good vintage of choicest wine.

Gifts of nature and grace, family and friends, church and school, town and nation, have been the soil that's nurtured us, cultivated us, from the time of spring planting, throughout summer's toil, ready for fall harvest — all before winter's demise.

So the seasons of our lives, from childhood and youth, through adolescence and adulthood, to middle and old age, have been tended by the One who

takes care of this vine, and protects what God's right hand has planted

(cf. RP).
But we have some work of our own to do in this vineyard, don't we?

For while it's true the health and strength of our vine depends much on what others have done, and do, for us -- we too are responsible for the kind of grape we yield.

Its vintage, its body, its bouquet, its taste.

God invites us to work on our own behalf in this vineyard others have helped plant and tend.

In this sense, we have a lease on life, like tenant farmers, who know the property is not theirs, but nevertheless labor for their own good.

So whether what we have

will be taken away from [us] and given

to another (cf. G), depends on how well we cultivate the vine.
St. Paul counsels us here, telling us our thoughts should be wholly directed to

whatever is true, whatever is honorable, whatever is just, whatever is pure, whatever is lovely, whatever is gracious: to all that is excellent and worthy of praise, in addition to what we

have learned and received

from our native soil (cf. II).

So any number of new vines can be grafted onto us, transplanted from other vineyards, to make us even more full-bodied, and our wine the choicer.

In other words, our lives should be filled with any and everything that will make our vine yield grapes that are cultivated, and not wild.
But do we?

With what nourishment, what light, what water, do we tend our vine?

What pursuits characterize our lives?

Ones that

take away our hedge, break through our wall, leaving us prey to

trampling, and an overgrowth of

thorns and briers?

Or ones that make our vineyard thrive, because it is well

pruned and hoed

(cf. I)?

Are we waiting around idle all day, like those workers who began to work late in the day?

Or like the boy who promised his father much, but delivered little.

Or the tenants who spurned those who came for the Vine­dresser's share of the grapes, including the Son who tread for us the new wine of God's kingdom?

The vine is too precious for that, the plant too cherished.

And its growing season too short.

The autumn comes quickly, and then it withers.
Now I don't much about grape-growing, and even less about wine-making, but I do know they involve a process that takes a lot of care.

Missteps along the way, even slight ones, can get you sour grapes and vinegar in the end.

Of course, some things are beyond the control of the best dressers and pressers.

Upstate New York weather can do a job on grape quality from year to year.

A mid-May frost has made this year's grape harvest a real challenge.

But not for lack of cultivation.
And so with us.

Despite the many variables over which we have little control, the crop we raise and the harvest we reap is to a large extent in our own hands.

And the Owner of the vineyard will come looking for

grapes at vintage time

(G).

And no matter how long or short a day we'll have put in, no matter if we've worked at our vine willingly or not,

the vineyard of the Lord of hosts

(I) will have its produce procured, and its bounty revealed.

For the grapes will be pressed, and our wine poured out, then mingled with the Wine of Christ Jesus the corner­stone, who will drink it anew with us, in the kingdom of God, where he lives and reigns, in the unity of the Holy Spirit, forever and ever. Amen.
Intercessions (Joe Milner; The Sunday Website)

For the Church: that we may be a fruitful garden, producing a harvest rich of justice, compassion, mercy, and forgiveness.
For the bishops and all the participants in the Synodal Assembly, that proposals may spring forth from their listening to the Holy Spirit, so that the entire People of God, in a dynamism of communion, may feel that they are truly participating in the life of the Church and be a living and attractive witness to the newness of the Gospel in the world.
For all who have suffered rejection: that God will heal their wounds, fill them with hope and guide them into the acceptance of a community of faith.
For all who experience anxiety or live with fear: that the peace of God that surpasses all understanding may fill their minds and hearts.
For all who tend the fields and bring food to our tables: that God will strengthen them and protect them in their labors.
For all who are struggling financially: that God will calm their fears and guide them to new opportunities to support themselves and to use their gifts.
For all who are recovering from natural disasters: that God will give them the strength to face their challenges, speed the assistance that they need, and fill their hearts with peace.
For civility in public life: that public discourse may focus on ideas and programs, and that the election speeches and materials will respect the dignity of each person.
Yours, O God, is the vineyard and its harvest, yours the kingdom of justice and peace. You call your people to tend its growth. Bless the work entrusted to our hands, that we may offer you an abundance of just works, a rich harvest of peace. We ask this through Christ our Lord. Amen.
Offertory Hymn
Hear now the song of fruitful vineyard
Planted with loving, tender care,
Hear how the tenants stole its profits
And killed the owner's servants there.
Total rebellion seized their soul:
Breaking the covenant, their goal.
We are the vineyard, we the tenants
Pledged now in covenant with Christ.
In our rebellion, we have wandered
Far from his love beyond all price.
But mercy prompts God's faithful care
In which each sinner still can share.
Since love is God's response to sinners,
All anxious thoughts can be cast out;
Our needs, in prayer with grateful spirits,
Should then be voiced, beyond all doubts.
Lives that are honest, pure indeed,
Are by the God of peace thus freed.
Communion Antiphon
Closing Hymn


In the beloved city, we shall come to dwell,
encircled by the people of paradise,
and rooted in the garden of life.
We shall grow tall like the cedar in the
countryside, like the cyprus standing
high upon the hill. And we shall be like
the palm tree that is set by the sea,
like fuscia in the fields growing wild.
We shall grow tall like the maple,
like the fruit tree all abloom in the grove.
And like a garden of spices we shall spread perfume,
give fragrance to the winds all around.
We shall give fruit like the vineyards
with their vines in bloom,
give our lifeblood for the sweet tasting wine.
And we shall drink it together, tasting the power and joy,
our pleasure in the garden of life.
Archives