Twenty-seventh Sunday in Ordinary Time (A)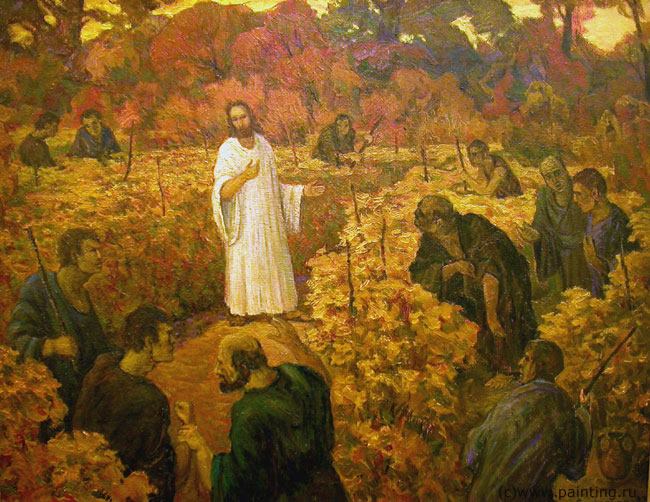 Introit
Kyrie
Gloria
Collect
Almighty ever-living God,
who in the abundance of your kindness
surpass the merits and the desires of those who entreat you,
pour out your mercy upon us
to pardon what conscience dreads
and to give what prayer does not dare to ask.
Through our Lord Jesus Christ, your Son,
who lives and reigns with you in the unity of the Holy Spirit,
one God, for ever and ever. Amen.
First Reading Is 5:1-7
Let me now sing of my friend, my friend's song concerning his vineyard. My friend had a vineyard on a fertile hillside; he spaded it, cleared it of stones, and planted the choicest vines; within it he built a watchtower, and hewed out a wine press. Then he looked for the crop of grapes, but what it yielded was wild grapes. Now, inhabitants of Jerusalem and people of Judah, judge between me and my vineyard: What more was there to do for my vineyard that I had not done? Why, when I looked for the crop of grapes, did it bring forth wild grapes? Now, I will let you know what I mean to do with my vineyard: take away its hedge, give it to grazing, break through its wall, let it be trampled! Yes, I will make it a ruin: it shall not be pruned or hoed, but overgrown with thorns and briers; I will command the clouds not to send rain upon it. The vineyard of the LORD of hosts is the house of Israel, and the people of Judah are his cherished plant; he looked for judgment, but see, bloodshed! for justice, but hark, the outcry!
Responsorial Psalm Ps 80:9,12,13-14,15-16,19-20
R/. The vineyard of the Lord is the house of Israel.
A vine from Egypt you transplanted;
you drove away the nations and planted it.
It put forth its foliage to the Sea,
its shoots as far as the River. R/.
Why have you broken down its walls,
so that every passer-by plucks its fruit,
The boar from the forest lays it waste,
and the beasts of the field feed upon it? R/.
Once again, O LORD of hosts,
look down from heaven, and see;
take care of this vine,
and protect what your right hand has planted
the son of man whom you yourself made strong. R/.
Then we will no more withdraw from you;
give us new life, and we will call upon your name.
O LORD, God of hosts, restore us;
if your face shine upon us, then we shall be saved. R/.
Second Reading Phil 4:6-9 2
Brothers and sisters: Have no anxiety at all, but in everything, by prayer and petition, with thanksgiving, make your requests known to God. Then the peace of God that surpasses all understanding will guard your hearts and minds in Christ Jesus. Finally, brothers and sisters, whatever is true, whatever is honorable, whatever is just, whatever is pure, whatever is lovely, whatever is gracious, if there is any excellence and if there is anything worthy of praise, think about these things. Keep on doing what you have learned and received and heard and seen in me. Then the God of peace will be with you.
Alleluia Cf. Jn. 15:16
Gospel Mt 21:33-43
Jesus said to the chief priests and the elders of the people: "Hear another parable. There was a landowner who planted a vineyard, put a hedge around it, dug a wine press in it, and built a tower. Then he leased it to tenants and went on a journey. When vintage time drew near, he sent his servants to the tenants to obtain his produce. But the tenants seized the servants and one they beat, another they killed, and a third they stoned. Again he sent other servants, more numerous than the first ones, but they treated them in the same way. Finally, he sent his son to them, thinking, 'They will respect my son.' But when the tenants saw the son, they said to one another, 'This is the heir. Come, let us kill him and acquire his inheritance.' They seized him, threw him out of the vineyard, and killed him. What will the owner of the vineyard do to those tenants when he comes?" They answered him, "He will put those wretched men to a wretched death and lease his vineyard to other tenants who will give him the produce at the proper times." Jesus said to them, "Did you never read in the Scriptures: The stone that the builders rejected has become the cornerstone; by the Lord has this been done, and it is wonderful in our eyes? Therefore, I say to you, the kingdom of God will be taken away from you and given to a people that will produce its fruit."
Catena Nova
God planted the vineyard of the human race when at the first he formed Adam (Gn 2:7) and chose the ancestors. Then he let it out to husbandmen through the gift of the Law passed on to Moses. He hedged it round about, that is, he marked out the land they were to cultivate; he built a tower, that is, he chose Jerusalem; he dug a winepress, that is, he prepared those who were to receive the prophetic Spirit. And he sent them prophets prior to the Babylonian exile and then, after the exile, others again in even greater number to seek the fruits, saying to them : Cleanse your ways and your doings (Jer 7:3); Execute just judgment and Each one act with pity and compassion towards his neighbor. Do not oppress the widow, the orphan, the stranger or the poor, and let none of you treasure up evil against his neighbor in your hearts (Zac 7:9-10); Wash, make yourselves clean, put away evil from your hearts; learn to do good, seek judgment, protect the oppressed (Is 1:16-17). See by what preachings the prophets sought the fruits of righteousness....That is why the Lord said to His disciples, to make us become good workers: Take heed to yourselves and watch at all times lest your hearts be overcharged with debauchery, drunkenness and the cares of this life (Lk 21:34.36); Let your loins be girded and your lamps burning, and be like those who wait for their master to come (Lk 12:35-36) (St. Irenaeus of Lyons).
No doubt you remember the image used by the Lord in which he says that he is the vine and the Father the vinedresser. Each of us who have been grafted onto the Church by faith he calls branches, and he urges us to bear much fruit so as not to be rejected as useless and thrown onto the fire. Throughout the Scriptures the Lord continually likens human souls to vines. He says for instance: "My beloved had a vineyard on a fertile hillside; and again: I planted a vineyard and put a hedge round it." Clearly it is human souls that he calls his vineyard, and the hedge he has put round them is the security of his commandments and the protection of the angels; "for the angel of the Lord will encamp around those who fear him...." It is human souls that he calls his vineyard, and the hedge he has put round them is the security of his commandments. In addition, the Lord has raised our thoughts to heaven by the examples of saints of past ages. He has kept them from sinking to the earth where they would deserve to be trampled on, and he wills that the bonds of love, like the tendrils of a vine, should attach us to our neighbors and make us rest on them, so that always climbing upward like vines growing on trees, we may reach the loftiest heights (St. Basil the Great).
My brothers and sisters, take good care that no one says with regard to you: "He expected it to yield grapes but it yielded wild grapes" (Is 5:2)….Let us be careful that our evil deeds do not rub against our Lord's head like thorns. There are thorns in the heart that have even wounded the word of God, as our Lord says in the gospel when he relates how the sower's seed fell among thorns that grew and choked what had been sown (Mt 13:7)… So take care that your vineyard does not bring forth thorns instead of grapes and your vintage produce vinegar instead of wine. Anyone who gathers in the grapes, without sharing them with the poor, is collecting vinegar instead of wine and anyone who stores his harvests, without sharing them with the needy, is not setting aside the fruit of almsgiving but the briars of greed (St. Maximus of Turin).
The nearer we get to our beloved home, heaven, the more necessary it is to grow strong in merit and rich in works before God. It is on this account that the dear Lord preserves for us special drinks of the choicest wines, such as those mentioned in the Canticle....Intemperance in drink is forbidden, but in the spiritual order, blessed is the one who is inebriated with the celestial and holy love, symbolized by the choicest wines of the vineyards of Engedi. These wines, however, require the soul to cultivate the mystical vineyard of the heart and, moreover, to cultivate only such vines therein which will yield them. The divine Husbandman is Jesus. It is left to us to allow him to nourish us, while we cooperate with the designs of divine Providence....For this reason, it is also necessary to keep the protective hedge well- trimmed so that, while helping others, our mystical vineyard is not trampled under foot and its produce destroyed. My beloved in Jesus Christ, it is time for us to submit the vineyard of our souls to cultivation, to toil willingly under the pressure of present trials. The love of Jesus, represented by the wine, will take away our lethargy, will provide against our dejection, and will give us strength and comfort for the journey to our dear home in heaven, where we shall rejoice triumphantly without end (St. Gaspar del Bufalo).
The great parable of the murderous vine-growers (Matt. 21:33-41) brings out clearly the mimetic, or satanic, cycle. Each time the owner sends a messenger to the vine-growers, this message sets in motion a crisis among them, which they resolve by ganging up against the messenger and expelling him. This unanimous agreement is the height of the mimetic snowballing. Each violent expulsion is the completion of a mimetic cycle. The last messenger is the Son, expelled just like all the preceding messengers and finally murdered. This parable confirms my definition of the Crucifixion. Jesus' death is one example among many others of the single victim mechanism. What makes the mimetic cycle of Jesus' suffering unique is, not the violence, but the fact that the victim is the Son of God, which is certainly the main thing from the standpoint of our redemption.... What is the cure-all of the prince of this world, his most clever trick, perhaps his only resource? It is the mimetic all-against-one or single victim mechanism. It is the mimetic unanimity that, at the highest pitch of disorder, brings order back into human communities. This sleight of hand remained hidden until the Jewish and Christian revelation. In fact, it has, to an extent, remained hidden after the Christian revelation up to our own time since it remains almost universally misunderstood. Thanks to this deception, human communities are indebted to Satan for the shaky relative order that they enjoy. They are thus always in his debt and cannot free themselves on their own (René Girard).
Jesus warned the Jewish leaders of the violence they were in danger of committing against himself in The Parable of the Evil Workers in the Vineyard, the grimmest of all Jesus' parables. (Mt. 21:33-45) The workers covet the harvest of the vineyard for themselves and then covet the vineyard itself. They are willing to commit violence to that end and they do not shy away from violence when the opportunity comes. This parable is weighted down with much significance as the vineyard is a running image for Israel throughout the Hebrew Bible. It seems most particularly to be an allusion to Isaiah's Song of the Vineyard. (Isa. 5:1-7) Both stress the care with which the vineyard is set up to give it the best potential for a good yield. In Isaiah's song, the grapes grow wild in spite of everything. In the parable, the grapes grow well but the workers themselves are wild. Actually, Isaiah shows that the wild grapes in Isaiah refer to wild humans when he says that the vineyard stands for Israel and that God "expected justice, but saw bloodshed; righteousness, but heard a cry!" (Isa. 5:7) After the workers have attacked the agents the owner has sent, the owner sends his own son, his own flesh and blood, believing that the workers will respect his son. But the workers realize that by sending his son, his substance, the workers have the opportunity to take the vineyard for themselves and take the owner's substance in the bargain.... Jesus asks his listeners what they think will happen to the workers, and they reply that the owner "will put those wretches to a miserable death, and lease the vineyard to other tenants who will give him the produce at the harvest time." (Mt. 21:41) Jesus then quotes Psalm 118:22: "The stone that the builders rejected has become the chief cornerstone...." It makes sense that the rock founded on the willingness to suffer for the sake of righteousness and forgiveness would be a rock rejected by most people. Yet Jesus was about to make that rock the cornerstone of the community he would gather after his Resurrection. This psalm verse confirms the parable's message that an act of collective violence seems imminent. Jesus goes on to call this stone a skandalon, a stumbling block: "The one who falls on this stone will be broken to pieces; and it will crush anyone on whom it falls." (Mt. 21:44) This refers to Isaiah's prophecy that the Lord of Hosts will became "a stone one strikes up against," that God will become "a rock one stumbles over." (Isa. 8:14) Jesus is saying then, that the weak stone is stumbled over when it is rejected by those who think they are strong (Andrew Marr).
In order to make us understand how God the Father responds to the rejection of his love and his proposal of an alliance, the Gospel passage puts a question on the lips of the owner of the vineyard: "When therefore the owner of the vineyard comes, what will he do to those tenants?" This question emphasizes that God's disappointment at the wicked behaviour of mankind is not the last word! This is the great novelty of Christianity: a God who, even though disappointed by our mistakes and our sins, does not fail to keep his Word, does not give up and, most of all, does not seek vengeance!

My brothers and sisters, God does not avenge himself. God loves, he does not avenge himself. He waits for us to forgive us, to embrace us. Through the "rejected stones" — and Christ is the first stone that the builders rejected — through situations of weakness and sin, God continues to circulate "the new wine" of his vineyard, namely mercy. This is the new wine of the Lord's vineyard: mercy. There is only one obstacle to the tenacious and tender will of God: our arrogance and our conceit which, at times also becomes violence! Faced with these attitudes where no fruit is produced, the Word of God retains all its power to reprimand and reproach: "Therefore I tell you, the kingdom of God will be taken away from you and given to a nation producing the fruits of it."

The urgency of replying with good fruits to the call of the Lord, who asks us to become his vineyard, helps us understand what is new and original about the Christian faith. It is not so much the sum of precepts and moral norms but rather, it is first and foremost a proposal of love which God makes through Jesus and continues to make with mankind. It is an invitation to enter into this love story, by becoming a lively and open vine, rich in fruits and hope for everyone. A closed vineyard can become wild and produce wild grapes. We are called to leave this vineyard to put ourselves at the service of our brothers and sisters who are not with us, in order to shake each other and encourage each other, to remind ourselves that we must be the Lord's vineyard in every environment, even the more distant and challenging ones (Pope Francis).

Homily
Wine Tastings
We've been in a vineyard now for three weeks. Remember those hired hands who got paid the same no matter when they began to work? Perhaps they were busy planting the vines. And last week those two sons who were asked by their father to go work in the vineyard? Perhaps they were supposed to tend the vines. Today it's tenant farmers. The grapes are ready for harvest and no doubt they'll do most of the picking. It's a great time, really, for these parables to appear, especially if you live where I do. An Upstate New York autumn with choice vines set on fertile hillsides in the Finger Lakes region; a Grape Festival to celebrate their yield (sadly, cancelled this year); wineries with presses in full swing. All serve as a perfect setting to hear these stories of God's vineyard.
But no matter where you live, a vineyard is a good metaphor for how God regards us. For like a careful vine­dresser, the Lord has tended us, tenderly, and from a tender age: spading and clearing away stones, building watchtowers and hedges to protect us, doing everything possible to prepare us for a bounteous yield, and a good vintage of choicest wine. Gifts of nature and grace, family and friends, church and school, village and nation, have been the soil that's nurtured us, cultivated us, from the time of spring planting, throughout summer's toil, ready for the fall harvest, before winter's demise. So the seasons of our lives, from childhood and youth, through adolescence and adulthood, to middle and old age, have been cared by the One who takes care of this vine, and protects what God's right hand has planted (cf. RP).
But we have some work of our own to do in this vineyard, don't we? For while it's true that the health and strength of our vine depends much on what others have done, and do, for us -- yet, we too are responsible for the kind of grape we yield, and the taste of our own wine. God invites us to work on our own behalf in this vineyard that others have helped plant and tend. In this sense, we have a lease on life, like tenant farmers, who know the property is not theirs, but nevertheless labor for their own good. So whether what we have will be taken away from [us] and given to another (cf. G), depends on how well we cultivate the vine.
St. Paul counsels us here, telling us our thoughts should be wholly directed to whatever is true, whatever is honorable, whatever is just, whatever is pure, whatever is lovely, whatever is gracious: to all that is excellent and worthy of praise, in addition to what we have learned and received from our native soil (cf. II). So any number of new vines can be grafted onto us, transplanted from other vineyards, to make us even more robust, and our wine the sweeter. In other words, our lives should be filled with any and everything that will make our vine yield grapes that are choice, and not wild.
But do we? With what nourishment, what light, what water, do we tend our vine? What pursuits characterize our lives? Ones that take away our hedge, break through our wall, leaving us prey to trampling, and an overgrowth of thorns and briers? Or ones that make our vineyard thrive, because it is well pruned and hoed (cf. I)? Are we waiting around idle all day, like those workers who began to work late in the day? Or like the boy who promised his father much, but delivered little. Or the tenants who spurned those who came for the Vine­dresser's share of the grapes, including the Son who tread for us the New Wine of God's kingdom? The vine is too precious for that, the plant too cherished. Its life too short. The autumn comes and goes too quickly, and then it withers.
Now I don't much about grape-growing, and even less about wine-making, but I do know they involve a process that takes a lot of care. Missteps along the way, even slight ones, can get you sour grapes and vinegar in the end. Of course, some things are beyond the control of the best dressers and pressers. Upstate New York weather can do a job on grape quality from year to year, but not for lack of cultivation.
And so with us. Despite the many variables over which we have little control, the crop we raise and the harvest we reap is to a large extent in our own hands. And the Owner of the vineyard will come looking for grapes at vintage time (G). And no matter how long or short a day we'll have put in, no matter if we've worked at our vine willingly or not, the vineyard of the Lord of hosts (I) will have its produce procured, and its bounty revealed. For the grapes will be pressed, and our wine poured out, then mingled with the choicest Fruit of the Vine, Christ Jesus the corner­stone, who will drink it anew with us, in the kingdom of God, where he lives and reigns, in the unity of the Holy Spirit, forever and ever. Amen.
Creed
Intercessions
For the whole church, God's vineyard, tended faithfully by our Holy Father, our bishops and priests, that it may bear an abundant harvest of grace and holiness.
For world leaders, that they may follow what is true, honorable, just, and worthy of praise, especially in the area of human life and dignity, so that there may be peace.
For the conversion of all who return God no yield for His gracious cultivation, before the arrival of the hour of judgment between the Lord and His vineyard.
For all who are suffering, that the church may help them with her prayers and relieve them of anxiety with her love, so that God's peace may stand guard over their hearts in Christ Jesus.
That this Eucharist may be a sign and pledge of the harvest God expects of each of us, as we are united with the divine first fruits in our Lord Jesus.
For our faithful departed ones, that through this Holy Sacrifice their purification may be quickly accomplished, and they may be welcomed into the kingdom of heaven.
Yours, O God, is the vineyard and its harvest, yours the kingdom of justice and peace. You call your people to tend its growth. Bless the work entrusted to our hands, that we may offer you an abundance of just works, a rich harvest of peace. We ask this through Christ our Lord. Amen.
Offertory Hymn
Hear now the song of fruitful vineyard
Planted with loving, tender care,
Hear how the tenants stole its profits
And killed the owner's servants there.
Total rebellion seized their soul:
Breaking the covenant, their goal.
We are the vineyard, we the tenants
Pledged now in covenant with Christ.
In our rebellion, we have wandered
Far from his love beyond all price.
But mercy prompts God's faithful care
In which each sinner still can share.
Since love is God's response to sinners,
All anxious thoughts can be cast out;
Our needs, in prayer with grateful spirits,
Should then be voiced, beyond all doubts.
Lives that are honest, pure indeed,
Are by the God of peace thus freed.
Lord's Prayer
Let us pray for the coming of the Reign of God as Jesus taught us....
Spiritual Communion (Traditional)
My Jesus,
I believe that You are present in the Most Holy Sacrament.
I love You above all things,
and I desire to receive You into my soul.
Since I cannot at this moment receive You sacramentally,
come at least spiritually into my heart.
I embrace You as if You were already there
and unite myself wholly to You.
Never permit me to be separated from You. Amen.
Communion Antiphon
Closing Hymn John Michael Talbot
I am the vine and you are the branches,
live in me and you will never die.
I am the vine and my Father is the keeper;
come to me, let the Spirit bring you life.

Like a tree planted by the living water
to stretch its roots into the living stream.
You will show no distress
in the heat of the drought,
but still bear fruit and live.
Come to me, all you heavy ladened;
my yoke is easy, my burden is light.
I will raise you up on the wings of an eagle,
and to God's mountain will fly.
Archives