Lent with the Book of Job (Ch 19)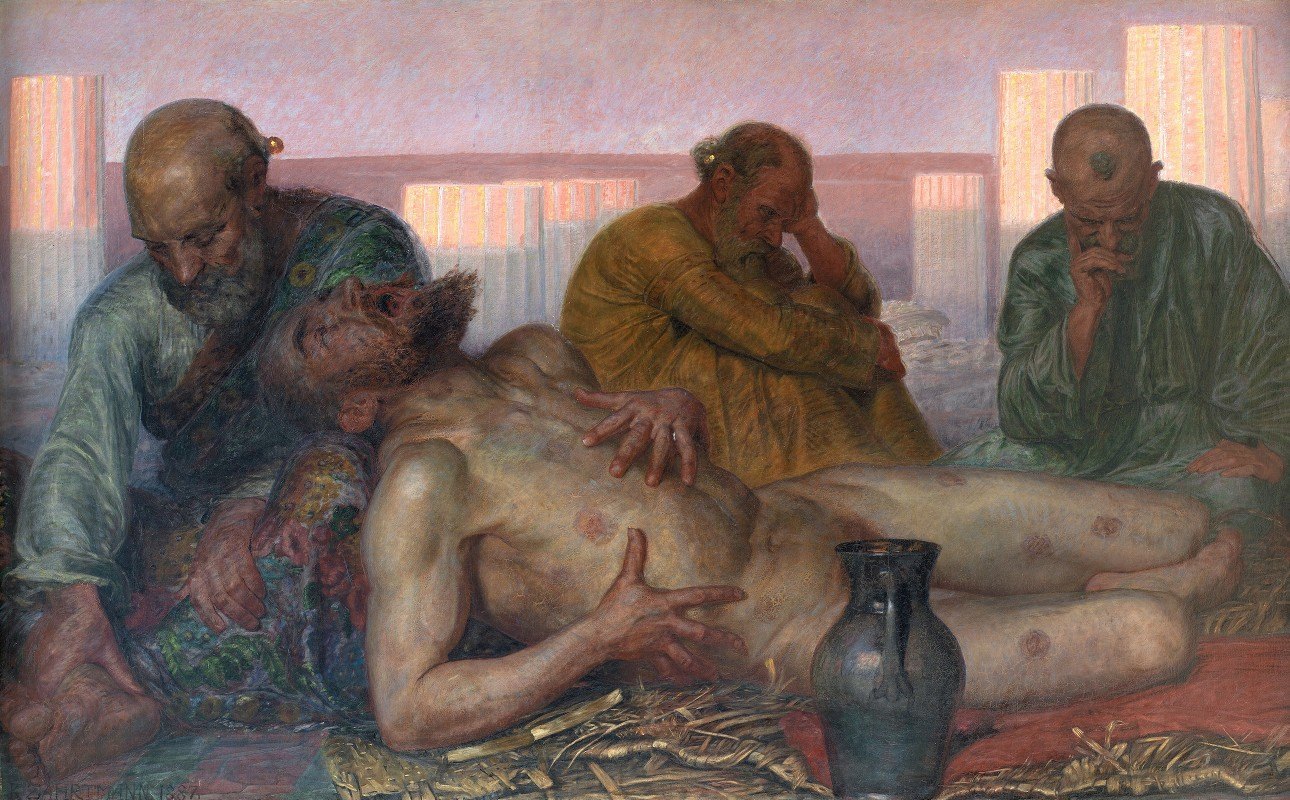 Chapter 19 (Third Sunday of Lent)
Then Job answered:
'How long will you torment me,
and break me in pieces with words?
These ten times you have cast reproach upon me;
are you not ashamed to wrong me?
And even if it is true that I have erred,
my error remains with me.
If indeed you magnify yourselves against me,
and make my humiliation an argument against me,
know then that God has put me in the wrong,
and closed his net around me.
Even when I cry out, "Violence!" I am not answered;
I call aloud, but there is no justice.
He has walled up my way so that I cannot pass,
and he has set darkness upon my paths.
He has stripped my glory from me,
and taken the crown from my head.
He breaks me down on every side, and I am gone,
he has uprooted my hope like a tree.
He has kindled his wrath against me,
and counts me as his adversary.
His troops come on together;
they have thrown up siege-works against me,
and encamp around my tent.

'He has put my family far from me,
and my acquaintances are wholly estranged from me.
My relatives and my close friends have failed me;
the guests in my house have forgotten me;
my serving-girls count me as a stranger;
I have become an alien in their eyes.
I call to my servant, but he gives me no answer;
I must myself plead with him.
My breath is repulsive to my wife;
I am loathsome to my own family.
Even young children despise me;
when I rise, they talk against me.
All my intimate friends abhor me,
and those whom I loved have turned against me.
My bones cling to my skin and to my flesh,
and I have escaped by the skin of my teeth.
Have pity on me, have pity on me, O you my friends,
for the hand of God has touched me!
Why do you, like God, pursue me,
never satisfied with my flesh?

'O that my words were written down!
O that they were inscribed in a book!
O that with an iron pen and with lead
they were engraved on a rock for ever!
For I know that my Redeemer lives,
and that at the last he will stand upon the earth;
and after my skin has been thus destroyed,
then in my flesh I shall see God,
whom I shall see on my side,
and my eyes shall behold, and not another.
My heart faints within me!
If you say, "How we will persecute him!"
and, "The root of the matter is found in him";
be afraid of the sword,
for wrath brings the punishment of the sword,
so that you may know there is a judgement.'
Commentary
Think, my dear friends, how the Lord offers us proof after proof that there is going to be a resurrection, of which he has made Jesus Christ the first-fruits by raising him from the dead. My friends, look how regularly there are processes of resurrection going on at this very moment. The day and the night show us an example of it; for night sinks to rest, and day arises; day passes away, and night comes again. Or take the fruits of the earth; how, and in what way, does a crop come into being? When the sower goes out and drops each seed into the ground, it falls to the earth shrivelled and bare, and decays; but presently the power of the Lord's providence raises it from decay, and from that single grain a host of others spring up and yield their fruit.
Look at that strange portent that occurs in the East (in the neighbourhood of Arabia, to be precise). There is a bird known as a Phoenix, which is the only specimen of its kind and has a life of five hundred years. When the hour of its dissolution and death approaches, it makes a nest for itself out of frankincense and myrrh and other fragrant spices, and in the fullness of time it enters into this and expires. Its decaying flesh breeds a small grub, which is nourished by the moisture of the dead bird and presently grows wings. This, on reaching full growth, takes up the nest containing the bones of its predecessor and carries them all the way from the land of Arabia into Egypt, to the city called Heliopolis. There, in the full light of day and before the eyes of all beholders, it flies to the Altar of the Sun, deposits them there, and speeds back to its homeland; and when the priests consult their time records, they find that its arrival has marked the completion of the five-hundredth year.
Now, when the Creator of all things has even made use of a bird to disclose the magnitude of his promises to us, need we find it such a great wonder that he has a resurrection in store for those who have served him in holiness and in the confidence of a sound faith? For in Scripture we read, You will raise me up, and I will praise you; and also, After I had lain down and fallen asleep, I rose up again; for you are with me. Job too, says, You will raise up this flesh of mine which has had all these trials to endure. Seeing then that we have this hope, let us knit fast our souls to him who is ever true to his word and righteous in his judgements. (St. Clement of Rome, Letter to the Corinthians)
Musical Selection (Scott Soper)
I know that my
Redeemer lives,
The One who calls me
Home.
I long to see God
Face to face,
To see with my own eyes.
I know that my
Redeemer lives,
That I shall rise again.
I know that my
Redeemer lives,
That I shall rise again.
I know that I
Shall one day see
The goodness of the Lord,
When God will
Wipe away our tears,
And death will be
No more.
I know that my
Redeemer lives,
That I shall rise again.
I know that my
Redeemer lives,
That I shall rise
Again.
The last day
I shall rise again,
Shall be remade
Like God.
My home shall be
By God's own side,
The dying,
Rising
Lord.
I know that my
Redeemer lives,
That I shall rise again.
I know that my
Redeemer lives,
That I shall rise
Again.
Collect
O God, living and true,
look upon your people,
whose dry and stony hearts are parched with thirst.
Unseal the living water of your Spirit;
let it become within us an ever-flowing spring,
leaping up to eternal life.
Thus may we worship you in spirit and in truth
through Christ, our deliverance and hope,
who lives and reigns with you in the unity of the Holy Spirit,
holy and mighty God for ever and ever. Amen.
Archives