Lenten Devotion (5th Week of Lent -- Via Matris)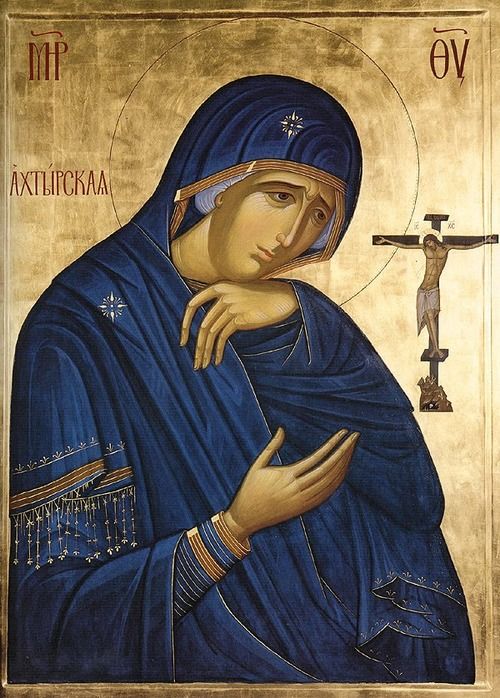 Modeled on the Stations of the Cross, this devotion commemorates the traditional "Seven Sorrows" of the Blessed Virgin Mary. As a Lenten devotion, it is especially appropriate for the Friday of the Fifth Week of Lent (formerly "Passion Friday") when the liturgy traditionally observed a feast of "The Compassion of Our Lady" – her unique sharing in the suffering of the Lord.
OPENING PRAYER
O God, who in this season
give your Church the grace
to imitate devoutly the Blessed Virgin Mary
in contemplating the Passion of Christ,
grant, we pray, through her intercession,
that we may cling more firmly each day
to your Only Begotten Son
and come at last to the fullness of his grace.
Who lives and reigns with you in the unity of the Holy Spirit,
God, for ever and ever. Amen. (Roman Missal; Friday of the Fifth Week of Lent)
FIRST STATION
The Prophecy of Simeon at the Presentation (Luke 2:22-38)

When the time came for the purification rites required by the Law of Moses, Joseph and Mary took him to Jerusalem to present him to the Lord (as it is written in the Law of the Lord, "Every firstborn male is to be consecrated to the Lord"), and to offer a sacrifice in keeping with what is said in the Law of the Lord: "a pair of doves or two young pigeons."
Now there was a man in Jerusalem called Simeon, who was righteous and devout. He was waiting for the consolation of Israel, and the Holy Spirit was on him. It had been revealed to him by the Holy Spirit that he would not die before he had seen the Lord's Messiah. Moved by the Spirit, he went into the temple courts. When the parents brought in the child Jesus to do for him what the custom of the Law required, Simeon took him in his arms and praised God, saying:
"Sovereign Lord, as you have promised,
you may now dismissyour servant in peace.
For my eyes have seen your salvation,
which you have prepared in the sight of all nations:
a light for revelation to the Gentiles,
and the glory of your people Israel."
The child's father and mother marveled at what was said about him. Then Simeon blessed them and said to Mary, his mother: "This child is destined to cause the falling and rising of many in Israel, and to be a sign that will be spoken against, so that the thoughts of many hearts will be revealed. And a sword will pierce your own soul too."
There was also a prophet, Anna, the daughter of Penuel, of the tribe of Asher. She was very old; she had lived with her husband seven years after her marriage, and then was a widow until she was eighty-four. She never left the temple but worshiped night and day, fasting and praying. Coming up to them at that very moment, she gave thanks to God and spoke about the child to all who were looking forward to the redemption of Jerusalem.
MEDITATION
Joy comes to the Mother of Jesus as the time of her seclusion ends and the Child is presented in the temple, according to the Law of Moses: the One who will ransom the world with his Blood himself ransomed by turtledoves and pigeons. The aged Simeon and the prophetess Anna sense by an interior light of the Holy Spirit that this Child is the longed-for Messiah. But the wonder and jubilatiom of the moment is no earthly joy, which we so often confus with mere happiness. No, this is a joy that shares in God's unfolding plan, whereby this Child will also be known as a Man of Sorrows Simeon too prophesies that the Child will be a sign of contradiction and that his Mother's soul will be pierced as with a sword as she is destined to share fully in his mission of redemption.

PRAYER
May we be aided at your Mercy Seat,
Lord Jesus Christ,
now and at the hour of our death,
by the pleading of the Blessed Virgin Mary, your Mother,
whose most holy soul was pierced,
in the hour of your sufferings,
by a sword of sorrow.
Who live and reign forever and ever. Amen.
HYMN (Libera)
Holy Mary draw through my heart
The sweetest arrow of thy grace
Lift my sorrows deepening shadow
So that I may see Your face
I know I will not be forsaken
Gently held in your embrace.
Blessed Spirit whispering softly
Cool the fires of my shame
Even as I run from your arms
My soul keeps calling out Your name
You were always right here inside
Each tear of joy every drop of rain.
SECOND STATION
The Flight into Egypt (Mt 2:13-18)

When the Magi had gone, an angel of the Lord appeared to Joseph in a dream. "Get up," he said, "take the child and his mother and escape to Egypt. Stay there until I tell you, for Herod is going to search for the child to kill him."
So he got up, took the child and his mother during the night and left for Egypt,where he stayed until the death of Herod. And so was fulfilled what the Lord had said through the prophet: "Out of Egypt I called my son."
When Herod realized that he had been outwitted by the Magi, he was furious, and he gave orders to kill all the boys in Bethlehem and its vicinity who were two years old and under, in accordance with the time he had learned from the Magi. Then what was said through the prophet Jeremiah was fulfilled:
"A voice is heard in Ramah,
weeping and great mourning,
Rachel weeping for her children
and refusing to be comforted,
because they are no more."
MEDITATION
After being deceived by the Magi, Herod causes wailing to be heard in Bethlehem as the Holy Innocents are slaughtered and the Holy Family escapes into Egypt. Whereas the Epiphany paved the way for the Christ's universal mission, represented by the Magi, his future rejection by his own people is now foreshadowed. The joy surrounding the Child's birth that filled the heart of his Mother soon turns to sorrow as Simeon's prophecy begins to be fulfilled. All the anxiety and uncertainty so many mothers and fathers experience when suddenly homeless, when torn from their native place, when forced into exile as refugees, is shared by the Holy Family. The Child will one day say of himself that the Son of Man has nowhere to lay his head. For now, the arms of his Mother provide refuge from what threatnes him as she ponders all these things in her heart.
PRAYER
Lord our God, through the Precious Blood of your Son
you reconciled the world to yourself
and at the foot of his Cross
you chose the Blessed Virgin Mary
to be the Mother of reconciliation for sinners;
grant through her intercession
that we may obtain pardon for our sins.
Through our Lord Jesus Christ, your Son,
who lives and reigns with you in the unity of the Holy Spirit,
God, for ever and ever. Amen.

HYMN (Greg Mailloux)
Mother of sorrows, you know our tears; Comfort us in our need.
Mother of Hope, pray for us,
Now and at the hour of our death.
Your Son's life was in danger as a newborn babe.
But you fled to Egypt. His life was saved.
Lost in the temple, your Son was hid. You searched for three days until he
was revealed.
Your spouse Joseph, chosen of God, was chaste, loyal, and true.
His death brought tears and loss to you.
Your Son was the innocent and spotless Lamb
Guilty and condemned to death at Pilate's hand.
Via Dolorosa, the sorrowful and saddest way,
Is where you met your Son on that mournful day.
The pounding of the nails into your Son's feet and hands
Was the sword of sorrow that you'd never planned.
Jesus died upon the cross as you mourned.
His life of love, by them was scorned.
His lifeless body was placed in the stone-cold tomb
She laid him there, the child of her womb.
THlRD STATION
The Search for Jesus lost in Jerusalem (Lk 2:41-52)

Every year Jesus' parents went to Jerusalem for the Festival of the Passover. When he was twelve years old, they went up to the festival, according to the custom. After the festival was over, while his parents were returning home, the boy Jesus stayed behind in Jerusalem, but they were unaware of it. Thinking he was in their company, they traveled on for a day. Then they began looking for him among their relatives and friends. When they did not find him, they went back to Jerusalem to look for him. After three days they found him in the temple courts, sitting among the teachers, listening to them and asking them questions. Everyone who heard him was amazed at his understanding and his answers. When his parents saw him, they were astonished. His mother said to him,"Son, why have you treated us like this? Your father and I have been anxiously searching for you.""Why were you searching for me?" he asked. "Didn't you know I had to be in my Father's house?"But they did not understand what he was saying to them.Then he went down to Nazareth with them and was obedient to them. But his mother treasured all these things in her heart. And Jesus grew in wisdom and stature, and in favor with God and man.
MEDITATION
At the age of twelve, it appears as if a new Solomon – architect of the first Jerusalem temple -- had arisen in Israel. Jesus' show of wisdom amazes the doctors of the Law, who represent the people of the Elder Covenant. This is not, however, the last time the Child will be "lost" for three days. As his lifeless corpse lay in a tomb, the temple of his Body will be refashioned: the one Body in whom Jew and Gentile would form a dwelling-place for God in the Spirit even as the former temple awaited its destruction. For now, she who would become the Mother of the Church understands only loss, loss that will intensify as "his Father's house" takes her Son way from their home in Nazareth along a journey that will lead him to weep over Jerusalem, cleanse its temple, and suffer the consequences.
PRAYER
Lord our God,
you placed at the side of your suffering Son
his Mother to suffer with him,
so that the human race,
deceived by the wiles of the devil,
might become a new and resplendent creation.
Grant that your people may put aside their inheritance of sin
and put on the newness of life won
by Christ the Redeemer.
Who lives and reigns with you in the unity of the Holy Spirit,
God, for ever and ever. Amen.

HYMN
Who will come and share my sorrow;
Hold my hand 'til wake tomorrow?
Is there time that I could borrow?
Oh, oh,
The silence and the sorrow.
When I was young,
I dreamed of roads not taken;
To walk the way
So many had forsaken,
And I would seek
The heart of love's creation;
It was found in you.
Who will come and share my sorrow;
Hold my hand 'til wake tomorrow?
Is there time that I could borrow?
Oh, oh,
The silence and the sorrow.
When love was young,
I cried with tears of laughter,
And deep inside,
I wondered what came after.
How a heart
Could love without conditions;
It was found in you.
Who will come and share my sorrow;
Hold my hand 'til wake tomorrow?
Is there time that I could borrow?
Oh, oh,
The silence and the sorrow.
When life was young,
And living seemed forever,
I knew somehow
You never hid its pleasure,
And all my tears
Uncovered hidden treasures.
It was found in you.
Who will come and share my sorrow;
Hold my hand 'til wake tomorrow?
Is there time that I could borrow?
Oh, oh,
The silence and the sorrow.
FOURTH STATION
Mary Meets Jesus on the Way to Calvary (Lk. 23:26-31)

As the soldiers led Jesus away, they seized Simon from Cyrene, who was on his way in from the country, and put the cross on him and made him carry it behind Jesus. A large number of people followed him, including women who mourned and wailed for him. Jesus turned and said to them, "Daughters of Jerusalem, do not weep for me; weep for yourselves and for your children. For the time will come when you will say, 'Blessed are the childless women, the wombs that never bore and the breasts that never nursed!' Then
"'they will say to the mountains, "Fall on us!"
and to the hills, "Cover us!"'
For if people do these things when the tree is green, what will happen when it is dry?"
MEDITATION
Although we are not told that Mary was among the women who mourned for Jesus on his way to Calvary, we might well speculate. And while the evagelists differ on who was there to witness the execution, they are in agreement that they were all, with one exception, women. Luke, who alone mentions women along the Way of the Cross, tells us that once Jesus came to the place called the Skull, there were "the women who had followed him from Galilee, standing at a distance, watching these things." Matthew adds that "many women were there, watching from a distance. They had followed Jesus from Galilee to care for his needs. Among them were Mary Magdalene, Mary the mother of James and Joseph,and the mother of Zebedee's sons." Mark tells us there were "some women who were watching from a distance. Among them were Mary Magdalene, Mary the mother of James the younger and of Joseph,and Salome. In Galilee these women had followed him and cared for his needs. Many other women who had come up with him to Jerusalem were also there." John alone specifies the entouage included "his mother, his mother's sister, Mary the wife of Clopas, and Mary Magdalene." Apparently, those who were courageous enough to risk the danger of public association with the Seditionist and Blasphemer and who sorrowed after him were all women -- perhaps drawing that strength from the one Woman who knew from the start that following him meant carrying their own cross behind him.

PRAYER
Lord God,
you decreed that the Mother of your Son
should stand by his Cross, suffering with him.
Safeguard in your family
the fruits of your great work of redemption
and in your goodness
make them grow daily more and more.
Through our Lord Jesus Christ, your Son,
who lives and reigns with you in the unity of the Holy Spirit,
God, for ever and ever. Amen.
HYMN
O YE who pass along the way
All joyous, where with grief I pine,
In pity pause awhile, and say,
Was ever sorrow like to mine?

See, hanging here before my eyes,
This body, bloodless, bruis'd, and torn,---
Alas! it is my Son Who dies,
Of love deserving, not of scorn.

For know, this weak and dying Man
Is Son of Him Who made the earth
And me, before the world began,
He chose to give Him human birth.

He is my God! and since that night
When first I saw His infant grace,
My soul has feasted on the light,
The beauty of that heavenly face.

For He had chosen me to be
The lov'd companion of His heart;
And ah I how that dear company
With love transpierc'd me like a dart!

And now behold this loving Son
Is dying in a woe so great,
The very stones are moved to moan
In sorrow at His piteous state.

Where'er His failing eyes are bent,
A friend to help He seeks in vain
All, all on vengeance are intent,
And eager to increase His pain.

Eternal Father! God of love!
Behold Thy Son! ah! see His woe!
Canst Thou look down from Heaven above
And for Thy Son no pity show?

But, no-----that Father sees His Son
Cloth'd with the sins of guilty men;
And spares not that Beloved One,
Though dying on His cross of pain.

My Son! my Son! could I at least
Console Thee in this hour of death,
Could I but lay Thee on my breast.
And there receive Thy parting breath!

Alas! no comfort I impart;
Nay, rather this my vain regret
But rends still more Thy loving heart
And makes Thy death more bitter yet.

Ah, loving souls! love, love that God
Who all inflamed with love expires;
On thee this life He has bestowed;
Thy love is all that He desires.
FlFTH STATION
Jesus Dies on the Cross (Jn. 19:25-27)

Near the cross of Jesus stood his mother, his mother's sister, Mary the wife of Clopas, and Mary Magdalene. When Jesus saw his mother there, and the disciple whom he loved standing nearby, he said to her, "Woman,here is your son," and to the disciple, "Here is your mother." From that time on, this disciple took her into his home.
MEDITATION
Alone among the evangelists, the "disciple whom Jesus loved," claims to have been an eyewitness to the events he records. Therefore, his accont of the commending of Mary is trustworthy. So there is the widowed Mother, as the mysterious prophecy of Simeon is fulfilled, the sword piercing her heart "too" matched by the lance about to be thrust into her Son's side -- but not before he confides her to the care of the Beloved Disciple. And while Christian art often portrays the Sorrowful Mother as crushed by the sight, overcome by an agonizing swoon only a mother who has lost the child of her womb can know, John by contrast affirms that she "stood" before the cross. Tempered by all the sorrows which went before, steeled by having kept all these things in her heart, the Woman of the New Covenant finds the strength to stand there and watch as, "it is finished." And now she assumes a new role in the mystery of redemption, for that mystery required not only the second Adam who now sleeps in death, but a new Eve as well taken from his opened side -- the Church birthed with the assistance of a Midwife who witnesses the blood and water spill forth as if from a womb. Of that Church, the Bride of Christ, she will be the exemplar and, more importantly, the Mother. As once she bore the Body of Christ she does so again. And all who profess to be his beloved disciples are entrusted, one to the other, taking her into their home.
PRAYER
O God, Father of mercies,
whose Only Begotten Son, as he hung upon the Cross,
chose the Blessed Virgin Mary, his Mother,
to be our Mother also,
grant, we pray, that with her loving help
your Church may be more fruitful day by day
and, exulting in the holiness of her children,
may draw to her embrace all the families of the peoples.
Through our Lord Jesus Christ, your Son,
who lives and reigns with you in the unity of the Holy Spirit,
God, for ever and ever. Amen.
HYMN
At the cross her station keeping,
Mary stood in sorrow weeping
When her Son was crucified.

While she waited in her anguish,
Seeing Christ in torment languish,
Bitter sorrow pierced her heart.

With what pain and desolation,
With what noble resignation,
Mary watched her dying Son.

Ever-patient in her yearning
Though her tear-filled eyes were burning,
Mary gazed upon her Son.

Christ she saw with life-blood failing,
All her anguish unavailing,
Saw him breathe his very last.

Mary, fount of love's devotion,
Let me share with true emotion
All the sorrow you endured.

At the cross, your sorrow sharing,
All your grief and torment bearing,
Let me stand and mourn with you.

Fairest maid of all creation,
Queen of hope and consolation,
Let me feel your grief sublime.

Savior, when my life shall leave me,
Through your mother's prayers receive me
With the fruits of victory.

Let me to your love be taken
Let my soul from death awaken
To the joys of Paradise.
SIXTH STATION

Mary Receives the Dead Body of Jesus (Mark 15:42-45)
It was Preparation Day (that is, the day before the Sabbath). So as evening approached, Joseph of Arimathea, a prominent member of the Council, who was himself waiting for the kingdom of God, went boldly to Pilate and asked for Jesus' body. Pilate was surprised to hear that he was already dead. Summoning the centurion, he asked him if Jesus had already died. When he learned from the centurion that it was so, he gave the body to Joseph.
MEDITATION
We might well surmise, as countless images of "the Pieta'" portray, that Joseph in turn gave the Body to Mary his mother. After all, she was the first to give the Body of Christ to the world. We are told, moreover, by Mark that in addition to the ministrations of Joseph that "Mary Magdalene and Mary the mother of Joseph" were closely observing the proceedings while Luke mentions the larger contingent of "women who had come with Jesus from Galilee." But now instead of wrapping his Body in swaddling clothes, Mary no doubt assisted in carefully winding the Body in a shroud; no longer placing it in a manger, she sees it placed in a tomb. All has now come full circle.

PRAYER
O God, when your Son was lifted high on the cross
you willed that his mother should stand beside him
and share his suffering.
Grant that your Church, joined with Mary in the passion of Christ,
may share in the glory of his resurrection.
We ask this through our Lord Jesus Christ, your Son,
who lives and reigns with you in the unity of the Holy Spirit,
God for ever and ever. Amen.
HYMN
What a sea of tears and sorrows, Did the soul of Mary toss
To and fro upon its billows While she wept her bitter loss;
In her arms her Jesus holding; Torn so newly from the Cross.
Oh, that mournful Virgin Mother, See her tears how fast they flow
Down upon His mangles Body Wounded Side and thorny Brow;
While His Hands and Feet she kisses, Picture of immortal woe.
Gentle Mother, we beseech thee, By thy tears and troubles sore;
By the death of thy dear Offspring, By the bloody wounds He bore:
Touch our hearts with that true sorrow, Which afflicted thee of yore.
SEVENTH STATION
Jesus Is Placed in the Tomb (Jn. 19:41)

At the place where Jesus was crucified, there was a garden, and in the garden a new tomb, in which no one had ever been laid.
MEDITATION
The burial scenes in the several gospels are, once again, filled with women. Joseph of Arimathea (along with Nicodemus in John's version) is by no means alone. Mark names "Mary Magdalene and Mary the mother of Joseph" as the ones "who saw where Jesus was laid." Matthew tells us "Mary Magdalene and the other Mary (the mother of James and Joseph) were sitting there opposite the tomb." Luke, always attentive to the women who feature prominently in his narrative, includes the broader group of "women who had come with Jesus from Galillee"; they followed Joseph and saw the tomb and "how the body was laid in it." John, with significance, tells us the tomb was in a garden, as if to signal that the second Adam is about to reopen gated Eden in which the tree of life has been replanted, of whose fruit we may now all eat without fear of expulsion. Without mentioning the Woman, she is no doubt there, having just been commended by Jesus as the new "mother of all the living." It is true, that in all the resurrection narratives, with all their divergence and complexity, no evangelist mentions an appearance of the Risen One to his grief-stricken Mother. Perhaps there was no need for her to be a witness to the event that lay behind the discovery of the empty tomb; this was, after all, the purpose of the several appearances of Jesus to his disciples. Nor would she, who was called blessed for having believed, need the testimony of those -- beginning with the Magdalene -- who would make the Easter proclamation, "He is risen." She uttered her "fiat" long ago, never to be revoked, when first told she was to be the Mother of One whose kingdom would have no end.
PRAYER
All-holy Father, you chose the Easter Mystery
as the way of our salvation;
grant that we, whom Jesus entrusted from the Cross
to his Virgin Mother,
may be numbered among your adopted children.
Through our Lord Jesus Christ, your Son,
who lives and reigns with you in the unity of the Holy Spirit,
God, for ever and ever. Amen.
GENERAL INTERCESSIONS
For the Church in every place;
that, by calling to mind the sorrow of the Blessed Virgin Mary
upon hearing the prophecy of Simeon,
she may offer comfort to all who advance in this life
along a path of obscurity and suffering,
to the Lord we pray: Christ, hear us. R. Christ, graciously hear us.

For the leaders of nations;
that, by remembering the sorrow of the Holy Family's flight into Egypt,
they may be moved to care for refugees
and for all who are obliged to flee from war and persecution,
to the Lord we pray: Christ, hear us. R. Christ, graciously hear us.

For parents anguishing over their children;
that, through the intercession of the Blessed Virgin Mary
and of Saint Joseph who were anguished
by the disappearance of Jesus for three days,
they may put their all their confidence in the Father,
to the Lord we pray: Christ, hear us. R. Christ, graciously hear us.

For all who bear the cross of suffering;
that, like Jesus bearing His cross, they may encounter
the Mother of Sorrows on the way, and be sustained by her compassion,
to the Lord we pray: Christ, hear us. R. Christ, graciously hear us.

For widows mourning the death of a beloved spouse;
that, by turning to Our Lady, the Virgin Widow of Saint Joseph,
they may be comforted in their solitude
and inspired to go forward with courage and trust in God,
to the Lord we pray: Christ, hear us. R. Christ, graciously hear us.

For all priests;
that in the daily offering of the Holy Sacrifice,
they may discover the nearness of the Mother of Sorrows
and, like Saint John, take her into their homes,
to the Lord we pray: Christ, hear us. R. Christ, graciously hear us.

For ourselves;
that, by remembering the sorrow of the Blessed Virgin Mary
at the entombment of her Son,
we may be strengthened in hope
and learn from her to wait in silence for the light of the resurrection,
to the Lord we pray: Christ, hear us. R. Christ, graciously hear us.

CONCLUDING PRAYER
Lord our God,
in your infinite wisdom and love,
you complete the passion of your Son
through the countless sufferings of his members.
You gave strength to the Mother of Sorrows
as she stood by the cross of your Son.
Help us to follow her example,
and stand by all her children
who need our love and comfort.
We ask this through our Lord Jesus Christ, your Son,
who lives and reigns with you and the Holy Spirit,
God, for ever and ever. Amen.
CLOSING HYMN (John Michael Talbot)
My soul proclaims the greatness of the Lord
And my spirit exalts in God my Savior
For He has looked with mercy on my lowliness
And my name will be forever exalted
For the mighty God has done great things for me
And His mercy will reach from age to age

And holy, holy, holy is His name

And holy, holy, holy is His name
Holy, holy, holy is His name