Thirty-third Sunday in Ordinary Time (A)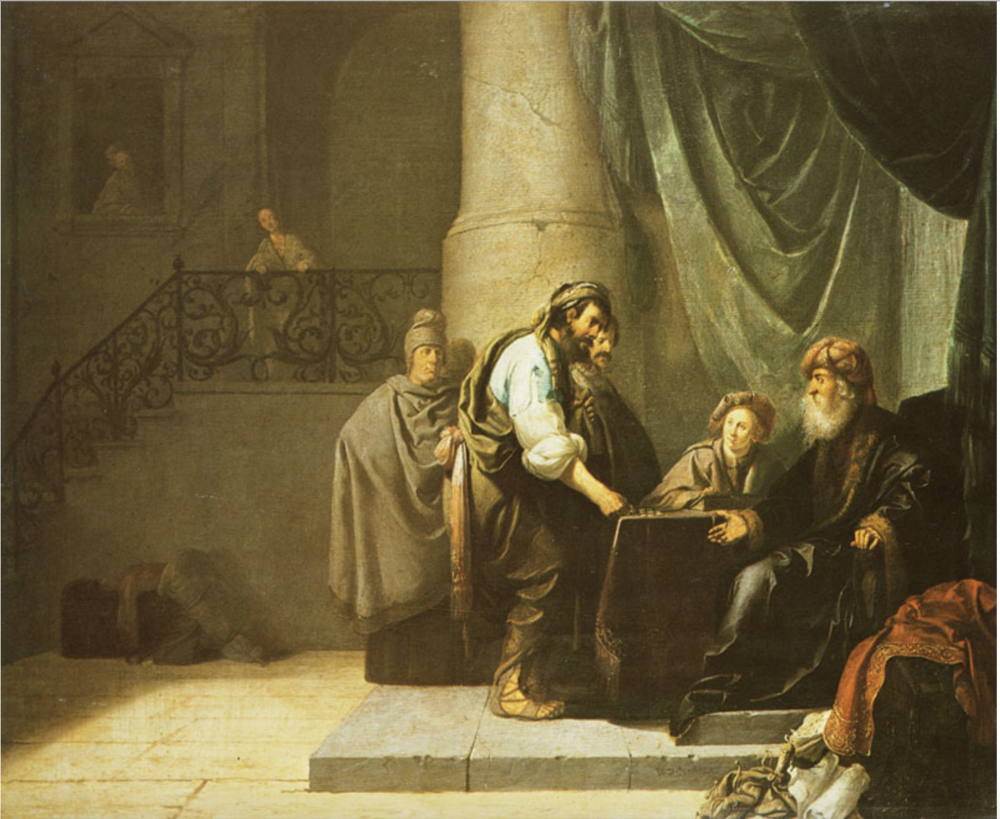 Introit
Kyrie
Gloria
Collect
Grant us, we pray, O Lord our God,
the constant gladness of being devoted to you,
for it is full and lasting happiness
to serve with constancy
the author of all that is good.
Through our Lord Jesus Christ, your Son,
who lives and reigns with you in the unity of the Holy Spirit,
God, for ever and ever. Amen.
First Reading Prv 31:10-13, 19-20, 30-31
When one finds a worthy wife, her value is far beyond pearls. Her husband, entrusting his heart to her, has an unfailing prize. She brings him good, and not evil, all the days of her life. She obtains wool and flax and works with loving hands. She puts her hands to the distaff, and her fingers ply the spindle. She reaches out her hands to the poor, and extends her arms to the needy. Charm is deceptive and beauty fleeting; the woman who fears the LORD is to be praised. Give her a reward for her labors, and let her works praise her at the city gates.
Responsorial Psalm Ps 128:1-2,3,4-5
R/. Blessed are those who fear the Lord.
Blessed are you who fear the LORD,
who walk in his ways!
For you shall eat the fruit of your handiwork;
blessed shall you be, and favored. R/.
Your wife shall be like a fruitful vine
in the recesses of your home;
Your children like olive plants
around your table. R/.
Behold, thus is the man blessed
who fears the LORD.
The LORD bless you from Zion:
may you see the prosperity of Jerusalem
all the days of your life. R/.
Second Reading 1 Thess 5:1-6
Concerning times and seasons, brothers and sisters, you have no need for anything to be written to you. For you yourselves know very well that the day of the Lord will come like a thief at night. When people are saying, "Peace and security, " then sudden disaster comes upon them, like labor pains upon a pregnant woman, and they will not escape. But you, brothers and sisters, are not in darkness, for that day to overtake you like a thief. For all of you are children of the light and children of the day. We are not of the night or of darkness. Therefore, let us not sleep as the rest do, but let us stay alert and sober.
Alleluia Jn 15:4a,5b
Gospel Mt 25:14-15,19-21
Jesus told his disciples this parable: "A man going on a journey called in his servants and entrusted his possessions to them. To one he gave five talents; to another, two; to a third, one--to each according to his ability. Then he went away. After a long time the master of those servants came back and settled accounts with them. The one who had received five talents came forward bringing the additional five. He said, 'Master, you gave me five talents. See, I have made five more.' His master said to him, 'Well done, my good and faithful servant. Since you were faithful in small matters, I will give you great responsibilities. Come, share your master's joy.'"
Catena Nova
The man who is the landowner is actually the Creator and Lord of all…. Now, one must conceive of the property of God, as those in each Country and City, who believe in Him…. He hands over [His property] to those who are under Him, to each giving a spiritual gift, so that he might have character and aptitude. We think that this distribution of the talents, is not supplied to the household servants in equal measure because, each is quite different from the other, in their understanding.… Surely those who are bound by fear and laziness will evolve into the worst evils…. The Spirit has departed from such as these and the gift of the divine gifts. But to those who are industrious, an even more lavish gift will be presented. (St. Cyril of Alexandria)
Five, two, one talent: let us take these to be the different graces granted to each, whether the five senses for the first; understanding of faith and works for the second; the reasons for distinguishing us from other creatures, for the third…. That is to say, besides the physical and material senses he had received, he added knowledge of heavenly things. … The Master welcomed the first two servants… with the same words of praise. "Come," He said, "share in your master's joy and receive what eye has not seen and ear has not heard and what has not entered the human heart" (1 Cor 2:9). What greater reward could be bestowed on a faithful servant? (St. Jerome)
No one who has received life from the Lord can say that they do not have a single talent—everyone has something, and not just one thing; everyone, therefore, has something with which to trade and make a profit. Do not look around and calculate what others have received, but take a good look at yourself and determine more precisely what lies in you and what you can gain for that which you have, and then act according to this plan without laziness. (St. Theophan the Recluse).
If we fail to live in the Light,
we shall, to our condemnation
and that of others,
be veiling over and obscuring,
by our infidelity,
the Light men so desperately need.
As we know from Scripture,
the man who received the talent
should have made it produce a heavenly profit
but instead, he preferred to hide it away
rather than put it to work
and was punished as he deserved.
Consequently, that brilliant Lamp
which was lit for the sake of our salvation
should always shine in us.
For we have the lamp
of the heavenly commandments
and spiritual grace,
to which David referred:
Your law is a lamp to my feet
and a light to my path. (St. Chromatius of Aquileia)
I have not been faithful,
nor have I traded with the talent
Thou entrusted to me,
the priceless treasure of the Christian faith …
O Truth, Thou hast justice and equity
as Thine inseparable judges…
Woe to me if, when I come before Thee,
I lack an advocate to plead my cause.
O Love, come forward on my behalf,
answer for me, sue for my pardon.
If Thou pleads my cause,
I know I still have hope of life! (St. Gertrude the Great)
When I consider how my light is spent,
Ere half my days, in this dark world and wide,
And that one Talent which is death to hide
Lodged with me useless, though my Soul more bent
To serve therewith my Maker, and present
My true account, lest he returning chide;
"Doth God exact day-labour, light denied?"
I fondly ask. But patience, to prevent
That murmur, soon replies, "God doth not need
Either man's work or his own gifts; who best
Bear his mild yoke, they serve him best. His state
Is Kingly. Thousands at his bidding speed
And post o'er Land and Ocean without rest:
They also serve who only stand and wait" (John Milton).
Do what comes to hand. Whatsoever your hand finds to do, do it with all your might. After all, God is with us. It shows too much conceit to trust to ourselves, to be discouraged at what we ourselves can accomplish. It is lacking in faith in God to be discouraged. After all, we are going to proceed with his help. We offer him what we are going to do. If he wishes it to prosper, it will. We must depend solely on him. Work as though everything depended on ourselves, and pray as though everything depended on God, as Saint Ignatius says…. But I do know how small I am and how little I can do and I beg you, Lord, to help me, for I cannot help myself…. But we are sowing the seed and it is up to him to bring the increase. It is all in his hands, and we must keep ourselves in peace, first of all. That is where peace begins. He is our peace (Dorothy Day).
Homily
I have never forgotten the Sunday when a diocesan office wanted to highlight people who serve in various ministries.

The pastor was asked to have the usual suspects stand: lectors, Communion ministers, catechists.

All well and good.

But as I scanned the congregation I saw two people who would never be recognized that day: Angie, the lady who faithfully picked up the altar linens every Saturday morning, took them home to be washed, ironed and starched and then returned to the sacristy in pristine condition.

I also saw Ralph sitting in the last pew; he had a remarkable concern for the sick and would make it a point to visit mot anyone he knew in the hospital.

Neither he nor Angie were recognized that day for their service, as if only "churchy" things mattered.

I was also reminded of my father who one day after Mass announced he was a much of a "layperson" as the man who served as lector that mornings.

This was someone who, with my mother, devoted untold hours of service to the parish by putting on dinners for bazaars, festivals and other fund-raisers.

They too would have been left out that day.
Now don't get me wrong.

I'm all for entrusting ministries to the lay faithful, men and women, whether liturgical or pastoral.

The Synthesis Report from last month's synod had this to say about it:
The lay faithful are also increasingly present and active in service within Christian communities. Many of them organize and animate pastoral communities, serve as

religious educators, theologians and formators, spiritual animators and catechists, and participate in various parish and diocesan bodies. In many regions, the life of Christian communities and the mission of the Church depends upon catechists. In addition, lay people serve in safeguarding and administration. All of these contributions are indispensable to the mission of the Church; for this reason, the acquisition of necessary competences should be provided for.
Still, we can't forget, as the same report stated, that "the lay faithful contribute in a vital way to advancing that mission in all areas and in the ordinary situations of every day."

And perhaps especially in those often hidden and humble ways of service like those I mentioned.

For the parable Jesus tells reminds us we all have different capaci­ties for service: for

to one [God] has given five talents; to another two; to a third one--to each according to his [or her] ability

(cf. G).

At the same time, the parable reminds us how our talents can be increased -- how we must not only use our gifts, but develop them as well.

Our native talents, in other words, can always become more productive.

What we must guard against is burying our talents, failing to trade with them, being negligent in living up to the full potential lying within each of us, resting on our laurels,

saying, "Peace and security"

(II).
The Parable of the Talents is a then a call to stewardship.

And the message is pretty clear: God's expectations are high, life is serious stuff, what we make of ourselves here and now has eternal consequences.

What Cardinal Newman called our "destiny of account­ability, the fate of being free, the unalienable prerogative of choosing between life and death, the inevitable prospect of heaven and hell" (
Parochial Sermons, IV, 4.)
For a day is coming,

like a thief in the night

(II), when we shall appear before God, with empty hands or full, with proof of our industry, or else of a wasted, idle life.
And please, we needn't go any farther than our daily lives to work out our salvation.

Our homes, our jobs, our neighborhoods, our churches: these are the places God calls us to invest our talent; these are the appointed fields of endeavor on behalf of God's reign. Indeed, the most ordinary things are often the most necessary for progress toward heaven, while more glamorous pursuits can be little more than distractions, if not downright detours.
For the Bible never confuses "ordinary" with "unimpor­tant".

Come to think of it, that might have been the problem with the lazy servant.

Remember, he was the one who received the least.

Maybe he resented the others who were given more.

Maybe he felt his lesser amount didn't count for much.

Perhaps he thought his talent too small for the Master to care what he did with it.

After all, why bother with something so "ordinary"?

And yet, even a single talent in the ancient world was a large sum of money--a thousand silver pieces.

So God had considerable interest in that servant, as with us.

There's plenty of equity built up in us, and every reason for a good return on God's investment.
For all of [us] are children of the light and children of the day.

We are not of the night or of darkness.

Therefore, let us not sleep as the rest do, but let us stay alert and sober

(II), as we await the coming of our Lord Jesus Christ, who lives and reigns, forever and ever.

Amen.
Intercessions
For the Church: that we may be aware of the gifts of faith, time, and opportunity that God has entrusted to us, be good stewards of these gifts, and diligently utilize them in the service of God and our neighbor.
For all who are facing an end, to a relationship, to employment, to good health, or to independent living: that God may give them hope and lead them through the pain and confusion of the adjustments that are required.
For all who are seeking employment: that God will lead them to opportunities to use their gifts and talents in life-giving and productive ways.
For all who are facing responsibilities that seem overwhelming: that God will give them courage, help them to see the small steps they need to take, and deepen their trust in God who is always with them.
For all who are suffering, immigrants, those recovering from natural disasters, and those who are grieving: that God will bring light and strength to their spirits.
For healing: that our nation may turn from adversarial conflicts and allow God to show us ways to work together to promote the common good.
For healing within local communities: that God heal the wounds caused by all forms of prejudice and discrimination so that we may all work together to confront poverty, disease, and injustice.
For the growth of peace, especially in Ukraine, Sudan and Israel-Palestine: that the Spirit will give insight to all warring parties awakening them to the value of human life and the long-term impact of violence.
For all who have died, particularly those killed by violence and natural disasters: that God will welcome them into the light and joy of God's presence forever.
O God, from whose own abundance all gifts and skills are lavishly bestowed, encourage us to use our talents as generously as you have allotted them, so that, being faithful to your purpose, we may become sharers in your glory. We ask this through Christ our Lord. Amen.
Offertory Hymn
The goodness of our God bestows
On each, though great or small,
A gift entrusted to our care
To foster, one and all;
And each will one day give report
To God, from whom we came,
On how we have, for good or ill,
Made use or waste of same.
Like a worthy wife whose working makes
A home where families live,
Or enterprising folk who coax
Small sums their fruits to give,
We too, with talents come from God
Should in their use be bold.
Not hiding them as of no use,
But valued more than gold.
The day of Christ's return will come
As thieves come in the night,
When least expected; therefore watch
And work with all your might!
Awake and sober let us be,
The children of the day,
That when Christ comes, we all may go
To meet him in his way!
Communion Antiphon
Closing Hymn (Kathleen Thomerson)
I want to walk as a child of the Light.
I want to follow Jesus.
God set the stars to give light to the world;
The star of my life is Jesus.
In him there is no darkness at all;
The night and the day are both alike;
The lamb is the Light of the city of God;
Shine in my heart Lord Jesus.
I want to see the Brightness of God;
I want to look at Jesus.
Clear Son of righteousness shine on my path,
And show me the way to the Father.

I'm looking for the coming of Christ,
I want to be with Jesus;
When we have run, with patience, the race,
We shall know the joy of Jesus.
Archives