Palm Sunday of the Lord's Passion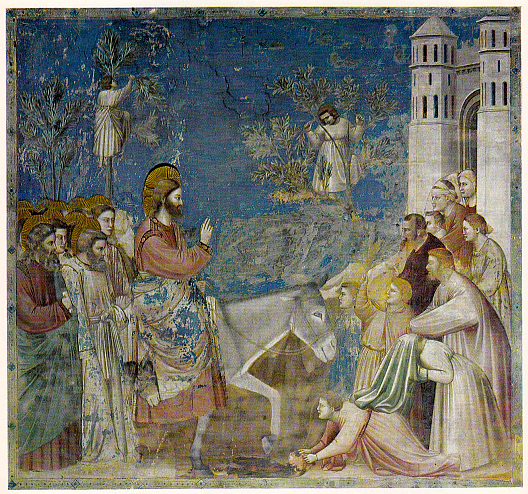 Opening Antiphon
Collect
Almighty ever-living God,
who as an example of humility for the human race to follow
caused our Savior to take flesh and submit to the Cross,
graciously grant that we may heed his lesson of patient suffering
and so merit a share in his Resurrection.
Who lives and reigns with you in the unity of the Holy Spirit,
one God, for ever and ever.
Liturgy of the Word
First Reading Isaiah 50:4-7
The Lord GOD has given me the tongue of those who are taught, that I may know how to sustain with a word him that is weary. Morning by morning he wakens, he wakens my ear to hear as those who are taught. The Lord GOD has opened my ear, and I was not rebellious, I turned not backward. I gave my back to the smiters, and my cheeks to those who pulled out the beard; I hid not my face from shame and spitting. For the Lord GOD helps me; therefore I have not been confounded; therefore I have set my face like a flint, and I know that I shall not be put to shame.
Responsorial Psalm
Second Reading Philippians 2:6-11
Christ Jesus, though he was in the form of God, did not count equality with God a thing to be grasped, but emptied himself, taking the form of a servant, being born in the likeness of men. And being found in human form he humbled himself and became obedient unto death, even death on a cross. Therefore God has highly exalted him and bestowed on him the name which is above every name, that at the name of Jesus every knee should bow, in heaven and on earth and under the earth, and every tongue confess that Jesus Christ is Lord, to the glory of God the Father.
Verse before the Gospel
The Passion of Our Lord Jesus Christ According to Matthew (27:11-54)
Jesus stood before the governor, Pontius Pilate, and the governor asked him, "Are you the King of the Jews?" Jesus said, "You have said so." But when he was accused by the chief priests and elders, he made no answer. Then Pilate said to him, "Do you not hear how many things they testify against you?" But he gave him no answer, not even to a single charge; so that the governor wondered greatly. Now at the feast the governor was accustomed to release for the crowd any one prisoner whom they wanted. And they had then a notorious prisoner, called Barab'bas. So when they had gathered, Pilate said to them, "Whom do you want me to release for you, Barab'bas or Jesus who is called Christ?" For he knew that it was out of envy that they had delivered him up. Besides, while he was sitting on the judgment seat, his wife sent word to him, "Have nothing to do with that righteous man, for I have suffered much over him today in a dream." Now the chief priests and the elders persuaded the people to ask for Barab'bas and destroy Jesus.The governor again said to them, "Which of the two do you want me to release for you?" And they said, "Barab'bas." Pilate said to them, "Then what shall I do with Jesus who is called Christ?" They all said, "Let him be crucified." And he said, "Why, what evil has he done?" But they shouted all the more, "Let him be crucified." So when Pilate saw that he was gaining nothing, but rather that a riot was beginning, he took water and washed his hands before the crowd, saying, "I am innocent of this man's blood; see to it yourselves." And all the people answered, "His blood be on us and on our children!" Then he released for them Barab'bas, and having scourged Jesus, delivered him to be crucified. Then the soldiers of the governor took Jesus into the praetorium, and they gathered the whole battalion before him. And they stripped him and put a scarlet robe upon him, and plaiting a crown of thorns they put it on his head, and put a reed in his right hand. And kneeling before him they mocked him, saying, "Hail, King of the Jews!" And they spat upon him, and took the reed and struck him on the head. And when they had mocked him, they stripped him of the robe, and put his own clothes on him, and led him away to crucify him. As they went out, they came upon a man of Cyre'ne, Simon by name; this man they compelled to carry his cross. And when they came to a place called Gol'gotha (which means the place of a skull), they offered him wine to drink, mingled with gall; but when he tasted it, he would not drink it. And when they had crucified him, they divided his garments among them by casting lots; then they sat down and kept watch over him there. And over his head they put the charge against him, which read, "This is Jesus the King of the Jews." Then two robbers were crucified with him, one on the right and one on the left.And those who passed by derided him, wagging their heads and saying, "You who would destroy the temple and build it in three days, save yourself! If you are the Son of God, come down from the cross." So also the chief priests, with the scribes and elders, mocked him, saying,"He saved others; he cannot save himself. He is the King of Israel; let him come down now from the cross, and we will believe in him. He trusts in God; let God deliver him now, if he desires him; for he said, `I am the Son of God.'" And the robbers who were crucified with him also reviled him in the same way. Now from the sixth hour there was darkness over all the land until the ninth hour.And about the ninth hour Jesus cried with a loud voice, "Eli, Eli, la'ma sabach-tha'ni?" that is, "My God, my God, why hast thou forsaken me?" And some of the bystanders hearing it said, "This man is calling Eli'jah."And one of them at once ran and took a sponge, filled it with vinegar, and put it on a reed, and gave it to him to drink. But the others said, "Wait, let us see whether Eli'jah will come to save him." And Jesus cried again with a loud voice and yielded up his spirit. And behold, the curtain of the temple was torn in two, from top to bottom; and the earth shook, and the rocks were split; the tombs also were opened, and many bodies of the saints who had fallen asleep were raised, and coming out of the tombs after his resurrection they went into the holy city and appeared to many. When the centurion and those who were with him, keeping watch over Jesus, saw the earthquake and what took place, they were filled with awe, and said, "Truly this was the Son of God!"
Reflection Questions
What has sustained you these days when you have been weary?

Where has self-emptying been most challenging or most rewarding in this time of diminishment?

Which of the characters in the passion narrative do you identify with most and would like to accompany you during this Holy Week?
Catena Nova
Let us go together to meet Christ on the Mount of Olives. Today he returns from Bethany and proceeds of his own free will toward his holy and blessed passion, to consummate the mystery of our salvation. He who came down from heaven to raise us from the depths of sin, to raise us with himself, we are told in Scripture, above every sovereignty, authority and power, and every other name that can be named, now comes of his own free will to make his journey to Jerusalem. He comes without pomp or ostentation. As the psalmist says: He will not dispute or raise his voice to make it heard in the streets. He will be meek and humble, and he will make his entry in simplicity. Let us run to accompany him as he hastens toward his passion, and imitate those who met him then, not by covering his path with garments, olive branches or palms, but by doing all we can to prostrate ourselves before him by being humble and by trying to live as he would wish. Then we shall be able to receive the Word at his coming, and God, whom no limits can contain, will be within us. In his humility Christ entered the dark regions of our fallen world and he is glad that he became so humble for our sake, glad that he came and lived among us and shared in our nature in order to raise us up again to himself. And even though we are told that he has now ascended above the highest heavens – the proof, surely, of his power and godhead – his love for man will never rest until he has raised our earthbound nature from glory to glory, and made it one with his own in heaven. So let us spread before his feet, not garments or soulless olive branches, which delight the eye for a few hours and then wither, but ourselves, clothed in his grace, or rather, clothed completely in him. (St. Andrew of Crete)
It was fitting that we who had fallen because of a tree might rise up because of a tree. Fitting that the one who had con­quered by means of a tree might also be conquered by means of a tree. Fitting that we who had eaten the fruit of death from a tree might be given the fruit of life from a tree. And because we had fallen from the security of that most blessed place on earth into this great, expansive sea,it was fitting that wood should be made ready to carry us across it. For no one cross­es the sea except on wood, or this world except on the Cross. (St. Aelred of Rievaulx)
One must not think that a person who is suffering is not praying. He is offering up his sufferings to God, and many a time he is praying much, more truly than one who goes away by himself and meditates his head off, and, if he has squeezed out a few tears, thinks that is prayer. (St. Teresa of Avila)
Mount Calvary is the mount of lovers. All love that does not take its origin from the Savior's passion is foolish and perilous. Unhappy is love without the Savior's death. Love and death are so mingled in the Savior's passion that we cannot have one in our hearts without the other. Upon Calvary, we cannot have life without love, or love without the
Redeemer's death. (St. Francis de Sales)
OUR Lord and Saviour Jesus Christ came by blood as well as by water, not only as a Fount of grace and truth—the source of spiritual light, joy, and salvation—but as a combatant with Sin and Satan, who was "consecrated through suffering." He was, as prophecy had marked Him out, "red in His apparel, and His garments like Him that treadeth in the wine-fat;" or, in the words of the Apostle, "He was clothed with a vesture dipped in blood." It was the untold sufferings of the Eternal Word in our nature, His body dislocated and torn, His blood poured out, His soul violently separated by a painful death, which has put away from us the wrath of Him whose love sent Him for that very purpose. This only was our Atonement; no one shared in the work. He "trod the wine-press alone, and of the people there was none with Him." When lifted up upon the cursed tree, He fought with all the hosts of evil, and conquered by suffering. Thus, in a most mysterious way, all that is needful for this sinful world, the life of our souls, the regeneration of our nature, all that is most joyful and glorious, hope, light, peace, spiritual freedom, holy influences, religious knowledge and strength, all flow from a fount of blood. A work of blood is our salvation; and we, as we would be saved, must draw near and gaze upon it in faith, and accept it as the way to heaven. We must take Him, who thus suffered, as our guide; we must embrace His sacred feet, and follow Him. No wonder, then, should we receive on ourselves some drops of the sacred agony which bedewed His garments; no wonder, should we be sprinkled with the sorrows which He bore in expiation of our sins! (St. John Henry Newman)
Will you remain faithful to the Crucified? . . . The world is in flames, the battle between Christ and the Antichrist has broken into the open. If you decide for Christ, it could cost you your life . . . Before you hangs the Savior on the cross . . .obedient to death . . . Your Savior hangs naked and destitute before you . . . Do not be concerned with your own body . . . The Savior hangs before you with a pierced heart . . . It is the loving heart of your Savior that invites you to follow . . .From the open heart gushes [his] blood. This extinguishes the flames of hell. Make your heart free . . . then the flood of divine love will be poured into your heart until it overflows and becomes fruitful to all the ends of the earth . (St. Edith Stein/Teresa Benedicta of the Cross)
The very form of the Cross, extending out into the four winds, always told the ancient Church that the Cross means solidarity: its outstretched arms would gladly embrace the universe. According to the Didache, the Cross is semeion epektaseos, a "sign of expansion," and only God himself can have such a wide reach: "On the Cross God stretched out his hands to encompass the bounds of the universe" (Cyril of Jerusalem). "In his suffering God stretched out his arms and embraced the world, thus prefiguring the coming of a people which would, from East to West, gather under his wings" (Lactantius). "O blessed Wood on which God was stretched out!" (Sibylline Oracles).

(There is no homily this week)
Intercessions
For all who have contracted coronavirus,
We pray for care and healing.
For those who are particularly vulnerable,
We pray for safety and protection.
For all who experience fear or anxiety,
We pray for peace of mind and spirit.
For affected families who are facing difficult decisions between food on the table or public safety,
We pray for policies that recognize their plight.
For those who do not have adequate health insurance,
We pray that no family will face financial burdens alone.
For those who are afraid to access care due to immigration status,
We pray for recognition of the God-given dignity of all.
For our brothers and sisters around the world,
We pray for shared solidarity.
For public officials and decisionmakers,
We pray for wisdom and guidance.
Father, during this time may your Church be a sign of hope, comfort and love to all.
Grant peace.
Grant comfort.
Grant healing.
Be with us, Lord. Amen.
Offertory Antiphon
Lord's Prayer
Let us pray to be delivered from all evil as Christ the Lord taught us…
Spiritual Communion
Lord Jesus Christ, on this solemn commemoration of your entry into Jerusalem and of your impending Passion, we are painfully aware this will be a Holy Week unlike any other. We are nevertheless confident of your closeness to us in this time of crisis and ask you for the grace of a spiritual Communion as once again we are deprived of the Eucharist. Be with us and with our community as we pray in Spirit and in truth throughout these days as we accompany you in the mystery of your death and rising.
Communion
Closing Hymn
Prayer of Pope Francis
O Mary,
you always shine on our path
as a sign of salvation and of hope.
We entrust ourselves to you, Health of the Sick,
who at the cross took part in Jesus' pain, keeping your faith firm.
You know what we need,
and we are sure you will provide
so that, as in Cana of Galilee,
we may return to joy and to feasting
after this time of trial.
Help us, Mother of Divine Love,
to conform to the will of the Father
and to do as we are told by Jesus,
who has taken upon himself our sufferings
and carried our sorrows
to lead us, through the cross,
to the joy of the resurrection. Amen.
Under your protection, we seek refuge, Holy Mother of God. Do not disdain the entreaties of we who are in trial, but deliver us from every danger, O glorious and blessed Virgin.