Baptism of the Lord (C)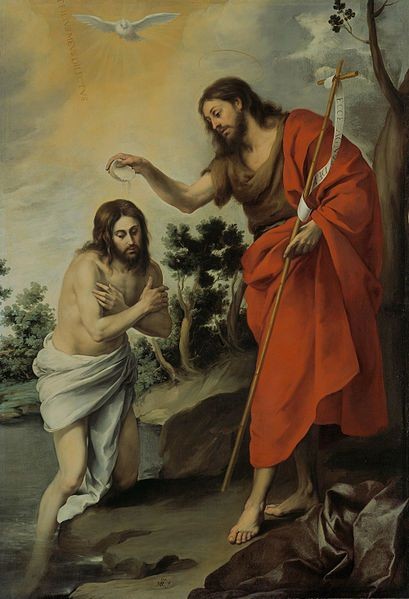 Introit
Kyrie
Gloria
Collect
Almighty ever-living God,
who, when Christ had been baptized in the River Jordan
and as the Holy Spirit descended upon him,
solemnly declared him your beloved Son,
grant that your children by adoption,
reborn of water and the Holy Spirit,
may always be well pleasing to you.
Through our Lord Jesus Christ, your Son,
who lives and reigns with you in the unity of the Holy Spirit,
one God, for ever and ever. Amen.
First Reading Is 40:1-5,9-11
Comfort, give comfort to my people,
says your God.
Speak tenderly to Jerusalem, and proclaim to her
that her service is at an end,
her guilt is expiated;
indeed, she has received from the hand of the LORD
double for all her sins.

A voice cries out:
In the desert prepare the way of the LORD!
Make straight in the wasteland a highway for our God!
Every valley shall be filled in,
every mountain and hill shall be made low;
the rugged land shall be made a plain,
the rough country, a broad valley.

Then the glory of the LORD shall be revealed,
and all people shall see it together;
for the mouth of the LORD has spoken.

Go up on to a high mountain,
Zion, herald of glad tidings;
cry out at the top of your voice,
Jerusalem, herald of good news!
Fear not to cry out
and say to the cities of Judah:
Here is your God!
Here comes with power
the Lord GOD,
who rules by a strong arm;
here is his reward with him,
his recompense before him.
Like a shepherd he feeds his flock;
in his arms he gathers the lambs,
carrying them in his bosom,
and leading the ewes with care.
Responsorial Psalm Ps 104:1b-2, 3-4, 24-25,27-28,29-30
R/. O bless the Lord, my soul.
O LORD, my God, you are great indeed!
you are clothed with majesty and glory,
robed in light as with a cloak.
You have spread out the heavens like a tent-cloth;

You have constructed your palace upon the waters.
You make the clouds your chariot;
you travel on the wings of the wind.
You make the winds your messengers,
and flaming fire your ministers.

How manifold are your works, O LORD!
In wisdom you have wrought them all--
the earth is full of your creatures;
the sea also, great and wide,
in which are schools without number
of living things both small and great.

They look to you to give them food in due time.
When you give it to them, they gather it;
when you open your hand, they are filled with good things.

If you take away their breath, they perish and return to the dust.
When you send forth your spirit, they are created,
and you renew the face of the earth.
Second Reading Ti 2:11-14, 3:4-7
Beloved:
The grace of God has appeared, saving all
and training us to reject godless ways and worldly desires
and to live temperately, justly, and devoutly in this age,
as we await the blessed hope,
the appearance of the glory of our great God
and savior Jesus Christ,
who gave himself for us to deliver us from all lawlessness
and to cleanse for himself a people as his own,
eager to do what is good.

When the kindness and generous love
of God our savior appeared,
not because of any righteous deeds we had done
but because of his mercy,
He saved us through the bath of rebirth
and renewal by the Holy Spirit,
whom he richly poured out on us
through Jesus Christ our savior,
so that we might be justified by his grace
and become heirs in hope of eternal life.
Alleluia Cf/ Lk 3:16
Gospel Lk 3:15-16, 21-22
The people were filled with expectation,
and all were asking in their hearts
whether John might be the Christ.
John answered them all, saying,
"I am baptizing you with water,
but one mightier than I is coming.
I am not worthy to loosen the thongs of his sandals.
He will baptize you with the Holy Spirit and fire."

After all the people had been baptized
and Jesus also had been baptized and was praying,
heaven was opened and the Holy Spirit descended upon him
in bodily form like a dove.
And a voice came from heaven,
"You are my beloved Son;
with you I am well pleased."

Reflection Questions

How have you experienced comfort in this Christmas season?
What does it mean to live temperately, justly, and devoutly in this age?
How is God well-pleased with you?
Catena Nova
Jesus came to John, and received baptism at his hands. Could anything be more wonderful? The boundless river that gladdens the City of God is washed by a few drops of water. The source without limits that engenders life for all humanity and is beyond all understanding is covered by the poor waters of this world. He who is present everywhere and is absent nowhere, incomprehensible to the angels and withdrawn from the gaze of man, has come to baptism as was his good pleasure, And behold the heavens were opened to him, and a voice was heard saying: This is my beloved Son with whom am well pleased. One who is loved generates love, and an immaterial light generates light inaccessible. This is he who is called the son of Joseph, and he is my only-begotten according to the divine essence. This is my beloved Son. Hungry is he who nourished unnumbered thousands, toiling is he who refreshes the toilers; he has nowhere to lay his head but controls all things by his hand; he suffers and yet heals all suffering; he is buffeted by blows and presents the world with freedom; he is pierced in his side and restores the side of Adam.... The Father of immortality sent his immortal Son and Word into the world. He came to human beings to wash them with the Spirit. To regenerate us to incorruptibility, of mind and body, he breathed into us the spirit of life, and clothed us with the armour of incorruptibility.... To him be glory and power with his sacred, good and quickening Spirit, both now and always and to all ages of eternity. Amen (St. Hippolytus of Rome).
Those who are enlightened see the way that really leads to God, into the Promised Land that is the Kingdom of Heaven. That way is the perfect fulfillment of God's holy will. Christ is baptized by entering the river on whose other band is the Promised Land and he enters it by giving himself totally to the Heavenly Father's will. Let's go with Him down into the waters that wash away every other love than that of God. If we do this we may come up with Christ into the Kingdom! As John was baptizing Jesus presented himself. He came to show the way to sanctification and to hallow all who walk in that way, even the very person who was to baptize him. Certainly, he was to leave behind the Old Adam, who did his own will and not the Heavenly Father's. He was preparing the way for us by hallowing the waters. He who is both flesh and spirit will baptize with the water of this world and with the Holy Spirit to save both.... Let us pay homage to Christ and to his baptism. This is the day to keep a Feast and celebrate. This is the day to dedicate ourselves to being wholly purified and to keeping ourselves pure. God delights in nothing so much as conversion with turning to his will. For our benefit every saving word is spoken and all the mysteries revealed. We are to be lights in the world and to receive power to give life to others. We first have to receive enlightenment ourselves. Then we have a clearer and fuller understanding of divine truth than ever before. It comes to us from the one Godhead who dwells in Jesus Christ. He is our Lord! Let us give him glory and love him for ever and ever (St. Gregory Nazianzen).

Christ had no need to be cleansed for he had never walked in any way but that of giving himself to the Heavenly Father. Yet he had to show us how to walk this way. Therefore he was baptized by John. As he came up from the water the heavens opened above him and the Father's voice was heard: This is my beloved Son in who I am well pleased!" And the Spirit of God descended upon him like a dove. Thus was revealed to all who looked on or who heard of this happening, the significance of the person to whom Heaven and Heaven's God had testified. Having believed, it was their task to walk in the same way. We are now called to be voices crying out to all the Way of the Lord. Are you doing that? Even if you seem to do very little, the simple effort to be a Voice for Christ's coming testifies to the working of the Spirit in you. Rejoice and be glad. God's gift is filling and transforming you (St. Gregory Palamas).
Christ shared features of all three states in which people have found themselves: the state of innocence, of guilt, and of glory. He shared the sight of God with the saints' state of glory, immunity from sin with Adam's state of innocence, and the necessity of suffering this life's pains with our state of guilt. And because he himself suffered and was tried, he has the power to help others who are tried. It was fitting for the Son of God to take on a body subject to human weaknesses and failings....doing this buttressed our faith in his Incarnation: we know human nature only with such failings, and if he had taken a nature without them he would not have seemed real but imaginary. So he emptied himself, taking the form of a servant, born in human likeness.... by courageously bearing human sufferings and failing, the Word of God gave us an example of patience (St. Thomas Aquinas).
Jesus came into the company of publicans, sinners, and Pharisees as if he were one of them, and waited his turn to be baptized. Whenever Christ humbled himself, he was glorified in some manner. He was born in a stable and praised with music from heaven; he was circumcised like any sinner and was given the name of Jesus, which means Savior of sinners; he would die on a cross between two thieves and the heavens would become dark, the earth would tremble, rocks would split, the dead would come to life, and all the elements would be affected. So also in this event; he is the Son of God. From this all his disciples can know that never again will they be humbled for the love of God without being glorified by the same God (Ven. Louis of Grenada).
Our life in Christ that began with our baptism has been renewed. Christ our God has led us from death to life. No matter how long ago the day of our baptism, time and space count for nothing in the sacred mystery. It has happened now; it is now that we have put on the new being (Aemiliana Löhr).
We celebrate our own baptism on this day as we follow Jesus to the river Jordan, see the dove for ourselves and listen to the voice from Heaven proclaim us sons and daughters of God. Our baptism, too, is a call to spread God's love and favor to others. We are used to living in a culture built on wrath and disfavor, where we bind and oppress captives rather than free them. The call of baptism is a constant call to leave this culture of wrath to journey towards a culture of love and the freeing of captives. Isaiah's prophecy of Israel's return from exile gives us powerful images for our own return from exile through baptism. Isaiah grounds this call in creation, linking baptism with God's calling us into being. The journey is arduous, as Jesus' journey in the desert was an arduous testing by Satan. We will pass through waters and rivers but God will be with us and they will not overwhelm us. We will walk through fire but the flame will not consume us. (Is. 43: 2) As with the Flood from which Noah was delivered and the waters of the Red Sea through which the Israelites fled from Egypt, we can see the waters and the fire as images of the wrathful culture that is trying to pull us back. In his exuberance, Isaiah himself stumbles by suggesting that other nations are given in ransom for the freeing and gathering of Israel. Jesus' baptism, on the other hand, is the first step of bearing the sins of all people so that he will be a ransom for everybody, Egypt, Ethiopia, and even Babylon, included. Each of us receives a unique call to play our part in the baptismal journey. Can we hear the voice from Heaven declaring God's love for us and moving us in the direction we are each to go to perform our part of the journey? (Abbot Andrew Marr)
Homily
Now Appearing
You could grab a piece of Licorice Pizza..... Watch the Jets and the Sharks rumble in West Side Story.... Take a trip into the Matrix....Perhaps you might want to Sing 2 or even help Spiderman find a way home. These are a few Hollywood features seen (by however few people) in various films this Christmas season. Trailers announce the coming attractions weeks ahead of time in a kind of cinematic Advent. Television and newspaper ads, online reviews, posters and marquees, all tell of stars "now appearing" – Rita Moreno, Tom Holland and Keanu Reeves among others – most of whom I've never heard of! All in hopes of appearing on stage during the Solemnity of Oscar Night.
It's always interesting to compare the symbols and rituals of secular liturgies with the features "now playing" in church. And while Christmas has been appearing in department stores since Halloween, it seems to have pretty much disappeared by now. It's practically over before it begins - if you follow the world's calendar rather than the church's. Trees discarded, decorations taken down, carols silenced, poinsettias tossed. Unless, of course, you count the post-holiday sales which lead a solemn procession through the Christmas Octave. After all, shopkeepers need to clear the shelves to make room for spring merchandise and the Easter bunny – weeks before Lent even begins.
In church, however, the Christmas season lasts well beyond Boxing Day. Indeed, the appearance of the glory of the great God and of our savior Jesus Christ (Ti. 2:13) has a sequel on Epiphany -- the Twelfth Day of Christmas -- without however, any lords a leaping or a partridge in a pear tree. But there is gold, frankincense, and myrrh. And a Star whose storyline is rather different from the ones Hollywood screenwriters portray.
Indeed, Epiphany -- the word means "appearing"-- contrasts with the stars that herald the arrival of the world's lights. For the Christ comes in forms that would never earn him an Oscar, except perhaps for costume design, since his epiphany keeps him well-disguised. To the Magi from the East he appears in the form of a Child soon to be hounded from his home by a murderous tyrant. At the Jordan River he appears to John in the form of a sinner needing a baptism of repentance despite John's being unworthy to loosen the thongs of his sandals (G). And to the people of Cana, he appears among the guests who came to a wedding feast where people had too much to drink. These three "epiphanies" of the Lord commemorated in the Christmas season seem like anything but "appearing." And to all but a few, who saw beyond appearances, the Lord's Epiphany concealed more than it revealed.
Which is perhaps the biggest contrast of all between secular and Christian liturgy. The former requires glitz – lights, cameras, and action -- but the latter demands we reject godless ways and worldly desires (II). The former loves stars made of terrazzo and brass on the Hollywood Walk of Fame; the latter settles for a star that appears and then disappears, only to reappear again, making its followers traverse "field and fountain, moor and mountain," wondering if it's leading them anywhere. The former liturgy is awed by vulgar display, the latter is content with realities hidden beneath signs and symbols. And finally, the former rites provide avenues of escape from the humdrum of daily life, but the latter a way to live temperately, justly, and devoutly in this age (II).
For it appears God would be known as one like us, coming in human likeness and found human in appearance (Phil. 2:7). And not in the larger than life figures who fill the silver screen: superheroes, royalty, and political powerbrokers. But the secret is under wraps, so to speak. Like the Mystery "now appearing" in churches everywhere -- still hidden under the form of Bread and Wine --the appearance of the glory of the great God and of our savior Jesus Christ (II). Who lives and reigns, forever and ever. Amen.
Creed
Intercessions (cf. Archdiocese of Kingston)
My brothers and sisters, to God who has revealed his loving mercy in his Son, let us pray for the good of the Church, our on-going conversion as baptized disciples of Jesus, and the salvation of all people.
[The following prayers were offered by Pope Francis on Christmas Day during his Urbi et Orbi Blessings]:
Let us think of the people of Syria, who for more than a decade have experienced a war that has resulted in many victims and an untold number of displaced persons. Let us look to Iraq, which still struggles to recover from a lengthy conflict. Let us listen to the cry of children arising from Yemen, where an enormous tragedy, overlooked by everyone, has silently gone on for years, causing deaths every day.
Let us recall, too, the continuing tensions between Israelis and Palestinians that drag on without a resolution, with ever more serious social and political consequences. Nor should we forget Bethlehem, the place of Jesus' birth, which is experiencing hardship also from the economic repercussions of the pandemic, preventing pilgrims from visiting the Holy Land and adversely affecting the life of the people. Let us think of Lebanon, which is undergoing an unprecedented crisis, accompanied by very troubling economic and social conditions.
Baby Jesus, grant peace and concord to the Middle East and the whole world. Sustain all those who provide humanitarian aid to peoples forced to flee from their homelands; comfort the Afghan people, who for more than forty years have been sorely tested by conflicts that have driven many to leave the country.
King of all peoples, help political authorities bring peace to societies roiled by tension and conflict. Sustain the people of Myanmar, where intolerance and violence not infrequently target the Christian community and its places of worship, clouding the peaceful countenance of that people.
Be a source of light and support for all those who believe in and strive, despite all obstacles, to advance encounter and dialogue. In Ukraine, prevent fresh outbreaks of a long-festering conflict.
Prince of Peace, help Ethiopia to find once again the path of reconciliation and peace through a forthright encounter that places the needs of the people above all else. Listen to the plea of those living in the Sahel region, who experience the violence of international terrorism. Turn your gaze to the peoples of the countries of North Africa, tormented by divisions, unemployment and economic inequality. Alleviate the pain of our many brothers and sisters who suffer from internal conflicts in Sudan and South Sudan.
Grant that, through dialogue, mutual respect and recognition of the rights and cultural values of every human being, the values of solidarity, reconciliation and peaceful coexistence may prevail in the hearts of the peoples of the Americas.
Son of God, comfort the victims of violence against women, which has increased in this time of pandemic. Offer hope to young children and adolescents suffering from bullying and abuse. Show consolation and warmth to the elderly, especially those who feel most alone. Give serenity and unity to families, the first educators of their children and the basis of the fabric of society.
God-with-us, grant health to the infirm and inspire all men and women of good will to seek the best ways possible to overcome the current health crisis and its effects. Open hearts to ensure that necessary medical care – and vaccines in particular – are provided to those peoples who need them most. Repay those who generously devote themselves to caring for family members, the sick and the most vulnerable in our midst.
Child of Bethlehem, grant that the many military and civilian prisoners of war and recent conflicts, and all those imprisoned for political reasons, may soon return home. Do not leave us indifferent before the tragic situation of migrants, displaced persons and refugees. Their eyes beg us not to look the other way, ignoring our common humanity, but instead to make their stories our own and to be mindful of their plight.
Eternal Word become flesh, make us attentive to our common home, which is suffering from the carelessness with which we so often treat it. Inspire political leaders to reach effective agreements, so that future generations can live in an environment respectful of life.
Open the heavens,
almighty Father,
and pour out your Spirit
upon your people gathered in prayer.
Renew the power of our baptismal cleansing
and fill us with zeal for good deeds.
Let us hear your voice once again,
that we may recognise in your beloved Son
our hope of inheriting eternal life.
Grant this through Christ our Lord. Amen. (ICEL; 1998)
Interlude
Listen, O heaven, and earth, dance for joy!
Christ God is baptized, sin's pow'r to destroy!
Thus He cleanses us from sin,
And for us new life does win,
Gift from above.

Jordan's flood rushes on; cleansing, its flow,
There John the Baptist in awe bows down low.
The Master before him stands:
He dares not stretch out his hands,
God thus to know.
Jesus, Creator, ere all times began,
Tells John then, "Baptize me, fulfilling God's plan!"
See John in fear retreat;
"Ask it not – it is not meet,
God washed by man!"
Then John baptizes the Master, the Lord;
Shattered, the pow'rs of hell fall down, adore!
By water Christ sets on fire
(Through the Cross) a fearsome pyre:
Hell's myriad host.
"This is the Lamb of God!" startled John cries.
"On His strong shoulder our sin's burden lies.
In Jordan He washes all
Stained by father Adam's fall;
Satan destroys!"
See in dove's likeness the Spirit descends,
Over the head of Christ rests there, attends;
The heavens are opened wide
And the Father's loving voice
Said of the Son:
"This is my Son beloved, listen to Him;
On Him my favor rests, He is my own;
The Kingdom prepares for all,
Earth renewing by His call;
Listen to Him!"
(Spiritual Communion)

After the Lord's Prayer, welcome the Lord, conscious of being God's beloved child, and seek the grace of openness to hear all that God is speaking at this time in your life and in the world.
Thanksgiving
When you were baptized in the Jordan, O Lord,
the worship of the Trinity was revealed to the world.
For the voice of the Father witnessed to you
by calling you "His beloved Son,"
and the Spirit in the form of a dove
confirmed the truth of His word.
O Christ our God, You have appeared to us
and enlightened all the world!
Glory to you!
Closing Hymn
When John baptized by Jordan's river
in faith and hope the people came,
that John and Jordan might deliver
their troubled souls from sin and shame.
They came to seek a new beginning,
the human spirit's ageless quest,
repentance, and an end of sinning,
renouncing every wrong confessed.
There as the Lord, baptized and praying,
rose from the stream, the sinless one,
a voice was heard from heaven saying,
`This is my own beloved Son.'
There as the Father's word was spoken,
not in the power of wind and flame,
but of his love and peace the token,
seen as a dove, the Spirit came.
O Son of Man, our nature sharing,
in whose obedience all are blest,
Saviour, our sins and sorrows bearing,
hear us and grant us this request:
daily to grow, by grace defended,
filled with the Spirit from above;
in Christ baptized, beloved, befriended,
children of God in peace and love.
Archives