Third Sunday of Easter (A)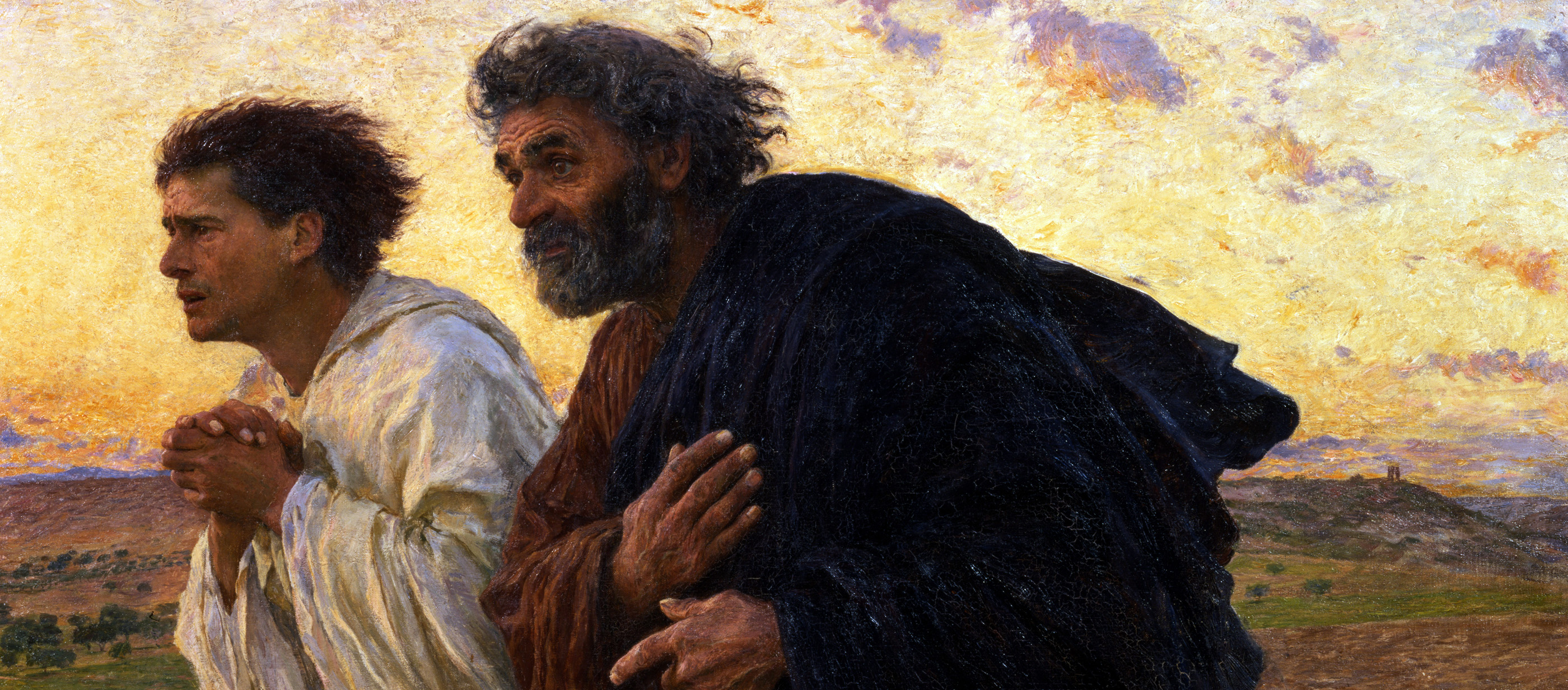 Introit
Collect
May your people exult for ever, O God,
in renewed youthfulness of spirit,
so that, rejoicing now in the restored glory of our adoption,
we may look forward in confident hope
to the rejoicing of the day of resurrection.
Through our Lord Jesus Christ, your Son,
who lives and reigns with you in the unity of the Holy Spirit,
one God, for ever and ever.
Liturgy of the Word
First Reading Acts 2:14, 22-33
Peter, standing with the eleven, lifted up his voice and addressed them, "Men of Judea and all who dwell in Jerusalem, let this be known to you, and give ear to my words. "Men of Israel, hear these words: Jesus of Nazareth, a man attested to you by God with mighty works and wonders and signs which God did through him in your midst, as you yourselves know -- this Jesus, delivered up according to the definite plan and foreknowledge of God, you crucified and killed by the hands of lawless men. But God raised him up, having loosed the pangs of death, because it was not possible for him to be held by it. For David says concerning him, `I saw the Lord always before me, for he is at my right hand that I may not be shaken; therefore my heart was glad, and my tongue rejoiced; moreover my flesh will dwell in hope. For thou wilt not abandon my soul to Hades, nor let thy Holy One see corruption. Thou hast made known to me the ways of life; thou wilt make me full of gladness with thy presence.' "Brethren, I may say to you confidently of the patriarch David that he both died and was buried, and his tomb is with us to this day. Being therefore a prophet, and knowing that God had sworn with an oath to him that he would set one of his descendants upon his throne, he foresaw and spoke of the resurrection of the Christ, that he was not abandoned to Hades, nor did his flesh see corruption. This Jesus God raised up, and of that we all are witnesses. Being therefore exalted at the right hand of God, and having received from the Father the promise of the Holy Spirit, he has poured out this which you see and hear.
Responsorial Psalm
Keep me, O God, for in you I take refuge;
I say to the LORD, "My LORD are you."
O LORD, my allotted portion and my cup,
you it is who hold fast my lot.
I bless the LORD who counsels me;
even in the night my heart exhorts me.
I set the LORD ever before me;
with him at my right hand I shall not be disturbed.
Therefore my heart is glad and my soul rejoices,
my body, too, abides in confidence;
because you will not abandon my soul to the netherworld,
nor will you suffer your faithful one to undergo corruption.
You will show me the path to life,
abounding joy in your presence,
the delights at your right hand forever.
Second Reading 1 Peter 1:17-21
If you invoke as Father him who judges each one impartially according to his deeds, conduct yourselves with fear throughout the time of your exile. You know that you were ransomed from the futile ways inherited from your fathers, not with perishable things such as silver or gold, but with the precious blood of Christ, like that of a lamb without blemish or spot. He was destined before the foundation of the world but was made manifest at the end of the times for your sake. Through him you have confidence in God, who raised him from the dead and gave him glory, so that your faith and hope are in God.
Verse before the Gospel
Gospel Luke 24:13-35
That very day two of them were going to a village named Emma'us, about seven miles from Jerusalem, and talking with each other about all these things that had happened. While they were talking and discussing together, Jesus himself drew near and went with them. But their eyes were kept from recognizing him. And he said to them, "What is this conversation which you are holding with each other as you walk?" And they stood still, looking sad. Then one of them, named Cle'opas, answered him, "Are you the only visitor to Jerusalem who does not know the things that have happened there in these days?" And he said to them, "What things?" And they said to him, "Concerning Jesus of Nazareth, who was a prophet mighty in deed and word before God and all the people, and how our chief priests and rulers delivered him up to be condemned to death, and crucified him. But we had hoped that he was the one to redeem Israel. Yes, and besides all this, it is now the third day since this happened. Moreover, some women of our company amazed us. They were at the tomb early in the morning and did not find his body; and they came back saying that they had even seen a vision of angels, who said that he was alive. Some of those who were with us went to the tomb, and found it just as the women had said; but him they did not see." And he said to them, "O foolish men, and slow of heart to believe all that the prophets have spoken! Was it not necessary that the Christ should suffer these things and enter into his glory?" And beginning with Moses and all the prophets, he interpreted to them in all the scriptures the things concerning himself. So they drew near to the village to which they were going. He appeared to be going further, but they constrained him, saying, "Stay with us, for it is toward evening and the day is now far spent." So he went in to stay with them. When he was at table with them, he took the bread and blessed, and broke it, and gave it to them. And their eyes were opened and they recognized him; and he vanished out of their sight. They said to each other, "Did not our hearts burn within us while he talked to us on the road, while he opened to us the scriptures?" And they rose that same hour and returned to Jerusalem; and they found the eleven gathered together and those who were with them, who said, "The Lord has risen indeed, and has appeared to Simon!" Then they told what had happened on the road, and how he was known to them in the breaking of the bread.
Reflection Questions
How have these days of social distancing made the image of "exile" more meaningful than before?
What makes your heart "burn within you?"
How has this unforeseen Eucharistic "fast" challenged your knowing Christ in the "breaking of the bread?"
Catena Nova
During these days the Lord joined two of his disciples as their companion on the road, and by chiding them for their timidity and hesitant fears he swept away all the clouds of our uncertainty. Their lukewarm hearts were fired by the light of faith and began to burn within them as the Lord opened up the Scriptures. And as they shared their meal with him, their eyes were opened in the breaking of bread, opened far more happily to the sight of their own glorified humanity than were the eyes of our first parents to the shame of their sin. Throughout the whole period between the resurrection and ascension, God's providence was at work to instill this one lesson into the hearts of the disciples, to set this one truth before their eyes, that our Lord Jesus Christ, who was truly born, truly suffered and truly died, should be recognized as truly risen from the dead. The blessed apostles together with all the others had been intimidated by the catastrophe of the cross, and their faith in the resurrection had been uncertain; but now they were so strengthened by the evident truth that when their Lord ascended into heaven, far from feeling any sadness, they were filled with great joy. Indeed that blessed company had a great and inexpressible cause for joy when it saw man's nature rising above the dignity of the whole heavenly creation, above the ranks of angels, above the exalted status of archangels. Nor would there be any limit to its upward course until humanity was admitted to a seat at the right hand of the eternal Father, to be enthroned at last in the glory of him to whose nature it was wedded in the person of the Son. (Pope St. Leo the Great)
You have heard the account of the two disciples who met the Lord on the road to Emmaus and yet did not recognize him. When he met them, they had lost all hope of the redemption that is in Christ, they were convinced that the Master was dead like any other man, they did not realize that Jesus inasmuch as he is Son of God was still alive. According to them he had left this life without being able to return, like one of the many prophets. Then the Lord revealed to them the meaning of the Scriptures. Beginning with Moses and quoting one prophet after another he showed that everything that he had suffered had been foretold. After that, he appeared to the eleven disciples and they thought they were seeing a ghost. So Jesus let them touch him, the one who had let himself be crucified. He was crucified by his enemies and touched by his friends. He healed them all , the former of their wickedness, the latter of their unbelief. Yet the Lord did not consider it was sufficient to allow them to touch him. He wanted to appeal to the Scriptures to confirm their hearts in the faith. He saw us in anticipation, who had not yet been born, who do not have a chance to touch Christ but do have the opportunity to read about him.
The Apostles believed because they had touched him. But what can folk like us do? By now Christ is ascended into heaven and will only return at the end to judge the living and the dead. On what base shall we build our faith, unless it be those Scriptures with which the Lord wanted to confirm the faith of those who touched him? He revealed to them the meaning of the Scriptures and showed how it was necessary that the Christ should fulfil all that had been written about him in the books of the Law of Moses, in the Prophets, and in the Psalms. The Lord went through the whole Old Testament. He seemed to span it all in his embrace. The Scriptures are in fact, in any passage you care to choose, singing of Christ, provided we have ears that are capable of picking out the tune. The Lord opened the minds of the Apostles so that they understood the Scriptures. That he will open our minds too is our prayer. (St. Augustine of Hippo)
At the Day of Judgment we shall see the Flesh of Our Lord shine through the glorified body of those who have received Him worthily on earth, as we see gold shine in copper, or silver in lead. When we have just communicated, if we were asked, "What are you carrying away to your home?" we might answer, "I am carrying away Heaven. " A saint said that we were Christ-bearers. It is very true; but we have not enough faith. We do not comprehend our dignity. When we leave the holy banquet, we are as happy as the Wise Men would have been, if they could have carried away the Infant Jesus. Take a vessel full of liquor, and cork it well – you will keep the liquor as long as you please. So if you were to keep Our Lord well and recollectedly, after Communion, you would long feel that devouring fire which would inspire your heart with an inclination to good and a repugnance to evil. When we have the good God in our heart, it ought to be very burning. The heart of the disciples of Emmaus burnt within them from merely listening to His voice. (St. John Vianney)
The idea that Christ brings with him the key to the Old Testament can be found throughout the Gospels, not only in the interpretations Jesus offers but also, significantly, in a number of scenes that occur after the Resurrection and are already (so it seems to me) dominated by the outpouring of truth — in other words, by the power of interpretation that is bestowed on humankind by the Passion of Christ. In the Christian world, it is always a question of re-reading not from the end but from beyond this end; in the light of this beyond, former perspectives are shown to be false. Western culture as a whole, whether Christian or post-Christian, is under the illusion that it is moving further and further away from Christ, like the Emmaus disciples, while it retains a false, sacrificial conception of him. It is struggling to rid itself of Christ for good. But at the very point when it is under the impression of moving in quite a different direction, Christ is to be found beside it, as he has been for a long time, "opening the Scriptures." (René Girard)
One of the richest and most sophisticated texts of the New Testament is the passage at the end of Luke's gospel where two demoralized disciples are walking to Emmaus. They don't recognize the traveler who joins them, nevertheless it is he who explains to them the meaning of what has just happened in Jerusalem, and he does so making use of the whole Torah and the Prophets, starting with Moses. That is to say, he makes available a new and unheard of interpretation of scripture so that they might find a new meaning in their lives and be empowered by this interpretation, until the moment when they recognize their companion in the breaking of the bread, and he vanishes. Well, you all know the story, and we all know that it is a basic text for the understanding of the Eucharist: the presence of the Lord who interprets scripture, making it possible for the hearers to restructure their own imagination, and, duly fired up, go out to reconstruct the world. Well, I'd like to draw attention to one element of this story, a story which offers not so much a key to reading scripture as an ongoing hermeneutical principle which we do not control, and which is alive independently of us and transforms us. This element is indispensable for those of us who are trying to imagine the catholic faith in the third millennium. It is the fact, little commented, that what is odd about the Emmaus story is that it is a dead man who is talking. I think it very important that we don't make the separation which we are accustomed to when talking about the risen Jesus, imagining that he is alive, and for that reason, not dead. No, what is fascinating about the doctrine of the resurrection is that it is the whole human life of Jesus, including his death, which is risen. The life of God, since it is totally outside the order of human life and human death, doesn't cancel death, as if it were a sickness which is to be cured, but takes it up, assumes it. Luke offers us a vision of a risen Jesus who has not ceased to be a dead man, and who, starting from his living-out-being-a-crucified-man, teaches and empowers his disciples by his presence. (James Alison)
The Eucharist is light above all because at every Mass the liturgy of the Word of God precedes the liturgy of the Eucharist in the unity of the two "tables", the table of the Word and the table of the Bread. This continuity is expressed in the Eucharistic discourse of Saint John's Gospel, where Jesus begins his teaching by speaking of the mystery of his person and then goes on to draw out its Eucharistic dimension: "My flesh is food indeed, and my blood is drink indeed" (Jn 6:55). We know that this was troubling for most of his listeners, which led Peter to express the faith of the other Apostles and of the Church throughout history: "Lord, to whom can we go? You have the words of eternal life" (Jn 6:68). In the account of the disciples on the road to Emmaus, Christ himself intervenes to show, "beginning with Moses and all the prophets", how "all the Scriptures" point to the mystery of his person (cf. Lk 24:27). His words make the hearts of the disciples "burn" within them, drawing them out of the darkness of sorrow and despair, and awakening in them a desire to remain with him: "Stay with us, Lord" (cf. v. 29)….The two disciples of Emmaus, upon recognizing the Lord, "set out immediately" (cf. Lk24:33), in order to report what they had seen and heard. Once we have truly met the Risen One by partaking of his body and blood, we cannot keep to ourselves the joy we have experienced. The encounter with Christ constantly intensified and deepened in the Eucharist, issues in the Church and in every Christian an urgent summons to testimony and evangelization. (Pope St. John Paul II)
Through the intercession of the Blessed Virgin Mary, may the Holy Spirit kindle within us the same ardour experienced by the disciples on the way to Emmaus (cf. Lk 24:13-35) and renew our "Eucharistic wonder" through the splendour and beauty radiating from the liturgical rite, the efficacious sign of the infinite beauty of the holy mystery of God. Those disciples arose and returned in haste to Jerusalem in order to share their joy with their brothers and sisters in the faith. True joy is found in recognizing that the Lord is still with us, our faithful companion along the way. The Eucharist makes us discover that Christ, risen from the dead, is our contemporary in the mystery of the Church, his body. Of this mystery of love we have become witnesses. Let us encourage one another to walk joyfully, our hearts filled with wonder, towards our encounter with the Holy Eucharist, so that we may experience and proclaim to others the truth of the words with which Jesus took leave of his disciples: "Lo, I am with you always, until the end of the world" (Mt 28:20). (Pope Benedict XVI)
Homily
THIRD SUNDAY OF EASTER (A)
Readings: Acts 2:14,22-28; 1 Pt. 1:17-21; Lk. 24:13-35
Seeking Recognition
Should they have known better? After all, what makes a Messiah a Messiah? It's not like someone goes to school and gets a diploma to prove he or she is the real thing. Even the credentials mentioned by Peter are easy to fake -- mighty deeds, wonders, and signs (I). People are so gullible when it comes to religion that before you know it, some self-appointed Messiah gets a following, a set of beliefs, starts a church. And the Messiah business is flourishing. And if not the Messiah, someone who feels sure he or she is an authorized spokesperson on the Anointed One's behalf. Like this past week when Pat Robertson, who once upon a time was sure God was calling him to be president, announced that the pandemic is a divine chastisement due to abortion and gay marriage. Funny how his ilk never thinks there could be any divine displeasure in their support for the "Anointed King Cyrus" they helped install in the White House.
So you have to wonder, "How do you recognize the real Messiah?" The one Peter goes on to say was known be­fore the foundation of the world (II)? After all, the list of pretenders is pretty long. Remember Jim Jones who led his followers to suicide in the jungles of Guyana? Or David Koresh, leader of the Branch Davidians, burned beyond recognition in the ruins of their Waco, Texas compound? And don't forget M.H. Applewhite who led the Heaven's Gate cult to mass suicide in San Diego. Less obvious are the siren songs we hear all the time from the media, from advertisers, from a culture mad for profit and pleasure. These voices can kill the soul, if not the body. With so many Messiahs, what's a person to do?
No wonder those two disciples on the road to Emmaus looked downcast as they were conversing and debating. They thought they found the real thing too. They hoped he would be the one to redeem Israel. But now he was dead – worse, crucified. By the chief priests and rulers no less! The scandal was more than they could bear. They were confused beyond belief. And no doubt would be looking for someone else to redeem Israel (G) from its Roman oppressors.
Trouble is, the list of phony Utopias longed for by Messiah-seekers is just as long as the list of fake Messiahs themselves. The last century saw them popping up all over the place. The Bolsheviks were sure their Utopia would be a "workers' paradise" in Russia. Forget the millions who would be starved, slaughtered and exiled to Siberia in the process by Joseph Stalin. Hitler's Utopia would be the Third Reich to last a thousand years. Forget the millions of Jews, Gypsies, homosexuals and political dissidents who would die in the concentration camps so a pure race could live in his Utopia. Pol Pot wanted to turn Cambodia into a self-sufficient agrarian Utopia. More than a million skulls piled throughout his killing fields were apparently a small price to pay. And don't forget Slobadan Milosevic and his project of "ethnic cleans­ing" so Bosnia could be a Utopia free of undesirable Muslims while ISIS has sought to create its version of a pure Islam in their murderous caliphate. Nor should we be blind to these tendencies in our own country as nativism masquerading as populism, xenophobia disguised as patriotism, and hate crimes inspired by dog whistles passing for political speech make their ugly appearance in the United States.
For it seems like the eyes of most, as with those two disciples on the road to Emmaus, are prevented from recognizing the real thing -- even should it draw near and walk alongside you -- whether in the realm of religion or politics: Messiahs and Utopias are a dime a dozen, but oh what they have cost in human misery!
So what shall we make of this Stranger quoting the Bible, telling us it was necessary that the Christ should suffer… and enter into his glory (cf. G)? Is it possible, here at last, that something different has come along?
It sure seems that way. For one thing, he isn't very pushy. You hardly notice him as he approaches. No fanfare, no handlers, no rallies with throngs of people yelling mindless slogans. Instead, he walks beside us – and not ahead of us. And even after he opened the Scriptures to us, he was ready to go on farther, until we urged him, "Stay with us" (G). And then he performed the gesture that made us recognize him -- breaking bread with his friends. Simply, humbly, patiently. Like he always did. Not wanting to make a spectacle of himself: preferring the poor to the rich, the weak to the strong, the sinner to the righteous, the least to the greatest, the lost to the found, the colt to the steed, the cross to a throne. Yes, there is something different about this Messiah. And more than anything else, this Messiah doesn't demand others suffer and die so he can usher in his Kingdom, but has suffered and died himself: Someone, in other words, willing to shed his own precious blood rather than others' (cf. II).
So that must be how you can tell the true ones from the false ones. The fakes are always the loudest, putting themselves first, abusing their power, leaving a train of victims in their wake. The fakes would never want to be recognized in a piece of broken bread. Nor would they ever spill their own blood for you. The true Messiah would never put policies before persons or the interests of an institution ahead of everything else, lest our faith and hope be anywhere but in God alone (cf. II). So we'd all better learn to recognize this Messiah and his Kingdom – beginning with our own "chief priests and rulers" -- and forget about other forms of Utopia, including the one flaunted by the protestors this past week with their flags and red caps promising to "make America great again" -- or we'll fade into history with all the rest.
For the true Messiah had to be delivered up by the set plan and foreknowledge of God (I): A plan no human being would ever devise. A plan that puts an end to human pretension once and for all -- the plan revealed to us in these last days by our Lord Jesus Christ. Who lives and reigns, world without end. Amen.
Intercessions (Fr. Michael Graham, S.J.)
May we who are merely inconvenienced remember those whose lives are at stake.
May we who have no risk factors remember those most vulnerable.
May we who have the luxury of working from home remember those who must choose between preserving their health and making their rent.
May we who have the flexibility to care for our children when their schools close remember those who have no options.
May we who have to cancel our trips remember those who have no safe place to go.
May we who are losing our margin money in the tumult of the economic market remember those who have no margin at all.
May we who settle in for a quarantine at home remember those who have no home.
As fear grips our country, let us choose love.
And during this time when we may not be able to physically wrap our arms around each other, let us yet find ways to be the loving embrace of God to our neighbors.
Almighty and eternal God, our refuge in every danger,
to whom we turn in our distress; in faith we pray
look with compassion on the afflicted,
grant eternal rest to the dead,
comfort to mourners,
healing to the sick,
peace to the dying,
strength to healthcare workers,
wisdom to our leaders
and the courage to reach out to all in love,
so that together we may give glory to your holy name.
Through our Lord Jesus Christ, your Son,
who lives and reigns with you in the unity of the Holy Spirit,
God, for ever and ever. (Mass in Time of Pandemic)
Offertory Antiphon
Lord's Prayer
Let us pray to be delivered from all forms of evil as Christ the Lord taught….
Spiritual Communion
Lord Jesus Christ, hear our longing this day to recognize you in the breaking of the bread even though we cannot sit at table with you. Be present to us nevertheless in a spiritual Communion and comfort us with your Presence as you did the disciples on the road to Emmaus.
Communion Antiphon
Closing Hymn
1. Come, ye faithful, raise the strain
of triumphant gladness;
God hath brought forth Israel
into joy from sadness;
loosed from Pharaoh's bitter yoke
Jacob's sons and daughters,
led them with unmoistened foot
through the Red Sea waters.

2. 'Tis the spring of souls today;
Christ hath burst his prison,
and from three days' sleep in death
as a sun hath risen;
all the winter of our sins,
long and dark, is flying
from his light, to whom we give
laud and praise undying.

3. Now the queen of seasons, bright
with the day of splendor,
with the royal feast of feasts,
comes its joy to render;
comes to glad Jerusalem,
who with true affection
welcomes in unwearied strains
Jesus' resurrection.

4. Neither might the gates of death,
nor the tomb's dark portal,
nor the watchers, nor the seal
hold thee as a mortal;
but today amidst the twelve
thou didst stand, bestowing
that thy peace which evermore
passeth human knowing.