Lent with the Book of Job (Ch 39)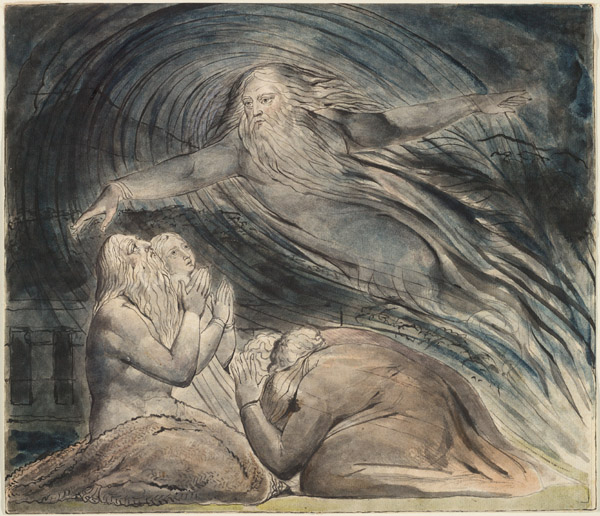 (Please note there is no entry for Palm Sunday)
Chapter 39 (Saturday of the Fifth Week of Lent)
'Do you know when the mountain goats give birth?
Do you observe the calving of the deer?
Can you number the months that they fulfil,
and do you know the time when they give birth,
when they crouch to give birth to their offspring,
and are delivered of their young?
Their young ones become strong, they grow up in the open;
they go forth, and do not return to them.

'Who has let the wild ass go free?
Who has loosed the bonds of the swift ass,
to which I have given the steppe for its home,
the salt land for its dwelling-place?
It scorns the tumult of the city;
it does not hear the shouts of the driver.
It ranges the mountains as its pasture,
and it searches after every green thing.

'Is the wild ox willing to serve you?
Will it spend the night at your crib?
Can you tie it in the furrow with ropes,
or will it harrow the valleys after you?
Will you depend on it because its strength is great,
and will you hand over your labour to it?
Do you have faith in it that it will return,
and bring your grain to your threshing-floor?

'The ostrich's wings flap wildly,
though its pinions lack plumage.
For it leaves its eggs to the earth,
and lets them be warmed on the ground,
forgetting that a foot may crush them,
and that a wild animal may trample them.
It deals cruelly with its young, as if they were not its own;
though its labour should be in vain, yet it has no fear;
because God has made it forget wisdom,
and given it no share in understanding.
When it spreads its plumes aloft,
it laughs at the horse and its rider.

'Do you give the horse its might?
Do you clothe its neck with mane?
Do you make it leap like the locust?
Its majestic snorting is terrible.
It paws violently, exults mightily;
it goes out to meet the weapons.
It laughs at fear, and is not dismayed;
it does not turn back from the sword.
Upon it rattle the quiver,
the flashing spear, and the javelin.
With fierceness and rage it swallows the ground;
it cannot stand still at the sound of the trumpet.
When the trumpet sounds, it says "Aha!"
From a distance it smells the battle,
the thunder of the captains, and the shouting.

'Is it by your wisdom that the hawk soars,
and spreads its wings towards the south?
Is it at your command that the eagle mounts up
and makes its nest on high?
It lives on the rock and makes its home
in the fastness of the rocky crag.
From there it spies the prey;
its eyes see it from far away.
Its young ones suck up blood;
and where the slain are, there it is.'
Commentary
The Lord knows the thoughts and intentions of our hearts. Without a doubt, every one of them is known to him, while we know only those which he lets us read by the grace of discernment. The spirit of man does not know all that is in man, nor all of the thoughts which he has, willingly or unwillingly. Man does not always perceive his thoughts as they really are. Having clouded vision, he does not discern them clearly with his mind's eye.
Often under the guise of devotion a suggestion occurs to our mind—coming from our own thoughts or from another person or from the tempter—and in God's eyes we do not deserve any reward for our virtue. For there are certain imitations of true virtues as also of vices which play tricks with the heart and bedazzle the mind's vision. As a result, the appearance of goodness often seems to be in something which is evil, and equally the appearance of evil seems to be in something good. This is part of our wretchedness and ignorance, causing us anguish and anxiety.
It has been written: There are paths which seem to man to be right, but which in the end lead him to hell. To avoid this peril, Saint John gives us these words of advice: Test the spirits to see if they are from God. Now no one can test the spirits to see if they are from God unless God has given him discernment of spirits to enable him to investigate spiritual thoughts, inclinations and intentions with honest and true judgement. Discernment is the mother of all the virtues; everyone needs it either to guide the lives of others or to direct and reform his own life.
In the sphere of action, a right thought is one ruled by the will of God, and intentions are holy when directed single-mindedly toward him. In a word, we could see clearly through any action of ours, or into our entire lives, if we had a simple eye. A simple eye is an eye, and it is simple. This means that we see by right thinking what is to be done, and by our good intention we carry it out with simple honesty, because deceitful action is wrong. Right thinking does not permit mistakes; a good intention rules out pretense. This then is true discernment, a combination of right thinking and good intention.
Therefore, we must do all our actions in the light of discernment as if in God and in his presence. (Baldwin of Canterbury)
Musical Selection (Christopher Idle)
Lord, you sometimes speak in wonders
unmistakable and clear;
mighty signs to prove your presence,
overcoming doubt and fear
Lord, you sometimes speak in whispers,
still and small and scarcely heard;
only those who want to listen
catch the all-important word.
Lord, you sometimes speak in silence,
through our loud and noisy day:
we can know and trust you better
when we quietly wait and pray.
Lord, you love to speak in Scripture:
words that summon from the page,
shown and taught us by your Spirit
with fresh light for every age.
Lord, you always speak in Jesus,
always new yet still the same;
teach us now more of our Saviour;
make our lives display his Name.
Collect
Most holy God,
your saving grace extends to every season,
but in this time of Lent you gladden your Church
with a still greater outpouring of love.
Look kindly upon your elect,
that those about to enter the waters of baptism
and those already baptised
may know the power of your mighty arm.
We ask this through our Lord Jesus Christ, your Son,
who lives and reigns with you in the unity of the Holy Spirit,
God for ever and ever. Amen.
Archives