Seventh Sunday in Ordinary Time (C)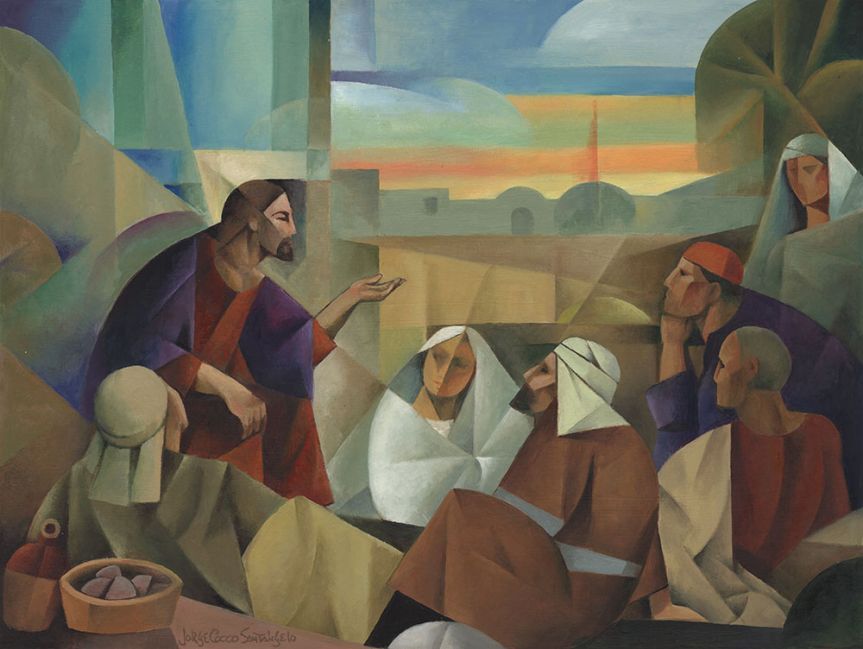 Introit
Kyrie
Gloria
Collect
Grant, we pray, almighty God,
that, always pondering spiritual things,
we may carry out in both word and deed
that which is pleasing to you.
Through our Lord Jesus Christ, your Son,
who lives and reigns with you in the unity of the Holy Spirit,
God, for ever and ever. Amen.
First Reading 1 Sm 26:2,7-9,12-13,22-23
In those days, Saul went down to the desert of Ziph
with three thousand picked men of Israel,
to search for David in the desert of Ziph.
So David and Abishai went among Saul's soldiers by night
and found Saul lying asleep within the barricade,
with his spear thrust into the ground at his head
and Abner and his men sleeping around him.

Abishai whispered to David:
"God has delivered your enemy into your grasp this day.
Let me nail him to the ground with one thrust of the spear;
I will not need a second thrust!"
But David said to Abishai, "Do not harm him,
for who can lay hands on the LORD's anointed and remain unpunished?"
So David took the spear and the water jug from their place at Saul's head,
and they got away without anyone's seeing or knowing or awakening.
All remained asleep,
because the LORD had put them into a deep slumber.

Going across to an opposite slope,
David stood on a remote hilltop
at a great distance from Abner, son of Ner, and the troops.
He said: "Here is the king's spear.
Let an attendant come over to get it.
The LORD will reward each man for his justice and faithfulness.
Today, though the LORD delivered you into my grasp,
I would not harm the LORD's anointed."
Responsorial Psalm 103:1-2,3-4,8,10,12-13
R/. The Lord is kind and merciful.
Bless the LORD, O my soul;
and all my being, bless his holy name.
Bless the LORD, O my soul,
and forget not all his benefits.
He pardons all your iniquities,
heals all your ills.
He redeems your life from destruction,
crowns you with kindness and compassion.

Merciful and gracious is the LORD,
slow to anger and abounding in kindness.
Not according to our sins does he deal with us,
nor does he requite us according to our crimes.

As far as the east is from the west,
so far has he put our transgressions from us.
As a father has compassion on his children,
so the LORD has compassion on those who fear him.
Second Reading 1 Cor 15:45-49
Brothers and sisters:
It is written, The first man, Adam, became a living being,
the last Adam a life-giving spirit.
But the spiritual was not first;
rather the natural and then the spiritual.
The first man was from the earth, earthly;
the second man, from heaven.
As was the earthly one, so also are the earthly,
and as is the heavenly one, so also are the heavenly.
Just as we have borne the image of the earthly one,
we shall also bear the image of the heavenly one.
Alleluia Jn 13:34
Gospel Lk 6:27-38
Jesus said to his disciples:
"To you who hear I say,
love your enemies, do good to those who hate you,
bless those who curse you, pray for those who mistreat you.
To the person who strikes you on one cheek,
offer the other one as well,
and from the person who takes your cloak,
do not withhold even your tunic.
Give to everyone who asks of you,
and from the one who takes what is yours do not demand it back.
Do to others as you would have them do to you.
For if you love those who love you,
what credit is that to you?
Even sinners love those who love them.
And if you do good to those who do good to you,
what credit is that to you?
Even sinners do the same.
If you lend money to those from whom you expect repayment,
what credit is that to you?
Even sinners lend to sinners,
and get back the same amount.
But rather, love your enemies and do good to them,
and lend expecting nothing back;
then your reward will be great
and you will be children of the Most High,
for he himself is kind to the ungrateful and the wicked.
Be merciful, just as your Father is merciful.

"Stop judging and you will not be judged.
Stop condemning and you will not be condemned.
Forgive and you will be forgiven.
Give, and gifts will be given to you;
a good measure, packed together, shaken down, and overflowing,
will be poured into your lap.
For the measure with which you measure
will in return be measured out to you."
Reflection Questions
How do you most wish others would "do unto you as you do unto them?"
Who most incites your judgments and condemnation?
Where are you more or less likely to be merciful?
Catena Nova
You don't love in your enemies what they are, but what you would have them become by your prayers. (St. Augustine of Hippo)
As for your enemies, and others who are clearly not in a state of grace, you must love them too, not for what they are, nor as if they were good and holy, for they are not; but you must love them of God's sake, hoping that they will become good and holy. You are not to hate anything in them except whatever is contrary to righteousness, and that is sin. This, as I understand it, is the teaching of St Augustine. Only one who is sincerely humble, or desires to be, is capable of loving his fellow-Christian. If you are not moved to anger and open dislike of a person, and feel no secret hatred which makes you despise, humiliate, or belittle him, then you are in perfect charity with your fellow-Christian. And if , the more he shames or harms you in word or act, the more pity and compassion you feel towards him, as you would feel towards one who was out of his right mind, then you are in perfect charity. And if you feel that you cannot find it in your heart to hate him, knowing love to be good in itself, but pray for him, help him, and desire his amendment – not only in words as hypocrites can do, but with heartfelt love – then you are in perfect charity with your fellow-Christian. (Walter Hilton )
All our religion is but a false religion, and all our virtues are mere illusions and we ourselves are only hypocrites in the sight of God, if we have not that universal charity for everyone - for the good, and for the bad, for the poor and for the rich, and for all those who do us harm as much as those who do us good. (St. John Vianney)
I reflected on the desolation of poverty, of destitution, of sickness and sin. That I would be free after thirty days meant nothing to me. I would never be free again, never free when I knew that behind bars all over the world there were women and men, young girls and boys, suffering constraint, punishment, isolation and hardship for crimes of which all of us were guilty. . . . Why were prostitutes prosecuted in some cases and in others respected and fawned on? People sold themselves for jobs, for the pay check, and if they only received a high enough price, they were honored. Why were some caught, not others? . . . What was good and evil? . . . Never would I recover from this wound, this ugly knowledge I had gained of what men were capable in their treatment of each other. (Dorothy Day)
In Louisville, at the corner of Fourth and Walnut, in the center of the shopping district, I was suddenly overwhelmed with the realization that I loved all those people, that they were mine and I theirs, that we could not be alien to one another even though we were total strangers. It was like waking from a dream of separateness, of spurious self-isolation in a special world, the world of renunciation and supposed holiness… This sense of liberation from an illusory difference was such a relief and such a joy to me that I almost laughed out loud… I have the immense joy of being man, a member of a race in which God Himself became incarnate. As if the sorrows and stupidities of the human condition could overwhelm me, now I realize what we all are. And if only everybody could realize this! But it cannot be explained. There is no way of telling people that they are all walking around shining like the sun. Then it was as if I suddenly saw the secret beauty of their hearts, the depths of their hearts, where neither sin nor desire nor self-knowledge can reach, the core of their reality, the person that each one is in God's eyes. If only they could all seethemselves as they really are. If only we could see each other that way all the time. (Thomas Merton)
Be filled with the Spirit of the Beatitudes: joy, simplicity, mercy. Joy begins within. Perfect joy lies in the utter simplicity of peaceful love. In order to shine out, such joy requires no less than your whole being. Perfect joy is self-giving. Whoever knows it seeks neither gratitude nor kindness. It is sheer wonder renewed by the sight of the generosity of the Giver of all gifts -- material and spiritual. It is thankfulness. It is thanksgiving. Simplicity lies in the free joy of those who keep their heart and mind fixed on Divine Light and Love. Those who live in mercy are neither oversensitive nor constantly disappointed. They give themselves simply, forgetting themselves -- joyfully with all their heart; freely, not looking for anything in return. (Br. Roger of Taize')
There is nothing greater and more fruitful than love: it bestows all dignity to the person, while, on the contrary, hatred and vengeance decrease it, marring the beauty of the creature made in God's image. This command, to respond to insult and wrongdoing with love, has created a new culture in the world: "a culture of mercy" — we need to learn this well! And properly practice this culture of mercy — which "can set in motion a real cultural revolution" (Apostolic Letter Misericordia et misera, 20). It is the revolution of love, in which the protagonists are the martyrs of all times. And Jesus assures us that our behaviour, inspired by love for those who do us harm, will not be in vain. He tells us: "forgive, and you will be forgiven; give, and it will be given to you". This is beautiful. God will give us something beautiful if we are generous, merciful. We must forgive because God has forgiven us and always forgives us. If we do not forgive completely, we cannot expect to be forgiven completely. However, if our hearts are open to mercy, if we seal forgiveness with a brotherly embrace and secure the bonds of communion, we proclaim to the world that it is possible to overcome evil with good. At times it is easier for us to remember the harm they have done to us and not the good things; to the point that there are people who have this habit and it becomes a sickness. They are "collectors of injustice": they only remember the bad things done. And this is not a path. We must do the opposite, Jesus says. Remember the good things, and when someone comes with some gossip, and speaks ill of another, say: "Yes, perhaps ... but he has this good quality...". Turn the discussion around. This is the revolution of mercy. (Pope Francis)
Homily
The choice of reading to pair with today's Gospel is rather unusual, no? The murderous Saul, bent on destroying his rival David, has fallen into the latter's hands. An opportunity has arisen for David to kill Saul but he foregoes the chance. His nephew Abishai, who was all too eager to thrust a sword through Saul's skull, must have been quite disappointed. And very puzzled. For one thing, Saul's death would no doubt pave the way for David to become king in his stead. Saul, moreover, would no longer be out to kill David. So why in the world would David continue to put his own life at risk when he could so easily eliminate the threat? Of course, the rest of the story tells us how, when Saul realized David spared his life, he vowed to give up his campaign against him. And he would eventually meet his end in battle thus paving the way for David to succeed him.
Now whether this story about "loving one's enemy" and "doing good to those who persecute you" is the best choice to pair with the passage from Luke's Sermon on the Plain or not, I would like to keep it in mind as some stories in the news highlight the difficult matter of living the demands Jesus makes of his disciples.
You may have heard in the news, for instance, that retired pope Benedict XVI came under fire for his alleged failures to prevent abuse from his time as Archbishop of Munich. He penned the following after referring to the words we recite at the beginning of Mass when confessing sins we have committed through our "grievous fault": "I have come to understand that we ourselves are drawn into this grievous fault whenever we neglect it or fail to confront it with the necessary decisiveness and responsibility, as too often happened and continues to happen.... once again I can only express to all the victims of sexual abuse my profound shame, my deep sorrow and my heartfelt request for forgiveness."
Then there's the federal hate crimes trial of the three defendants – already convicted and sentenced in state court – for the murder of Ahmaud Arbery. One reason his family gave for successfully opposing a plea deal in this second trial was the fear these men might serve their sentences in federal prisons. "Granting these men their preferred choice of confinement would defeat me," the victim's mother said. "It gives them one last chance to spit in my face....I'm asking on the behalf of [Ahmaud's] family, on behalf of his memory and on behalf of fairness that you do not grant this plea in order to allow these men to transfer out of Georgia state custody into the federal prisons, where they prefer to be."
Then there's the international drama being played out between Russia and Ukraine. Whatever the ultimate outcome, in all of the reporting about the situation I have not heard the word "Holodomor" mentioned. That's the word for the "Great Famine" suffered by millions of Ukrainians during the 1930s and that was artificially instigated by one of Putin's predecessors Joseph Stalin. The event is considered a genocide by Ukraine and a crime against humanity by other world bodies. Whatever Putin's expansionist fantasies might be, Ukraine has an historic grievance against the Russian government for which it has taken scarce responsibility.
Then there's the civil unrest brought about by people unhappy with their government. The spectacle of protests by Canadian truckers has called attention, in frankly surprising ways, of seething resentment toward their leaders. All of which has emboldened their counterparts in the United States to kick the political rhetoric up a notch. Rand Paul, for example, expressed hoped that such convoys would arrive in this country to "clog" the streets. While the former president, never one to refrain from airing grievances, in turn escalated his political rhetoric by suggesting some of his political opponents would have been executed in better times. All this while his party's leadership now calls the storming of the Capitol last year "legitimate political discourse."
Finally, the New York Times reported this week on the surge in traffic crashes and deaths, as well as other behaviors thought to be one of the consequences of the pandemic. "People are frustrated and angry, and those feelings are fueling increases in violent crime, customer abuse of workers, student misbehavior in school and vehicle crashes." One law enforcement official added, "We're seeing erratic behavior in the way people are acting and their patience levels ...."Everybody's been pushed. This is one of the most stressful times in memory."
Now back to the Sermon on the Plain. After any one of these stories, try adding the words: Love your enemies, do good to those who hate you...bless those who curse you, pray for those who mistreat you....To the person who strikes you on one cheek, offer the other one as well....... From the one who takes what is yours do not demand it back.... Be merciful, just as your Father is merciful....Stop condemning and you will not be condemned....Forgive and you will be forgiven. Good luck.
You might also ask who in all of these stories might be playing which part in the reading from the First Book of Samuel. Who is like Saul out to kill his rival? Who is like David ready to show mercy even though it put him at ongoing risk? Who is like Abishai, all too eager to dispatch Saul for David's presumed benefit? And finally, who is like God -- never once mentioned?
Now I have no intention of answering these questions. But I will offer some thoughts from some of my favorite theologians. (Who will let me off the hook). Starting with Croatian theologian Miroslav Wolf whose family and friends were brutalized by Serbian forces during the Baltic conflict of the 1990s: "At the heart of the cross is Christ's stance of not letting the other remain an enemy and of creating space in himself for the offender to come in."
One of Wolf's great admirers, Rowan Williams, former Archbishop of Canterbury, writes of someone who has committed a violent crime, "If forgiveness is ever to be realized for him, it is not only the face of his victim which must be 'returned' to him, but his own forgotten face: the face of himself as his own victim, scarred and ruined by what he has done. He must see Christ, the saving victim, the merciful judge, not only in the victim whose blood is on his hands but in the self he could and could not be, the self he has decided against." Even more provocatively, Williams adds, "How difficult is it for us to see the face of God as victim in a criminal in prison?….the hopelessness and self-loathing, even the impotent anger of the jailed murderer, all that constitutes him or her a trapped and helpless victim, must speak to us, in however distorted an accent, of the Lamb of God."
Both of these authors echo the insights of Rene Girard who asks, "Why does the spirit of revenge, wherever it breaks out, constitute such an intolerable menace? Perhaps because the only satisfactory revenge for spilt blood is spilling the blood of the killer; and in the blood feud there is no clear distinction between the act for which the killer is being punished and the punishment itself."
An admirer of Girard, Anthony J. Kelly, comments further, "In the new aeon already begun, justice is newly defined through the vindication of the crucified Victim. Justice, in such a light, must become the expression of the moral imagination of love. It promotes solidarity with all victims. It realises that reconciliation of enemies is the only way forward. It dares to see forgiveness as a practical option."
All of which, I think, reflects Paul's words about the transformation brought about by Jesus in his disciples: Just as we have borne the image of the earthly [Adam], we shall also bear the image of the heavenly [Christ] (cf. II). And however you might assess the situations I have mentioned, I hope you will agree, when all is said and done, that there's only one death that brings forgiveness, one death that has brought about justice for the whole human race, one death that pardons all our iniquities, redeems our life from destruction; only one death that brings reconciliation, proving God does not deal with us according to our sins, nor requite us according to our crimes; only one death that makes true restitution, putting our transgressions as far from us as the east is from the west (cf. RP): namely, the death of the Lord Jesus Christ which we proclaim in this Eucharist, until he comes to judge the living and the dead. Who lives and reigns, forever and ever. Amen.
Creed
Intercessions (Archdiocese of Kingston)

My sisters and brothers, the demands which Jesus makes on us to love is the call to show an amazing depth of mercy and compassion, only made possible by his grace.
May the Church give witness to love by which every member is respected and not judged, and every person in the world is shown compassion.
May diplomacy be so powerful that enemies can talk to one another without fear, and differences be resolved in peace, especially between Russia and Ukraine.
May those who are facing starvation in Afghanistan, Madagascar, Yemen, Ethiopia, Myanmar, Haiti, Syria, South Sudan, Nigeria, and the Republic of Congo, receive the aid which they need from nations around the world.
May each of us learn from Jesus the true spirit of compassion, so that we can overcome differences, jealousies and bitterness, bringing harmony in every relationship.
May those who work in hospitals, nursing homes, hospices and hostels, and care for the sick at home, treat those in their care with respect.
May the Covid vaccine be recognised as a gift from God, be received as an act of love for ourselves and others, and be made available for the people of poorer countries.
May all who are born of Adam, and have died, receive the life-giving Spirit from the New Adam, Jesus Christ.
Compassionate God and Father,
you are kind to the ungrateful,
merciful even to the wicked.
Pour out your love upon us,
that with good and generous hearts
we may keep from judging others
and learn your way of compassion.
We make our prayer through Christ our Lord. Amen. (ICEL; 1998)
Interlude
Love is His word, Love is His way,
Feasting with all, fasting alone,
Living and dying, rising again
Love only love is His way.

Richer than gold
Is the love of my Lord.
Better than splendor and wealth.

Love is His way, love is His mark,
Sharing His last Passover feast.
Christ at the table, host to the twelve
Love, only love, is His mark.
Love is his mark, love is His sign,
Bread for our strength,
wine for our joy,
This is my body, this is my blood
Love, only love is His sign.
(Spiritual Communion)
After the Lord's Prayer, think of those who have hurt or offended you and seek from the Lord a word of mercy for them. Pray for an increase in charity toward all as the fruit of union with God.
Thanksgiving
Closing Hymn
Battle raging fiercely round him,
David once was given chance
Saul to slay, who sought his downfall;
But with just a passing glance
Made the fearful choice of mercy,
Leaving Saul within sleep's trance.
Jesus tells us, "In your living,
Render good to those who hate;
In your dealings, do to others
All the good that you await:
So in showing others mercy,
God will thus you compensate."
Grace is daily built on nature,
Spirit forming nature's clay.
Seeking to live out God's calling,
We can grow from day to day,
Forming lives of joyful pardon,
Following Christ, our Way.
Archives