Lent with the Book of Job (Ch 33)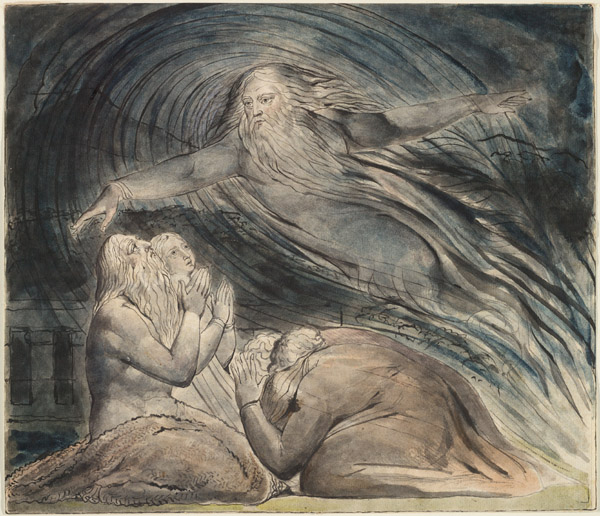 Chapter 33 (Fifth Sunday of Lent)
'But now, hear my speech, O Job,
and listen to all my words.
See, I open my mouth;
the tongue in my mouth speaks.
My words declare the uprightness of my heart,
and what my lips know they speak sincerely.
The spirit of God has made me,
and the breath of the Almighty gives me life.
Answer me, if you can;
set your words in order before me; take your stand.
See, before God I am as you are;
I too was formed from a piece of clay.
No fear of me need terrify you;
my pressure will not be heavy on you.

'Surely, you have spoken in my hearing,
and I have heard the sound of your words.
You say, "I am clean, without transgression;
I am pure, and there is no iniquity in me.
Look, he finds occasions against me,
he counts me as his enemy;
he puts my feet in the stocks,
and watches all my paths."

'But in this you are not right. I will answer you:
God is greater than any mortal.
Why do you contend against him,
saying, "He will answer none of my words"?
For God speaks in one way,
and in two, though people do not perceive it.
In a dream, in a vision of the night,
when deep sleep falls on mortals,
while they slumber on their beds,
then he opens their ears,
and terrifies them with warnings,
that he may turn them aside from their deeds,
and keep them from pride,
to spare their souls from the Pit,
their lives from traversing the River.
They are also chastened with pain upon their beds,
and with continual strife in their bones,
so that their lives loathe bread,
and their appetites dainty food.
Their flesh is so wasted away that it cannot be seen;
and their bones, once invisible, now stick out.
Their souls draw near the Pit,
and their lives to those who bring death.
Then, if there should be for one of them an angel,
a mediator, one of a thousand,
one who declares a person upright,
and he is gracious to that person, and says,
"Deliver him from going down into the Pit;
I have found a ransom;
let his flesh become fresh with youth;
let him return to the days of his youthful vigour";
then he prays to God, and is accepted by him,
he comes into his presence with joy,
and God repays him for his righteousness.
That person sings to others and says,
"I sinned, and perverted what was right,
and it was not paid back to me.
He has redeemed my soul from going down to the Pit,
and my life shall see the light."

'God indeed does all these things,
twice, three times, with mortals,
to bring back their souls from the Pit,
so that they may see the light of life.
Pay heed, Job, listen to me;
be silent, and I will speak.
If you have anything to say, answer me;
speak, for I desire to justify you.
If not, listen to me;
be silent, and I will teach you wisdom.'
Commentary
The truth comes initially to the human being as a question: Does life have a meaning? Where is it going? At first sight, personal existence may seem completely meaningless. It is not necessary to turn to the philosophers of the absurd or to the provocative questioning found in the Book of Job in order to have doubts about life's meaning. The daily experience of suffering—in one's own life and in the lives of others—and the array of facts which seem inexplicable to reason are enough to ensure that a question as dramatic as the question of meaning cannot be evaded. Moreover, the first absolutely certain truth of our life, beyond the fact that we exist, is the inevitability of our death. Given this unsettling fact, the search for a full answer is inescapable. Each of us has both the desire and the duty to know the truth of our own destiny. We want to know if death will be the definitive end of our life or if there is something beyond—if it is possible to hope for an after-life or not. It is not insignificant that the death of Socrates gave philosophy one of its decisive orientations, no less decisive now than it was more than two thousand years ago. It is not by chance, then, that faced with the fact of death philosophers have again and again posed this question, together with the question of the meaning of life and immortality.
No-one can avoid this questioning, neither the philosopher nor the ordinary person. The answer we give will determine whether or not we think it possible to attain universal and absolute truth; and this is a decisive moment of the search. Every truth—if it really is truth—presents itself as universal, even if it is not the whole truth. If something is true, then it must be true for all people and at all times. Beyond this universality, however, people seek an absolute which might give to all their searching a meaning and an answer—something ultimate, which might serve as the ground of all things. In other words, they seek a final explanation, a supreme value, which refers to nothing beyond itself and which puts an end to all questioning. Hypotheses may fascinate, but they do not satisfy. Whether we admit it or not, there comes for everyone the moment when personal existence must be anchored to a truth recognized as final, a truth which confers a certitude no longer open to doubt.
Through the centuries, philosophers have sought to discover and articulate such a truth, giving rise to various systems and schools of thought. But beyond philosophical systems, people seek in different ways to shape a "philosophy" of their own—in personal convictions and experiences, in traditions of family and culture, or in journeys in search of life's meaning under the guidance of a master. What inspires all of these is the desire to reach the certitude of truth and the certitude of its absolute value. (Pope St. John Paul II; Fides et ratio)
Musical Selection (Sons of Korah)
I will exalt You, O Lord, my God
For You lifted me up out of the depths
And You did not let my enemies gloat
I called for help and You answered me

You brought me up from the grave
And You spared me from going down to the ground

Sing to the Lord, you saints of His
And praise His name, His holy name
For His anger lasts only a moment
But His favor lasts a whole lifetime

Weeping may remain for a night
But in the morning rejoicing comes
Weeping may remain for a night
But in the morning rejoicing comes

When I felt secure, I said
I will never be shaken
I will never be shaken
Lord, when You favored me
You made my mountain stand firm
You made my mountain stand firm

But when You hid Your face from me
Lord, then I was dismayed
To You, O Lord, I called
To the Lord I cried for mercy
Hear, O Lord, have mercy on me
Be my help, be my help
What gain is in my destruction
In my going to the ground?
Will the dust give praise to You Lord?
Will the dust proclaim you faithfulness?
Hear, O Lord, have mercy on me
Be my help, be my help

You turned my waiting into dancing
You took my sackcloth and You clothed me
With garments of joy
That my heart may sing to You, Lord
Sing, sing and not be silent
Thanks be to the Lord
Collect
Merciful God,
you showed your glory to our fallen race
by sending your Son
to confound the powers of death.
Call us forth from sin's dark tomb.
Break the bonds which hold us,
that we may believe and proclaim Christ,
the cause of our freedom
and the source of life,
who lives and reigns with you in the unity of the Holy Spirit,
holy and mighty God for ever and ever. Amen.
Archives