Fourth Sunday of Lent (B)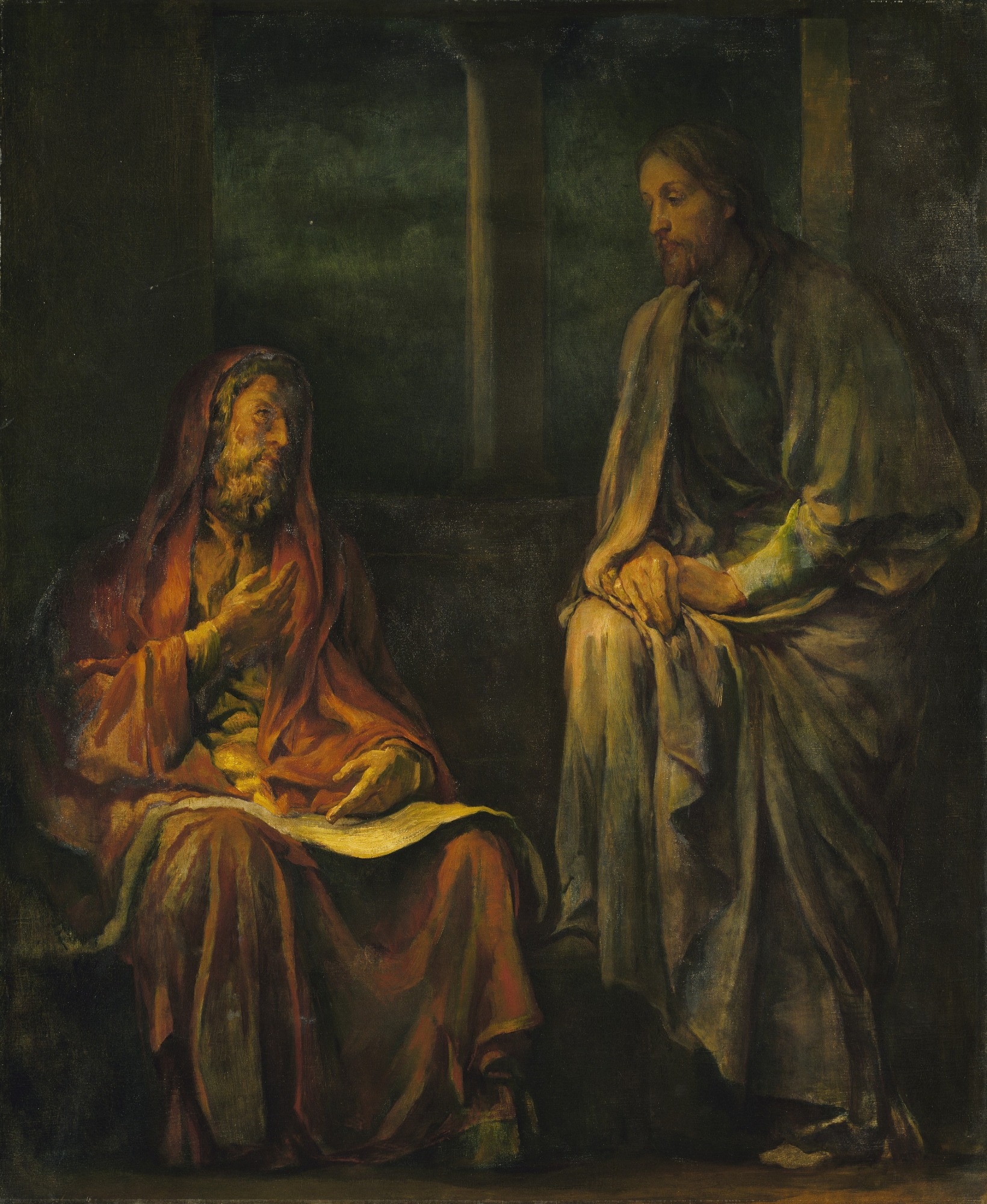 Introit
Kyrie
Collect
O God, who through your Word
reconcile the human race to yourself in a wonderful way,
grant, we pray,
that with prompt devotion and eager faith
the Christian people may hasten
toward the solemn celebrations to come.
Through our Lord Jesus Christ, your Son,
who lives and reigns with you in the unity of the Holy Spirit,
God, for ever and ever. Amen.
First Reading 2 CHR 36:14-16, 19-23
In those days, all the princes of Judah, the priests, and the people added infidelity to infidelity,
practicing all the abominations of the nations
and polluting the LORD's temple
which he had consecrated in Jerusalem.
Early and often did the LORD, the God of their fathers, send his messengers to them,
for he had compassion on his people and his dwelling place.
But they mocked the messengers of God,
despised his warnings, and scoffed at his prophets,
until the anger of the LORD against his people was so inflamed that there was no remedy.
Their enemies burnt the house of God,
tore down the walls of Jerusalem,
set all its palaces afire, and destroyed all its precious objects.
Those who escaped the sword were carried captive to Babylon, where they became servants of the king of the Chaldeans and his sons
until the kingdom of the Persians came to power.
All this was to fulfill the word of the LORD spoken by Jeremiah: "Until the land has retrieved its lost sabbaths, during all the time it lies waste it shall have rest while seventy years are fulfilled."
In the first year of Cyrus, king of Persia,
in order to fulfill the word of the LORD spoken by Jeremiah, the LORD inspired King Cyrus of Persia
to issue this proclamation throughout his kingdom,
both by word of mouth and in writing:
"Thus says Cyrus, king of Persia:
All the kingdoms of the earth
the LORD, the God of heaven, has given to me,
and he has also charged me to build him a house
in Jerusalem, which is in Judah.
Whoever, therefore, among you belongs to any part of his people,
let him go up, and may his God be with him!"
Responsorial Psalm PS 137:1-2, 3, 4-5, 6.
R/. Let my tongue be silenced, if I ever forget you!


By the streams of Babylon
we sat and wept
when we remembered Zion.
On the aspens of that land
we hung up our harps. R/.

For there our captors asked of us
the lyrics of our songs,
And our despoilers urged us to be joyous:
"Sing for us the songs of Zion!" R/.
How could we sing a song of the LORD
in a foreign land?
If I forget you, Jerusalem,
may my right hand be forgotten! R/.
May my tongue cleave to my palate
if I remember you not,
If I place not Jerusalem
ahead of my joys. R/.
Second Reading EPH 2:4-10
Brothers and sisters:
God, who is rich in mercy,
because of the great love he had for us,
even when we were dead in our transgressions,
brought us to life with Christ — by grace you have been saved —, raised us up with him,
and seated us with him in the heavens in Christ Jesus, that in the ages to come
He might show the immeasurable riches of his grace in his kindness to us in Christ Jesus.
For by grace you have been saved through faith,
and this is not from you; it is the gift of God;
it is not from works, so no one may boast.
For we are his handiwork, created in Christ Jesus for the good works that God has prepared in advance, that we should live in them.
Verse Before The Gospel JN 3:16
Gospel JN 3:14-21
Jesus said to Nicodemus:
"Just as Moses lifted up the serpent in the desert,
so must the Son of Man be lifted up,
so that everyone who believes in him may have eternal life."
For God so loved the world that he gave his only Son, so that everyone who believes in him might not perish but might have eternal life.
For God did not send his Son into the world to condemn the world, but that the world might be saved through him. Whoever believes in him will not be condemned, but whoever does not believe has already been condemned,
because he has not believed in the name of the only Son of God. And this is the verdict,
that the light came into the world,
but people preferred darkness to light,
because their works were evil.
For everyone who does wicked things hates the light and does not come toward the light,
so that his works might not be exposed.
But whoever lives the truth comes to the light,
so that his works may be clearly seen as done in God.
Reflection Questions

Is there a Cyrus in your life who helped you return "home?"
What are some good works God has "prepared in advance that you should live in them?"
How are your works "clearly seen as done in God?"
Catena Nova
Remind yourself that God is Love and that God in God's love has imprinted God's very Self on you in the form of your soul; then let God love you by in essence "waking up" to this love (St.Mechthild of Magdeburg).
Now how can we keep from loving our gentle Savior, when we see how much we have been loved by him? It is the character and way of love always to return love for love, and lover is transformed into beloved. So it is with the soul, Christ's bride, who sees herself loved by him: let her show that she wants to make a return to him by returning his love. I mean, let her because of her love be willing to endure pain and dishonor for him, and she will thus be transformed and become one with him through love and desire. She will love what God loves and hate what God hates, for she will see that the gentle Jesus found his greatest joy in enduring the burdensome cross for love of the Father's honor and our salvation, as one who relished souls. And we must relish them in the same way, and conform ourselves with him. So let's run! Let's sleep no longer in the bed of apathy! Let's run to get to this true good! I'll say no more. Keep living in God's holy and tender love. Gentle Jesus! Jesus love! (St. Catherine of Siena).
Mount Calvary is the mount of lovers. All love that takes not its beginning from Our Saviour's Passion is frivolous and dangerous. Unhappy is death without the love of the Saviour, unhappy is love without the death of the Saviour! Love and death are so mingled in the Passion of Our Saviour that we cannot have the one in our heart without the other. Upon Calvary one cannot have life without love, nor love without the death of Our Redeemer. But, except there, all is either eternal death or eternal love: and all Christian wisdom consists in choosing rightly....During this mortal life we must choose eternal love or eternal death, there is no middle choice. O eternal love, my soul desires and makes choice of thee eternally! Ah! come, Holy Spirit and inflame our hearts with thy love! To love or to die! To die and to love! To die to all other love in order to live to Jesus's love, that we may not die eternally, but that, living in thy eternal love, O Saviour of our souls we may eternally sing: I love Jesus. Live Jesus whom I love! I love Jesus, who lives and reigns for ever and ever. Amen (St. Francis de Sales).
We have come to know and to believe in the love God has for us. That is our great act of faith, the way to repay our God love for love; it is the mystery hidden in the Father's heart, of which Saint Paul speaks, which, at last, we penetrate and our whole soul thrills! When it can believe in this exceeding love which envelops it, we may say of it as was said of Moses, he was unshakable in faith as if he had seen the Invisible (Heb 11:27). It no longer rests in inclinations or feelings; it matters little to the soul whether it feels God or not, whether he sends it joy or suffering: it believes in his love. The more it is tried, the more its faith increases because it passes over all obstacles, as it were, to go rest in the heart of infinite Love who can perform only works of love. So also to this soul wholly awakened in its faith the Master's voice can say in intimate secrecy the words…Go in peace, your faith has saved you (St. Elizabeth of the Trinity).
[An] expression that has routinely been misunderstood...is "eternal life." Here again the widespread and long-lasting assumption that the gospels are there to tell us "how to go to heaven" has determined how people "hear" this phrase. Indeed, the word "eternity" in modern English and American has regularly been used not only to point to a "heavenly" destination, but to say something specific about it, namely, that it will be somehow outside time and probably outside space and matter as well. A disembodied, timeless eternity! That is Plato, not the Bible and it's a measure of how far Western Christianity has drifted from its moorings that it seldom even realizes the fact. Anyway, granted this assumption, when we find the Greek phrase zoe aionios in the gospels (and indeed in the New Testament letters), and when it is regularly translated as "eternal life" or "everlasting life," people have naturally assumed that this concept of "eternity" is the right way to understand it.... But it isn't.... Among the various results of this misreading has been the earnest attempt to make all the material in Jesus' public career refer somehow to a supposed invitation to "go to heaven" rather than to the present challenge of the kingdom coming on earth as in heaven (N.T. Wright).
If we start with "For God so loved," then all our concentration and effort goes into imagining the emotional intensity which lies behind the manifest activity. What is really interesting is not so much what happened, about which we can satisfy ourselves with the briefest of enquiries, describing it in very spare terms. What would really be interesting is the degree in which the act was intended, the push behind it, the emotional force with which the principal agent of this activity carried it out. If, on the other hand, we begin with, "It was in this way that God loved," then we have no prior access to some supposed interior life of God, modelled on our own. Instead it is that which is visible, that which is manifest in the activity itself, which becomes the lure for our fascination. And it is only in the degree in which we allow ourselves to be pulled inside that activity, and what we can discover starting from it, that we begin to get some notion of God's love (James Alison).
"For God so loved the world that he gave his only Son, that whoever believes in him should not perish but have eternal life." (Jn. 3:17) These words echo, in a different key, the acclamation of the voice from heaven after the sky opened up declaring that Jesus is God's beloved son in whom God is well pleased. Baptism, then, initiates us into this love of the heavenly father. If God so loves the world, then God is not bringing a winnowing fork or a rod of iron as John the Baptist expected, but is bringing only himself, wounds from the cross and all, to lift all of us out of the world's overwhelming violence to overwhelm us with his love. John goes on to assure us that God did not send the Son into the world "to condemn the world, but that in order that the world might be saved through him" (Jn. 3:18) These two verses should be strong enough to prevent us from thinking that the solemn verses that follow concerning condemnation take back even a smidgeon of the proclamation of God's love. The judgment is not God's judgment but the self-judgment of those who "loved darkness rather than light." If God's very Being is light and we don't like it, what else can God do but keep on being the light until, hopefully, we learn to like it and then love it and so turn away from the darkness in our hearts and turn to the cross that gives us a new birth from above? (Abbot Andrew Marr).
Homily
Up-lifting
I'm afraid of snakes. I got it from my mother. She wouldn't even look at a picture of a snake. Neither will I. So I get a little nervous when I've go to a doctor's office and see a snake wrapped around a pole. Ever wonder where that came from? It's the symbol of the Greek god of medicine, Asclepius. The snakes named after him are harmless. They were kept in the hospital-temples built by the ancient Greeks in honor of the god. That's why you see them in doctors' offices and hospitals to this day.
Maybe you thought the medical profession got its snake from Moses. From that time the people grumbled against God and against Moses in the desert. And the Lord sent poisonous serpents among the people, and they bit the people, so that many Israelites died. Those snakes weren't harmless! They were called "saraphs," which in Hebrew means "the fiery one," because their bite burned.
Strangely, after the people repented God commanded Moses, 'Make a poisonous serpent, and set it on a pole; and everyone who is bitten shall look at it and live.' So Moses made a serpent of bronze, and put it upon a pole; and whenever a serpent bit someone, that person would look at the serpent of bronze and live (Num. 21:4-9).
Now I don't know why a snake -- whether the innocent kind Asceplius carried or the poisonous kind Moses fashioned – why a snake should be an instrument of healing. Yet, Jesus compared being lifted up on the cross to Moses lifting up the serpent in the wilderness (G). Which is at least as puzzling. For no one would ever imagine the cross to be a sign of healing. Much less something that would draw all people to Jesus (cf. Jn. 12:32). On the contrary, the sight of it would provoke as much terror as any saraph.
It reminds me of homeopathy -- a Greek word meaning "similar suffering." Homeopathy is a system of alternative medicine. It's based on the principle that "like cures like." So you're given a very small dose of what ails you in order to cure whatever is afflicting you. Like in the case of Moses, a serpent was just what the doctor ordered to cure a snakebite! It doesn't seem to make much sense, doesn't it?
But that's not the only example in the Old Testament. God would make use of one conqueror, the Persian King Cyrus, to undo the tyranny of another, Nebuchadnezzar of Babylon, bringing an end to the seventy-year exile of the Jews. Another case of "like curing like."
But the supreme Homeopath would bring about the greatest healing of all when the One who was lifted up on the cross becauseof the great love God had for us, even when we were dead in our transgressions (II) became -- Paul again -- for our sake sin who knew no sin, so that in him we might become the righteousness of God (cf. 2 Cor. 5:21). Yes, death curing death; the likeness of sin curing sin; the semblance of guilt curing the guilty; the appearance of a criminal curing the condemned. "Like curing like."
And herein lies the mystery of the cross: my pain, and your pain, can be cured too, similar suffering cured by similar suffering. But only if we take the medicine God prescribes, an alternative medicine that doesn't fit our usual views of what's likely to cure us. Like the people who say to cure my fear of snakes I should begin with drawings, move to pictures, and then to being in a room with one. It's called "exposure therapy." Homeopathy, really: "like curing like." (I think I'll pass!)
But exposure to the cross is another matter altogether. It's all we Christians have when confronted with pain and suffering. We see Christ lifted up on the cross and there we see the only answer we have to the problem of evil, the only meaning we can derive from the tragedies of the world. Everything from natural disasters, to sickness, to injustice and, yes, to a pernicious virus that has upended our lives and taken the life of so many others. Such things to the eyes of faith -- eyes lifted up to the cross -- are not the final word.
Which reminds me, the myth of Asclepius ends with him being struck by one of Zeus' lightning bolts. Why? Because the god of medicine was raising people from the dead. And that's the difference between a religion in which death is the final answer to suffering and the God of Christian faith who brought us to life with Christ...raised us up with him, and seated us with him in the heavens in Christ Jesus, that in the ages to come he might show the immeasurable riches of his grace in his kindness to us in Christ Jesus (II). Who lives and reigns, forever and ever. Amen.
Creed
Intercessions (Peter Scagnelli; Prayers for Sundays and Seasons)
Let us offer our intercessions to the God who is rich in mercy.
That the church, the house of God, may be built up by the challenge of prophetic voices and the fidelity of God's people.
That God, who so loved the world that he gave his only Son, may banish deeds of darkness from our society by the light of truth.
That lands made desolate by war and refugees driven from their homes by conflict may come to a sabbath of healing and a season of peace.
That God's healing power may work through medical personnel who dedicate themselves to the physical and emotional wholeness of others.
That we who are saved by faith may live as children of light, rich in good works as our way of life in Christ Jesus.
That the dead may be raised up and seated with Christ in the glory of the heavenly places.
O God, rich in mercy, you so loved the world that, when we were dead in our sins, you sent your only Son for our deliverance. Lifted up from the earth, he is light and life; exalted upon the cross, he is truth and salvation. Raise us up with Christ and make us rich in good works, that we may walk as children of light toward the paschal feast of heaven. We ask this through Christ, our Lord. Amen. (ICEL, 1998)
Interlude (John Stainer)
God so loved the world,
that he gave his only begotten Son,
that whoso believeth in him should not perish,
but have everlasting life.
For God sent not his Son into the world
to condemn the world;
but that the world through him might be saved.
Lord's Prayer
Conscious of the love God has for us, we pray as Jesus taught...
Spiritual Communion
We long once more to be at your Table, Lord Jesus, to receive your total self-giving in the Sacrament of your love. Fill us, nevertheless, with your heavenly Presence and renew our confidence in the mystery of your infinite mercy as we prepare to celebrate your lifting up in Cross and Resurrection for the salvation of the world.
Thanksgiving
Closing Hymn
Lift high the cross, the love of Christ proclaim
till all the world adore his sacred name.

Come, Christians, follow where the Master trod,
our King victorious, Christ the Son of God.

Led on their way by this triumphant sign,
the hosts of God in conquering ranks combine.

Each newborn servant of the Crucified
bears on the brow the seal of him who died.

O Lord, once lifted on the glorious tree,
your death has brought us life eternally.

So shall our song of triumph ever be:
praise to the Crucified for victory!
Archives