Seventh Sunday of Easter (A)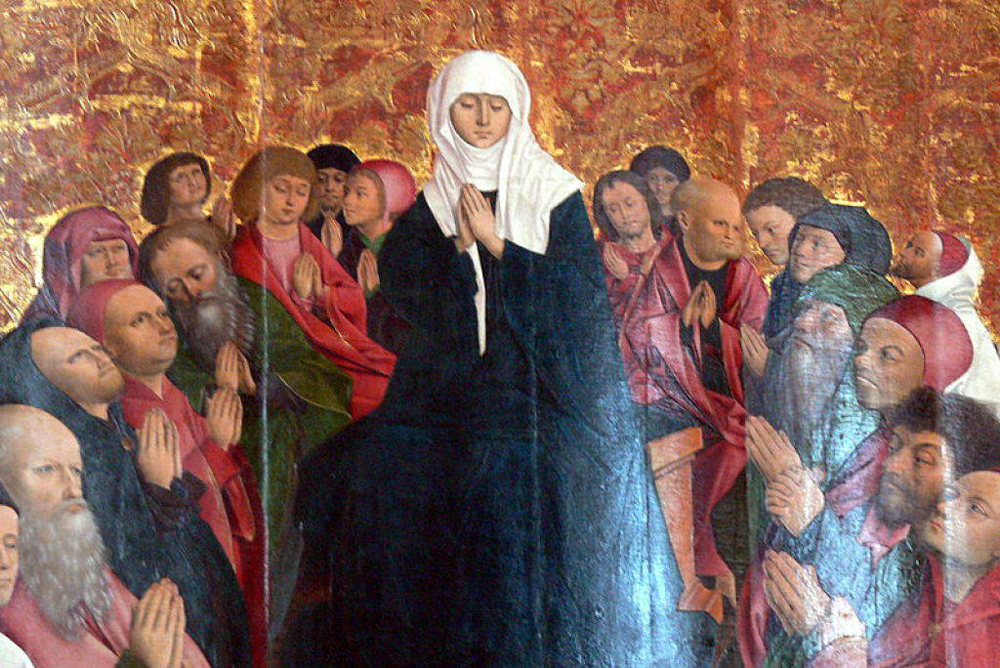 Introit
Collect
Graciously hear our supplications, O Lord,
so that we, who believe that the Savior of the human race
is with you in your glory,
may experience, as he promised,
until the end of the world,
his abiding presence among us.
Who lives and reigns with you in the unity of the Holy Spirit,
one God, for ever and ever.
First Reading Acts 1:12-14
After Jesus had been taken up to heaven the apostles
returned to Jerusalem
from the mount called Olivet, which is near Jerusalem,
a sabbath day's journey away.

When they entered the city
they went to the upper room where they were staying,
Peter and John and James and Andrew,
Philip and Thomas, Bartholomew and Matthew,
James son of Alphaeus, Simon the Zealot,
and Judas son of James.
All these devoted themselves with one accord to prayer,
together with some women,
and Mary the mother of Jesus, and his brothers.
Responsorial Psalm
I believe that I shall see the good things of the Lord in the land of the living.
The LORD is my light and my salvation;
whom should I fear?
The LORD is my life's refuge;
of whom should I be afraid?

One thing I ask of the LORD; this I seek:
to dwell in the house of the LORD
all the days of my life,
That I may gaze on the loveliness of the LORD
and contemplate his temple.
Hear, O Lord, the sound of my call;
have pity on me, and answer me.
Of you my heart speaks; you my glance seeks.
Second Reading 1 Pt 4:13-16
Beloved:
Rejoice to the extent that you share in the sufferings of Christ,
so that when his glory is revealed
you may also rejoice exultantly.
If you are insulted for the name of Christ, blessed are you,
for the Spirit of glory and of God rests upon you.
But let no one among you be made to suffer
as a murderer, a thief, an evildoer, or as an intriguer.
But whoever is made to suffer as a Christian should not be ashamed
but glorify God because of the name.
Gospel Acclamation
Gospel Jn 17:1-11a
Jesus raised his eyes to heaven and said,
"Father, the hour has come.
Give glory to your son, so that your son may glorify you,
just as you gave him authority over all people,
so that your son may give eternal life to all you gave him.
Now this is eternal life,
that they should know you, the only true God,
and the one whom you sent, Jesus Christ.
I glorified you on earth
by accomplishing the work that you gave me to do.
Now glorify me, Father, with you,
with the glory that I had with you before the world began.

"I revealed your name to those whom you gave me out of the world.
They belonged to you, and you gave them to me,
and they have kept your word.
Now they know that everything you gave me is from you,
because the words you gave to me I have given to them,
and they accepted them and truly understood that I came from you,
and they have believed that you sent me.
I pray for them.
I do not pray for the world but for the ones you have given me,
because they are yours, and everything of mine is yours
and everything of yours is mine,
and I have been glorified in them.
And now I will no longer be in the world,
but they are in the world, while I am coming to you."
Reflection Questions

Have you ever been made to suffer as a Christian?
How are you keeping and accepting the word(s) of Jesus?
What does "being in the world" mean to you?
Catena Nova
With regard to our unity in the Spirit we may say, following the same line of thought, that all of us who have received one and the same Spirit, the Holy Spirit, are united intimately both with one another and with God. Taken separately we are many, and Christ sends the Spirit who is both the Father's Spirit and his own, to dwell in each of us. Yet that Spirit, being one and indivisible, gathers together those who are distinct from each other as individuals and causes them all to be seen as a unity in himself. Just as Christ's sacred flesh has power to make those in whom it is present into one body, so the one, indivisible Spirit of God, dwelling in all, causes all to become one in spirit …. If we have given up our worldly way of life and submitted once for all to the laws of the Spirit it must surely be obvious to everyone that by repudiating in a sense our own life, and taking on the supernatural likeness of the Holy Spirit who is united to us, our nature is transformed so that we are no longer mere men and women but also children of God, spiritual people, by reason of the share we have received in the divine nature. We are all one, therefore, in the Father and the Son and the Holy Spirit. We are one in mind and holiness, we are one through our communion in the sacred flesh of Christ, and through our sharing in the one Holy Spirit (St. Cyril of Alexandria).
Who is there who can hear the names of the Holy Spirit and not feel exaltation in his soul, not lift up his thoughts to that supreme nature? For he is called the Spirit of God, the Spirit of truth who proceeds from the Father, the upright Spirit, the guiding Spirit. His chief and distinguishing name is Holy Spirit. To the Spirit all creatures turn for their sanctification; all who live virtuously seek him, and are, by his influence, refreshed and helped towards their own natural end. He is the source of holiness, the light of our understanding, for to every mind he offers his own light for the discovery of truth. Though by nature he is inaccessible, yet through his generosity men and women can receive him in themselves…. He is simple in essence, but manifold in power. He is present to each in his fullness, and in his fullness is present everywhere. He is divided, but does not suffer by the division; all share in him, but he remains whole, like a sunbeam whose kindly influence benefits each creature as though it were present to that creature alone, and shines over land and sea and dissolves in the air. So too the Spirit is present like the sun to each individual who is capable of receiving him, and emits an influence which is sufficient to help them all, but is not divided; and they profit by sharing in him according to their natures, not according to his power. Through him hearts are raised on high, the weak are led by the hand, those who are advanced gain perfection. He it is who shines on those whose hearts are purified and stainless and makes them truly spiritual through the common communion they have with him. Even as bright and shining bodies, once touched by a ray of light falling on them, become even more glorious and themselves cast another light, so too souls that carry the Spirit, and are enlightened by the Spirit, become spiritual themselves and send forth grace upon others. This grace enables them to foresee the future, to understand mysteries, to grasp hidden things, to receive spiritual blessings, to have their thoughts fixed on heavenly things, and to dance with the angels. So is their joy unending, so is their perseverance in God unfailing, so do they acquire likeness to God, so – most sublime of all – do they themselves become divine (St. Basil the Great).
When the Paraclete comes, whom I shall send you from the Father, he will remind you of everything and teach you all truth. Even as no one knows a person's thoughts except the spirit of the person that is within him, so no one comprehends the thoughts of God except the Spirit of God. Hasten therefore to share in the Holy Spirit. He is with you when you call upon him; you can call upon him only because he is already present. When he comes in answer to your prayer, he comes with an abundance of divine blessings. He is the river whose streams give joy to the city of God. If when he comes he finds you humble, silent, and trembling at the words of God, he will rest upon you and reveal what God the Father has hidden from the wise and the prudent of this world. You will then begin to understand the things holy Wisdom could have told his disciples on earth, but which they were unable to bear until the Spirit of truth came who was to teach them all truth. We cannot hope to learn from the lips of any man truths that Truth himself could not convey. For he himself has told us: God is spirit and those who worship him must worship in spirit and truth, so those who wish to know him must seek understanding of their faith and perception of its pure and simple truth only through the Holy Spirit. In the darkness and ignorance of this life the Holy Spirit is the light that enlightens the poor in spirit, the love that draws them on, the sweetness that attracts them, their access to God, the love of the loving. The Spirit is devotion and piety. From one degree of faith to the next the Spirit reveals to believers the justice of God, so that grace follows grace, and the faith that comes from hearing gives place to a faith enlightened by understanding (William of Saint-Thierry).
The Holy Spirit renews us in Baptism through his Godhead, which he shares with the Father and the Son. Finding us in a state of deformity, the Spirit restores our original beauty and fills us with his grace, leaving no room for anything unworthy of our love. The Spirit frees us from sin and death, and changes us from the earthly men we were, made of dust and ashes, into spiritual people, sharers in the divine glory, children and heirs of God the Father, who bear a likeness to the Son and are his coheirs and his brothers and sisters, destined to reign with him and to share his glory. In place of earth the Spirit reopens heaven to us and gladly admits us into Paradise, giving us even now greater honour than the angels, and by the holy waters of Baptism extinguishing the unquenchable fires of hell.… John says: To all who received him, who believed in his name, he gave power to become children of God; who were born not of blood nor of the will of the flesh, nor of the will of man, but of God. All who believed in Christ, he says, received power to become children of God, that is, of the Holy Spirit, and to gain kinship with God. To show that their parent was God the Holy Spirit, he adds these words of Christ: I give you this solemn warning, unless one is born of water and the Spirit he cannot enter the kingdom of God…. We need the Holy Spirit to perfect and renew us, for the fire of the Spirit can also wash us and the water of the Spirit can also melt us down and recast us (Didymus the Blind).
SUNDAY AFTER ASCENSION.
As every man hath received the gift, even so minister the same one to another, as good stewards of the manifold grace of God.
St. Peter iv. 10.
THE Earth that in her genial breast
Makes for the down a kindly nest,
Where wafted by the warm south-west
It floats at pleasure,
Yields, thankful, of her very best,
To nurse her treasure:
True to her trust, tree, herb, or reed,
She renders for each scatter'd seed,
And to her Lord with duteous heed
Gives large increase:
Thus year by year she works unfeed,
And will not cease.
Woe worth these barren hearts of ours,
Where Thou hast set celestial flowers,
And water'd with more balmy showers,
Than e'er distill'd
In Eden, on th' ambrosial bowers—
Yet nought we yield.
Largely Thou givest, gracious Lord,
Largely thy gifts should be restor'd;
Freely Thou givest, and thy word
Is, "freely give."
He only, who forgets to hoard,
Has learn'd to live.
Wisely Thou givest—all around
Thine equal rays are resting found,
Yet varying so on various ground
They pierce and strike,
That not two roseate cups are crown'd
With dew alike:
Even so, in silence, likest Thee,
Steals on soft-handed Charity,
Tempering her gifts, that seem so free,
By time and place,
Till not a woe the bleak world see,
But finds her grace:
Eyes to the blind, and to the lame
Feet, and to sinners wholesome blame,
To starving bodies food and flame
By turns she brings,
To humbled souls, that sink for shame,
Lends heaven-ward wings:
Leads them the way our Saviour went,
And shews Love's treasure yet unspent;
As when the' unclouded heavens were rent
Opening his road,
Nor yet his Holy Spirit sent
To our abode.
Ten days th' eternal doors display'd
Were wondering (so th' Almighty bade)
Whom Love enthron'd would send, in aid
Of souls that mourn,
Left orphans in Earth's dreary shade
As soon as born.
Open they stand, that prayers in throngs
May rise on high, and holy songs,
Such incense as of right belongs
To the true shrine,
Where stands the Healer of all wrongs
In light divine;
The golden censer in his hand,
He offers hearts from every land,
Tied to his own by gentlest band
Of silent Love:
About Him winged blessings stand
In act to move.
A little while, and they shall fleet
From Heaven to Earth, attendants meet
On the life-giving Paraclete
Speeding his flight,
With all that sacred is and sweet,
On saints to light.
Apostles, Prophets, Pastors, all
Shall feel the shower of Mercy fall,
And starting at th' Almighty's call,
Give what He gave,
Till their high deeds the world appall,
And sinners save (Blessed John Keble).
There is between the Father and the world an abyss that comes from the world itself and from its violence. Jesus' return to the Father signifies victory over violence and the crossing of the abyss. But at first no one perceived this. For those who are in the world of violence Jesus is merely dead like others. There will be no astounding message from him or his Father after his return to his Father's side. Even if Jesus has become divine, the process will take place constantly in the style of the ancient gods, in the perpetual circle of violence and the sacred. Under these circumstances, the victory of the representation of persecution by the persecutors seems assured. Yet, Jesus tells us, that is not how things come to pass. By maintaining the word of the Father against violence until the end and by dying for it, Jesus has crossed the abyss separating mankind from the Father. He himself becomes their Paraclete, their protector, and he sends them another Paraclete who will not cease to work in the world to bring forth the truth into the light (René Girard).

The breath of the divine life, the Holy Spirit, in its simplest and most common manner, expresses itself and makes itself felt in prayer. It is a beautiful and salutary thought that, wherever people are praying in the world, there the Holy Spirit is, the living breath of prayer. It is a beautiful and salutary thought to recognize that, if prayer is offered throughout the world, in the past, in the present and in the future, equally widespread is the presence and action of the Holy Spirit, who "breathes" prayer in the human heart in all the endless range of the most varied situations and conditions, sometimes favorable and sometimes unfavorable to the spiritual and religious life. Many times, through the influence of the Spirit, prayer rises from the human heart in spite of prohibitions and persecutions and even official proclamations regarding the non-religious or even atheistic character of public life. Prayer always remains the voice of all those who apparently have no voice-and in this voice there always echoes that "loud cry" attributed to Christ by the Letter to the Hebrews. Prayer is also the revelation of that abyss which is the human heart: a depth which comes from God and which only God can fill, precisely with the Holy Spirit….Prayer through the power of the Holy Spirit becomes the ever more mature expression of the new person, who by means of this prayer participates in the divine life (Pope St. John Paul II).
Homily
Going Incognito
I used to think Batman's cowl was a rather silly attempt at a disguise.

Who couldn't tell it was Bruce Wayne beneath the mask when half his face was visible?

But I remember going to Costco one day when we were still wearing masks and there was someone I thought I recognized but wasn't sure.

Nor did he seem to recognize my own half-face.

So I guess Batman's secret identity is safe after all -- but I still think Clark Kent's glasses are really lame.
Now Easter has also been a season of disguises: A time when no one seemed to recognize the One at the center of the story -- the Risen Christ.

Each Sunday of Easter we have met characters who failed to recognize him: Mary Magdalene on the morning of the resurrection thought he was the gardener 'til he called her by name.

Peter, who ran to the tomb, saw the cloths lying there, but did not understand.

A week later there was Thomas, who would not recognize his Lord and his God 'til he could place his hand in the wounds that nails had pierced. And the disciples on the road to Emmaus failed to recognize him until the breaking of the bread. So the question we heard two Sundays ago could well sum up the season's incomprehension,

"Have I been with you for so long a time and you still do not know me, Philip?"
All this despite the Good Shepherd's confidence his sheep would recognize his voice and follow him -- even though they didn't know where he was going or the way to get there!

True, things started to change the day of his Ascension when those who had entertained doubts fell down in worship before the Lord.

But you'd think by then, after all the appearances, all the teachings – for forty days, as Luke tells it -- the truth of Easter would have dawned on them already.
But that's how faith works, no?

It comes to us in bits and pieces, dribbles and drabs, now so clear, tomorrow so dim.

As Paul, the great evangelist of faith, tells us,

At present we see indistinctly, as in a mirror

(1 Cor. 13:12).

It's as if the light of Easter were so bright, we can stand only so much.

It hurts our eyes.

God, after all,

dwells in unapproachable light

(1 Tim. 6:16) -- even if Jesus told Thomas, of all people,

Whoever has seen me has seen the Father

(Jn. 14:9.)
For in the very act of revealing, God, it seems, remains Unknown – a Gardener, a Stranger, and to some, a Phantom. The great disappearing act we celebrated on Ascension Thursday only highlights the fact.

No wonder the disciples just stood there, dazed, looking into the sky, wondering what just happened.

After all they'd been through, how could he suddenly be …. gone?
Perhaps a clue to the mystery lies in the words John places in Jesus' mouth during his Farewell Address at the Last Supper. We've been hearing snippets from it for three weeks' running: that is, the clue lying in the words,

I will no longer be in the world, but they are in the world

(G).

In other words, the story continues.

Indeed, it's far from over.

His presence in the world was just the opening act of an unfolding drama.
Not for nothing did Luke write a two-volume work.

His gospel was Scene One of a two-part drama -- the Acts of the Apostles, Scene Two.

The Ascension, you might say, was intermission while the sets were changed and new characters prepared to take the stage.

Oh yes, the play is hardly over.

And the house lights are blinking so we best return to our seats.
Only to find how that strange twist to the plot, where the lead Actor goes unrecognized after the climax, how this continues on.

For soon after the curtain was drawn on Scene One, we see people like Stephen and James who would be the first of Jesus' followers to die at the hands of their persecutors, one by stoning, the other by the sword. And after Luke is finished telling his story, a sequel would begin — Act Two — for within a few decades' time, names like Ignatius, Polycarp, and Justin, Perpetua, Felicity and Blandina, would be added to the ranks of those thrown to lions, burned at the stake, and beheaded.

All of them just as unrecognized as the Lord whom they served. As if they too were wearing a disguise since, just as

Jesus warned — the world would hate them because they are not of the world, just as he was not of the world (cf. Jn. 17:14).
And so Christ Jesus prayed for all those at table with him who would take up their part in the story – both uncomprehending types like Peter, Thomas and Philip -- as well as us who have followed after.

Including us who, like they, have come to

know … the only true God, and the one whom God sent, Jesus Christ

(cf. G).
So get ready to take the stage as Act Two begins. We are no longer spectators. The script is ready; the actors are learning their lines. Stop by wardrobe to don, not so much a disguise, as the costume you need to play your part. (Don't be surprised if no one recognizes you!) And don't worry, we have the expert guidance of a Director to help us play our part in the drama, always ready to coach from behind the scenes.

For as the curtain rises on Scene Two, the set piece is the

Upper Room

(I) — where we are today.

And there are sound effects.

A little wind rustling, a little fire stoking.

And then some tongues loosening…. beginning to speak.

Stay tuned. We're about to learn our own lines.
Intercessions (Mary Grace Melcher OCD)
For the church, that through her teaching and preaching ministry she may bring all her children to eternal life by knowing the true God and the one whom He has sent, our Lord Jesus Christ.
That those whom the Father has given Christ out of the world may shine throughout the nations in their witness to a culture of life and a civilization of love.
That we may devote ourselves to prayer in faith and hope for the gift of God, His promised Holy Spirit, in the blessed company of Mary, the Mother of Jesus.
For all who are made to suffer because they are Christians, that they may have the insight to see how blessed they are, and that the Spirit of glory and of God rests upon them.
For the poor, the sick, the grieving, the depressed, and for all who have asked our prayers as they share in the sufferings of Jesus, that the Lord may support them and console them by His union with them in their time of trial.
For our faithful departed ones, that they may be dwelling in the house of the Lord and contemplating His loveliness in the kingdom of heaven.
God our Father,
glorify your Son
in the lives of the people called by his name.
Through no merit of ours, you have made us your own,
to be your witnesses on earth.
Keep us true to the name we bear,
that people everywhere may know
that you are the God and lover of us all.
We ask this through Christ our Lord. Amen. (ICEL; 1998)

Offertory Hymn
O breathe on me, O breath of God,
Fill me with life anew
That I may love the things you love,
And do what you would do.

O breathe on me, O breath of God,
Until my heart is pure;
Until my will is one with yours,
To do and to endure.

O breathe on me, O breath of God,
My will to yours incline,
Until this earthly part of me
Glows with your fire divine.

O breathe on me, O breath of God,
So shall I never die,
But live with you the perfect life
Of your eternity.
Communion Antiphon
Closing Hymn
Come, Holy Ghost, our souls inspire
and lighten with celestial fire;
thou the anointing Spirit art,
who dost thy sevenfold gifts impart.
Thy blessed unction from above
is comfort, life, and fire of love;
enable with perpetual light
the dullness of our mortal sight.
Teach us to know the Father, Son,
and thee, of both, to be but one;
that through the ages all along
this may be our endless song:
Praise to thine eternal merit,
Father, Son and Holy Spirit. Amen.
Archives