Lent with the Book of Job (Ch 24)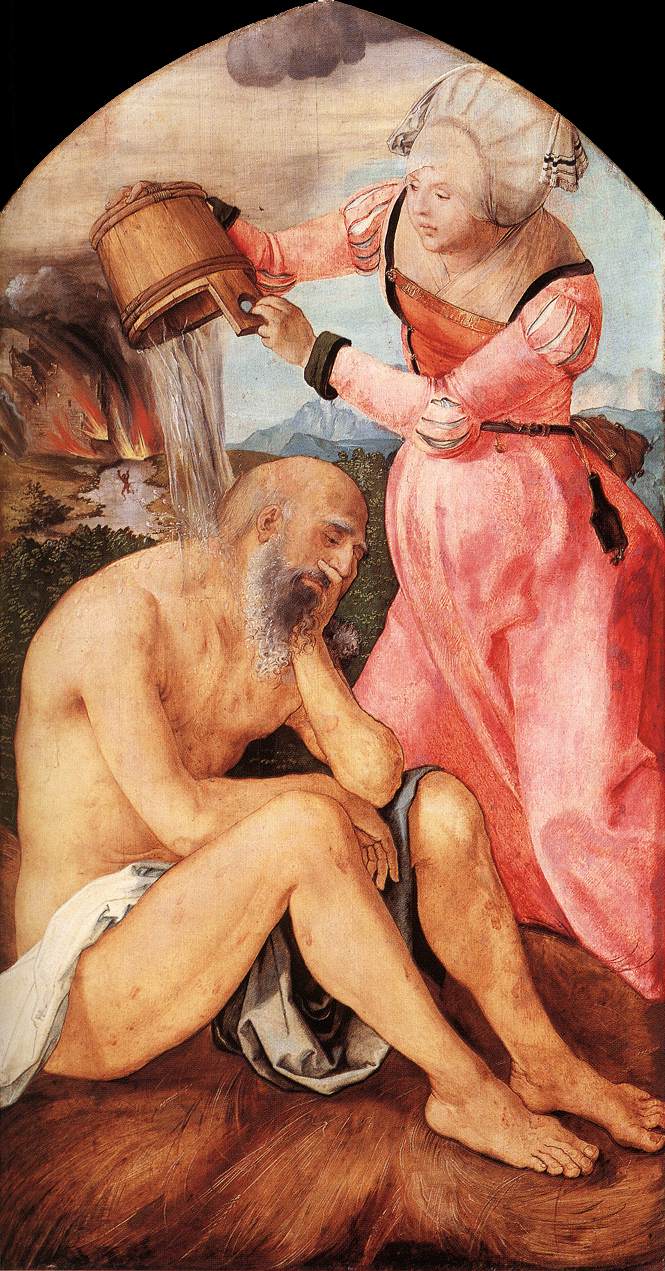 Chapter 24 (Friday of the Third Week of Lent)
'Why are times not kept by the Almighty,
and why do those who know him never see his days?
The wicked remove landmarks;
they seize flocks and pasture them.
They drive away the donkey of the orphan;
they take the widow's ox for a pledge.
They thrust the needy off the road;
the poor of the earth all hide themselves.
Like wild asses in the desert
they go out to their toil,
scavenging in the waste-land
food for their young.
They reap in a field not their own
and they glean in the vineyard of the wicked.
They lie all night naked, without clothing,
and have no covering in the cold.
They are wet with the rain of the mountains,
and cling to the rock for want of shelter.

'There are those who snatch the orphan child from the breast,
and take as a pledge the infant of the poor.
They go about naked, without clothing;
though hungry, they carry the sheaves;
between their terraces they press out oil;
they tread the wine presses, but suffer thirst.
From the city the dying groan,
and the throat of the wounded cries for help;
yet God pays no attention to their prayer.

'There are those who rebel against the light,
who are not acquainted with its ways,
and do not stay in its paths.
The murderer rises at dusk
to kill the poor and needy,
and in the night is like a thief.
The eye of the adulterer also waits for the twilight,
saying, "No eye will see me";
and he disguises his face.
In the dark they dig through houses;
by day they shut themselves up;
they do not know the light.
For deep darkness is morning to all of them;
for they are friends with the terrors of deep darkness.

'Swift are they on the face of the waters;
their portion in the land is cursed;
no treader turns towards their vineyards.
Drought and heat snatch away the snow-waters;
so does Sheol those who have sinned.
The womb forgets them;
the worm finds them sweet;
they are no longer remembered;
so wickedness is broken like a tree.

'They harm the childless woman,
and do no good to the widow.
Yet God prolongs the life of the mighty by his power;
they rise up when they despair of life.
He gives them security, and they are supported;
his eyes are upon their ways.
They are exalted a little while, and then are gone;
they wither and fade like the mallow;
they are cut off like the heads of grain.
If it is not so, who will prove me a liar,
and show that there is nothing in what I say?'
Commentary
Faith only can introduce us to the unseen Presence of God; let us venture to believe, let us make trial before we see, and the evidence which others demand before believing, we shall gain more abundantly by believing. Almighty God is hidden from us; the world does not discover Him to us; we may go to the right hand and the left, but we find Him not. The utmost we can do in the way of nature is to feel after Him, who, though we see Him not, yet is not far from every one of us. "Lo He goeth by me," says Job, "and I see Him not; He passeth on also, and I perceive Him not." "O that I knew where I might find Him! that I might come even to His seat ... Behold, I go forward, and He is not there; and backward, but I cannot perceive Him; On the left hand where He doth work, but I cannot behold Him; He hideth Himself on the right hand, that I cannot see Him." [Job ix. 11; xxiii. 3, 8, 9.]
This is the veil that is cast over all nations; the want of intercourse or communion between the soul and Him who made it. We can speak to His creatures, we cannot speak to Him. Once it was not so; man was created upright, and then He saw God; he fell, and lost God's image and God's presence. How must he regain his privilege, but by becoming what he once was? He lost it by sinning, he must regain it by pureness. And till this recovery he must accept it on faith; he is allowed to apprehend and enjoy it by faith. He begins with faith, that he may end with holiness; he is allowed to begin with faith, because faith is itself of a holy nature, and the first fruits and earnest of holiness to come. Faith is the religion of sinners beginning to purify themselves for God, and in every age, and under every dispensation, the just have lived by faith. "By faith" Moses "endured, as seeing Him who is invisible;" for lack of faith Balaam met an Angel in the way and discerned him not. Thus "we walk by faith, not by sight;" we "look not at the things which are seen, but at the things which are not seen." We set Him on our right hand, "whom having not seen, we love: in whom, though now we see Him not, yet believing, we rejoice with joy unspeakable and full of glory, receiving the end of our faith, even the salvation of our souls." (St. John Henry Newman; Parochial and Plain Sermons)
Musical Selection (Sons of Korah)
Don't fret because of evil men
Or envy those who sin
For like the grass they'll wither soon
Like plants they die away
They soon will die away

Trust in God, do good and dwell
In the safety in the land
Delight yourself in God alone
And He will give to you
The desires of your heart

Commit your way to the Lord
Trust Him and He will make
Your righteousness shine like the dawn
And the justice of your cause
Shine like the new day sun
Collect
Merciful Lord,
pour forth your grace into our hearts,
that its power may restrain our unruly desires
and keep us true to your words of eternal life.
We ask this through our Lord Jesus Christ, your Son,
who lives and reigns with you in the unity of the Holy Spirit,
God for ever and ever. Amen.
Archives