Palm Sunday (C)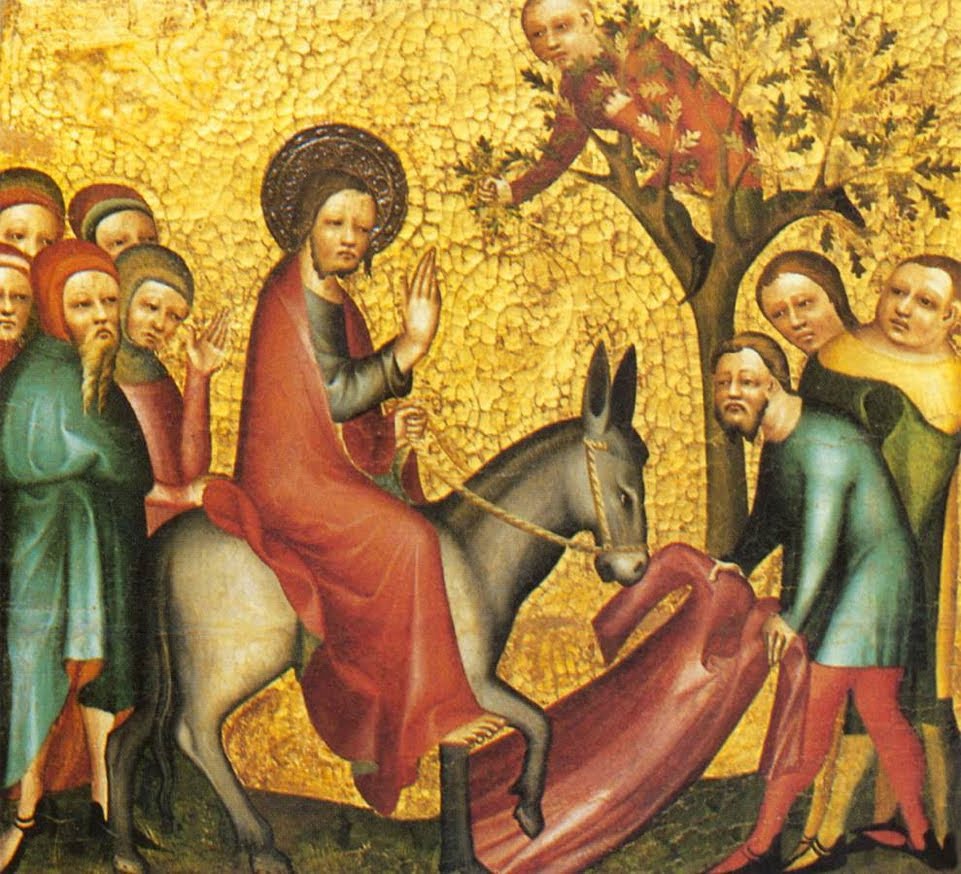 Procession (Henry Milman, 1791-1868)
Ride on, ride on in majesty!
Hark, all the tribes hosanna cry,
thy humble beast pursues his road
with palms and scattered garments strowed.

Ride on, ride on in majesty!
In lowly pomp ride on to die,
O Christ thy triumph now begin
o'er captive death and conquered sin.

Ride on, ride on in majesty!
The winged squadrons of the sky
look down with sad and wond'ring eyes
to see the approaching sacrifice.

Ride on, ride on in majesty!
Thy last and fiercest strife is nigh;
the Father on his sapphire throne
awaits his own anointed Son.

Ride on, ride on in majesty!
In lowly pomp ride on to die;
bow thy meek head to mortal pain,
then take, O God, thy power and reign.
Collect
Almighty ever-living God,
who as an example of humility for the human race to follow
caused our Savior to take flesh and submit to the Cross,
graciously grant that we may heed his lesson of patient suffering
and so merit a share in his Resurrection.
Who lives and reigns with you in the unity of the Holy Spirit,
God, for ever and ever. Amen.
First Reading Is 50:4-7
The Lord GOD has given me
a well-trained tongue,
that I might know how to speak to the weary
a word that will rouse them.
Morning after morning
he opens my ear that I may hear;
and I have not rebelled,
have not turned back.
I gave my back to those who beat me,
my cheeks to those who plucked my beard;
my face I did not shield
from buffets and spitting.

The Lord GOD is my help,
therefore I am not disgraced;
I have set my face like flint,
knowing that I shall not be put to shame.
Responsorial Psalm 22:8-9,17-18,19-20,23-24
R/. My God, my God, why have you abandoned me?
All who see me scoff at me;
they mock me with parted lips, they wag their heads:
"He relied on the LORD; let him deliver him,
let him rescue him, if he loves him."
Indeed, many dogs surround me,
a pack of evildoers closes in upon me;
They have pierced my hands and my feet;
I can count all my bones.
They divide my garments among them,
and for my vesture they cast lots.
But you, O LORD, be not far from me;
O my help, hasten to aid me.

I will proclaim your name to my brethren;
in the midst of the assembly I will praise you:
"You who fear the LORD, praise him;
all you descendants of Jacob, give glory to him;
revere him, all you descendants of Israel.
Second Reading Phil 2:6-11
Christ Jesus, though he was in the form of God,
did not regard equality with God
something to be grasped.
Rather, he emptied himself,
taking the form of a slave,
coming in human likeness;
and found human in appearance,
he humbled himself,
becoming obedient to the point of death,
even death on a cross.
Because of this, God greatly exalted him
and bestowed on him the name
which is above every name,
that at the name of Jesus
every knee should bend,
of those in heaven and on earth and under the earth,
and every tongue confess that
Jesus Christ is Lord,
to the glory of God the Father.
Verse Before the Gospel Phil 2:8-9
The Passion of Our Lord Jesus Christ According to Luke (NRSV Version)
Then the assembly rose as a body and brought Jesus before Pilate. They began to accuse him, saying, "We found this man perverting our nation, forbidding us to pay taxes to the emperor, and saying that he himself is the Messiah, a king." Then Pilate asked him, "Are you the king of the Jews?" He answered, "You say so." Then Pilate said to the chief priests and the crowds, "I find no basis for an accusation against this man." But they were insistent and said, "He stirs up the people by teaching throughout all Judea, from Galilee where he began even to this place."
When Pilate heard this, he asked whether the man was a Galilean. And when he learned that he was under Herod's jurisdiction, he sent him off to Herod, who was himself in Jerusalem at that time. When Herod saw Jesus, he was very glad, for he had been wanting to see him for a long time, because he had heard about him and was hoping to see him perform some sign. He questioned him at some length, but Jesus gave him no answer. The chief priests and the scribes stood by, vehemently accusing him. Even Herod with his soldiers treated him with contempt and mocked him; then he put an elegant robe on him, and sent him back to Pilate. That same day Herod and Pilate became friends with each other; before this they had been enemies.
Pilate then called together the chief priests, the leaders, and the people, and said to them, "You brought me this man as one who was perverting the people; and here I have examined him in your presence and have not found this man guilty of any of your charges against him. Neither has Herod, for he sent him back to us. Indeed, he has done nothing to deserve death. I will therefore have him flogged and release him."
Then they all shouted out together, "Away with this fellow! Release Barabbas for us!" (This was a man who had been put in prison for an insurrection that had taken place in the city, and for murder.) Pilate, wanting to release Jesus, addressed them again; but they kept shouting, "Crucify, crucify him!" A third time he said to them, "Why, what evil has he done? I have found in him no ground for the sentence of death; I will therefore have him flogged and then release him."] But they kept urgently demanding with loud shouts that he should be crucified; and their voices prevailed. So Pilate gave his verdict that their demand should be granted. He released the man they asked for, the one who had been put in prison for insurrection and murder, and he handed Jesus over as they wished.
As they led him away, they seized a man, Simon of Cyrene, who was coming from the country, and they laid the cross on him, and made him carry it behind Jesus. A great number of the people followed him, and among them were women who were beating their breasts and wailing for him. But Jesus turned to them and said, "Daughters of Jerusalem, do not weep for me, but weep for yourselves and for your children. For the days are surely coming when they will say, 'Blessed are the barren, and the wombs that never bore, and the breasts that never nursed.' Then they will begin to say to the mountains, 'Fall on us'; and to the hills, 'Cover us.' For if they do this when the wood is green, what will happen when it is dry?"
Two others also, who were criminals, were led away to be put to death with him. When they came to the place that is called The Skull, they crucified Jesus there with the criminals, one on his right and one on his left. Then Jesus said, "Father, forgive them; for they do not know what they are doing." And they cast lots to divide his clothing. And the people stood by, watching; but the leaders scoffed at him, saying, "He saved others; let him save himself if he is the Messiah of God, his chosen one!" The soldiers also mocked him, coming up and offering him sour wine, and saying, "If you are the King of the Jews, save yourself!" There was also an inscription over him, "This is the King of the Jews."
One of the criminals who were hanged there kept deriding him and saying, "Are you not the Messiah? Save yourself and us!" But the other rebuked him, saying, "Do you not fear God, since you are under the same sentence of condemnation? And we indeed have been condemned justly, for we are getting what we deserve for our deeds, but this man has done nothing wrong." Then he said, "Jesus, remember me when you come into your kingdom." He replied, "Truly I tell you, today you will be with me in Paradise."
It was now about noon, and darkness came over the whole land until three in the afternoon, while the sun's light failed; and the curtain of the temple was torn in two. Then Jesus, crying with a loud voice, said, "Father, into your hands I commend my spirit." Having said this, he breathed his last. When the centurion saw what had taken place, he praised God and said, "Certainly this man was innocent." And when all the crowds who had gathered there for this spectacle saw what had taken place, they returned home, beating their breasts. But all his acquaintances, including the women who had followed him from Galilee, stood at a distance, watching these things.
Catena Nova
"Behold, a righteous king will reign, and princes will rule with justice." The only-begotten Word of God, together with God the Father, has always been king of the universe, and to him all creatures, visible and invisible, are subject. People on earth, having been caught in the snares of sin, were persuaded by the devil to reject his sovereignty and to despise his royal power, but the judge and dispenser of all justice brought them back under his own dominion.... As one of his disciples wrote, "We have been freed from the futile ways handed down to us by our ancestors, not by anything perishable like silver and gold, but by the precious blood of Christ, like that of a lamb without mark or blemish." He gave his own blood for us, so that we no longer belong to ourselves, but to him who bought us and saved us. (St. Cyril of Alexandria)
Be watchful, brethren, lest the mysteries of this season pass you by without your gaining from them their due fruit. Abundant is the blessing; you must bring clean vessels to receive it, and offer loving souls and watchful senses, sober affections and pure consciences for such great gifts of grace. … All Christians practise more than usual devotion in these seven days and try to be more humble and more serious than is their wont, so that in some sort they may share Christ's sufferings. And rightly so. For the Passion of the Lord is here in truth, shaking the earth, rending the rocks and opening the tombs; and His Resurrection also is at hand. (St. Bernard of Clairvaux)
We have arrived in the haven of life, whither we have come from fasting to suffer. The fast is done; the suffering of God's only Son has arrived. In fasting we exert ourselves, we labour under the storms of temptation on the shifting and threatening seas of human action; ascesis, exercise, striving are all the utterance of man. But now that is over. The ship lies in harbour. God has the word; but He is silent. He suffers; this is the only deed which can save us. The suffering of God made man is the haven, the rest for the restless quest of sinful man for health. In the ritual presence of the Lord's pasch is the being and meaning of the Holy Week, the content which makes this week the arena of God's unique action, and thereby the place of our perfect peace." (Aemiliana Lohr)
We must remember that this very crowd has welcomed Jesus with such enthusiasm only a few days earlier. The crowd turns around like a single man and insists on his death with a determination that springs at least in part from being carried away by the irrationality of the collective spirit. Certainly nothing has intervened to justify such a change of attitude. It is necessary to have legal forms in a universe where there are legal institutions, to give unanimity to the decision to put a man to death. Nonetheless, the decision to put Jesus to death is first and foremost a decision of the crowd, one that identifies the crucifixion not so much with a ritual sacrifice but (as in the case of the servant) with the process that I claim to be at the basis of all rituals and all religious phenomena. Just as in the 'Songs' from Isaiah, though even more directly this hypothesis confronts us in the four gospel stories of the Passion. Because it reproduces the founding event of all rituals, the Passion is connected with every ritual on the entire planet. There is not an incident in it that cannot be found in countless instances: the preliminary trial, the derisive crowd, the grotesque honours accorded to the victim, and the particular role played by chance, in the form of casting lots, which here affects not the choice of the victim but the way in which his clothing is disposed of. The final feature is the degrading punishment that takes place outside the holy city in order not to contaminate it. (Rene Girard)
Throughout the passion Jesus is absorbed in prayer to the Heavenly Father, even as he is attentive to the least needs of those around him. Think of how he looked at Peter, who had denied knowing him three time. Peter went out and wept bitterly! What strong, tender and forgiving love must have been communicated to Peter by Jesus' look! We learn from Jesus that our greatest triumph lies in who we are for God and others and not in what we do. If we are for-God then the cross is an opportunityto be even more ourselves! We have to be emptied of self to be filled with God! We must arrive at total absorption in God before we can confess with all our being that God is the way and the goal of life. It is this sensitivity to God that makes us sensitive to all God's people. Our triumph will be complete in and through God. In us Jesus will be glorified as Lord. (Fr. Carroll Stuhlmueller)

The suggestion that the Gospels are Passion narratives with long introductions gives short shrift to what the Gospels are about. What these "long introductions" do is tell us at great length what Jesus actually said and what he taught. They also tell us what Jesus did before he was nailed to the cross, i.e. he healed people and cast out demons and he unilaterally forgave sins. These "long introductions" also tell us why the power brokers in Judea and Jerusalem wanted Jesus dead. By reading these "long introductions" to the Passion narrative, we are drawn away from crying out what everybody else is crying out and waving signs that only proclaim what the current fashion is believed to be.... It is instructive that the Palm Sunday liturgy begins with everybody playing the part of the crowd welcoming Jesus with palms and then, a bit later, we hold these palms while acting the part of the crowd in crying out for Jesus' death during the reading or chanting of the Passion. What we need to do afterward is return to the "long introductions" to see what the fuss was about and hopefully, hear the cock crow as did Peter. (Abbot Andrew Marr)
Jesus does not enter the Holy City to receive the honours reserved to earthly kings, to the powerful, to rulers; he enters to be scourged, insulted and abused, as Isaiah foretold in the First Reading (cf. Is 50:6). He enters to receive a crown of thorns, a staff, a purple robe: his kingship becomes an object of derision. He enters to climb Calvary, carrying his burden of wood.... Jesus enters Jerusalem in order to die on the Cross. And it is precisely here that his kingship shines forth in godly fashion: his royal throne is the wood of the Cross! .... That is the throne of Jesus. Jesus takes it upon himself… Why the Cross? Because Jesus takes upon himself the evil, the filth, the sin of the world, including the sin of all of us, and he cleanses it, he cleanses it with his blood, with the mercy and the love of God. Let us look around: how many wounds are inflicted upon humanity by evil! Wars, violence, economic conflicts that hit the weakest, greed for money that you can't take with you and have to leave.... Love of power, corruption, divisions, crimes against human life and against creation! And – as each one of us knows and is aware - our personal sins: our failures in love and respect towards God, towards our neighbour and towards the whole of creation. Jesus on the Cross feels the whole weight of the evil, and with the force of God's love he conquers it, he defeats it with his resurrection. This is the good that Jesus does for us on the throne of the Cross. Christ's Cross embraced with love never leads to sadness, but to joy, to the joy of having been saved and of doing a little of what he did on the day of his death. (Pope Francis)
(There is no homily)
Intercessions
For the Church in suffering: enduring persecution, displaced as refugees, denied freedom of religion.
For those who are troubled in spirit and who live with fear: May find in the same experiences of Jesus a strength which sustains them and gives them light.
For the world broken: in war, violence and terrorism, in drugs and addictions, in harassment and infidelity, with distress for Ukraine.
For people everywhere: lonely and depressed, unemployed and despairing, faith-less and devoid of purpose.
For all nations struggling with the pandemic: the sick and dying, the grieving and fearful, the health workers and vaccine distributors.
For those who have died: victims of war and religious persecution, of murder and suicide, of accidents and natural disasters.
O God of eternal glory,
you anointed Jesus, your servant,
to bear our sins,
to encourage the weary,
to raise up and restore the fallen.
Keep before our eyes
the splendour of the paschal mystery of Christ,
and, by our sharing in the passion and resurrection,
seal our lives with the victorious sign
of his obedience and exaltation.
We ask this through Christ, our Lord. Amen. (ICEL; 1998)
Offertory Anthem (William Billings)
When Jesus wept, the falling tear
in mercy flowed beyond all bound;
when Jesus groaned, a trembling fear
seized all the guilty world around.
Communion Antiphon
Father, if this cup cannot pass away unless I drink it, thy will be done. V/. My god, my god, why have you forsaken me? † Why are you far from saving me, * so far from my words of anguish? O my God, i call by day and you do not answer; * I call by night and I find no reprieve.
Closing Hymn (Joseph Mary Plunkett)
I see his blood upon the rose
And in the stars the glory of his eyes,
His body gleams amid eternal snows,
His tears fall from the skies.

I see his face in every flower;
The thunder and the singing of the birds
Are but his voice—and carven by his power
Rocks are his written words.

All pathways by his feet are worn,
His strong heart stirs the ever-beating sea,
His crown of thorns is twined with every thorn,
His cross is every tree.
Archives