Third Sunday of Advent (C)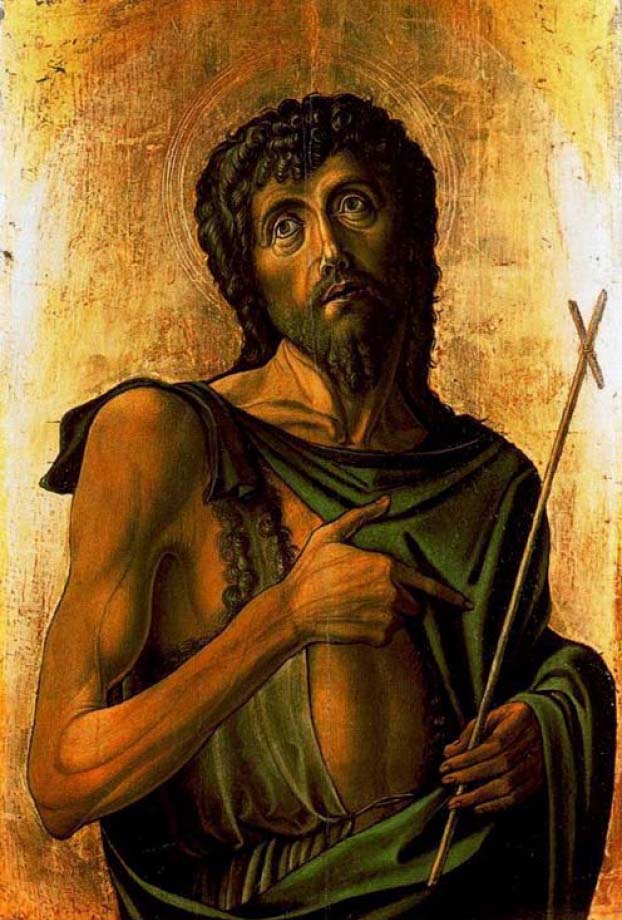 Introit
Kyrie
Collect
O God, who see how your people
faithfully await the feast of the Lord's Nativity,
enable us, we pray,
to attain the joys of so great a salvation
and to celebrate them always
with solemn worship and glad rejoicing.
Through our Lord Jesus Christ, your Son,
who lives and reigns with you in the unity of the Holy Spirit,
God, for ever and ever. Amen.
First Reading Zeph 3:14-18a
Shout for joy, O daughter Zion!
Sing joyfully, O Israel!
Be glad and exult with all your heart,
O daughter Jerusalem!
The LORD has removed the judgment against you
he has turned away your enemies;
the King of Israel, the LORD, is in your midst,
you have no further misfortune to fear.
On that day, it shall be said to Jerusalem:
Fear not, O Zion, be not discouraged!
The LORD, your God, is in your midst,
a mighty savior;
he will rejoice over you with gladness,
and renew you in his love,
he will sing joyfully because of you,
as one sings at festivals.
Responsorial Psalm Is 12:2-3,4,5-6
R/. Cry out with joy and gladness: for among you is the great and Holy One of Israel.

God indeed is my savior;
I am confident and unafraid.
My strength and my courage is the LORD,
and he has been my savior.
With joy you will draw water
at the fountain of salvation.
Give thanks to the LORD, acclaim his name;
among the nations make known his deeds,
proclaim how exalted is his name.
Sing praise to the LORD for his glorious achievement;
let this be known throughout all the earth.
Shout with exultation, O city of Zion,
for great in your midst
is the Holy One of Israel!
Second Reading Phil 4:4-7
Brothers and sisters:
Rejoice in the Lord always.
I shall say it again: rejoice!
Your kindness should be known to all.
The Lord is near.
Have no anxiety at all, but in everything,
by prayer and petition, with thanksgiving,
make your requests known to God.
Then the peace of God that surpasses all understanding
will guard your hearts and minds in Christ Jesus.
Alleluia Is 61:1 (cited in Lk 4:18)
Gospel Lk 3:10-18
The crowds asked John the Baptist,
"What should we do?"
He said to them in reply,
"Whoever has two cloaks
should share with the person who has none.
And whoever has food should do likewise."
Even tax collectors came to be baptized and they said to him,
"Teacher, what should we do?"
He answered them,
"Stop collecting more than what is prescribed."
Soldiers also asked him,
"And what is it that we should do?"
He told them,
"Do not practice extortion,
do not falsely accuse anyone,
and be satisfied with your wages."

Now the people were filled with expectation,
and all were asking in their hearts
whether John might be the Christ.
John answered them all, saying,
"I am baptizing you with water,
but one mightier than I is coming.
I am not worthy to loosen the thongs of his sandals.
He will baptize you with the Holy Spirit and fire.
His winnowing fan is in his hand to clear his threshing floor
and to gather the wheat into his barn,
but the chaff he will burn with unquenchable fire."
Exhorting them in many other ways,
he preached good news to the people.
Reflection Questions

What causes of fear and discouragement are inhibiting your joy at this time?
And what might be the sources of anxiety troubling you?
How might the good news be filling you with expectation instead?
Catena Nova
I should like to discover our Lord's reason for holding a winnowing fan and to inquire into the nature of the wind that scatters the light chaff here and there, leaving the heavier grain lying in a heap—for you must have a wind if you want to separate wheat and chaff. I suggest that the faithful are like a heap of unsifted grain, and that the wind represents the temptations which assail them and show up the wheat and the chaff among them (Origen of Alexandria).
God is present, effective and powerful in all things. He is only generative, however, in the soul. For all creatures are a footprint of God, but the soul is formed like God, according to its nature. Whatever perfection is to enter the soul, be it divine, unique light or grace or happiness, all of it must come into the soul of a necessity through this birth of divine awareness and in no other way. Wait only for the birth of Christ within yourself, And you will discover all blessing and all consolation, all bliss, all being, and all truth (Meister Eckhart).
Beloved, now is the acceptable time spoken of by the Spirit, the day of salvation, peace and reconciliation: the great season of Advent. This is the time eagerly awaited by the patriarchs and prophets, the time that holy Simeon rejoiced at last to see. This is the season that the Church has always celebrated with special solemnity. We too should always observe it with faith and love, offering praise and thanksgiving to the Father for the mercy and love he has shown us in this mystery. In his infinite love for us, though we were sinners, he sent his only Son to free us from the tyranny of Satan, to summon us to heaven, to welcome us into its innermost recesses, to show us truth itself, to train us in right conduct, to plant within us the seeds of virtue, to enrich us with the treasures of his grace, and to make us children of God and heirs of eternal life (St. Charles Borromeo).
It would seem that Advent has two different and contradictory moods: penance and joyful expectation. As he goes to the altar during Advent the priest is clothed in purple vestments, and he does not say the Gloria. And yet in other respects Advent is a season of joy. The antiphons are invariably joyful and end with Alleluia. The Sunday Masses become more and more joyful in character. Last Sunday's Mass was full of joyful texts and chants, and today, the third Sunday, is as joyful a Sunday as you will find anywhere in the Church's. year. It is true, I think, to say that the joyful stratum is the earlier one and derives from the spirit of joy of the early Christians, whereas the penitential stratum is later and is explained by man's consciousness of sin. Early Christianity stressed the holiness of grace and the accent is on joy. The Middle Ages was, however, obsessed by the holiness of the law, inculcating the fear of sin and the need for penance. And here we are at our theme for this year: Grace is attuned to the key of joy. But we can find yet another connection between this Sunday and grace, for if we ask what is the cause of this joy in today's Mass, the answer is in the [Introit]: "Joy to you in the Lord at all times; once again I wish you joy… the Lord is near." Yes, that is the reason: the Lord is near; and it is expressed even more emphatically in the Gospel [in the Extraordinary Form]: "There is one standing in your midst." Christ is near; He is standing in our midst, and that is the reason for this Sunday's joy. That is the reason why today the Church adorns herself with rose-coloured vestments. Christ is near; He is standing in our midst, and we cannot but rejoice (Fr. Pius Parsch).
Joy (in my sense) has indeed one characteristic, and one only, in common with them; the fact that anyone who has experienced it will want it again. Apart from that, and considered only in its quality, it might almost equally well be called a particular kind of unhappiness or grief. But then it is a kind we want. I doubt whether anyone who has tasted it would ever, if both were in his power, exchange it for all the pleasures in the world. But then Joy is never in our power and Pleasure often is (C.S. Lewis).
To be a Christian means to be one who waits for God's future. Hence for the Christian perhaps all seasons are essentially an Advent season (Rudolf Bultmann).
On this Third Sunday of Advent, known as "Gaudete" Sunday, the Liturgy invites us to rejoice. Advent is a season of commitment and conversion in preparation for the Lord's coming, but today the Church gives us a foretaste of the joy of Christmas that is now at hand. In fact Advent is also a time of joy, because in this season expectation of the Lord's coming is awakened in the hearts of believers; looking forward to a person's arrival is always a cause of joy.…The joy the Lord communicates to us must encounter grateful love in us. Indeed, our joy is complete when we recognise his mercy, when we become attentive to the signs of his goodness, if we truly perceive that this goodness of God is with us and thank him for all that we receive from him every day. Those who selfishly welcome God's gifts fail to find true joy; but the hearts of those who make God's gifts an opportunity to love him with sincere gratitude and to communicate his love to others, are truly filled with joy. Let us remember that! (Pope Benedict XVI).
Homily
Looking for Something?
Looking for love in all the wrong places, looking for love in too many faces. Remember that song by Johnny Lee? (I know – it dates you !) The lyrics go on to say, Searchin' their eyes, lookin' for traces, Of what I'm dreamin' of, Hoping to find a friend and a lover, I'll bless the day I discover, Another heart- lookin' for love.
That song always reminds me of a friend who came to see me once; when I went to the door I knew right away something was wrong. A look of depression covered her face -- the unmistakable look of a broken heart. It wasn't long before I was hearing about a relation­ship gone wrong, of unrequited love, causing my friend a lot of pain. And this the first time she'd been hurt. She was married at one time to someone who was abusive when he drank -- which was all too often.
It took a while after the divorce to trust someone new. One day she met a man she thought would make a perfect partner. She fell deeply in love. But after a year or so, he left her for another woman, quite suddenly, and without explanation, leaving her desolate. Crushed, she went in search of someone, anyone, to fill the gaping hole in her soul: "Looking for love in all the wrong places, in too many faces." The latest disappointment brought her to my door that day.
Such is the human heart: It comes equipped with God-sized spaces, spaces longing to be filled with love, love given and returned. We're always on the lookout for someone or something to fill the one vacuum nature abhors the most, to fill that incredible longing, that infinite desire of the human heart. In religious terms, we're looking for "salvation."
There's a good example of such a search in the crowds that went out to John the Baptist in the desert. Those people were filled with expectation, and were asking in their hearts whether John might be the Messiah. When he told them he wasn't, that one mightier than [he] was coming, they must have been very disappointed (G).
Truth is, they'd been looking for centuries. Prophets had promised a mighty savior was coming for a long time. No wonder they went looking in all the wrong places, and in too many faces. Pretender after pretender came on the scene. And they were only too quick to think, "This must be the one." Problem was, they had too many notions about what the Messiah should look like, and do, and go about saving them.
By the time they went out to John, I guess they were desperate. 'Cause he was nothing like people expected. He was no military figure come to wrestle the Promised Land from Rome's grasp. Nor did he care much for the self-righteous. He called them a "brood of vipers," while taking a special interest in tax collectors and soldiers (G). Hardly the kind of people they'd expect the Messiah to rejoice over (cf. I). No, John wasn't at all what they were looking for.
See how easy it is to set ourselves up for disappointment? When we set our sights on the wrong kind of savior. That's what I tried to get my friend to see: How the man she hoped would bring her true love was far less than she thought. In fact, when we got talking about the relation­ship, she mentioned a number of things that showed me she placed the wrong kind of hopes in a man who could never meet them. (And quite possibly – no man could).
Of course, coming to see others for what they truly are, and not what we want them to be, can be a painful process. But it can free us to look elsewhere, to places and faces more likely to bring us what we seek. My friend began that process the day she stopped by. A week after our talk, she sent me a card where she wrote the following words:
"At some point while we were talking about how it wasn't a perfect relationship a couple of things were going on. I was saying things that I never realized, yet the words were coming out of my mouth. [You] made me realize these definitely were concerns in our relationship, [which] I minimized or didn't think about. God definitely took over that conversation in what I said and the realization I finally woke up to. And then a kind of calmness set in. I thought it was because I was relaxing, but [I] realized it was a calmness of my mind, my heart. I can't put it into words. . ."
The person who wrote that card wasn't quite the same one I met at the door. The first sign was the bright yellow envelope it came in, with butterflies and a rainbow in the background, and a sticker on the front which said, Rejoice (cf. II). At some level, she knew she was looking for something only God can give: the perfect love that renews the parched desert of the human heart, for God who alone can match the boundless desires of a human heart. Now that doesn't mean human love isn't a many-splendored thing. It is. But it's less than the love of God, as John was less than Jesus, not fit to loosen his sandal strap (G). That's what my friend began to realize. In religious terms, it's called "repen­tance."
It's something we must all realize, sooner or later, and there's no better time than Advent: When wefaithfully await the feast of the Lord's Nativity…to attain the joys of so great a salvation and to celebrate them always with solemn worship and glad rejoicing (Collect).So that, as my friend found, the peace of God that surpasses all understanding will guard [our] hearts and minds in Christ Jesus (II). Who lives and reigns, forever and ever. Amen.
Creed
Intercessions (Cf. Archdiocese of Adelaide)
Sisters and brothers, this Sunday is infused with hope and joy at the nearness of Jesus, who transforms us in grace to be a Christian people.
May those in authority, in the Church and in society, never intimidate others, and be ready to share what they have with the poor and needy.
May those works of the Church and in society which relieve hunger, bring, in these weeks before Christmas, nourishment, respect, joy and hope to those most in need.
May we be a tolerant people, confident in God's care in the midst of our worries, and praying always with thanksgiving.
May the rise in Covid infections around the world, and the presence of a new strain, not lead us into despair, but keep us focused on good practises which respect the health of others, and the value of the vaccine for everyone across the globe.
May the departed exult in joy as they enter the new Jerusalem, where they are renewed in God's love.
Almighty God, you sent your Son into a world where the wheat must be winnowed from the chaff and evil clings even to what is good. Let the fire of your Spirit purge us of greed and deceit, so that, purified, we may find our peace in you and you may delight in us. Grant this through Christ our Lord. Amen (ICEL; 1998)
Interlude (Anonymous)
Rejoice in the Lord always,
and again I say, rejoice.
Let your softness be known unto all men:
the Lord is at hand.
Be careful for nothing:
but in all prayer and supplication,
let your petitions be manifest unto God with giving of thanks.
And the peace of God, which passeth all understanding,
shall keep your hearts and minds through Christ Jesu. Amen.
Spiritual Communion
After offering the Lord's prayer, in a moment of silence, seek the Lord's presence in your heart in the a spirit of Advent longing.
Thanksgiving
Closing Hymn
Hark, the glad sound! The Savior comes,
the Savior promised long;
let ev'ry heart prepare a throne
and ev'ry voice a song.
He comes the pris'ners to release,
in Satan's bondage held;
the gates of brass before him burst,
the iron fetters yield.
He comes the broken heart to bind,
the bleeding soul to cure,
and with the treasures of his grace,
to enrich the humble poor.
Our glad hosannas, Prince of Peace,
your welcome shall proclaim,
and heav'n's eternal arches ring,
with your beloved name.
Archives