29th Sunday in Ordinary Time (B)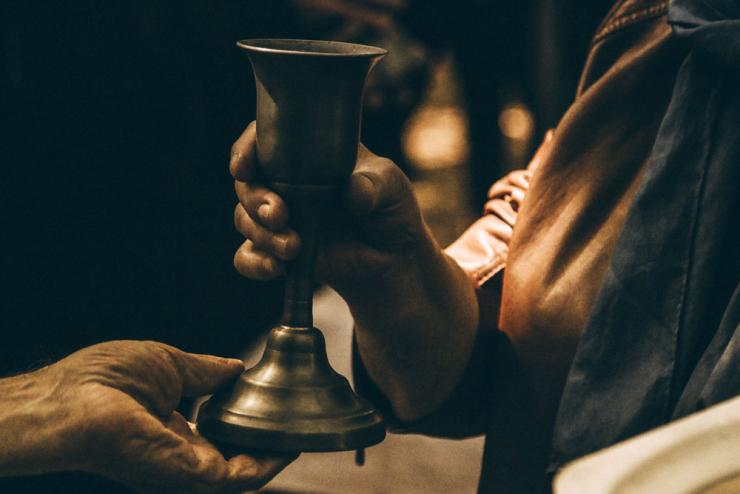 Introit
Kyrie
Gloria
Collect
Almighty ever-living God,
grant that we may always conform our will to yours
and serve your majesty in sincerity of heart.
Through our Lord Jesus Christ, your Son,
who lives and reigns with you in the unity of the Holy Spirit,
God, for ever and ever. Amen.
First Reading Is 53:10-11
The LORD was pleased
to crush him in infirmity.
If he gives his life as an offering for sin,
he shall see his descendants in a long life,
and the will of the LORD shall be accomplished through him.
Because of his affliction
he shall see the light in fullness
of days;
through his suffering, my servant shall justify many,
and their guilt he shall bear.
Responsorial Psalm Ps 33:4-5,18-19,20,22
R/. Lord, let your mercy be on us, as we place our trust in you.
Upright is the word of the LORD,
and all his works are trustworthy.
He loves justice and right;
of the kindness of the LORD the earth is full.
See, the eyes of the LORD are upon those who fear him,
upon those who hope for his kindness,
To deliver them from death
and preserve them in spite of famine.
Our soul waits for the LORD,
who is our help and our shield.
May your kindness, O LORD, be upon us
who have put our hope in you.
Second Reading Heb 4:14-16
Brothers and sisters:
Since we have a great high priest who has passed through the heavens,
Jesus, the Son of God,
let us hold fast to our confession.
For we do not have a high priest
who is unable to sympathize with our weaknesses,
but one who has similarly been tested in every way,
yet without sin.
So let us confidently approach the throne of grace
to receive mercy and to find grace for timely help.
Alleluia Mk 10:45
Gospel Mk 10:35-45
James and John, the sons of Zebedee, came to Jesus and said to him,
"Teacher, we want you to do for us whatever we ask of you."
He replied, "What do you wish me to do for you?"
They answered him, "Grant that in your glory
we may sit one at your right and the other at your left."
Jesus said to them, "You do not know what you are asking.
Can you drink the cup that I drink
or be baptized with the baptism with which I am baptized?"
They said to him, "We can."
Jesus said to them, "The cup that I drink, you will drink,
and with the baptism with which I am baptized, you will be baptized;
but to sit at my right or at my left is not mine to give
but is for those for whom it has been prepared."
When the ten heard this, they became indignant at James and John.
Jesus summoned them and said to them,
"You know that those who are recognized as rulers over the Gentiles
lord it over them,
and their great ones make their authority over them felt.
But it shall not be so among you.
Rather, whoever wishes to be great among you will be your servant;
whoever wishes to be first among you will be the slave of all.
For the Son of Man did not come to be served
but to serve and to give his life as a ransom for many."
Reflection Questions
How is the will of the Lord being accomplished in your life?
Are you able to sympathize with your own weakness?
What do you wish the Lord to do for you?
Catena Nova
Lord God Almighty, Father of your blessed and beloved child Jesus Christ, through whom we have received knowledge of you, God of angels and hosts and all creation, and of the whole race of the upright who live in your presence: I bless you that you have thought me worthy of this day and hour, to be numbered among the martyrs and share in the cup of Christ, for resurrection to eternal life, for soul and body in the incorruptibility of the Holy Spirit. Among them may I be accepted before you today, as a rich and acceptable sacrifice, just as you, the faithful and true God, have prepared and foreshown and brought about. For this reason and for all things I praise you, I bless you, I glorify you, through the eternal heavenly high priest Jesus Christ, your beloved child, through whom be glory to you, with him and the Holy Spirit, now and for the ages to come. Amen (St. Polycarp of Smyrna).
When the ten disciples were indignant with James and John for separating themselves from their company in the hope of obtaining the highest honor, Jesus corrected the disorderly passions of both groups. Notice how he did it. He called them to him and said: Gentile rulers lord it over their people, and holders of high office make their authority felt. This must not happen among you. On the contrary, whoever wants to be first among you must be last of all. You see that what the two brothers wanted was to be first, greatest, and highest: rulers, one might almost say, of the others. So, revealing their secret thoughts, Jesus put a curb on this ambition, saying: "Whoever wants to be first among you must become the servant of all" ....This is what will make you illustrious and far-famed. The fact is that before the incarnation and self-abasement of Christ the whole world was in a state of ruin and decay, but when he humbled himself he lifted the world up. He annulled the curse, put an end to death, opened paradise, destroyed sin, flung wide the gates of heaven, and introduced there the first fruits of our race. He filled the world with faith in God, drove out error, restored truth, caused our first fruits to ascend a royal throne, and gained innumerable blessings beyond the power of myself or anyone else to describe in words. Before he humbled himself he was known only to the angels, but after his self-abasement he was recognized by the whole human race (St. John Chrysostom).
Two of His disciples, the brothers John and James who were sons of Zebedee, were ambitious for the first place without consideration for the others... Our Lord answered them: "You do not know what you are asking", for he added: "Can you drink the cup that I am going to drink?" What cup is this if not that… of the Passion?… And they, forgetting their weakness, immediately said: "We can". Then He said to them:" My cup you will indeed drink. But to sit at my right or at my left is not mine to give but is for those for whom it has been prepared by my Father"… In this way He gave proof of His humility for, in fact, everything the Father prepares is prepared, too, for the Son… He came in humility – He, the Creator, was created amongst us, He made us but He was made for us. God before time began, man in time, He delivered man from time. This great physician has come to heal our cancer… by His example, He has come to heal pride itself.This is what we must give our attention to, in the Lord – let us consider His humility, drink the cup of His humility, clasp Him, contemplate Him. How easy it is to have elevated thoughts, easy to take pleasure in honours, easy to give one's ear to flatterers and people who praise us. But to bear with insult, patiently undergo humiliation, pray for those who persecute us – that is the Lord's cup, that is the Lord's feast (St Augustine of Hippo).

Listen to our Lord: "Whoever wants to be greater among you should be servant to you all, and whoever wants to be first among you should be your slave" (Mk.10:33f). What a heavenly wisdom! What a marvelous teaching! Would that ecclesiastics, and all people, wrote this deep in their hearts! Does a free person ever long to become a slave? Does anyone strive with all their might to become one? Yet there are people who strive to be over others and don't stop to think of what the Lord has commanded....So that his disciples might learn this serious lesson even better, Jesus offers himself as a wonderful example. Listen to him: "The Son of Man came not to be served but to serve and to give his life as a ransom for the many". This is like the clearest of all possible mirrors in which to see yourself.... Jesus knew well how tyrannical the ambitious can become and what great damage this can cause—not only to human beings but to angels.... Don't long for a first place in this life, as
the two apostles did. Like the wild grass it withers quickly and is gone....What we should do is drink the Lord's cup and freely carry the cross.... What does it mean to drink the cup of the Lord? St. Jerome tells us that it means dying to our personal longings and wants, and to this world's, and leading an innocent life with Christ and like Christ. Listen to Christ's promise. "To the one who overcomes as I have overcome I will give a place on my throne just as I have a place on my Father's throne". To God and to his Christ be glory and honor though endless ages. Following Christ and giving God glory is our task. That is how we turn the world upside down so all can be the Kingdom of God (Fr. Alonso de Orozco).

Come and drink of the chalice the Lord the Lord offers you; it is full of so delicious a draught that once you have touched it to your lips you will want to drain the cup. Come; here you will find the way that leads to true sorrow of soul, to the holy anguish of zeal which is no longer a penance but a grace. Come, come to rest on the sacred tree of the Cross; come, under its crimsoned boughs, take your delight and feed on its fruit; come and hide from the pursuit of the enemy of salvation; come and see from experience how sweet and light is the Lord's yoke. … always be seen on the summit of the holy mountain holding in [your] hands the chalice of salvation and uniting [your] voices to that of the Precious Blood in order to beg grace and pardon for [yourselves] and all people. At the sight of this striking sign of the inexpressible love of his Word made flesh, the heart of our Father who is in heaven will be touched and the waves of his mercy will flow over every point of the globe (Ven. Catherine Aurelia Caouette).
Many people feel cursed-cursed by God with illnesses, losses, handicaps, and misfortunes. They believe their cup doesn't carry any blessings.... And we, looking at the horrors that plague our world, are saying, "How can there be a loving God when all this is happening? It must be a cruel, spiteful God who allows human beings to suffer so much!" Jesus, however, took upon himself all this suffering and lifted it up on the cross, not as a curse but as a blessing. Jesus made the cup of God's wrath into a cup of blessings. That's the mystery of the Eucharist. Jesus died for us so that we may live. He poured out his blood for us so that we may find new life. He gave himself away for us, so that we can live in community He became for us food and drink so that we can be fed for everlasting life. That is what Jesus meant when he took the cup and said: "This cup is the new covenant in my blood poured out for you" (Luke 22:20). The Eucharist is that sacred mystery through which what we lived as a curse, we now live as a blessing. Our suffering can no longer be a divine punishment. Jesus transformed it as the way to new life. His blood, and ours too, now can become martyr's blood – blood that witnesses to a new covenant, a new communion, a new community. When we lift the cup of our life and share with one another our sufferings and joys in mutual vulnerability, the new covenant can become visible among us. The surprise of it all is that it is often the least among us who reveal to us that our cup is a cup of blessings (Fr. Henri Nouwen).
Jesus knows that James and John are inspired by great enthusiasm for him and for the cause of the Kingdom, but he also knows that their expectations and their zeal are tarnished by the spirit of the world. Thus he responds: "You do not know what your are asking" (v. 38). And as they are speaking of 'thrones of glory' on which to sit beside Christ the King, he speaks of a "cup" to be drunk, of a "baptism" to be received, that is, his passion and death. James and John, always aiming at the hoped-for privilege, say in an outburst: yes, "we are able"! (v. 39). But here too, they do not truly understand what they are saying. Jesus forewarns that they will drink his cup and receive his baptism, that is, that they too, like the other Apostles, will take part in his cross, when their time comes. However, Jesus concludes: "to sit at my right hand or at my left is not mine to grant, but it is for those for whom it has been prepared" (v. 40). As if to say: now follow me and learn how to love 'at a loss', and the heavenly Father will see to our reward. The way of love is always 'at a loss', because to love means to set aside egoism, self-referentiality, in order to serve others....The way of service is the most effective antidote against the disease of seeking first place; it is the medicine for status seekers, this seeking first place, which infects many human contexts, and does not even spare Christians, the People of God, nor even the ecclesiastical hierarchy. Therefore, as disciples of Christ, let us receive this Gospel passage as a call to conversion, in order to witness with courage and generosity a Church that bows at the feet of the least, in order to serve them with love and simplicity. May the Virgin Mary, who fully and humbly adhered to the will of God, help us to joyfully follow Jesus on the way of service, the royal road that leads to Heaven (Pope Francis).
Homily
October Surprise
It was thirty years ago this month that I left for Rome to further my studies. I was already ordained over ten years, so this wasn't some covert attempt at ecclesiastical preferment. Besides, I belong to an obscure religious community for which such things are rare indeed. At the moment, we have but 2 bishops, both retired. But I did see a lot of "crozier climbers" when I got to Rome. They seemed to have a certain studied "look" – uniform hair styles, tailored cassocks, and a preference for the Gregorian University. (I attended the Angelicum). Many had an air of superiority about them. After all, the seminarians who were housed at the North American College had a better than average chance of becoming bishops and this was the place to "network" and to cultivate "padroni." I've heard of at least one eventual bishop who had already purchased his miter and crozier while a student in Rome as a kind of "hope chest."
Against such travesties, of course, lies the episode in today's gospel when James and John sought advancement in the Kingdom of God over their fellow apostles. Jesus' response was memorable, even if observed more in the breach when it comes to church leadership: Whoever wishes to be great among you will be your servant; whoever wishes to be first among you will be the slave of all (G).
That's one reason some people are placing such high hopes in the next Synod of Bishops whose first phase the pope opened last week. Some are calling it the "biggest consultation exercise in human history." I like to think of it as an unofficial "fifth session of the Second Vatican Council" – a long overdue reboot of the council's vision of the church as the People of God, co-equal and co-responsible.
This certainly seems to be the driving force behind Pope's Francis' ambitious project. He recently wrote a preface to a forthcoming book on his social teaching where he stressed the importance of the council throughout his ministry. He noted how he and his confreres in Latin America
breathed an ecclesial climate that enthusiastically absorbed and made its own the theological, ecclesial and spiritual intuitions of the council and inculturated and implemented them....The council became the horizon of our belief, our language and our praxis, that is, it soon became our ecclesial and pastoral ecosystem....Quite simply, the council had entered into our way of being Christians and of being church, and throughout my life, my intuitions, perceptions and spirituality were simply generated by the suggestions of the doctrine of Vatican II" (Siblings All, Sign of the Times: The Social Teaching of Pope Francis).
A few weeks ago I mentioned the various models of the church put forth by Avery Dulles in his eponymous book as well as some unacknowledged "anti-models" that I believe are often more operative in the church than the more ideal ones he described. One of Dulles' models is the "institutional" – since any human organization needs structure of some kind to function well. That much is obvious. But in its exaggerated from, this model becomes what might be called the "corporate model" in which the church seems to operate more along the lines of a business with its entrenched bureaucracies – everything from the labyrinthine departments of the Vatican to your local chancery building's maze of offices. It's a model that makes bishops akin to CEOs and priests district managers and the laity, well, customers. I sometimes say the Catholic Church put the "organized" in organized religion, often to its own detriment. And I don't need to point out how much the corporate model has been in evidence, nor how ill-served the church and its people have been, during this tragic period of our history because of it. Nor will more of the same extricate us as we face a time of steady contraction and loss of credibility.

In his address opening the Synod, Pope Francis said that its first goal should be to move "not occasionally but structurally towards a synodal Church." Yet it's precisely the church's entrenched structures that often prevent this, something endemic to the corporate model. Catholics might be surprised to learn that structures like the Roman Curia, the Vatican's diplomatic corps, the College of Cardinals, national conferences of bishops, chanceries, and other corporate organs are not constitutive of the church. And if the church were to renounce all pretensions to power, privilege and prestige in civil society in favor of penitence, poverty and persecution, then we might just fulfill what Francis, quoting one of the great influencers at Vatican II, Fr. Yves Congar, saw as the challenge: "There is no need to create another Church, but to create a different Church." Or in his gloss on that statement, "a Church open to the newness that God wants to suggest.... [to] keep us from becoming a 'museum Church', beautiful but mute, with much past and little future" (October 9). Amen.
Creed
Intercessions (Peter Scagnelli)
Let us approach the throne of grace with confidence, praying in the name of Jesus, our great high priest.
That all God's people, especially those in positions of authority, may imitate the example of Jesus, who came not to be served but to serve.
That God may protect the church from the lure of power and prestige, that we may bear witness in the world to Jesus' self-sacrificing love.
That politicians and elected officials may recall the source of their power and seek their greatness only by making themselves the servant of all.
That all who struggle for justice under the rule of tyrants may sustain their cause in righteousness and achieve their liberation.
That those who are crushed by anguish of heart or emotional pain may come to the light of God's peace and a knowledge of God's purpose.
That those afflicted by the infirmity of age or the burden of disease may derive strength from their union with Christ, the Servant of the Lord.
That those who are discouraged by personal weakness may find in our communities the sympathy and support of fellow pilgrims.
That this assembly, nourished at the sacrifice of the Lord's own Servant, may gladly bear the burdens of others and seek to serve in sacrificial love.
That all the dead who held fast to their confession of faith on earth may pass through the heavens to stand with joy before the throne of grace.
Most glorious God, in Jesus you show us that your will is to save. Grant to us your people the boldness to desire a place in your kingdom, the courage to drink the cup of suffering, and the grace to find in service the glory you promise. We ask this through Christ our Lord. Amen. (ICEL; 1998)
Interlude
For I have come, not to be served, but to serve;
to give my life.
If you wish to be the first,
you must seek to be a servant of all.
Can you drink the cup that I must drink;
are you willing?
Can you be baptized like I have been baptized?
Are you able?
For I have come….
For to sit at my right hand or at my left,
is not for me to give.
But for those for whom is has been prepared,
it will be given.
Lord's Prayer
We pray to God through Christ our high priest in the words he taught us....
Spiritual Communion
Lord Jesus Christ, High Priest of our confession, we are unable to approach the throne of grace, your holy Table this day, but seek nevertheless mercy and grace for timely help. By the gift of the Spirit, enable your will to be accomplished in us, above all through works of service on behalf of our sisters and brothers for whom you gave your life. Restore us soon to the Eucharist that we might proclaim your death in the church of God and drink once more the cup of salvation.
Thanksgiving
Closing Hymn
Christ is the one who calls,
the one who loved and came,
to whom by right it falls
to bear the highest Name:
and still today
our hearts are stirred
to hear his word
and walk his way.

Christ is the one who seeks,
to whom our souls are known.
The word of love he speaks
can wake a heart of stone;
for at that sound
the blind can see,
the slave is free,
the lost are found.
Christ is the one who died,
forsaken and betrayed;
who, mocked and crucified,
the price of pardon paid.
Our dying Lord,
what grief and loss,
what bitter cross,
our souls restored!

Christ is the one who rose
in glory from the grave,
to share his life with those
whom once he died to save.
He drew death's sting
and broke its chains,
who lives and reigns,
our risen King.
Christ is the one who sends,
his story to declare;
who calls his servants friends
and gives them news to share.
His truth proclaim
in all the earth,
his matchless worth
and saving Name.
Archives