Seventh Sunday in Ordinary Time (A)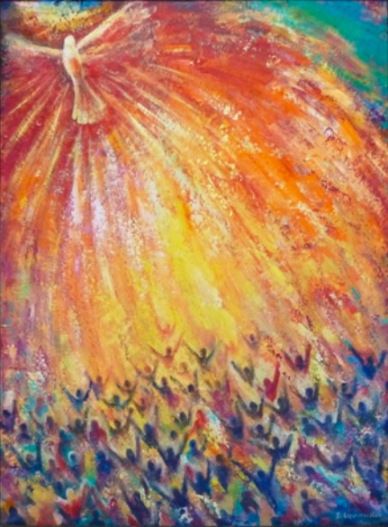 Introit
Kyrie
Gloria
Collect
Grant, we pray, almighty God,
that, always pondering spiritual things,
we may carry out in both word and deed
that which is pleasing to you.
Through our Lord Jesus Christ, your Son,
who lives and reigns with you in the unity of the Holy Spirit,
God, for ever and ever. Amen. (RM)

O Lord, you have taught us that without love whatever we
do is worth nothing; Send your Holy Spirit and pour into our
hearts your greatest gift, which is love, the true bond of peace
and of all virtue, without which whoever lives is accounted
dead before you. Grant this for the sake of your only Son
Jesus Christ, who lives and reigns with you and the Holy
Spirit, one God, now and for ever. Amen. (BCP)
Almighty God,
you have taught us
that all our deeds without love are worth nothing.
Send your Holy Spirit and pour into our hearts
that most excellent gift of love, the very bond of peace and of all goodness;
through Jesus Christ our Lord,
who lives and reigns with you in the unity of the Holy Spirit,
God, now and forever. Amen. (BCW)

First Reading Lv 19:1-2, 17-18
The LORD said to Moses,
"Speak to the whole Israelite community and tell them:
Be holy, for I, the LORD, your God, am holy.

"You shall not bear hatred for your brother or sister in your heart.
Though you may have to reprove your fellow citizen,
do not incur sin because of him.
Take no revenge and cherish no grudge against any of your people.
You shall love your neighbor as yourself.
I am the LORD."

Responsorial Psalm Ps 103:1-2, 3-4, 8, 10, 12-13
R/. The Lord is kind and merciful.
Bless the LORD, O my soul;
and all my being, bless his holy name.
Bless the LORD, O my soul,
and forget not all his benefits.

He pardons all your iniquities,
heals all your ills.
He redeems your life from destruction,
crowns you with kindness and compassion.

Merciful and gracious is the LORD,
slow to anger and abounding in kindness.
Not according to our sins does he deal with us,
nor does he requite us according to our crimes.

As far as the east is from the west,
so far has he put our transgressions from us.
As a father has compassion on his children,
so the LORD has compassion on those who fear him.
Gradual
I said: "Lord, have mercy on me; heal my soul because I have sinned against you." V/. Blessed is he who considers the needy and the poor; the Lord will deliver him on the day of evil.
Second Reading 1 Cor 3: 16-23
Brothers and sisters:
Do you not know that you are the temple of God,
and that the Spirit of God dwells in you?
If anyone destroys God's temple, God will destroy that person;
for the temple of God, which you are, is holy.

Let no one deceive himself.
If any one among you considers himself wise in this age,
let him become a fool, so as to become wise.
For the wisdom of this world is foolishness in the eyes of God,
for it is written:
God catches the wise in their own ruses,
and again:
The Lord knows the thoughts of the wise,
that they are vain.
So let no one boast about human beings, for everything belongs to you,
Paul or Apollos or Cephas,
or the world or life or death,
or the present or the future:
all belong to you, and you to Christ, and Christ to God.

Gospel Acclamation 1 Jn 2:5
Alleluia

Lend ear to my words, O Lord; consider my cry.
Gospel Mt 5: 38-48
Jesus said to his disciples:
"You have heard that it was said,
An eye for an eye and a tooth for a tooth.
But I say to you, offer no resistance to one who is evil.
When someone strikes you on your right cheek,
turn the other one as well.
If anyone wants to go to law with you over your tunic,
hand over your cloak as well.
Should anyone press you into service for one mile,
go for two miles.
Give to the one who asks of you,
and do not turn your back on one who wants to borrow.

"You have heard that it was said,
You shall love your neighbor and hate your enemy.
But I say to you, love your enemies
and pray for those who persecute you,
that you may be children of your heavenly Father,
for he makes his sun rise on the bad and the good,
and causes rain to fall on the just and the unjust.
For if you love those who love you, what recompense will you have?
Do not the tax collectors do the same?
And if you greet your brothers only,
what is unusual about that?
Do not the pagans do the same?
So be perfect, just as your heavenly Father is perfect."
Reflection Questions:
How do you understand holiness?
Where do you see folly in the wisdom of this world?
How do you understand perfection?
Catena Nova
To assume the name of Christ without following the way of Christ – what else is that but to make a sham of the divinely given name and to abandon the path of salvation? When Christ himself teaches that the person who keeps his commandments will have life and that wisdom belongs to the one who not only listens to his words but acts on them, that the distinction of being called the greatest teacher in the kingdom of heaven is awarded to the one who not only teaches but acts in accordance with his teaching, then he means that if anything good and useful has been preached it will benefit the preacher only insofar as he lives by what he preaches. Now is there anything the Lord more frequently urged on his disciples, any salutary counsel or heavenly precept he wanted them to cherish and observe more assiduously than his commandment that we should love one another with the same love as he himself showed for his disciples? Yet how can anyone preserve the peace and love of the Lord if jealousy has rendered him incapable of being either peaceable or loving toward his neighbour?….We cannot bear the heavenly image within us unless we show a likeness to Christ in the life upon which we have now entered. This means changing from what we used to be and becoming something altogether new, so that our divine birth may be seen in us, so that we may imitate the Father by our holy way of life, and so that our lives may give honour and praise to God and he may be glorified in us.
(St. Cyprian of Carthage)
The nature of love is that it is diffusive, unifying, and transforming. It is diffusive when it flows out and sheds the rays of its goodness not merely on friends and neighbors, but on enemies and strangers as well. It unites because it makes lovers one in deed and will, and draws into one Christ and every holy soul. He who holds on to God is one in spirit with him, not by nature, but by grace and identity of will. Love has also the power of transforming, for it transforms the lover into his Beloved, and makes him dwell in him. Thus it happens that when the fire of the Holy Spirit really gets hold of the heart it sets it wholly on fire and, so to speak, turns it into flame, leading it into that state in which it is most like God. (Richard Rolle)
Giving to those who ask is less sweet than offering oneself by the movement of one's own heart. When another asks for something politely it doesn't cost so much to give, but if, unfortunately, another doesn't use very delicate words then one is immediately up in arms, unless one is solidly founded in charity. One finds a thousand reasons to refuse what is asked, and it is only after convincing the asker that she has been tactless that one will finally give what was asked— and then only as a favor. Or one will do a little service that could have been done in one-twentieth of the time one spent in setting forth one's imaginary rights. And if it is difficult to give to one who asks, it is even more so to permit one to take what belongs to oneself, and without even asking for it back. Oh that is difficult! I should have said that this seems difficult, for the yoke of the Lord is sweet and light. When one accepts it, one feels its sweetness right away, and can cry out with the Psalmist, "I have run the way of your commandments when you enlarged my heart"! It is only charity that can expand the heart. O Jesus, I want to run in his way until the blessed day when I can join in the procession in Heaven to follow you into the Heavenly Courts, singing your new canticle, which must be love.
(St. Therese of Lisieux)
Violence is the enslavement of a pervasive lie; it imposes upon men a falsified vision not only of God but also of everything else. And that is indeed why it is a closed kingdom. Escaping from violence is escaping from this kingdom into another kingdom, whose existence the majority of people do not even suspect. This is the Kingdom of love, which is also the domain of the true God, the Father of Jesus, of whom the prisoners of violence cannot even conceive. To leave violence behind, it is necessary to give up the idea of retribution; it is therefore necessary to give up forms of conduct that have always seemed to be natural and legitimate. For example, we think it quite fair to respond to good dealings with good dealings, and to evil dealings with evil, but this is precisely what all the communities on the planet have always done, with familiar results.(René Girard)
The Bible tells us to love our neighbors, and also to love our enemies; probably because they are generally the same people. (G.K. Chesterton)
Now there is a final reason I think that Jesus says, "Love your enemies." It is this: that love has within it a redemptive power. And there is a power there that eventually transforms individuals. That's why Jesus says, "Love your enemies." Because if you hate your enemies, you have no way to redeem and to transform your enemies. But if you love your enemies, you will discover that at the very root of love is the power of redemption. You just keep loving people and keep loving them, even though they're mistreating you. Here's the person who is a neighbor, and this person is doing something wrong to you and all of that. Just keep being friendly to that person. Keep loving them. Don't do anything to embarrass them. Just keep loving them, and they can't stand it too long. Oh, they react in many ways in the beginning. They react with bitterness because they're mad because you love them like that. They react with guilt feelings, and sometimes they'll hate you a little more at that transition period, but just keep loving them. And by the power of your love they will break down under the load. That's love, you see. It is redemptive, and this is why Jesus says love. There's something about love that builds up and is creative. There is something about hate that tears down and is destructive. So love your enemies. (Rev. Martin Luther King Jr.)
The challenge of Christian life is asking the Lord for the grace to bless our enemies and to love them….To pray for those who want to destroy me, my enemies, so that God may bless them: This is truly difficult to understand. We can recall events of the last century, like the poor Russian Christians who, simply for being Christians, were sent to Siberia to die of cold. And they should pray for the executing government that sent them there? How can that be? Yet many did so: they prayed. We think of Auschwitz and other concentration camps. Should they pray for the dictator who sought a 'pure race' and killed without scruple, even to pray that God should bless him? And yet many did so." Jesus' "difficult logic" is contained in his prayer for those who put him to death on the Cross. Jesus asks God to forgive them. There is an infinite distance between us – we who frequently refuse to forgive even small things – and what the Lord asks of us, which he has exemplified for us: To forgive those who seek to destroy us. It is often very difficult within families, for example, when spouses need to forgive one another after an argument, or when one needs to forgive their mother-in-law. It's not easy… Rather, [we are invited] to forgive those who are killing us, who want us out of the way… Not only forgive, but even pray that God may watch over them! Even more, to love them. Only Jesus' word can explain this. It is a grace to understand this Christian mystery and be perfect like the Father, who gives good things to the good and the bad. It would do us well, today, to think of our enemy – I think all of us have one – someone who has hurt us or wants to hurt us. ( Pope Francis)
Homily
I

never cared for "Presidents' Day."

I like things on the days they are meant to be, like Ash Wednesday, Ascension Thursday, and Epiphany on January 6.

Before we had this contrived February week off from school, ostensibly to save heating costs resulting from the "Energy Crisis" of the mid-1970s, we celebrated Lincoln's Birthday on February 12 and Washington's on February 22.

And something tells me no one gives a second thought to either of these men — or any other president, for that matter — as they observe a "winter break."

So let me say something about our 16th president, Mr. Lincoln, in honor of his birthday — albeit one week late!
I do so because of the ever-increasing division in this country, putting people at odds with one another over everything from M&M candy to Balloons in the sky.

Lincoln, of course, had to deal with the aftermath of the Civil War.

His famous second inaugural address immortalized words we need to hear today as then, engaged as we are in an Uncivil War in this country.

And like then, religious claims are often made to bolster our own views and disparage those of our "enemies."

Listen to what the president had to say about the opponents of his time:
Both read the same Bible and pray to the same God and each invokes His aid against the other. It may seem strange that any men should dare to ask a just God's assistance in wringing their bread from the sweat of other men's faces but let us judge not that we be not judged. The prayers of both could not be answered; that of neither has been answered fully. The Almighty has His own purposes….With malice toward none with charity for all with firmness in the right as God gives us to see the right let us strive on to finish the work we are in to bind up the nation's wounds, to care for him who shall have borne the battle and for his widow and his orphan —

to do all which may achieve and cherish a just and lasting peace among ourselves and with all nations. (Second Inaugural; March 4, 1865).
Mr. Lincoln would be assassinated 41 days later by someone who could not relinquish his malice.

It was Good Friday, April 15, 1865.

He died the following morning on Holy Saturday.

Rather than rejoice that Easter Sunday, the nation was plunged into mourning, at least among those who could muster charity for all, including their former enemy.
Closer to our own time, April of 1947, but with no less hatred toward "the enemy," Rudolf Höss (pronounced like "hearse") who built and served as Commandant of Auschwitz where 1 in 6 Jews died during the Shoah (Holocaust) was hanged in that very the concentration camp.

A one-time lapsed Catholic, he returned to the faith prior to his execution.

The priest who heard his confession and gave him Communion reported that he accepted "full responsibility" and how he "knelt in the middle of his cell, weeping."

In a letter to his children, he wrote, "The biggest mistake of my life was that I believed everything faithfully which came from the top, and I didn't dare to have the least bit of doubt about the truth of that which was presented to me."

He concluded by noting how he had ignored his conscience and his misgivings about what was happening under his authority, urging his children, "In all your undertakings, don't just let your mind speak, but listen above all to the voice in your heart." (Aleteia; January 26, 2023)
It is not my intention here to say anything about the justice of the sentence meted out to him or to the four co-conspirators who were hanged for the Lincoln assassination. I tell these stores because we are also living in a time of "legacy" hatreds most notably between Russians and Ukrainians though renewed hostilities between Israelis and Palestinians and the perpetrators and victims of violence in the United States are also relevant. About the first of these, I have been impressed by Siobhan Heekin-Canedy — an American ice dancer granted Ukrainian citizenship to compete with her partner from that country in the 2014 Winter Olympics. She writes,
I sympathize with Ukrainians who have stopped speaking Russian, but I am trying to teach my 2-year-old daughter the language. To some, this might seem like hypocrisy or weakness; however, I believe there is something distinctly Catholic about this approach….We are tasked with upholding moral truth and calling sinners to repentance, but also with embracing humility, forgiving the sins of our enemies and removing the planks from our own eyes. To those with only a superficial understanding of the Catholic faith, the both/and character of Catholicism may seem confusing; in reality, it beautifully reflects the love of an all-powerful God who entered the world as a helpless infant.
This kind of witness is particularly needed in the United States, where the both/and approach has been largely abandoned. Many Americans shun friends with whom they disagree on important issues. Many of us make sweeping moral judgments of others without bothering to understand their reasoning. We argue fiercely with family and friends, only to belatedly discover that our disagreement was not a clash of fundamental values, but a difference in which newspaper we read that morning. The notion that decent people might disagree, even when presented with the same information, is no longer a mainstay of our supposedly pluralistic society. Putting the "both/and" of our Catholic faith into practice has the power to remind all Americans that we can be people of deep moral conviction while seeking to understand, and even see goodness in, those who do not share all our conclusions. (America; January 27, 2023)
Love your enemies…pray for your persecutors, says Jesus. Is it possible? Not in a world where the tooth for a tooth, eye for an eye maxim holds sway. This kind of perfection is, in the final analysis, God's. Only by an extraordinary grace of God can bestow it, and possibly not this side of eternity. Yet somehow the United States was able eventually to repair its shattered union, though its divisions linger on in our culture wars and racial animosities. And I admit attempts to "scale-up" the Sermon on the Mount make for a very steep, Everest-like, climb. We may or may not find a skilled Sherpa to guide us to the summit, but there are precedents. So beyond our petty animosities, political foes, and whomever else we view as "other" enough to be an enemy — molehills in comparison — better angels are at hand if we want them to be.

Intercessions (Joe Milner; The Sunday Website)

For freedom of spirit: that God will unbind us from possessions, grudges, and resentments so that we may be free to love and offer our gifts in service to others.
For the courage to love: that we may love others as God has loved us, unconditionally and without expectation.
For all facing famine or malnourishment: that we may recognize the needs of others, be aware of the abundant resources that we possess, and allow the Spirit to guide us in how to share with those in need.
For the grace of reconciliation: that God will heal the wounds and divisions amongst families, co-workers, neighborhoods, and nations so that we may work together to advance a greater good.
For all who have injured us: that God will heal us of the pain and help us to have care and compassion for them.
For all who suffer from poverty, injustice or abuse: that God will heal them and that they may find love and support in a community of faith.
For all who are imprisoned: that God will touch their hearts, free them from their mistakes, and help them to embark upon a new journey in life.
For peace: that God will transform hearts that are hard and minds that are closed so that bloodshed may end and peace may be established for all experiencing conflict.
Heavenly Father,
in Christ Jesus
you challenge us to renounce violence
and to forsake revenge.
Teach us to recognise as your children
even our enemies and persecutors
and to love them without measure or discrimination.
We ask this through our Lord Jesus Christ, your Son,
who lives and reigns with you in the unity of the Holy Spirit,
God for ever and ever. Amen. (ICEL; 1998)
Offertory Antiphon

Offertory Anthem
No other foundation can anyone lay
than that which is laid, which is Jesus Christ.
Do you not know that you are God's temple,
and that God's Spirit dwells in you?
If any should destroy God's temple,
God will destroy them,
for God's temple is holy, and that temple, you are.
Communion Antiphon

Closing Hymn (Johann Franck, 1618-1677)
Deck thyself, my soul, with gladness,
leave the gloomy haunts of sadness; 
come into the daylight's splendour,
 there with joy thy praises render
 unto him whose grace unbounded 
hath this wondrous banquet founded:
 high o'er all the heavens he reigneth,
 yet to dwell with thee he deigneth.
Sun, who all my life dost brighten,
 light, who dost my soul enlighten, 
joy, the sweetest heart e'er knoweth,
 fount, whence all my being floweth,
 at thy feet I cry, my Maker,
 let me be a fit partaker
 of this blessed food from heaven,
 for our good, thy glory, given.
Jesus, Bread of Life, I pray thee, 
let me gladly here obey thee;
 never to my hurt invited,
 be thy love with love requited:
 from this banquet let me measure,
 Lord, how vast and deep its treasure;
 through the gifts thou here dost give me,
 as thy guest in heaven receive me.
Archives