Second Sunday of Lent (B)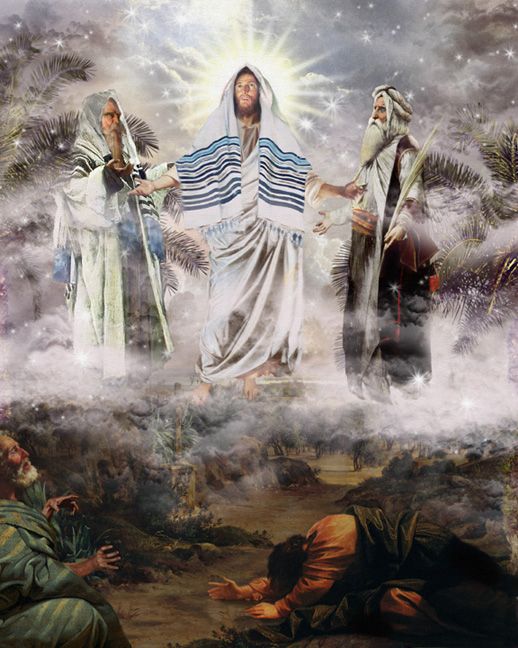 Introit
Kyrie
Collect
O God, who have commanded us
to listen to your beloved Son,
be pleased, we pray,
to nourish us inwardly by your word,
that, with spiritual sight made pure,
we may rejoice to behold your glory.
Through our Lord Jesus Christ, your Son,
who lives and reigns with you in the unity of the Holy Spirit,
God, for ever and ever. Amen.
God put Abraham to the test.
He called to him, "Abraham!"
"Here I am!" he replied. Then God said:
"Take your son Isaac, your only one, whom you love, and go to the land of Moriah.
There you shall offer him up as a holocaust on a height that I will point out to you."
When they came to the place of which God had told him, Abraham built an altar there and arranged the wood on it. Then he reached out and took the knife to slaughter his son.
But the LORD's messenger called to him from heaven, "Abraham, Abraham!" "Here I am!" he answered. "Do not lay your hand on the boy," said the messenger. "Do not do the least thing to him. I know now how devoted you are to God, since you did not withhold from me your own beloved son." As Abraham looked about, he spied a ram caught by its horns in the thicket.
So he went and took the ram and offered it up as a holocaust in place of his son.
Again the LORD's messenger called to Abraham from heaven and said: "I swear by myself, declares the LORD, that because you acted as you did in not withholding from me your beloved son, I will bless you abundantly and make your descendants as countless
as the stars of the sky and the sands of the seashore; your descendants shall take possession
of the gates of their enemies,
and in your descendants all the nations of the earth shall find blessing— all this because you obeyed my command."
Responsorial Psalm PS 116:10, 15, 16-17, 18-19
R/. I will walk before the Lord, in the land of the living.
I believed, even when I said,
"I am greatly afflicted."
Precious in the eyes of the LORD
is the death of his faithful ones. R/.

O LORD, I am your servant;
I am your servant, the son of your handmaid;
you have loosed my bonds.
To you will I offer sacrifice of thanksgiving,
and I will call upon the name of the LORD. R/.

My vows to the LORD I will pay
in the presence of all his people,
In the courts of the house of the LORD,
in your midst, O Jerusalem. R/.
Second Reading ROM 8:31B-34
Brothers and sisters: If God is for us, who can be against us? He who did not spare his own Son but handed him over for us all, how will he not also give us everything else along with him? Who will bring a charge against God's chosen ones? It is God who acquits us, who will condemn? Christ Jesus it is who died—or, rather, was raised— who also is at the right hand of God, who indeed intercedes for us.
Verse Before The Gospel CF. MT 17:5
Gospel MK 9:2-10
Jesus took Peter, James, and John
and led them up a high mountain apart by themselves. And he was transfigured before them, and his clothes became dazzling white,
such as no fuller on earth could bleach them.
Then Elijah appeared to them along with Moses,
and they were conversing with Jesus.
Then Peter said to Jesus in reply, "Rabbi, it is good that we are here! Let us make three tents:
one for you, one for Moses, and one for Elijah."
He hardly knew what to say, they were so terrified.
Then a cloud came, casting a shadow over them;
from the cloud came a voice, "This is my beloved Son. Listen to him."
Suddenly, looking around, they no longer saw anyone but Jesus alone with them.
As they were coming down from the mountain,
he charged them not to relate what they had seen to anyone, except when the Son of Man had risen from the dead. So they kept the matter to themselves, questioning what rising from the dead meant.
Reflection Questions

How might your faith be tested these days?
Is it difficult for you to believe that "God is for us?"
What challenges do you face in listening to the Beloved?
Catena Nova
Jesus took the three apostles up to the mountain for three reasons: first, to show them the glory of his divinity, then to declare himself Israel's redeemer as he had already foretold by the prophets, and thirdly to prevent the apostles' being scandalized at seeing him soon afterward enduring those human sufferings which he had freely accepted for our sake.... Then when the they took him captive and condemned him to the cross, the apostles would understand that it was not for any lack of power on his part that Jesus allowed himself to be crucified by his enemies, but because he had freely chosen to suffer in that way for the world's salvation (St. Ephrem the Syrian).
What do the words and was transfigured mean? Saint John Chrysostom the theologian said that the Lord graciously willed to open up a little of his divinity, and revealed God within him to the initiated disciples....Everything about the blessed divine nature is truly beautiful and desirable, and is visible only to those whose minds have been purified. Anyone who gazes at its brilliant rays and its graces, partakes of it to some extent, as though his own face were touched by dazzling light. That is why Moses' countenance was glorified when he spoke with God (Ex 34:29)….Our Lord Jesus Christ, however, possessed that radiance in his own right. He did not need prayer to illuminate his body with divine light, but he showed how God's splendor would come to the saints and how they would appear. For the righteous shall shine forth as the sun in the Kingdom of their Father (Mt 13:43), and when they have all become divine light, they will behold, as children of that light, Christ's indescribable divine radiance. (St. Gregory Palamas).
O infinite God, you are the first and last experience of my life. Yes, really you yourself, not just a concept of you, not just the name that we ourselves have given you! You have descended upon me in water and the Spirit ... And then there was no question of my contriving or excogitating anything about you. Then my reason with its extravagant cleverness was still silent. Then, without asking me, you made yourself my poor heart's destiny. You have seized me; I have not "grasped" you. You have transformed my being right down to its very last roots and made me a sharer in your own being and life. You have given me yourself, not just a distant, fuzzy report of yourself in human words. And that is why I can never forget you, because you have become the very center of my being. Your word and your wisdom is in me, not because I comprehend you with my understanding, but because I have been recognized by you as your friend. O, grow in me, enlighten me, shine forth ever stronger in me, eternal light. May you alone enlighten me, you alone speak to me. May all that I know apart from you be nothing more than a chance traveling companion on the journey toward you. (Fr. Karl Rahner)
No escape from paradox: Wisdom manifests itself, and is yet hidden. The more it hides, the more it is manifest; and the more it is manifest, the more it is hidden. For God is known when apprehended as unknown, and is heard when we realize that we do not know the sounds of God's voice. The words uttered are words of full silence, and they are bait to draw us into silence. The truths manifested are full of hiddenness, and their function is to hide us, with themselves, in God from whom they proceed. If we hide the precepts of wisdom in our heart -- precepts of humility, meekness, charity, renunciation, faith, prayer -- they themselves will hide us in God. For the values which they give to us, are completely hidden from our eyes. They bring us to the source of a life that is unknown to the natural wisdom of the world, and yet from this source nature itself proceeds, is nourished, and is sustained. (Thomas Merton)
Throughout my whole life, during every moment I have lived, the world has gradually been taking on light and fire for me, until it has come to envelop me in one mass of luminosity, glowing from within ... The purple flush of matter fading imperceptibly into the gold of spirit, to be lost finally in the incandescence of a personal universe ... This is what I have learned from my contact with the earth -- the diaphany of the divine at the heart of a glowing universe, the divine radiating from the depths of matter aflame ... To overcome every obstacle, to unite our beings without loss of individual personality, there is a single force which nothing can replace and nothing destroy, a force which urges us forwards and draws us upwards: this is the force of love (Fr. Pierre Teilhard de Chardin).
Who are You, sweet Light, who inundate me and enlighten me and enlighten the night of my heart? You guide me just like a mother's hand; but if You leave me, I cannot advance a single step. You are space that surrounds my being and in which it is concealed. If you abandon me, I fall into the abyss of nothingness, from where You called me into being. You are nearer to me than myself, more intimate than my inmost being. And yet, no one touches You or understands You and You break the bonds of every name: Holy Spirit - Eternal Love! (St. Edith Stein/ Benedicta of the Cross)
What we see in the transfiguration is a revelation of our own future greatness. We shall participate in Christ's glory. How can this be? It is a gift that is part of the inheritance that is Christ's. He gives this to us as members of his Body and he can do it because he is the Son of God. Listen to St. Leo the Great: "By this mystery of the transfiguration, God's wonderful providence laid the foundations of the Church's hope, teaching the whole Body of Christ the nature of the transformation it is to undergo. It has already been shown in our Head." Even in this world we are God's children by grace. What we are going to become as a result of this adoption had not yet appeared. It will appear when God's lightnings have shaken the earth to its foundations, and those who have been justified will rise to glory. "They will shine like the sun in the Kingdom of their Father". Their bodies will be resplendent like that of Christ on Tabor; they will be transfigured by the very same clarity that illuminates the incarnate Word.... What we must be convinced of is that holiness consists in our likeness to Christ Jesus. It is a flowing through us of the divine life. It is not perfect now nor is it something we achieve of ourselves. Our baptism was a dawning of this holiness through the grace of Christ. As Scripture puts it: "God predestined us to be conformed to the image of the Son". Little by little this likeness grows. Our work is to be faithful to the action of the Holy Spirit, as deepening and developing it even to the fullness of eternal life. The Spirit does this by teaching us to love one another truly and daily. Then, when the Kingdom has fully come, all will be able to see the transformation that has taken place. It will be an inexhaustible spring of joy for us. It will be our divine adoption made perfect by our sharing of the Trinitarian life that is divine love (Bl. Columba Marmion).
Homily
Vision Problems
Child sacrifice? Oh yes, given the time and the place Abraham lived, painful as the sacrifice of his son Isaac would be, he probably thought little of the practice of appeasing gods by offering children as sacrificial victims. It was a thing, you might say. Which is why the last-minute intervention to prevent him from imitating surrounding cultures is so important in the history of religion. Scholars generally agree that this story is the Bible's way of saying such a practice is abhorrent to the God of Abraham and his spiritual progeny. And no one has been more forceful in this view than René Girard:
My interpretation of Isaac's sacrifice is that it is the end of child sacrifice. God asks Abraham to kill his son. Which God is that? It's the old God. It's the traditional God. But the text is very powerful and very deep. What the text tells you ultimately is that, in order to transcend the old gods, you must obey them. If you do away with human sacrifice, you must have that stage of animal sacrifice. You're going to get beyond child sacrifice, not by rebelling against religion but by staying within your tradition which will come to include the transcendence of child sacrifice. I think that's what the text ultimately says: God will provide. Isaac asks, who is going to provide the victim? When he is going up the mountain with his father, he says, I see the fuel for the fire, I see the knife, but who is the victim? And Abraham has that gigantic reply, "God will provide." ("The Scapegoat: René Girard's Anthropology of Violence and Religion," a CBC radio show, in the "Ideas" series, originally aired March 5-9, 2001).
This, of course, raises another troubling question — this time for Christians. For while substituting animal sacrifice for humans was an advance in the religion of the Israelites, when we get to Christianity, have we not reverted to that barbaric practice in that the beloved Son now becomes a victim offered to God? St. Gregory Nazianzen asks the questions this way and, rather haltingly, attempts an answer:
Why would the blood of his only Son be agreeable to the Father who did not wish to accept Isaac offered as a burnt offering by Abraham, but replaced that human sacrifice by that of a ram? Is it not obvious that the Father accepts the sacrifice not because he insists upon it or has some need of it, but to carry out his plan: it was necessary for man to be sanctified by the humanity of God, it was necessary for he himself to free us by triumphing over the tyrant through his force, and for him to call us back to him through his Son. . . . Let us pass over the rest in reverent silence (Oratio XLV).
I'm not sure reverent silence will prove adequate for those troubled by the sacrifice of Jesus. Let me turn for some additional help to James Alison, one of Girard's more capable followers:
Now, this "giving his only Son" is not an idea pulled out of a hat. It is, itself, the demythologization of a story from the Old Testament: the story of Abraham who was prepared to give up his only (legitimate) son to God, by sacrificing him. But look at what has happened meanwhile: in the first story God is a god who demands sacrifices from humans, including the one sacrifice which really mattered, even though, in the story as we have it in Genesis 22, God himself organizes a substitute for the sacrifice. In any case, we still have a capricious deity. What we see in the New Testament, completely in line with the change in the perception of God that I've been setting out, is that it is not humans who offer a sacrifice to God (by, for instance, killing a blasphemous transgressor), but God who offers a sacrifice to humans (Raising Abel, 45).
So Mt. Moriah is not the end of the story. Indeed, it is just the beginning. I noticed, inexplicably, that the Lectionary omits a verse from the first reading which I think is crucial. The missing Verse 14 reads: And Abraham named that site Adonai [Yahweh]-yireh, whence the present saying, "On the mount of the LORD [Yahweh] there is vision." I say it's crucial because the verse provides a bridge to the gospel of the Transfiguration that took place on another mountain, Tabor, where another vision occurred that completes the one accorded Abraham. This vision made clear to the three apostles who were present that this Jesus was indeed the beloved Son whom Isaac prefigured just as Abraham, as it turned out, prefigured his Father. He was, moreover, set firmly on the path to Jerusalem where this God did not spare his own Son but handed him over for us all (II).
The bridge from Moriah to Tabor, moreover involves "that whole self-giving of Jesus [which] becomes possible because Jesus is obedient to God, giving himself in the midst of violent humans who demand blood, so as finally to unmask and annul the system of murderous mendacity which the world is....Here we have the element of the discovery of the absolutely vivacious and effervescent nature of God leading to the realization that behind the death of Jesus there was no violent God, but a loving God who was planning a way to get us out of our violent and sinful life. Not a human sacrifice to God, but God's sacrifice to humans" (Alison, ibid., 46)
"In other words," -- Girard again -- "the Bible provides not merely a replacement of the object to be sacrificed, but the end of the sacrificial order in its entirety, thanks to the consenting victim who is Jesus Christ" (Evolution and Conversion, 204). So Christ is the final and all-sufficient Victim who frees us from the cycles of violence that create endless scapegoats upon whom to vent the tense build-up of human rivalry. The genius of Christianity is to show us how to short-circuit spirals of violence through its proclamation of the One whose Blood has been shed once for all in a sacrifice unlike all others in the history of culture and religion – precisely because there is no longer need for any other Victim. I can't think of any more radiant vision with the power to transfigure us.
And lest we ever feel smug about our "genius," it bears reminding how much human sacrifice, including child sacrifice, is still with us in other forms. I needn't recount the awful disclosures to which the church itself has been subject, to which we can add the plight of trafficked children, the scandalous rates of children bound by poverty, the child-victims of war in Yemen to which the United States has been complicit in its support of the Saudi government, the children who have been killed by gun violence in our schools, and lest we forget, the caging of children at our southern border: victims aplenty to make one wonder just how far we have travelled from that scene on Mt. Moriah, to the one on Mt. Tabor and, yes, finally, to the one on Mt. Calvary.
Which is why we come together week after week in remembrance of Jesus to ensure that our spiritual sight is made pure (cf. Collect). For the Eucharist, in Girard's words, "brings the sacrificial pattern into the open so that it can be overcome." By offering, not a human being, not an animal, but bread and wine, which in turn become the substance of the One who offered himself: Who died or rather was raised up, and is at the right hand of God to intercede for us (cf. II).
[I am grateful to the website Giraridan Reflections on the Lectionary for the several quotations in this homily; http://girardianlectionary.net/]
Creed
Intercessions (Peter J. Scagnelli; Prayers for Sundays and Seasons)
To the God who did not withhold his own Son but gave him up for us, let us offer our intercessions.
That the people of God enduring persecution or tested by suffering may behold in the Lord's transfiguration the pledge of paschal victory.
That the angel of God may stay the hand of powers and interests that threaten to sacrifice peace in a holocaust of hate.
That the Lenten penance of Christians may bear fruit in practical charity for the victims of hardship and distress.
That the Elect who are preparing for baptism at the Easter Vigil may listen to the voice of God's beloved Son and by obedience faith share in the blessings promised to Abraham and Sarah.
That we may always leave the holy mountain of word and worship with new vigor for bearing witness to the victory of the risen Christ.
That Christ Jesus who died and was raised to the right hand of God may lead to transfigured glory all of our beloved departed.
Ever-faithful God, you were well pleased with Abraham's obedience and you accepted the sacrifice of your Son, who gave himself up for the sake of us all. Train us by Christ's teaching and school us in his obedience, that, as we walk his way of sacrifice, we may come to share in your glory. We ask this through Christ our Lord. Amen. (ICEL; 1998)
Interlude

Jesus, take us to the mountain
Where, with Peter, James and John,
We are dazzled by Your glory,
Light as blinding as the sun.
There prepare us for the night
By the vision of that sight.
What do you want us to see there
That Your close companions saw?
Your divinity revealed there
Fills us with the self-same awe.
Clothed in flesh like ours You go,
Matched to meet our deadliest foe.
What do You want us to hear there
That Your dear disciples heard?
Once again the voice from heaven
Says of the incarnate Word:
"Listen, listen ev'ryone;
This is My beloved Son!"
Take us to that other mountain
Where we see You glorified.
Where You shouted, "It is finished!"
Where for all the world You died.
Hear the stunned centurion:
"Truly this was God's own Son!"
We who have beheld Your glory,
Risen and ascended Lord,
Cannot help but tell the story,
All that we have seen and heard,
Say with Peter, James, and John:
"You are God's beloved Son!"
Lord's Prayer
Having listened to the Beloved, we pray now in the words he taught us....
Spiritual Communion
Beloved of God, we long once more to be around your Table and nourished by your Eucharistic presence in the company of your faithful ones. Yet "it is good for us" to be right where we are knowing your Spirit fills us with grace and unites us to the members of your Body even as we make the sacrifice of worshipping together.
Thanksgiving
Closing Hymn
Archives