Third Sunday in Ordinary Time (B)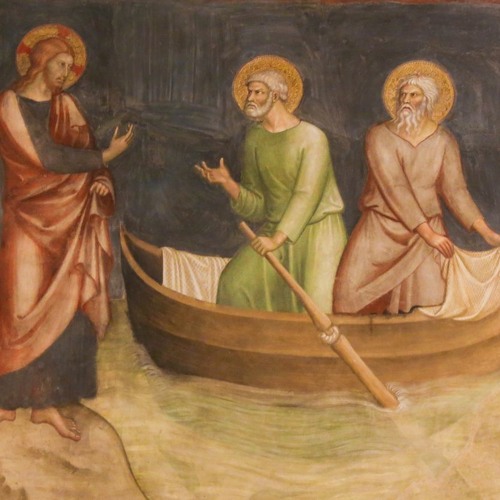 Introit
Kyrie
Gloria
Collect
Almighty ever-living God,
direct our actions according to your good pleasure,
that in the name of your beloved Son
we may abound in good works.
Through our Lord Jesus Christ, your Son,
who lives and reigns with you in the unity of the Holy Spirit,
God, for ever and ever.
First Reading Jon 3:1-5,10 1
The word of the LORD came to Jonah, saying:
"Set out for the great city of Nineveh,
and announce to it the message that I will tell you."
So Jonah made ready and went to Nineveh,
according to the LORD'S bidding.
Now Nineveh was an enormously large city;
it took three days to go through it.
Jonah began his journey through the city,
and had gone but a single day's walk announcing,
"Forty days more and Nineveh shall be destroyed, "
when the people of Nineveh believed God;
they proclaimed a fast
and all of them, great and small, put on sackcloth.

When God saw by their actions how they turned from their evil way,
he repented of the evil that he had threatened to do to them;
he did not carry it out.
Responsorial Psalm Ps 25:4-5,6-7,8-9
R/. Teach me your ways, O Lord.
Your ways, O LORD, make known to me;
teach me your paths,
Guide me in your truth and teach me,
for you are God my savior. R/.

Remember that your compassion, O LORD,
and your love are from of old.
In your kindness remember me,
because of your goodness, O LORD. R/.

Good and upright is the LORD;
thus he shows sinners the way.
He guides the humble to justice
and teaches the humble his way. R/.
Second Reading 1 Cor 7:29-31
I tell you, brothers and sisters, the time is running out.
From now on, let those having wives act as not having them,
those weeping as not weeping,
those rejoicing as not rejoicing,
those buying as not owning,
those using the world as not using it fully.
For the world in its present form is passing away.
Alleluia Mk 1:15
Gospel Mk 1:14-20
After John had been arrested,
Jesus came to Galilee proclaiming the gospel of God: "This is the time of fulfillment.
The kingdom of God is at hand.
Repent, and believe in the gospel."
As he passed by the Sea of Galilee,
he saw Simon and his brother Andrew casting their nets into the sea; they were fishermen.
Jesus said to them,
"Come after me, and I will make you fishers of men."
Then they abandoned their nets and followed him.
He walked along a little farther
and saw James, the son of Zebedee, and his brother John.
They too were in a boat mending their nets.
Then he called them.
So they left their father Zebedee in the boat
along with the hired men and followed him.
Reflection Questions

What do you think are the greatest challenges to repentance our country faces?
In what ways are you called "not to use the world fully?"
What nets might you have to relinquish in order to "come after" the Christ?
Catena Nova
These things, beloved, we write unto you, not merely to admonish you of your duty, but also to remind ourselves. For we are struggling on the same arena, and the same conflict is assigned to both of us. Wherefore let us give up vain and fruitless cares, and approach to the glorious and venerable rule of our holy calling. Let us attend to what is good, pleasing, and acceptable in the sight of Him who formed us. Let us look steadfastly to the blood of Christ, and see how precious that blood is to God, which, having been shed for our salvation, has set the grace of repentance before the whole world. Let us turn to every age that has passed, and learn that, from generation to generation, the Lord has granted a place of repentance to all such as would be converted unto Him. Noah preached repentance, and as many as listened to him were saved. Jonah proclaimed destruction to the Ninevites; but they, repenting of their sins, propitiated God by prayer, and obtained salvation, although they were aliens [to the covenant] of God (Pope St. Clement of Rome).
In today's Gospel, beloved, we heard the exhortation to repent, for the kingdom of heaven is at hand. Now the kingdom of heaven is Christ, who, as we know, is the judge of good and evil and scrutinizes the motives for all our actions. We should therefore do well to forestall God's judgement by freely acknowledging our sins and correcting our wrongheaded attitudes; for by failing to seek out the needful remedies and apply them, we place ourselves in danger. No matter how many wounds our human nature has sustained, we are never justified in giving ourselves over to despair. And our knowledge that we shall have to account for the motives behind our shortcomings makes the need for such a change of heart even greater.... It is not for nothing that our God draws floods of tears from us; he does so to incite us to recover by penance and a change of heart what we had previously let slip through carelessness....Yet no matter how many wounds our human nature has sustained, we are never justified in giving ourselves over to despair, for the Lord is magnanimous enough to pour out his compassion abundantly on all who need it (Caesarius of Arles).
Let us beware of losing all hope but let us also avoid giving in too easily to carelessness…Despair hinders those who have fallen, from getting up again and carelessness causes those who are standing, to fall….If presumption casts us down from the heights of heaven, despair casts us into the infinite depths of evil, whereas a little hope is enough to hold us back…This is how Nineveh was saved. However, the divine judgement pronounced against the Ninevites was of a nature to throw them into confusion since it did not say: "If you repent you will be saved" but simply: "Three more days and Nineveh will be destroyed" (Jon 3:4). Nevertheless, neither the Lord's threat, nor the prophet's preaching, nor even the severity of the judgement… caused their confidence to fail. God wants us to draw a lesson, from this unconditional judgement that taught by this example, that we may resist despair as much as passivity… Besides, divine good will does not only reveal itself in the forgiveness granted to the repentant Ninevites... the respite granted them, attests likewise, to His unutterable goodness. Do you imagine that three days would have been enough to wipe out so much wickedness? God's good will is breaking out from behind these words and, besides, isn't it the principal worker of the whole city's salvation? Let this example keep us from despairing. For the devil thinks of this form of weakness as his most successful weapon and, even when we sin, we could not give him greater pleasure than when we lose hope (St. John Chrysostom).
It is clear, my brothers and sisters, that we live outside ourselves, we are forgetful of ourselves whenever we fritter our lives away in empty pursuits or distractions, decked out with trifles. That is why Wisdom is more concerned to invite us to the house of repentance than the house of feasting, that is to say to call back into themselves, those who are outside themselves (Bl. Isaac of Stella).
"Be converted with all your heart," the Lord says. My brothers and sisters, if he had just said "Be converted" without adding anything, perhaps we should have been able to reply – It's done, now you can give us something else to do. But if I understand correctly, Christ is speaking to us here about a spiritual conversion that does not come about in a day. May it even be achieved in our lifetime! So pay attention to what you love, what you fear, at what makes you happy or what makes you sad and you will sometimes see that...you are still a person of the world. Indeed, the heart is wholly contained in these four feelings and it is concerning them, I think, we must understand these words: "Be converted to the Lord with all your heart." May your loving be converted, in such a way, that you love nothing but the Lord, or rather that you love nothing except for God's sake. May your fear also be turned towards Him, for any fear that makes us afraid of something apart from Him and not because of Him is bad. May your joy and your sadness be converted to Him, this is how it will be if you neither suffer nor rejoice except in Him (St. Bernard of Clairvaux).
Lord, may Your kingdom come into my heart
to sanctify me, nourish me and purify me.
How insignificant is the passing moment,
to the eye without faith!
But how important each moment is,
to the eye enlightened by faith!
How can we deem insignificant anything
which has been caused by You?
Every moment and every event is guided by You
and so contains Your infinite greatness.
So, Lord, I glorify You in everything
that happens to me.
In whatever manner You make me live and die,
I am content.
Events please me for their own sake,
regardless of their consequences
because Your action lies behind them.
Everything is heaven to me
because all my moments,
manifest Your love.
Amen (Fr. Jean Pierre de Caussade).
All through our life Christ is calling us. He called us first in baptism, but afterwards also; whether we obey his voice or not, he graciously calls us still. If we fall from our baptism, he calls us to repent; if we are striving to fulfill our calling, he calls us on from grace to grace, and from holiness to holiness, while life is given us. Abraham was called from his home, Peter from his nets, Matthew from his office, Elisha from his farm, Nathanael from his retreat; we are all in course of calling, on and on, from one thing to another, having no resting place, but mounting towards our eternal rest, and obeying one command only to have another put upon us. He calls us again and again, in order to justify us again and again—and again and again, and more and more, to sanctify and glorify us. It were well if we understood this; but we are slow to master the great truth, that Christ is, as it were, walking among us, and by his hand, or eye, or voice, bidding us follow him. We do not understand that his call is a thing which takes place now (St. John Henry Newman).
Homily
Win, Place, and Show
One way to look at the past week is by noting the convergence of three things, a trifecta of sorts, each of which invites the kind of repentance ("changing your mind") that Jonah secured from the people of Nineveh, and the Lord announced by the Sea of Galilee. And yes, they have to do with topics banished from polite conversation: Race, Politics, and Religion.
First up was Monday's annual celebration of Martin Luther King Jr. Day. More than 50 years after King's assassination, this country witnessed a doomed but concerted effort to overturn the results of the presidential election by White politicians and in particular the results from four states whose cities – Detroit, Milwaukee, Philadelphia, and Atlanta – delivered the victory to President Biden thanks largely to Black voters. The naked racism, on full display when White nationalists stormed the Capitol building on January 6, made clear how far we have to go as a nation in repenting of the sin of systemic racism.
And while that very same day saw the first African-American from the state of Georgia elected to the United States Senate, the Rev. Raphael Warnock -- providentially Dr. King's successor in the pulpit of the Ebenezer Baptist Church in Atlanta – the senior pastor found it necessary to preach a sermon last Sunday that included these words:
When you're accustomed to privilege, parity and equity and equality may feel like oppression. And that's what the current backlash is all about. That's what this unleashing of unembarrassed bigotry is all about. That's what this moment, in which we're so divided, in many ways is all about....
There is a sense in which the world is in flux, and when that happens there are always those demagogues who are trying to scapegoat those other people, and stirring up the worst types of stereotypes and creating all kinds of division: age-old racial and religious resentments, divisions that blur our vision. While we're busy going after one another, attacking one another, the high sit increasingly high and the low sit extremely low....
This time in which we feel like we are living in exile, a land made strange by a pandemic the likes of which no one living has ever seen. A land made strange by an economic turn down. A land made strange by a kind of political speech and rhetoric that continues to reach new lows. A land made strange when we witnessed the unthinkable as the very house of the people was attacked by those who are driven by the worst impulses, stirred up by demagogues....This strange time of exile, this strange time of spiritual exhaustion, this strange time in which the soul of our nation hangs in the balance.
In God's vision for the land, not only is there equity, not only is there integrity, not only is there possibility in God's vision for the land, there is inclusivity. In God's economy, there's a place for everybody -- red, yellow, Brown, Black and White.

Then there was Inauguration Day on Wednesday. While standing on the steps of the building which exactly two weeks earlier had seen a frenzied mob of insurrectionists attempt to subvert a document ratified more than 200 years ago -- the Constitution of the United States -- the new President was yet obliged to call for "a more perfect union" in these words:
I know speaking of unity can sound to some like a foolish fantasy these days. I know that the forces that divide us are deep and they are real. But I also know they are not new. Our history has been a constant struggle between the American ideal that we all are created equal, and the harsh ugly reality that racism, nativism, fear, demonization have long torn us apart....
History, faith, and reason show the way, the way of unity. We can see each other, not as adversaries, but as neighbors. We can treat each other with dignity and respect. We can join forces, stop the shouting, and lower the temperature. For without unity, there is no peace, only bitterness and fury....
But the answer is not to turn inward, to retreat into competing factions, distrusting those who don't look like -- look like you or worship the way you do or don't get their news from the same source as you do. We must end this uncivil war that pits red against blue, rural versus -- rural versus urban, conservative versus liberal. We can do this if we open our souls instead of hardening our hearts.

Finally, in the midst of all this Christian churches throughout the world were beginning the annual Week of Prayer for Christian Unity – something that has been going for over a century. Yet, more than 50 years after Pope Paul VI and Patriarch Athenagoras of Constantinople lifted the mutual excommunications stemming from the Great Schism of 1054 separating the Catholic and Orthodox Churches, and more than 20 years after the breakthrough Joint Declaration on Justification was signed by the Vatican and the World Lutheran Federation -- later joined by Methodist, Congregational, Presbyterian, Reformed, United and Anglican churches – the various Christian bodies are still divided from each other with restrictions on intercommunion often still in place. And so Pope Francis, also on Wednesday of this past week, needed to offer the following reflection during his weekly general audience:
During this time of serious hardship, this prayer is even more necessary so that unity might prevail over conflicts. It is urgent that we set aside preferences to promote the common good, and so our good example is fundamental: it is essential that Christians pursue the path toward full visible unity. In the last decades, thanks be to God, there have been many steps forward, but we still need to persevere in love and in prayer, without lacking trust or tiring. It is the path that the Holy Spirit gave rise to in the Church, in Christians and in us, from which there is no turning back. Ever onward....
To pray means to fight for unity. Yes, fight, because our enemy, the devil, is the one who divides, as the word itself says. Jesus asks the Holy Spirit for unity, to create unity. The devil always divides. He always divides because it is convenient for him to divide. He fosters division everywhere and in any way, while the Holy Spirit always joins in unity....
The theme of this Week of Prayer specifically regards love: "Abide in my love and you shall bear much fruit" (see Jn 15:5-9). The root of communion and love is Christ who makes us overcome our prejudices to see in others a brother or sister to be loved always. Then we will discover that the Christians of other confessions – with their traditions, with their history – are gifts from God, they are gifts present within the territories of our diocesan and parish communities.
So it seems changing minds and hearts when it comes to the trifecta of Race, Politics and Religion takes a lot longer than the one day's journey it took the people of Nineveh to repent at the preaching of Jonah. True, I was greatly heartened by seeing, yes, Vice-President Harris, swear in three new senators -- one Hispanic, one African-American, and one Jewish -- as a powerful sign this country not only can change, but has changed, in the direction of greater inclusion. And I was greatly encouraged to see President Biden, among his first executive actions, deal decisively with the Covid-19 pandemic as well as matters affecting the climate crisis, a humane immigration policy, human rights, the environment, economic hardships, etc. (As of this writing, I am awaiting fulfillment of his pledge to create a task force to reunite families separated at the Southern border).
Whether any of this will prove to be what the reluctant prophet Jonah achieved in calling the people of Nineveh to repentance, I don't know. I hope so. We certainly have plenty of reason to put on sackcloth and to fast, fast from all the various forms of division that rend our nation, our churches, and our world. But I am also mindful of Paul's sage advice warning us that life in this world is always provisional for the world in its present form is passing away. The world is bound to fall short whether we find ourselves weeping or rejoicing (II). And I confess how, over the past two weeks, I have been sullied by the world. My own rage and contempt for what took place led me to the verge of becoming the very thing I despise. Such are the dangers of looking to earthly institutions, whether political or ecclesiastical, and confusing them for the kingdom of God.
Creed
Intercessions
For the church, called like Jonah to preach God's word: May it faithfully proclaim to the world the challenge of conversion.
For those consumed by work and possessions: May they realize that the appointed time is short and use it to grow in love.
For those who, like the first disciples, make their living from the water: May God prosper their labor and bring them to safe harbor.
For those whom God calls to serve in ministry: May they respond eagerly as followers of Christ and fishers of men and women.
For those engaged in business and finance: May they bear witness to Christ by their integrity and concern for the needy.
For those who have passed beyond this present world: may they live in the fullness of God's time and the joy of God's Kingdom.
(Prayer delivered at the Inauguration of President Joseph Biden by Rev. Leo O'Donovan SJ)
Gracious and merciful God, at this sacred time we come before you in need, indeed on our knees.
But we come still more with hope, and with our eyes raised anew to the vision of a more perfect union in our land — a union of all our citizens to promote the general welfare and secure the blessings of liberty to ourselves and our posterity.
We are a people of many races, creeds, and colors, national backgrounds, cultures, and styles, now far more numerous and our land much vaster than when Archbishop John Carroll wrote his prayer for the inauguration of George Washington 232 years ago.
Archbishop Carroll prayed that you, O Creator of All, would assist with your spirit of 'holy counsel and fortitude, the president of these United States, that his administration might be conducted in righteousness and be eminently useful to your people.'
Today we confess our past failures to live according to our vision of equality, inclusion, and freedom for all.
Yet we resolutely commit still more now to renewing the vision, to caring for one another in word and deed, especially the least fortunate among us, and so becoming a light for the world.
There is a power in each and every one of us that lives by turning to every other one of us — a thrust of the Spirit to cherish and care and stand by others and above all those most in need. It is called love and its path is to give ever more of itself.
Today it is called American patriotism, born not of power and privilege, but of care for the common good with malice toward none and with charity for all.
For our new president, we beg of you the wisdom Solomon sought when he knelt before you and prayed for an understanding heart so that I can govern your people and know the difference between right and wrong.
We trust in the counsel of the letter of James: "If any of you lacks wisdom you should ask God who gives generously to all without finding fault and it will be given to you."
Pope Francis has reminded us how important it is to dream together. "By ourselves," he wrote, "we risk seeing mirages, things that are not there. Dreams, on the other hand, are built together."
Be with us, Holy Mystery of Love, as we dream together.
Help us under our new president to reconcile the people of our land, restore our dream, and invest it with peace and justice and the joy that is the overflow of love.
To the glory of your name forever. Amen.
Interlude (Edward Hayes Plumptre, 1821-1891)
Thine arm, O Lord, in days of old,
was strong to heal and save;
It triumphed over disease and death,
over darkness and the grave.
To Thee they went, the blind, the dumb,
the palsied and the lame,
The leper with his tainted life,
the sick with fevered frame.
And lo! Thy touch brought life and health,
gave speech, and strength and sight;
And youth renewed and fear relieved
owned Thee, the Lord of light;
And now, O Lord, be near to bless,
Almighty as of yore,
In crowded street, by restless couch,
as by Gennesaret's shore.
Be Thou our great Deliverer still,
Thou Lord of life and death;
Restore and quicken, soothe and bless,
with Thine almighty breath.
To hands that work and eyes that see,
give wisdom's heavenly lore,
That whole and sick, and weak and strong,
may praise Thee evermore.
Lord's Prayer
That the Kingdom of God might come in its fullness, we pray as Jesus taught us....
Spiritual Communion
With repentant hearts, contrite for wrongs both personal and collective, we ask once more, Lord, that you would bless us with your divine Presence and draw us ever more fully into that communion of charity signified by the Eucharist which today we are unable to receive.
Thanksgiving
Closing Hymn (Pescador De Hombres); Original Spanish Text: Cesareo Gabarin(1936-1991)
O Lord, with your eyes set upon me,
gently smiling, you have spoken my name;
all I longed for I have found by the water,
at your side, I will seek other shores.
Lord, you have come to the seashore,
neither searching for the rich nor the wise,
desiring only that I should follow.
Lord, see my goods, my possessions;
in my boat you find no power, no wealth.
Will You accept, then, my nets and labor?
Lord, take my hands and direct them.
Help me spend myself in seeking the lost,
returning love for the love You gave Me.
Lord, as I drift on the waters,
be the resting place of my restless heart,
my life's companion, my friend and refuge.
Archives