Fifth Sunday in Ordinary Time (A)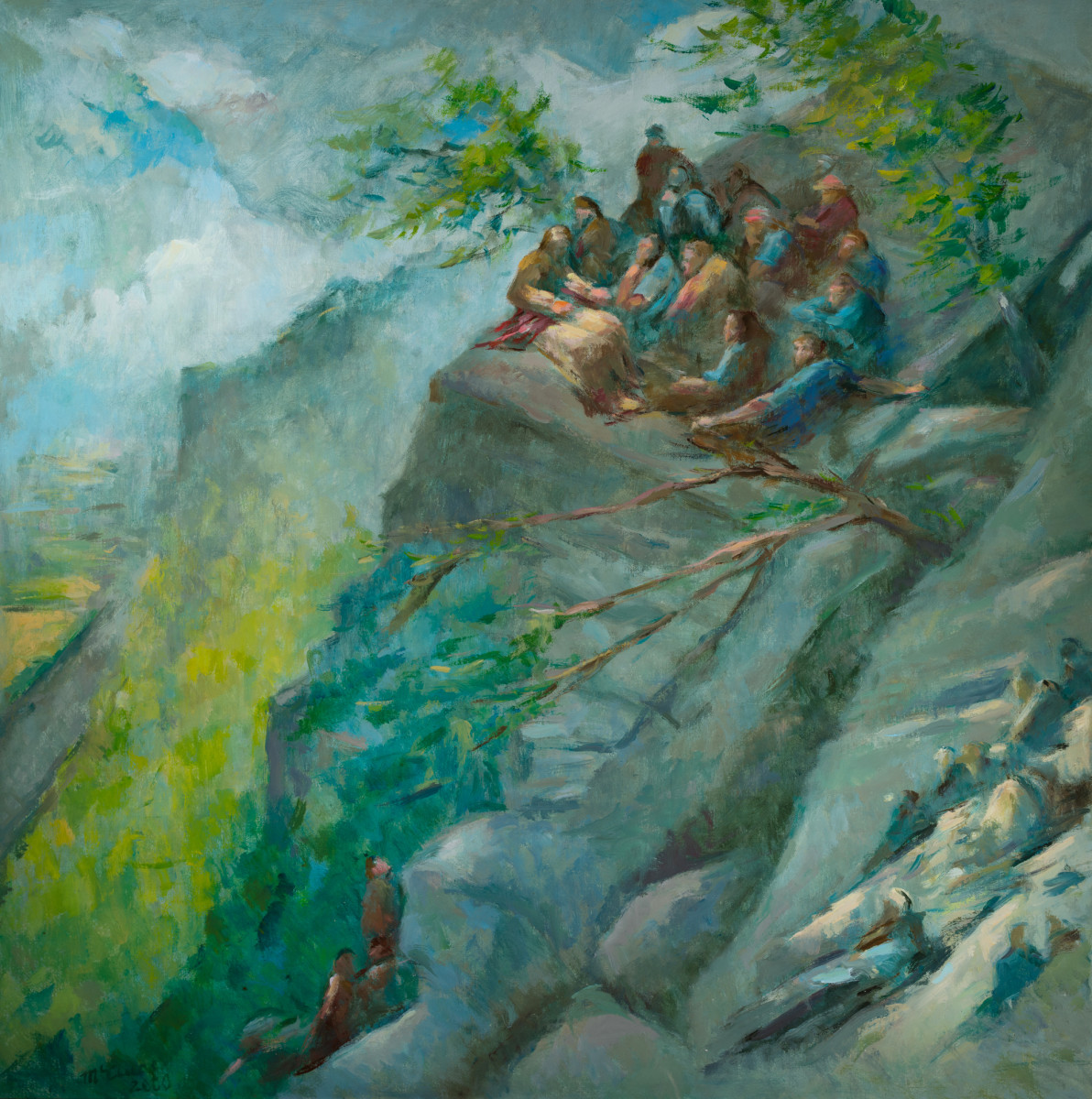 Collect
Keep your family safe, O Lord, with unfailing care,
that, relying solely on the hope of heavenly grace,
they may be defended always by your protection.
Through our Lord Jesus Christ, your Son,
who lives and reigns with you in the unity of the Holy Spirit,
one God, for ever and ever.
Proper Chants
Introit
Come, let us worship God and bow down before the Lord; let us shed tears before the Lord who made us, for he is the Lord our God. Ps/. Come, let us ring out our joy to the Lord; *hail the rock who saves us. Let us come into his presence, giving thanks; *let us hail him with a song of praise.
Offertory
Render secure my footsteps in your paths so that my feet do not slip; incline your ear and hear my words; display your wonderful mercies, O Lord, Saviour of those who place their hope in you. Ps/. O Lord, hear a cause that is just; *pay heed to my cry. Turn your ear to my prayer: *no deceit is on my lips. From you may my justice come forth. *Your eyes discern what is upright.
Communion
I will go in to the altar of God, to the God who gives joy to my youth. Ps/. Give me justice, O God, and plead my cause *against a nation that is faithless. From the deceitful and the cunning *rescue me, O God.
Liturgy of the Word
First Reading Isaiah 58:7-10
Thus says the LORD: Share your bread with the hungry, and bring the homeless poor into your house; when you see the naked, to cover him, and do not to hide yourself from your own flesh. Then shall your light break forth like the dawn, and your healing shall spring up speedily; your righteousness shall go before you, the glory of the LORD shall be your rear guard. Then you shall call, and the LORD will answer; you shall cry, and he will say, Here I am. "If you take away from the midst of you the yoke, the pointing of the finger, and speaking wickedness, if you pour yourself out for the hungry and satisfy the desire of the afflicted, then shall your light rise in the darkness and your gloom be as the noonday.
Second Reading 1 Corinthians 2:1-5
When I came to you, brethren, I did not come proclaiming to you the testimony of God in lofty words or wisdom. For I decided to know nothing among you except Jesus Christ and him crucified. And I was with you in weakness and in much fear and trembling; and my speech and my message were not in plausible words of wisdom, but in demonstration of the Spirit and of power, that your faith might not rest in the wisdom of men but in the power of God.
Gospel Matthew 5:13-16
Jesus said to his disciples: "You are the salt of the earth; but if salt has lost its taste, how shall its saltness be restored? It is no longer good for anything except to be thrown out and trodden under foot by men. "You are the light of the world. A city set on a hill cannot be hid. Nor do men light a lamp and put it under a bushel, but on a stand, and it gives light to all in the house. Let your light so shine before men, that they may see your good works and give glory to your Father who is in heaven.
Reflection Questions
What light have you shed abroad in the world of late?

What flavoring have you given to the world lately?

How might others give glory to God on your account?
Catena Nova
Let your virtue, the perfection of your life, and the performance of good works inspire those who see you to praise the common Master of us all. And so I beg each of you to strive to live so perfectly that the Lord may be praised by all who see you. By the perfection of your lives attract to yourselves the grace of the Spirit, so that the Lord of all creation may be glorified, and so that we may all be found worthy of the kingdom of heaven (St. John Chrysostom)
Jesus himself, as the gospel story goes on to its dramatic conclusion, lives out the same message of the Sermon on the Mount: he is the light of the world, he is the salt of the earth, he loves his enemies and gives his life for them, he is lifted up on a hill so that the world can see. (N.T. Wright)

Our poor people are great people, a very lovable people, They don't need our pity and sympathy. They need our understanding love and they need our respect. We need to tell the poor that they are somebody to us; that they, too, have been created, by the same loving hand of God, to love and be loved. (St. Teresa of Calcutta)
One of the main functions of salt is to season food, to give it taste and flavour. This image reminds us that, through Baptism, our whole being has been profoundly changed, because it has been "seasoned" with the new life which comes from Christ (cf. Rom 6:4). The salt which keeps our Christian identity intact even in a very secularized world is the grace of Baptism. Through Baptism we are re-born. We begin to live in Christ and become capable of responding to his call to "offer [our] bodies as a living sacrifice, holy and acceptable to God" (Rom 12:1). Writing to the Christians of Rome, Saint Paul urges them to show clearly that their way of living and thinking was different from that of their contemporaries: "Do not be conformed to this world, but be transformed by the renewal of your mind, that you may discern what is the will of God, what is good and pleasing and perfect" (Rom 12:2). (Pope St. John Paul II)
The spirit in our country right now is a very troubled spirit because I think we who are followers of Jesus have not taken seriously enough his message that we are to be the light in a world where there is much darkness from violence and hatred and killing in our own country but also internationally. Isn't it important that we try to find the way to change the situation, that we become as the Gospel says like a city on the hill — everybody can see and come to it, that we become a light that breaks back the darkness of suffering and violence and killing? (Archbishop Thomas Gumbleton)
Salt is an element that, while it gives flavour, preserves food from alteration and corruption — there were no fridges in Jesus' time! Therefore, the mission of Christians in society is to give "flavour" to life with the faith and love that Christ has given us, and at the same time to keep away the polluting germs of egoism, of envy, of malicious gossip, and so on. These germs ruin the fabric of our communities, which instead should shine as places of hospitality, of solidarity and of reconciliation. To fulfil this mission, it is necessary first of all that we ourselves are liberated from the corrupting degeneration of worldly influences, which are contrary to Christ and the Gospel; and this purification never ends, it goes on every day! Each one of us is called to be light and salt in the environment of our daily life, persevering in the task of regenerating the human reality in the spirit of the Gospel and in the perspective of the Kingdom of God. (Pope Francis)
When we drifted from understanding and living out his essential secret message of the kingdom, we became like flavorless salt or a blown-out lightbulb — so boring that people just walked away. We may have talked about going to heaven after we die, but not about God's will being done on earth before we die. We may have pressured people to be moral and good or correct and orthodox to avoid hell after death, but we didn't inspire them with the possibility of becoming beautiful and fruitful to heal the earth in this life. We may have instructed them about how to be a good Baptist, Presbyterian, Catholic, or Methodist on Sunday, but we didn't train, challenge, and inspire them to live out the kingdom of God in their jobs, neighborhoods, families, schools, and societies between Sundays. We may have tried to make people nice quiet citizens of their earthly kingdoms and energetic consumers in their earthly economies — but we didn't fire them up and inspire them to invest and sacrifice their time, intelligence, money, and energy in the revolutionary cause of the kingdom of God. (Brian McLaren)
Homily
FIFTH SUNDAY IN ORDINARY TIME (A)
Readings: Is. 58:7-10; 1 Cor. 2:1-5; Mt. 5:13-16
Please Pass the Salt
The House of Mercy. That's the name of a homeless shelter in Rochester, NY founded by the irrepressible Sister of Mercy, Grace Miller. Its website describes their mission as "Food, shelter, clothing, advocacy—operating 24/7, the House of Mercy never closes its doors on people in need. We strive to be a beacon of hope for the poorest of the poor, and we never give up on the thousands of people we serve each month."
And it's a good thing too. Among comparable-sized cities, Rochester continues to be the worst in the country in poverty, childhood poverty and extreme poverty making it one of the most desperately poor places in the country (Justin Murphy, Democrat & Chronicle; December 31, 2018). In its latest issue, Time magazine reports that "1 in 5 American children is officially poor. That's roughly 15 million kids. But the number living with a significant deprivation–insufficient food, seriously overcrowded housing or a lack of access to medical care due to cost–is actually much higher. According to the latest studies, it's more like 1 in 3" (Jeff Madrick; January 23, 2020).
By stunning contrast, I read a variety of sources on how much was spent on last week's Super Bowl. People watching from home spent $17 billion on parties, decorations and other festivities. Those attending the game spent many thousands of dollars per person for tickets (on average $9,000), airfare, lodging and food. Advertising revenue will have topped last year's $330 million -- including Misters Trump and Bloomberg who coughed up $10 million apiece for political ads. And don't forget the betting. The 49ers and the Chiefs will have had more than $7 billion in bets placed on this year's Super Bowl, much of it illegal.
All this at a time when politicians in Washington passed the annual defense budget allocating $738 billion for 2020 -- $22 billion more than last year. As one commentator put it, "we've sold the national soul to the war god so long ago that the perfunctory, bipartisan passage of the National Defense Authorization Act comes and goes every year with, at most, a few marginal cries of outrage and a big shrug from the media" (Robert Koehler, "Militarism: The Delusion Lives"; December 31, 2019).
More alarming still, Ken Kimmell, president of the Union of Concerned Scientists, writes: "This bill accelerates the growing nuclear arms race with Russia. It fully funds almost every element of the Trump administration's trillion-dollar plan to replace the entire U.S. nuclear arsenal with new, more deadly weapons that we do not need, and cannot afford. Most immediately, the bill will allow the Trump administration to quickly deploy the new W76-2 nuclear warhead — a lower yield weapon specifically intended to be more useable in a nuclear conflict. Weapons such as this one make nuclear war more likely and do nothing to enhance our security" (December 11, 2019).
No wonder the Doomsday Clock was recently reset at 100 seconds to midnight. As the Bulletin of the Atomic Scientists noted, "Humanity continues to face two simultaneous existential dangers—nuclear war and climate change—that are compounded by a threat multiplier, cyber-enabled information warfare, that undercuts society's ability to respond. The international security situation is dire, not just because these threats exist, but because world leaders have allowed the international political infrastructure for managing them to erode" (January 20, 2020).
Of course, Sr. Grace's guests at the House of Mercy will be making their own "contribution" to such outrages. Among which are the Supreme Court's decision not to block the Trump administration's so-called "public charge" policy that "would expand the government's ability to refuse green cards or visas for legal immigrants determined to be a 'public charge,' or dependent on public assistance. Those using or likely to use Medicaid, food stamps and other safety net programs would face greater scrutiny from immigration officials" (Politico; January 27, 2020). In response, representatives of the American bishops wrote, "The Supreme Court's decision will have devastating consequences for immigrant communities, as those impacted are cast into the shadows because they fear deportation and family separation for seeking critical support. . . .Preventing anyone from having access to life-saving services is contrary to our belief that all life is sacred from its beginning to its end" (USCCB Committee on Migration; January 29, 2020).
Then there's the administration's proposal to cut Social Security disability benefits and, just to add insult to injury, require beneficiaries to re-prove their eligibility every two years – an arduous process whose administrative costs will eventually outdo the value of the cuts themselves which, by the way, are modest to begin with (Rebecca Vallas, USA Today, January 27, 2020).
On top of that, the administration announced this week new policy that will permit states to cap a portion of spending for Medicaid – something that will likely reduce health benefits for millions who gained coverage through the program under the Affordable Care Act (New York Times; January 30, 2020).
I often wonder what's behind our "bread and circuses" culture that can turn a blind eye away from the harsh realities so many people face, people who have little bread for themselves and none for the stadium. No doubt it has to do with being sheltered from face-to-face encounters with those who suffer. As Sr. Grace puts is, "When we talk about poverty in terms of percentages, it turns human suffering into an abstraction. It obscures the true dimensions of the problem. It overlooks the fact that we are talking about individual human lives…. Think about human faces, not mathematical figures."
She should choreograph the halftime show on Superbowl Sunday so we could get a view of the weak of the world, the lowly and despised of the world, those who count for nothing front and center (cf. 1 Cor 1:26-29). With performers singing lyrics by that great composer Isaiah: Share your bread with the hungry, shelter the oppressed and the homeless; clothe the naked when you see them, do not turn your back on your own…remove from your midst oppression… satisfy the afflicted (I).
But that would forget how the salt and light that flavors and illumines places such as the House of Mercy are too modest for such spectacles. Salt works best when you really can't taste it -- salt flavors food, not food, salt. The same goes for light. It lets you see other things, not itself. So forget halftime. The salt of the earth and light of the world (G) are more like the little bit of bread and wine we're about to offer from which we receive grace that enables us "to joyfully bear fruit for the salvation of the world" (Prayer after Communion) -- in a world that grows ever darker and ever more stale.