Fifth Sunday in Ordinary Time (A)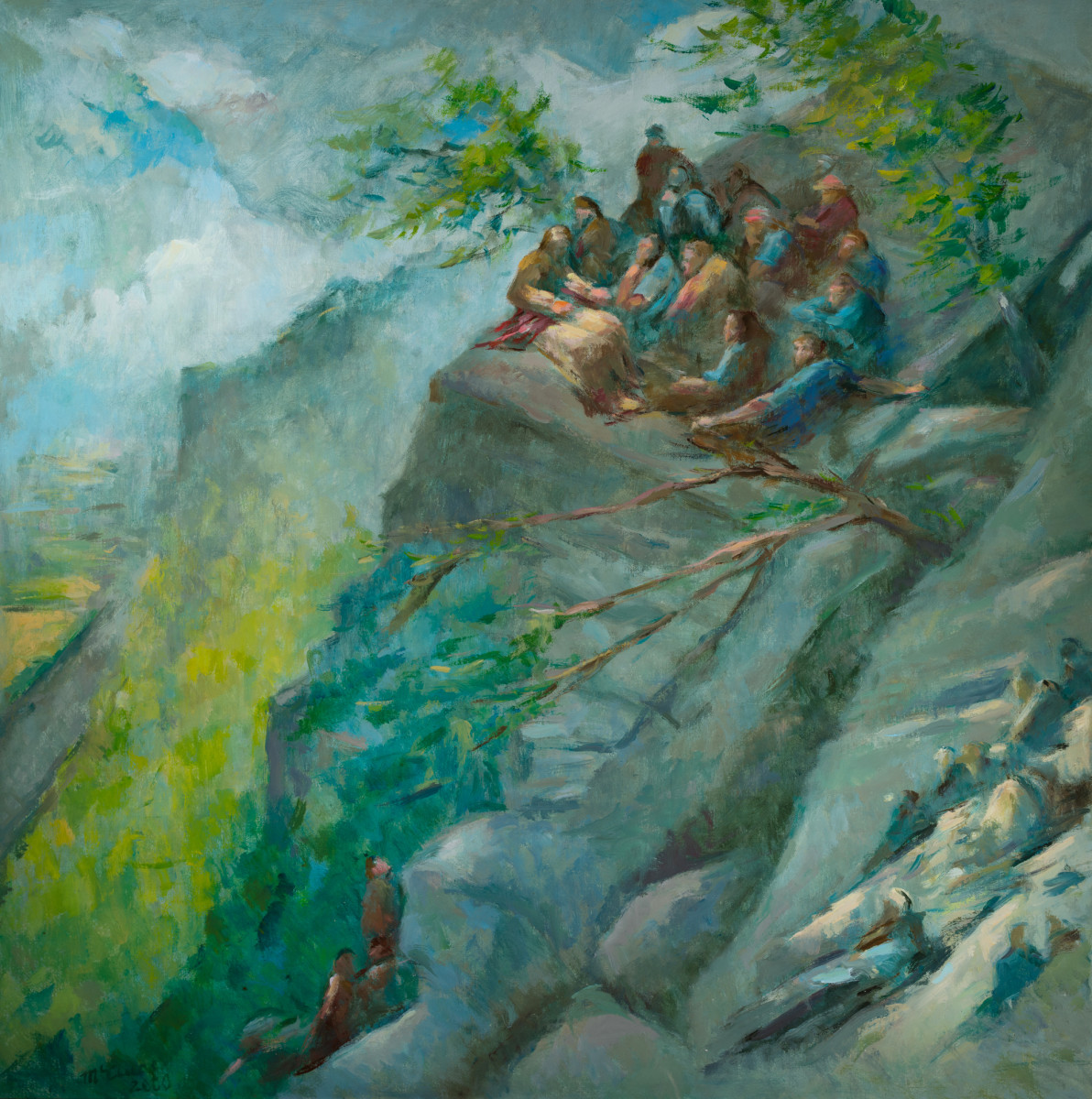 Introit
Come, let us worship God and bow down before the Lord; let us shed tears before the Lord who made us, for he is the Lord our God. Ps/. Come, let us ring out our joy to the Lord; *hail the rock who saves us. Let us come into his presence, giving thanks; *let us hail him with a song of praise.
Kyrie
Gloria
Collect
Keep your family safe, O Lord, with unfailing care,
that, relying solely on the hope of heavenly grace,
they may be defended always by your protection.
Through our Lord Jesus Christ, your Son,
who lives and reigns with you in the unity of the Holy Spirit,
one God, for ever and ever.
First Reading Isaiah 58:7-10
Thus says the LORD:
Share your bread with the hungry,
shelter the oppressed and the homeless;
clothe the naked when you see them,
and do not turn your back on your own.
Then your light shall break forth like the dawn,
and your wound shall quickly be healed;
your vindication shall go before you,
and the glory of the LORD shall be your rear guard.
Then you shall call, and the LORD will answer,
you shall cry for help, and he will say: Here I am!
If you remove from your midst
oppression, false accusation and malicious speech;
if you bestow your bread on the hungry
and satisfy the afflicted;
then light shall rise for you in the darkness,
and the gloom shall become for you like midday.
Responsorial Psalm 112:4-5,6-7,8-9
R. The just man is a light in darkness to the upright.

Light shines through the darkness for the upright;
he is gracious and merciful and just.
Well for the man who is gracious and lends,
who conducts his affairs with justice.

He shall never be moved;
the just one shall be in everlasting remembrance.
An evil report he shall not fear;
his heart is firm, trusting in the LORD.

His heart is steadfast; he shall not fear.
Lavishly he gives to the poor;
His justice shall endure forever;
his horn shall be exalted in glory.
Gradual
Second Reading 1 Corinthians 2:1-5
When I came to you, brothers and sisters,
proclaiming the mystery of God,
I did not come with sublimity of words or of wisdom.
For I resolved to know nothing while I was with you
except Jesus Christ, and him crucified.
I came to you in weakness and fear and much trembling,
and my message and my proclamation
were not with persuasive words of wisdom,
but with a demonstration of Spirit and power,
so that your faith might rest not on human wisdom
but on the power of God.
Gospel Acclamation
Alleluia
Gospel Matthew 5:13-16
Jesus said to his disciples:
"You are the salt of the earth.
But if salt loses its taste, with what can it be seasoned?
It is no longer good for anything
but to be thrown out and trampled underfoot.
You are the light of the world.
A city set on a mountain cannot be hidden.
Nor do they light a lamp and then put it under a bushel basket;
it is set on a lampstand,
where it gives light to all in the house.
Just so, your light must shine before others,
that they may see your good deeds
and glorify your heavenly Father."

Reflection Questions
What light have you shed abroad in the world of late?

What flavoring have you given to the world lately?

How might others give glory to God on your account?
Catena Nova
Let your virtue, the perfection of your life, and the performance of good works inspire those who see you to praise the common Master of us all. And so I beg each of you to strive to live so perfectly that the Lord may be praised by all who see you. By the perfection of your lives attract to yourselves the grace of the Spirit, so that the Lord of all creation may be glorified, and so that we may all be found worthy of the kingdom of heaven (St. John Chrysostom)
Jesus himself, as the gospel story goes on to its dramatic conclusion, lives out the same message of the Sermon on the Mount: he is the light of the world, he is the salt of the earth, he loves his enemies and gives his life for them, he is lifted up on a hill so that the world can see. (N.T. Wright)

Our poor people are great people, a very lovable people, They don't need our pity and sympathy. They need our understanding love and they need our respect. We need to tell the poor that they are somebody to us; that they, too, have been created, by the same loving hand of God, to love and be loved. (St. Teresa of Calcutta)
One of the main functions of salt is to season food, to give it taste and flavour. This image reminds us that, through Baptism, our whole being has been profoundly changed, because it has been "seasoned" with the new life which comes from Christ (cf. Rom 6:4). The salt which keeps our Christian identity intact even in a very secularized world is the grace of Baptism. Through Baptism we are re-born. We begin to live in Christ and become capable of responding to his call to "offer [our] bodies as a living sacrifice, holy and acceptable to God" (Rom 12:1). Writing to the Christians of Rome, Saint Paul urges them to show clearly that their way of living and thinking was different from that of their contemporaries: "Do not be conformed to this world, but be transformed by the renewal of your mind, that you may discern what is the will of God, what is good and pleasing and perfect" (Rom 12:2). (Pope St. John Paul II)
The spirit in our country right now is a very troubled spirit because I think we who are followers of Jesus have not taken seriously enough his message that we are to be the light in a world where there is much darkness from violence and hatred and killing in our own country but also internationally. Isn't it important that we try to find the way to change the situation, that we become as the Gospel says like a city on the hill — everybody can see and come to it, that we become a light that breaks back the darkness of suffering and violence and killing? (Archbishop Thomas Gumbleton)
Salt is an element that, while it gives flavour, preserves food from alteration and corruption — there were no fridges in Jesus' time! Therefore, the mission of Christians in society is to give "flavour" to life with the faith and love that Christ has given us, and at the same time to keep away the polluting germs of egoism, of envy, of malicious gossip, and so on. These germs ruin the fabric of our communities, which instead should shine as places of hospitality, of solidarity and of reconciliation. To fulfil this mission, it is necessary first of all that we ourselves are liberated from the corrupting degeneration of worldly influences, which are contrary to Christ and the Gospel; and this purification never ends, it goes on every day! Each one of us is called to be light and salt in the environment of our daily life, persevering in the task of regenerating the human reality in the spirit of the Gospel and in the perspective of the Kingdom of God. (Pope Francis)
When we drifted from understanding and living out his essential secret message of the kingdom, we became like flavorless salt or a blown-out lightbulb — so boring that people just walked away. We may have talked about going to heaven after we die, but not about God's will being done on earth before we die. We may have pressured people to be moral and good or correct and orthodox to avoid hell after death, but we didn't inspire them with the possibility of becoming beautiful and fruitful to heal the earth in this life. We may have instructed them about how to be a good Baptist, Presbyterian, Catholic, or Methodist on Sunday, but we didn't train, challenge, and inspire them to live out the kingdom of God in their jobs, neighborhoods, families, schools, and societies between Sundays. We may have tried to make people nice quiet citizens of their earthly kingdoms and energetic consumers in their earthly economies — but we didn't fire them up and inspire them to invest and sacrifice their time, intelligence, money, and energy in the revolutionary cause of the kingdom of God. (Brian McLaren)
Homily
Creed
Intercessions
Heavenly Father,
you have called your Church
to be the salt of the earth and the light of the world.
Give us vigorous faith and a love that is genuine,
so that all may see our works
and give you the glory.
We make our prayer through our Lord Jesus Christ, your Son,
who lives and reigns with you in the unity of the Holy Spirit,
God for ever and ever. (ICEL; 1998)

Offertory Antiphon
Render secure my footsteps in your paths so that my feet do not slip; incline your ear and hear my words; display your wonderful mercies, O Lord, Saviour of those who place their hope in you. Ps/. O Lord, hear a cause that is just; *pay heed to my cry. Turn your ear to my prayer: *no deceit is on my lips. From you may my justice come forth. *Your eyes discern what is upright.
Offertory Hymn
"Light and salt" you called your friends,
On the hill, your city:
Let your light shine out for men,
Skill and peace and pity.
But if salt lost its taste
And the light its fuel,
And the city shuts its gates,
Whence can come renewal?
Each in his own place receives
Gospel, guidance, duty,
Daily bread and daily work,
Toward the kingdom's beauty;
Yet the world's distracting scene
Mocks our lofty vision,
Life's complexities confuse
Conscience and decision.
Men dispute and nations fight,
Each all virtues claiming;
Your disciple errs and falls,
False opinion framing.
Judge me, Lord, and plead my cause,
Light and truth now send me,
Lead me in your righteousness,
Chasten and befriend me.
Communion Antiphon
I will go in to the altar of God, to the God who gives joy to my youth. Ps/. Give me justice, O God, and plead my cause *against a nation that is faithless. From the deceitful and the cunning *rescue me, O God.
Closing Hymn (Bernadette Farrell)

Longing for light, we wait in darkness.
Longing for truth, we turn to you.
Make us your own, your holy people,
light for the world to see.

Refrain: Christ, be our light! Shine in our hearts.
Shine through the darkness.
Christ, be our light!
Shine in your church gathered today.
Longing for peace, our world is troubled.
Longing for hope, many despair.
Your word alone has power to save us.
Make us your living voice.
Longing for food, many are hungry.
Longing for water, many still thirst.
Make us your bread, broken for others,
shared until all are fed.
Longing for shelter, many are homeless.
Longing for warmth, many are cold.
Make us your building, sheltering others,
walls made of living stone.

Many the gifts, many the people,
many the hearts that yearn to belong.
Let us be servants to one another,
making your kingdom come.
Archives