Second Sunday of Easter (B)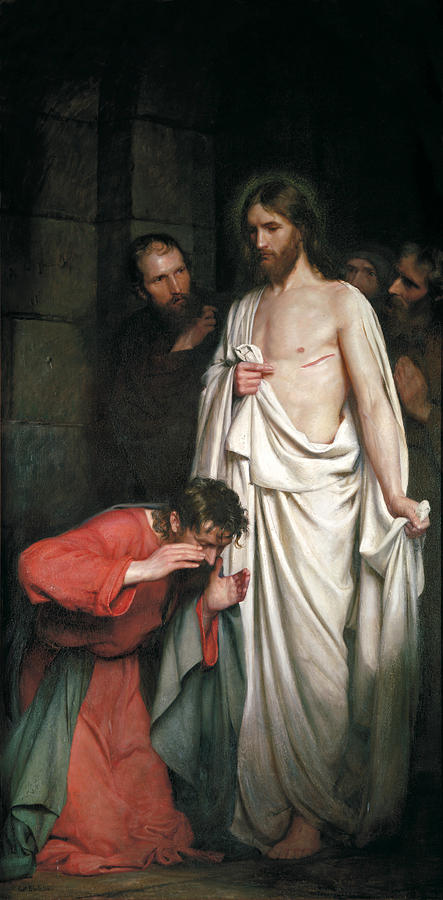 Introit
Kyrie
Gloria
Collect
God of everlasting mercy,
who in the very recurrence of the paschal feast
kindle the faith of the people you have made your own,
increase, we pray, the grace you have bestowed,
that all may grasp and rightly understand
in what font they have been washed,
by whose Spirit they have been reborn,
by whose Blood they have been redeemed.
Through our Lord Jesus Christ, your Son,
who lives and reigns with you in the unity of the Holy Spirit,
God, for ever and ever. Amen.
First Reading Acts 4:32-35
The community of believers was of one heart and mind,
and no one claimed that any of his possessions was his own,
but they had everything in common.
With great power the apostles bore witness
to the resurrection of the Lord Jesus,
and great favor was accorded them all.
There was no needy person among them,
for those who owned property or houses would sell them,
bring the proceeds of the sale,
and put them at the feet of the apostles,
and they were distributed to each according to need.
Responsorial Psalm Ps 118:2-4,13-15,22-24
R/. Give thanks to the LORD, for he is good, his love is everlasting.


Let the house of Israel say,
"His mercy endures forever."
Let the house of Aaron say,
"His mercy endures forever."
Let those who fear the LORD say,
"His mercy endures forever." R/.
I was hard pressed and was falling,
but the LORD helped me.
My strength and my courage is the LORD,
and he has been my savior.
The joyful shout of victory
in the tents of the just: R/.
The stone which the builders rejected
has become the cornerstone.
By the LORD has this been done;
it is wonderful in our eyes.
This is the day the LORD has made;
let us be glad and rejoice in it. R/.
Second Reading 1 Jn. 5:1-6
Beloved:
Everyone who believes that Jesus is the Christ is begotten by God,
and everyone who loves the Father
loves also the one begotten by him.
In this way we know that we love the children of God
when we love God and obey his commandments.
For the love of God is this,
that we keep his commandments.
And his commandments are not burdensome,
for whoever is begotten by God conquers the world.
And the victory that conquers the world is our faith.
Who indeed is the victor over the world
but the one who believes that Jesus is the Son of God?

This is the one who came through water and blood, Jesus Christ,
not by water alone, but by water and blood.
The Spirit is the one that testifies,
and the Spirit is truth.
Gospel Acclamation Jn. 20:29
Gospel Jn 20:19-31
On the evening of that first day of the week,
when the doors were locked, where the disciples were,
for fear of the Jews,
Jesus came and stood in their midst
and said to them, "Peace be with you."
When he had said this, he showed them his hands and his side.
The disciples rejoiced when they saw the Lord.
Jesus said to them again, "Peace be with you.
As the Father has sent me, so I send you."
And when he had said this, he breathed on them and said to them,
"Receive the Holy Spirit.
Whose sins you forgive are forgiven them,
and whose sins you retain are retained."

Thomas, called Didymus, one of the Twelve,
was not with them when Jesus came.
So the other disciples said to him, "We have seen the Lord."
But he said to them,
"Unless I see the mark of the nails in his hands
and put my finger into the nailmarks
and put my hand into his side, I will not believe."

Now a week later his disciples were again inside
and Thomas was with them.
Jesus came, although the doors were locked,
and stood in their midst and said, "Peace be with you."
Then he said to Thomas, "Put your finger here and see my hands,
and bring your hand and put it into my side,
and do not be unbelieving, but believe."
Thomas answered and said to him, "My Lord and my God!"
Jesus said to him, "Have you come to believe because you have seen me?
Blessed are those who have not seen and have believed."

Now Jesus did many other signs in the presence of his disciples
that are not written in this book.
But these are written that you may come to believe
that Jesus is the Christ, the Son of God,
and that through this belief you may have life in his name.
[Rather than provide my own reflection questions, during the Easter season I will be excerpting sections from a pastoral letter on the Eucharist recently issued by Cardinal Joseph Tobin, Archbishop of Newark, which will usually have some of their own questions. I had the privilege of meeting and introducing him a few years back when he gave a talk at St. John Fisher College. He was recently appointed to the Congregation of Bishops by Pope Francis and thus he will have a direct role in naming a successor to Bishop Matano who turns 75 later this year. May I suggest you read this letter prayerfully for its timeliness as we look to resuming Mass at the Mission House. I am hoping, perhaps in June, to have a general meeting of those who are prepared to return to Mass for a discussion of the letter.]
Dear Sisters and Brothers in Christ,
The grace of the Lord Jesus Christ and the love of God and the fellowship of the Holy Spirit be with all of you (2 Cor 13:13).
When church historians write about the Year of Our Lord 2020, I predict they will call particular attention to the "Great Eucharistic Fast." COVID-19, the pandemic that has taken the lives of millions, obliged dioceses throughout the world to take the unprecedented action of closing our churches and effectively denying our people the opportunity to receive Christ's Body and Blood in the Eucharist. Some scholars may point out that, as a result, Catholics in Europe and North America experienced what others have suffered for many years due to a shortage of priests or outright persecution, namely, the absence of the sacraments.
Although this profoundly disturbing decision was taken to control the spread of a deadly disease while protecting the most vulnerable members of our communities, the closure of our churches produced astonishing suffering. Thank God, we have begun to reopen and are slowly returning to full participation in the Church's prayer and sacramental ministry, but much still needs to be done to ensure the health and safety of our people and recover a sense of social, economic, and spiritual wellbeing.
Catena Nova
Thomas' profession of faith came swiftly when, eight days after he had declared his unwillingness to believe, Christ showed him his side and the nail marks in his hands and removed every possible doubt. Our Lord Jesus Christ had miraculously entered the room when the doors were closed. As this would have been impossible for an ordinary earthly body he reassured Thomas, and through him the other disciples, by letting him see his side and the wounds in his flesh. Only Thomas is reported to have said: "Unless my hands touch the marks of the nails and I see them, and unless I put my hand into his side, I will not believe"; yet to some extent all the disciples were guilty of disbelief. Doubt remained in their minds even after they had told Thomas that they had seen the Lord. This surely proves that it was not only in the mind of blessed Thomas that disbelieving thoughts still lurked, but in the minds of the other disciples as well. It was their very astonishment that made them slow to believe, but when it became impossible to disbelieve what they could see with their own eyes, blessed Thomas made his profession of faith: "My Lord and my God." Jesus said to him: "Because you have seen me, Thomas, you have believed. Blessed are those who have not seen, and yet believe."

There was a wonderful providence behind these words of the Savior, and they can be of very great help to us. They show once again how much he cares for our souls, for he is good and as Scripture says: He wants everyone to be saved and to come to knowledge of the truth. Even so, this saying of his may surprise us. As always, Christ had to be patient with Thomas when he said he would not believe and with the other disciples too when they thought they were seeing a ghost. Because of his desire to convince the whole world, he most willingly showed them the marks of the nails and the wound in his side; because he wished those who needed such signs as a support for their faith to have no possible reason for doubt, he even took food although he had no need for it. But when anyone accepts what he has not seen, believing on the word of his teacher, the faith by which he honors the one his teacher proclaims to him is worthy of great praise. Blessed, therefore, is everyone who believes the message of the holy apostles who, as Luke says, were eyewitnesses of Christ's actions and ministers of the word. If we desire eternal life and long for a dwelling place in heaven, we must listen to them (St. Cyril of Alexandria).
The principal reason why the Old Law permitted us to ask questions of God, and why prophets and priests had to seek visions and revelations of God, was because at that time faith had no firm foundation and the law of the Gospel was not yet established; and thus it was necessary that men should inquire of God and that he should speak, whether by words or by visions and revelations or whether by figures and images or by many other ways of expressing His meaning. For all that he answered and revealed belonged to the mysteries of our faith and things touching it or leading to it. But now that the faith is founded in Christ, now that in this era of grace the law of the Gospel has been made manifest, there is no reason to inquire of God in that manner nor for him to speak to us or answer us as he did then. For, in giving us, as he did, his Son, who is his one and only Word, he spoke to us once and for all, in this single Word, and he has no occasion to speak further….Therefore if someone were now to ask questions of God or seek any vision or revelation, he would not only be acting foolishly but would be committing an offense against God – for he should set his eyes altogether upon Christ and seek nothing beyond Christ (St. John of the Cross).
When I look into the future, I am frightened, but why plunge into the future? Only the present moment is precious to me, as the future may never enter my soul at all. It is no longer in my power, to change, correct or add to the past; For neither sages nor prophets could do that. And so, what the past has embraced I must entrust to God. O present moment, you belong to me, whole and entire. I desire to use you as best I can. And although I am weak and small, You grant me the grace of Your omnipotence. And so, trusting in Your mercy, I walk through life like a little child, offering You each day this heart burning with love for Your greater glory. King of Mercy, guide my soul (St. Faustina Kowalska).
Faith is not about understanding the ways of God. It is not about maneuvering God into a position of human subjugation, making a God who is a benign deity who exists to see life as we do. Faith, in fact, is not about understanding at all. It is about awe in the face of the God of all. And it is awe that inspires an alleluia to the human soul. Faith is about reverencing precisely what we do not understand—the mystery of the Life Force that generates life for us all. It is about grounding ourselves in a universe so intelligent, so logical, so clearly loving that only a God in love with life could possibly account for it completely (Sr. Joan Chittister).
If you are in the dark, it does not mean that you have failed and that you have taken some terrible misstep. For many years I thought my questions and my doubt and my sense of God's absence were all signs of my lack of faith, but now I know this is the way the life of the spirit goes (Barbara Brown Taylor).
It need not discourage us if we are full of doubts. Healthy questions keep faith dynamic. In fact, unless we start with doubts we cannot have a deep-rooted faith. One who believes lightly and unthinkingly has not much of a belief. He who has a faith which is not to be shaken has won it through blood and tears — has worked his way from doubt to truth as one who reaches a clearing through a thicket of brambles and thorns (Helen Keller).
There is no hope of understanding the Resurrection outside the process of renewing humanity in forgiveness. We are all agreed that the empty tomb proves nothing. We need to add that no amount of apparitions, however well authenticated, would mean anything either, apart from the testimony of forgiven lives communicating forgiveness. The resurrection was an experience of forgiveness. The disciples had all abandoned Jesus, becoming complicit with his murderers. The fact that the resurrection was happening to them was an experience of forgiveness for them (Archbishop Rowan Williams).
Homily
Twins
Poor deluded souls. They must all be crazy. Oh, I can sympathize with Magdalene. After all, she stayed by him, with his mother and aunt. She even went to the tomb Sunday morning. What for, I don't know. She wasn't going to roll that big stone away by herself. Then she goes and mistakes the gardener for him. Poor deluded soul.
Then there's John. I can feel for him too, I guess. He stuck it out to the end. Standing there by the cross. Of course, he always was the favorite, the disciple whom Jesus loved. Poor deluded soul: Hopeless romantics, each and every one.
Oh yeah, even I thought I'd die with him, that time he raised Lazarus from the dead. (Cf. Jn. 11: 16) That's what got the priests all riled. We escaped that time. But now, after all this, anyone with any sense, would know, it's over. Surely Peter, especially Peter, and the rest of them, realize this. Here they had the chance to run away while they could, yet they're still in Jerusalem, a week later, fearing for their lives! Poor deluded souls.
So why am I still here? 'Cause he fooled me too. All that talk about "I am the way, and the truth, and the life." (Cf. Jn. 14: 5-7) Some way: the way of the cross. And as for truth, Pilate was right to ask him, "What's that?" (Cf. Jn. 18: 38) I sure don't know. And you can forget about life from a dead man. Oh no, I'll have no part in this "We have seen the Lord" (G) business. Let them hide behind locked doors. And if they want to believe in ghosts, let them do that too. As far as I'm concerned, Unless I see the mark of the nails in his hands and put my finger into the nailmarks and put my hand into his side, I will not believe. (G) Ghosts you can keep, I want flesh and blood. Something to grab on to, feel, and touch.
So I'm not waiting around any more. I've wasted enough on religion. Passover's almost over. Maybe I can slip unnoticed into some caravan heading for Galilee. Things won't be as dangerous back home. Time's come to get on with my life. And forget all about it. So why am I heading to the place where they're hiding? Just to say good-bye. And maybe talk some sense into them. Before it's too late.
Funny thing. My name and all. Didymus, or if you prefer, Thomas - the name means "Twin." Sometimes it does seem like there's two of me. One who believes, and the other who doubts. One who'd die for Jesus, and the other who fled from him. One who keeps company with his friends, and the other who'd just as soon forget them. No wonder my full name is Judas Thomas. Now there's a coincidence for you. So which is it, Judas or Thomas? A little of both, I guess. We're twins, you know.
I knock. The latch turns. The door opens slowly. And shuts quickly behind me. There they are. Magdalene, his mother and aunt, John, Peter. They don't look like they've seen a ghost. I'll just stay a minute, and be on my way.
I hear a voice from nowhere: Peace be with you. (G) I turn, and see-- him? It can't be. Ghosts don't have wounds, do they? Put your finger here and see my hands, and bring you hand and put it into my side, and do not be unbelieving, but believe. (G) Oh my God! It is him! In the flesh, and in blood. (Cf. II) A living, breathing, human being. But wait, human beings don't rise from the dead. Or walk through locked doors. Unless. . . Could it be? It must. He tried to tell us: Before Abraham came to be, I AM (Jn. 8:58). . .The Father and I are one (Jn. 10: 30). . . Whoever has seen me has seen the Father. (Jn. 14: 9) Is there any other meaning to those words? I don't think so. In truth, he is, I believe, My Lord and my God! (G)
That's just a little attempt to get inside Thomas' head. No doubt he stayed a while in Jerusalem, after he saw and believed. One of the apostles who with great power . . . bore witness to the resurrection of the Lord Jesus. (I) Legend has it Thomas' faith took him finally to India, where he founded a Church that survives to this day. There, in India, they say he died a martyr for the faith. A long way for someone to go. Yet the road from doubt to faith was probably longer.
We're all on that road with Thomas. Some of us limp along, while others run. Some have just begun, while others have come a long way. Last Sunday this church was full of people who said, "I believe" who aren't here today. I guess they've gone back to Galilee instead of staying around in Jerusalem. Oh well. The important thing is we believe without seeing, and in believing, see the victory that conquers the world is our faith (II) in Jesus Christ, who lives and reigns, forever and ever. Amen.
Creed
Intercessions (Peter Scagnelli; Prayers for Sundays and Seasons)
Gathered as believers who are one in heart and soul, let us pray through Jesus, the Son of God, gloriously risen from the dead.
That the church may give testimony to the resurrection of the Lord Jesus by its love of God and its generous care for those in need.
That world leaders may find the means to conquer mistrust and misinformation with mutual respect and understanding.
That the homeless and dispossessed may find among today's Christians the same generosity that marked the community at its beginnings.
That the neophytes, born of God in the sacraments of initiation, may always find joy in their new life in Jesus the Messiah.
That those among us blessed with resources of our own may generously share with others as any have need.
That we who have not seen the risen Lord and yet have come to believe may be blessed by sharing the peace and forgiveness we have received.
That those who in life believed Jesus to be the Christ, the Son of God, may now rejoice and be glad in God's steadfast love that endures forever.
God of life, source of all faith, through the waters of baptism you have raised us up in Jesus and given us life that endures. Day by day refine our faith, that we who have not seen the Christ may truly confess him as our Lord and God and share the blessedness of those who believe. Grant this through Christ our Lord. Amen. (ICEL;1998)
Interlude
Blessed Thomas, doubt no longer,
see the wounds in hand and side,
now behold the risen Saviour
who for thee hath bled and died,
and from death's dark pit arising,
lives in body glorified.
Here behold the love victorious,
over death triumphant now,
see the feet where nails were driven,
and thy faith in him avow:
for he lives, the world's redeemer,
unto whom all knees shall bow.
Thomas looked upon the master:
Was it then indeed the Lord?
Were those wounds no phantom tokens?
Did the sight with truth accord?
Scarce believing, joy unbounded,
leapt to greet the Savior's word.
Prostrate falling, Thomas worshipped:
'O my Master, Lord and God,'
Here in truth was Christ the Saviour
who the path of suffering trod,
and, to ransom souls unnumbered,
broke in pieces Satan's rod.
Thomas, sight has now convinced thee,
faith within thy heart has stirred;
Blessed more those faithful servants,
trusting in the Saviour's word,
who though vision is denied them,
still believe, and own him Lord.
Grant, O Father, that among them
we thy servants may be known,
and the ground be ever fruitful
where the seed of faith was sown,
till at length in heaven's glory,
faith and vision are but one.
Lord's Prayer
With faith we pray in the words that Jesus taught....
Spiritual Communion
Lord Jesus, we are among those who have not seen and yet believe. We are deprived today of the opportunity to exclaim with Thomas, "My Lord and my God," in confession of your real Presence in the Most Blessed Sacrament. Confirm our faith nevertheless in your Presence within us through the Easter gift of your Spirit. Restore us soon to communion with our fellow believers so that we may together recognize you in the Breaking of the Bread around your Table.

Thanksgiving
Closing Hymn
This joyful Easter-tide,
Away with care and sorrow!
My Love, the Crucified,
Hath sprung to life this morrow.
Had Christ, that once was slain,
Neer burst His three day prison,
Our faith had been in vain;
But now hath Christ arisen, Arisen, arisen, arisen!
My flesh in hope shall rest,
And for a season slumber;
Till trump from east to west,
Shall wake the dead in number.
Had Christ, that once was slain,
Neer burst His three day prison,
Our faith had been in vain;
But now hath Christ arisen, Arisen, arisen, arisen!
Deaths flood hath lost his chill,
Since Jesus crossed the river:
Lover of souls, from ill
My passing soul deliver.
Had Christ, that once was slain,
Neer burst His three day prison,
Our faith had been in vain;
But now hath Christ arisen, Arisen, arisen, arisen!
Archives