Nativity of St. John the Baptist (Jun 24)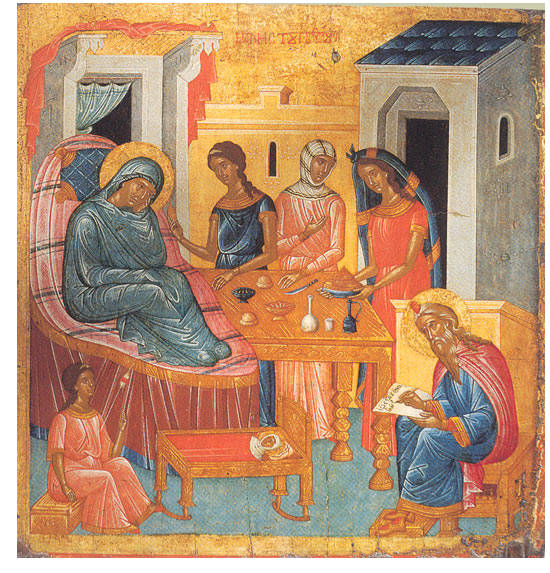 Collect
O God, you raise up prophets in every age.
Let your Spirit, who filled John the Baptist from his mother's womb, fill us with joy as we celebrate his birth.
May the example of his life, the urgency of his preaching,
and the power of his prayers make us ready to receive the one he announced,
Jesus Christ, your Son, who lives and reigns with you
in the unity of the Holy Spirit, God for ever and ever. Amen. (ICEL; 1998)

Hear me, O coastlands,
listen, O distant peoples.
The LORD called me from birth,
from my mother's womb he gave me my name.
He made of me a sharp-edged sword
and concealed me in the shadow of his arm.
He made me a polished arrow,
in his quiver he hid me.
You are my servant, he said to me,
Israel, through whom I show my glory.

Though I thought I had toiled in vain,
and for nothing, uselessly, spent my strength,
yet my reward is with the LORD,
my recompense is with my God.
For now the LORD has spoken
who formed me as his servant from the womb,
that Jacob may be brought back to him
and Israel gathered to him;
and I am made glorious in the sight of the LORD,
and my God is now my strength!
It is too little, he says, for you to be my servant,
to raise up the tribes of Jacob,
and restore the survivors of Israel;
I will make you a light to the nations,
that my salvation may reach to the ends of the earth.
Responsorial Psalm Ps 139:1b-3,13-14ab,14c-15
R. (14)

I praise you, for I am wonderfully made.
O LORD, you have probed me, you know me:
you know when I sit and when I stand;
you understand my thoughts from afar.
My journeys and my rest you scrutinize,
with all my ways you are familiar.
Truly you have formed my inmost being;
you knit me in my mother's womb.
I give you thanks that I am fearfully, wonderfully made;
wonderful are your works.
My soul also you knew full well;
nor was my frame unknown to you
When I was made in secret,
when I was fashioned in the depths of the earth.
Second Reading Acts 13:22-26
In those days, Paul said:
"God raised up David as king;
of him God testified,
I have found David, son of Jesse, a man after my own heart;
he will carry out my every wish.
From this man's descendants God, according to his promise,
has brought to Israel a savior, Jesus.
John heralded his coming by proclaiming a baptism of repentance
to all the people of Israel;
and as John was completing his course, he would say,
'What do you suppose that I am? I am not he.
Behold, one is coming after me;
I am not worthy to unfasten the sandals of his feet.'

"My brothers, sons of the family of Abraham,
and those others among you who are God-fearing,
to us this word of salvation has been sent."
Gospel Acclamation
Gospel Lk 1:57-66, 80
When the time arrived for Elizabeth to have her child she gave birth to a son.
Her neighbors and relatives heard that the Lord had shown his great mercy toward her, and they rejoiced with her.
When they came on the eighth day to circumcise the child, they were going to call him Zechariah after his father, but his mother said in reply,
"No. He will be called John." But they answered her, "There is no one among your relatives who has this name." So they made signs, asking his father what he wished him to be called.
He asked for a tablet and wrote, "John is his name," and all were amazed.
Immediately his mouth was opened, his tongue freed, and he spoke blessing God.
Then fear came upon all their neighbors,
and all these matters were discussed
throughout the hill country of Judea.
All who heard these things took them to heart, saying, "What, then, will this child be?"
For surely the hand of the Lord was with him.
The child grew and became strong in spirit,
and he was in the desert until the day
of his manifestation to Israel.
Catena Nova
The church observes the day of John the Baptist's birth as a special holy day. No one else but Christ is commemorated in this way. Why is this? This answer lies in the need to celebrate the hope we have from God and our confidence that it will be fulfilled. Just as did the Jewish people before Christ's birth we who follow Christ live in hope. Just as they believed that God would fulfill their hope so we believe that God will fulfill ours. John's mother was old and barren; she was beyond all ordinary hope for having the child, especially the son, his parents had hoped for. When an angel proclaimed to Zachary, and in the Holy Place of the Temple, that his wife would have a son he doubted. As a result he fell silent and lost the power of speech until John was born. He regained speech in prophesying that his son would point Israel toward Christ as its Messiah and Savior—the fulfillment of all its hopes. The restoration of Zachary's power of speech is like the rending of the veil of the temple at Christ's death. John was to be a voice crying out in the wilderness so as to make Israel ready for its Lord and for the fulfillment of its hope. It proved to be the forgiveness of sin, and not the recovery of political freedom and any of the other hoped for good things.(St. Augustine of Hippo)
O what a novel and wonderful mystery! John has not yet been born but already he gives voice with his bounds; he has not yet appeared but already he manifests signs of his presence; he cannot yet cry and already he is heard through what he does; as yet he has not begun his life and already he is preaching about God; he does not yet see the light and is already pointing to the sun; he has not yet been brought forth and already he hastens to act as forerunner. The Lord is there! John cannot restrain himself; he is not going to be restricted by the limitations set by nature but strives to break out of the prison of his mother's womb and make known beforehand the Savior's coming. "He who breaks our bonds has come," he says. "and am I to remain shackled? Am I still bound to remain here? The Word comes to re-establish all things and am I still to remain captive? I will come out and run ahead of him and announce to all: Behold, the Lamb of God who takes away the sin of the world" (Jn 1,29). But tell us, John, held fast as you are in the darkness of your mother's womb, how is it that you see and hear? How can you behold divine things? How can you be leaping and rejoicing? "The mystery that is taking place is great indeed," he says. "It is something beyond human understanding. It is with good reason that I am doing something new in the natural order on behalf of him who is to do something new in the supernatural order. I see even before my birth because I see the Sun of Justice gestating (Mal 3,20). (St. John Chrysostom)
Such a great herald was John that by anticipating the grace of his future ministry, he gave his mother the spirit of prophecy, and by the power of the name assigned to him by the angel, he opened the mouth of his father Zechariah, which had been sealed by doubt. Of him whose birth his father doubted, incurring the punishment of being unable to speak, the Evangelist says: "He himself was not the light, but came to give testimony to the light so that everyone might believe through him." Indeed he was not the light, but because he was worthy to give testimony to the true light, he was wholly in the light. Therefore let us all give honor to the most blessed John by celebrating this day of his birth with great joy, for before anyone else he recognized the everlasting light of heaven which was going to dispel the darkness of the world, and he was the first to point it out.

(St. Maximus of Turin)
Today we are celebrating the Nativity of St. John, dearest brethren, something which we read has never been granted to any of the other saints. Only the Nativity of our Lord and that of Blessed John [the Baptist] are celebrated and honored throughout the world. A sterile woman bore the latter, a virgin conceived the former; in Elizabeth sterility was overcome, in blessed Mary the method of conception was changed. Elizabeth bore her son by knowing a husband; Mary believed the angel and conceived hers. Elizabeth conceived a man, and so did Mary; but Elizabeth conceived only a man, while Mary conceived both God and man. What did John want for himself? Why was he interposed? Concerning Whom was he sent ahead? For this reason John was great, and to his greatness even the Savior bears testimony when He says, There has not appeared on earth a man born of woman greater than John the Baptist (Mt 11:11). He surpassed and excelled everyone; he excelled the prophets, he surpassed the patriarchs. Anyone who is born of a woman is inferior to John. (St. Caesarius of Arles)
I cannot be a burning lamp unless I love the Lord my God with all my heart and all my mind and all my strength. Charity is kindled for our salvation. Why don't you approach the Throne of Mercy with total confidence? Give thanks to John and journey toward
Christ. As John had to decrease, so must we. It is so that Christ may always and everywhere increase. By God's grace, may we always have the strength to burn and let Christ shine though us. The more intensely you burn the brighter the light of Christ will
shine from you. You will be God's lamp.

(St. Bernard of Clairvaux)
To be holy is to be close to God. This is not something we can do of ourselves. We can only respond to the call of divine grace. John was called to witness to holiness in all he was and did. He was called to consecrate his entire life and self in response to God's grace, calling him even while still in his mother's womb. This is a most marvelous grace and calling. A most marvelous saint John was. From childhood a hermit dedicated to living only for God and the coming of God's kingdom. Yes, he was also a preacher to those who were fallen and perhaps living in sin. He called them to God not only by word but by example. As God had called him through Mary's word to Elizabeth, so he called others through his words, until the time came for him to point to the lamb of God and then retire from the scene until the Lord indicated to him the further grace he should live. All these were graces of witnessing to God's grace and love. We can do no better, even want no better, than that.

(St. John Henry Newman)
"His name is John" (Lk 1:63) …which in Hebrew means "God is benevolent".

God is benevolent to human beings,

He wants them to live; He wants them to be saved.

God is benevolent to His people, He wants to make of them a blessing, for all the nations of the earth.

God is benevolent to humanity,

He guides its pilgrim way, towards the land,where peace and justice reign. All this is contained in that name: John!"

(

Pope St. John Paul II)
Hymn (Vaughan Williams)
The great forerunner of the morn,
the herald of the Word, is born;
and faithful hearts shall never fail
with thanks and praise his light to hail.
With heavenly message Gabriel came,
that John should be that herald's name,
and with prophetic utterance told
his actions great and manifold.
His mighty deeds exalt his fame
to greater than a prophet's name;
of woman born shall never be
a greater prophet than was he.
To God the Father, God the Son,
and God the Spirit, Three in One,
praise, honor, might, and glory be
from age to age eternally.
Intercessions (Church of England)
Lord God, who promised Zechariah a son filled with the spirit and power of Elijah, to prepare a people fit for the Lord: we pray for reconciliation between all people. Lord, hear us. Lord, graciously hear us.
Lord God, when Elizabeth heard Mary's greeting the baby leapt in her womb: may she who believed your promise be blessed among women, and may we proclaim with joy the good news of your Christ. Lord, hear us. Lord, graciously hear us.
Lord God, at John's birth Zechariah proclaimed he would be the prophet of the Most High: we pray for all who preach the Good News, [especially …]. Lord, hear us. Lord, graciously hear us.
Lord God, when your Son came to the Jordan and was baptized by John he saw the heavens open and the Spirit descending as a dove: may we who are baptized into your Church faithfully proclaim in the world the words of your beloved Son. Lord, hear us. Lord, graciously hear us.
Lord God, John proclaimed your Son as the Lamb of God and John's disciples followed Jesus: help us to follow him also, and by our words and deeds to bring our families and friends closer to you. Lord, hear us. Lord, graciously hear us.
Lord God, who sent John to witness to the light, to be the voice of one crying in the wilderness and to prepare the way of the Lord: comfort your people and bring your healing to the sick and needy, to the broken-hearted and the oppressed, to prisoners and captives. [Especially we pray for …] Lord, hear us. Lord, graciously hear us.
Lord God, John preached the baptism of repentance for the forgiveness of sins and suffered imprisonment and death for proclaiming your Law: we remember all who have died in your service,
joining our prayers with John the Baptist and all the saints; grant us with them a share in your eternal kingdom. Lord, hear us. Lord, graciously hear us.
God our Father,
in your tender compassion
the dawn from on high has broken upon us.
Shine on those who dwell in darkness and the shadow of death
and guide our feet into the way of peace;
through Jesus Christ your Son our Lord. Amen.
Closing Hymn
(Canticle of Zechariah; Michael Joncas)
Blest be the God of Israel, The everliving Lord, Who comes in pow'r to save his own, His people Israel. For Israel he raises up salvation's tow're on high. In David's house who reigned as king And servant of the Lord.
Through holy prophets did he speak His Word in days of old, That He would save us from our foes And all who beat us ill. To our ancestors did He give His covenant of love, So with us all he keeps his Word In love that knows no end.
Of old he gave his solemn oath To Father Abraham; His seed a mighty race should be And blest forevermore He vowed to set his people free From fear of ev'ry foe, That we might serve him all our days In goodness, love and peace.
O tiny child, your name shall be The prophet of the Lord; The way of God you shall prepare To make his coming known. You shall proclaim to Israel Salvation's downing day, When God shall wipe away all sings In his redeeming love.
The rising sun shall shine on us To bring the light of day To all who dwell in darkest night And shadow of the grave. Our footsteps God shall safely guide To walk the ways of peace; His name forevermore be blest, Who lives and loves and saves.
Archives