Fourth Sunday of Easter (B)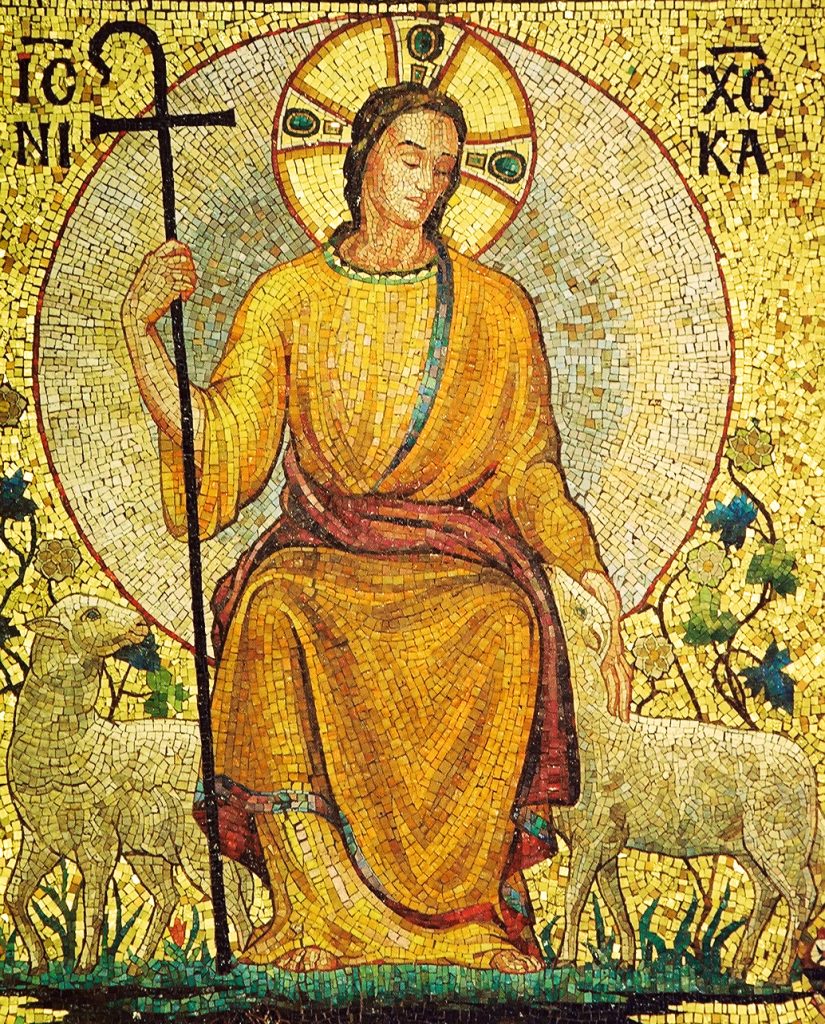 Introit
Kyrie
Gloria
First Reading ACTS 4:8-12
Peter, filled with the Holy Spirit, said:
"Leaders of the people and elders:
If we are being examined today
about a good deed done to a cripple,
namely, by what means he was saved,
then all of you and all the people of Israel should know that it was in the name of Jesus Christ the Nazorean whom you crucified, whom God raised from the dead;
in his name this man stands before you healed.
He is the stone rejected by you, the builders,
which has become the cornerstone.
There is no salvation through anyone else,
nor is there any other name under heaven
given to the human race by which we are to be saved."
Responsorial Psalm PS 118:1, 8-9, 21-23, 26, 28, 29
R/. The stone rejected by the builders has become the cornerstone.


Give thanks to the LORD, for he is good,
for his mercy endures forever.
It is better to take refuge in the LORD
than to trust in man.
It is better to take refuge in the LORD
than to trust in princes. R/.
I will give thanks to you, for you have answered me
and have been my savior.
The stone which the builders rejected
has become the cornerstone.
By the LORD has this been done;
it is wonderful in our eyes. R/.
Blessed is he who comes in the name of the LORD;
we bless you from the house of the LORD.
I will give thanks to you, for you have answered me
and have been my savior.
Give thanks to the LORD, for he is good;
for his kindness endures forever. R/.
Second Reading 1 JN 3:1-2
Beloved:
See what love the Father has bestowed on us
that we may be called the children of God.
Yet so we are.
The reason the world does not know us
is that it did not know him.
Beloved, we are God's children now;
what we shall be has not yet been revealed.
We do know that when it is revealed we shall be like him,
for we shall see him as he is.
Alleluia JN 10:14
Gospel JN 10:11-18
Jesus said: "I am the good shepherd.
A good shepherd lays down his life for the sheep.
A hired man, who is not a shepherd and whose sheep are not his own, sees a wolf coming and leaves the sheep and runs away, and the wolf catches and scatters them. This is because he works for pay and has no concern for the sheep.
I am the good shepherd, and I know mine and mine know me, just as the Father knows me and I know the Father; and I will lay down my life for the sheep.
I have other sheep that do not belong to this fold.
These also I must lead, and they will hear my voice,
and there will be one flock, one shepherd.
This is why the Father loves me, because I lay down my life in order to take it up again. No one takes it from me, but I lay it down on my own. I have power to lay it down, and power to take it up again. This command I have received from my Father."
[The following is the third installment of Cardinal Tobin's pastoral letter on the Eucharist. The question for reflection is]:
Has the current crisis accelerated the trend of declining Mass attendance, or have we grown in our appreciation for the Eucharist precisely because we were denied access to it for so long? Has absence made our hearts grow fonder?
When our churches were closed and it became impossible for most Catholics to receive the Eucharist, our Holy Father Pope Francis strongly urged us to find ways of maintaining "spiritual closeness" with God and with each other. As liturgies were live-streamed from the Vatican, our Cathedral Basilica of the Sacred Heart, and so many of our parishes, provided the faithful with opportunities to make a "spiritual communion," a traditional means of seeking intimacy with Jesus when the physical reception of the Eucharist is not possible. Many people have told me that these live-streamed liturgies were a great blessing; for many, they still are. But they are not the same thing as being physically together and receiving the Body and Blood of Christ in Holy Communion.
Now that we are gradually reopening our churches, and increasing the numbers of people who can attend daily and Sunday Masses, I have been asked whether it isn't time to discontinue live-streamed liturgies and restore the obligation to go to Mass in person on Sundays and Holy Days. Some pastors and lay faithful are concerned that when things finally return to "normal," many Catholics will have grown accustomed to staying home and either watching Mass online or not participating at all. As I'm sure you are aware, declining Mass attendance was a serious concern long before the pandemic.
When I was a young priest serving in the Archdiocese of Detroit, I used to preach retreats at a diocesan retreat house just across the Canadian border. The resident Retreat Master there was an older priest, a bit gruff in his manner but with a heart that was pure gold. One day he told me a story that I've never forgotten.
Father Adrian was directing a retreat day for young people from a new Catholic high school in the Detroit area that had been recently created by the merger of two others — one predominantly white and the other largely African American. Throughout the day, the priest felt some tension among the students but he couldn't identify the cause.
The day was to close with Mass. During the General Intercessions, the priest invited the young people to add their own petitions. The first to speak, a white student, offered a petition that was clearly offensive to the African American students. As a result, the offended students stood up and walked out. The student who had offered the petition spit out, "Let them go! We don't need them!" After a few minutes of stunned silence, Father removed his stole and asked the remaining students to return to their rooms and wait for their bus, saying, "We can't celebrate the Mass today." But, that's not how the story ends.
A week later, Father Adrian was beginning a retreat with a group of adults when he noticed several young men quietly enter the rear of the conference room. As he walked back to welcome them at the conclusion of his talk, he recognized them as the students who had walked out of that liturgy a week before. They told him that two reasons brought them back. First, they needed to apologize for not handling their problems in a more Christian manner, and secondly, to tell them what they had learned. They didn't fully realize what the Eucharist was until they couldn't celebrate it.
Catena Nova

"I am the Good Shepherd. The Good Shepherd lays down his life for his sheep." For the sake of his flock the shepherd was sacrificed as though he were a sheep. He did not refuse death; he did not destroy his executioners as he had the power to do, for his passion was not forced upon him. He laid down his life for his sheep of his own free will. "I have the power to lay it down," he said, "and I have the power to take it up again." .... By his passion he made atonement for our evil passions, by his death he cured our death, by his tomb he robbed the tomb, by the nails that pierced his flesh he destroyed the foundations of hell. Death held sway until Christ died. The grave was bitter, our prison was indestructible, until the shepherd went down and brought to his sheep, confined there, the good news of their release. His appearance among them gave them a pledge of their resurrection and called them to a new life beyond the grave. To him be glory and power for ever. Amen (Basil of Seleucia).
All we are trying to do is be one with Jesus, to reproduce his life in our own, to proclaim his teaching from the rooftops in our thoughts, words, and actions, to let him rule and live in us. He comes into us so frequently in the Holy Eucharist—may he establish his Kingdom within us! If he gives us joys, we should accept them gratefully: the Good Shepherd gives us such sweet grasses to strengthen us and make us fit to follow him later along dry pathways. If he gives us crosses, we should embrace them. To be given a cross is the best grace of all: it is to walk hand-in-hand with Jesus more closely than ever, to relieve him by carrying his cross for him, as Simon of Cyrene did. It is our Beloved's invitation to us to declare and prove our love for him. In torments of soul and bodily suffering, let us rejoice and be glad; Jesus is calling us, telling us to tell him we love him, and to go on telling him as long as our suffering lasts. Every cross, great or small, every discomfort even, is an appeal from our Beloved, asking us to declare our love and go on doing so while the cross lasts (Bl. Charles de Foucauld).
I want Jesus to be your intimate friend, to whom you may entrust your heart, tired and filled with sorrow. Who can fathom the intensity, the torrent of worries pouring over you as can our Lord who delves into our deepest hearts, and with delicate touch can touch those painful wounds whose depths even we ourselves don't understand? Oh how your life would be transformed if you went to him often as to a friend! Can you be thinking Jesus won't want to welcome you as a friend? If that's what you thought, it would be a sign you don't know him. Jesus is all tenderness, all love for his sinful creatures. He dwells in the tabernacle with his heart open to receive us, waiting for our arrival that he may console us. How many times have you yourself told me how happy you've felt receiving Communion! That's because at that moment your soul, free from all its burdens, felt the presence of its God, the only One who can satisfy us. And besides, why fear going to Our Lord, when he himself told us that he is the Good Shepherd, that he was laying down his own life to ransom the lost sheep? And he said he would go in search of one sinner. So…all of us, despite our being sinners, can draw near to him. We're his children who must put our trust in his Heart, full of fatherly tenderness (St. Teresa of the Andes).
It is also said that the sheep heed the Shepherd, because they know his voice. Is it true that people recognize Christ's call and respond to it? In one sense it must be, for he has said so; yet much in me qualifies the statement. Actually I respond much more readily to the call of 'the others'; I neither really understand Christ's summons nor follow it. Therefore, in order that I may hear, he must not only speak, but also open my ears to his voice. Part of me, the profoundest part, listens to it, but superficial, loud contradiction often overpowers it. The opponents with whom God must struggle in order to win us are not primarily 'the others,' but ourselves; we bar his way. The wolf who puts the hireling to flight is not only outside; he is also within. We are the arch-enemy of our own salvation, and the Shepherd must fight first of all with us – for us (Romano Guardini).
Despite Jesus' realistic word-picture, the parable of the Good Shepherd only fully comes alive in Jesus Himself, God's appointed "Shepherd" of men. He names two characteristics of such a shepherd: first the shepherd's commitment to the flock even to the point of death; and second, the reciprocal recognition between sheep and shepherd, which is anchored in the innermost mystery of God.The theme of self-giving to the point of death, is found at both the beginning and the end of the Gospel. This devotion, contrasts sharply with the flight of the "hired hand", who, when facing danger, has the excuse that the life of a man is more valuable than the life of a dumb animal. This argument loses its force, however, when the shepherd cares so much for his sheep, that he prefers them to his own life. That is scarcely conceivable in purely natural terms but it becomes a central truth in the realm of grace. It only makes sense with the aid of the second theme of the parable – the shepherd knows his sheep and the animals likewise instinctively recognise him. For Jesus, this is merely the point of comparison for a completely different recognition: "as the Father knows me and I know the Father." This has nothing to do with instinct but with the most profound mutual recognition, as it is found in absolute trinitarian love. When Jesus applies this utterly sublime trinitarian love recognition to the inward mutuality between Himself and His own, He elevates this knowledge far above that which is hinted at by the parable (Hans Urs von Balthasar).
Christ is the Good Shepherd; he calls his sheep by name and leads them forth. We, his flock, know his voice and we share his concern to gather his people together, to lead them on the way of salvation…. Let yourselves be summoned by the love of Christ; recognize his voice which rings in the temple of your heart.... Have no fear of the fact that the response he requires is radical, because Jesus, who has first loved you, is ready to give what he asks of you. If he asks much it is because he knows that you can give much (Pope St. John Paul II).
At first signs of danger, the shepherd can't run and leave the sheep fend for themselves. I heard about a couple groups of nuns in Nicaragua that left during the fighting and later wanted to go back. The people asked them where were you when we needed you? They couldn't stay and were forced to leave. I don't want that to happen to me. I have too much of my life invested here to run (Bl. Stanley Rother).
Homily
Voice Recognition
An elderly man, born blind, used to sit outside a Buddhist temple in India. The temple was frequented by a famous monk, renowned for his holiness. One day the man was told of the monk's death. A great sadness came over him. "You see," said the man without sight, "since I am blind I cannot watch a person's face. Instead, I must judge character by the sound of someone's voice. For example, when I hear people told of another person's good fortune, they usually rejoice with the person so favored. But, almost always, beneath the words of congratula­tion, I hear another voice, a voice of envy, sounding jealousy over the fact they were not the ones so blessed. Or, when I hear people informed of some tragedy that has befallen somebody, I normally hear words of dismay. But, almost always, beneath the words of sympathy, I hear another voice, a voice of relief, sounding gladness over the fact they were not the ones so afflicted. But that was never the case with this monk whom I mourn. Whenever he expressed happiness at another's good fortune, all I heard was happiness. And when he expressed sorrow, all I ever heard was sorrow." (Cf. Donald Nicholls, Holiness, 89)
We've all learned the hard way that words do not always speak what is in the mind and heart, haven't we? And few things disturb us like words that sound like one thing but mask another. Did you know the word "phony" comes from the Greek word for "voice"? Strange, isn't it? How the word for "voice" in one tongue, came to mean "fake" in another. Something to note in this age of fake news, alternative facts, and disinformation: the instrument designed for speaking truth, the voice, often serves as a vehicle of deceit.
Still, we long for a voice that is true. One that is pure. A voice we can follow with confidence: unconcerned that a hired hand might be masquerading as a shepherd, or a wolf may be lurking beneath sheep's clothing. Problem is we're not trained to recognize such a voice. We can have a tin ear when it comes to knowing a genuine voice, from a counterfeit one. So reliable voices goes unperceived-- and we deceived. So we chase after voices in the wind, vanishing voices, that sooner or later disappoint and betray the trust we place in them. But we continue looking: maybe a fresh voice will bring us what we seek. Maybe.
Look at the longing of Israel for its Messiah. Pretender after pretender came upon the scene, each claiming to be the Anointed of God, who would speak with God's voice. But without fail, these false messiahs dashed the hopes of those who followed after them. Nevertheless, people were always ready to go after the next one that came along. And there was never a shortage of impostors.
And yet, when God's servant, Jesus Christ the Nazorean (I), finally did appear, the world did not know him (II). He became the stone rejected by the builders (RP), whom they crucified, but whom God raised from the dead. So that now there is no salvation through anyone else, nor is there any other name under heaven given to the human race by which we are to be saved (I).
But why should Christ be the true, the noble, the good shepherd of God's people, who speaks with a certain voice that we should recognize? Because he lays down his life for the sheep and, for them, takes it up again. (Cf. G) He is no hired hand, caring first for himself and then for others. He is no thief, who would rob us of our trust, and then abandon us. Nor is he someone who speaks one thing, while hiding another. No, his concern is only for us: In our joy, he is truly glad, and in our sorrow, he is truly afflicted. And that is why his sheep will hear [his] voice (G).
But they will hear his voice only if their minds are tuned to its sound. And for that a sensitive ear is necessary. Like that man who sat outside the temple, we need an ear that can detect a true from a false voice. Please notice though, how much his loss of sight had to do with his ability to tell one voice from another. Perhaps we too must close our eyes in order to open our ears to hear the voice of Christ: close our eyes to so much that attracts and flatters us, but which ends up fooling and misleading us instead.
For this world is passing away, and with it all that is false and fleeting. What remains, though, is Christ, who alone is worth a hearing, and worth following: Christ, who leads us to a pasture where we shall be like him, for we shall see him as he is (II), in the light of God's presence, forever and ever. Amen.
Creed
Intercessions (Peter Scagnelli; Prayers for Sundays and Seasons)
Let us intercede for the needs of all God's children in the name of Jesus the Good Shepherd.
That all those outside the fold, for whom Jesus laid down his life, may be gathered into the one flock of the one Shepherd.
That those who control the destinies of the nations may act as responsible stewards of the power and people entrusted to their care.
That society's defenseless ones may be known and defended by Christians as God's own, worthy of dignity and respect.
That the newly baptized into the one flock of the Lord may rejoice in the salvation that is theirs.
That those who are sick may find health in the name of Jesus and care at the hands of his disciples.
That we who know and are known by the Good Shepherd may gladly welcome into our midst all who will listen to the Lord's voice.
That all the departed who were God's children by baptism may become like God in eternal life.
God of lasting love, fulfil your plan of salvation to gather into one fold the peoples of the whole world. Let everyone on earth recognise your Christ as the Good Shepherd, who freely lays down his life for all to take it up again in power. Grant this through Christ our Lord. Amen. (ICEL; 1998)
Interlude (Henry W. Baker)
The King of love my shepherd is,
Whose goodness faileth never;
I nothing lack if I am his
And he is mine forever.
Where streams of living water flow,
My ransomed soul he leadeth
And, where the verdant pastures grow,
With food celestial feedeth.
Thou spredst a table in my sight;
Thine unction grace bestoweth;
And, oh, what transport of delight
From thy pure chalice floweth!
And so through all the length of days
Thy goodness faileth never.
Good Shepherd, may I sing thy praise
Within thy house forever.
Lord's Prayer
Gathered together in the Lord's one fold, and responsive to his voice, we pray as Jesus taught us....
Spiritual Communion
Like a shepherd you feed your flock, Lord, and we long for the Bread of life and the Cup of salvation. Though we cannot today be nourished at your table, we are yet confident of your abiding presence with those whom you call your own. Hasten the day when we can be reunited with others whom you have called by name that we might rejoice together in the one flock of those you have made God's beloved children.
Thanksgiving
Closing Hymn (Henry J. van Dyke)
Joyful, joyful, we adore Thee,
God of glory, Lord of love;
Hearts unfold like flow'rs before Thee,
Op'ning to the sun above.
Melt the clouds of sin and sadness;
Drive the dark of doubt away;
Giver of immortal gladness,
Fill us with the light of day!
All Thy works with joy surround Thee,
Earth and heav'n reflect Thy rays,
Stars and angels sing around Thee,
Center of unbroken praise.
Field and forest, vale and mountain,
Flow'ry meadow, flashing sea,
Singing bird and flowing fountain
Call us to rejoice in Thee.
Thou art giving and forgiving,
Ever blessing, ever blest,
Wellspring of the joy of living,
Ocean depth of happy rest!
Thou our Father, Christ our Brother,
All who live in love are Thine;
Teach us how to love each other,
Lift us to the joy divine.
Archives