Twentieth Sunday in Ordinary Time (A)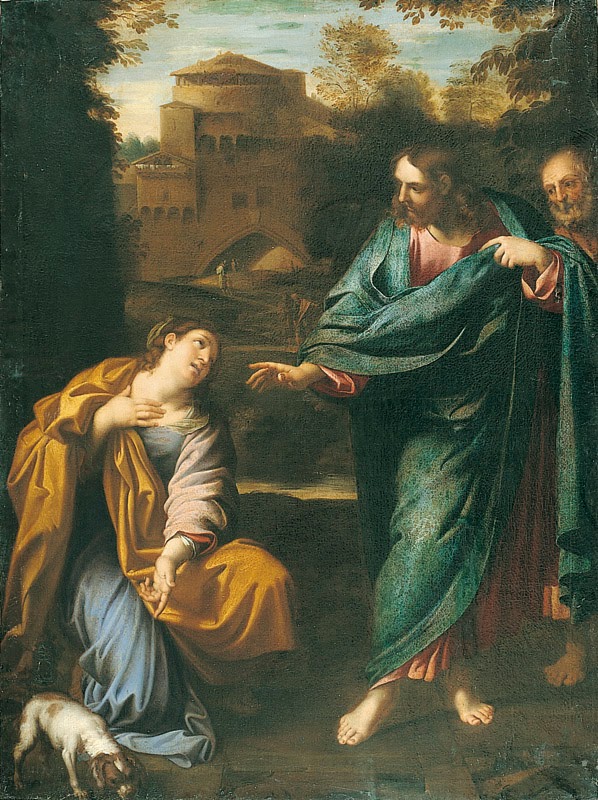 Introit
Kyrie
Gloria
Collect
O God, who have prepared for those who love you
good things which no eye can see,
fill our hearts, we pray, with the warmth of your love,
so that, loving you in all things and above all things,
we may attain your promises,
which surpass every human desire.
Through our Lord Jesus Christ, your Son,
who lives and reigns with you in the unity of the Holy Spirit,
one God, for ever and ever. Amen.

First Reading Is 56:1,6-7
Thus says the LORD: Observe what is right, do what is just; for my salvation is about to come, my justice, about to be revealed. The foreigners who join themselves to the LORD ministering to him, loving the name of the LORD, and becoming his servants—all who keep the sabbath free from profanation and hold to my covenant, them I will bring to my holy mountain and make joyful in my house of prayer; their burnt offerings and sacrifices will be acceptable on my altar, for my house shall be called a house of prayer for all peoples.
Responsorial Psalm Ps 67:2-3,5,6,8
R. O God, let all the nations praise you!
May God have pity on us and bless us;
may he let his face shine upon us.
So may your way be known upon earth;
among all nations, your salvation. R.
May the nations be glad and exult
because you rule the peoples in equity;
the nations on the earth you guide. R.
May the peoples praise you, O God;
may all the peoples praise you!
May God bless us,
and may all the ends of the earth fear him! R.
Second Reading Rom 11:13-15,29-32
Brothers and sisters: I am speaking to you Gentiles. Inasmuch as I am the apostle to the Gentiles, I glory in my ministry in order to make my race jealous and thus save some of them. For if their rejection is the reconciliation of the world, what will their acceptance be but life from the dead? For the gifts and the call of God are irrevocable. Just as you once disobeyed God but have now received mercy because of their disobedience, so they have now disobeyed in order that, by virtue of the mercy shown to you, they too may now receive mercy. For God delivered all to disobedience, that he might have mercy upon all.
Gospel Acclamation Cf. Mt 4:23
Gospel Mt 15:21-28
At that time, Jesus withdrew to the region of Tyre and Sidon. And behold, a Canaanite woman of that district came and called out, "Have pity on me, Lord, Son of David! My daughter is tormented by a demon." But Jesus did not say a word in answer to her. Jesus' disciples came and asked him, "Send her away, for she keeps calling out after us." He said in reply, "I was sent only to the lost sheep of the house of Israel." But the woman came and did Jesus homage, saying, "Lord, help me." He said in reply, "It is not right to take the food of the children and throw it to the dogs." She said, "Please, Lord, for even the dogs eat the scraps that fall from the table of their masters." Then Jesus said to her in reply, "O woman, great is your faith! Let it be done for you as you wish." And the woman's daughter was healed from that hour.
Catena Nova
Notice that the woman was a foreigner, a gentile, a person from outside the Jewish community. What was she then but a dog, unworthy to obtain her request? "It is not fair," said the Lord, "to take the children's bread and give it to the dogs." .... Nevertheless, by perseverance she became worthy; for Christ not only admitted her to the same noble rank as the children, dog though she was, but he also sent her away with high praise, saying: "Woman, you have great faith. Let it be as you desire." Now when Christ says: "You have great faith," you need seek no further proof of the woman's greatness of soul. You see that an unworthy woman became worthy by perseverance. The woman cried out and "the disciples went to Christ and said: give her what she wants—she is shouting after us." And he said to them: "I was sent only to the lost sheep of the house of Israel." But when the woman herself, still crying out, came to him and said, "that is true, sir, and yet the dogs eat what falls from their master's table," then he granted her request, saying, "let it be as you desire."
Have you understood? When the disciples entreated him the Lord put them off, but when the woman herself cried out begging for this favor he granted it. And at the beginning, when she first made her request, he did not answer, but after she had come to him once, twice, and a third time, he gave her what she desired. By this he was teaching us that he had withheld the gift not to drive her away, but to make that woman's patience an example for all of us. Now that we have learned these lessons, let us not despair even if we are guilty of sin and unworthy of any favor. We know that we can make ourselves worthy by perseverance (St. John Chrysostom).
She seized the Kingdom, this Canaanite woman who, having left her country, cried out, saying: "Have pity on me, Lord, Son of David; my daughter is cruelly tormented by a demon." She truly forced the Kingdom, persistent in her prayers, wise in her responses, faithful in her words. She calls back He who passes her by, prays to him when He is silent, adores Him when He recuses Himself, submits to his refusal. Does she not seem to you to steal, when she coaxes from him that which was refused, when she snatches away that which was reserved for others? The Lord had said that it was not right to give the bread of the children to the dogs: she admitted it and, even in admitting it, seized it: "Yes, Lord; but even the dogs eat the crumbs that fall from their masters' table." Let us force it too, then; let us steal it ... Look: she took what she wanted, she got it .... My Kingdom is Christ and I seize him. He was sent to the Jews under the Law, born within the Law, raised according to the Law, to save me, I who am outside the Law. Christ is stolen (St. Ambrose).
To me, dog of the hunt, howling with hunger, so unhappy, in great peril, give me what I need to live from the crumbs of bread that fall from your abundant table!Please deliver me, me a sacred vessel of the altar, even if I become a child of bitterness,you who came to find me and give me life, me who was lost! (St. Gregory of Narek).
The Church of Christ acknowledges that, according to God's saving design, the beginnings of her faith and her election are found already among the Patriarchs, Moses and the prophets. She professes that all who believe in Christ-Abraham's sons according to faith are included in the same Patriarch's call, and likewise that the salvation of the Church is mysteriously foreshadowed by the chosen people's exodus from the land of bondage. The Church, therefore, cannot forget that she received the revelation of the Old Testament through the people with whom God in His inexpressible mercy concluded the Ancient Covenant. Nor can she forget that she draws sustenance from the root of that well-cultivated olive tree onto which have been grafted the wild shoots, the Gentiles. Indeed, the Church believes that by His cross Christ, Our Peace, reconciled Jews and Gentiles. making both one in Himself.
The Church keeps ever in mind the words of the Apostle about his kinsmen: "theirs is the sonship and the glory and the covenants and the law and the worship and the promises; theirs are the fathers and from them is the Christ according to the flesh" (Rom. 9:4-5), the Son of the Virgin Mary. She also recalls that the Apostles, the Church's mainstay and pillars, as well as most of the early disciples who proclaimed Christ's Gospel to the world, sprang from the Jewish people. As Holy Scripture testifies, Jerusalem did not recognize the time of her visitation, nor did the Jews in large number, accept the Gospel; indeed not a few opposed its spreading. Nevertheless, God holds the Jews most dear for the sake of their Fathers; He does not repent of the gifts He makes or of the calls He issues-such is the witness of the Apostle. In company with the Prophets and the same Apostle, the Church awaits that day, known to God alone, on which all peoples will address the Lord in a single voice and "serve him shoulder to shoulder" (Soph. 3:9) (Second Vatican Council).
The enigmatic story of the Canaanite woman, (Mt. 15:21-28) shows Jesus inside the social matrix, needing to find his way out of it. Two things about the story are perplexing: 1) Jesus' harsh words to a person in need, and 2) Jesus losing a verbal exchange with another and apparently changing his point of view because of that exchange. We are troubled by these points because we usually assume that the divinity of Jesus requires that he was sinless and omniscient. I would argue that being fully human means that Jesus was not omniscient but had to learn life skills and develop his understanding of life just like any other human. The ludicrousness of the notion that Jesus knew everything about carpentry while an infant should convince us of that. Since sin is not essential to human nature, being sinless would not have compromised his full humanity. However, being fully human would mean that he was born participating in the mimetic matrix of his culture with both its salutary elements and its unsalutary ones. This story helps us explore how Jesus came to terms with a problematic aspect of his cultural inheritance.
Matthew's calling the woman a Canaanite was an anachronism that recalled Israel's historical relationship with this people, in much the same way that calling a contemporary Danish woman a Viking would invoke ten centuries of history for us. Jesus would have grown up absorbing his people's tradition that the Canaanites were the worst of enemies, enemies to be exterminated by the likes of Joshua, enemies who were periodic oppressors of Israel in the period of the Judges. Worst of all, Canaanites were dangerous because they tempted the Israelites to forsake their God in favor of their idols and sacrificial practices. Mark gave the woman the more up-to-date designation of a Syrophoenician. This meant she was a member of the oppressing class of the Roman Empire, which made victims of the Jews. Starting from early childhood, Jesus would have taken in this adversarial relationship before he knew what had possessed him. With this cultural inheritance, it is understandable, if not commendable, that Jesus would speak harshly to a Canaanite (Syrophoenician) woman who came to him for help. Many commentators try to get out of this difficulty by suggesting that Jesus was just testing the woman. That is possible but I would like to follow up the ramifications of accepting the plain sense of this story.
The Canaanite woman's retort is justly famous for its cleverness and humility, qualities that make her words subversive. Jesus seems as amazed by her faith as he is by the faith of the centurion who asked him to heal his servant. (Mt. 8:10) That the woman asked for the deliverance of a daughter possessed by a demon may have aroused Jesus' sympathy. The Gerasene Demoniac had shown Jesus how a dysfunctional culture can possess a person and need to be exorcized. That this woman wanted her daughter delivered of the demon possessing her own culture would alert Jesus of the need to eject the demon of hatred of the Canaanites that had possessed his own culture. This understanding of the story has Jesus modeling the ability and willingness to overcome an ancestral enmity by listening deeply to the reality of a person in need so that she ceases to be an enemy. We desperately need to learn to follow this kind of example offered by Jesus today (Abbot Andrew Marr).
As distinct from all other controversy dialogues, Jesus does not have the last word. Rather, the woman's argument prevails over that of Jesus. The parabolic saying of Jesus against the admission of gentiles to the community of Jesus provokes the intelligent retort of the woman. She takes up Jesus' parabolic image of the "table-children-housedogs" and uses it to argue against him. The woman "wins" the contest because Jesus, convinced by her argument ...liberated her daughter from the demon....The woman is characterized ethically and culturally as a gentile. Her daughter...is in bondage to evil and she expects liberation from Jesus....The gracious goodness of the God of Jesus is abundant enough to satisfy not only the Jews but also the gentiles....[The woman whose] adroit argument opened up a future of freedom and wholeness for her daughter has also become the historically-still-visible advocate of such a future for gentiles. She has become the apostolic "foremother" of all gentile Christians (Elisabeth Schüssler Fiorenza).
Today's Gospel (Mt 15:21-28) presents us a unique example of faith in Jesus' encounter with a Canaanite woman, a foreigner to the Jews. The scene unfolds as he is walking toward the cities of Tyre and Sidon, northwest of Galilee: it is here that the woman begs Jesus to heal her daughter, who — the Gospel says — "is severely possessed by a demon" (v. 22). The Lord, at first, seems not to hear this cry of pain, such that it causes the intervention of the disciples who intercede for her. Jesus' seeming indifference does not discourage this mother, who persists in her invocation.

This woman's inner strength, which enables her to overcome every obstacle, is to be found in her maternal love and in her faith that Jesus can grant her request. This makes me think of the strength of women. With their strength they are able to obtain great things. We have known many such women! We could say that it is love that stirs faith, and faith, for its part, becomes love's reward. Heartrending love for her daughter causes the woman to cry: "Have mercy on me, O Lord, Son of David" (v. 22). And her untiring faith in Jesus allows her not to become discouraged even in the face of his initial rejection; thus the woman "knelt before him, saying, 'Lord, help me'" (v. 25).

In the end, before such persistence, Jesus was in awe, nearly astonished, by the faith of a pagan woman. Therefore he acquiesces, saying: "'O woman, great is your faith! Be it done for you as you desire.' And her daughter was healed instantly" (v. 28). Jesus points to this humble woman as a model of unwavering faith. Her persistence in beseeching Christ's intervention is incentive for us not to become discouraged, not to despair when we are burdened by life's difficult trials. The Lord does not turn away in the face of our needs and, if at times he seems insensitive to our requests for help, it is in order to put to the test and to strengthen our faith. We must continue to cry out like this woman: "Lord, help me! Lord, help me!". In this way, with perseverance and courage. This is the courage needed in prayer.

This Gospel episode helps us to understand that we all need to grow in faith and fortify our trust in Jesus. He can help us to find our way, when we have lost the compass of our journey; when the road no longer seems flat but rough and arduous; when it is hard to be faithful to our commitments. It is important to nourish our faith every day, by carefully listening to the Word of God, with the celebration of the Sacraments, with personal prayer as a "cry" to him — "Lord, help me!" — and with concrete acts of charity toward our neighbour.

Let us entrust ourselves to the Holy Spirit, so that he may help us to persevere in faith. The Spirit instils courage in the heart of believers; he gives our life and our Christian witness the power of conviction and persuasion; he helps us to overcome scepticism toward God and indifference toward our brothers and sisters (Pope Francis).
Homily
Nevertheless, She Persisted
Now that we have a woman candidate for Vice-president -- only the fourth to appear on a major party's ticket in US history – there will no doubt be a spike of misogyny like a virus whose genetic markers, in this case, will include racism since the infection will stem from the "other" who isn't like "us." A case of this virus broke out when another contender for the second spot, Sen. Elizabeth Warren, was told by Sen. Mitch McConnell: "She was warned. She was given an explanation. Nevertheless, she persisted." The occasion was Warren's objection to the nomination of Jeff Sessions as Attorney General for his alleged racism as charged in a letter by Coretta Scott King that Warren insisted on reading despite McConnell's forbidding her to do so for "procedural" reasons. Sen. Kamala Harris was likewise repeatedly interrupted by male colleagues during Sessions' appearance before the Senate Intelligence Committee. So it came as no surprise when it took the president only two minutes to spread his favorite description of Hilary Clinton – "nasty woman" – and apply it to Biden's running mate saying, "She's very, very, nasty."
I have to wonder if something similar was said about that persistent "other" woman from the region of Tyre and Sidon in today's gospel when the disciples complained to Jesus, Send her away, for she keeps calling out after us. The Lord too seemed rather annoyed at her. After repeated requests that her prayer be heard, all she got from Jesus was silence. He did not say a word in answer to her. Nevertheless, she persisted.
Finally, Jesus spoke. Only to tell her she had no business asking anything of him. After all, he was sent only to the lost sheep of the house of Israel. What's worse, the Lord takes to insulting her, using a term of contempt for Gentiles common among the Jews: It is not right to take the food of the children and throw it to the dogs. I can't imagine too many people sticking around after that. But this woman is no quitter. She takes the insult on the chin, acknowledging her inferior status when compared to the children of Abraham. Indeed, she would be happy with the scraps from their table. And at last, Jesus is moved, saying, O woman, great is your faith! Let it be done for you as you wish (G). Because she persisted.
It's not easy to understand Jesus' treatment of this woman. His behavior in this scene clashes with so many others where pity for human suffering is the rule and where his behavior toward women defied the social conventions of the time. And he certainly knew his Bible. Like the passage from Isaiah where the prophet speaks of foreigners who join themselves to the LORD . . . loving the name of the LORD and becoming his servants (I). So what gives?
There are a hundred theories. I happen to think there's more to the story. I like to think at some point Jesus realized there in front of him, Gentile or no Gentile, was an image of God. For what God seeks from us, God shows us first. A God who seeks us relentlessly, despite our indifference, our silence, and even our contempt for God's ways. So often it's God who receives little more than the crumbs from our table. Nevertheless, God persists, perseveres, and waits patiently for a response.
Like Francis Thompson's Hound of Heaven, God pursues us with offers of love that makes all other loves pale – even when
I fled Him, down the nights and down the days;
I fled Him, down the arches of the years;
I fled Him, down the labyrinthine ways
Of my own mind; and in the mist of tears
I hid from Him, and under running laughter.
Up vistaed hopes, I sped;
Even then, the poet insists

those strong Feet that followed, followed after.
But with unhurrying chase,
And unperturbèd pace,
Deliberate speed, majestic instancy,
They beat—and a Voice beat
More instant than the Feet—
"All things betray thee, who betrayest Me."
Yes, we flee from his approach, as though God's love were to be spurned, as if coming from an unworthy suitor. And yes, perhaps the Canaanite woman is a symbol of a rejected and despised God who never quits, no matter how much an outsider we make God out to be.
Paul knew such a faithful God, whose gifts and call are irrevocable. A God who knew rejection and turned it into a blessing for others. That is, us Gentiles, who have received mercy through the disobedience of Israel. And in the end this faithful God will bring Israel to faith also, so that God might have mercy upon all (cf. II). For from him and through him and for him are all things. To him be glory forever. Amen. (Rm. 11:36)
Creed
Intercessions
For the church, God's miracle of mercy, gathered from all nations and made acceptable at His altar, that she may be the faithful sacrament of mercy to all.
That we, as citizens of a free land, may take seriously our duty to speak out for our moral principles, doing our part to preserve the order that supports the gift of peace.
For vocations to the priestly and religious life, that willing men and women may be brought to God's holy mountain and made joyful with us in His house of prayer.
For our dear young people who sometimes seem demon-troubled in their lonely desperation, that loving parental hands may reach out to Jesus in earnest intercession for them.
That our faith may be great as we pray for all who are in need of the healing and mercy of our Lord Jesus Christ.
For our faithful departed ones, that God may have pity on them and bless them, and let His face shed its light upon them in the kingdom of heaven.
God of the nations, to your table all are invited and in your family no one is a stranger. Satisfy the hunger of those gathered in this house of prayer, and mercifully extend to all the peoples on earth the joy of salvation and faith. Grant this through Christ our Lord. Amen.
Offertory Motet (Josquin Desprez)
O Jesu, fili David, miserere mei:
Filia mea male a daemonio vexatur.
Nam et catelli edunt de micis, quae cadunt
De mensa dominorum suorum.
O mulier, magna est fides tua.
O Jesus, son of David, have pity on me:
My daughter is badly tormented by a demon.
Even dogs eat the crumbs which fall
From the table of their masters.
O woman, your faith is great.
Lord's Prayer With insistent faith, let us pray as Jesus taught...
Spiritual Communion (Anima Christi)
Soul of Christ, sanctify me. Body of Christ, save me. Blood of Christ, embolden me. Water from the side of Christ, wash me. Passion of Christ, strengthen me. O good Jesus, hear me. Within Thy wounds hide me. Never permit me to be parted from You. From the evil Enemy defend me. In the hour of my death call me. and bid me come to thee, that with Your saints I may praise thee for age upon age. Amen.
Communion Antiphon
Closing Hymn
Let us build a house
where love can dwell
And all can safely live,
A place where
saints and children tell
How hearts learn to forgive.
Built of hopes and dreams and visions,
Rock of faith and vault of grace;
Here the love of Christ shall end divisions,
All are welcome, All are welcome, All are welcome in this place
Let us build a house where prophets speak,
And words are strong and true,
Where all God's children dare to seek
To dream God's reign anew.
Here the cross shall stand as witness
And a symbol of God's grace;
Here as one we claim the faith of Jesus:
All are welcome, All are welcome, All are welcome in this place
Let us build a house where love is found
In water, wine and wheat:
A banquet hall on holy ground,
Where peace and justice meet.
Here the love of God, through Jesus,
Is revealed in time and space;
As we share in Christ the feast that frees us:
All are welcome, All are welcome,
All are welcome in this place.
Archives