Twenty-fourth Sunday in Ordinary Time (A)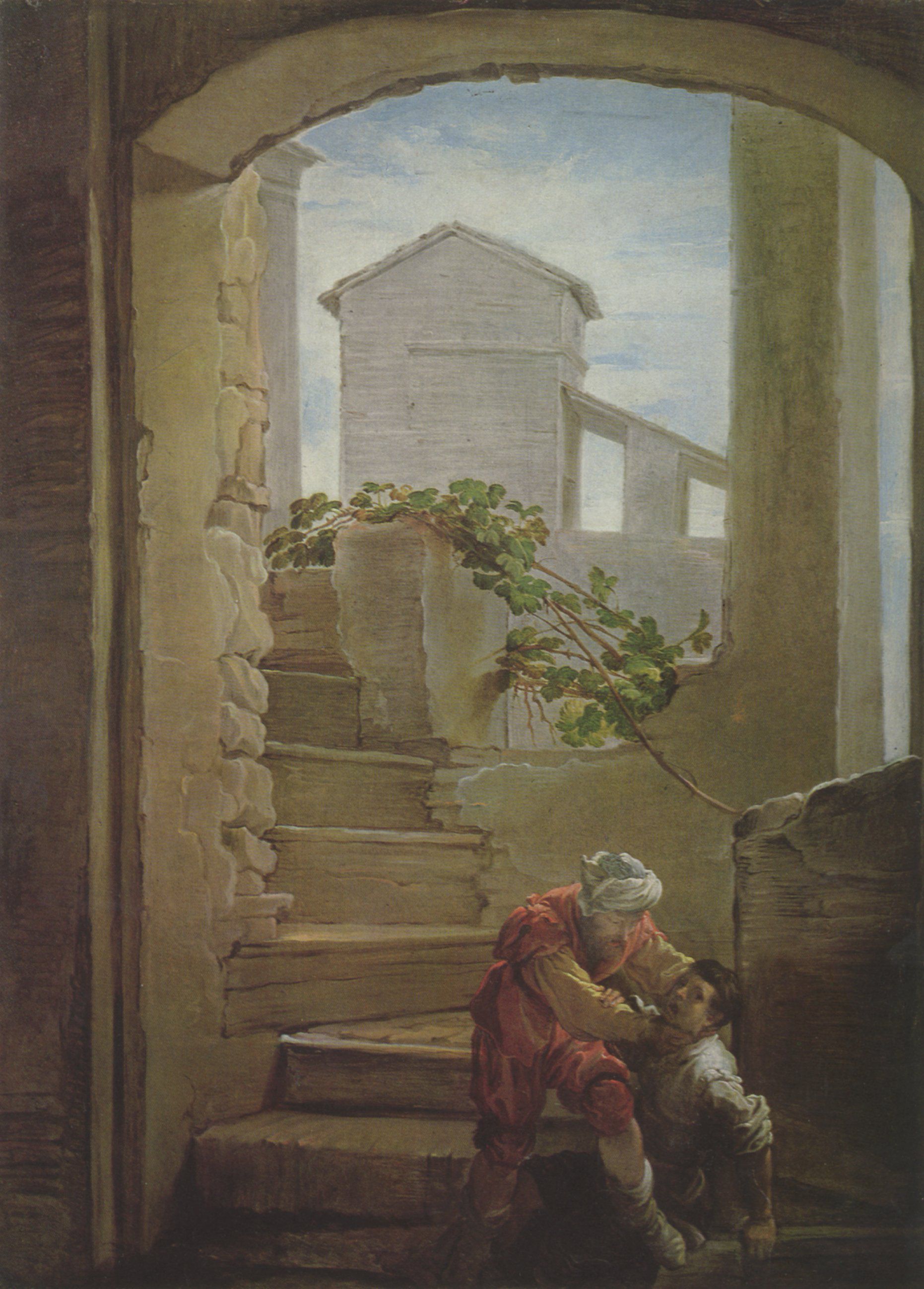 Introit
Kyrie

Gloria
Collect
Look upon us, O God,
Creator and ruler of all things,
and, that we may feel the working of your mercy,
grant that we may serve you with all our heart.
Through our Lord Jesus Christ, your Son,
who lives and reigns with you in the unity of the Holy Spirit,
one God, for ever and ever. Amen.
First Reading Sir 27:30-28:7
Wrath and anger are hateful things, yet the sinner hugs them tight. The vengeful will suffer the LORD's vengeance, for he remembers their sins in detail. Forgive your neighbor's injustice; then when you pray, your own sins will be forgiven. Could anyone nourish anger against another and expect healing from the LORD? Could anyone refuse mercy to another like himself, can he seek pardon for his own sins? If one who is but flesh cherishes wrath, who will forgive his sins?
Remember your last days, set enmity aside; remember death and decay, and cease from sin!
Think of the commandments, hate not your neighbor; remember the Most High's covenant, and overlook faults.
Responsorial Psalm Ps 103:1-2,3-4,9-10,11-12
R. The Lord is kind and merciful, slow to anger, and rich in compassion.

Bless the LORD, O my soul;
and all my being, bless his holy name.
Bless the LORD, O my soul,
and forget not all his benefits. R/.

He pardons all your iniquities,
heals all your ills.
He redeems your life from destruction,
crowns you with kindness and compassion. R/.
He will not always chide,
nor does he keep his wrath forever.
Not according to our sins does he deal with us,
nor does he requite us according to our crimes. R/.

For as the heavens are high above the earth,
so surpassing is his kindness toward those who fear him.
As far as the east is from the west,
so far has he put our transgressions from us. R/.
Second Reading Rom 14:7-9
Brothers and sisters: None of us lives for oneself, and no one dies for oneself. For if we live, we live for the Lord,
and if we die, we die for the Lord; so then, whether we live or die, we are the Lord's. For this is why Christ died and came to life, that he might be Lord of both the dead and the living.
Alleluia Jn 13:34
Gospel Mt 18:21-35
Peter approached Jesus and asked him, "Lord, if my brother sins against me, how often must I forgive? As many as seven times?" Jesus answered, "I say to you, not seven times but seventy-seven times. That is why the kingdom of heaven may be likened to a king who decided to settle accounts with his servants. When he began the accounting, a debtor was brought before him who owed him a huge amount. Since he had no way of paying it back, his master ordered him to be sold, along with his wife, his children, and all his property, in payment of the debt.
At that, the servant fell down, did him homage, and said, 'Be patient with me, and I will pay you back in full.' Moved with compassion the master of that servant let him go and forgave him the loan. When that servant had left, he found one of his fellow servants who owed him a much smaller amount. He seized him and started to choke him, demanding, 'Pay back what you owe.'
Falling to his knees, his fellow servant begged him, 'Be patient with me, and I will pay you back.' But he refused. Instead, he had the fellow servant put in prison until he paid back the debt.
Now when his fellow servants saw what had happened, they were deeply disturbed, and went to their master and reported the whole affair. His master summoned him and said to him, 'You wicked servant! I forgave you your entire debt because you begged me to. Should you not have had pity on your fellow servant, as I had pity on you?' Then in anger his master handed him over to the torturers until he should pay back the whole debt. So will my heavenly Father do to you, unless each of you forgives your brother from your heart."
Catena Nova
So will my heavenly Father do to you, unless each of you forgives from your heart.... There are two works of mercy which will set us free. They are briefly set down in the gospel in the Lord's own words: Forgive and you will be forgiven, and, Give and you will receive. The former concerns pardon, the latter generosity. As regards pardon he says: "Just as you want to be forgiven, so someone is in need of your forgiveness." Again, as regards generosity, consider when a beggar asks you for something that you are a beggar too in relation to God. When we pray we are all beggars before God. We are standing at the door of a great householder, or rather, lying prostrate, and begging with tears. We are longing to receive a gift—the gift of God himself. What does a beggar ask of you? Bread. And you, what do you ask of God, if not Christ who said: I am the living bread that has come down from heaven?Do you want to be pardoned? Then pardon others. . . . Forgive us our trespasses, as we also forgive those who trespass against us. Which of our trespasses, all of them or only some? All, you will answer. Do likewise, therefore, with those who have offended you. This is the rule you have laid down for yourself, the condition you have stipulated (St. Augustine).
Put aside your hatred and animosity. Take pains to refrain from sharp words. If they escape your lips, do not be ashamed to let your lips produce the remedy, since they have caused the wounds. Pardon one ­another so that later on you will not remember the injury. The recollection of an injury…adds to our anger, nurtures our sin, and hates what is good. It is a rusty arrow and poison for the soul. It puts all virtue to flight. It is like a worm in the mind: it confuses our speech and tears to shreds our petitions to God. It is foreign to charity: it remains planted in the soul like a nail. It is wickedness that never sleeps, sin that never fails. It is indeed a daily death (St. Francis of Paola).
My soul is trying to awaken and discover again the beauty of penance. I am ashamed of having made so many confessions of my faults in the monastery with so little sorrow and so feeble a hope of doing better. I want to say, over and over again, that I am sorry. I do not know how I can go on living unless I convince you, Jesus, that I am really sorry. The psalms say this better than I ever could. I am sorry that it has taken me so long to begin to discover the psalms. I am sorry that I have not lived them. I am sorry for having let myself become so stupid and so torpid, thinking more of myself than of what I owe to your Love—and I owe You everything. Forgive me for paying so little attention. Without compunction and deep sorrow, contemplation is likely to be nothing more than a kind of idolatry. How can I love You if I do not know who I am and who You are? And how can I know this without sorrow? Jesus, I no longer want to have anything to do with love that forgets that it was born in sorrow, and therefore forgets to be grateful. Otherwise I will only go on lying to You, and I want to be done with insincerity forever and forever (Thomas Merton).
I return to you,
sorry but certain
you will not turn me away.
Youth is carefree
before truth that is flesh and bleeds
but will not go away.
The weight I've come to bear
but did not need to carry,
I place at your feet.
Tears, relief, a bit of fear—
After all these years
I dare to approach your longing for me.
The true weight I bear
is a love that cannot be overcome.
The years gone by, my offering.
I am old now, but your presence won't recede.
I've given up everything
that can't live with you eternally (Rita A. Simmonds).
Putting up with annoying people: This too is a work of mercy, and we don't always recognize it as such. Living side by side, we Christians certainly try to love one another according to Jesus' example and commandment. But despite everyone's good will, occasionally people with very different personalities end up living together. Thus it is comforting to know that to put up with others is a work of mercy: to endure their behavior, their awkward manner, their nagging; basically to lovingly disregard what are really minor shortcomings. Similar to feeding the hungry and visiting the sick, this is one of the works that will be asked of us at our final examination (Chiara Lubich).
God's forgiveness is unconditional; it comes from a heart that does not demand anything for itself, a heart that is completely empty of self-seeking. It is this divine forgiveness that I have to practice in my daily life. It tells me to keep stepping over all my arguments that say forgiveness is unwise, unhealthy, and impractical. It challenges me to step over all my needs for gratitude and compliments. Finally, it demands of me that I step over that wounded part of my heart that feels hurt and wronged and that wants to stay in control and put a few conditions between me and the one I am asked to forgive. This "stepping over" is the authentic discipline of forgiveness (Henri Nouwen).
Someone can give up doing something held a vice only to turn into a persecutor of those who lack his same moral fibre. That is not a Christian conversion. The authentic convert always writes a story of his or her discovery of mercy, which means that they learn to create mercy, and not despite, for others. This rule of grammar we find set out in the parable of the servant who was let off all he owed by the King his creditor, but who didn't forgive the tiny debt his colleague had with him (Matt. 18:23-34) (James Alison).
Homily
You Do the Math
"Dear Brother, I don't know what the circumstances are that will lead you to hurt me or destroy my physical body. No, I don't want it to happen. I would much rather enjoy the beauties of this earth, experience the laughter, the fears and the tears of those I love so deeply! .... Now my life is changed, and you, my brother, were the instrument of that change. I forgive you for what you have done and I will always watch over you, help you in whatever way I can. . . . Continue living always mindful of His Presence, His Love and His Joy as sources of life itself — then my life will have been worth being changed through you. The most difficult experiences in life can sometimes reap the greatest growth for us ... God bless!"
These words were written by Sister Karen Klimczak, 62, of Buffalo, NY who ran a halfway house for ex-cons to help offenders transition back into society. Sr. Karen wrote her letter 15 years before her death, having at the time a premonition she would die a violent death at the hands of someone she tried to help. She came to accept this and even decided to write a letter of forgiveness to her would-be murderer.
Craig Lynch, a convicted car thief, was a resident at the house Sr. Karen ran. He was high on crack cocaine when he snuck into the nun's room one Good Friday to steal her cell phone to sell for more cocaine. She returned to her room; he panicked, struck, and strangled her. He hid her body behind his mother's garage, then on Easter Sunday, buried it behind a garage across the street. The next day he led police to Sister Karen's body.
A year later, at his sentencing, Lynch learned that the nun he killed on Good Friday had forgiven him. The letter she wrote was read aloud by Sister Karen's sister, herself a religious. Those in the stunned courtroom, as well as commentators on the event, had some interesting reactions.
The prosecutor told the judge "forgiveness is for God; sentencing is for court…. How can you imagine a crime more heinous than killing a nun on Good Friday and then stashing her body into a shallow grave on Easter Sunday?" (I trust the irony of this question is not lost on you).
Sr. Karen's sister, who read the letter, assured the press that "forgiveness was not license. You can forgive someone, but they are responsible for what they've done. Karen held people responsible, but she would not hold anything against them."
A Rochester columnist at the time, Mark Hare, wrote, "Forgiveness is good for the soul, a way to ease the pain of the victim. It is not opposed to justice for criminals. To forgive is to absorb the last blow. To refuse to pass it on, to refuse to be consumed by hate. To forgive is to find goodness in others when they cannot see it in themselves. It is a great gift — not a get out of jail free card."
As for Lynch himself, tears often welled in his eyes as the letter of forgiveness was read, and he wiped at his mouth with his cuffed hands as he grew emotional. Asked by the judge if he wanted to apologize, Lynch hung his head and breathed heavily. After a long and uncomfortable pause, he said, "Of course, I'm sorry," his chest heaving, "words can't describe how I feel." The judge then imposed the maximum sentence--25 years to life in prison. Before leaving the court, Sister Karen's sister told reporters she felt as if her sister was speaking through her as she read the words from her journal to the courtroom. "I experienced her spirit in reading her words," she said. Tinged with the Holy Spirit, I assume.
The story reminds me of a favorite author and book, Resurrection by Rowan Williams, the former Archbishop of Canterbury. And while it might seem to many of us that Sr. Karen set an impossible standard, Williams asks almost the impossible of Craig Lynch: "If forgiveness is ever to be realized for him," he writes, "it is not only the face of his victim which must be 'returned' to him, but his own forgotten face: the face of himself as his own victim, scarred and ruined by what he has done. He must see Christ, the saving victim, the merciful judge, not only in the victim whose blood is on his hands but in the self he could and could not be, the self he has decided against."
As to the rest of us, Williams makes a similar challenge. He asks, "How difficult is it for us to see the face of God as victim in a criminal in prison?….the hopelessness and self-loathing, even the impotent anger of the jailed murderer, all that constitutes him or her a trapped and helpless victim, must speak to us, in however distorted an accent, of the Lamb of God."
Rather unlike Peter when he approached Jesus with his generous offer to forgive seven times. His was a victim's mindset. There was no question in Peter's mind about who was guilty. He was thinking only of being wronged. The grievance was his; there was no question he was innocent. Funny thing is: Jesus responded to Peter with a parable about an offender, not a victim!
True, the Lord begins with a response to Peter's wrongheaded question: How often must I forgive? The answer to the question is no fixed number: I say to you, [you must forgive] not seven times but seventy-seven times. So put your calculator away, Peter. Christian forgiveness knows no limit, and can never be exhausted. And that parable put things in proper perspective.
About a man in debt to his ears. Must have been quite a con artist. A little stealing here, a little cheating there, and before he knew it, he owed something like the federal deficit! When the accounts came due, there was no doubt in anyone's mind about who was guilty. Including his own. Down on his knees he went, begging for his life. His promise to pay back what he owed was laughable. So when his boss, moved with compassion, let him go and forgave him the loan (G), that was some generosity! The servant got what he asked for, though he hardly deserved it.
You'd think he might have profited from the experience. But no. Some poor guy owed him a day's wage, and off to jail he went. Though his fellow worker asked for pardon, none was given. The king's servant forgot he was a debtor once too. That victim mentality got in the way of forgiveness. Like it did for Peter.

For when relationships deteriorate, it's easy to assume the other party needs our forgiveness. As we build our case against someone else, we forget the role we played in the breakdown. We're quick to take the high ground, looking down with contempt at the "offender." At most, we may be ready to forgive--if asked, but surely: "There's no guilt on my part." Pardon is mine alone to grant.
And how unlike God is to Peter. God, to whom we owed an infinite debt on account of our sins, and who paid it in full with the blood of Christ. This is why Christ died and came to life (II): that we might know unmerited, undeserved, and unobtainable forgive­ness. From the mercy of God who redeems our life from destruction, and crowns us with kindness and compassion. (RP).
Creed
Intercessions
For the church, for forgiveness and mercy within her ranks, that anger may be put aside and love for one another may prevail.
For the forgiveness of national debts, especially those of poverty stricken countries who have no way of paying them back.
For all of us, debtors to our Lord and Master and owing Him everything, that we may see the little debts that are owed us in their true proportion, and forgive as we have been forgiven.
That we may no longer live for ourselves but for our Master Jesus, who died and came to life in order to be Lord of the dead and of the living.
For the suffering little ones who endure sickness and poverty, that God may redeem their life from destruction and crown them with kindness and compassion.
For our faithful departed, that God may put their transgressions from them as far as the East is from the West, and welcome them, purified and holy, into His kingdom .
O God most high, you are slow to anger and rich in compassion. Keep alive in us the memory of your mercy, that our angers may be calmed and our resentments dispelled. May we discover the forgiveness promised to those who forgive and become a people rich in mercy. We ask this through Christ our Lord. Amen.
Offertory
'Forgive our sins as we forgive,'
you taught us, Lord, to pray,
but you alone can grant us grace
to live the words we say.

How can your pardon reach and bless
the unforgiving heart,
that broods on wrongs and will not let
old bitterness depart?

In blazing light your cross reveals
the truth we dimly knew:
what trivial debts are owed to us,
how great our debt to you!

Lord, cleanse the depths within our souls,
and bid resentment cease;
then, bound to all in bonds of love,
our lives will spread your peace.
Lord's Prayer
Let us ask for forgiveness as we forgive others as Jesus taught....
Spiritual Communion (Evangelical Lutheran Church in America)
Lord Jesus, we desire earnestly to experience your love as guests at the heavenly feast you have prepared for your children on earth in the most holy Sacrament of the Altar. As were are not able on this day to be gathered at your Table, may we receive you into our hearts by faith, trusting the word of your promise, that "those who love me will keep my word, and my Father will love them, and we will come to them and make our home with them." Strengthen our faith, increase our love and hope; and after this life grant us a place at your heavenly table, where we shall eat of the eternal manna, and drink of the river of your pleasure forevermore. Hear us for your own Name's sake. Amen
Communion Antiphon
Closing Hymn
There's a wideness in God's mercy
like the wideness of the sea;
there's a kindness in his justice,
which is more than liberty.
There is welcome for the sinner,
and more graces for the good;
there is mercy with the Savior;
there is healing in his blood.

There is no place where earth's sorrows
are more felt than in heaven;
there is no place where earth's failings
have such kind judgment given.
There is plentiful redemption
in the blood that has been shed;
there is joy for all the members
in the sorrows of the Head.

For the love of God is broader
than the measure of man's mind;
and the heart of the Eternal
is most wonderfully kind.
If our love were but more faithful,
we should take him at his word;
and our life would be thanksgiving
for the goodness of the Lord.
Archives