Solemnity of St. Joseph (Mar 20)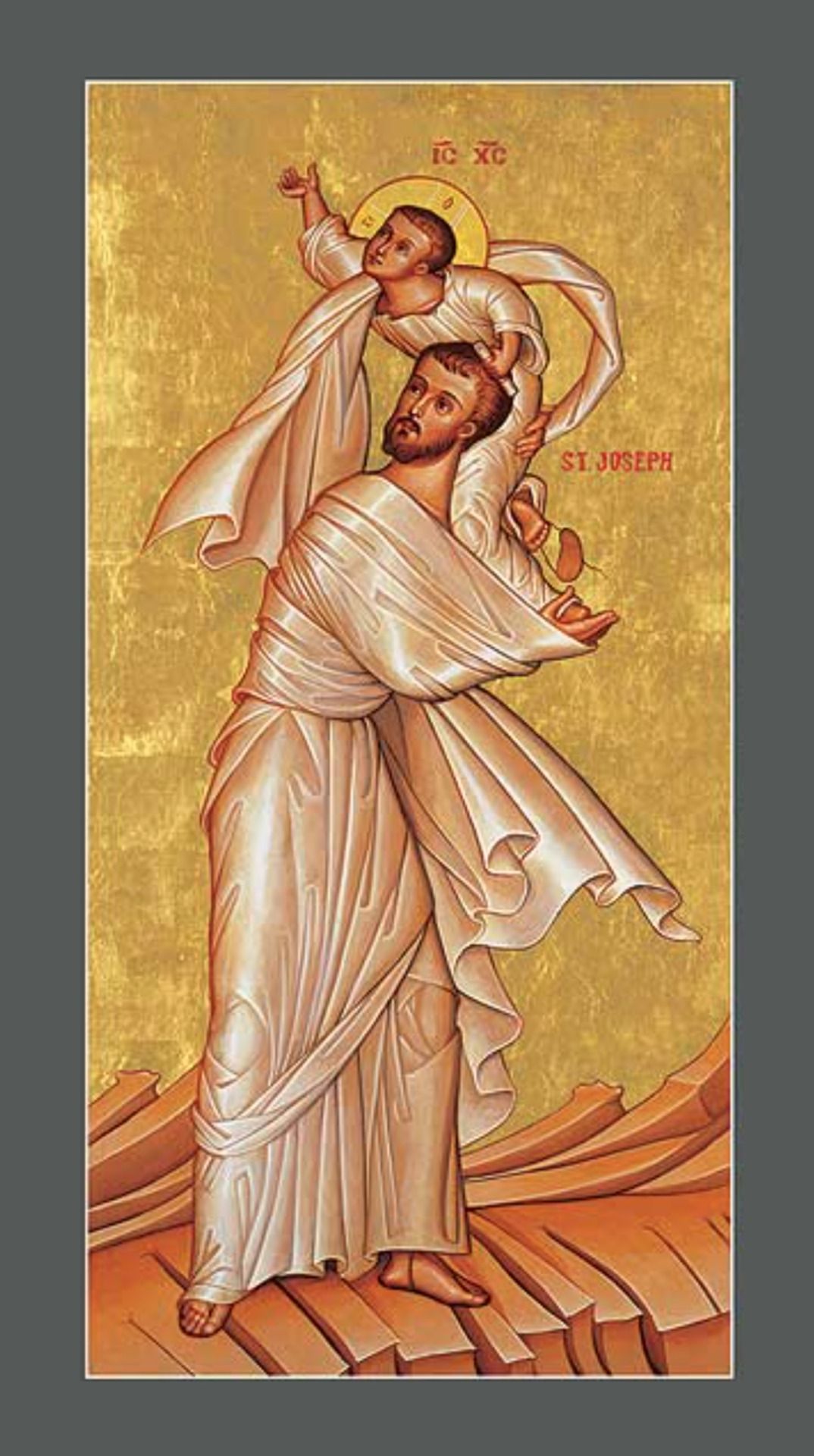 OPENING HYMN
Come now and praise the humble saint
of David's house and line,
the carpenter whose life fulfilled
our gracious God's design.
For him there was no glory here,
no crown or martyr's fame,
for him there was the patient life
of faith and humble name.
But now within the Father's grace
where saints and angels throng
beside his spouse, before the Son,
he sings the glorious song.
Words © 1979 The Hymn Society (admin. Hope Publishing Company, 380 S Main Pl, Carol Stream, IL 60188)
COLLECT
Grant, we pray, almighty God,
that by Saint Joseph's intercession
your Church may constantly watch over
the unfolding of the mysteries of human salvation,
whose beginnings you entrusted to his faithful care.
Through our Lord Jesus Christ, your Son,
who lives and reigns with you in the unity of the Holy Spirit,
God, for ever and ever. Amen.
FIRST READING 2 Sm 7:4-5a, 12-14a, 16
The LORD spoke to Nathan and said:
"Go, tell my servant David,
'When your time comes and you rest with your ancestors,
I will raise up your heir after you, sprung from your loins,
and I will make his kingdom firm.
It is he who shall build a house for my name.
And I will make his royal throne firm forever.
I will be a father to him,
and he shall be a son to me.
Your house and your kingdom shall endure forever before me;
your throne shall stand firm forever.'"

RESPONSORIAL PSALM Ps 89:2-3, 4-5, 27 and 29
R/. The son of David will live for ever.
The promises of the LORD I will sing forever;
through all generations my mouth shall proclaim your faithfulness,
For you have said, "My kindness is established forever";
in heaven you have confirmed your faithfulness. R/.
"I have made a covenant with my chosen one,
I have sworn to David my servant:
Forever will I confirm your posterity
and establish your throne for all generations." R/.
"He shall say of me, 'You are my father,
my God, the Rock, my savior.'
Forever I will maintain my kindness toward him,
and my covenant with him stands firm." R/.

SECOND READING Rom 4:13, 16-18, 22
Brothers and sisters:
It was not through the law
that the promise was made to Abraham and his descendants
that he would inherit the world,
but through the righteousness that comes from faith.
For this reason, it depends on faith,
so that it may be a gift,
and the promise may be guaranteed to all his descendants,
not to those who only adhere to the law
but to those who follow the faith of Abraham,
who is the father of all of us, as it is written,
I have made you father of many nations.
He is our father in the sight of God,
in whom he believed, who gives life to the dead
and calls into being what does not exist.
He believed, hoping against hope,
that he would become the father of many nations,
according to what was said, Thus shall your descendants be.
That is why it was credited to him as righteousness.

VERSE BEFORE THE GOSPEL Ps 84:5
GOSPEL Mt 1:16, 18-21, 24a
Jacob was the father of Joseph, the husband of Mary.
Of her was born Jesus who is called the Christ.

Now this is how the birth of Jesus Christ came about.
When his mother Mary was betrothed to Joseph,
but before they lived together,
she was found with child through the Holy Spirit.
Joseph her husband, since he was a righteous man,
yet unwilling to expose her to shame,
decided to divorce her quietly.
Such was his intention when, behold,
the angel of the Lord appeared to him in a dream and said,
"Joseph, son of David,
do not be afraid to take Mary your wife into your home.
For it is through the Holy Spirit
that this child has been conceived in her.
She will bear a son and you are to name him Jesus,
because he will save his people from their sins."
When Joseph awoke,
he did as the angel of the Lord had commanded him
and took his wife into his home.
HOMILY
Father-figure
[The person referenced in this homily has given permission to tell this story.
His name has also been changed.]
His name was Jimmy. Jimmy Crane. He was in the congregation at a parish mission I was preaching. Jimmy was a young man, maybe 20, nice-looking, athletic, outgoing. He asked me one night if he could see me in person. So we met at the rectory the following day and he told me his story. Jimmy was just out of prison for doing and dealing drugs. A talk on addiction I gave during the mission spurred his request to see me. He wanted to get his life back on track. He was hoping to go back to school and even dreamed of being a teacher.
Jimmy was living with his mother. His father left when he was a child. He rarely saw him. He told me when he was a high school football star how he would always scan the crowd at a game hoping to see his father. But he almost never did. I began to see how "father-hunger" was the root of so many other problems in Jimmy's life, including addiction. So the last night of the mission, I asked him to wait until the service was over. After people left, I took him over to the statue of St. Joseph and I prayed with Jimmy, asking Joseph to take him as his adopted son, as he had Jesus. And I encouraged Jimmy to take Joseph as his adoptive father, as Jesus had.
For I've often thought how Jesus' relationship with God must have been shaped somehow by St. Joseph. After all, Joseph was the first person the Lord called Abba ("Papa")--the name he would teach his disciples to call God. Joseph no doubt served as an "image of the Father" for Jesus -- a paternal figure who helped his son develop many of his human qualities: including a sense of identity and of purpose; his deep conviction about a different kind of God with whom you can be on the most intimate of terms; his stamina in the face of rejection and persecution; and his resolve to do all the heavenly Father asked of him with trusting obedience.
One morning, about six months later, I was saying Mass at another church. And about half way through two young men came in. One of them looked vaguely familiar. After Mass they came into the sacristy. The one I thought I knew put his hand out, and said, "Remember me, Father, I'm Jim?" That tipped me off right away. I thought to myself, this isn't that wounded boy "Jimmy" I met a few months ago. Something's changed about him. No wonder I didn't recognize him at first.
I invited them to the rectory for breakfast where Jim updated me on his life since I saw him last. He was in a recovery program and had been clean since he got out of jail. The other man with him was his AA sponsor. Jim had also moved out of his mother's house into an apartment in the parish where I was living. He was working part time, doing some volunteer work, and enrolled in a community college. I was right: something had changed.
Now several years later, I returned to the church where I first met "Jimmy." I saw his mother Saturday night before Mass. I asked how Jim was doing. She said, "Great, Father, he's almost finished his degree and he's student teaching at an inner city school. I'll tell him you were asking."
Well, the next morning there was a man in church who, once again, I would not have recognized at first. It was Jim. He seemed a fair bit older, a little pudgier than before. He had a small child in his arms -- his daughter -- whose mother he planned to marry when he finished college. They were living in an apartment outside the city. He was clearly a happy man.
We got to talking after Mass and at the end of our conversation he gave me his new address and phone number. When he handed me the slip of paper, I noticed the name read, "James B. Reynolds." That was his father's name. His mother's name was Crane.
Yet another transformation had taken place symbolized by another new name. Before he left, I asked him, "How old are you?" He said, "Thirty-five, Father." I couldn't believe it. "You mean, you were 30 when we met? I thought you were 20 at most." You see, in addition to the name change, "James" now looked his age, as "Jim" had begun to, and "Jimmy" did not. That's why I had trouble recognizing him: a boy was becoming a man in a fairly short time.
Now for a long time the story ended there. But I was at a Mass recently and one of the greeters happened to be James' sponsor. He recognized me and I asked how James was doing. Come to find out, he was married and had a regular teaching job at the same school where he did his student teaching. All his hopes and dreams had come true. In fact, not long after seeing his sponsor, I saw a wedding announcement in the paper, picturing James and his wife, and they were just radiant.
So it appears that one way to address a wounded or absent father-relationship, whether for men or for women, is to develop a relationship with St. Joseph, taking him, like Jimmy did, as your own adoptive father. Something like that is suggested by Paul who speaks of Abraham as the father of us all (II) -- Abraham being a model of Joseph to come. It is possible to see in Joseph a father-figure, finding in him some satisfaction of your father hunger and healing for your father wounds.
In his recent apostolic letter announcing this "Year of St. Joseph," Pope Francis remarked that "the first stage of all true interior healing is to accept our personal history and embrace even the things in life that we did not choose." To which he added "another important element: creative courage. This emerges especially in the way we deal with difficulties. In the face of difficulty, we can either give up and walk away, or somehow engage with it. At times, difficulties bring out resources we did not even think we had.... If at times God seems not to help us, surely this does not mean that we have been abandoned, but instead are being trusted to plan, to be creative, and to find solutions ourselves" (Patris corde, no 5).
I believe James found such courage with the assistance of the man whom Pope John Paul II earlier taught "took loving care of Mary and gladly dedicated himself to Jesus Christ's upbringing, he likewise watches over and protects Christ's Mystical Body, that is, the Church" (Guardian of the Redeemer, no. 1). I would simply add "as well as each individual member of the Church." So this year's long commemoration of the anniversary of St. Joseph being named patron of the universal Church by Pope Leo XIII has potential meaning for each and every one of us. After, all that's who makes up the Body of Christ! And which is why I believe the difference between "Jimmy," "Jim," and "James" had a lot to do with Joseph, the husband of Mary, of whom Jesus was born, who is called the Messiah (G). And who lives and reigns, forever and ever. Amen.
INTERCESSIONS

All fatherhood in heaven and on earth has its origin in God. Let us turn to him and pray:
Our Father in heaven, hear our prayer.

All-holy Father, you revealed to St. Joseph your eternal plan of salvation in Christ,
- deepen our understanding of your Son, true God and true man.

Father in heaven, you feed the birds of the air and clothe the fields with the fruit of the earth,
- give all your children their daily bread to sustain soul and body.

Maker of the universe, you have entrusted your creation to our safekeeping,
- may all who work receive a just reward for their labors.

God of all righteousness, you want us all to be like you,
- May St. Joseph inspire us all to walk always in your way of holiness.

Look kindly on the dying and dead, and grant them your mercy,
- through the intercession of Jesus, Mary and Joseph.
OFFERTORY (John Michael Talbot)
Hear, my son, your father's teaching
Reject not your mother's song

A graceful crown, a royal diadem
Will they be for the crowning of your soul
Crying aloud is the voice of Wisdom
In open squares and the streets of your soul

So the sinners entice you and say
"Come along." Hold back your foot from their path
For their way is quick to shed blood
And death will come back on them each and everyone

Happy the man who finds Wisdom
Her profit is better than silver or gold
When you are young, disdain not discipline
And you'll be honored when you grow old

She is like the tree of life
By Wisdom all of the earth was founded
The depths break open, the clouds poured down rain
Let not lady Wisdom escape you

Hear, my song, your Father's teaching
Reject not Wisdom's song
O God, ever faithful to your covenant, you strengthened Saint Joseph to embrace the mystery of your will and to welcome your Word, made flesh of the Virgin Mary. Keep your Church also steadfast in faith, ready to trust in your promises and eager to fulfil your saving purpose. We ask this through Christ our Lord. Amen. (ICEL; 1998)
COMMUNION
Joseph, son of David, fear not to receive Mary as your wife; for that which is conceived in her come from the Holy Spirit.
CLOSING HYMN
Holy patron, thee saluting
Here we meet, with hearts sincere;
Blest Saint Joseph, all uniting,
Call on thee to hear our prayer.
Refrain:
Happy saint, in bliss adoring
Jesus, Savior of humankind,
Hear thy children thee imploring,
May we thy protection find.
Through this life, O watch around us!
Fill with love our ev'ry breath,
And, when parting fear surrounds us,
Guide us through the toils of death. [Refrain]
Archives