Lent with the Book of Job (Ch 42)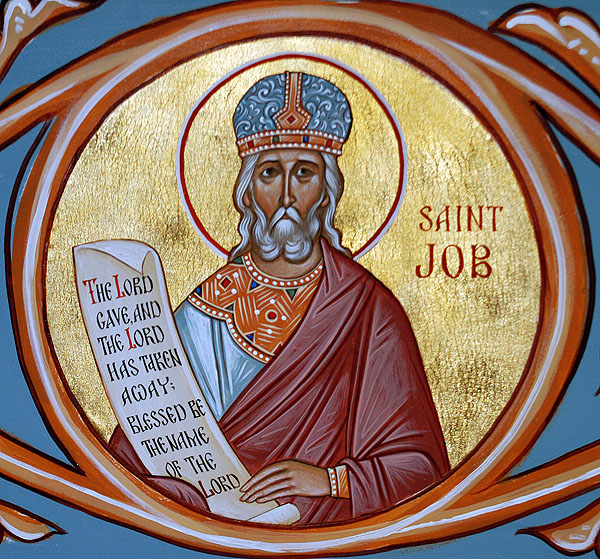 Chapter 42 (Wednesday of Holy Week)
Then Job answered the Lord:
'I know that you can do all things,
and that no purpose of yours can be thwarted.
"Who is this that hides counsel without knowledge?"
Therefore I have uttered what I did not understand,
things too wonderful for me, which I did not know.
"Hear, and I will speak;
I will question you, and you declare to me."
I had heard of you by the hearing of the ear,
but now my eye sees you;
therefore I despise myself,
and repent in dust and ashes.'
After the Lord had spoken these words to Job, the Lord said to Eliphaz the Temanite: 'My wrath is kindled against you and against your two friends; for you have not spoken of me what is right, as my servant Job has. Now therefore take seven bulls and seven rams, and go to my servant Job, and offer up for yourselves a burnt-offering; and my servant Job shall pray for you, for I will accept his prayer not to deal with you according to your folly; for you have not spoken of me what is right, as my servant Job has done.' So Eliphaz the Temanite and Bildad the Shuhite and Zophar the Naamathite went and did what the Lord had told them; and the Lord accepted Job's prayer.
And the Lord restored the fortunes of Job when he had prayed for his friends; and the Lord gave Job twice as much as he had before. Then there came to him all his brothers and sisters and all who had known him before, and they ate bread with him in his house; they showed him sympathy and comforted him for all the evil that the Lord had brought upon him; and each of them gave him a piece of money and a gold ring. The Lord blessed the latter days of Job more than his beginning; and he had fourteen thousand sheep, six thousand camels, a thousand yoke of oxen, and a thousand donkeys. He also had seven sons and three daughters. He named the first Jemimah, the second Keziah, and the third Keren-happuch. In all the land there were no women so beautiful as Job's daughters; and their father gave them an inheritance along with their brothers. After this Job lived for one hundred and forty years, and saw his children, and his children's children, four generations. And Job died, old and full of days.
Commentary
When God finally takes the floor (and this dialogue between Job and his friends is like the path leading to the moment in which God speaks his word), Job is praised because he understood the mystery of God's tenderness hidden behind his silence. God rebukes Job's friends who presumed they knew everything, to know about God and about suffering, and, having come to comfort Job, ended up judging him with their preconceived paradigms. God preserve us from this hypocritical and presumptuous religiosity! God preserve us from this moralistic religiosity and that religiosity of precepts that gives us a certain presumption and leads you to phariseeism and hypocrisy.
This is how the Lord expresses himself in their regard. Thus says the Lord: "My wrath is kindled against you […] for you have not spoken of me what is right, as my servant Job has", this is what the Lord says to Job's friends. "My servant Job shall pray for you, for I will accept his prayer not to deal with you according to your folly; for you have not spoken of me what is right, as my servant Job has" (42:7-8). God's declaration surprises us because we have read pages on fire with Job's protest which have left us dismayed. And yet, the Lord says Job spoke well, even when he was angry, and even angry at God, but he spoke well because he refused to accept that God was a "Persecutor". God is something else. And what is that? Job was seeking that. And as a reward, God gives back to Job double of all his possessions, after asking him to pray for those bad friends of his.
The turning point in the conversation of faith comes right at the height of Job's venting, where he says, "I know that my Redeemer lives, and at last he will stand upon the earth; and after my skin has been thus destroyed, then from my flesh I shall see God, whom I shall see for myself, and my eyes shall behold, and not another" (19:25-27). This passage is really beautiful. It makes me think of the end of that brilliant oratorio of Handel, the Messiah, after the celebrative Hallelujah, the soprano slowly sings this passage: "I know that my Redeemer lives", peacefully. And so, after this painful and joyful experience of Job, the voice of the Lord is something else. "I know that my Redeemer lives" – it is truly a beautiful thing. We could interpret it like this: "My God, I know You are not a Persecutor. My God will come and do me justice". It is the simple faith in the resurrection of God, the simple faith in Jesus Christ, the simple faith that the Lord is always waiting for us and will come.
The parable of the Book of Job dramatically represents in an exemplary way what truly happens in life – that really heavy trials fall on a person, on a family, on a people, disproportionate trials in comparison to human lowliness and frailty. It often happens in life that "when it rains it pours", as the saying goes. And some people are overcome by an accumulation of evil that truly seems excessive and unjust. It is like this with many people.
We have all known people like this. We have been impressed by their cry, but we have also stood in admiration at the firmness of their faith and love in their silence. I am thinking of parents of children with serious disabilities, have you thought of the parents of children with serious disabilities? Their entire life.… I am thinking also of those who live with a permanent illness, or those who assist a member of their family…. These situations are often aggravated by the scarcity of economic resources. At certain junctures in history, the accumulation of burdens gives the impression that they were given a group appointment. This is what has happened in these years with the Covid-19 pandemic, and is happening now with the war in Ukraine.
Can we justify these "excesses" to the higher intelligence of nature and history? Can we religiously bless them as justified responses to the sins of the victims, as if they deserve it? No, we cannot. There is kind of right that victims have to protest vis-à-vis the mystery of iniquity, a right that God grants to everyone, that indeed, He himself, inspires, after all. Sometimes I meet people who approach me and say: "But, Father, I protested against God because I have this and that problem…." But, you know, friend, that protesting is a way to pray when it is done like that. When children, when young people object against their parents, it is a way of attracting their attention and of asking that they take care of them. If you have some wound in your heart, some pain, and you want to object, object even to God. God will listen to you. God is a Father. God is not afraid of our prayer of protest, no! God understands. But be free, be free in your prayer. Don't imprison your prayer within preconceived paradigms! No! Prayer should be like this: spontaneous, like that of a child with his father, who say everything that comes out of his mouth because he knows his faither understands him. In the first moment of the drama, God's "silence" signifies this. God does not shy away from the confrontation, but, from the beginning, allows Job to give vent to his protest, and God listens. At times, perhaps we need to learn this respect and tenderness from God. And God does not like that encyclopedia – let's call it this – of explanations, of reflections that Job's friends do. These are things that come off the tip of their tongues which are not right – that type of religiosity that explains everything, but the heart remains cold. God does not like this. He likes Job's protest and silence more.
Job's profession of faith – which emerges precisely from his incessant appeal to God, to a supreme justice – concludes in the end with an almost mystical experience that makes him say, "I had heard of you by the hearing of the ear, but now my eye sees you" (42:5). How many people, how many of us after an experience that is a bit ugly, a bit dark, take a step and know God better than before! And we can say like Job: "I knew you because I had heard about you, but now I have seen you because I have encountered you". This testimony is particularly believable if it is picked up in old age, in its progressive frailty and loss. Those who are old have witnessed so many of these experiences in life! And they have also seen the inconsistency of human promises. Lawyers, scientists, even men of religion, who confuse the persecutor with the victim, insinuating that they are fully responsible for their own suffering. They are mistaken! (Pope Francis)
Musical Selection (Ruth Duck)
When we must bear persistent pain
and suffer with no cure in sight,
come, Holy Presence, breathe your peace
with gifts of warmth and healing light.
Support us as w learn new ways
to care for bodies newly frail.
Help us endure, and live and love.
Hear our complaint when patience fails.
We thank you for the better days
when we may smile to greet the sun,
do your work with clearing mind,
bless your name when day is done.
In ease or pain, in life and death,
to you our fragile lives belong,
and so we trust you in all things,
You are our hope, our health, our song.
Collect
For our sake, O God, you willed
that your Son should climb the scaffold of the cross
to lift from our shoulders the dark yoke of Satan.
Grant that we may come to share
the grace and power of Christ's resurrection.
We ask this through our Lord Jesus Christ, your Son,
who lives and reigns with you in the unity of the Holy Spirit,
God for ever and ever. Amen.
Archives