Lent with the Book of Job (Ch 28)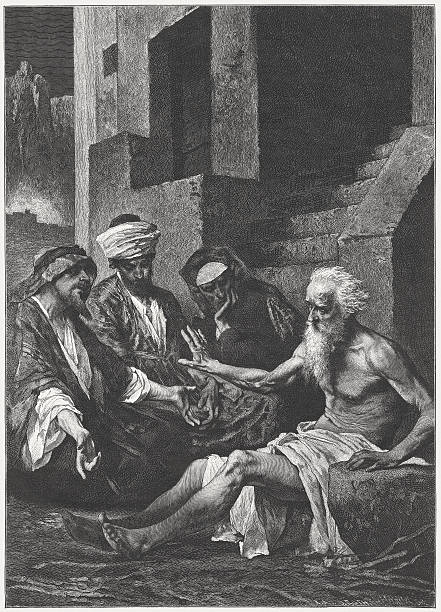 Chapter 28 (Tuesday of the Fourth Week of Lent)
'Surely there is a mine for silver,
and a place for gold to be refined.
Iron is taken out of the earth,
and copper is smelted from ore.
Miners put an end to darkness,
and search out to the farthest bound
the ore in gloom and deep darkness.
They open shafts in a valley away from human habitation;
they are forgotten by travellers,
they sway suspended, remote from people.
As for the earth, out of it comes bread;
but underneath it is turned up as by fire.
Its stones are the place of sapphires,
and its dust contains gold.

'That path no bird of prey knows,
and the falcon's eye has not seen it.
The proud wild animals have not trodden it;
the lion has not passed over it.

'They put their hand to the flinty rock,
and overturn mountains by the roots.
They cut out channels in the rocks,
and their eyes see every precious thing.
The sources of the rivers they probe;
hidden things they bring to light.

'But where shall wisdom be found?
And where is the place of understanding?
Mortals do not know the way to it,
and it is not found in the land of the living.
The deep says, "It is not in me",
and the sea says, "It is not with me."
It cannot be bought for gold,
and silver cannot be weighed out as its price.
It cannot be valued in the gold of Ophir,
in precious onyx or sapphire.
Gold and glass cannot equal it,
nor can it be exchanged for jewels of fine gold.
No mention shall be made of coral or of crystal;
the price of wisdom is above pearls.
The chrysolite of Ethiopia cannot compare with it,
nor can it be valued in pure gold.

'Where then does wisdom come from?
And where is the place of understanding?
It is hidden from the eyes of all living,
and concealed from the birds of the air.
Abaddon and Death say,
"We have heard a rumour of it with our ears."

'God understands the way to it,
and he knows its place.
For he looks to the ends of the earth,
and sees everything under the heavens.
When he gave to the wind its weight,
and apportioned out the waters by measure;
when he made a decree for the rain,
and a way for the thunderbolt;
then he saw it and declared it;
he established it, and searched it out.
And he said to humankind,
"Truly, the fear of the Lord, that is wisdom;
and to depart from evil is understanding." '
Commentary
You are great, Lord, and highly to be praised
:
great is your power and your wisdom is immeasurable
. Man, a little piece of your creation, desires to praise you, a human being
bearing his mortality with him
, carrying with him the witness of his sin and the witness that you
resist the proud
. Nevertheless, to praise you is the desire of man, a little piece of your creation. You stir man to take pleasure in praising you, because you have made us for yourself, and our heart is restless until it rests in you.
Grant me Lord to know and understand
which comes first, to call upon you or to praise you, and whether knowing you precedes calling upon you. But who calls upon you when he does not know you? For an ignorant person might call upon someone else instead of the right one. But surely you may be called upon in prayer that you may be known. Yet
how shall they call upon him in whom they have not believed? and how shall they believe without a preacher? They will praise the Lord who seek for him
.
In seeking him they find him, and in finding they will praise him. Lord, I would seek you, calling upon you—and calling upon you is an act of believing in you. You have been preached to us. My faith, Lord, calls upon you. It is your gift to me. You breathed it into me by the humanity of your Son, by the ministry of your preacher.
How shall I call upon my God, my God and Lord? Surely when I call on him, I am calling on him to come into me. But what place is there in me where my God can enter into me?
God made heaven and earth
. Where may he come to me? Lord my God, is there any room in me which can contain you? Can heaven and earth, which you have made and in which you have made me, contain you? Without you, whatever exists would not exist. Then can what exists contain you? I also have being. So why do I request you to come to me when, unless you were within me, I would have no being at all? I am not now possessed by Hades; yet even there are you: for
even if I were to go down to Hades, you would be present
. Accordingly, my God, I would have no being, I would not have any existence, unless you were in me. Or rather, I would have no being if I were not in you
of whom are all things, through whom are all things, in whom are all things
. Even so, Lord, even so. How can I call on you to come if I am already in you? Or where can you come from so as to be in me? Can I move outside heaven and earth so that my God may come to me from there? For God has said,
I fill heaven and earth
.
Who will enable me to find rest in you? Who will grant me that you come to my heart and intoxicate it, so that I forget my evils and embrace my one and only good, yourself? What are you to me? Have mercy so that I may find words. Speak to me so that I may hear. See the ears of my heart are before you, Lord. Open them and
say to my soul, I am your salvation
.
(St. Augustine,
Confessions
)
Musical Selection
(John Michael Talbot)
Wisdom comes from God and with God it shall remain
Like the sand of the seashore or the drops of the rain
Or the days of eternity
Who can number these, who can explore
Heaven's height or the depths of the sea
Before all things were created
Wisdom came to be

The beginning of Wisdom is the awesome fear of God
Which is formed in the faithful in their mother's womb
With devotion from of old
She inebriates with her finest fruit
And fills our house with food
Her garland is the fear of God
Her blossoms peace and good
Collect
As your people faithfully observe
the Lenten duties of prayer and self-denial,
prepare our hearts, Lord God,
that we may readily embrace the paschal mystery
and proclaim with joy your message of salvation.
We ask this through our Lord Jesus Christ, your Son,
who lives and reigns with you in the unity of the Holy Spirit,
God for ever and ever. Amen.
Archives