Third Sunday of Advent (A)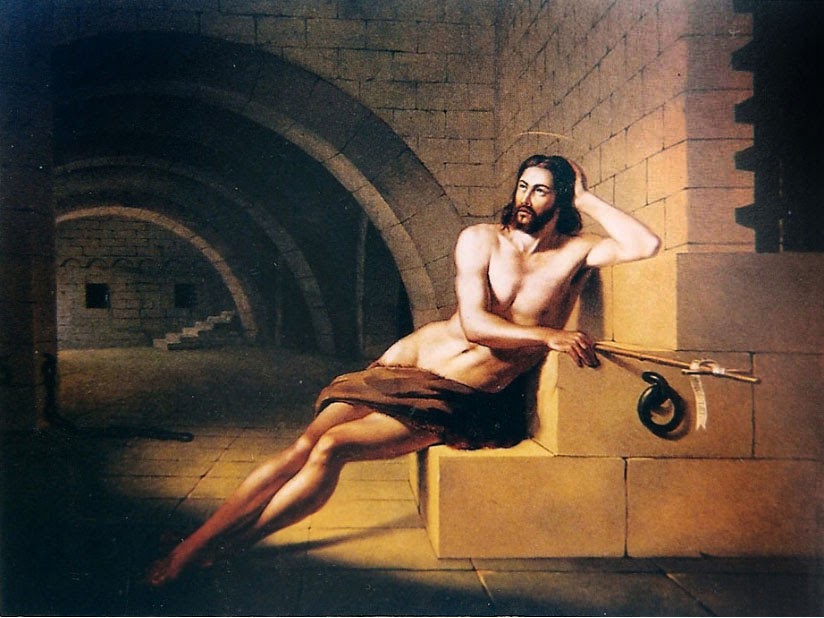 Victor Meirelles (1832–1903)
Third Sunday of Advent (A)
Collect

O God, who see how your people
faithfully await the feast of the Lord's Nativity,
enable us, we pray,
to attain the joys of so great a salvation
and to celebrate them always
with solemn worship and glad rejoicing.
Through our Lord Jesus Christ, your Son,
who lives and reigns with you in the unity of the Holy Spirit,
one God, for ever and ever.
Proper Chants
Introit
V/. Rejoice in the Lord always; again I say, rejoice. Let your forbearance be known to all men. The Lord is at hand. Do not be anxious over anything; but in all manner of prayer, let your requests be made known unto God. Ps/. Lord, you have blessed your land; you have put an end to Jacob's captivity.You forgave the guilt of your people, *and covered all their sins. You averted all your rage; *you turned back the heat of your anger.
Offertory
V/. O Lord, you have blessed your land, you have put an end to Jacob's captivity; you have forgiven the guilt of your people. Ps/. You forgave the guilt of your people, *and covered all their sins. You averted all your rage; *you turned back the heat of your anger.
Communion
V/. Say: "Take courage, you who are fainthearted, and do not fear; behold, our God will come and he will save us." Ps/. The desert and the parched land will exult; *the steppe will rejoice and bloom.
Liturgy of the Word
Reading 1 Is 35:1-6a, 10
The wilderness and the dry land shall be glad, the desert shall rejoice and blossom; like the crocus it shall blossom abundantly, and rejoice with joy and singing. The glory of Lebanon shall be given to it, the majesty of Carmel and Sharon. They shall see the glory of the LORD, the majesty of our God. Strengthen the weak hands, and make firm the feeble knees. Say to those who are of a fearful heart, "Be strong, fear not! Behold, your God will come with vengeance, with the recompense of God. He will come and save you." Then the eyes of the blind shall be opened, and the ears of the deaf unstopped; 6then shall the lame man leap like a hart, and the tongue of the dumb sing for joy. For waters shall break forth in the wilderness, and streams in the desert; And the ransomed of the LORD shall return, and come to Zion with singing; everlasting joy shall be upon their heads; they shall obtain joy and gladness, and sorrow and sighing shall flee away.
Reading 2 Jas 5:7-10
Be patient, therefore, brethren, until the coming of the Lord. Behold, the farmer waits for the precious fruit of the earth, being patient over it until it receives the early and the late rain. You also be patient. Establish your hearts, for the coming of the Lord is at hand. Do not grumble, brethren, against one another, that you may not be judged; behold, the Judge is standing at the doors. As an example of suffering and patience, brethren, take the prophets who spoke in the name of the Lord.
Gospel Mt 11:2-11
Now when John heard in prison about the deeds of the Christ, he sent word by his disciples and said to him, "Are you he who is to come, or shall we look for another?" And Jesus answered them, "Go and tell John what you hear and see: the blind receive their sight and the lame walk, lepers are cleansed and the deaf hear, and the dead are raised up, and the poor have good news preached to them. And blessed is he who takes no offense at me." As they went away, Jesus began to speak to the crowds concerning John: "What did you go out into the wilderness to behold? A reed shaken by the wind? Why then did you go out? To see a man clothed in soft raiment? Behold, those who wear soft raiment are in kings' houses. Why then did you go out? To see a prophet? Yes, I tell you, and more than a prophet. 1This is he of whom it is written, `Behold, I send my messenger before thy face, who shall prepare thy way before thee.' Truly, I say to you, among those born of women there has risen no one greater than John the Baptist; yet he who is least in the kingdom of heaven is greater than he.
Reflection Questions:
How are you needing to hear the words, "Be strong. Fear not?"
What is trying your patience these days?
What tempts you to ask, "Are you the One who is to come, or should we look for another?"
Catena Nova
The Introit is derived from St. Paul's Epistle to the Philippians (4:4) and is well adapted to the occasion. The Lord is now very close at hand, and at this announcement the heart overflows with joy. Yet this joy is in complete contrast to that to which the world gives itself up, for it is the fruit of inward peace which the Holy Spirit communicates to the soul when it remains faithful to God's holy will (Ildefonso Schuster).
John was a voice, but the Lord in the beginning was the Word. John was a voice for a time, Christ the eternal Word in the beginning. Take away the word and what is a voice? When it conveys no meaning, it is just an empty sound. A wordless voice strikes theear, but it does not make the heart grow…. Since it is difficult to distinguish the voice and the word, John himself was thought to be Christ. The voice was taken to be the Word. But the voice admitted his identity, lest he might displease the Word. I am not the Christ, he said, nor Elijah, nor the prophet. In reply to, Who are you? he said, I am the voice of one crying in the wilderness: Prepare the way of the Lord. The voice of one crying in the wilderness, the voice of one breaking the silence. Prepare the way of the Lord, is as though he said: I cry out to lead him into your heart – but he will not condescend to come where I am leading, unless you prepare the way. What does to prepare the way mean, except to pray as you ought, to be humble-minded? Take an example of humility from John himself. He is thought to be the Christ, but he says he is not what people think. He does not use the mistake of others to feed his own pride. Suppose he had said: I am the Christ. How easily would he have been believed, since that was what people were thinking before he spoke! But he did not say it. He acknowledged who he was, distinguished himself from Christ, humbled himself. (St. Augustine of Hippo)
We are in Advent. We remember that a woman held in her arms a child, and that child was God. If we remember that, then we are givers of peace, we are lovers of the Beloved. We own him through love. And he owns us! the most extraordinary thing in the world is that God loves you and me!" (Catherine de Hueck Doherty)
If you…are preparing to commemorate the Incarnation of the Word in loving, watchful expectation, today's happy announcement will resound in your ears more joyfully than ever: "Rejoice in the Lord always; again I say, rejoice... the Lord is nigh…." For the soul who waits for Jesus and seeks Him alone, sincerely and ardently, with lively desire and love, there can be only one motive for its joy, to know that Jesus is near, nearer with each day….The more a soul concentrates its desires and affections on God, the more it will be freed from earthly cares. It will no longer be troubled about anything, knowing that only one thing is necessary, "to seek God," and that in God it will find everything it needs. Hence to draw near to God, is to find not only true joy, but also peace. In Him it has everything, and God alone suffices (Fr. Gabriel of St. Mary Magdalene)
Christians are to grow in their vocation as Christ's messengers, preachers of peace and of the good news. The Lord is near at hand; not many words, not the loud strife of action, only peaceful living, indestructible peace of heart, quiet joy that give its light to the face have any effect (Aemiliana Löhr)
[T]he joy that Christians have is both a gift and a responsibility….All that they have is intended for those who have not. They must be affirmative, positive people, so that the negaters, the fault-finders, those who smell ideology everywhere, may meet with a resistance against which their criticism will smash itself to pieces. Amidst all the fear that characterizes our time, we Christians are summoned to live in joy and to communicate joy—joy in spite of fear, joy in the midst of fear….Nor is this an artificially produced joy but one that is simply a gift from God. It alone can change hearts and hence conditions (Hans Urs von Balthasar).
It is a terrifying thing to have been born: I mean, to find oneself, without having willed it, swept irrevocably along on a torrent of fearful energy which seems as though it wished to destroy everything it carries with it. What I want, my God, is that by a reversal of forces which you alone can bring about, my terror in face of the nameless changes destined to renew my being may be turned into an overflowing joy at being transformed into you….For me, my God, all joy and all achievement, the very purpose of my being and all my love of life, all depend on this one basic vision of the union between yourself and the universe. Let others, fulfilling a function more august than mine, proclaim your splendours as pure Spirit; as for me, dominated as I am by a vocation which springs from the inmost fibres of my being, I have no desire, I have no ability, to proclaim anything except the innumerable prolongations of your incarnate Being in the world of matter; I can preach only the mystery of your flesh, you the Soul shining forth though all that surrounds us. (Teilhard de Chardin)
Homily
THIRD SUNDAY OF ADVENT (A)
Readings: Is. 35:1-6;10; Jas. 5:7-10; Mt. 11:2-11
After This Our Exile
Our minds are filled with many images this time of year, aren't they? Some gloomy, some bright. On the gloomy side of things, there's jealous King Herod of Judah . . . the unfeeling keepers of Bethlehem's inns . . . Dickens' miserly Scrooge . . . Dr. Seuss' fanciful Grinch who Stole Christmas. Or how about the gloomiest of all: the crusty playwright George Bernard Shaw, who penned the following cynical lines: "[Christmas] is an indecent subject; a cruel gluttonous subject; a drunken, disorderly subject; a wasteful, disastrous subject; a wicked, cadging, lying, filthy, blasphemous, and demoraliz­ing subject."
Yes, Christmas has never lacked its anti-heroes who stand in contrast to those who take no offense (cf. G) at this season's cheer. Hopefully most of us are drawn to brighter figures like Mary and Joseph, awestruck shepherds, adoring Magi, St. Nicholas, Salvation Army bell ringers, and children with visions of sugarplums dancing in their heads. But I know the humbug in each of us can sometimes identify with those other types I mentioned.
In fact, this time of year magnifies the pain of many people. The burdens of sickness, bereavement, age, poverty, broken relationships, loneliness, and depression all seem much heavier when others are crying, Rejoice in the Lord always; again, I say, rejoice! (Introit) Psychiatric wards, police logs, city morgues, and liquor stores, all do a booming business as those left out in the Christmas cold seek relief for their numbness of heart.
Yet in the midst of it all the prophet Isaiah booms his promise: The desert and the parched land will exult; the steppe will rejoice and bloom. They will bloom with abundant flowers, and rejoice with joyful song (I). Now you might think those words were first addressed to a pretty happy crowd. They weren't. Those words were spoken to a people in exile, devastated by the loss of all that made life worth living. Reduced to the condition of slaves, separated from home and family, and made to dwell in a foreign land, they despaired of ever seeing the glory of the LORD, the splendor of [their] God, again (I). So how full of consolation must those words have been when spoken to a captive nation!
And they can be for us too. For the experience of "exile" is not merely of historical interest, happening to people far removed from us in time and space and therefore irrelevant. For is it not true many of us dwell captive in a desert? Our bodies held hostage by disease, frailty, lust? Our minds by narrowness, bigotry, doubt? Our wills by fear, addiction, sin? Our hearts by hardness, selfishness, greed? Our relationships by grudges, distrust, and fear? Oh yes, we all know what it means at times to be in exile, held captive by our own or others' cruelty, chained through our own fault or simply the circumstances of life. We are all bound in some way and therefore crave the liberation promised by the prophet of Advent.
Consider the example of John the Baptist. Cast into chains, imprisoned in mind as well as body by doubts Jesus was truly the Messiah. Perhaps thinking himself abandoned by God, how this was God's way of silencing a false prophet, mistaken in such an important matter as the identity of God's Chosen One. This tormented soul desperately needed some consolation.
And the Lord Jesus provided it. Quoting the prophet Isaiah, he tells John's disciples their teacher was not wrong, for the blind regain their sight, the lame walk, lepers are cleansed, the deaf hear, the dead are raised, and the poor have the good news proclaimed to them. The works of the Christ have surely come upon the earth (cf. G).
And we can know these mighty deeds too, deeds that free people from every form of oppression: Our blindness to God's presence can be cured by faith's vision. Our lameness that makes us limp through life on unsteady feet can be healed by trust in God. Our deafness to the Word of God challenging us to reform our lives can be remedied by repentance. Those struck dead by fear or despair can be raised by new hope in the Savior. And the poor whose hearts spirit are shrunken by neglect or bitterness can be enriched with the treasure of Christ's love.
So whatever weighs upon us, confining us to exile, these words of consolation coming from the depths of Advent can strengthen the hands that are feeble, make firm the knees that are weak (I). Hear them say to those whose hearts are frightened: Be strong, fear not! Here is your God, [who] comes with vindication; With divine recompense, he comes to save you . . . Those whom the LORD has ransomed will return and enter Zion singing, crowned with everlasting joy; They will meet with joy and gladness, sorrow and mourning will flee (I). And so we heed James' advice: Take as an example of hardship and patience . . . the prophets who spoke in the name of the Lord (II). Who lives and reigns, forever and ever. Amen.