Christ the King (C)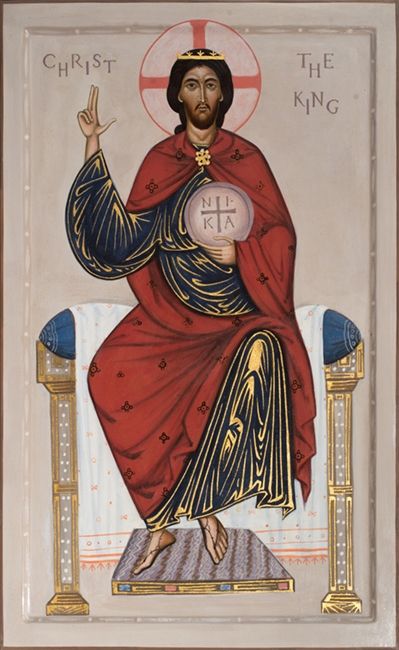 Introit
Kyrie
Gloria
Collect
Almighty ever-living God,
whose will is to restore all things
in your beloved Son, the King of the universe,
grant, we pray,
that the whole creation, set free from slavery,
may render your majesty service
and ceaselessly proclaim your praise.
Through our Lord Jesus Christ, your Son,
who lives and reigns with you in the unity of the Holy Spirit,
God, for ever and ever. Amen.

First Reading 2 Sm 5:1–3

In those days, all the tribes of Israel came to David in Hebron and said:
"Here we are, your bone and your flesh.
In days past, when Saul was our king,
it was you who led the Israelites out and brought them back.
And the LORD said to you,
'You shall shepherd my people Israel
and shall be commander of Israel.'"
When all the elders of Israel came to David in Hebron,
King David made an agreement with them there before the LORD,
and they anointed him king of Israel.
Responsorial Psalm
℟. Let us go rejoicing to the house of the Lord.
I rejoiced because they said to me,
"We will go up to the house of the Lord."
And now we have set foot
within your gates, O Jerusalem.

Jerusalem, built as a city
with compact unity.
To it the tribes go up,
the tribes of the Lord.

According to the decree for Israel,
to give thanks to the name of the Lord.
In it are set up judgment seats,
seats for the house of David.

Second Reading Col 1:12–20

Brothers and sisters:
Let us give thanks to the Father,
who has made you fit to share in the inheritance of the holy ones in light.
He delivered us from the power of darkness
and transferred us to the kingdom of his beloved Son,
in whom we have redemption, the forgiveness of sins.

He is the image of the invisible God,
the firstborn of all creation. For in him were created all things in heaven and on earth,
the visible and the invisible,
whether thrones or dominions or principalities or powers;
all things were created through him and for him.
He is before all things,
and in him all things hold together.
He is the head of the body, the church.
He is the beginning, the firstborn from the dead,
that in all things he himself might be preeminent.
For in him all the fullness was pleased to dwell,
and through him to reconcile all things for him,
making peace by the blood of his cross
through him, whether those on earth or those in heaven.
Acclamation before the Gospel Mk 11:9, 10
Gospel Lk 23:35–43
The rulers sneered at Jesus and said,
"He saved others, let him save himself
if he is the chosen one, the Christ of God."
Even the soldiers jeered at him.
As they approached to offer him wine they called out,
"If you are King of the Jews, save yourself."
Above him there was an inscription that read,
"This is the King of the Jews."

Now one of the criminals hanging there reviled Jesus, saying,
"Are you not the Christ?
Save yourself and us."
The other, however, rebuking him, said in reply,
"Have you no fear of God,
for you are subject to the same condemnation?
And indeed, we have been condemned justly,
for the sentence we received corresponds to our crimes,
but this man has done nothing criminal."
Then he said,
"Jesus, remember me when you come into your kingdom."
He replied to him,
"Amen, I say to you,
today you will be with me in Paradise."
Reflection Questions
What are the "powers of darkness" from which you seek most to be delivered?
How have you been "transferred" to the kingdom of Christ?
How do you wish the Christ to remember you?
Catena Nova
The kingdom of God, in the words of our Lord and Savior, does not come for all to see; nor shall they say: Behold, here it is, or behold, there it is; but the kingdom of God is within us, for the word of God is very near, in our mouth and in our heart. Thus it is clear that he who prays for the coming of God's kingdom prays rightly to have it within himself, that there it might grow and bear fruit and become perfect. For God reigns in each of his holy ones. Anyone who is holy obeys the spiritual laws of God, who dwells in him as in a well-ordered city. The Father is present in the perfect soul, and with him Christ reigns, according to the words: We shall come to him and make our home with him. Thus the kingdom of God within us, as we continue to make progress, will reach its highest point when the Apostle's words are fulfilled, and Christ, having subjected all his enemies to himself, will hand over his kingdom to God the Father, that God may be all in all. Therefore, let us pray unceasingly with that disposition of soul which the Word may make divine, saying to our Father who is in heaven: Hallowed be your name; your kingdom come (Origen of Alexandria)
During this life we are wandering exiles from the Jerusalem above; we long to return to it and have much toil and sorrow until we are back there once more. But the angels, our fellow citizens, did not abandon us in our exile; on the contrary, they announced the coming to us of the King in person. And he did come to us, but was met with contempt among us. He was despised by us, and later he was despised with us. And he taught us to bear contempt because he had borne it, to endure because he had endured, to suffer because he had suffered. Moreover he promised that we should rise from the dead because he rose from the dead, showing in himself what we were to hope for. (St. Augustine of Hippo)
That the cross brings us untold blessings is surely obvious. Have you set your heart upon a kingdom? Then tell me, can you see any such thing? All that meets the eye are nails and a cross, and yet this very cross, Christ says, is the symbol of the kingdom. I proclaim him King, therefore, because I see him crucified, for it becomes a king to die for his subjects. He himself said that the good shepherd lays down his life for his sheep, and so the good King too lays down his life for his subjects. Christ laid down his life, and that is why I proclaim him King: Lord, remember me in your kingdom. (St John Chrysostom)
Blessed are those in whom Jesus will reign for ever. They shall reign with Him. Of his kingdom in us there will be no end. Think how glorious that kingdom will be where all ordinary kings gather together to give united praise and honor to the King of kings and Lord of lords. In contemplating His splendor the just will shine like the sun in the Kingdom of the Heavenly Father. Lord Jesus, out of the love you have for your people, remember me! When Jesus delivers his kingdom into the hands of his Heavenly Father may he save me! Grant that I, and all of us, may see that joy, the joy of all the chosen ones! Grant that all of us may rejoice with the gladness of God's People. Then I too will be able to praise him together with all of you. Now, Lord Jesus, come and remove all stumbling blocks from within that Kingdom that is my heart and soul. You ought to reign within it so let that happen! Greed may come along and try to claim a throne in me. Or arrogance may try to dominate. Pride would be my king. Comfort and pleasure want to reign in me. Ambition, detraction, envy, anger and the like struggle within me to be supreme. Help me resist! I will win if I have your help! Jesus, my Lord, will keep me for himself if only I acknowledge his rights over me. He is God and he is my Lord and I declare that I will have no king but the Lord Jesus! Be my king! (St. Bernard of Clairvaux)
Taking up our cross means obediently and humbly submitting ourselves to those temporary sorrows and afflictions that Divine Providence sees fit to allow against us for the cleansing away of our sins. Then the cross will serve us as a ladder from earth to heaven. The thief in the Gospels who ascended this ladder ascended from out of terrible crimes into most radiant heavenly habitations. From his cross he pronounced words filled with humility of wisdom; in humility of wisdom he entered into the knowledge of God, and through the knowledge of God, he acquired heaven. We receive the due reward of our deeds, he said. 'Lord, remember me when thou comest into thy kingdom.' (Lk. 23:41–42) When sorrows encompass us, let us also, beloved brothers and sisters, repeat the words of the good thief—words that can purchase paradise! (St. Ignatius Brianchaninov)
Whoever exalts race, or the people, or the State, or a particular form of State, or the depositories of power, or any other fundamental value of the human community – however necessary and honorable be their function in worldly things – whoever raises these notions above their standard value and divinizes them to an idolatrous level, distorts and perverts an order of the world planned and created by God; he is far from the true faith in God and from the concept of life which that faith upholds….None but superficial minds could stumble into concepts of a national God, of a national religion; or attempt to lock within the frontiers of a single people, within the narrow limits of a single race, God, the Creator of the universe, King and Legislator of all nations before whose immensity they are "as a drop of a bucket" (Is 1:15). (Pope Pius XI)
A dying man asked a dying man for eternal life; a man without possessions asked a poor man for a Kingdom; a thief at the door of death asked to die like a thief and steal Paradise. One would have thought a saint would have been the first soul purchased over the counter of Calvary by the red coins of Redemption, but in the Divine plan it was a thief who was the escort of the King of kings into Paradise. If Our Lord had come merely as a teacher, the thief would never have asked for forgiveness. But since the thief's request touched the reason of His coming to earth, namely, to save souls, the thief heard the immediate answer: "I promise thee, this day thou shalt be with Me in Paradise'" (Luke 23:43). It was the thief's last prayer, perhaps even his first. He knocked once, sought once, asked once, dared everything, and found everything. When even the disciples were doubting and only one was present at the Cross, the thief owned and acknowledged Him as Saviour. (Fulton J. Sheen)
Homily
So do you miss all those great political ads? My favorite was the governor of Florida's ad in which we were informed, "On the eighth day, God looked down on his planned paradise and said, 'I need a protector.' So God made a fighter….God said, 'I need somebody to get up before dawn, kiss his family goodbye, travel thousands of miles for no other reason than to serve the people; to save their jobs, their livelihood, their liberty, their happiness.' So God made a fighter…. God said, 'I need someone to be strong, advocate truth in the midst of hysteria, someone who challenges conventional wisdom and isn't afraid to defend what he knows to be right and just.' So God made a fighter."
Despite this premature canonization, it might not surprise you to learn it's pretty rare to find politicians among the church's official roster of saints. True, there are a number of medieval saints like St. Louis IX, King of France; the Holy Roman Emperor, St. Henry II; the princess, St. Elizabeth of Hungary and the queen consort, St. Elizabeth of Portugal. (You were thinking Camilla?)
Among these exceptions, and closer to our own time, is Blessed Karl I of Austria (+1922), the last Emperor of Austria and last of the Hapsburg line. His wife, the Servant of God, Zita, is also being considered for sainthood. When Empress Zita (+1989) died in exile like her husband, the Austrian government allowed her body to be buried in the Imperial Crypt in Vienna. As her funeral procession approached the massive doors of St. Stephen's Cathedral, a member of the funeral party knocked, and a priest responded, "Who goes there?" "Zita, Queen of Bohemia, Dalmatia, Croatia, Slavonia, Galicia. Queen of Jerusalem. Grand Duchess of Tuscany and Cracow..." "I do not know her," came the reply.
A second knock. "Who goes there?" "Zita, Empress of Austria and Queen of Hungary." Once more, a solemn denial: "I do not know her." After the third and final rap on the cathedral door, with dignitaries from church and state waiting, a last response was given to the priest's question, "Who goes there?" "Zita, a sinning mortal," came the final announcement. At which the monk swung open the portals saying, "Come in, my sister," as he welcomed, not an earthly monarch, but a woman saved by Christ.
On this feast of Christ the King, our eyes are drawn to Jesus, the chosen one, the Messiah of God. (G) -- a figure who nevertheless took the form of a "sinning mortal," crucified at the place called the Skull where the son of David assumed his throne, amidst the jeers, mockery, and blasphemy of his subjects.
It's a sign of contradiction that stretches our vision to the limit. For who could see in Christ the image of the invisible God? (II) Eyes of flesh see a cross, not a throne; they see blood, not the oil used to anoint a king; thorns too, but not a crown; a reed and purple cloak, though not a scepter and mantle; sour wine, not a libation; cowardly apostles and women standing at a distance, not a privy council and members of court; a plaque hung around the neck of a condemned criminal, not a royal edict announc­ing to the world, this is the first-born of all creation (II). Oh no, this is too much for normal vision to behold.
But look again. There is someone who sees the truth -- one of the criminals hanging there next to him. Who would think this "sinning mortal" could speak such words of recognition: Jesus, remember me when you come into your kingdom. (G) To what can we credit his sight?
Grace. Only grace can open eyes tight shut to see the Savior. Only grace can make us feel the need for deliverance from the power of darkness (cf. II). Only grace can bring us sinning mortals to the kingdom of the beloved Son. . .fit to share the inheritance of the saints in light (cf. II). Only grace can make us see beyond the contradictions of this world.
Beyond the sight of so many martyrs' blood already spilled this century. For we know God has made peace through the blood of the cross (cf. II). Beyond the victims of violence, racism, poverty, and war. For we know Jesus told someone whom the world thought least: Today you will be with me in Paradise (G). Beyond the contrad­ictions of sickness, broken relationships, addictions, moral failure. For we know there is nothing in heaven or on earth, visible or invisible (II) which cannot be conquered by Christ's power. Beyond, finally, the sight of death. For we know even the contradiction of death has been vanquished once and for all by the victory of Christ the King.
So doubt your eyes. Let them look beyond, to see by faith. See how all the contradictions they behold are themselves contradicted by Christ. Christ who shows us things are not what they seem. Whether a proud monarch who is really a "sinning mortal." Or a crucified man who is really the Son of God. Or bread and wine which is really the flesh and blood of him who is the head of the body, the church. (II) The One who takes all our contradictions and resolves them in the light of God's grace as we commemorate his resurrection on the Eighth Day of the New Creation, our true and only Protector: Jesus Christ, Governor of the Universe and our Lord, forever and ever. Amen.
Creed
Intercessions (The Sunday Website; Joe Milner)
For the Church: that we may cooperate in the ministry of Jesus who is healing and reconciling all the human family particularly those who alienated or marginalized.
For greater integrity: that we may both speak and live the virtues that are planted deep within our hearts so that we may be authentic witnesses to God's reign.
For a transformation of our hearts: that through the Cross of Christ, our understandings of power, success, and glory may be changed and that we may place ourselves more fully in the service of God.
For the leaders of our nation: that they may recognize the source of their authority and be guided by God's wisdom in promoting justice and advancing the well-being of all members of society.
For healing of our nation: that God will heal the divisions within our nation, guide us toward a greater respect for one another, and a renewed commitment to our common values.
For a renewed reverence for God's creation: that we may respect and care for all that God has created so that all God's people may be blessed by God's handiwork.
For all who struggle with life's demands, particularly the poor, the homebound, and those with mental illness: that God will sustain them and touch the hearts of many to be compassionate friends.
For all who are grieving: that they may know God's presence with them and experience the love and compassion of others.
For all who have died: that Christ the first born from the dead may welcome them into the fullness of life where sorrow and pain exist no more.
God and Father of our Lord Jesus Christ,
you gave us your Son,
the beloved one who was rejected,
the Saviour who appeared defeated.
Yet the mystery of his kingship illumines our lives.
Show us in his death
the victory that crowns the ages,
and in his broken body
the love that unites heaven and earth.
We ask this through Christ our Lord. Amen. (ICEL; 1998)

Offertory Hymn
"Jesus remember me, when you come into your kingdom." (Taize)
Communion Antiphon
Closing Hymn
How great a being, which doth all beings keep
Thy knowledge the only line to sound so vast a deep
Thou art a sea without a shore, a sun without a sphere
Thy time is now and evermore, Thy place is everywhere.
How shall I sing that majesty which angels do admire?
Let dust in dust and silence lie. Sing, sing ye heavenly choir.
Enlighten with faith my heart,
inflame it with love's fire
then shall I bear a part with that celestial choir.
Thou art a sea without a shore, a sun without a sphere
Thy time is now and evermore, Thy place is everywhere.
Archives