Lent with the Book of Job (Ch 2)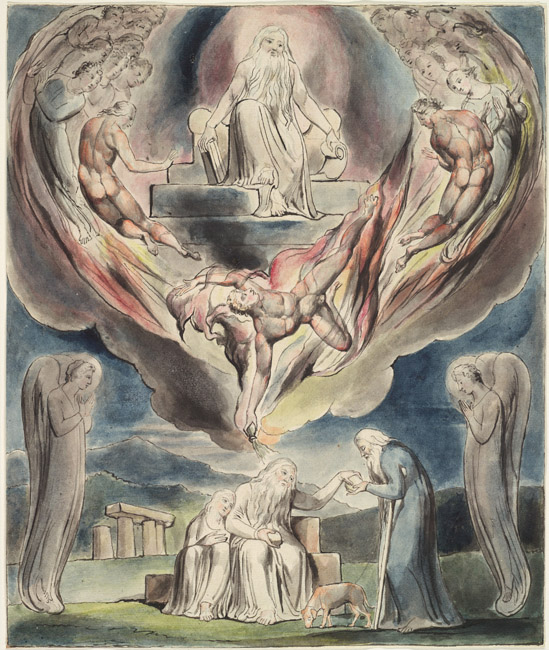 Chapter 2 (Thursday after Ash Wednesday)
One day the heavenly beings came to present themselves before the Lord, and Satan also came among them to present himself before the Lord. The Lord said to Satan, 'Where have you come from?' Satan answered the Lord, 'From going to and fro on the earth, and from walking up and down on it.' The Lord said to Satan, 'Have you considered my servant Job? There is no one like him on the earth, a blameless and upright man who fears God and turns away from evil. He still persists in his integrity, although you incited me against him, to destroy him for no reason.' Then Satan answered the Lord, 'Skin for skin! All that people have they will give to save their lives. But stretch out your hand now and touch his bone and his flesh, and he will curse you to your face.' The Lord said to Satan, 'Very well, he is in your power; only spare his life.'
So Satan went out from the presence of the Lord, and inflicted loathsome sores on Job from the sole of his foot to the crown of his head. Job took a potsherd with which to scrape himself, and sat among the ashes.
Then his wife said to him, 'Do you still persist in your integrity? Curse God, and die.' But he said to her, 'You speak as any foolish woman would speak. Shall we receive the good at the hand of God, and not receive the bad?' In all this Job did not sin with his lips.
Now when Job's three friends heard of all these troubles that had come upon him, each of them set out from his home—Eliphaz the Temanite, Bildad the Shuhite, and Zophar the Naamathite. They met together to go and console and comfort him. When they saw him from a distance, they did not recognize him, and they raised their voices and wept aloud; they tore their robes and threw dust in the air upon their heads. They sat with him on the ground for seven days and seven nights, and no one spoke a word to him, for they saw that his suffering was very great.
Commentary
We can find ample consolation not only in the New Testament but in the Old Testament as well. Consider the story of Job, and how, after the loss of his wealth and the destruction of his herds, not one, two or even three of his children were taken from him, but all of them together in the very flower of their youth. When you hear of his great spiritual courage, even if you are the weakest of men, it is not so difficult to recover yourself and return to life.
Let us too utter these words in every misfortune that life brings us, be it loss of wealth, bodily sickness, abuse, slander, or any other human ill. Let us say:
The Lord gave, and the Lord has taken away; it has been done as the Lord willed. Blessed be the name of the Lord for ever.
If we make this our philosophy, no misfortune will ever cause us suffering, however many we endure. The gain will always be greater than the loss, and the good will outweigh the bad, since with these words you attract the favour of God and shake off the tyranny of the devil. For as soon as you utter them, the devil at once takes to flight, and when he has gone the cloud of dejection lifts too and oppressive thoughts disappear in the company of their master; and besides all this you will have as your reward all the blessings both of earth and of heaven. You have a steadfast example in Job and also in the Apostles, who scorned the terrors of this world for God's sake, and so gained the blessings of eternity. Let us then follow them, and in all that happens to us rejoice and give thanks to the benevolent God. So shall we pass this present life in contentment and gain the blessings to come, by the grace and kindness of our Lord Jesus Christ, to whom be glory, honour and power at all times, now and forever and to endless ages. Amen. (St. John Chrysostom,
Hom. in paralyticum demissum).
Musical Selection
(Giacomo Carissimi)
Diabolus


Audi, audi Job quas aerumnas coelum defluat


super te.



Job


Quae me flagellant voces? Quis turbare praesumit


animam meam?



Angelus


Spiritus malus est, sed esto fortis, Job. Ego Dei


angelus te tuebor, te defendam.



Job


Aures meae non turbabuntur in voluntate


Domini mei, malum spiritum spernam et mittam


derelictum semperque dicam: "Sit nomen


Domini benedictum".
Devil
Hear, hear, Job, what sorrows heaven casteth
upon you.
Job
What voices scourge me? Who dareth trouble
my soul?
Angel
It is an evil spirit, Job, but be strong. I, the angel
of God, shall defend thee, I shall save thee.
Job
That which the Lord willeth shall not trouble
mine ears; I shall despise the evil spirit; I shall
send him away without listening to him, and
always shall say: "Blessed be the name of the Lord".
Collect
Direct our actions, Lord, by your holy inspiration
and carry them forward by your gracious help,
that all our works may begin in you
and by you be happily ended.
We ask this through our Lord Jesus Christ, your Son,
who lives and reigns with you in the unity of the Holy Spirit,
God for ever and ever. Amen.
Archives