Acta Sanctorum: St. Augustine (August 28)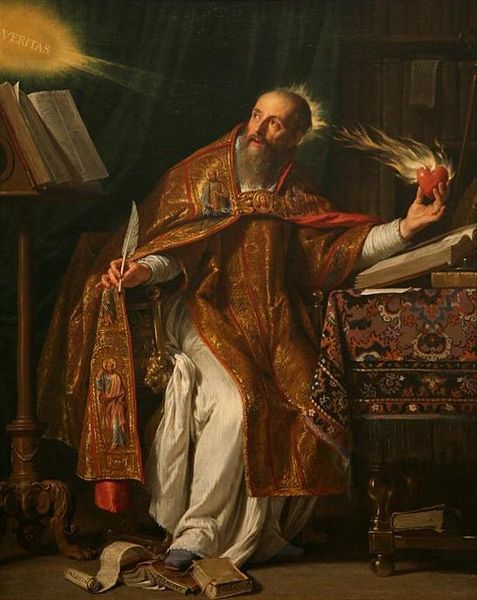 August 28
St. Augustine of Hippo
Life. (354-430)
Augustine of Hippo ranks high among the saints of God: a man whose influence among us as a person, churchman, philosopher and theologian, still runs strong. One reason why he is so admired, I am sure, is that he was a sinner before he became a saint. This offers encouragement to the rest of us sinners.
Augustine was a native of Tagaste in Numidia, a Roman colony on the Mediterranean coast of Africa. (He was not a black, as some people have concluded because of his "African" origin.) The father was Patricius, a pagan. The mother was Monica, a Christian whom we venerate as Saint Monica. She bore several children. Her exemplary Christian faith eventually led to the deathbed conversion of Patricius. However, her brilliant son Augustine, although enrolled as a catechumen for baptism, and taught Christian basics by Monica, drifted away from Christian faith and morality, and caused her years of pain by his thought-style and life-style.
Augustine was to admit to all this years later in his famous spiritual autobiography, the Confessions. His interest in literature led him from the school in Tagaste to the bigger school in the major city of Carthage. As a student of the spoken and written word, and increasingly of philosophy, he fell in with proponents of the Manichaean heresy, and also entered a common-law marriage, fathering one son. At the root of his misbehavior was youthful vanity and ambition. Next, for nine years he ran his own schools in Tagaste and Carthage.
By 383 be had come to reject Manichee ideas but he then took flight to Rome (without telling Monica). After teaching there for a while, he went north to Milan. At Milan he was welcomed as an experienced pedagogue. Among those who paid him respect was the great St. Ambrose, bishop of Milan, a man who before becoming a cleric had served as governor, and was a noted public speaker. Augustine used to go to hear his sermons–not, as he assured himself, because of their Christian content, but to study the bishop's oratorical techniques. Meanwhile Monica had joined her son at Milano.
Gradually Augustine became convinced of the truth of Christianity. He dismissed his spouse, but he still felt the tug of the flesh, and prayed, "Give me chastity, but not yet awhile."
Eventually, however, God rewarded his good intentions by turning his eyes marvelously to a passage from St. Paul. As he read Paul's words, he received the grace of total conversion. This was in 386. He was baptized the following year by St. Ambrose. Then he formed a quasi-religious community, including his mother, dedicated to study and prayer. Late in 387 he decided to return to Africa, to continue there his work for the Church. Monica died en route, happy to have seen her prayers answered for her son.
At Tagaste, Augustine and his friends continued their quasi-monastic life. He had no thought then of becoming a priest, but in 391 Bishop Valerius of Hippo persuaded him to accept ordination. Four years later he was consecrated coadjutor bishop of Hippo with right of succession, and he succeeded shortly afterward when Valerius died.
During the rest of his life, Bishop Augustine ransomed his wayward years by being a religious leader in every sense. He perfected a religious rule for his monastic group, and also founded a community of religious women. He used his own funds where necessary to aid the poor. A friendly and affectionate person, he made himself available to all inquirers by personal contact or by letter. Meanwhile he polished his knowledge of theology, and by working to refute current errors, became an expert theologian, consulted widely on matters of scripture and faith. Nowhere was his expertise greater than in the theology of divine grace. (He had learned much about God's grace through his own spiritual experiences!)
After thirty-five years of laborious work, the Bishop of Hippo died of a fever at the moment when the Germanic Vandals were besieging his see-city. At that moment he found fulfillment of the prayer he had addressed to God in his Confessions:
"Thou has made us for Thyself, and our hearts are restless until they rest in Thee."
--Father Robert F. McNamara
Scripture ( 1 John 4:7-16)
Beloved, let us love one another, because love is of God; everyone who loves is begotten by God and knows God. Whoever is without love does not know God, for God is love. In this way the love of God was revealed to us: God sent his only-begotten Son into the world so that we might have life through him. In this is love: not that we have loved God, but that he loved us and sent his Son as expiation for our sins. Beloved, if God so loved us, we also must love one another. No one has ever seen God. Yet, if we love one another, God remains in us, and his love is brought to perfection in us.
This is how we know that we remain in him and he in us, that he has given us of his Spirit. Moreover, we have seen and testify that the Father sent his Son as savior of the world. Whoever acknowledges that Jesus is the Son of God, God remains in him and he in God. We have come to know and to believe in the love God has for us.
God is love, and whoever remains in love remains in God and God in him.
Writings
(Year A). Great are you, O Lord, and exceedingly worthy of praise; your power is immense, and your wisdom beyond reckoning. And so we men, who are a due part of your creation, long to praise you – we also carry our mortality about with us, carry the evidence of our sin and with it the proof that you thwart the proud. You arouse us so that praising you may bring us joy, because you have made us and drawn us to yourself, and our heart is restless until it rests in you.
Grant me to know and understand, Lord, which comes first. To call upon you or to praise you? To know you or to call upon you? Must we know you before we can call upon you? Anyone who invokes what is still unknown may be making a mistake. Or should you be invoked first, so that we may then come to know you? But how can people call upon someone in whom they do not yet believe? And how can they believe without a preacher?
But scripture tells us that those who seek the Lord will praise him, for as they seek they find him, and on finding him they will praise him. Let me seek you then, Lord, even while I am calling upon you, and call upon you even as I believe in you; for to us you have indeed been preached. My faith calls upon you, Lord, this faith which is your gift to me, which you have breathed into me through the humanity of your Son and the ministry of your preacher.
How shall I call upon my God, my God and my Lord, when by the very act of calling upon him I would be calling him into myself? Is there any place within me into which my God might come? How should the God who made heaven and earth come into me? Is there any room in me for you, Lord, my God? Even heaven and earth, which you have made and in which you have made me – can even they contain you? Since nothing that exists would exist without you, does it follow that whatever exists does in some way contain you?
But if this is so, how can I, who am one of these existing things, ask you to come into me, when I would not exist at all unless you were already in me? Not yet am I in hell, after all but even if I were, you would be there too; for if I descend into the underworld, you are there. No, my God, I would not exist, I would not be at all, if you were not in me. Or should I say, rather, that I should not exist if I were not in you, from whom are all things, through whom are all things, in whom are all things? Yes, Lord, that is the truth, that is indeed the truth. To what place can I invite you, then, since I am in you? Or where could you come from, in order to come into me? To what place outside heaven and earth could I travel, so that my God could come to me there, the God who said, I fill heaven and earth?
Who will grant it to me to find peace in you? Who will grant me this grace, that you should come into my heart and inebriate it, enabling me to forget the evils that beset me and embrace you, my only good? What are you to me? Have mercy on me, so that I may tell. What indeed am I to you, that you should command me to love you, and grow angry with me if I do not, and threaten me with enormous woes? Is not the failure to love you woe enough in itself?
Alas for me! Through your own merciful dealings with me, O Lord my God, tell me what you are to me. Say to my soul, I am your salvation. Say it so that I can hear it. My heart is listening, Lord; open the ears of my heart and say to my soul, I am your salvation. Let me run towards this voice and seize hold of you. Do not hide your face from me: let me die so that I may see it, for not to see it would be death to me indeed. (Confessions)
Musical Selection
O beauty ancient, O beauty so new
late have i loved thee and feebly yet do
though you were with me, i was not with you
then you shone your face and i was blind no more
my heart searches restlessly and finds no rest 'till it rests in thee
o seeker you sought for me, your love has found me.
i sought this world and chased its finer things.
yet were these not in you, they would have not been.
my ceaseless longing hid the deeper truth
in all my desirings, i was desiring you
lord i my deafness you cried out to me.
i drew my breath and now your fragrance i breathe.
o fount of life, you are forever the same,
o fire of love, come set me a flame
my heart searches restlessly, and finds no rest 'till it rests in thee
o seeker you sought for me, your love has found me
Collect
Merciful Lord,
who turned Augustine from his sins
to be a faithful bishop and teacher:
grant that we may follow him in penitence and discipline
till our restless hearts find their rest in you;
through Jesus Christ your Son our Lord,
who is alive and reigns with you,
in the unity of the Holy Spirit,
God, now and for ever. Amen. (English Missal)
Archives