Twenty-third Sunday in Ordinary Time (A)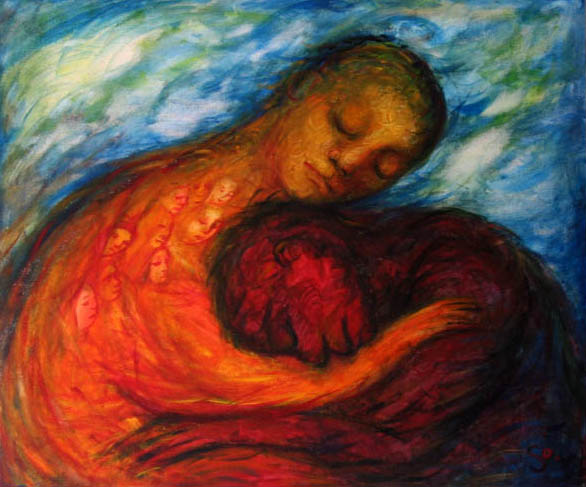 Introit
Kyrie
Gloria
Collect
O God, by whom we are redeemed and receive adoption,
look graciously upon your beloved sons and daughters,
that those who believe in Christ
may receive true freedom
and an everlasting inheritance.
Through our Lord Jesus Christ, your Son,
who lives and reigns with you in the unity of the Holy Spirit,
one God, for ever and ever. Amen.
First Reading Ez 33:7-9
Thus says the LORD: You, son of man, I have appointed watchman for the house of Israel; when you hear me say anything, you shall warn them for me. If I tell the wicked, "O wicked one, you shall surely die, "and you do not speak out to dissuade the wicked from his way, the wicked shall die for his guilt, but I will hold you responsible for his death. But if you warn the wicked, trying to turn him from his way, and he refuses to turn from his way, he shall die for his guilt, but you shall save yourself.
Responsorial Psalm
R/. If today you hear his voice, harden not your hearts.
Come, let us sing joyfully to the LORD;
let us acclaim the Rock of our salvation.
Let us come into his presence with thanksgiving;
let us joyfully sing psalms to him. R/.
Come, let us bow down in worship;
let us kneel before the LORD who made us.
For he is our God, and we are the people he shepherds, the flock he guides. R.
Oh, that today you would hear his voice:
"Harden not your hearts as at Meribah,
as in the day of Massah in the desert,
Where your fathers tempted me;
they tested me though they had seen my works." R/.
Second Reading Rom 13:8-10
Brothers and sisters: Owe nothing to anyone, except to love one another; for the one who loves another has fulfilled the law. The commandments, "You shall not commit adultery; you shall not kill; you shall not steal; you shall not covet, " and whatever other commandment there may be, are summed up in this saying, namely, "You shall love your neighbor as yourself." Love does no evil to the neighbor; hence, love is the fulfillment of the law.
Alleluia 2 Cor 5:19
Gospel Mt 18:15-20
Jesus said to his disciples: "If your brother sins against you, go and tell him his fault between you and him alone. If he listens to you, you have won over your brother. If he does not listen, take one or two others along with you, so that 'every fact may be established on the testimony of two or three witnesses.' If he refuses to listen to them, tell the church. If he refuses to listen even to the church then treat him as you would a Gentile or a tax collector. Amen, I say to you, whatever you bind on earth shall be bound in heaven, and whatever you loose on earth shall be loosed in heaven. Again, amen, I say to you, if two of you agree on earth about anything for which they are to pray, it shall be granted to them by my heavenly Father. For where two or three are gathered together in my name, there am I in the midst of them."
Catena Nova
"The Lord said: "If two of you agree on earth about anything for which they are to pray, it shall be granted to them by my heavenly Father. For where two or three are gathered together in my name, there am I in the midst of them." These words prove that much is given not to the mere number but to the unanimity of those who pray. "If two of you agree on earth," He says, putting unanimity and peaceful concord first, teaching us to agree firmly and loyally. But how can one man agree with another when he disagrees with the body of the Church itself, with the whole brotherhood?… The Lord's words were spoken about His own Church and addressed to members of the Church. If they are agreed, if, as He commanded but two or three are gathered together and pray with one mind, then, although they are but two or three, they can obtain from the divine majesty what they ask (Saint Cyprian of Carthage).
You will be doing everything for the glory of God if, when you leave this place, you make yourselves responsible for saving a brother or sister, not just by accusing and rebuking him or her, but also by advising and encouraging, and by pointing out the harm done by worldly amusements, and the profit and help that come from our instruction. Surely it is right for each of us to offer to extend a helping hand to those who through laxity have fallen into the snares of the devil. You will also be preparing for yourself a double reward, since as well as greatly furthering your own salvation, you will be endeavoring to heal a fellow member of Christ's body. It is the Church's pride, it is the Savior's command, not to be concerned only about our own welfare, but about our neighbor's also.... But I am quite certain that you will do this out of the tender love you bear your own members, and that you will make every effort to bring your neighbors back to our common Mother, because I know that through the grace of God you are able to admonish others with wisdom (St. John Chrysostom).
Let the Abbot hate vice, but love the brethren. And even in his corrections, let him act with prudence and not go to extremes, lest, while he aimeth to remove the rust too thoroughly, the vessel be broken. Let him always keep his own frailty in mind, and remember that "the bruised reed must not be broken" (Is 42:3). In this we are not saying that he should allow evils to take root, but that he cut them off with prudence and charity, as he shall see it is best for each one, as we have already said; and let him aim to be loved rather than feared (St. Benedict).
Let us consider how it can happen so often that someone hears something unpleasant and goes away untroubled, as if he had not heard it; and yet sometimes he is disturbed and troubled as soon as he hears such words. What is the cause of this inconsistency? Is there one reason for it or many? I recognize several, but one in particular is the source of all the others. As someone has put it: it all comes from the person's state of mind at the time. If someone is engaged in prayer or contemplation, he can easily take a rebuke from his brother and be unmoved by it. Or again, his affection toward a brother may be a strong reason; love bears all things with the utmost patience. Yet another reason may be contempt: if a person despises the one who is trying to trouble him, and acts as if he is the vilest of all creatures and considers it beneath his dignity even to look at him, or to answer him, or to mention the affront and insults to anyone else, he will not be moved by his words.
All in all, then, no one is disturbed or troubled if he scorns and disregards what is said. But on the other hand, it is also possible for someone to be disturbed and troubled by his brother's words, either because he is not in a good frame of mind, or because he hates his brother. There are a great number of other reasons as well. Yet the reason for all disturbance, if we look to its roots, it's that no one finds fault with himself. This is the reason why we become angry and upset, why we sometimes have no peace in our soul. We should not be surprised, since holy people have taught us that there is no other path to peace but this. We see that this is true in so many other people; and yet we hope, in our laziness and desire for peace, we hope or even believe that we are on the right path even when we are irritated by everything and cannot bear to accept any blame ourselves. This is the way things are. However many virtues a person may have – they could be innumerable, they could be infinite – if he has left the path of self-accusation he will never have peace: he will be afflicted by others or he will be an affliction to them, and all his efforts will be wasted (St. Dorotheus of Gaza).
If we reply angrily to another's anger, we shall only be fanning the flames, when we should be making every attempt to extinguish them by mildness and meekness. Mildness, however, is not condescension to evil, and much less, connivance with it. There are times, as the Gospel teaches, when fraternal correction is required; in such cases it becomes a real act of charity. But to make it truly so, it must never be done with the intention of humiliating, of mortifying, and still less, of offending the guilty one; nor should it ever be inspired, even indirectly, by personal reasons: to insure respect for our rights or opinions, or to revenge ourselves for some previous slight given to us. In these cases, the correction, far from being an act of charity, is completely contrary to this virtue; and instead of doing good, it will rather produce the opposite effect. Only a sincere dispassionate desire for the good of others can make fraternal correction charitable and efficacious; it should be made with so much kindness that the person concerned feels our love for him far more than the humiliation of being corrected. This is the way Jesus treated sinners; all were cured by His love and mildness (Gabriel of St. Mary Magdalene).
Reproof is unavoidable. God's Word demands it when a brother falls into open sin. The practice of discipline in the congregation begins in the smallest circles. Where defection from God's Word in doctrine or life imperils the family fellowship and with it the whole congregation, the word of admonition and rebuke must be ventured. Nothing can be more cruel than the tenderness that consigns another to his sin. Nothing can be more compassionate than the severe rebuke that calls a brother back from the path of sin. It is a ministry of mercy, an ultimate offer of genuine fellowship, when we allow nothing but God's Word to stand between us, judging and succoring. Then it is not we who are judging; God alone judges, and God's judgment is helpful and healing. Ultimately, we have no charge but to serve our brother, never to set ourselves above him, and we serve him even when we must speak the judging and dividing Word of God to him, even when, in obedience to God, we must break off fellowship with him. We must know that it is not our human love which makes us loyal to the other person, but God's love which breaks its way through to him only through judgment. Just because God's Word judges, it serves the person. He who accepts the ministry of God's judgment is helped (Dietrich Bonhoeffer).
Jesus teaches us that, should my Christian brother commit a sin against me, offend me, I must be charitable toward him and, first of all, speak with him personally, explain to him what he said or did that was wrong. What if the brother doesn't listen to me? Jesus proposes a progressive intervention: first, return and speak to him with two or three other people, so he may be more aware of his error; if, despite this, he does not accept the admonition, the community must be told; and should he also refuse to listen to the community, he must be made aware of the rift and estrangement that he himself has caused, weakening the communion with his brothers in the faith.

The stages of this plan show the effort that the Lord asks of his community in order to accompany the one who transgresses, so that he or she is not lost. It is important above all to prevent any clamour in the news and gossip in the community — this is the first thing, this must be avoided. "Go and tell him his fault, between you and him alone" (v. 15). The approach is one of sensitivity, prudence, humility, attention towards the one who committed a fault, to avoid wounding or killing the brother with words. Because, you know, words too can kill! When I speak, when I make an unfair criticism, when I "flay" a brother with my tongue, this is killing another person's reputation! Words kill too. Let us pay attention to this. At the same time, the discretion of speaking to him alone is to avoid needlessly humiliating the sinner. It is discussed between the two, no one is aware of it and then it's over. This requirement also takes into account the consequent series of interventions calling for the involvement of a few witnesses and then actually of the community. The purpose is to help the person realize what he has done, and that through his fault he has offended not only one, but everyone. But it also helps us to free ourselves from anger or resentment which only causes harm: that bitterness of heart which brings anger and resentment, and which leads us to insult and aggression. It's terrible to see an insult or taunt issue from the mouth of a Christian. It is ugly. Do you understand? Do not insult! To insult is not Christian. Understood? To insult is not Christian.

Actually, before God we are all sinners and in need of forgiveness. All of us. Indeed, Jesus told us not to judge. Fraternal correction is a mark of the love and communion which must reign in the Christian community; it is, rather, a mutual service that we can and must render to one another. To reprove a brother is a service, and it is possible and effective only if each one recognizes oneself to be a as sinner and in need of the Lord's forgiveness. The same awareness that enables me to recognize the fault of another, even before that, reminds me that I have likewise made mistakes and I am often wrong (Pope Francis).
Homily
Corrections Facility
"Fraternal correction." Members of religious orders often hear that phrase during their formation. In other words, if someone in the community was going astray on some matter or other, it was up to the other members, in charity, to point it out. Some communities even had something called a "chapter of faults" – a regular gathering where you could accuse yourself or someone else of failing to keep the rule and then you would receive a penance from the superior.
Such practices – thankfully -- have largely disappeared in religious life. For one thing "fraternal correction" was often not very fraternal -- or sororal! That is, done with charity and genuine concern for someone you truly considered a brother or sister (G) in Christ. That's because correction among Christians should always be a "family matter" – so unlike what we experience in the political process or the judicial system.

For in politics and law, correction occurs between opposing or injured parties -- not between brothers and sisters. "Correction" means something very different, and done far less "fraternally" than it should within the church. And we all know how public discourse is more and more marred by bitter partisan spirit – the politics of personal destruction – while criminal justice seems less about justice and more about vengeance. Which is why for the next two months all we're likely to hear are "corrections" made by fact-checkers whose "facts" we can only hope are not "alternative."

Perhaps the problem lies with the very idea of correction. Living as we do in a time and place where the difference between right and wrong has been blurred, who knows what to correct, or why? Fanatical as we are about personal freedom, anyone who presumes to correct another would be judged at best impolite, and at worst undemocratic. Ask any anti-masker. We're so used to setting our own standards, and being our own judge, that another person's input about our behavior is at most a "personal opinion" to which you are entitled, certainly, but which you have no right to impose on someone else. This country has been repeatedly traumatized by terrible events where "both sides" lay claim to a moral high ground as if there were some kind of equivalence between the free expression of say, racist views and violence, and those who would protest against them. Cue Charlottesville, Louisville, Minneapolis, Portland, Kenosha, Los Angeles, Washington, Rochester and, of course, the president.

Then there's the spectacle to which the media regularly treat us. The feeding frenzy that takes place at the slightest hint of wrongdoing on someone's part: where a person is accused, tried, and condemned in the press, often before a charge has been filed. With our talk-show culture promoting a tidal wave of interest in the lurid, the scandalous, and the perverse. The more the better, even when it means bypassing the basic requirements of justice, not to mention charity.
So is there a solution? Perhaps. For one thing, there ought to be a single motive should one dare to correct another, and that's the motive of love. For when Paul says Owe nothing to anyone, except to love one another . . . [For] love does no evil to [your] neighbor (II), the apostle leaves no room for pride, or anger, or vengeance, should you point out another's fault or injury against you.

The Bible, moreover, offers a method of correction if [our] brother [or sister] sins (G) lest if [we] do not speak out to dissuade (I) the erring, we be held responsible. Note, for instance, how the Lord asks us to treat a matter privately at first: Go and point out the fault when the two of you are alone (G). There's a novel idea. Just think what might happen if we had the decency to deal with offenses directly, instead of through gossip, character assassination, or destructive criticism.
Of course, we know such fraternal correction doesn't always work. People don't listen, and may well persist in their destructive behavior. Then it's time to get others involved: take one or two others along with you, so that every word may be confirmed by the evidence of two or three witnesses (G). This second step is used to great advantage in dealing with addictions, for example, when a group of people is asked to do what's called an "interven­tion": to confront someone with the facts of his or her destructive behavior, and lead them into treatment.
But if this fails, the gospel instructs us: tell it to the church (G). In other words, bring the matter to the appropriate authority, who must then deal with that person responsibly, attending to the needs of both victim and offender, seeking both the individual and the common good.
And what if we could be like the church the Bible describes? A church where different "rules of order" are followed, different values promoted, and different ways employed for dealing with human failings? A church that provides an alternative to society's approach: a place where healing can be sought and found; reconciliation expected and achieved; sin acknowledged and forgiven. In other words, a place where the erring can turn from their ways (I) to know the God who was reconciling the world to himself in Christ and entrusting to us the message of reconciliation (GA)? I can only imagine. Can you?
Creed
Intercessions
For our Holy Father, our bishops and priests, who have been entrusted with a prophetic role, that they may speak out bravely against any evil that destroys and wounds Christ's followers.
For the conversion of the powerful who have wandered far from God's law of love, especially when that law demands respect for life and the justice due to all.
For all of us at the delicate times when we need to speak the truth honestly to those closest to us, that we may do it as Jesus told us: discreetly and respectfully, with the good of the other as our goal.
That Jesus may not encounter in us hard and resistant hearts, but only our reverence before Him and our willingness to let Him be Master as well as Friend.
For those who have asked for our prayers in a time of distress, that we may unite together lovingly to intercede for them, knowing that our united prayer is irresistible to our Heavenly Father.
For our faithful departed ones, that they may soon be purified to sing joyfully to the Lord, coming into His divine presence with thanksgiving in the kingdom of heaven.
Confirm, O God, in unity and truth the Church you gather in Christ. Encourage the fervent, enlighten the doubtful, and bring back the wayward. Bind us together in mutual love, that our prayer in Christ's name may be pleasing to you. Grant this through Christ our Lord. Amen.
Offertory Meditation (Schola Cantorum of St. Peter the Apostle)
Where we live as friends in loving kindness, God is dwelling there.
Drawn by Christ, in love we meet together in his great name.
Let us then rejoice and give the Father glory as he deserves.
Let us unite in rev'rent love to worship the living God.
And let us live our love for one another with hearts that are sincere.
Therefore when we congregate together to break the bread,
Let us be careful lest dissent or quarrels drive us apart.
Let all misunderstanding now be ended, all fighting cease.
And may the Lord, Christ our God, now come and make his dwelling with us.
On that day when we will meet in heaven with all the blessed,
May our glory be to look upon your face, O Christ our God.
So may we all partake of heaven's glory, joy unsurpassed,
The gift of perfect peace and boundless love together forever. Amen.
Lord's Prayer
We ask to be forgiven as we forgive others as Jesus taught...
Spiritual Communion (Diana Macalintal)
My Jesus,
I believe that, even before I was born, you have been with me,
knitting my very being, day by day, into the garment of your love,
clothing me with grace every moment of my life.
And on the day of my baptism you poured your love into my heart
through the Holy Spirit who unites me eternally to you.
Through that same Spirit I pledge my love and adore you,
present in your Most Holy Body and Blood.
Though I cannot consume you in this sacred banquet
let me be consumed by your complete desire for me
so that my longing for you may be filled with your love alone
and your mercy overflow through me into this world so in need.
On that joyful day when I do receive you in the Eucharist,
may I remember that this precious gift is still but a foretaste
of the holy gifts that await your holy people at your heavenly altar.
There, with the saints and angels, we shall see you face to face
and give you perfect praise for ever. Amen.
Communion Antiphon
Closing Hymn (Percy Dearmerin; 1931)
Draw us in the Spirit's tether;
For when humbly, in thy name,
Two or three are met together,
Thou art in the midst of them:
Alleluya! Alleluya! Touch we now thy garment's hem.

As the faithful used to gather
In the name of Christ to sup,
Then with thanks to God the Father
Break the bread and bless the cup,
Alleluya! Alleluya! So knit thou our friendship up.

All our meals and all our living
Make as sacraments of thee,
That by caring, helping, giving,
We may true disciples be.
Alleluya! Alleluya! We will serve thee faithfully.
Archives