Twenty-third Sunday in Ordinary Time (A)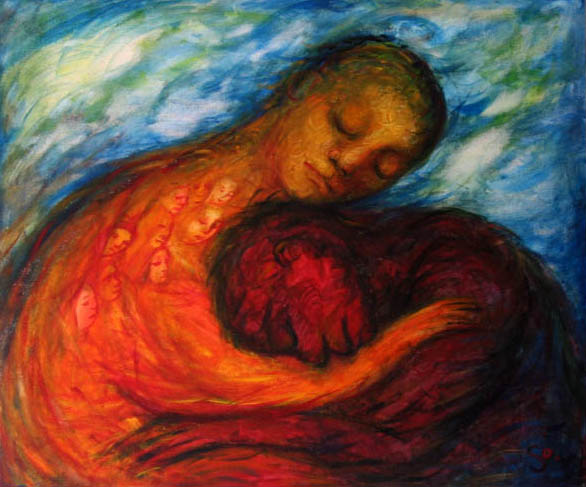 Introit
Kyrie
Gloria
Collect
O God, by whom we are redeemed and receive adoption,
look graciously upon your beloved sons and daughters,
that those who believe in Christ
may receive true freedom
and an everlasting inheritance.
Through our Lord Jesus Christ, your Son,
who lives and reigns with you in the unity of the Holy Spirit,
God, for ever and ever. Amen. (RM)

First Reading Ez 33:7-9
Thus says the LORD: You, son of man, I have appointed watchman for the house of Israel; when you hear me say anything, you shall warn them for me. If I tell the wicked, "O wicked one, you shall surely die, "and you do not speak out to dissuade the wicked from his way, the wicked shall die for his guilt, but I will hold you responsible for his death. But if you warn the wicked, trying to turn him from his way, and he refuses to turn from his way, he shall die for his guilt, but you shall save yourself.
Responsorial Psalm
R/. If today you hear his voice, harden not your hearts.
Come, let us sing joyfully to the LORD;
let us acclaim the Rock of our salvation.
Let us come into his presence with thanksgiving;
let us joyfully sing psalms to him. R/.
Come, let us bow down in worship;
let us kneel before the LORD who made us.
For he is our God, and we are the people he shepherds, the flock he guides. R.
Oh, that today you would hear his voice:
"Harden not your hearts as at Meribah,
as in the day of Massah in the desert,
Where your fathers tempted me;
they tested me though they had seen my works." R/.
Second Reading Rom 13:8-10
Brothers and sisters: Owe nothing to anyone, except to love one another; for the one who loves another has fulfilled the law. The commandments, "You shall not commit adultery; you shall not kill; you shall not steal; you shall not covet, " and whatever other commandment there may be, are summed up in this saying, namely, "You shall love your neighbor as yourself." Love does no evil to the neighbor; hence, love is the fulfillment of the law.
Alleluia 2 Cor 5:19
Gospel Mt 18:15-20
Jesus said to his disciples: "If your brother sins against you, go and tell him his fault between you and him alone. If he listens to you, you have won over your brother. If he does not listen, take one or two others along with you, so that 'every fact may be established on the testimony of two or three witnesses.' If he refuses to listen to them, tell the church. If he refuses to listen even to the church then treat him as you would a Gentile or a tax collector. Amen, I say to you, whatever you bind on earth shall be bound in heaven, and whatever you loose on earth shall be loosed in heaven. Again, amen, I say to you, if two of you agree on earth about anything for which they are to pray, it shall be granted to them by my heavenly Father. For where two or three are gathered together in my name, there am I in the midst of them."
Catena Nova
Whenever necessity compels one to reprove or rebuke another, we ought to proceed with godly discernment and caution. First of all, let us consider whether the other fault is such, as we ourselves have never had, or whether it is one that we have overcome. Then, if we have never had such a fault, let us remember that we are human and could have had it. But if we have had it and are rid of it now, let us remember our common frailty, in order that mercy, not hatred, may lead us to the giving of correction and admonition. In this way, whether the admonition occasions the amendment, or the worsening of the one for whose sake we are offering it, (for the result cannot be foreseen), we ourselves shall be made safe through singleness of eye. But if on reflection we find that we ourselves have the same fault as the one we are about to reprove, let us neither correct nor rebuke that one. Rather, let us bemoan the fault ourselves and induce that person to a similar concern, without asking him to submit to our correction. (St Augustine)
You will be doing everything for the glory of God if, when you leave this place, you make yourselves responsible for saving a brother or sister, not just by accusing and rebuking him or her, but also by advising and encouraging, and by pointing out the harm done by worldly amusements, and the profit and help that come from our instruction. Surely it is right for each of us to offer to extend a helping hand to those who through laxity have fallen into the snares of the devil.... But I am quite certain that you will do this out of the tender love you bear your own members, and that you will make every effort to bring your neighbors back to our common Mother, because I know that through the grace of God you are able to admonish others with wisdom (St. John Chrysostom).
I

f Jesus denies nothing to so small a group as two or three, will he refuse those who ask for it in the assemblies and congregation of the church?… Some, however, endeavor to excuse under an appearance of faith the idleness that prompts their contempt for assemblies. They omit participation in the fervor of the assembled congregation and pretend that they have devoted to prayer the time they have expended upon their household cares. While they give themselves up to their own desires, they scorn and despise the divine service. These are the people who destroy the body of Christ. They scatter its members. They do not permit the full form of its Christlike appearance to develop to its abundant beauty…Individual members do indeed have their own duty of personal prayer, but they will not be able to fulfill it if they come to the beauty of that perfect body wrapped up in themselves. There is this difference between the glorious fullness of the congregation and the vanity of separation that springs out of ignorance or negligence: in salvation and honor the beauty of the whole body is found in the unity of the members.

(St. Peter Chrysologus)
If we reply angrily to another's anger, we shall only be fanning the flames, when we should be making every attempt to extinguish them by mildness and meekness. Mildness, however, is not condescension to evil, and much less, connivance with it. There are times, as the Gospel teaches, when fraternal correction is required; in such cases it becomes a real act of charity…. Only a sincere dispassionate desire for the good of others can make fraternal correction charitable and efficacious; it should be made with so much kindness that the person concerned feels our love for him far more than the humiliation of being corrected. This is the way Jesus treated sinners; all were cured by His love and mildness (Gabriel of St. Mary Magdalene).
The practice of discipline in the congregation begins in the smallest circles. Where defection from God's Word in doctrine or life imperils the family fellowship and with it the whole congregation, the word of admonition and rebuke must be ventured. Nothing can be more cruel than the tenderness that consigns another to his sin. Nothing can be more compassionate than the severe rebuke that calls a brother back from the path of sin. (Dietrich Bonhoeffer).
We are as God sees us. What's wrong about seeking "human respect" is that it gets us into the habit of asking, "What will others think?" and forgetting to ask, "What will God think?" We are commanded to help one another. That means helping one another put God first and showing love for one another in ways that helps them too put God first. As you observe customs of courtesy and mutual respect do you do this in ways that help all concerned recall God's love for us and our need to love God by loving each other so that we all go steadily toward God and God's Kingdom?

(Msgr. Ronald Knox)
It is good to ask ourselves what drives us to correct a brother or a sister, and if we are not in some way co-responsible for their mistake…. The supreme rule regarding fraternal correction is love: to want the good of our brothers and sisters. It is a matter of tolerating the problems of others, the defects of others in the silence of prayer, so as to find the right way to help them to correct themselves. And this is not easy. The easiest path is to gossip. Talking behind someone else's back as if I am perfect. And this should not be done.

(Pope Francis)
Homily
"Fraternal correction."

Members of religious orders often heard that phrase during their formation.

In other words, if someone in the community was going astray on some matter or other, it was up to the other members, in charity, to point it out.

Some communities even had something called a "chapter of faults" – a regular gathering where you could accuse yourself or someone else of failing to keep the rule and then you would receive a penance from the superior.
Such practices – thankfully -- have largely disappeared in religious life.

For one thing "fraternal correction" was often not very fraternal.

That is, done with charity and genuine concern for someone you truly considered a

brother or sister

(G) in Christ.

That's because correction among Christians should always be a "family matter" – so unlike what we experiences in the political process or the judicial system.
For in politics and law, correction occurs between opposing or injured parties -- not between brothers and sisters.

"Correction" means something very different, and done far less fraternally than it should within the church.

And we all know how public discourse is more and more marred by bitter partisan spirit – the politics of personal destruction – while criminal justice seems less about justice and more about vengeance.
Perhaps the problem lies with the very idea of correction.

Living as we do in a time and place where the difference between right and wrong has been blurred, who knows what to correct, or why?

Fanatical as we are about personal freedom, anyone who presumes to correct another would be judged at best impolite, and at worst undemocratic.

We're so used to setting our own standards, and being our own judge, that another person's input about our behavior is at most a "personal opinion" to which you are entitled, certainly, but which you have no right to impose on someone else. "Bothsides-ism" is the latest sign of it in this country where, no matter now incommensurate or incomparable two issues or events might be, the media feel obliged to be "fair" to both sides.

Add to that the "Whatabout-isms" which are often used for similar purposes to deflect scrutiny of one's own wrongdoing onto someone else who is supposedly guilty of the same thing.
So is correction, Gospel-style, even possible anymore in a culture like this?

Perhaps.

I think of experiments in restorative justice which works "to address the dehumanization frequently experienced by people in the traditional criminal justice system. Instead of viewing a criminal act as simply a violation of a rule or statute, restorative justice sees this action as a violation of people and relationships" both victim and offender (

https://law.wisc.edu/fjr/rjp/justice.html

)
Or the Truth and Reconciliation Commission in South Africa, headed by Archbishop Desmond Tutu that "was created to investigate gross human rights violations that were perpetrated during the period of the Apartheid regime" and which "was empowered to grant amnesty to perpetrators who confessed their crimes truthfully and completely to the commission"

(

https://www.usip.org/publications/1995/12/truth-commission-south-africa

.).
Then following the Rwanda genocide the National Unity and Reconciliation Commission "was empowered to organize national public debates aimed at promoting reconciliation, foster tolerance and a culture of peace and human rights, and denounce any ideas aimed at disunity" while drafting "laws to foster reconciliation and monitor whether authorities and the people in general" were following them (

https://www.usip.org/publications/1999/03/truth-commission-rwanda-99

).

By the way, the church might have learned a thing or two from such initiatives when dealing with its own aggrieved parties.
Be that as it may, in the church

there ought to be a single motive should one dare to correct another, and that's the motive of love.

For when Paul says

Owe nothing to anyone, except to love one another . . . [For] love does no evil to [your] neighbor

(II), the apostle leaves no room for pride, or anger, or vengeance, should you point out another's fault or injury against you.
The Bible, moreover, offers a method of correction

if [our] brother [or sister] sins

(G) lest

if

[we] do not speak out to dissuade

(I) the erring, we be held responsible.

Note, for instance, how the Lord asks us to treat a matter privately at first:

Go and point out the fault when the two of you are alone

(G).

There's a novel idea. Just think what might happen if we had the decency to deal with offenses directly, instead of through gossip, character assassination, or destructive criticism.
Of course, we know such fraternal correction doesn't always work.

People don't listen, and may well persist in their destructive behavior.

Then it's time to get others involved:

take one or two others along with you, so that every word may be confirmed by the evidence of two or three witnesses

(G).

This second step is used to great advantage in dealing with addictions, for example, when a group of people is asked to do what's called an "interven­tion": to confront someone with the facts of his or her destructive behavior, and lead them into treatment.
But if this fails, the gospel instructs us:

tell it to the church

(G). In other words, bring the matter to the appropriate authority, who must then deal with that person responsibly, attending to the needs of both victim and offender, seeking both the individual and the common good.
But can we be like the church the Bible describes?

A church where different "rules of order" are followed, different values promoted, and different ways employed for dealing with human failings?

A church that provides an alternative to society's approach: a place where healing can be sought and found; reconciliation expected and achieved; sin acknowledged and forgiven.

In other words, a place where the erring can

turn from their ways

(I) to know the God

who was reconciling the world to himself in Christ and entrusting to us the message of reconciliation

(GA)?

I can only imagine.
Intercessions (Joe Milner; The Sunday Website)

For the Church: that we may be a community that continues Christ's mission of reconciling those who are estranged.
For the grace of tough love: that we may speak the truth lovingly and honestly to those who are injuring themselves or others and be willing to hear the truth spoken to us.
For healing of racial injustice: that Christians may work to promote the dignity of each individual, advocate against unjust structures and policies, and seek reconciliation in our communities.
For public safety and relief workers: that God will protect them from harm, give them the strength to fulfill their duties, and help them offer support and hope to those in crisis.
For educational leaders: that God will give them wisdom and insight in providing safe and productive environments for students and staff during the coming year.
For greater care for the earth: that God will help us to respect and be responsible stewards of the creation that God has entrusted to our care.
For all who are recovering from hurricanes, storms, or wildfires: that God will heal their pain, give them the courage to move forward, and remove the obstacles that block their recovery.
For an end to violence between nations, in our cities, and within families: that God will give to all who are drawn to violence a new vision of the uniqueness of each person and an appreciation of their gifts.
Confirm, O God, in unity and truth the Church you gather in Christ. Encourage the fervent, enlighten the doubtful, and bring back the wayward. Bind us together in mutual love, that our prayer in Christ's name may be pleasing to you. Grant this through Christ our Lord. Amen.(ICEL; 1998)

Offertory Hymn
Draw us in the Spirit's tether;
For when humbly, in thy name,
Two or three are met together,
Thou art in the midst of them:
Alleluya! Alleluya! Touch we now thy garment's hem.
As the faithful used to gather
In the name of Christ to sup,
Then with thanks to God the Father
Break the bread and bless the cup,
Alleluya! Alleluya! So knit thou our friendship up.
All our meals and all our living
Make as sacraments of thee,
That by caring, helping, giving,
We may true disciples be.
Alleluya! Alleluya! We will serve thee faithfully.
Communion Antiphon

Closing Hymn (Schola Cantorum of St. Peter the Apostle)
Where we live as friends in loving kindness, God is dwelling there.
Drawn by Christ, in love we meet together in his great name.
Let us then rejoice and give the Father glory as he deserves.
Let us unite in rev'rent love to worship the living God.
And let us live our love for one another with hearts that are sincere.
Therefore when we congregate together to break the bread,
Let us be careful lest dissent or quarrels drive us apart.
Let all misunderstanding now be ended, all fighting cease.
And may the Lord, Christ our God, now come and make his dwelling with us.
On that day when we will meet in heaven with all the blessed,
May our glory be to look upon your face, O Christ our God.
So may we all partake of heaven's glory, joy unsurpassed,
The gift of perfect peace and boundless love together forever. Amen.
Archives