Fifth Sunday of Easter (B)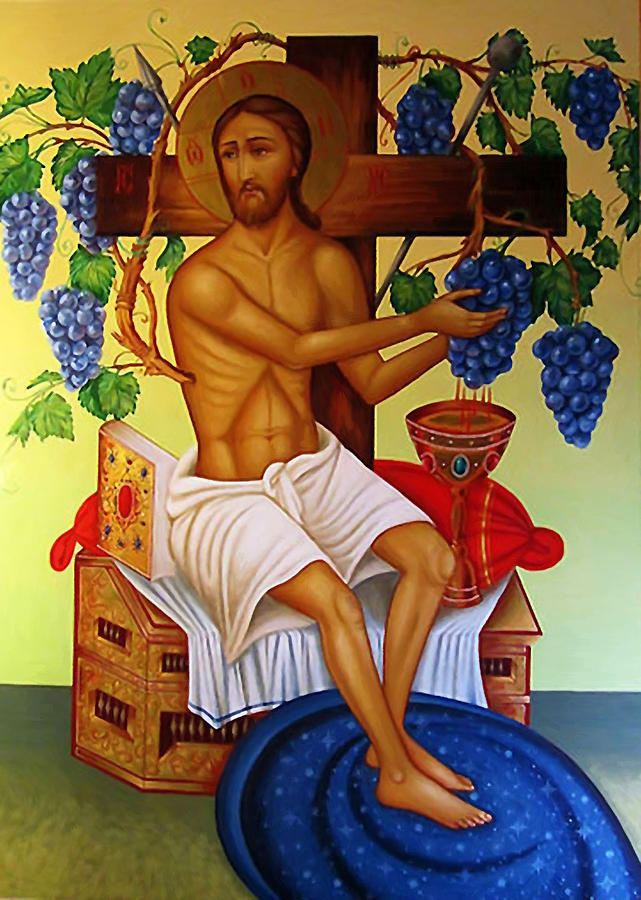 Introit
Kyrie
Gloria
Collect
Almighty ever-living God,
constantly accomplish the Paschal Mystery within us,
that those you were pleased to make new in Holy Baptism
may, under your protective care, bear much fruit
and come to the joys of life eternal.
Through our Lord Jesus Christ, your Son,
who lives and reigns with you in the unity of the Holy Spirit,
God, for ever and ever. Amen.
First Reading ACTS 9:26-31
When Saul arrived in Jerusalem he tried to join the disciples, but they were all afraid of him, not believing that he was a disciple.
Then Barnabas took charge of him and brought him to the apostles,
and he reported to them how he had seen the Lord,
and that he had spoken to him,
and how in Damascus he had spoken out boldly in the name of Jesus.
He moved about freely with them in Jerusalem,
and spoke out boldly in the name of the Lord.
He also spoke and debated with the Hellenists,
but they tried to kill him.
And when the brothers learned of this, they took him down to Caesarea
and sent him on his way to Tarsus.
The church throughout all Judea, Galilee, and Samaria was at peace.
It was being built up and walked in the fear of the Lord, and with the consolation of the Holy Spirit it grew in numbers.
Responsorial Psalm PS 22:26-27, 28, 30, 31-32
R/. I will praise you, Lord, in the assembly of your people.


I will fulfill my vows before those who fear the LORD.
The lowly shall eat their fill;
they who seek the LORD shall praise him:
"May your hearts live forever!"
All the ends of the earth
shall remember and turn to the LORD;
all the families of the nations
shall bow down before him.
To him alone shall bow down
all who sleep in the earth;
before him shall bend
all who go down into the dust.

And to him my soul shall live;
my descendants shall serve him.
Let the coming generation be told of the LORD
that they may proclaim to a people yet to be born
the justice he has shown.
Second Reading 1 JN 3:18-24
Children, let us love not in word or speech
but in deed and truth.
Now this is how we shall know that we belong to the truth
and reassure our hearts before him
in whatever our hearts condemn,
for God is greater than our hearts and knows everything.
Beloved, if our hearts do not condemn us,
we have confidence in God
and receive from him whatever we ask,
because we keep his commandments and do what pleases him.
And his commandment is this:
we should believe in the name of his Son, Jesus Christ,
and love one another just as he commanded us.
Those who keep his commandments remain in him, and he in them,
and the way we know that he remains in us
is from the Spirit he gave us.
Alleluia JN 15:4A, 5B
Gospel JN 15:1-8
Jesus said to his disciples:
"I am the true vine, and my Father is the vine grower.
He takes away every branch in me that does not bear fruit,
and every one that does he prunes so that it bears more fruit.
You are already pruned because of the word that I spoke to you.
Remain in me, as I remain in you.
Just as a branch cannot bear fruit on its own
unless it remains on the vine, so neither can you unless you remain in me.
I am the vine, you are the branches.
Whoever remains in me and I in him will bear much fruit, because without me you can do nothing.
Anyone who does not remain in me
will be thrown out like a branch and wither;
people will gather them and throw them into a fire
and they will be burned.
If you remain in me and my words remain in you,
ask for whatever you want and it will be done for you.
By this is my Father glorified, that you bear much fruit and become my disciples."

[In this selection from Cardinal Tobin's pastoral letter on the Eucharist, he begins with the following reflection question]:
Is it possible that Catholics who have been denied access to this great sacrament — including those who have "walked away from it" over many years—may realize what they are missing and return to experience the loving presence of Christ in this mystery of grace?
I use "grace" or "graciousness" to describe the Eucharist in two senses: First, I have in mind the gratuity, the "gifted-ness" of the Eucharist. That Jesus "loved his own in the world and he loved them to the end" (Jn 13: 1). We don't participate because of an obligation to do something for God but rather, our participation permits God to do something unimaginable for us. St. Alphonsus Liguori says that for God, "paradise is the human heart." Jesus gives the gift so that God can go where God wants to go. All is grace.
The other sense of "graciousness" is "beauty". Whatever the aesthetic quality of the ritual (which, as Pope Benedict XVI has observed, is not insignificant), the "way of beauty" (the via pulchritudinis) may be the way to faith for modern men and women. "Art and the saints are the greatest apologetics for our faith," our retired pope says. "What faith must see is Beauty." St. Alphonsus glimpsed this and wrote the lyrics of a hymn most of us have sung many times:
"O God of loveliness, O Lord of Heaven above,
How worthy to possess my heart's devoted love.
So sweet Thy countenance, so gracious to behold
That one, one only glance to me were bliss untold."
To invite our sisters and brothers to return to full, conscious and active participation in the Eucharistic liturgy, we must emphasize the graciousness of this great gift and its incomparable beauty. I have given this pastoral letter the title Returning to Grace because I firmly believe this is what all of us are called to do after and in response to the Great Eucharistic Fast imposed on us by COVID-19.
Catena Nova
It is beyond dispute that a vine and its branches are of one and the same stock. Since Christ, therefore, possessed a divine nature not shared by ourselves, he became human precisely in order that in his own person there might be a vine of human stock whose branches we could become.... If branches are attached to a vine, it is not to confer any advantage on the vine; it is rather that the branches themselves may draw their sustenance from the vine. The vine is attached to the branches to provide them with their vital nourishment, not to receive anything from them.... If a branch is cut off, another can grow from the life-giving root; but once severed from the root no branch can remain alive.... Little fruit or plenty, there can be neither without him, because without him nothing can be done. Even if a branch does produce a little fruit, the vinedresser prunes it away so that it may produce more. But if the branch does not remain attached to the vine and draw its life from the root, it can bear no fruit at all (St. Augustine of Hippo).
The Lord calls himself the vine and those united to him branches (John 15:5) in order to teach us how much we shall benefit from our union with him, and how important it is for us to remain in his love. By receiving the Holy Spirit, who is the bond of union between us and Christ our Savior, those who are joined to him, as branches are to a vine, share in his own nature.... From Christ and in Christ, we have been reborn through the Spirit in order to bear the fruit of life; not the fruit of our old, sinful life but the fruit of a new life founded upon our faith in him and our love for him. Like branches growing from a vine, we now draw our life from Christ, and we cling to his holy commandment in order to preserve this life. Eager to safeguard the blessing of our noble birth, we are careful not to grieve the Holy Spirit who dwells in us, and who makes us aware of God's presence in us....The proof that we are living in him and he is living in us is that he has given us a share in his Spirit. Just as the trunk of the vine gives its own natural properties to each of its branches, so, by bestowing on them the Holy Spirit, the Word of God, the only-begotten Son of the Father, gives Christians a certain kinship with himself and with God the Father because they have been united to him by faith and determination to do his will in all things. He helps them to grow in love and reverence for God, and teaches them to discern right from wrong and to act with integrity (St. Cyril of Alexandria).
All though Scripture the vine is a symbol of God's Chosen People.... Jesus declares he is not only united to his disciples but is one with them. Jesus is the source of the disciples' life and calls them to form one single organism with him. Jesus is no longer viewing himself as an individual but as a living collective that is a perfect unity. All regenerated humanity is part of this organism.... Christ is the living principle of unity for the whole Church. It is only through Jesus that the vine, the Church, can thrust roots into the depths of the divine life and ensure that the divine life and love find their way to the farthest branches. Jesus is the source and the branches must draw from the life-spring in him.... The sap is love and a love that does nothing isn't love. Only active love springs from union with Christ. Again, what is the fruit? The organic unity between Christ and his own has only one fruit, the union of love.... Godly love draws all together in unity and in the unity of mutually loving and caring for each other, and for all God's children (Fr. Louis Bouyer).
The image of the vine and the branches is, above all, Eucharistic. The Eucharist is a public event. The wine in the Eucharistic celebration is the blood of Jesus that he gave to heal all of us of our violent ways. The blood of Jesus on the altar shared with each of us makes present to us the death of Jesus at the hands of persecutory humans as it also makes present the risen life of Jesus. In exchange for the way we betray Jesus with our violence, we receive the gift of life through deep union with Jesus, a union like that of the branches to the vine. We associate blood with violence, such as with the term "bloodshed," but blood is the life within us and it is life that the Risen Jesus gives us through his Blood. This is the wine, the blood, that flows from the vine to the branches to connect us to Christ and to each other (Abbot Andrew Marr).
To be capable of mutual indwelling, or coinherence, means that religion has achieved its full and final purpose.... When you're connected, there are no coincidences anymore. Synchronicities, coincidences, accidents and "providences" just keep happening. Union realigns you with everything, and things just start happening. I cannot explain the "chemistry" of it all. Some people call it "the secret." All I know is that "the branch cut off from the vine is useless" (John 15:5), yet on the vine it bears much fruit (15:5, 7). The True Self is endlessly generative, in touch with its Source; the false self is fragile, needy and insecure (Fr. Richard Rohr).
The prophets in the Old Testament used the image of the vine to describe the chosen people. Israel is God's vine, the Lord's own work, the joy of his heart: "I have planted you a choice vine" (Jer 2:21); "Your mother was like a vine in a vineyard transplanted by the water, fruitful and full of branches by reason of abundant water" (Ez 19:10); "My beloved had a vineyard on a very fertile hill. He dug it and cleared it of stones and planted it with choice vines …"(Is 5:1-2)....John the Evangelist invites us to go further and leads us to discover the mystery of the vine: it is the figure and symbol not only of the People of God, but of Jesus himself. He is the vine and we, his disciples, are the branches. He is the "true vine", to which the branches are engrafted to have life (cf. Jn 15:1 ff.)....Through the Church we abide in Christ, without whom we can do nothing (Jn 15:1-5)". The Church herself, then, is the vine in the gospel (Pope St. John Paul II).
Homily
Poles Apart
I hope you are both informed and challenged by the pastoral letter on the Eucharist by Cardinal Joseph Tobin, the archbishop of Newark, which I have been excerpting during this Easter season. When I was at St. John Fisher College I had the honor of meeting and introducing him when he gave a lecture on the first five years of Francis' papacy. While I knew him to be a down-to-earth "Francis-type" bishop, I dutifully referred to him as "Your Eminence" when I was first introduced. At which point he said to me, "You can only do that once. I'm Joe Tobin." Mind you, I live in a diocese whose bishop prefers to be addressed as "Your Excellency." Such are the contrasts in a highly polarized church.
Not that this is anything new. The Acts of the Apostles gives us many a glimpse into the early church's struggles over who got this Christianity-thing right. At one time, Paul was convinced the followers of Jesus were a dangerous sect that ought to be stamped out through any and all means. Then he "flipped," although some who remembered him from his days of persecuting the church continued to hold him in suspicion, not believing that he was a disciple (I).
But they were nothing compared to those who -- from inside the church -- thought he was preaching a false gospel. Paul had to contend with all kinds of people who thought he was an impostor since he admitted Gentile converts to the faith without demanding they embrace the Law of Moses. It was the first conservative versus progressive controversy to make Christians distrustful of each others' "orthodoxy."
Pope Francis mentioned this sort of division in today's church during his homily when Joe Tobin was made a cardinal. "The virus of polarization and animosity permeates our way of thinking, feeling and acting," the Pope said, adding how "we are not immune from this and we need to take care lest such attitudes find a place in our hearts." Reminiscent of places in the New Testament where both Paul and his opponents engaged in unbecoming hostility, Francis went on to say, "With people we consider our opponents or enemies, our first instinctive reaction … is to dismiss, discredit or curse them. Often we try to 'demonize' them, so as to have a 'sacred' justification for dismissing them."
More recently, during the Good Friday liturgy at St. Peter's Basilica, Cardinal Raniero Cantalamessa preached the homily during which he said,
Fraternity among Catholics is wounded! Divisions between Churches have torn Christ's tunic to shreds, and worse still, each shredded strip has been cut up into even smaller snippets. I speak of course of the human element of it, because no one will ever be able to tear the true tunic of Christ, his mystical body animated by the Holy Spirit. In God's eyes, the Church is "one, holy, catholic and apostolic", and will remain so until the end of the world. This, however, does not excuse our divisions, but makes them more guilty and must push us more forcefully to heal them.
What is the most common cause of the bitter divisions among Catholics? It is not dogma, nor is it the sacraments and ministries, none of the things that by God's singular grace we fully and universally preserve. The divisions that polarize Catholics stem from political options that grow into ideologies taking priority over religious and ecclesial considerations and leading to complete abandon of the value and the duty of obedience in the Church.
In many parts of the world, these divisions are very real, even though they are not openly talked about or are disdainfully denied. This is sin in its primal meaning. The kingdom of this world becomes more important, in the person's heart than the Kingdom of God.
I believe that we all need to make a serious examination of conscience in this regard and be converted. Fomenting division is the work par excellence of the one whose name is 'diabolos' that is, the divider, the enemy who sows weeds, as Jesus referred to him in the parable (see Mt 13:25).
Another bishop in the Francis-mold, Robert McElroy of San Diego, spoke at Loyola University in Chicago where he addressed the political polarization calling a "profound sickness of the soul" that "tears at the fabric of our nation's unity, undermining the core democratic consensus that is the foundation for our identity as Americans," resulting in "a wider corrosion to our individual soul and spirit that such fierce partisanship and animosities produce."
Among the choice quotes from that talk are the following:
"Catholic teaching has been hijacked by those who break down the breadth of our social doctrine by reducing it to the warped partisan categories of our age and then selecting those teachings for acceptance which promote their partisan worldview."
"Even worse, skewed distillations of Catholic moral teaching are deployed by both sides to explain why one set of these issues automatically enjoys a higher claim upon the consciences of believers."
"The danger in our current political climate is that the people of the United States will come to accept the current political division, nihilism, hypocrisy and anger in our culture as normal."
"In our overly politicized culture, we have permitted the core unity of human compassion to become fragmented into separate partisan categories, and even worse, we have allowed our own sense of the moral imperatives which flow from true Christian compassion to be distorted by a partisan lens."
By now you are probably wondering what happened to today's Gospel. Well, John's community also knew division over matters of Christology, like whether the Incarnation was real or not. And his emphasis on the importance of love makes one think the divisions ran deep. What I find interesting is how he makes the connection between "the truth" and love: Children, let us love not in word or speech but in deed and truth. Now this is how we shall know that we belong to the truth (II).
So in these fractious times – and I am as infected with the virus of polarization corroding my soul as much as anyone – when passion for the truth often outstrips charity, perhaps Jesus' image of the Vine and branches might help remove some of the smudges on our partisan lenses. For a healthy vine puts out innumerable branches and a productive vineyard grows several types of grape. And the wines they produce appeal to different tastes. While the Meal we are about to enjoy allows for them all. Where the winepress has brought forth a blessing-cup filled with that Blood flowing through the one Body of Christ which unites even those who are otherwise poles apart.
Creed
Intercessions (Peter Scagnelli; Prayers for Sundays and Seasons)
Grafted as living branches onto Christ the true Vine, let us ask God to provide for the needs of all.
For the church in all of its communities throughout the world: May it have peace and be built up in this paschal season.
For the families of nations in all their rich diversity: May peoples seek peace not in word or speech only but in truth and action.
For those whose hearts condemn them to despair: May the God who is greater than our hearts reassure them with pardon and peace.
For the newly initiated Christians: May they glorify the Father by bearing fruit.
For those whom the Vinegrower is pruning by sickness, suffering or trials: May they persevere through this cleansing and see their yield increase.
For our community's increase in faith and numbers: May we live in the fear of the Lord and in the comfort of the Holy Spirit.
For those departed who obeyed the commandments and did what pleased God: May they receive from God the eternal life for which they asked.
O God, you graft us onto Christ, the true vine, and, with tireless care, you nurture our growth in knowledge and reverence. Tend the vineyard of your Church, that in Christ each branch may bring forth to the glory of your name abundant fruits of faith and love. Grant this through Christ our Lord. Amen. (ICEL; 1998)
Interlude (John Michael Talbot)
I am the vine
And you are the branches
Live in me
And you will never die.
I am the vine
And my father is the keeper
Come to me
Let the Spirit bring you life.
Like a tree planted by the living waters
To stretch the fruits into the living stream
You will show no distress
In the heat of the drought
But still bear fruits and leaves?
Come to me all you heavy laden
My yoke is easy, my burden is light.
I will raise you up on the wings of an eagle.
And through God mountain will fly.
Come to me
Let the spirit bring you life.
Lord's Prayer
In the unity of faith and love, let us pray as Jesus taught....
Spiritual Communion
Lord, we wish to remain always with you as living branches on the Vine. We long today for the Bread and Wine that nourish us as life-giving sap coursing through the members of your Body making one with you and one another. In its absence, we ask that your Spirit enliven us, maintain our communion and strengthen us to bear good and lasting fruit to the glory of God.
Thanksgiving
Closing Hymn
The day of resurrection!
Earth, tell it out abroad;
the passover of gladness,
the passover of God.
From death to life eternal,
from earth unto the sky,
our Christ hath brought us over,
with hymns of victory.
Our hearts be pure from evil,
that we may see aright
the Lord in rays eternal
of resurrection light;
and listening to his accents,
may hear, so calm and plain,
his own "All hail!" and, hearing,
may raise the victor strain.
Now let the heavens be joyful!
Let earth the song begin!
Let the round world keep triumph,
and all that is therein!
Let all things seen and unseen
their notes in gladness blend,
for Christ the Lord hath risen,
our joy that hath no end.
Archives