Feast of the Holy Family (A)
Feast of the Holy Family (A)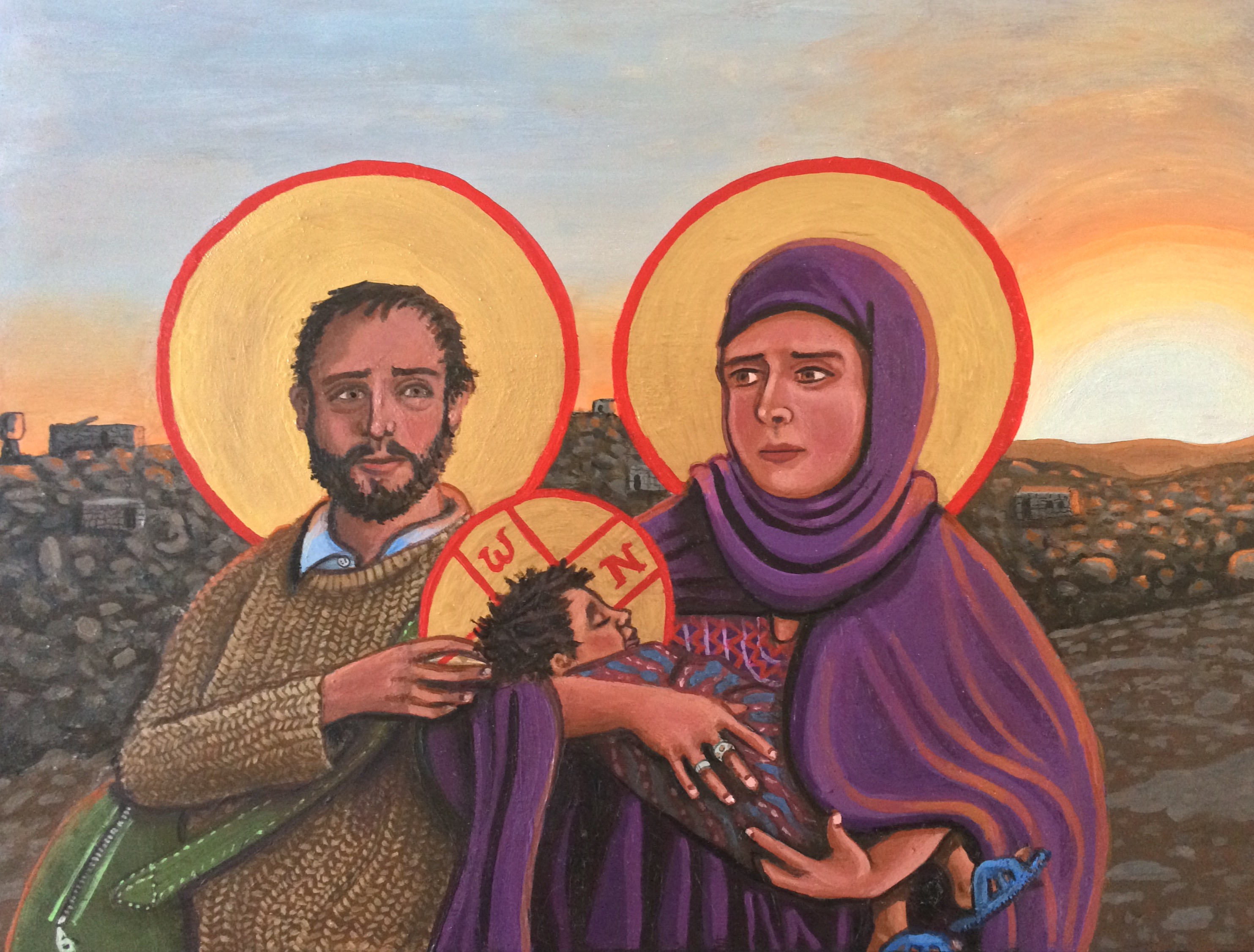 Collect
O God, who were pleased to give us
the shining example of the Holy Family,
graciously grant that we may imitate them
in practicing the virtues of family life and in the bonds of charity,
and so, in the joy of your house,
delight one day in eternal rewards.
Through our Lord Jesus Christ, your Son,
who lives and reigns with you in the unity of the Holy Spirit,
one God, for ever and ever.
Proper Chants

Introit
God is in his holy dwelling place; the God who causes us to dwell together, one at heart, in his house; he himself will give power and strength to his people. Ps/. Let God arise; let his foes be scattered. * let those who hate him flee from his presence. As smoke is driven away, so drive them away; † like wax that melts before the fire, * so the wicked shall perish at the presence of God.
Offertory
In you have I put my trust, O Lord; I said: "You are my God, my destiny is in your hands." Ps/. Let your face shine on your servant. * Save me in your merciful love. Let me not be put to shame, O Lord, * for I call on you; let the wicked be shamed! * Let them be silenced in the grave!
Communion (unavailable)

Liturgy of the Word
First Reading Sirach 3:2-7, 12-14
For the Lord honored the father above the children, and he confirmed the right of the mother over her sons. Whoever honors his father atones for sins, and whoever glorifies his mother is like one who lays up treasure. Whoever honors his father will be gladdened by his own children, and when he prays he will be heard. Whoever glorifies his father will have long life, and whoever obeys the Lord will refresh his mother; he will serve his parents as his masters. O son, help your father in his old age, and do not grieve him as long as he lives; even if he is lacking in understanding, show forbearance; in all your strength do not despise him. For kindness to a father will not be forgotten, and against your sins it will be credited to you.
Second Reading Colossians 3:12-21
Put on then, as God's chosen ones, holy and beloved, compassion, kindness, lowliness, meekness, and patience, forbearing one another and, if one has a complaint against another, forgiving each other; as the Lord has forgiven you, so you also must forgive. And above all these put on love, which binds everything together in perfect harmony. And let the peace of Christ rule in your hearts, to which indeed you were called in the one body. And be thankful. Let the word of Christ dwell in you richly, teach and admonish one another in all wisdom, and sing psalms and hymns and spiritual songs with thankfulness in your hearts to God. And whatever you do, in word or deed, do everything in the name of the Lord Jesus, giving thanks to God the Father through him. Wives, be subject to your husbands, as is fitting in the Lord. Husbands, love your wives, and do not be harsh with them. Children, obey your parents in everything, for this pleases the Lord. Fathers, do not provoke your children, lest they become discouraged.
Gospel Matthew 2:13-15, 19-23
Now when they had departed, behold, an angel of the Lord appeared to Joseph in a dream and said, "Rise, take the child and his mother, and flee to Egypt, and remain there till I tell you; for Herod is about to search for the child, to destroy him." And he rose and took the child and his mother by night, and departed to Egypt, and remained there until the death of Herod. This was to fulfil what the Lord had spoken by the prophet, "Out of Egypt have I called my son." But when Herod died, behold, an angel of the Lord appeared in a dream to Joseph in Egypt, saying, "Rise, take the child and his mother, and go to the land of Israel, for those who sought the child's life are dead." And he rose and took the child and his mother, and went to the land of Israel. But when he heard that Archelaus reigned over Judea in place of his father Herod, he was afraid to go there, and being warned in a dream he withdrew to the district of Galilee. And he went and dwelt in a city called Nazareth, that what was spoken by the prophets might be fulfilled, "He shall be called a Nazarene."
Reflection Questions
Has care for the elderly played a role in your life? Have you experienced being a caregiver as both challenge and reward?
Are you experiencing challenges practicing the virtues of heartfelt compassion, kindness, humility, gentleness, and patience?
Has life taken you to unexpected places that now seem as if a dream led you there?
Catena Nova
Strange and wonderful is the mystery I behold. In my ears rings the sound of shepherds, not piping a lonely melody but chanting a heavenly hymn. Angels carol, archangels celebrate with song and dance, the cherubim sing hymns, the seraphim give praise, all of them keeping festival as they contemplate God on earth and our nature in heaven. By divine decree he who dwells on high is now here below; by God's love those who dwell below are raised on high (St. John Chrysostom)
May esteem for silence, that admirable and indispensable condition of mind, revive in us, besieged as we are by so many uplifted voices, the general noise and uproar, in our seething and over-sensitised modern life. May the silence of Nazareth teach us recollection, inwardness, the disposition to listen to good inspirations and the teachings of true masters. May it teach us the need for and the value of preparation, of study, of meditation, of personal inner life, of the prayer which God alone sees in secret (Pope St. Paul VI).
True love is delicate and kind, full of gentle perception and understanding, full of beauty and grace, full of joy unutterable. There should be some flavor of this in all our love for others. We are all one. We are one flesh in the Mystical Body as man and woman are said to be one flesh in marriage. With such a love one would see all things new; we would begin to see people as they really are, as God sees them. (Dorothy Day)
"A tiny child needs not only food and shelter but something more… much more… a feeling of love, that someone cares for him, ready to die for him, that he is really loved, that he is important… precious. And so he begins to live and begins to sense the value of his being. And so it is that life rises in him and he grows in confidence in himself and in his possibilities of life and of creation." (Jean Vanier)
Through God's mysterious design, it was in that family that the Son of God spent long years of a hidden life. It is therefore the prototype and example for all Christian families. It was unique in the world. Its life was passed in anonymity and silence in a little town in Palestine. It underwent trials of poverty, persecution and exile. It glorified God in an incomparably exalted and pure way. And it will not fail to help Christian families-indeed, all the families in the world-to be faithful to their day-to-day duties, to bear the cares and tribulations of life, to be open and generous to the needs of others, and to fulfill with joy the plan of God in their regard (Pope St. John Paul II).
It is very important that children learn from their fathers and mothers how to love one another – not in the school, not from the teacher, but from you. It is very important that you share with your children the joy of that smile. There will be misunderstandings; every family has its cross, its suffering. Always be the first to forgive with a smile. Be cheerful, be happy (St. Teresa of Calcutta).
Every family should look to the icon of the Holy Family of Nazareth. Its daily life had its share of burdens and even nightmares, as when they met with Herod's implacable violence. This last was an experience that, sad to say, continues to afflict the many refugee families who in our day feel rejected and helpless. Like the Magi, our families are invited to contemplate the Child and his Mother, to bow down and worship him (cf. Mt 2:11). Like Mary, they are asked to face their family's challenges with courage and serenity, in good times and bad, and to keep in their heart the great things which God has done (cf. Lk 2:19, 51). The treasury of Mary's heart also contains the experiences of every family, which she cherishes. For this reason, she can help us understand the meaning of these experiences and to hear the message God wishes to communicate through the life of our families (Pope Francis).
Homily
FEAST OF THE HOLY FAMILY (A)
Readings: Sir. 3:2-6, Cl. 3:12-21; Mt. 2:13-15,19-23
Family Matters
The Way We Never Were. In the 27 years since that book was published by author Stephanie Coontz, both a lot and not a lot has happened to the American family. The book's cover showed a "typical" scene from the 1950s: dutiful wife in pretty dress; the head of the household in jacket and tie reading his newspaper; two scrubbed and glowing children, surrounding their ideal parents. But, as the book's title implies, the author cites some startling facts about real life in the post-war years, leaving no doubt that the picture-perfect family was more fantasy than fact: "I found that," she wrote more recently, "the male breadwinner family of the 1950s was a very recent, short-lived invention and that during its heyday, rates of poverty, child abuse, marital unhappiness, and domestic violence were actually higher than in the more diverse 1990s" (The New Republic; March 29, 2016). So the way we think we were, we often were not. In fact, the book's sub-title is American Families and the Nostalgia Trap.
Indeed, the nostalgia business is booming. My favorite cable channel is MeTV which features shows from the "good old days" like the Andy Griffith and Dick van Dyke's eponymous series. YouTube is even better where you can watch episodes of Ozzie and Harriet, Father Knows Best, Leave it to Beaver and the Donna Reed Show– all in glorious black and white, much like the worlds they depicted. Yes, those icons of the American family: the Nelsons and the Andersons, the Cleavers and the Stones. All for new generations to wonder at, and older ones to lament over.
But, as the "happy days" faded, so did our image of the family. The way we "were" became more and more the way we "are". Innocence faded even for those whose image seemed untouched by the human condition. We came to learn that Andy Griffith and Frances Bavier who played Aunt Bee did not get along in real life; Lauren Chapin who played Kathy on Father Knows Best was sexually abused by her real-life father; teen idol Ricky Nelson who died in a plane accident had a number of drugs in his system at the time of his death and Dick Van Dyke would one day openly discuss his struggle with alcoholism.
The stage was set then for a dose of realism for television's first families. The Bunkers proved once and for all father doesn't know best. While the Partridge family showed us a working mother whose kids sang for their supper 'cause Ozzie wasn't around to support Harriet any more. A bit later the Brady Bunch gently prepared us for the "blended family". Laura Petry was now Mary Richards, who didn't really need her husband Rob's paycheck any more. And of course the almost exclusive brand of TV family – White, Anglo-Saxon, Protestant – would soon make room for the Jeffersons, the Huxtables, the Barones, and the Conners. You could even throw in the Addams Family and the Munsters for good measure!
But no one could have imagined The Modern Family – the show that featured characters Mitchell and Cameron Pritchett -- one of the first series to have openly gay characters who would eventually marry and adopt a daughter, Lily. This even caught the attention of the Vatican – and in ways you might not think. Archbishop Vincenzo Paglia of the Pontifical Council for the Family noted how, owing to "phenomena like the media production 'Modern Family,' or same-sex marriage initiatives in a significant number of jurisdictions, the family has become the subject of increasingly intense interest and discussion….[Such discussion] centers too much on definitions of the family unacceptable to one political current or another, and on economic considerations….Instead family is a complex of human relationships characterized by love, fidelity, commitment, sacrifice, trust, conflict, joy, fruitfulness, nurture, respect, celebration, protection, memory and faith."
Sounds to me like the Holy Family. And I'm not talking about a midnight clear when angels sang, shepherds quaked, a Virgin swaddled an Infant mild, and Magi followed yonder star – things that awaken our instinct for nostalgia as if Christmas were a Hallmark movie of "the way it was" in Bethlehem. Such cozy images can gloss over the other things that roused the Child from sleeping in heavenly peace.
Like the dream warning Joseph to take the child and his mother, and flee for Herod was searching to destroy him (G). Tidings of comfort and joy these were not. Nor was all calm and bright when those three set out for Egypt that night. The little town of Bethlehem would not for long lie still. The Holy Family became poli­tical refugees until they felt it safe to go back. Even then they had to relocate, lest Herod's son succeed where his father failed. They were forced into hiding, far from the threats to the Child's life, and nagging suspicions over his origins. So there's plenty in the Christmas story to show us "the way it wasn't" -- how memory plays tricks on us when we imagine scenes from the first Christ­mas, indulging our appetite for nostalgia.
But as Stephanie Coontz warns, "Nostalgia is a very human trait. When school children returning from summer vacation are asked to name good and bad things about their summer, the lists tend to be equally long. As the year goes on, however, if the exercise is repeated, the good list grows longer and the bad list gets shorter, until by the end of the year the children are describing not their actual vacations but their idealized image of 'vacation.' So it is with our collective 'memory' of family life. As time passes, the actual complexity of our history—even of our own personal experience—gets buried under the weight of the ideal image."
All of which should comfort us really. For the ideal presented in the Holy Family is something we can relate to after all. Problems faced by families today were familiar to the Church's model family. Everything from the difficulties posed by "nontradi­tional" ways of bringing a child into the world, to financial insecurities, to affordable housing, to keeping your children safe, to concern about the best environment in which to raise them. The way it was for them--and is for us--has much in common. Jesus, Mary and Joseph are not plastic figures in a nativity set. They are flesh and blood people whose marriage and family life was tough, with many obstacles to overcome; indeed, a family under siege.
A family, though, whose trust in God led them from Bethlehem, into Egypt, and finally to Nazareth. Despite the uncertainties which accompa­nied them on their journey, they persevered in faith, to face the trials of this world (Prayer after Communion) And we walk with them. Not by taking flight into distorted images of reality--a "nostalgia trap"--but living life as it is. As it always was.
Mindful we are God's chosen ones, holy and beloved, called to do everything, whether in speech or in action, in the name of the Lord Jesus. Everything from facing the challenges of living together as spouses, the daily struggle of being faithful to vows, and to the duties parents and children have toward each other, bearing with one another, forgiving whatever grievances you may have against one another. All in Christ's name, through whom we give thanks to God (cf. II), and who lives and reigns forever and ever. Amen.