Second Sunday of Advent (B)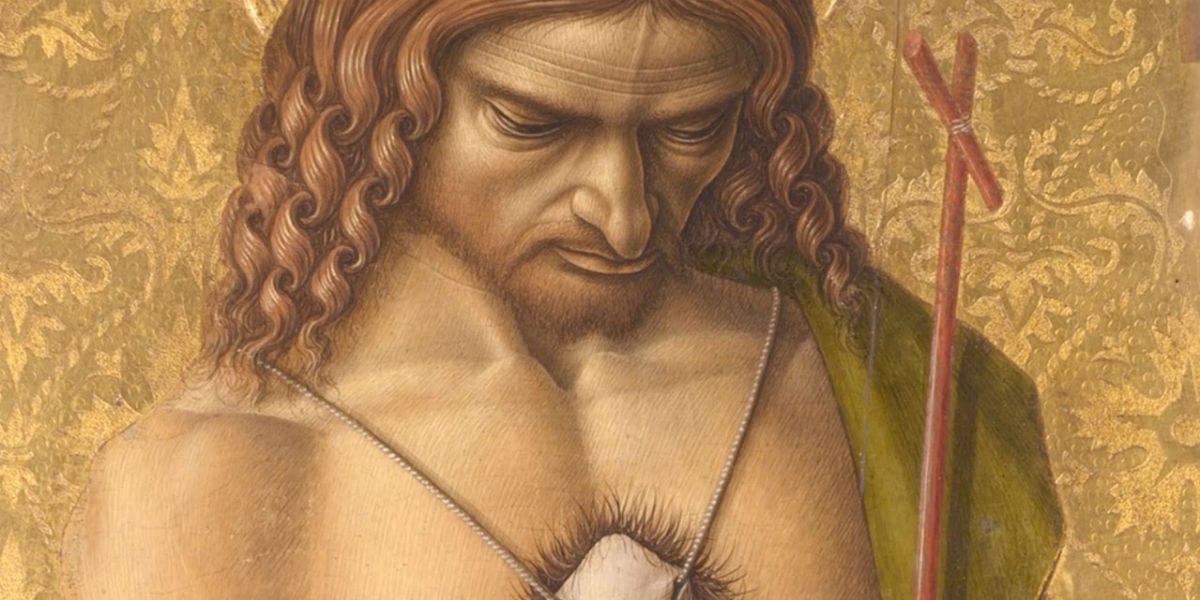 Introit
Kyrie
Collect
Almighty and merciful God,
may no earthly undertaking hinder those
who set out in haste to meet your Son,
but may our learning of heavenly wisdom
gain us admittance to his company.
Who lives and reigns with you in the unity of the Holy Spirit,
God, for ever and ever. Amen.
First Reading Is 40:1-5,9-11 1
Comfort, give comfort to my people,
says your God.
Speak tenderly to Jerusalem, and proclaim to her
that her service is at an end,
her guilt is expiated;
indeed, she has received from the hand of the LORD
double for all her sins.

A voice cries out:
In the desert prepare the way of the LORD!
Make straight in the wasteland a highway for our God!
Every valley shall be filled in,
every mountain and hill shall be made low;
the rugged land shall be made a plain,
the rough country, a broad valley.
Then the glory of the LORD shall be revealed,
and all people shall see it together;
for the mouth of the LORD has spoken.

Go up on to a high mountain,
Zion, herald of glad tidings;
cry out at the top of your voice,
Jerusalem, herald of good news!
Fear not to cry out
and say to the cities of Judah:
Here is your God!
Here comes with power
the Lord GOD,
who rules by his strong arm;
here is his reward with him,
his recompense before him.
Like a shepherd he feeds his flock;
in his arms he gathers the lambs,
carrying them in his bosom,
and leading the ewes with care.
Responsorial Psalm Ps 85:9-10,11-12,13-14
R/. Lord, let us see your kindness, and grant us your salvation.

I will hear what God proclaims;
the LORD—for he proclaims peace to his people.
Near indeed is his salvation to those who fear him,
glory dwelling in our land. R/.
Kindness and truth shall meet;
justice and peace shall kiss.
Truth shall spring out of the earth,
and justice shall look down from heaven. R/.

The LORD himself will give his benefits;
our land shall yield its increase.
Justice shall walk before him,
and prepare the way of his steps. R/.
Second Reading 2Pt 3:8-14
Do not ignore this one fact, beloved,
that with the Lord one day is like a thousand years
and a thousand years like one day.
The Lord does not delay his promise, as some regard "delay,"
but he is patient with you,
not wishing that any should perish
but that all should come to repentance.
But the day of the Lord will come like a thief,
and then the heavens will pass away with a mighty roar
and the elements will be dissolved by fire,
and the earth and everything done on it will be found out.
Since everything is to be dissolved in this way,
what sort of persons ought you to be,
conducting yourselves in holiness and devotion,
waiting for and hastening the coming of the day of God,
because of which the heavens will be dissolved in flames
and the elements melted by fire.
But according to his promise
we await new heavens and a new earth
in which righteousness dwells.
Therefore, beloved, since you await these things,
be eager to be found without spot or blemish before him, at peace.
Alleluia Lk. 3:4,6
Gospel Mk 1:1-8
The beginning of the gospel of Jesus Christ the Son of God.
As it is written in Isaiah the prophet:
Behold, I am sending my messenger ahead of you;
he will prepare your way.
A voice of one crying out in the desert:
"Prepare the way of the Lord,
make straight his paths."
John the Baptist appeared in the desert
proclaiming a baptism of repentance for the forgiveness of sins.
People of the whole Judean countryside
and all the inhabitants of Jerusalem
were going out to him
and were being baptized by him in the Jordan River
as they acknowledged their sins.
John was clothed in camel's hair,
with a leather belt around his waist.
He fed on locusts and wild honey.
And this is what he proclaimed:
"One mightier than I is coming after me.
I am not worthy to stoop and loosen the thongs of his sandals.
I have baptized you with water;
he will baptize you with the Holy Spirit."
Reflection Questions

What comfort are you seeking this Advent?
How might you grow in holiness and devotion this Advent?
Who are the messengers in your life who have helped you prepare new paths?
Catena Nova
Love no longer tolerates the presence of valleys in your lives; if peace, patience, and goodness find a home in you, not only will each of you cease to be a valley but you will actually begin to be a mountain of God....If Christ did not come to your soul, of what use would his historical coming in the flesh be to you? Let us pray that each day we may experience his coming and be able to say: "It is no longer I who live, but Christ who lives in me." Jesus my Lord has come, then. He has smoothed out your rough places and changed your disorderly ways into level paths, making in you an even unimpeded road, a road that is absolutely clear, so that God the Father may walk in you and Christ the Lord make his dwelling in you (Origen of Alexandria).
Beloved, now is the acceptable time spoken of by the Spirit, the day of salvation, peace and reconciliation – the great season of Advent....This is the season that the Church has always celebrated with special solemnity. We too should always observe it with faith and love, offering praise and thanksgiving to the Father, for the mercy and love He has shown us in this mystery. In His infinite love for us, though we were sinners, He sent His only Son, to free us from the tyranny of Satan, to summon us to heaven, to welcome us into its innermost recesses, to show us truth itself, to train us in right conduct, to plant within us the seeds of virtue, to enrich us with the treasures of His grace and to make us children of God and heirs of eternal life. Each year, as the Church recalls this mystery, she urges us to renew the memory of the great love God has shown us. This holy season teaches us, that Christ's Coming was not only for the benefit of His contemporaries, His power has still to be communicated to us all. We shall share His power, if, through holy faith and the sacraments, we willingly accept the grace Christ earned for us and live by that grace and in obedience to Christ (St. Charles Borromeo).
When a king wants to visit a certain place, he sends before him in advance his heralds. To an unusual king an unusual herald is appropriate. The herald of Christ the King in the wilderness was Moses; in Jerusalem, the Prophets; in Nazareth, the Archangel; in Bethlehem, the Magi of the East; on the Jordan, John. Not one king in the history of humankind has had such heralds. St. John the Baptist was also as unusual and special as were the other heralds of Christ. He was the voice crying in the two-fold wilderness: in the wilderness of Jordan and in the human wilderness. Just as the wilderness of Jordan was fruitless and dry, so the wilderness of the human spirit, was unfruitful and dry. John was not able to make the human wilderness green and fruitful, but he cleared and plowed it and, in that way, was preparing the earth and leveled it [the earth] for the great Sower Who, by His coming, brings with Him the seed and the rain to sow the seed of knowledge and the rain of grace from on high to make it green and be fruitful (St. Nikolai Velimirovich).
Saint John the Baptist was separated from the world. He was a Nazarite (Lk 1:15; Nb 6:2). He went out from the world and placed himself over against it… and called it to repentance. Then went out all Jerusalem to him into the desert (Mk 3:5) and he confronted it face to face. But in his teaching he spoke of One who should come to them and speak to them in a far different way. He should not separate Himself from them, He should not display Himself as some higher being but as their brother, as of their flesh and of their bones, as one among many brothers and sisters, as one of the multitude and amidst them.... This was, O dear Lord, because Thou so loved this human nature which Thou has created. Thou did not love us merely as Thy creatures, the work of Thy hands but as human beings. Thou love all, for Thou has created all but Thou love humanity more than all....Thou did not take on Thee an angelic nature when Thou did manifest Thyself for our salvation, so too Thou would not come in any shape or capacity or office which was above the course of ordinary human life—not as a Nazarene, not as a Levitical priest, not as a monk, not as a hermit but in the fullness and exactness of that human nature, which, so much Thou love… in that very flesh which had fallen in Adam and with all our infirmities, all our feelings and sympathies, sin excepted (St. John Henry Newman).
As with the rest of the New Testament, Peter is not saying that the present world of space, time and matter is going to be burnt up and destroyed. That is more like the view of ancient Stoicism and of some modern ideas, too. What will happen, as many early Christian teachers said, is that some sort of fire, literal or metaphorical, will come upon the whole earth, not to destroy, but to test everything out, and to purify it by burning up everything that doesn't meet the test....The day will come, then, and all will be revealed. All will be judged with fire.... The point here, which will be developed in the final section of the letter, is about patience. This virtue, as we have often seen, was emphasized by many early Christian writers, partly because it is always necessary in ordinary human relationship, and partly because it was, for most of them, quite a new idea. Patience wasn't seen as a virtue in the ancient pagan world. But here it's elevated to a new level. The patience we practise in day-to-day relations with one another must be translated up to the cosmic scale. God will indeed bring upon the whole world "the day of the Lord," the day when all will be judged, all will be revealed. But he will do that in his own time. And that doesn't mean that we simply have to sit around and twiddle our thumbs. What appears to us (in our impatient moments) as God's delay is in fact God's moment of fresh vocation. There are tasks to do in the meantime (N.T. Wright).
Charm with your stainlessness these winter nights,
Skies, and be perfect!
Fly vivider in the fiery dark, you quiet meteors,
And disappear.
You moon, be low to go down,
This is your full!
The four white roads make off in silence
Towards the four parts of the starry universe.
Time falls like manna at the corners of the wintry earth.
We have become more humble than the rocks,
More wakeful than the patient hills.
Charm with your stainlessness these nights in Advent, holy spheres,
While minds, as meek as beasts,
Stay close at home in the sweet hay;
And intellects are quieter than the flocks that feed by starlight.
Oh pour your darkness and your brightness over all our solemn valleys,
You skies: and travel like the gentle Virgin,
Toward the planets' stately setting,
Oh white full moon as quiet as Bethlehem! (Thomas Merton)
Life is difficult . . . In the past I would live chaotically in the future, because I refused to live in the here and now. I wanted to be handed everything on a platter, like a badly spoiled child. Sometimes I had the certain if rather undefined feeling that I would "make it" one day, that I had the capacity to do something "extraordinary," and at other times the wild fear that I would "go to the dogs" after all. I now realize why. I simply refused to do what needed to be done, what lay right under my nose. I refused to climb into the future one step at a time . . . I no longer think of the future, that is, I no longer care whether or not I shall "make it," because I now have the inner certainty that everything will be taken care of. Before, I always lived in anticipation, I had the feeling that nothing I did was the "real" thing, that it was all a preparation for something else, something "greater," more "genuine." But that feeling has dropped away from me completely. Every minute of this day seems one great gift and consolation, a memory I shall carry within me as an ever-present reality ....What matters are the concerns of daily life . . . the main thing is that even as we die a terrible death we are able to feel right up to the very last moment that life has meaning and beauty, that we have realized our potential and lived a good life (Etty Hillesum).
Homily
Time, and Time Again
While visions of sugarplums danced in their heads. So went "the night before Christmas" for many a child once upon a time. Of course, given the bleak outlook facing us this year, scenes from a Nightmare Before Christmas might be more likely to haunt our imagination. Still, the Barbie Dreamhouse, LEGO Super Mario, and Baby Yoda, may well dance in place of sugarplums in the Christmas Eve dreams of children this year. However much the night before Christmas has changed over the years, though, impatience for its arrival remains ever the same.
Indeed, few things can try our patience like Christmas. For the young, patience means waiting for Santa, the Christmas break, for presents under the tree, and the carefree wonder of a day which can never come fast enough, and is gone all too soon. Remember how long 365 days seemed when you began the countdown till next Christmas?
But for adults, Christmas can try our patience for different reasons. Some of us might be as impatient for the holidays to end as kids are for them to arrive. Many of us have mixed feelings when December rolls around: childhood trauma can make for painful memories of Christmas past, while the loss of loved ones makes for many a wistful thought. At times, the Grinch in me could do without the annual round of Christmas chores: from getting cards off to people I seldom see to eating more than I should, no matter how hard I resist. In recent years, I have made some very deliberate choices to minimize the "secular" side of Christmas: no more gifts given or received and I now observe December 25th strictly as a holyday with all the liturgical trimmings, including the traditional 3 Masses of Christmas, leaving me with little time or energy for anything else, including "holiday" gatherings.
But don't think my middle name is "Scrooge" or that I need a visit from the Ghost of Christmas Present. Not true! This is my favorite time of year. I was ordained 40 years ago during Advent and said my first Mass on Gaudete Sunday. My halls are decked with plenty of holly – and more -- to celebrate the season. And I relish every one of the Twelve Days of Christmas with its feast days of Stephen, John, the Holy Innocents, the Holy Family, the Mother of God and, of course, Epiphany.
Yet, if Christmas can try our patience, it's still the season of God's forbearance: the Lord for whom one day is like a thousand years, and a thousand years are like one day (II). God, who knows no "time" but "now." God, for whom there is no past or future, only eternity. God, who does not want any to perish, but all to come to repentance (II) -- this God bestows on us times and seasons to show us endless patience.
Advent, in particular, reminds us how God, though timeless, makes use of time to prepare the way of the Lord, and make his paths straight (G). As he did for Israel after her time in exile, bringing her back to Jerusalem, her term served, her penalty paid. Imagine that people's impatience those long years of desolation when God seemed absent forever, till Isaiah finally cried: Comfort, O comfort my people (I).
Centuries later, those who went to John from the whole Judaean countryside and all the people of Jerusalem knew their time had come. They seized the moment, and were baptized by him in the river Jordan, confessing their sins. Imagine that people's impatience those long years of delay when the Messiah seemed to tarry forever. But now the Baptist cries out in the wilderness, the One who will baptize with the Holy Spirit is at hand (G).
But time has a way of running out, doesn't it? Peter warns the day of the Lord will come like a thief . . . [when] the heavens will pass away with a loud noise, and the elements will be dissolved with fire (II). Though God is eternal, this earth, and everything in it, is not. The time allotted us will come to an end -- as sure as Christmas comes, whether we want it to or not.
So seize the season. If it can't come soon enough for you, that's fine. Learn patience. And while you're waiting, strive to be found at peace, without spot or blemish; and regard the patience of the Lord as salvation (II). If the hustle and bustle leave you at wit's end, or the impending months of dealing with the virus fill you with foreboding, learn patience too. And while you're waiting, remember, the time is short, the Day is at hand, and no earthly undertaking should hinder us from setting out in haste to meet the Christ (cf. Collect). Who lives and reigns, forever and ever. Amen.
Creed
Intercessions
For the gift of repentance and the grace to prepare the way of the Lord.
For modesty, simplicity, and sobriety in celebrating Jesus' birth.
For the safety of travelers and commuters.
For elected and appointed officials, for honest government and dedication to the common good.
For grateful use and conservation of earth's resources. for equitable sharing and environmental responsibility world-wide.
For family stability, for every child's access to healthcare, nourishment and education.
For those suffering the ill-effects of the pandemic, whether physically, financially, emotionally or morally.
Rend the heavens and come down, O God of all the ages! Rouse us from sleep, deliver us from our heedless ways, and form us into a watchful people, that, at the advent of your Son, he may find us doing what is right, mindful of all you command. Grant this through him whose coming is certain, whose day draws near: your Son, our Lord Jesus Christ, who lives and reigns with you in the unity of the Holy Spirit, God, for ever and ever. Amen.
Interlude (William Drummond, of Hawthornden)
The last and greatest herald of Heaven's King
Girt with rough skins, hies to the deserts wild,
Among that savage brood the woods forth bring,
Which he than man more harmless found and mild.
His food was locusts, and what young doth spring
With honey that from virgin hives distill'd;
Parch'd body, hollow eyes, some uncouth thing
Made him appear, long since from earth exiled.
There burst he forth: "All ye, whose hopes rely on God,
with me amidst these deserts mourn;
Repent, repent, and from old errors turn!"
— Who listen'd to his voice, obey'd his cry?
Only the echoes, which he made relent,

Rung from their marble caves "Repent! Repent!"
Lord's Prayer
With longing for the Day of the Lord, we pray as Jesus taught us....
Spiritual Communion
Though I long for your sacramental Presence in Holy Communion, I trust you dwell among us in the Spirit according to your words, "If anyone love Me, they will keep My word, and My Father will love them, and we will come to them and will make a home with them" (cf. Jn. 14:23). Come then, Lord Jesus, come!
Thanksgiving
Closing Hymn
Drop down ye heavens, from above,
and let the skies pour down righteousness:
Be not wroth very sore, O Lord,
neither remember iniquity for ever:
the holy cities are a wilderness,
Sion is a wilderness,
Jerusalem a desolation:
our holy and our beautiful house,
where our fathers praised thee.
We have sinned, and are as an unclean thing,
and we all do fade as a leaf:
and our iniquities, like the wind, have taken us away;
thou hast hid thy face from us:
and hast consumed us, because of our iniquities.
Ye are my witnesses, saith the Lord,
and my servant whom I have chosen;
that ye may know me and believe me:
I, even I, am the Lord, and beside me there is no Savior:
and there is none that can deliver out of my hand.
Comfort ye, comfort ye, my people,
my salvation shall not tarry:
I have blotted out as a thick cloud thy transgressions:
Fear not, for I will save thee:
for I am the Lord thy God,
the Holy One of Israel, thy Redeemer.
Archives