Christmas (Mass at Dawn)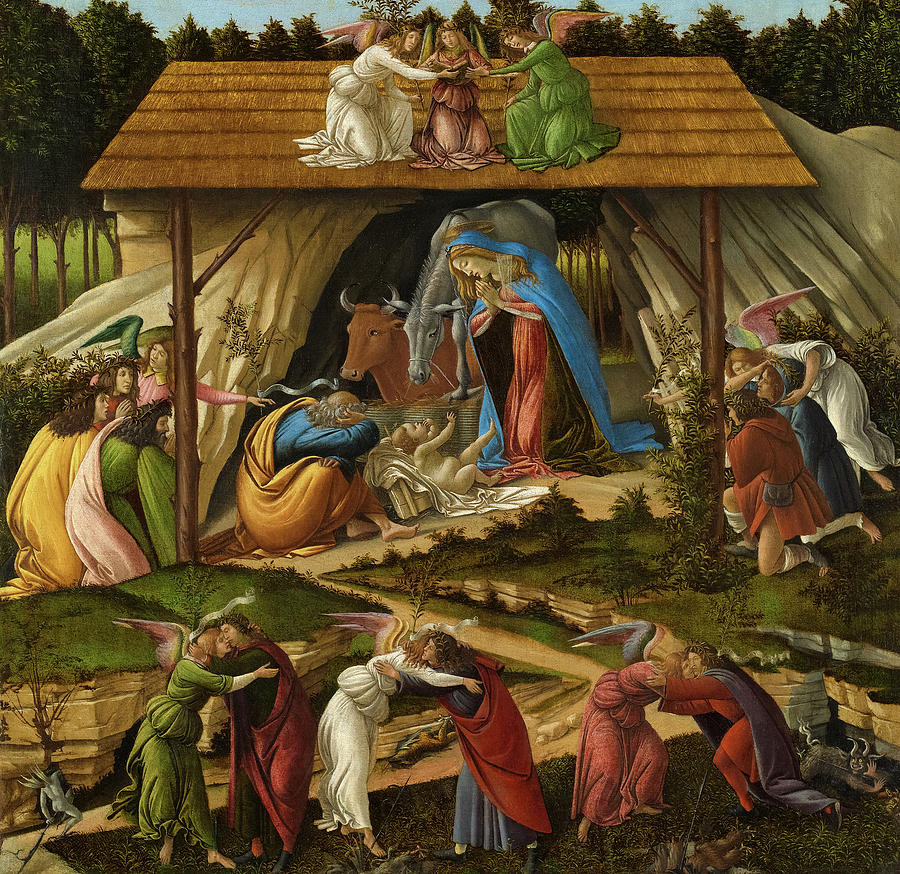 Introit
Radiant light will shine upon us today, for the Lord is born unto us. He shall be called Wonderful God, Prince of Peace, Father of the world to come. His reign shall have no end. The Lord reigns, he is enrobed with majesty; the Lord is clothed with strength, he has girded himself.
"The Introit is taken from Isaias (ix). A people that walked in darkness, the hapless Gentiles, unenlightened by the Mosaic revelation or by the prophecies, have today seen a great light, for he who is born is the Father of a new generation, the Prince of Peace, in whose kingdom there are no distinctions of rank, no worldly prerogatives, no privileges of birth, since whoever receives his word becomes a son of God and a citizen of the new Messianic kingdom." (Schuster)
Kyrie
Gloria
Collect
Grant, we pray, almighty God,
that, as we are bathed in the new radiance of your incarnate Word,
the light of faith, which illumines our minds,
may also shine through in our deeds.
Through our Lord Jesus Christ, your Son,
who lives and reigns with you in the unity of the Holy Spirit,
God, for ever and ever. Amen.
First Reading Is 62:11-12
See, the LORD proclaims
to the ends of the earth:
say to daughter Zion,
your savior comes!
Here is his reward with him,
his recompense before him.
They shall be called the holy people,
the redeemed of the LORD,
and you shall be called "Frequented,"
a city that is not forsaken.
Responsorial Psalm Ps 97:1,6,11-12
R/. A light will shine on us this day: the Lord is born for us.
The LORD is king; let the earth rejoice;
let the many isles be glad.
The heavens proclaim his justice,
and all peoples see his glory. R/.

Light dawns for the just;
and gladness, for the upright of heart.
Be glad in the LORD, you just,
and give thanks to his holy name. R/.
Gradual
Blessed is he that cometh in the name of the Lord; the Lord is God, and he hath shone upon us. Vs. This is the Lord's doing; and it is wonderful in our eyes.
"The Gradual borrows from Psalm cxvii the joyful greeting of the redeemed to Christ on his first coming into the world : "Blessed is he that cometh in the name of the Lord."On Palm Sunday the children and the crowd went out to meet Jesus, who was making his triumphal entry into Jerusalem, and sang this psalmodic salutation."
Second Reading Ti 3:4-7
Beloved:
When the kindness and generous love
of God our savior appeared,
not because of any righteous deeds we had done
but because of his mercy,
He saved us through the bath of rebirth
and renewal by the Holy Spirit,
whom he richly poured out on us
through Jesus Christ our savior,
so that we might be justified by his grace
and become heirs in hope of eternal life.
Alleluia Lk 2:14
The Lord reigns, he has enrobed himself with majesty; the Lord has clothed himself with strength, he has girded himself with power.
"The alleluiatic verse is from the Paschal Psalm xcii: " The Lord is clothed with strength and with grace, to inaugurate his Messianic kingdom." With grace towards us to whom he shows his human nature, in all things like unto the sons of Adam, ut sit ipse primogenitus in multis fratribus [that he might be the firstborn of many siblings]; with strength towards the Evil One whom he overcomes by the power of his divine nature, breaking his weapons and destroying his kingdom."
Gospel Lk 2:15-20
When the angels went away from them to heaven,
the shepherds said to one another,
"Let us go, then, to Bethlehem
to see this thing that has taken place,
which the Lord has made known to us."
So they went in haste and found Mary and Joseph,
and the infant lying in the manger.
When they saw this,
they made known the message
that had been told them about this child.
All who heard it were amazed
by what had been told them by the shepherds.
And Mary kept all these things,
reflecting on them in her heart.
Then the shepherds returned,
glorifying and praising God
for all they had heard and seen,
just as it had been told to them.
Reflection Questions
What angels in your life have moved you to make haste to find the Christ?
What amazes you about the shepherd's message this Christmas morning?
What are you reflecting on in your heart this Day?
Catena Nova
Behold on Christmas a new and wondrous reality. The angels sing and the archangels blend their voices in harmony. The Cherubim hymn their joyful praise. The Seraphim exalt Christ's glory. All join to praise this holy feast, beholding the Godhead here on earth and humanity in heaven. He Who is above now for our redemption dwells here below, and we who are lowly are by divine mercy raised up. Bethlehem this day resembles heaven, hearing from the stars the singing of angelic voices. Ask not how. For where God wills, nature yields. For He willed. He had the power. He descended. He redeemed. All things move in obedience to God. This day He Who is born and He Who is becomes what He is not. He is God become human, yet not departing from His Godhead (St. John Chrysostom).
The Lord of all comes as a slave amidst poverty. The huntsman has no wish to startle his prey. Choosing for birthplace an unknown village in a remote province, he is born of a poor maiden and accepts all that poverty implies, for he hopes by stealth to ensnare and save us. If he had been born to high rank and amidst luxury, unbelievers would have said the world had been transformed by wealth. If he had chosen as his birthplace the great city of Rome, they would have thought the transformation had been brought about by civil power. Suppose he had been the son of an emperor. They would have said: "How useful it is to be powerful!" Imagine him the son of a senator. It would have been: "Look what can be accomplished by legislation!" The Word of God drew to himself both the rich and the poor, both the eloquent and the slow of speech as he lay in the manger in poverty. But in fact, what did he do? He chose surroundings that were poor and simple, so ordinary as to be almost unnoticed, so that people would know it was the Godhead alone that had changed the world. This was his reason for choosing his mother from among the poor of a very poor country, and for becoming poor himself. Let the manger teach you how poor the Lord was: he was laid in it because he had no bed to lie on. This lack of the necessaries of life was a most appropriate prophetic foreshadowing. He was laid in a manger to show that he would be the food even of the inarticulate. The Word of God drew to himself both the rich and the poor, both the eloquent and the slow of speech as he lay in the manger in poverty. Do you not see how his lack of worldly goods was a prophecy and how his poverty, accepted for our sake, showed his accessibility to all? No one was afraid to approach Christ, overawed by his immense wealth; no one was kept from coming to him by the grandeur of his royal estate. No, he who was offering himself for the salvation of the world came as an ordinary worker. The Word of God in a human body was laid in a manger, so that both the eloquent and the slow of speech would have courage to share in the food of salvation. Perhaps this is what the prophet foretold when he said, speaking of the mystery of the manager: The ox knows its owner and the ass its master's manger, but Israel does not know me; my people have not understood. He whose godhead made him rich became poor for our sake, so as to put salvation, within the reach of everyone (Theodotus of Ancyra).
I behold you,
noble, glorious and whole woman,
the pupil of purity.
You are the sacred matrix
in which God takes great pleasure.
The essences of Heaven flooded into you,
and the Great Word of God dressed itself in flesh.
You appeared as a shining white lily,
as God looked upon you before all of Creation.
O lovely and tender one,
how greatly has God delighted in you.
For He has placed His passionate embrace within you,
so that His Son might nurse at your breast.
Your womb held joy,
with all the celestial symphony sounding through you,
Virgin, who bore the Son of God,
when your purity became luminous in God.
Your flesh held joy,
like grass upon which dew falls,
pouring its life-green into it,
and so it is true in you also,
o Mother of all delight.
Now let all Ecclesia shine in joy
and sound in symphony
praising the most tender woman,
Mary, the bequeather/seed-source of God.
Amen (St. Hildegard of Bingen).
What sudden blaze of song
Spreads o'er th'expanse of Heav'n?
In wave of light it thrills along,
Th'angelic signal given—
"Glory to God!" from yonder central fire
Flows out the echoing lay beyond the starry quire;
Like circles widening round
Upon a clear blue river,
Orb after orb, the wondrous sound
Is echoed on for ever:
"Glory to God on high, on earth be peace,
"And love towards men of love—salvation and release."
Yet stay, before thou dare
To join that festal throng;
Listen and mark what gentle air
First stirr'd the tide of song;
'Tis not, "the Saviour born in David's home,
"To whom for power and health obedient worlds should come:"—
'Tis not, "the Christ the Lord:"—
With fix'd adoring look
The choir of Angels caught the word,
Nor yet their silence broke:
But when they heard the sign, where Christ should be,
In sudden light they shone and heavenly harmony.
Wrapp'd in his swaddling bands,
And in his manger laid,
The hope and glory of all lands
Is come to the world's aid:
No peaceful home upon his cradle smil'd,
Guests rudely went and came, where slept the royal child.
But where Thou dwellest, Lord,
No other thought should be,
Once duly welcom'd and ador'd,
How should I part with Thee?
Bethlehem must lose Thee soon, but Thou wilt grace
The single heart to be thy sure abiding-place.
Thee, on the bosom laid
Of a pure virgin mind,
In quiet ever, and in shade,
Shepherd and sage may find;
They, who have bow'd untaught to Nature's sway
And they, who follow Truth along her star-pav'd way.
The pastoral spirits first
Approach Thee, Babe divine,
For they in lowly thoughts are nurs'd,
Meet for thy lowly shrine:
Sooner than they should miss where Thou dost dwell,
Angels from heaven will stoop to guide them to thy cell.
Still, as the day comes round
For Thee to be reveal'd,
By wakeful shepherds Thou art found,
Abiding in the field.
All through the wintry heaven and chill night air,
In music and in light Thou dawnest on their prayer.
O faint not ye for fear—
What though your wandering sheep,
Reckless of what they see and hear,
Lie lost in wilful sleep?
High Heaven in mercy to your sad annoy
Still greets you with glad tidings of immortal joy.
Think on th'eternal home,
The Saviour left for you;
Think on the Lord most holy, come
Two dwell with hearts untrue:
So shall ye tread untir'd his pastoral ways,
And in the darkness sing your carol of high praise (John Keble).
Peace on earth is for people of good will. But all are not of good will. The Son of the Eternal Father had to come down from the glory of heaven because the mysterious power of evil had shrouded the earth in night. Darkness covered the earth. He came as a light shining in the darkness. But the darkness did not receive him. To those who did he brought light and peace with the Father in Heaven and peace with all who are children of the light and children of the Father in Heaven. This is peace that lies deep in the heart. But it is not peace with those who are children of darkness. To them the Prince of Peace brings not peace but the sword. For them he is the stumbling-block which they run into and which breaks them. That is the grievous and grave truth which the poetic charm of the child in the manger must not conceal from us. The mystery of the incarnation and that of evil are closely connected. The child in the manger stretches out his small hands, and already his smile seems to say what later the lips of the adult Jesus will say: "Come to me, all you who labor and are overburdened". Some answer this call. When the poor shepherds heard the angelic message they said with simple trust: "Let's go to Bethlehem". They set out on the way to Christ. Kings from distant lands followed a marvelous star with the same simple faith. The child's hands poured the dew of grace upon them all and they rejoiced. Those hands give and at the same time demand. You, who are wise, lay your wisdom aside and become like little children. Hand over your treasures and do obeisance to the King of Kings. Accept without hesitation the pains and sorrows and burdens his service entails. Stephen heard this call and followed the Master into combat against the blindness of obstinate unbelief. It was the Spirit of love that combats sin but loves the sinner. Ways part before the child in the manger. Whoever is not for him is against him. So choose light not darkness (St. Edith Stein/Benedicta of the Cross).
And this is the revelation: God is HUMAN … It is the great error of humanity to believe that it is human. We are only fragmentarily human, fleetingly human, brokenly human. We see glimpses of our humanness, we can only dream of what a more human existence and political order would be like, but we have not yet arrived at true humanness. Only God is human, and we are made in God's image and likeness — which is to say, we are capable of becoming human." (Walter Wink).
The Incarnation, which is for traditional Christianity synonymous with the historical birth and earthly life of Christ, is for mystics of a certain type, not only this but also a perpetual Cosmic and personal process. It is an everlasting bringing forth, in the universe and also in the individual ascending soul, of the divine and perfect Life, the pure character of God, of which the one historical life dramatized the essential constituents. Hence the soul, like the physical embryo, resumes in its upward progress the spiritual life-history of the race. "The one secret, the greatest of all," says Patmore, is "the doctrine of the Incarnation, regarded not as an historical event which occurred two thousand years ago, but as an event which is renewed in the body of every one who is in the way to the fulfilment of his original destiny" (Evelyn Underhill).
The angels say to the shepherds: "Do not be afraid." (Luke 2:10) They say the same to us today. What are we afraid of? The shepherds were afraid of the glory of the Lord shining about them. That sounds like a good thing, but most of us aren't used to glorious light filling the night sky any more than the shepherds were. Even the most devout of us would at least be startled if such a light shone around us. When Herod heard of the birth of a child destined to be a king, he was afraid. Caesar Augustus would have been as afraid if he had been told about Jesus' birth. His successors were sufficiently afraid to persecute the followers of Jesus for three centuries. What were they afraid of? Herod and Caesar Augustus were afraid of being supplanted. They didn't want to give up their imperial positions. The shepherds had a lot less to lose but if Jesus supplanted them as shepherds, how would they earn a living? As it turned out, no amount of fear would stop Jesus from supplanting all emperors and shepherds. The two jobs became one with the Good Shepherd who leads all of us, deposed emperors and shepherds included, through the sheep's gate into safe pastures. Are we afraid of these safe pastures? Here we have fear of the unknown (what is this strange light show all about?) and fear of being supplanted. Fear of being supplanted is a version of fear of the unknown; we don't know what life will be like if we are supplanted. We might chuckle at lowly shepherds fearing they will lose their jobs and indulge in self-righteous laughter at horrid kings and emperors who don't want to lose their power, but it seems to me that all of us should be afraid of having our imperial pretensions with which we makes ourselves little tin kings supplanted by the Christ Child. The thought of being supplanted is frightening, but the angels' song "Glory to God in the highest" seems to celebrate our supplanting as a wonderful thing. Can we believe the angels? The shepherds believed the angels enough to go and see the child for themselves, something Herod never did. Maybe glory to God in the highest is a much greater thing than glory to Me, Myself, and I. We won't know if it is unless we try it. Can we accept the invitation that this Christmas celebration offers us? (Abbot Andrew Marr)
Homily
A Rumor of Angels
Where did the angels go? These "spiritual creatures who glorify God without ceasing and who serve his saving plans for other creatures" (Catechism of the Catholic Church, no. 350). They were here last night, singing, Glory to God in the highest. We put their very words on our lips just a few minutes ago. And in a few more, we'll be quoting them again as we sing, Holy, holy, holy. But in this Second Mass of Christmas, "at Dawn," they've all but disappeared. How come?
Maybe because there's trouble with angels. For one thing, they could take the place of Christ. That was a problem once in the church. Which is why the Bible warns us in words read at the Third Mass of Christmas, "During the Day," that Christ is as much superior to angels as the name he has inherited is more excellent than theirs (Hb. 1:4).
But there's more trouble with angels than this. People on the lookout for heaven's messengers in the form of winged cherubs will, more often than not, be disappointed, if not deceived. For the gospel is clear how God comes in some pretty plain wrapping paper, like swaddling clothes. And how the feet of the messenger who announces peace, who brings good news, who announces salvation (I) -- how such feet aren't often clad in the latest pair of cross trainers from Nike or with Armani leather.
Oh no, God's messengers are often quite different. Take shepherds, for instance. Shepherds weren't very high on the totem pole. They were among the lowly and poor. Not the kind of people you'd invite to Christmas dinner. Not before they bathed and changed their clothes, at least! So the real surprise, beyond rumors of angels, is that God's messengers should come in such a simple, scruffy, and smelly form as shepherds.
Which is the real trouble with angels. For by Christmas morning, they're gone. Indeed, they seem out of place this morning after their brief appearance at the First Mass of Christmas, "During the Night." For it seems their only role was to get the shepherd's moving. For they, more than angels, belong to Christmas morn. When they went with haste and found Mary and Joseph, and the child lying in the manger (G).
You see, shepherds are at home in such a place. Angels are used to heaven, but shepherds know what a manger stall is like. They fit right in. Which is why, I think, when they made known what had been told them about this child. . . all who heard it were amazed at what the shepherds told them (G). Amazed that shepherds would be entrusted with such a message. Angels yes, but shepherds?
And I imagine people today would be just as surprised. After all, angels are a draw, but shepherds are just, well, shepherds. And why would we listen to them? In all their many forms? Well, I suppose because shepherds are all over the place and much easier to spot.
However we might be touched by "angels and archangels," a modern shepherd might more readily appear in the form of people seeking food or shelter at the Open Door Mission. Alongside "cherubim and seraphim," a modern shepherd might appear as a person with COVID-19 or the frail elderly. Alongside "virtues, thrones, and dominations," a modern shepherd might look like an illegal immigrant, the working poor, or someone in recovery. Alongside "principalities and powers," a modern shepherd could appear in the form of a battered woman or a needy child.
Yes, these are today's lowly and poor who feel at home in modern day mangers. These too are "angels in America." And they might amaze us for being messengers of God: surprise us for being the ones on whom God's favor rests. Yet, angels have told us so. Because the lowly know, as others do not, how God regards us, not because of any righteousness [we have] done, but according to his mercy. . .through Jesus Christ our Savior, born this happy morning (cf. II). Who lives and reigns, forever and ever. Amen.
Nicene Creed
Intercessions (Mary Grace Melcher)

For the shepherds of the church, our
bishops and priests, that as they lead us
today in glorifying and praising God for
the birth of the Savior, they themselves
may be renewed in His joy.
For the governments and leaders of the
world, that the message of the angels may
be realized in every effort they make to
avoid armed conflict and promote peace.
For all who are in pain in body, mind,
emotions, or spirit, that this holy day may
be a blessing of peace and light on their
journey.
That Jesus, who in His birth as one of us
has made every human joy His own, may
be at the heart of our family festivities,
our gift giving, and every lovely custom
we keep in His honor.
That Mary, our Mother, may show her
divine child to every wondering heart that
approaches the manger, and lay Him to rest
in each of us as we approach this Eucharist.
For our beloved dead, that they may be
celebrating this Christmas amid the joys
and splendors of heaven.
Today, O God of light, your loving-kindness dawns, your tender compassion shines upon us, for in our Saviour, born of human flesh, you reveal your gracious gift of our birth to life eternal. Fill us with wonder on this holy day: let us treasure in our hearts what we have been told, that our lives may proclaim your great and gentle mercy. We ask this through Jesus Christ, your Word made flesh, who lives and reigns with you in the unity of the Holy Spirit, in the splendour of eternal light, God, for ever and ever. Amen. (ICEL; 1998)

Offertory Chants
The Lord hath established the world, it shall not be moved; thy throne, O God, is set from of old, thou art from eternity.
"The Offertory takes us back again to Psalm xcii, the special psalm of this festival. The Babe wailing in the crib today has a history as old as the ages. God has established the world that it shall not be moved and that it shall serve as a footstool to the throne of the newborn Messiah. This throne is reserved to the firstborn of creation from all eternity, since although in his human nature he can count but a few hours of life, yet in his divine nature he is called in the Scriptures the Ancient of Days and co-eternal with the Father."
Offertory Hymn (Kenneth Leighton)
We saw Thee in Thy balmy nest,
Young Dawn of our eternal day!
We saw Thine eyes break from the East
And chase the trembling shades away.
We saw Thee; and we blessed the sight,
We saw Thee by Thine own sweet light.

I saw the obsequious seraphim's,
Their rosy fleece of fire bestow.
For well they now can spare their wings,
Since heaven itself lies here below.
Well done, said I: but are you sure
Your down, so warm, will pass for pure?

No, no, your King's not yet to seek,
Where to repose His royal head.
See, see, how soon His new bloomed cheek
Twixt mother's breasts is gone to bed.
Sweet choice, said we! no way but so:
Not to lie cold, yet sleep in snow.

Welcome, to our wond'ring sight!
Eternity shut in a span.
Summer in winter, day in night,
Heaven in earth, and God in man.
Great little One! Whose glorious birth
Lifts earth to heaven, stoops heaven to earth.

To Thee, meek Majesty!
Soft King of simple graces and sweet loves.
Each of us his lamb will bring, Each his pair of silver doves;
Till burnt at last in fire of Thy fair eyes,
Ourselves become our own best sacrifice.
Communion Chants
Exult, O daughter of Zion, sing praises, O daughter of Jerusalem; behold, your King is coming, the Holy One, the Saviour of the world.
"The Communion is taken from Zacharias (ix, 9), who bids the daughters of Sion and of Jerusalem go out to meet Christ Jesus with festive joy as, full of gentleness and mildness typified by the meek creature upon which he rides, he comes to take possession of his kingdom. This prophecy, as St Matthew observes, directly refers to the entry of the Redeemer into the Holy City on Palm Sunday, but the Church finds striking analogies of humility, meekness and benignity between the entry of Jesus into Jerusalem and his first coming into the world. In the cave of Bethlehem, as well as at the gates of Jerusalem, he was all poverty, grace and pity. Jesus was not indeed then seated upon the ass, but this same lowly beast warmed with its breath his tender, half-frozen limbs in the manger."
Closing Hymn

Let creation shout for gladness,
God today from Virgin comes forth
In a cave among His creatures.
To adore the Christ-Child lying
Come the Kings, come the Kings to honor Him!
O good Joseph, do not be fearful,
For the Savior is appearing
Bringing joy to every nation,
And announcing God's salvation:
Gift of grace, gift of grace forevermore!
There the three kings bring their presents:
Incense, myrrh, and gold most precious;
To the new-born infant Savior
Who is Lord of all creation
They present, they present offerings!

Shepherds now are running to Him,
And with pipes they give their worship
For the angels' joyful tidings.
Say 'the Child that's born of Mary,
Eternal, eternal God is He!"
Archives