Thirtieth Sunday in Ordinary Time (A)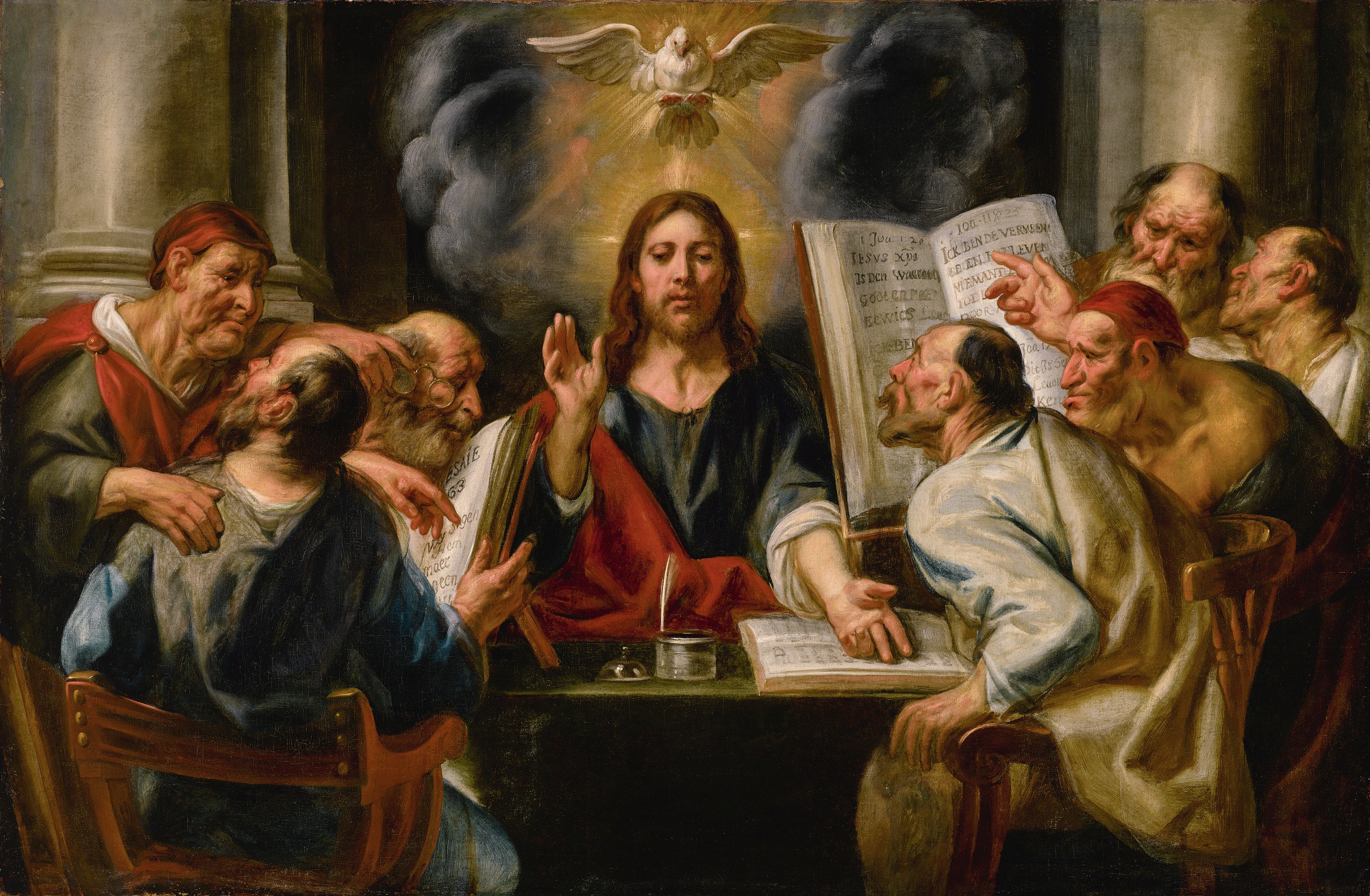 Introit
Kyrie
Gloria
Collect
Almighty ever-living God,
increase our faith, hope and charity,
and make us love what you command,
so that we may merit what you promise.
Through our Lord Jesus Christ, your Son,
who lives and reigns with you in the unity of the Holy Spirit,
God, for ever and ever. Amen.
First Reading Ex 22:20-26
Thus says the LORD: "You shall not molest or oppress an alien, for you were once aliens yourselves in the land of Egypt. You shall not wrong any widow or orphan. If ever you wrong them and they cry out to me, I will surely hear their cry. My wrath will flare up, and I will kill you with the sword; then your own wives will be widows, and your children orphans. "If you lend money to one of your poor neighbors among my people, you shall not act like an extortioner toward him by demanding interest from him. If you take your neighbor's cloak as a pledge, you shall return it to him before sunset; for this cloak of his is the only covering he has for his body. What else has he to sleep in? If he cries out to me, I will hear him; for I am compassionate.
Responsorial Psalm Ps 18:2-3, 3-4, 47, 51
R/. I love you, Lord, my strength.
I love you, O LORD, my strength,
O LORD, my rock, my fortress, my deliverer. R/.
My God, my rock of refuge,
my shield, the horn of my salvation, my stronghold!
Praised be the LORD, I exclaim,
and I am safe from my enemies. R/.

The LORD lives and blessed be my rock!
Extolled be God my savior.
You who gave great victories to your king
and showed kindness to your anointed. R/.
Second Reading Thess 1:5c-10 2
Brothers and sisters: You know what sort of people we were among you for your sake. And you became imitators of us and of the Lord, receiving the word in great affliction, with joy from the Holy Spirit, so that you became a model for all the believers in Macedonia and in Achaia. For from you the word of the Lord has sounded forth not only in Macedonia and in Achaia, but in every place your faith in God has gone forth, so that we have no need to say anything. For they themselves openly declare about us what sort of reception we had among you, and how you turned to God from idols to serve the living and true God and to await his Son from heaven, whom he raised from the dead, Jesus, who delivers us from the coming wrath.
Alleluia Jn. 14:23
Gospel Mt. 22:34-40
When the Pharisees heard that Jesus had silenced the Sadducees, they gathered together, and one of them, a scholar of the law tested him by asking, "Teacher, which commandment in the law is the greatest?" He said to him, "You shall love the Lord, your God, with all your heart, with all your soul, and with all your mind. This is the greatest and the first commandment. The second is like it: You shall love your neighbor as yourself. The whole law and the prophets depend on these two commandments."
Catena Nova
What else is there to speak of apart from love? … Open the Bible at any page and you will find it extolling love....People are renewed by love. As sinful desire ages them, so love rejuvenates them…. For as love grows stronger we feel more secure, and when our feeling of security is complete fear vanishes, since, as the apostle John declares: "Perfect love casts out fear" (St. Augustine).
All who love God in the depths of their heart have already been loved by God. In fact, the measure of people's love for God depends upon how deeply aware they are of God's love for them. When this awareness is keen it makes whoever possesses it long to be enlightened by the divine light, and this longing is so intense that it seems to penetrate their very bones…. Once the love of God has released them from self-love, the flame of divine love never ceases to burn in their heart and they remain united to God by an irresistible longing. (St. Diadochus of Photice).
Lord, you are my lover,
My longing,
My flowing stream,
My sun,
And I am your reflection.
The day
of my spiritual awakening
was the day I saw—
and knew I saw—
all things in God
and God in all things.

Love your fellow beings—
for they are all
tabernacles of God.
Of all that God has shown me,
I can speak just the smallest word,
not more than a honeybee takes on her foot
from an overspilling jar.
In the fire of creation,
gold does not vanish,
the fire brightens.
Each creature God made
must live in its own true nature,
how could I resist my nature,
that lives for oneness with God?
(St. Mechtild of Madgeburg).
Love seeks no cause beyond itself and no fruit; it is its own fruit, its own enjoyment. I love because I love; I love in order that I may love.... Of all the motions and affections of the soul, love is the only one by means of which the creature, though not on equal terms, is able to treat with the Creator and to give back something resembling what has been given to it. What God loves, he only desires to be loved, knowing that love will render all those who love Him happy. (Bernard of Clairvaux)
What is sweetest in love is her tempestuousness,
Her deepest abyss is her most beautiful form;
To lose one's way in her is to touch her close at hand.
To die of hunger for her is to feed and taste;…
We can say yet more about Love:
Her wealth is her lack of everything;
Her truest fidelity brings about our fall;
Her highest being drowns us in the depths;…
Her revelation is the total hiding of herself;
Her gifts, besides, are thieveries;
Her promises are all seductions;
Her adornments are all undressing;
Her truth is all deception;
To many her assurance appears to lie—
After she first played these tricks on me,
And I considered all her methods,
I went to work in an entirely different way:
By her threats and her promises
I was no longer deceived.
I will belong to her, whatever she may be,
Gracious or merciless; to me it is all one (St. Hadewijch of Antwerp).
Let everyone understand that real love of God does not consist in tear-shedding, nor in that sweetness and tenderness for which usually we long, just because they console us, but in serving God in justice, fortitude of the soul and humility.

(St. Teresa of Avila)
Recognizing that all people are our brothers and sisters, and seeking forms of social friendship that include everyone, is not merely utopian. It demands a decisive commitment to devising effective means to this end. Any effort along these lines becomes a noble exercise of charity. For whereas individuals can help others in need, when they join together in initiating social processes of fraternity and justice for all, they enter the "field of charity at its most vast, namely political charity". This entails working for a social and political order whose soul is social charity. Once more, I appeal for a renewed appreciation of politics as "a lofty vocation and one of the highest forms of charity, inasmuch as it seeks the common good" (Pope Francis).
Homily
"There's only one person that can do it all the way. Do you know who that is? Jesus Christ. If Jesus came down and said, 'I want to be Speaker,' he would do it.

Other than that I haven't seen anyone that can guarantee it" (October 23, 2023).

So said a leading contender for the presidency.
I would have been all for it.

It would take a miracle worker to provide universal health care, expand the social safety net, cut the defense budget, reduce nuclear arms, tackle the environmental crisis, repeal the Second Amendment, eliminate tax cuts for the richest Americans, open the border to desperate migrants seeking a better life for themselves and their children, and put lobbyists on notice so we no longer had the best politicians money can buy.

But alas, Jesus is undocumented.

His vicar, however, does his best to advocate for such things.

For example, a little-noticed event took place during this month's Synod in Rome — a simple prayer service for migrants and refugees led by Pope Francis in St. Peter's Square next to Canadian artist Timothy Schmalz's sculpture "Angels Unawares" depicting migrants from different times and places aboard a boat.
Famed for his concern for such people the pope noted in his talk:
They leave their homes deceived by unscrupulous traffickers. They are then sold like commodities. They are kidnapped, imprisoned, exploited and enslaved. They are humiliated, tortured, raped. And so many of them die without ever reaching their destination. The migration routes of our time are filled with men and women who are wounded and left half-dead, our brothers and sisters whose pain cries out before God. Often, they are people fleeing war and terrorism, as we are witnessing, sadly, in these days….Migrants should be welcomed, protected, promoted and integrated….We need to multiply our efforts to combat the criminal networks that exploit the hopes and dreams of migrants.

It is likewise necessary to indicate safer routes. This means that efforts must be made to expand regular migration channels. In the current world situation, it is clearly necessary to bring demographic and economic policies into dialogue with migration policies for the sake of all those involved, without ever forgetting to put the most vulnerable at the centre. It is also necessary to promote a common and co-responsible approach to the governance of migration flows, which appear set to increase in the coming years….Welcoming, protecting, promoting and integrating: this is the work we must carry out.

(October 19, 2023)
Francis also referenced his encyclical Fratelli tutti in which he offered "a new vision of fraternity and social friendship that will not remain at the level of words." And nothing could be more timely both in light of today's readings and the election season upon us, with its often nasty and inflammatory rhetoric about migrants and refugees with their associated policies of exclusion.

By contrast, the pope speaks of "political charity" — and yes, I know that sounds like an oxymoron — that "makes us effectively seek the good of all people, considered not only as individuals or private persons, but also in the social dimension that unites them" (no. 182). Francis calls such social charity "the spiritual heart of politics" and its "authentic spirit" which enables "the dignity of others to be recognized and, as a consequence, the poor to be acknowledged and valued in their dignity, respected in their identity and culture, and thus truly integrated into society" (187). In his optimistic view, "politicians are doers, builders with ambitious goals, possessed of a broad, realistic and pragmatic gaze that looks beyond their own borders. Their biggest concern should not be about a drop in the polls, but about finding effective solutions" to a host of social ills (188). He calls instead for a "love that draws near and becomes real" (194):
Viewed in this way, politics is something more noble than posturing, marketing and media spin. These sow nothing but division, conflict and a bleak cynicism incapable of mobilizing people to pursue a common goal. At times, in thinking of the future, we do well to ask ourselves, "Why I am doing this?", "What is my real aim?" For as time goes on, reflecting on the past, the questions will not be: "How many people endorsed me?", "How many voted for me?", "How many had a positive image of me?" The real, and potentially painful, questions will be, "How much love did I put into my work?" "What did I do for the progress of our people?" "What mark did I leave on the life of society?" "What real bonds did I create?" "What positive forces did I unleash?" "How much social peace did I sow?" "What good did I achieve in the position that was entrusted to me?" (197)
I will leave to your judgment how American politicians might answer these questions as we approach Election Day. Mea culpa might be a good start.
Intercessions
The following petitions are based on those made in 2019 together by Pope Francis and the Grand Imam Ahmad Al-Tayyeh:
For all human beings equal in rights, duties and dignity, and whom God

has called them to live together as brothers and sisters, to fill the earth and make known the values of goodness, love and peace.
For all innocent human lives whom God has forbidden to kill, affirming that whoever kills a person is like one who kills the whole of humanity, and that whoever saves a person is like one who saves the whole of humanity.
For the poor, the destitute, the marginalized and those most in need, whom God has commanded us to help as a duty required of all persons, especially the wealthy and those of means.
For orphans, widows, refugees and those exiled from their homes and their countries; for all victims of wars, persecution and injustice; for the weak, those who live in fear, prisoners of war and those tortured in any part of the world, without distinction.
For peoples who have lost their security, peace and the possibility of living together, becoming victims of destruction, calamity and war.
For

human fraternity, that embraces all human beings, unites them and renders them equal.
For

fraternity

where this has been torn apart by policies of extremism and division, by systems of unrestrained profit or by hateful ideological tendencies that manipulate the actions and the future of men and women.
For freedom, that God has given to all human beings, creating them free and setting them apart by this gift.
For justice and mercy, the foundations of prosperity and the cornerstone of faith.
For goodwill present in every part of the world.
For the adoption of a culture of dialogue as the path with mutual cooperation as its code of conduct, and reciprocal understanding as its method and standard.
Your love, O God, is boundless. We who were strangers have been made your children. We who were defenceless have been brought into your household. Keep us mindful of your deeds of mercy, that we may love you with our whole heart and love our neighbour as ourselves. We ask this through Christ our Lord. Amen. (ICEL; 1998)
Offertory Motet (Peter Nardone)
I give to you a new commandment, that you love one another, as I have loved you.
Ubi caritas est vera, Deus ibi est. Congregavit nos in unum Christi amor. Exsultemus et in ipso jucundemur. Timeamus et amemus Deum vivum. Et ex corde diligamus nos sincero.
[Where charity is true, God is there. The love of Christ has gathered us into one. Let us rejoice and be glad in him. Let us fear and love the living God. And from a sincere heart let us love one another. Amen.]
Communion Antiphon
Closing Hymn
Love one another, for love is of God.
(S)he who loves is born of God;
And knows God.
(S)he who does not love, does not know God,
For God is love, God is love, God is love.
Love bears all things, Believes all things,
Love hopes all things, Endures all things.

God is love, God is love, God is love.
God is love, God is love, God is love.

Love the Lord thy God with all thy heart,
With all thy soul, all thy strength, All thy mind.
Love the Lord thy God with all thy heart,
For God is love, God is love, God is love.
Archives