19th Sunday in Ordinary Time (B)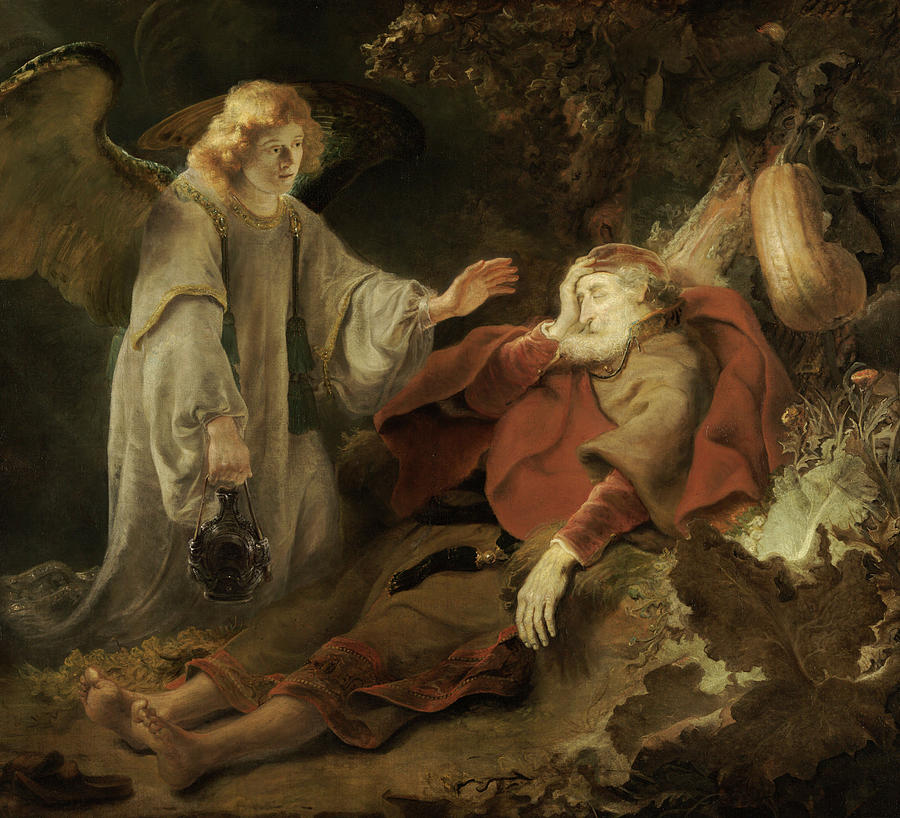 Introit
Kyrie
Gloria
Collect
Almighty ever-living God,
whom, taught by the Holy Spirit,
we dare to call our Father,
bring, we pray, to perfection in our hearts
the spirit of adoption as your sons and daughters,
that we may merit to enter into the inheritance
which you have promised.
Through our Lord Jesus Christ, your Son,
who lives and reigns with you in the unity of the Holy Spirit,
God, for ever and ever. Amen.
First Reading 1 Kgs 19:4-8
Elijah went a day's journey into the desert, until he came to a broom tree and sat beneath it. He prayed for death saying: "This is enough, O LORD! Take my life, for I am no better than my fathers." He lay down and fell asleep under the broom tree, but then an angel touched him and ordered him to get up and eat. Elijah looked and there at his head was a hearth cake and a jug of water. After he ate and drank, he lay down again, but the angel of the LORD came back a second time, touched him, and ordered, "Get up and eat, else the journey will be too long for you!" He got up, ate, and drank; then strengthened by that food, he walked forty days and forty nights to the mountain of God, Horeb.
Responsorial Psalm Ps 34:2-3, 4-5, 6-7, 8-9
R. Taste and see the goodness of the Lord.
I will bless the LORD at all times;
his praise shall be ever in my mouth.
Let my soul glory in the LORD;
the lowly will hear me and be glad.
Glorify the LORD with me,
Let us together extol his name.
I sought the LORD, and he answered me
And delivered me from all my fears.
Look to him that you may be radiant with joy.
And your faces may not blush with shame.
When the afflicted man called out, the LORD heard,
And from all his distress he saved him.
The angel of the LORD encamps
around those who fear him and delivers them.
Taste and see how good the LORD is;
blessed the man who takes refuge in him.
Second Reading Eph 4:30—5:2
Brothers and sisters: Do not grieve the Holy Spirit of God, with which you were sealed for the day of redemption. All bitterness, fury, anger, shouting, and reviling must be removed from you, along with all malice. And be kind to one another, compassionate, forgiving one another as God has forgiven you in Christ. So be imitators of God, as beloved children, and live in love, as Christ loved us and handed himself over for us
as a sacrificial offering to God for a fragrant aroma.
Alleluia Jn 6:51
Gospel Jn 6:41-51
The Jews murmured about Jesus because he said, "I am the bread that came down from heaven, " and they said, "Is this not Jesus, the son of Joseph? Do we not know his father and mother? Then how can he say,
'I have come down from heaven'?" Jesus answered and said to them, "Stop murmuring among yourselves. No one can come to me unless the Father who sent me draw him, and I will raise him on the last day.
It is written in the prophets: They shall all be taught by God. Everyone who listens to my Father and learns from him comes to me. Not that anyone has seen the Father except the one who is from God; he has seen the Father. Amen, amen, I say to you, whoever believes has eternal life. I am the bread of life. Your ancestors ate the manna in the desert, but they died; this is the bread that comes down from heaven so that one may eat it and not die. I am the living bread that came down from heaven; whoever eats this bread will live forever; and the bread that I will give is my flesh for the life of the world."
Reflection Questions

What food for the journey strengthens you?
How are you a sacrificial offering to God?
What tempts you to murmur among yourselves?
Catena Nova
In his goodness and love for humankind, Jesus, the most divine Word, one, simple, and hidden, assumed our nature, appearing though unchanged in his own nature as a being both composite and visible. Graciously he received us into unifying communion with himself, joining our lowliness to his sublime divinity, upon the sole condition that we in our turn should adhere to him as members of his body by living a pure and godly life like his, and not giving reign to ruinous, death-dealing passions, which would make us incapable of union with those completely healthy and divine members. Christ came forth from his divine concealment to assume for love of humanity our human form. If we aspire to communion with Jesus, we must fix our eyes upon the most holy life he lived in the flesh and follow the example of his divine innocence so as to become pure and godlike. Then, in a manner befitting us, he will give us a resemblance to himself....He asks only that we unite ourselves to his most divine life by imitating it to the best of our ability, so as to enter into a real communion with God and his divine mysteries (Denis the Areopagite).
All spiritual writers agree that the best sign you can have of solid devotion is amendment of life and perseverance in good. I began to amend my life by frequenting Holy Communion after having tried every other way and failed. When I went rarely to Holy Communion I had no end of bad habits and imperfections which appeared to me insurmountable. I uprooted these by multiplying my Communions. Every time I omitted frequent Communion I felt my weakness more. When I received Communion again I felt fervor rekindle in my heart….No fervent soul has ever relaxed who did not first leave off receiving the Holy Eucharist. If I found that when going frequently to Communion I became no better, was still just as weak, just as prone to evil, just as indifferent about sin, I should conclude not that I ought to leave off going, but that I ought to receive our Lord with better dispositions. I should see if my confessions were wanting in sincerity, contrition, or purpose of amendment. If you are sinful, repent so that you can receive Communion often. If you are imperfect, go often to Communion that you may amend your faults. My daily Mass and Communion is my only hope and resource. Jesus Christ…will counsel me and give me new strength; he will instruct, console, and encourage me and give me all the graces for which I pray (St. Claude La Colombière).
The Church's Liturgy may…be considered as a sacred poem, in the framing of which both heaven and earth have taken part, and by which our humanity, redeemed in the blood of the Lamb without spot, rises on the wings of the Spirit even unto the throne of God himself. This is more than a mere aspiration, for the sacred Liturgy not only shows forth and expressed the ineffable and the divine, but also, by means of the sacraments and of its forms of prayer, develops and fulfills the supernatural in the souls of the faithful, to whom is communicates the grace of redemption. It may even be said that the very source of the holiness of the Church is fully contained in her Liturgy; for, without the holy sacraments, the Passion of our Lord, in the existing dispensation instituted by almighty God, would have no efficacy in us, since there would be no channels capable of conveying its treasures to our souls (Bl. Ildefonso Schuster).
The mystery of Christ is carried on and made actual in the mystery of worship. Here Christ performs his saving work, invisible, but present in Spirit and acting upon all men of good-will. It is the Lord himself who acts this mystery; not as he did the primeval mystery of the Cross, alone, but with his bride, which he won there, his Church; to her he has now given all his treasures; she is to hand them on to the children she has got of him…The mystery of Christ which was completed in our Lord in all reality in time is, therefore, fulfilled; fulfilled on us first of all in representative, symbolic forms, not purely external ones, but rather images filled with the reality of the new life which is communicated to us through Christ. This special sharing in the life of Christ, both symbolic and real, is what the ancients called mystical; it is something mediate between a merely outward symbol and the purely real. Thus it is possible that the Lord, though eternally glorified in heaven and visible to all, should be still hidden in the world, and go on revealing the whole strength of his glory. The Lord's manner of presence in the mystery therefore, holds a position between that in his life on earth before the resurrection, and his glorified life in heaven: the divine power is fully in action, yet faith must be there to see it; there is not yet simple vision (Odo Casel).
Whoever eats my flesh and drinks my blood remains in me and I in him. A premier sign of Jesus' love is the gift of his flesh to eat and his blood to drink but this language disturbed those to whom Jesus spoke during his life on earth. Yet the property of true love is always giving and receiving. The love of Christ is generous and all that he is and has is given us. He wants to receive all we have and are. We may think that He is asking for more than we are capable of giving. But he has an immense hunger to give love and receive it. Sometimes it seems He wants to devour us absolutely. Does that language disturb you? In fact, love for the Trinity is unlimited giving and receiving and we are to share in that. Through Jesus God enters into the very marrow of our bones and the more lovingly we open ourselves to Him the more fully we savor His gift of self. Jesus knows how poor we are but pays no attention to this. Think of the fact that in us He becomes his own bread and that from within He burns up all our vices and sins and faults. When He sees we are pure he seems to come after us like a vulture to devour everything. But he only wants to turn our old life into his own life. We need only renounce ourselves. Even if our eyes were good enough to see what he wants and how he hungers for our salvation, no effort of ours could keep us from giving all to Him and, so to speak, disappearing into Him. This sounds absurd but those who know divine love understand. When we receive Christ with full self-giving devotion his blood flows into our veins and a fire is enkindled in our depths. We receive the likeness of His virtues and He lives in us and we in Him. He gives us his own fullness of grace and it is by this that we persevere in love and praise of the Heavenly Father. Love draws the beloved into itself; we draw Jesus into ourselves and Jesus draws us into Himself. That is how we go to meet God. We encounter God's Spirit, which is God's love, and this love burns us and consumes us and draws us into unity were beatitude awaits us. This is what Jesus meant when he said: With great longing I have desired to eat this Pasch with you. With Him let us greatly long for it (St. Elizabeth of the Trinity).
I was again in a church and had just knelt down before the Blessed Sacrament exposed in a monstrance when I experienced a very strange impression. You must, I feel sure, have observed that optical illusion which makes a bright spot against a dark background seem to expand and grow bigger? It was something of this sort that I experienced as I gazed at the host, its white shape standing out sharply, despite the candles on the altar, against the darkness of the choir. At least, that is what happened to begin with; later on, as you shall hear, my experience assumed proportions which no physical analogy could express. I had then the impression as I gazed at the host that its surface was gradually spreading out like a spot of oil but of course much more swiftly and luminously. At the beginning it seemed to me that I alone had noticed any change, and that it was taking place without awakening any desire or encountering any obstacle. But little by little, as the white orb grew and grew in space till it seemed to be drawing quite close to me, I heard a subdued sound, an immeasurable murmur, as when the rising tide extends its silver waves over the world of the algae which tremble and dilate at its approach, or when the burning heather crackles as fire spreads over the heath.
Thus in the midst of a great sigh suggestive both of an awakening and of a plaint the flow of whiteness enveloped me, passed beyond me, overran everything. At the same time everything, though drowned in this whiteness, preserved its own proper shape, its own autonomous movement; for the whiteness did not efface the features or change the nature of anything, but penetrated objects at the core of their being, at a level more profound even than their own life. It was as though a milky brightness were illuminating the universe from within, and everything were fashioned of the same kind of translucent flesh....So, through the mysterious expansion of the host the whole world had become incandescent, had itself become like a single giant host. One would have said that, under the influence of this inner light which penetrated it, its fibres were stretched to breaking-point and all the energies within them were strained to the utmost. And I was thinking that already in this opening-out of its activity the cosmos had attained its plenitude when I became aware that a much more fundamental process was going on within it. From moment to moment sparkling drops of pure metal were forming on the inner surface of things and then falling into the heart of this profound light, in which they vanished; and at the same time a certain amount of dross was being volatilized: a transformation was taking place in the domain of love, dilating, purifying and gathering together every power-to-love which the universe contains. This I could realize the more easily inasmuch as its influence was operative in me myself as well as in other things: the white glow was active; the whiteness was consuming all things from within themselves. It had penetrated, through the channels of matter, into the inmost depths of all hearts and then had dilated them to breaking-point, only in order to take back into itself the substance of their affections and passions. And now that it had established its hold on them it was irresistibly pulling back towards its centre all the waves that had spread outwards from it, laden now with the purest honey of all loves. And in actual fact the immense host, having given life to everything and purified everything, was now slowly contracting; and the treasures it was drawing into itself were joyously pressed close together within its living light (Pierre Teilhard de Chardin).
The gentiles, exactly in line with what we might expect, have futile minds and darkened understanding "alienated from the life of God because of the ignorance that is in them" (Eph 4:18). Because of this it is not surprising that they are entirely run by the desires of the world and its old nature (4:19-22). However, those who have learnt the things of Christ should be first "renewed in the spirit of your minds" and thus able to "put on the new man, the one created according to [after the likeness of] God in the righteousness and holiness of truth" (Eph. 4:23-42).The author then goes on to show what this putting on of a new man might mean, and there is nothing escapist about it: the putting on of a new nature is exactly described as the redirection of the mimetically formed old nature. So, instead of speaking falsehood to our neighbor (old man), or indeed not speaking to them at all — an escapism not even contemplated in the text — we must speak the truth to them, for we are members one of another: interdividuality is still the norm in the new nature as in the old. The thief must put the same desire that ran him in appropriation to its inverse, fecund effect: doing honest work with his hands that he may be able to give to those in need. Talk must be for edifying, rather than destroying people, and all the anger and clamor and slander must be turned to forgiveness: a real mode of human presence introducing a different quality of interdividuality. The conclusion to this passage is almost embarrassingly apropos of the analysis that I have been trying to set out: "Therefore be imitators [mimétai] of God as beloved children, and walk in love as Christ loved us and gave himself up for us, a fragrant offering and sacrifice to God" (Eph. 5:1-2). It is in the light of this that the following instructions about avoiding particular aspects of the world of desire proper to un-reformed selves are to be read. These desires militate against the walking in love in such a way that one can offer oneself up as a sacrifice to God. By walking in the light however, we are not expected simply to shun the darkness, but actively to show it up for what it is: "Take no part in the works of darkness, but instead expose them" (Eph. 5:11). There is no escapism here, but an awareness that by living the life of Christ we will show up the works of darkness. It was that living of the light, of course, which was what caused Christ to be turned into a sacrifice in the first place. The author draws from this the observation not that we should flee to some heavenly place, but rather that we should learn to walk carefully. In the light of the foregoing, this can only mean that learning how to live the eschatological imagination and the consequent reformation of the self is a difficult process requiring wisdom, as we come to see by which desires we are being drawn in any given situation: the heavenly mimesis or the worldly. As we learn to walk carefully in this way, so we will be redeeming the time, for the days are evil (Eph. 5:16) (James Alison).
Homily
Few passages from Vatican II's Constitution on the Sacred Liturgy have caused more divergent interpretation than the following: "Mother Church earnestly desires that all the faithful should be led to that full, conscious, and active participation [participatio actuosa] in liturgical celebration which is demanded by the very nature of the liturgy. Such participation by the Christian people as "a chosen race, a royal priesthood, a holy nation, a redeemed people (1 Pet. 2:9; cf. 2:4-5), is their right and duty by reason of their baptism. In the restoration and promotion of the sacred liturgy, this full and active participation by all the people is the aim to be considered before all else; for it is the primary and indispensable source from which the faithful are to derive the true Christian spirit; and therefore pastors of souls must zealously strive to achieve it, by means of the necessary instruction, in all their pastoral work" (no. 14).
The passage might seem pretty straightforward especially in view of a liturgy that until then had been celebrated in Latin with a congregation mostly disconnected from the action at the altar whose priest prayed most of the Mass silently and whatever responses were to be made were done by altar boys on behalf of the people. Only innovators dared introduce the "dialogue Mass" where folks in the pews made the responses – in Latin, of course. All that began to change around 1965. "Active participation" is what the Council called for and that's what it got.
Or did it? Well, yes, of course from one standpoint. One hardly knows how to begin with the achievements its Constitution on the Sacred Liturgy brought about: vernacularization of the rites, the enhanced participation of all in the assembly, the enrichment of the lectionary and sacramentary, the simplification of the calendar, the renewal of preaching, the restoration of the chalice to the laity, the expansion of liturgical ministries like lector, cantor and Eucharistic minister along with people now accustomed to both spoken and sung responses. What more "full, conscious and active participation" could anyone want?
To answer that question let me give Benedict XVI, who is often identified with the "reform of the reform" side of the liturgy divide, a chance to answer that question. In his exhortation on the Eucharist, Sacramentum caritatis, he noted the following: "The Second Vatican Council rightly emphasized the active, full and fruitful participation of the entire People of God in the eucharistic celebration. Certainly, the renewal carried out in these past decades has made considerable progress towards fulfilling the wishes of the Council Fathers. Yet we must not overlook the fact that some misunderstanding has occasionally arisen concerning the precise meaning of this participation. It should be made clear that the word 'participation' does not refer to mere external activity during the celebration. In fact, the active participation called for by the Council must be understood in more substantial terms, on the basis of a greater awareness of the mystery being celebrated and its relationship to daily life" (no. 52).
I would call this, in a phrase that appears three times in the Constitution on the Sacred Liturgy, a failure to be "imbued with the spirit of the liturgy." This takes us back to last week's homily where I mentioned the depth dimension of the liturgy that ought to be present beneath the interminable battles over the externals no matter where one's overall sympathies lie. How then does someone become imbued with a liturgical spirit? Let me focus on two items, the liturgical year, and the importance of preparation.
The person considered to be the "father of the liturgical movement," Dom Prosper Gueranger, in his massive work, The Liturgical Year, an astounding resource for becoming imbued with the liturgy's spirit, has this to say about the annual cycle of feasts and seasons that serve as the "operating system" for the liturgy:
It is…Jesus Christ himself who is the source as well as the object of the liturgy; and hence the ecclesiastical year…is neither more nor less than the manifestation of Jesus Christ and His mysteries, in the Church and in the faithful soul. It is the divine cycle in which appear all the works of God, each in its turn….what the liturgical year does for the Church at large, it does also for the soul of each one of the faithful that is careful to receive the gift of God.

But to live these seasons and feasts well, to learn from their wisdom, and experi­ence their power to give meaning to life, we need a certain sensitivity. We need ways to develop a sense, a feel for, the constant interplay between the rhythms of nature, the liturgy, and our own lives. We need seasonal disciplines, to imbue us with that special spirit which helps us be more conscious of the continual flow of sacred and secular time in which we are immersed.
Of course, these seasonal spirits are something we should always be endowed with, although a given time of year does evoke them more intense­ly. So if we should always have a spirit of patience, Advent asks this of us more strongly still; as Christmas does a sense of wonder; Lent, repentance, and Easter, joy. The "Green Sundays" of Ordinary Time after Epiphany and after Pentecost invite a deeper reflection on the seasons they follow. This a fundamental way we can all share in this great work of the liturgy where Christ still loves us and hands himself over for us as a sacrificial offering to God for a fragrant aroma (II).
As for preparation, if you are reading this homily one resource for preparation appears weekly at sanguischristi.com. At least that was the original intention. Due to the pandemic, entries shifted in the direction of providing a service for those unable to attend Mass. As such, they have become more a way to let the Sunday liturgy on the first day of the week form part of one's prayer on the remaining six.
For example, one may continue to reflect on the readings with the associated questions as a guide. The passages in the Catena Nova –one per day --are also designed for this purpose. The collect, intercessions and musical selections can also form part of one's prayer life throughout the week to help savor more fully the Sunday liturgy. As for preparation proper I can think of no better resource than The Sunday Website at Saint Louis University (https://liturgy.slu.edu/index.html).

Next Sunday we are celebrating the Solemnity of the Assumption of the Blessed Virgin Mary, so this series on the liturgy will be interrupted. On the following Sunday, when we will hear the last of these passages from the sixth chapter of John, I will return to the other controversy surrounding the Eucharist, namely the America bishops concerns about what they term "Eucharistic coherence."
Creed
Intercessions (Peter Scagnelli; Prayers for Sundays and Seasons)
In prayer let us seek the Lord, who hears and responds to all.
That the church may be sustained on its journey toward God's mountain by the food that God so generously bestows.
That Christians may not grieve the Holy Spirit by divisions but come to share in unity of faith the one bread that comes from heaven.
That nations may put away bitterness and anger, slander and malice, and be kind to one another, tenderhearted and forgiving.
That nations may not continue the discord of their ancestors but be taught by God the visions of peace proclaimed by the prophets.
That those who in their despair seek to end their lives may find new strength for life's journey from God and from believers.
That those who make and influence public policy may not subject the poor to slander but seek to offer them society's kindness and care.
That the hungry may find us to be angels of God's providence who gladly provide the food and sustenance to help them live and thrive.
That those wounded by the thoughtlessness or malice of others may find the grace to forgive as God has forgiven us all in Christ.
That our assemblies, fed with the living bread that comes down from heaven, may bear witness in self-sacrificing love.
That those who ate the bread from heaven in this life may live forever as Christ promises.
God, our Father and provider, whose Son has given his flesh for the life of the world, sustain your pilgrim Church on its journey with the word of life and the bread of heaven. Draw us nearer to him in whose name we gather, that, following his way of sacrificial love, we may come to the banquet of eternal life. Grant this through Christ our Lord. Amen (ICEL; 1998).
Interlude (Marty Haugen)

O taste and see the goodness of the Lord!
I will bless the Lord at all times,
his praise shall be ever in my mouth.
I will glory in the Lord;
the humble shall hear and be glad. O taste and see….
Proclaim with me the greatness of the Lord;
let us exalt his name together;
I sought the Lord and he answered me,
and saved me from all my distress. O taste and see….
I am the bread of life;
(s)he who comes to me shall not hunger,
and (s)he who believes in me shall not thirst. O taste and see….
Look upon him and be radiant,
and let not your faces be ashamed.
I called on the Lord and he answered me,
and saved me from all my troubles. O taste and see….
The angel of the Lord guards those who fear him,
and will deliver them.
Taste and see that the Lord is good;
happy are they who trust in him. O taste and see….
This is the bread which comes down from heaven;
that a [man] may eat of it and not die.
I am the living bread come from heaven;
if anyone eats of this bread, (s)he will live forever. O taste and see….
Give praise to the Father almighty,
to his Son, Jesus Christ the Lord,
to the Spirit, who dwells in our hearts,
both now and forever. Amen. O taste and see….
Lord's Prayer
Let us beg our daily bread from God as Jesus taught us....
Spiritual Communion
O living Bread that has come down from heaven, we hunger and thirst for you. Your flesh and blood are indeed the source of life for us and for the world. Though unable to receive you sacramentally this day, we nevertheless place our faith in your divine goodness and thus are confident you will remain with us as food and drink for our journey in days to come and forever. By our spiritual communion make us an acceptable sacrifice to God and a fragrant aroma of your Presence in the world.
Thanksgiving
Closing Hymn (George Hugh Bourne)

Lord, enthroned in heavenly splendor,
first-begotten from the dead.
Thou alone, our strong defender,
liftest up thy people's head.
Alleluia! Alleluia! Alleluia!
Jesus, true and living bread!
Jesus, true and living bread!

Here our humblest homage pay we,
here in loving reverence bow;
here for faith's discernment pray we,
lest we fail to know thee now.
Alleluia! Alleluia! Alleluia!
Thou art here, we ask not how.
Thou art here, we ask not how.

Though the lowliest form doth veil thee
as of old in Bethlehem,
here as there thine angels hail thee,
branch and flower of Jesse's stem.
Alleluia! Alleluia! Alleluia!
We in worship join with them.
We in worship join with them.

Paschal Lamb, thine offering, finished
once for all when thou was slain,
in its fullness undiminished
shall for evermore remain.
Alleluia! Alleluia! Alleluia!
Cleansing souls from every stain.
Cleansing souls from every stain.

Life-imparting heavenly Manna,
stricken Rock with streaming side,
heaven and earth with loud hosanna
worship thee, the Lamb who died.
Alleluia! Alleluia! Alleluia!
Risen, ascended, glorified!
Risen, ascended, glorified!
Archives