Sixth Sunday in Ordinary Time (B)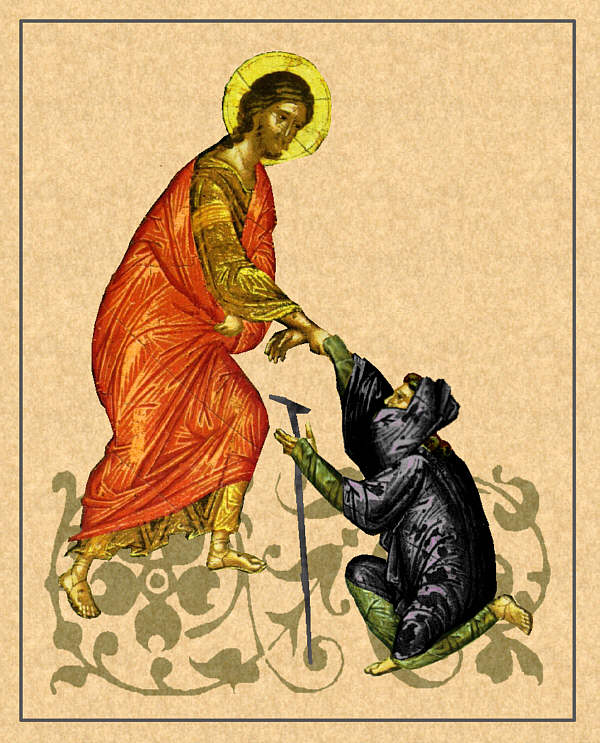 Introit

Kyrie
Gloria
Collect
O God, who teach us that you abide
in hearts that are just and true,
grant that we may be so fashioned by your grace
as to become a dwelling pleasing to you.
Through our Lord Jesus Christ, your Son,
who lives and reigns with you in the unity of the Holy Spirit,
God, for ever and ever.
First Reading Lv 13:1-2,44-46
The Lord said to Moses and Aaron,
"If someone has on his skin a scab or pustule or blotch
which appears to be the sore of leprosy,
he shall be brought to Aaron, the priest,
or to one of the priests among his descendants.
If the man is leprous and unclean,
the priest shall declare him unclean
by reason of the sore on his head.

"The one who bears the sore of leprosy
shall keep his garments rent and his head bare,
and shall muffle his beard;
he shall cry out, 'Unclean, unclean!'
As long as the sore is on him he shall declare himself unclean,
since he is in fact unclean.
He shall dwell apart, making his abode outside the camp."
Responsorial Psalm Ps 32:1-2,5,11
R/. I turn to you, Lord, in time of trouble, and you fill me with the joy of salvation.


Blessed is he whose fault is taken away,
whose sin is covered.
Blessed the man to whom the LORD imputes not guilt,
in whose spirit there is no guile. R/.
Then I acknowledged my sin to you,
my guilt I covered not.
I said, "I confess my faults to the LORD,"
and you took away the guilt of my sin. R/.
Be glad in the LORD and rejoice, you just;
exult, all you upright of heart. R/.
Second Reading 1 Cor 10:31-11:1
Brothers and sisters,
Whether you eat or drink, or whatever you do,
do everything for the glory of God.
Avoid giving offense, whether to the Jews or Greeks or
the church of God,
just as I try to please everyone in every way,
not seeking my own benefit but that of the many,
that they may be saved.
Be imitators of me, as I am of Christ.
Alleluia Lk 7:16
Gospel Mk 1:40-45
A leper came to Jesus and kneeling down begged him and said,
"If you wish, you can make me clean."
Moved with pity, he stretched out his hand,
touched him, and said to him,
"I do will it. Be made clean."
The leprosy left him immediately, and he was made clean.
Then, warning him sternly, he dismissed him at once.

He said to him, "See that you tell no one anything,
but go, show yourself to the priest
and offer for your cleansing what Moses prescribed;
that will be proof for them."

The man went away and began to publicize the whole matter.
He spread the report abroad
so that it was impossible for Jesus to enter a town openly.
He remained outside in deserted places,
and people kept coming to him from everywhere.
Reflection Questions

How do you find yourself dwelling "outside the camp?"
Are there aspects of life you find difficult to undertake "for the glory to God?"
How might you make your own the leper's prayer, "If you wish, you can make me clean?"
Catena Nova
[For Shrove Tuesday]: The last three days before Ash Wednesday everywhere, not only in Austria, but also in other countries, pancakes (Palatschinken in Austria) were eaten, obviously merely because eggs and butter and milk had to be finished off before the fasting began, and pancakes took care of a great many eggs and much milk and butter! These last days before Ash Wednesday are the climax of Carnival. In the Catholic countries where Lent afterwards would be taken seriously, work was stopped. People made merry practically day and night. In South America it still seems to be this way, according to stories we have heard in Rio! The last day of Carnival is "Mardi Gras" or "Faschingsdienstag" or "Fat Tuesday." This should be a big celebration, if possible of the whole parish together, or a circle of friends, and everything which one did during the previous weeks should be done just once more. "Once more this dance!" "Once more this song!" "Once more this game!" — until twelve o'clock sharp. When the clock strikes twelve, in the middle of the dance, according to the good old tradition, one should stop and the whole group should kneel down and say one "Our Father" together and then, rising up, say, "I wish you a blessed season of Lent" and go home. It has to be experienced to be fully believed, but there is a great blessing on such a Carnival time, shared in a family. To have spent a good Carnival will finally prove to the greater honor and glory of God, in enabling us to spend a good Lent! (Maria von Trapp).
This leper is an excellent teacher of the right way to make petitions. He did not doubt the Lord's willingness through disbelief in his compassion, but neither did he take it for granted, for he knew the depths of his own sinfulness. Yet because he acknowledged that the Lord was able to cleanse him if he wished, we praise this declaration of firm faith just as we praise the Lord's mighty power. For obtaining a favor from God rightly depends as much on having a real living faith as on the exercise of the Creator's power and mercy. If faith is weak it must be strengthened, for only then will it succeed in obtaining health of body or soul....A faith shown to be living by its love, steadfast by its perseverance, patient by its endurance of delay, humble by its confession, strong by its confidence, reverent by its way of presenting petitions, and discerning with regard to their content—such a faith may be certain that in every place it will hear the Lord saying: "I do want to" (Paschasius Radbertus).
The greatest disease in the West today is not tuberculosis or leprosy; it is being unwanted, unloved, and uncared for. We can cure physical diseases with medicine, but the only cure for loneliness, despair, and hopelessness is love. There are many in the world who are dying for a piece of bread but there are many more dying for a little love. The poverty in the West is a different kind of poverty -- it is not only a poverty of loneliness but also of spirituality. There's a hunger for love, as there is a hunger for God (St. Teresa of Calcutta).
The purpose of Pre-Lent is to condition ourselves for the proper observance of Lent, since every good work needs due preparation. During the few days left before Ash Wednesday we should arrive at a definite answer to the serious question, "How am I going to keep Lent this year?" A liturgical parish will also take counsel with its leader on the problem, "What can we as a body do this Lent?" Perhaps a word of caution is needed here: do not undertake too much lest you find it impossible to continue after a brief but over-zealous beginning. No one cares to be like the man in the Gospel who began to build a tower and then could not finish it, thus incurring the scorn of his neighbours. Therefore, not too much; but some specific resolutions whereby this Lent will be different from previous years are necessary (Fr. Pius Parsch).

To be rooted is perhaps the most important and least recognized need of the human soul. It is one of the hardest to define. A human being has roots by virtue of his real, active, and natural participation in the life of a community which preserves in living shape certain particular treasures of the past and certain particular expectations for the future. This participation is a natural one, in the sense that it is automatically brought about by place, conditions of birth, professional and social surroundings. Every human being needs to have multiple roots. It is necessary for him to draw well-nigh the whole of his moral, intellectual and spiritual life by way of the environment of which he forms a natural part (Simone Weil).
It is possible to see leprosy as a symbol of sin, which is the true impurity of heart that can distance us from God. It is not, in fact, the physical disease of leprosy that separates us from God, as the ancient norms supposed but sin, spiritual and moral evil. The sins that we commit distance us from God and, if we do not humbly confess them, trusting in divine mercy, they will finally bring about the death of the soul. This miracle thus has a strong symbolic value. Jesus, as Isaiah had prophesied, is the Servant of the Lord who "has borne our griefs / and carried our sorrows" (Is 53: 4). In His Passion He will become as a leper, made impure by our sins, separated from God, He will do all this out of love, to obtain for us reconciliation, forgiveness and salvation (Pope Benedict XVI).
For most, their enthusiastic acclamation of Jesus as Messiah disguises from them their repudiation of what that messiahship means. As soon as it involves not just death but degradation, to be driven outside the camp bearing his reproach (Heb 13:13), they reject him. They cannot believe that holiness is without beauty and majesty. And Jesus knows they can't…. He understands our heart and how little able it is to realize truth and adhere to it—and it is this clear vision that gives his love its aching utterness. Whoever has been as lonely as Jesus, perhaps lonely in proportion to his total love?… No one ever came to our dear Lord without knowing that here was someone to whom he or she mattered, who would gladly die on their behalf—and I think that is what we must ask him to achieve in us (Sr. Wendy Beckett).
Jesus, the new Moses, wanted to heal the leper. He wanted to touch him and restore him to the community without being "hemmed in" by prejudice, conformity to the prevailing mindset or worry about becoming infected. Jesus responds immediately to the leper's plea, without waiting to study the situation and all its possible consequences! For Jesus, what matters above all is reaching out to save those far off, healing the wounds of the sick, restoring everyone to God's family! And this is scandalous to some people! Jesus is not afraid of this kind of scandal! He does not think of the closed-minded who are scandalized even by a work of healing, scandalized before any kind of openness, by any action outside of their mental and spiritual boxes, by any caress or sign of tenderness which does not fit into their usual thinking and their ritual purity. He wanted to reinstate the outcast, to save those outside the camp (cf. Jn 10)....In healing the leper, Jesus does not harm the healthy. Rather, he frees them from fear. He does not endanger them, but gives them a brother. He does not devalue the law but instead values those for whom God gave the law. Indeed, Jesus frees the healthy from the temptation of the "older brother" (cf. Lk 15:11-32), the burden of envy and the grumbling of the labourers who bore "the burden of the day and the heat" (cf. Mt 20:1-16). In a word: charity cannot be neutral, antiseptic, indifferent, lukewarm or impartial! Charity is infectious, it excites, it risks and it engages! For true charity is always unmerited, unconditional and gratuitous! (cf. 1 Cor 13). Charity is creative in finding the right words to speak to all those considered incurable and hence untouchable. Finding the right words… Contact is the language of genuine communication, the same endearing language which brought healing to the leper. How many healings can we perform if only we learn this language of contact! The leper, once cured, became a messenger of God's love. The Gospel tells us that "he went out and began to proclaim it freely and to spread the word" (cf. Mk 1:45) (Pope Francis).
Homily
Camping Out
I do my grocery shopping these days every other week on a Tuesday morning at 7:00am. Other than staff, I am usually the only person in the store. Even so, should I happen to cross paths with anyone in the aisle, or they with me, there is that awkward moment when we either freeze to let the other person pass or, if there's room, try and create a "socially distanced" berth between us. Of course, there is no semblance of a greeting. It's like, weather permitting, I'm out for a walk and I see someone approaching from a distance, either I or they makes sure to cross the street lest we come within feet of each other. In other words, we have become lepers to one another and might as well cry out, Unclean, unclean! as we await a vaccine certificate that will be proof for them in an update of the Law of Moses. On that day we just must might find ourselves allowed human contact again free from the fear of contagion, no longer forced to dwell apart.
Now I'm the first person to uphold the protocols asked of us by public health officials – double masking, six feet apart, limited indoor gatherings – and I have railed against those who have violated them, most recently the Superbowl offenders. And yet, like the lepers of old, who can blame someone for succumbing to the need for human touch and human community? Even I, who embrace solitude willingly, find myself oppressed by monotony and near-isolation -- except for a purposeful phone call with a live human being once a day.
So the story of Jesus cleansing a leper has become our story too. Who of us hasn't felt like crying out, If you wish, you can make me clean (G)? Whether we are suffering from the literal effects of the virus, or the emotional and psychological effects, or the social ones, we have all been relegated to living apart, outside the camp (I). And we are all in need of a healing touch from someone who isn't driven by fear.
The story of the leper, however, ends with something even more shocking than Jesus' willingness to transgress the "protocols" of how to deal with a leper. The penalties for endangering the health of the community by allowing a leper close enough to touch would risk Jesus' own life and standing in the community. And indeed that's precisely what happened. By the end of the story, he's the one found living "outside the camp" in deserted places (G).
Which, let's face it, is where the gospel often invites us to dwell -- leaving the safety zones where people and places familiar to us are absent and we meet folk with whom we may have little in common, except our humanity. Oh yes, the gospel calls us to stretch a bit, and touch people we might otherwise avoid, our own "lepers." Such are the racial or ethnic "other," the religious "other," the sexual "other," the socio-economic "other," the inner "other," and, yes, even the political "other."
And once you go out to the place where "the others" dwell and you're feeling rather "deserted" you can never really go back. Meeting up with "the other" is likely to make you seem "out of place" to those you left behind. You may appear strange, even dangerous, to those who are still "at home." You may be unable to fit in anymore because "the others" changed you. You might even be "deserted" in ways you could not have imagined.
Oh, it's true, for a while the people kept coming to Jesus from everywhere (G), but we know that living in close quarters with the "other" would lead him to die, as Hebrews puts it, outside the camp (cf. Hb.13:11) – in a place of rejection and shame, outside the gates of Jerusalem and all they represented.
Yet, the "other" is the key to wholeness -- as the early church learned, which had to welcome Gentiles, as well as Jews, in order to become the church of God (II). And the apostle of the Gentiles, St. Paul, knew very well that to embrace the "other," one must follow Jesus "outside the camp." He too left Jerusalem behind and went in search of people like the Corinthians whom many of his fellow Jews thought unclean, and he suffered reproach on account of it, both from within and without the church. So when he admonished us to be imitators of [him], as [he] is of Christ (II), Paul anticipated the author of Hebrews who exhorted us, Go to Jesus outside the camp, bearing the reproach he bore in the placewhere he suffered to consecrate the people by his own blood(cf. Hb.13:12-13).
So as we consecrate the blessing-cup of Christ's blood, perhaps this is the most difficult thing to grasp: how voluntary exclusion from our Jerusalems -- our comfort zones that keep us from embracing "the other" -- how leaving these behind may well bring us to a place of redemption "outside the camp" where the new age of God's Reign dawns. Who lives and reigns, forever and ever. Amen.
Creed
Intercessions
Seeking God's blessings not for ourselves only but for all, let us pray to the God of steadfast love.
For the Church of God: may its preaching and witness form consciences attuned to the glory of God and the dignity of others.
For this world in which so many suffer: may the resources of health and healing be more equitably shared especially in the distribution of vaccines.
For all whom society stigmatizes as unclean: may they know the hand of friendship and the touch of healing offered by Christians.
For those engaged in medical research: may their commitment to their discipline be enhanced by their compassion for the suffering.
For advocates who serve those whom society forces to live apart: may their zeal and integrity move the hearts of others to conversion and concern.
For those who minister as physicians of the spirit: may they be instruments of God's peace to all whose consciences are troubled or whose hearts are anxious.
For the sick of our communities: may Jesus stretch out his hand and touch them with the healing power of grace and the presence of human compassion.
For the faithful departed: may they be cleansed of every defilement and come with joy into the presence of our high priest, Jesus Christ.
We come before you, O God, confident in Christ's victory over sickness and death. Heal us again from sin, which divides us, and from prejudice, which isolates us. Bring us to wholeness of life through the pardon you grant your people .We ask this through Christ o ur Lord. Amen.
Interlude (David J. Evans)
Be still, for the presence of the Lord, The Holy One, is here.
Come bow before him now, with reverence and fear.
In him no sin is found, we stand on holy ground.
Be still for the presence of the Lord, The Holy One, is here.

Be still for the glory of the Lord is shining all around.
He burns with holy fire, with splendor he is crowned.
How awesome is the sight, our radiant King of light!
Be still for the glory of the Lord is shining all around

Be still for the power of the Lord is moving in this place.
He comes to cleanse and heal, to minister his grace.
No work too hard for him, in faith, receive from him.
Be still for the power of the Lord is moving in this place.

Lord's Prayer
We pray for deliverance from every form of evil in the words Jesus taught us....
Spiritual Communion
Lord, we find ourselves once again "dwelling apart" from our community where we gather to celebrate your Supper. Yet we remain united in your Body through the Spirit we have all received. Deepen our communion with you and one another by your interior Presence which we now entreat and restore us soon to one another around the table of the Eucharist.
Thanksgiving
Closing Hymn (Leonard Cohen)
O, gather up the brokenness
Bring it to me now
The fragrance of those promises
You never dared to vow
The splinters that you carried
The cross you left behind
Come healing of the body
Come healing of the mind
And let the heavens hear it
The penitential hymn
Come healing of the spirit
Come healing of the limb
Behold the gates of mercy
In arbitrary space
And none of us deserving
Of cruelty or the grace
O, solitude of longing
Where love has been confined
Come healing of the body
Come healing of the mind
O, see the darkness yielding
That tore the light apart
Come healing of the reason
Come healing of the heart
O, troubledness concealing
An undivided love
The heart beneath is teaching
To the broken heart above
And let the heavens falter
Let the earth proclaim
Come healing of the altar
Come healing of the name
O, longing of the branches
To lift the little bud
O, longing of the arteries
To purify the blood
And let the heavens hear it
The penitential hymn
Come healing of the spirit
Come healing of the limb
O let the heavens hear it
The penitential hymn
Come healing of the spirit
Come healing of the limb
Archives