Third Sunday of Lent (A)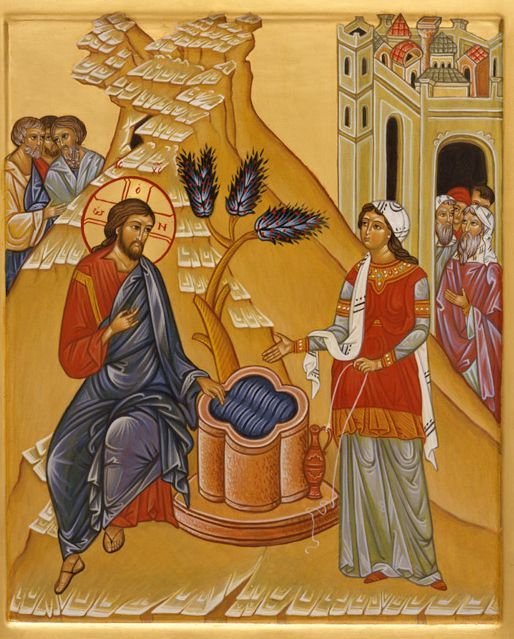 Collect

O God, author of every mercy and of all goodness,
who in fasting, prayer and almsgiving
have shown us a remedy for sin,
look graciously on this confession of our lowliness,
that we, who are bowed down by our conscience,
may always be lifted up by your mercy.
Through our Lord Jesus Christ, your Son,
who lives and reigns with you in the unity of the Holy Spirit,
one God, for ever and ever.
Proper Chants
Introit
My eyes are forever turned towards the Lord; for he shall release my feet from the snare; look upon me and have mercy on me, for I am abandoned and destitute. Ps/. To you, o Lord, I lift up my soul. * in you, O my God, I have trusted; let me not be put to shame; *let not my enemies exult over me. L et none who hope in you be put to shame; *but shamed are those who wantonly break faith.
Offertory
The ordinances of the Lord are right, bringing joy to all hearts, sweeter than honey or the honeycomb. Therefore your servant will observe them. Ps/. The heavens declare the glory of God, *and the firmament proclaims the work of his hands. Day unto day conveys the message, *and night unto night imparts the knowledge.
Communion
"Whosoever drinks the water that I shall offer", said the Lord, "shall have within him a spring of water welling up unto eternal life." Ps/. On that day, you will say: * I give you thanks, O Lord; though you have been angry with me, *your anger has abated, and you have consoled me.
Liturgy of the Word
First Reading Exodus 17:3-7
The people thirsted there for water, and the people murmured against Moses, and said, "Why did you bring us up out of Egypt, to kill us and our children and our cattle with thirst?" So Moses cried to the LORD, "What shall I do with this people? They are almost ready to stone me." And the LORD said to Moses, "Pass on before the people, taking with you some of the elders of Israel; and take in your hand the rod with which you struck the Nile, and go. Behold, I will stand before you there on the rock at Horeb; and you shall strike the rock, and water shall come out of it, that the people may drink." And Moses did so, in the sight of the elders of Israel. And he called the name of the place Massah and Mer'ibah, because of the faultfinding of the children of Israel, and because they put the LORD to the proof by saying, "Is the LORD among us or not?"
Second Reading Romans 5:1-2, 5-8
Since we are justified by faith, we have peace with God through our Lord Jesus Christ. Through him we have obtained access to this grace in which we stand, and we rejoice in our hope of sharing the glory of God. And hope does not disappoint us, because God's love has been poured into our hearts through the Holy Spirit which has been given to us. While we were still weak, at the right time Christ died for the ungodly. Why, one will hardly die for a righteous man -- though perhaps for a good man one will dare even to die. But God shows his love for us in that while we were yet sinners Christ died for us.
Gospel John 4:5-15, 39-42
Jesus came to a city of Samar'ia, called Sy'char, near the field that Jacob gave to his son Joseph. Jacob's well was there, and so Jesus, wearied as he was with his journey, sat down beside the well. It was about the sixth hour. There came a woman of Samar'ia to draw water. Jesus said to her, "Give me a drink." For his disciples had gone away into the city to buy food. The Samaritan woman said to him, "How is it that you, a Jew, ask a drink of me, a woman of Samar'ia?" For Jews have no dealings with Samaritans. Jesus answered her, "If you knew the gift of God, and who it is that is saying to you, `Give me a drink,' you would have asked him, and he would have given you living water." The woman said to him, "Sir, you have nothing to draw with, and the well is deep; where do you get that living water? Are you greater than our father Jacob, who gave us the well, and drank from it himself, and his sons, and his cattle?" Jesus said to her, "Every one who drinks of this water will thirst again, but whoever drinks of the water that I shall give him will never thirst; the water that I shall give him will become in him a spring of water welling up to eternal life." The woman said to him, "Sir, give me this water, that I may not thirst, nor come here to draw." The woman said to him, "Sir, I perceive that you are a prophet. Our fathers worshiped on this mountain; and you say that in Jerusalem is the place where men ought to worship." Jesus said to her, "Woman, believe me, the hour is coming when neither on this mountain nor in Jerusalem will you worship the Father. You worship what you do not know; we worship what we know, for salvation is from the Jews. But the hour is coming, and now is, when the true worshipers will worship the Father in spirit and truth, for such the Father seeks to worship him. God is spirit, and those who worship him must worship in spirit and truth." The woman said to him, "I know that Messiah is coming (he who is called Christ); when he comes, he will show us all things." Jesus said to her, "I who speak to you am he." Many Samaritans from that city believed in him because of the woman's testimony, "He told me all that I ever did." So when the Samaritans came to him, they asked him to stay with them; and he stayed there two days. And many more believed because of his word. They said to the woman, "It is no longer because of your words that we believe, for we have heard for ourselves, and we know that this is indeed the Savior of the world."
Reflection Questions
What tempts you to ask, "Is the LORD among us or not?"

Is there a hope which has disappointed you?

What does it mean to worship God "in spirit and in truth?"
Catena Nova
A woman came. She is a symbol of the Church not yet made righteous. Righteousness follows from the conversation. She came in ignorance, she found Christ, and he enters into conversation with her. Let us see what it is about, let us see why a Samaritan woman came to draw water. The Samaritans did not form part of the Jewish people: they were foreigners. The fact that she came from a foreign people is part of the symbolic meaning, for she is a symbol of the Church. The Church was to come from the Gentiles, of a different race from the Jews. We must then recognize ourselves in her words and in her person, and with her give our own thanks to God. She was a symbol, not the reality; she foreshadowed the reality, and the reality came to be. She found faith in Christ, who was using her as a symbol to teach us what was to come. (St. Augustine of Hippo)
Fountains of living water! The biblical symbol par excellence, proper to a harsh, dry, Middle Eastern land, of human desire absolutely fulfilled, without frustration, running over, harmonious and peaceable. It is this same fountain which Jesus had offered to the woman at the well of Samaria, instead of the water which does not satisfy: 'The one who drinks of the water which I shall give will never more be thirsty: for the water that I shall give will become in that person a spring of water welling up into life without end.' (John 4:14) The fixing of the mind on the things that are above has as its end to recreate in us a pacific imitative desire which does not know frustration, but whose longing, viscerally moved, is to participate actively, by creating the wedding banquet of the Lamb in the midst of this world, in God's creative vivaciousness, utterly incapable of frustration. (James Alison)
In John 4, Jesus meets a woman at a well. The conversation quickly turns to the question of Jesus's identity when she asks, "How is it that you, a Jew, ask of drink of me, a woman of Samaria?" (4:9). Jesus speaks of water, wells, and worship, and then springs it on her that he is the Messiah. How does the woman respond? She drops her water jar, runs back to town, and tells everyone, "Come and see a man who told me everything I have ever done!" (4:29). In this story, questions of Jesus's identity and her identity thread together in mutual revelation. Knowing who Jesus is leads her to know who she is — and, instead of feeling shame about her mistakes, she feels new freedom to tell her story. And so it goes throughout the Gospels. Almost everyone leaves Jesus's company saying: "He made me whole!" "I have been healed!" "I'm not a prostitute, a sinner, an outcast, or a leper. I now know who I really am!" "I may be a Samaritan, but I can still know God." "I am loved!" "I am accepted as I am!" Being "in" Jesus, in his presence or in conversation with him, pushes the other person beyond social roles and masks to deeper awareness of "Who am I?" transforming the question from an external one to a relational one that might be better rendered "Whose am I?" (Diana Butler Bass)
In the story of the Samaritan woman, Jesus chooses to engage with a three-time outcast. She's female; she's a member of a despised, loathsome race, the historic enemies of the true people of God. And, to top it all off, she's five times married, and living with a man she isn't married to. The Samaritan woman is repugnant, not only to a Jew like Jesus but to her neighbors. She has to go alone to the well, because no decent person wants to be seen in her company. But Jesus is thirsty. He asks for water. He offers her water that will slake her thirst forever. And when the woman argues, claiming insolently that this is Jacob's well and that her traditions of worship are correct, he doesn't tell her she's wrong and his people are right. He says the Spirit of God isn't limited by tribe or ancestors or behavior; it's poured out for everyone. Then, without judgment, he tells her 'exactly who she is. The Samaritan woman doesn't fully understand Jesus. She doesn't immediately accept the relationship he offers. Even when he tells her the truth, she tries to cling to her own received religious dogma. But she really wants that water. "Give me some of that water," she demands of the strange rabbi. And her thirst leads her to bring others to the well — without telling them what to believe, just by echoing the great door-opening Gospel invitation, Come and see. Jesus transforms this woman without a name, this despised status offender, and she becomes the first person to preach Jesus as Messiah. Which would seem to suggest that salvation does not depend on getting things right. It depends on thirst. (Sara Miles)
Once this Samaritan woman gets over her shock, a dialogue ensues. It starts out about water, wells, Jews and Samaritans, but Jesus asks her questions that throw her off a bit and make her think. He finally asks a question that leads her to "fess up" and admit her need. She's hungry for love, and has run through quite a few partners looking for the real thing. Jesus' soul-piercing glance tells her that his is the love she's been looking for. She abandons her water jar and returns to town to tell everyone about Jesus. Did she wait till she had a master's degree in theology? Did she sit down with people and demonstrate from Scripture why he was the Messiah? No. This Samaritan woman, who apparently had no credibility with anyone, simply told people, with joy, confidence, and conviction, what Jesus had done for her. Then she invited people to come and experience him for themselves. (Marcellino D'Ambrosio)
The Samaritan woman grasped what He said with fervor that came from an awareness of her real need. The transaction was fascinating. She has come with a buket. He sent her back with a spring of living water. She had come as a reject. He sent her back being accepted by God Himself. She came wounded. He sent her back whole. She came laden with questions. He sent her back as a source for answers. She came living a life of quiet desperation. She ran back overflowing with hope. The disciples missed it all. It was lunchtime for them. (Ravi Zacharias)
THE SAMARITAN WOMAN
It joined us together, the well;
the well led me into you.
No one between us but light
deep in the well, the pupil of the eye
set in an orbit of stones.
Within your eyes, I,
drawn by the well,
am enclosed.
(Karol Wojtyla/John Paul II)
Homily
THIRD SUNDAY OF LENT (A)
Readings: Ex. 17:3-7; Rm. 5:1-1,5-8; Jn. 4:5-42 [Long Form]
[Although the story referenced in this homily dates to 1998, the death penalty remains a troubling cultural reality. The state of Tennessee, for example, has executed 7 men in the last 18 months. But the story that has made recent news is the execution on Thursday of Nathaniel Woods by the state of Alabama despite a host of objections urging a reprieve due to evidence of his innocence in the murder of 3 police officers in 2004. Activists, including Martin Luther King III and Senator Doug Jones, appealed for a stay convinced that an irreparable miscarriage of justice was about to take place. Among the reasons cited were "alleged police misconduct, incompetent representation, and Alabama law allowing death verdicts based on non-unanimous jury votes;"cf. https://cruxnow.com/church-in-the-usa/2020/03/alabama-executes-inmate-after-supreme-court-denies-last-minute-stay/. PBS is also airing a new documentary, Sister, on the work of anti-death penalty activist Sr. Helen Prejean of Dead Man Walking fame; cf. https://www.sisterhelen.org/sister-film/. ]
"Die Like A Man"
"Die Like a Man." Those words were scribbled on a placard the night Texas put Karla Faye Tucker to death by lethal injection in 1998. It happened somewhere in the gothic prison they call "The Wall." She was the first woman executed there since the Civil War. Her story can be seen in a half-hour filmavailable on AmazonPrime calledPower of Forgiveness: Story of Karla Faye Tucker.
Karla Faye became a Christian while in prison and displayed great remorse for her crime. She married a prison chaplain while in jail. She ministered to other women on death row. She was so trusted by guards they didn't even handcuff her when she was transferred between buildings. Interviewed on 60 Minutes she said, "The other Karla no longer exists. I'm so far removed from the person I used to be out there."
Now in Jesus' time, they were less concerned about "humane" forms of execution – if such a thing exists. We like tidier ways to get the deed done and with just a few witnesses. But in Jesus' time, the crime of adultery, for example, was a capital offense, punishable by stoning and when it was done it was quite public.
I wonder if that's why the Samaritan woman with five husbands and a live-in lover went to Jacob's Well around noon. Normally, women drew water early in the morning or in the evening. It was pretty warm at noon for such a chore. So I wonder if she, like Moses in the desert, was afraid that people were all too eager to stone he (cf. I). Maybe she felt safer there at midday, all by herself, since few others would be around.
Except, of course, for this Jew seated there. I can imagine her thinking, "What's he want? Bad enough I'm a Samaritan and a woman, but a serial adulteress too. Maybe he's hiding some stones beneath his tunic. Asking me for a drink is surely a trick. Why they won't even speak to women in public much less a woman like me. And drinking from my cup would make him 'unclean' – unable to worship in that temple of theirs in Jerusalem. If he's not careful, they'll be throwing stones at him. What's he really want?"
Perhaps Karla Faye Tucker thought the same thing when someone first offered her the living water of faith in Jesus Christ. Maybe she mistook the gift of God for a way to escape her fate, like the Samaritan woman who thought Jesus was just offering her a way to keep from coming to draw water (cf. G) -- and avoid the prospect of stoning.
And I can hear the same self-serving conversation taking place inside "the Wall" as at the Well. "What do you want with me, Chaplain? Have you come to save my soul since, after all, you're better than I am?" – the kind of thing Jesus heard that day when the other woman taunted him and asked, Are you greater than our ancestor Jacob? (G)
And maybe the chaplain played along just as Jesus had. "Karla, I know what you did. You were 23 years old and under the influence of drugs when you and your boyfriend broke into the home of Jerry Lynne Dean, and with a pickax helped kill him and his companion, Deborah Thornton. You even said at your trial you got sexual pleasure with each blow of the ax." Oh yes, she might have told the chaplain the same thing the other woman said about Jesus, 'He told me everything I have ever done' (G).
And maybe Karla began to tell the chaplain of all the "Messiahs" she looked for in her life, her miserable life of parental neglect, childhood drug use, prostitution, and bad boyfriends. When all of a sudden one day, she found the real thing and heard the one called the Christ say to her, I am he, the one who is speaking to [you] (G).
And after Dana Brown, the prison ministry worker, fell in love with Karla Faye Tucker, and she with him, their proposed marriage was discouraged by virtually all of their Christian friends and family. For they were astonished that he was speaking with [such] a woman. Suspicious thoughts went through their minds about her, like Jesus' disciples who wondered, What is she looking for? And about him, Why are you talking with her? (cf. G)
Nevertheless, her conversion, and her marriage, to Dana Brown, enabled Karla Faye Tucker to become a witness to others in prison about Jesus the Messiah, such that many … believed in Jesus because of the woman's testimony (G).
Sad to say, not all were convinced. When the time came for her execution the many pleas for clemency that made their way to the desk of her fellow Christian, then-governor George W. Bush, were refused. And people gathered outside the Wall cheered when she was pronounced dead -- many of them, I imagine, also her fellow Christians. Some with their Bible verses scribbled on placards – "An eye for an eye, and a tooth for a tooth."
I guess they never heard what their Bible says in another place, the place where St. Paul says, While we were still helpless, [Christ] died at the appointed time for the ungodly. Indeed, only with difficulty does one die for a just person, though perhaps for a good person one might even find courage to die. But God proves his love for us in that while we were still sinners Christ died for us (II). And therein lies the irony lost on that person who carried the placard which read "Die Like a Man."
Oh, and there's one final irony to the story. Women in Jesus' culture could not give valid testimony. Only a man could do that. So Karla Faye Tucker had one more thing in common with the woman of Samaria: in the face of those who might otherwise dismiss her many began to believe in him because of the word of the woman who testified (G). Which is the amazing thing about conversion. We are justified by faith, Paul says, not by works. And yes, it's hard to believe that's all it takes, no matter what we've done, or not done, to have peace with God through our Lord Jesus Christ (II). Who lives and reigns, forever and ever. Amen.