Lent with the Book of Job (Ch 34)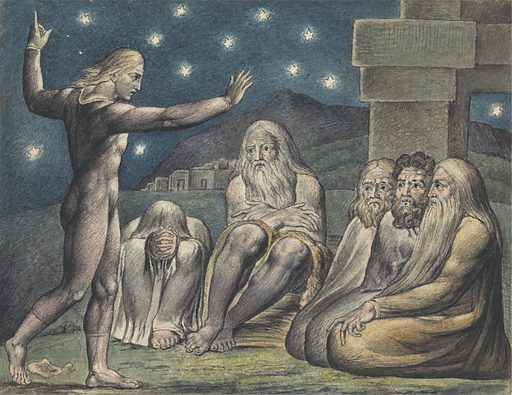 Chapter 34 (Monday of the Fifth Week of Lent)
Then Elihu continued and said:
'Hear my words, you wise men,
and give ear to me, you who know;
for the ear tests words
as the palate tastes food.
Let us choose what is right;
let us determine among ourselves what is good.
For Job has said, "I am innocent,
and God has taken away my right;
in spite of being right I am counted a liar;
my wound is incurable, though I am without transgression."
Who is there like Job,
who drinks up scoffing like water,
who goes in company with evildoers
and walks with the wicked?
For he has said, "It profits one nothing
to take delight in God."

'Therefore, hear me, you who have sense,
far be it from God that he should do wickedness,
and from the Almighty that he should do wrong.
For according to their deeds he will repay them,
and according to their ways he will make it befall them.
Of a truth, God will not do wickedly,
and the Almighty will not pervert justice.
Who gave him charge over the earth
and who laid on him the whole world?
If he should take back his spirit to himself,
and gather to himself his breath,
all flesh would perish together,
and all mortals return to dust.

'If you have understanding, hear this;
listen to what I say.
Shall one who hates justice govern?
Will you condemn one who is righteous and mighty,
who says to a king, "You scoundrel!"
and to princes, "You wicked men!";
who shows no partiality to nobles,
nor regards the rich more than the poor,
for they are all the work of his hands?
In a moment they die;
at midnight the people are shaken and pass away,
and the mighty are taken away by no human hand.

'For his eyes are upon the ways of mortals,
and he sees all their steps.
There is no gloom or deep darkness
where evildoers may hide themselves.
For he has not appointed a time for anyone
to go before God in judgement.
He shatters the mighty without investigation,
and sets others in their place.
Thus, knowing their works,
he overturns them in the night, and they are crushed.
He strikes them for their wickedness
while others look on,
because they turned aside from following him,
and had no regard for any of his ways,
so that they caused the cry of the poor to come to him,
and he heard the cry of the afflicted—
When he is quiet, who can condemn?
When he hides his face, who can behold him,
whether it be a nation or an individual?—
so that the godless should not reign,
or those who ensnare the people.

'For has anyone said to God,
"I have endured punishment; I will not offend any more;
teach me what I do not see;
if I have done iniquity, I will do it no more"?
Will he then pay back to suit you,
because you reject it?
For you must choose, and not I;
therefore declare what you know.
Those who have sense will say to me,
and the wise who hear me will say,
"Job speaks without knowledge,
his words are without insight."
Would that Job were tried to the limit,
because his answers are those of the wicked.
For he adds rebellion to his sin;
he claps his hands among us,
and multiplies his words against God.'
Commentary
Certainly Job could complain before God about the presence of incomprehensible and apparently unjustified suffering in the world. In his pain he cried out: "Oh, that I knew where I might find him, that I might come even to his seat! … I would learn what he would answer me, and understand what he would say to me. Would he contend with me in the greatness of his power? … Therefore I am terrified at his presence; when I consider, I am in dread of him. God has made my heart faint; the Almighty has terrified me" (23:3, 5-6, 15-16). Often we cannot understand why God refrains from intervening. Yet he does not prevent us from crying out, like Jesus on the Cross: "My God, my God, why have you forsaken me?" (Mt27:46). We should continue asking this question in prayerful dialogue before his face: "Lord, holy and true, how long will it be?" (Rev6:10). It is Saint Augustine who gives us faith's answer to our sufferings: "Si comprehendis, non est Deus"—"if you understand him, he is not God." Our protest is not meant to challenge God, or to suggest that error, weakness or indifference can be found in him. For the believer, it is impossible to imagine that God is powerless or that "perhaps he is asleep" (cf. 1 Kg 18:27). Instead, our crying out is, as it was for Jesus on the Cross, the deepest and most radical way of affirming our faith in his sovereign power. Even in their bewilderment and failure to understand the world around them, Christians continue to believe in the "goodness and loving kindness of God" (Tit 3:4). Immersed like everyone else in the dramatic complexity of historical events, they remain unshakably certain that God is our Father and loves us, even when his silence remains incomprehensible. (Pope Benedict XVI; Deus caritas est)
Musical Selection (Sons of Korah)
Contend, Lord, with those who contend with me Lord
Fight against those, who fight against me Lord
Take up the shield and the buckler
And arise to my aid
Brandish the spear and the javelin
Against those who pursue me

Say to my soul, I am your salvation
Say to my soul, I am your salvation
I am your salvation

May those who seek my life
Be disgraced and put to shame
May those who plot my ruin
Be turned back in dismay

May they be like chaff before the wind
With the angel of God driving them away
And may their path be dark and slippery
With the angel of God driving them away

And since they hid a net
For me without cause
And since they dug a pit
For me without cause
May ruin overtake them now, suddenly
May the net that they hid there entangle them
May they fall in the pit that they dug for me
May they fall

And then my soul
Will rejoice in the Lord
And then my soul
Will delight in His salvation
And then my whole being
Will explain, who is like You
O Lord, who is like You?
Collect
God of surpassing love,
you enrich us with every blessing;
grant that, by setting aside our former ways
for a life that is new,
we may be ready for the glory of your kingdom.
We ask this through our Lord Jesus Christ, your Son,
who lives and reigns with you in the unity of the Holy Spirit,
God for ever and ever. Amen.
Archives